—
Pac-12 Notes – Fall Camp
—
August 25th
… Foe Pause … 
Oregon State in at No. 8 in the preseason ESPN Bottom Ten
From ESPN … Summer is great. But it can also be lonely. Especially for, oh, I dunno, a marginalized dad of a teenage daughter with a wife who has an out-of-town job and a guy who, I dunno, maybe had all his hopes and dreams for the summer tied up in the possibility of the Avengers defeating Thanos!
When such a hypothetical soul definitely not named Ryan McGee is faced with such despair, served up on the perpetual hot plate of June and July, with the college football season still months away, what does he do? He turns to old friends. Friends equally desperate in their need of a friend.
I am of course speaking of my friends in the Bottom 10. As Labor Day weekend approaches, I like to picture the 10 of them approaching the millions of us like we're all in one of those old-time Hollywood movies, rushing toward each other in a flowery meadow, arms outstretched, ready for the big embrace. But then one of them trips over a dead sunflower stem and the entire pack starts tumbling until we all end up strewn across the center of the field like an overturned logging truck.
No. 8 … Oregon State (1-11 in 2017)
In 1999, the Beavers ended a 28-year bowl drought behind head coach Mike Riley and QB Jonathan Smith. Now Smith is head coach, Riley is his assistant (OK, he was, he left to coach the San Antonio Watchamacallits of the AAF) and the team is coming off a season worse than any during those earlier dark days. Their reward for taking on a such a task for the second time? A Week 1 trip to the Horseshoe to meet a Buckeyes team that should be only slightly less angry than that mutant dinosaur shark thing named Meg currently chasing Jason Statham.
–
—–
August 23rd
… Foe Pause … 
CBS Sports panel picks the Pac-12
From CBS Sports … The Pac-12 suffered through a miserable 2017 in which it didn't send a team to the College Football Playoff, didn't even have a true contender and went a whopping 1-8 during bowl season. With that came turnover. Chip Kelly took over at UCLA, Kevin Sumlin went from Texas A&M to buyout life to Arizona, the Herm Edwards experiment arrived at Arizona State, and Mario Cristobal stepped in for Willie Taggart at Oregon.
That said, the conference still boasts its fair share of stars in Stanford's Bryce Love, Washington's Myles Gaskin and Arizona's Khalil Tate. Will that be enough to keep the Pac-12 relevant for the entire season and allow it to step into playoff contention? Keep on reading to see the CBS Sports college football team's unique takes on the Pac-12 entering the 2018 season.
Most overrated team
Oregon: The Ducks will begin the season ranked No. 24 in the AP Top 25 and could have one of the best QBs in the country in Justin Herbert. While I love Herbert, I'm still skeptical about Oregon in 2018 for one simple reason: The program is about to begin a season with its third different coach in three years. I have a hard time believing that kind of constant turnover won't have an impact on the team. I still think Oregon's the third-best team in the North, but I don't think it finishes the season as a top 25 team. — Tom Fornelli (also Jerry Palm)
Most underrated team
Utah: The Utes always have a salty defensive front and this year will be no different with Bradlee Anae and Leki Fotu. What is unique about this year is one of the best secondaries in the country exists behind those guys. This is also Year 2 with Troy Taylor at offensive coordinator and Tyler Huntley at quarterback. I'm envisioning a big step forward offensively with some continuity for the first time in a long time. Arizona, Oregon, Washington and USC are all coming to Salt Lake City, and they all better be on alert because Utah is for real. — Barton Simmons (also Dennis Dodd, Jerry Palm)
Predicted Order of finish – seven experts (the North was fairly static, with all seven picking Washington first; Stanford second, Oregon third; … and Oregon State last (the only division was whether Washington State or Cal will finish 4th).
Colorado is picked 5th; 4th; 6th; 6th; 3rd; 5th; and 5th … an average of 5th
–
—–
August 22nd
… Foe Pause …
CSU head coach Mike Bobo back at practice
From the Reporter-Herald …  All of the contingency plans … toss them aside.
Head coach Mike Bobo returned to the Colorado State football team for Wednesday's practice, watching from a golf cart driven by head athletic trainer Tony Hill. It was the same way he had been viewing workouts prior to checking himself into the hospital on Aug. 11, diagnosed with a peripheral neuropathy.
Not only was he back at practice, he is scheduled to talk to the media afterward and planned on doing his scheduled radio show later in the evening.
Bobo, who underwent replacement knee surgery after spring camp, was in the hospital for 11 days, missing eight practices.
It was a crucial time for the team as the Rams open the season Saturday against Hawaii at Canvas Stadium (5:30 p.m.). The coaching staff, who had kept the operation running and preparations proceeding, said they had been discussing who would do what on game day, but most of that is now mute.
When they had a chance, players walked up and gave their coach a hug or handshake, welcoming him back to the fold. They know he had been watching practice tape from his hospital room, as many of them received texts about corrections or situations. Tuesday, with Bobo's status still up in the air, players felt he would be pleased with the way they handled his absence. For a coach who has always wanted a player-led team, receiver Bisi Johnson feels they delivered, and it could become a positive development from Bobo's time away.
"This could definitely be the silver lining," Johnson said. "Nobody expects this. Football is a game of adversity and roller coasters, and this is one of them we got thrown into. Its unexpected, but we're handling it very well."
–
—
Ohio State head coach Urban Meyer suspended for three games
From CBS Sports … Ohio State football coach Urban Meyer has been suspended for the first three games of the 2018 season, Ohio State's Board of Trustees, along with university president Michael Drake, announced late Wednesday.  Meyer will miss games against Oregon State, Rutgers and at No. 16 TCU.
OSU also announced that athletic director Gene Smith has been suspended just over two weeks from Aug. 31 to Sept. 16.
The summary of Ohio State's investigation resulting in Meyer's suspension stated that Meyer "failed to act appropriately regarding alleged abuse by Zach Smith of his former wife and related allegations that he misrepresented his knowledge of the alleged events at the Big Ten Media Days."
The investigation also found that Meyer and Smith "failed to adhere to the precise requirements of their contracts when they concluded that they needed to await a law enforcement determination to file charges before they reported the otherwise disputed claims of spousal abuse against Zach Smith, they did so based upon a good faith belief that they did not have sufficient information to trigger a reporting obligation or initiate a disciplinary action in the absence of law enforcement action.
"Other than their misunderstanding of the requirements triggering reporting obligations, neither Coach Meyer nor Athletic Director Smith violated any policy, rules, law or contractual obligation in connection with the alleged domestic abuse claims against Zach Smith."
–
—
Clay Helton will not name a starting quarterback until next week
From YardBarker.com … USC opens up their season in a week and a half, but they still have not named a starting quarterback. And that won't happen until next week.
Trojans head coach Clay Helton told reporters on Tuesday that he will not name a starting QB until early next week.
The team will play a mock game on Saturday, and then Helton and his staff will evaluate from there before making a decision.
JT Daniels, Matt Fink and Jack Sears are competing for the starting job. Fink is the only one with game experience, as he saw action in three contests last season as a backup to Sam Darnold. Sears is a redshirt freshman who played in the same high school offense as Darnold at San Clemente. Daniels is a true freshman who graduated early to reclassify for this year. He is a 5-star prospect from Mater Dei, a high school powerhouse that also produced Matt Leinart and Matt Barkley.
Helton is taking his time with the decision because he wants to get it right and not repeat the same mistake of 2016. That year, the Trojans began the season with Max Browne as their starter and went 1-2. Then they made a switch to Darnold, who went 9-1 as a starter to save the season and send the Trojans to the Rose Bowl.
USC has a difficult start to the season. After their opener against UNLV, they visit Stanford and Texas in consecutive weeks.
–
—–
August 21st
… Foe Pause … 
Oregon to take on Georgia in Atlanta in 2022 season opener
From CBS Sports … Scheduling season is in full gear leading up to the start of the 2018 college football season, and another big game was announced Tuesday. Oregon and Georgia will open the 2022 season on Sept. 3 in the Chick-fil-A Kickoff Game at Mercedes-Benz Stadium in Atlanta.
"When you think about major season-opening kickoff games with the opportunity for huge College Football Playoff implications, this is the type of matchup you dream about," Peach Bowl CEO and president Gary Stokan said. "Both [Georgia coach] Kirby Smart and [Oregon coach] Mario Cristobal should be recognized for their willingness to have their teams compete at the highest level in a game like this."
The two programs have just one all-time meeting on the books — a 27-16 Georgia win in the 1977 season-opener in Athens.
"Thanks to the Chick-fil-A Kickoff Game staff for their efforts in putting this game together," said Smart.  "Opening the season in Atlanta against a Power Five opponent is a tremendous opportunity for our team and provides a great start to the season for our fans. The first game of the season is always important and this matchup on a national stage will be a test for both teams."
… Continue reading story here …
–
—–
August 20th
… Foe Pause … 
CSU head coach Mike Bobo remains hospitalized
From the Coloradoan … Mike Bobo remained in a Denver-area hospital Monday undergoing diagnostic testing to determine the source of nerve damage causing numbness in his feet.
Just five days before his Rams open their 2018 football season against Hawaii, it remained unclear whether the coach would be able to return to work in time for Colorado State University's home opener.
Bobo, 44, has been hospitalized since Aug. 11 with what he described last week as peripheral neuropathy. Bobo said he was "undergoing a multiple-day treatment" in a statement posted Wednesday on his Twitter account.
The coach was in a local hospital at that point, athletic director Joe Parker said Monday, but has since "transitioned" to a Denver-area hospital where the coach and his family "felt like there were a few more resources in the diagnostics pathology area."
… Continue reading story here …
–
—
Associated Press Top 25 released – Four teams from the Pac-12 make the list
From CBS Sports … Alabama, fresh off its fifth national championship since 2009 under Nick Saban and second title of the College Football Playoff era, is once again the  preseason No. 1 team heading into the year. On Monday, the first AP Top 25 was released, and for third-straight year that poll will lead with the Tide at the top.
Clemson checked in at No. 2 and received 18 of the remaining 19 first-place votes. Wisconsin, at No. 4, also received a first-place vote. Georgia splits those two at No. 3 after finishing as the national runner-up a season ago, and Ohio State rounds out the top five.
Alabama (42 first-place votes)
Clemson (18)
Georgia
Wisconsin (1)
Ohio State
Washington 
Oklahoma
Miami
Auburn
Penn State
Michigan State
Notre Dame
Stanford 
Michigan
USC 
TCU
West Virginia
Mississippi State
Florida State
Virginia Tech
UCF
Boise State
Texas
Oregon
LSU
Others Receiving Votes: South Carolina (0-0) 96; Florida (0-0) 68; Utah (0-0) 60; Oklahoma State (0-0) 51; Florida Atlantic (0-0) 38; Arizona (0-0) 28; North Carolina State (0-0) 22; Texas A&M (0-0) 21; Boston College (0-0) 18; Northwestern (0-0) 13; Kansas State (0-0) 10; Iowa State (0-0) 8; Houston (0-0) 6; Memphis (0-0) 3; Iowa (0-0) 2; Troy (0-0) 2; Arkansas State (0-0) 1; Kentucky (0-0) 1; Fresno State (0-0) 1
–
—
No news on Pac-12 Networks discussions with AT&T
From Jon Wilner at the San Jose Mercury News … The Hotline checked with the Pac-12 Networks late last week for an update on negotiations with AT&T over distribution on U-verse for the 2018-19 sports cycle.
Here's what we know:
* Networks president Mark Shuken has been working to extend the expiring contract by one year, essentially by implementing an evergreen clause.
* Carriage on DirecTV is not part of the talks, Shuken said.
* There is "nothing to report" at the moment, officials said Thursday, and no indication when there might be something to report.
So three weeks after Shuken expressed optimism that the situation would be settled in "days" — and 11 days until the first kickoff — we've got nothing.
Squat.
I've received inquiries from Pac-12 fans via Twitter and email, with the frequency ticking up in the past week. Please know that the Hotline is monitoring the situation closely and will pass along any relevant information.
… Continue reading story here …
–
—–
August 18th
… Foe Pause … 
Colorado State releases its depth chart
With the first game only a week away (v. Hawai'i, Sat., August 25th, 5:30 p.m., CBS Sports Network), Colorado State has released its depth chart.
The depth chart can be found here.
Some notes … 
— Washington transfer K.J. Carta-Samuels is the starting quarterback, which is no surprise. Carta-Samuels will be making his first career start as a senior;
— Senior running back Izzy Matthews brings his 132 carries for 613 yards and eight touchdowns in 2017 to the backfield. Matthews has 34 career games at CSU, but only one career start;
— The wide receiver corps, just as the case at Colorado, is chock full of (potential) talent. The returning leader is Olabisi Johnson (41 catches for 595 yards and two touchdowns), but Buff fans will want to keep an eye out for Preston Williams (transfer from Tennessee, who sat out last year) and sophomore Warren Jackson, whose claim to fame is catching two scoring passes against Alabama last September;
— The offensive line is large (between 305 and 320 pounds), but three of the five starters from last year are gone. The starting left tackle? A red-shirt freshman, Barry Wesley, who joined the CSU roster as a walk-on;
— The defensive line is a questions mark (sound familiar?). The four starters have a combined six career starts, with two sophomores and a freshmen making up three-fourths of the 4-3 front;
— The linebackers will be the strength of the defense, with senior Josh Watson (109 tackles in 2017) leading the way;
— In the defensive backfield, senior safety Jordan Fogal (71 tackles) is the leader. The Rams will start a freshman at cornerback, Rashad Ajayi, with the other cornerback being a senior transfer from Rice, V.J. Banks.
— Overall, of the 24 players who started against Marshall in the New Mexico, a grand total of seven (four on offense, three on defense) will start against Hawai'i.
–
—–
August 17th
… Foe Pause … 
Which coach runs the cleanest program? Two Pac-12 coaches lead the way
From CBS Sports … If you've heard it once, you've heard it a thousand times: How the hell did X program get X recruit? I wonder how much they paid! And while some of those accusations may have merit on occasion, college football coaches will always scoff their nose at suggestions of cheating, impropriety or even strong-arming players to leave programs to open up scholarships for seemingly more talented incoming recruits.
Still, behind closed doors, plenty of questions arise from coaches about some of their peers. Don't believe us? Just ask them. Well, you probably won't have that opportunity, but we did. And while engaged in those conversations, we also wanted to know who coaches believed was completely clean and did everything by their book — both in recruiting and in the day to day running of their program.
| | |
| --- | --- |
| David Shaw, Stanford | 17 percent |
| Chris Petersen, Washington | 17 percent |
| David Cutcliffe, Duke | 13 percent |
| Bill Snyder, Kansas State | 8 percent |
| Mark Dantonio, Michigan State | 8 percent |
| Craig Bohl, Wyoming | 8 percent |
| Paul Chryst, Wisconsin | 8 percent |
… Continue reading story here …
–
—
Jon Wilner has CU with six wins and a bowl bid
From the San Jose Mercury News … Pick a Hot Seat list, any Hot Seat list, and there's a good chance Mike MacIntyre appears as the one and only coach from the Pac-12.
… Granted, MacIntyre has only one winning season in Boulder and couldn't build on the momentum generated by the 2017 division title.
But CU is arguably the 10th-toughest job in the conference, ahead of only Oregon State and Washington State, and athletic director Rick George seems to understand the challenges and need for continuity.
It's the Hotline's opinion that unless the Buffaloes produce a true face-plant this fall, MacIntyre will be back in 2019.
Moving along …
Notable: Only twice in the MacIntyre era, 2013 and 2017, have the Buffs gone 3-0 in non-conference play. A noncon sweep this fall is essential to carving a reasonable path to the postseason.
Aug. 31 (Fri): vs. Colorado State (in Denver)
Result: Win
Record: 1-0
Comment: Nudging the game forward by just one day could pay dividends in preparation for the Week Two trip across the state line and back in time.
Sept. 8: at Nebraska
Result: Win
Record: 2-0
Comment: Love seeing the Huskers on CU's schedule (first meeting since their Big 12 days). Not sure how this would play out three years hence, but for now, with established schemes and coaching cohesion, the Buffs are further along.
… Continue reading story here …
–
—–
August 16th
… Foe Pause …
ESPN Pac-12 Power rankings – CU in at No. 9
From ESPN … After making the playoff two years ago, Washington returns its rugged defense and powerful run offense, as well as quarterback Jake Browning's strong arm. The Huskies may struggle through the air, but their defense should get them to the conference championship. The teams that could challenge the Huskies for the title, USC and Stanford, have some uncertainty at the quarterback spot and on the defensive front, respectively. But the Cardinal's Bryce Love could very well be the best player in the country.
The new coaches in the conference should make for an interesting season out west as well.
With kickoff just a few weeks away, here's everything you need to get you ready for the Pac-12 season, which kicks off with Utah hosting Weber State on Aug. 30.
1. Washington
2. USC
3. Stanford
4. Oregon
5. Arizona
6. Utah
7. Cal
8. UCLA
9. Colorado
10. Washignton State
11. Arizona State
12. Oregon State
… Read full story here, including games of the year, here …
–
—
CSU coach Mike Bobo undergoing treatment for peripheral neuropathy
From ESPN … Colorado State head football coach Mike Bobo announced on his Twitter account Wednesday night that he is being treated for peripheral neuropathy and is encouraged by the ongoing medical testing he has had since being hospitalized with numbness in his feet.
Bobo, 44, was hospitalized after the Rams' scrimmage on Saturday night.
"I want to express my sincere appreciation for the outpouring of care, concern and prayers that I and my family have received," Bobo said in the statement.
"Lainie and I," he said, referring to his wife, "and our children, are extremely grateful for this support, and for the great medical care that I continue to receive. I am currently in the process of a multiple-day treatment for a peripheral neuropathy, and continue to be encouraged by the results of the on-going medical testing."
According to the Mayo Clinic's website, peripheral neuropathy is "a result of damage to your peripheral nerves, often causes weakness, numbness and pain, usually in your hands and feet. It can also affect other areas of your body. … Peripheral neuropathy can result from traumatic injuries, infections, metabolic problems, inherited causes and exposure to toxins."
The website said, "In many cases, symptoms improve, especially if caused by a treatable condition. Medications can reduce the pain of peripheral neuropathy."
It is unclear if Bobo, who is scheduled to begin his fourth season with the Rams, will be on the sideline when the Rams open the season against Hawaii on Aug. 25.
Bobo, a former Georgia quarterback and longtime offensive coordinator at his alma mater, is 21-18 in three seasons at Colorado State.
"While I have been hospitalized I have been able to remain in close contact with our staff and watch practice film in preparation for our season opener against Hawai'i," Bobo said in the statement.
–
—–
August 15th
… Foe Pause …
Jon Wilner's Associated Press has a surprise team in the top ten
… I very much respect and appreciate Jon Wilner, but am very surprised by his pick for the No. 9 team in the country … 
From the San Jose Mercury News … Three key points on the ballot in general:
* As always, the preseason ballot is a projection of where I expect the teams to finish, not an assessment of the situation as it stands now, midway through training camp.
During evaluations, significant weight was assigned to quarterback play, experience on the lines of scrimmage and the schedule, including the cross-division rotations.
Noteworthy misses include Alabama-Georgia, Clemson-Miami, Ohio State-Wisconsin and Washington-USC.
* Yes, I picked a few sleepers — the only certainty to the season is the unexpected.
(UCF didn't receive a single vote last year in either the AP or Coaches preseason polls; Florida State was No. 3 in both.)
The trick, of course, is picking the right sleepers. A 50 percent hit rate is perfectly respectable.
From the Pac-12 … 
7. Washington: The best blend of talent and experience in the Pac-12, particularly on the lines of scrimmage and the defensive backfield. A victory over Auburn in the opener would vault UW into the CFP race, but navigating the Pac-12 with fewer than two losses will be tricky.
9. Oregon: Sleeper No. 1. With one of the top quarterbacks in the country (Justin Herbert), a veteran offensive line, experienced defense (seven returning starters), established coordinators and a favorable schedule — no USC; Stanford and Washington at home — the Ducks should jump back onto the national stage.
18. Stanford: Tailback Bryce Love, quarterback K.J. Costello and a stacked line make this one of Stanford's most talented offenses of the David Shaw era, but the Cardinal will have to average 35 or 40 points if the defensive flaws (line and backfield) aren't resolved. Even years are typically difficult for Stanford with trips to Seattle, Eugene and South Bend.
22. USC: Speaking of schedules: No team faces a more difficult September than the Trojans, who face Stanford, Texas and Arizona on the road in the opening month. Good thing they have a veteran quarterback to navigate enemy turf, err … Sure, much of the season hinges on the play of rookie JT Daniels, but not all of it. The roster is loaded everywhere else.
24. Arizona: Coach Kevin Sumlin stepped into a favorable situation with a gifted quarterback, veteran defense and highly-manageable schedule. Don't discount the Wildcats, who miss Stanford and Washington and get USC and Oregon at home, as a contender in the South if Khalil Tate develops his pocket efficiency.
Also considered (in no particular order): Oklahoma State, Northwestern, South Carolina, Iowa State, Boston College, Northern Illinois, Fresno State, Navy, West Virginia, LSU, Kansas State, Toledo, Utah, Mississippi State, Iowa and Memphis.
… Find Wilner's full ballot and story here …
–
—
Utah takes in former BYU linebacker with criminal record 
… As the article notes, "Utah has had success in reviving careers for players with troubled pasts" … Can't ever see CU being allowed to garner that reputation …
From ESPN … Francis Bernard is getting a second chance to continue his football career.
The former BYU linebacker was cleared to join Utah and start practicing with the team Monday. The junior will have two seasons of eligibility remaining and is eligible to play with the Utes this season.
Bernard adds depth to a linebacker unit that includes starters Chase Hansen and Cody Barton and highly regarded junior college transfer Bryant Pirtle.
Hansen already likes what he sees from his new teammate in terms of physicality, aggressiveness and football knowledge.
"He knows the game," Hansen said. "He knows how to play with violence, which is what we do on this side of the ball, so he's gonna be an awesome addition."
… Bernard joins Utah after being arrested last October on suspicion of a DUI. He was later fined $1,420 and sentenced to 48 hours of community service on a conviction of impaired driving, a Class B misdemeanor, according to Utah County Justice Court records.
Before the arrest, Bernard had been sitting out the season following alleged violations of BYU's honor code. He had missed the 2016 Poinsettia Bowl for violating team rules following a sophomore season in which he recorded 79 tackles and three interceptions. Bernard requested and was eventually granted a release to transfer from the school after being told he would not be able to play during the 2017 season.
Utah has had success in reviving careers for players with troubled pasts …
… Continue reading story here …
–
—–
August 14th
… Foe Pause … 
Steven Montez one of nine Pac-12 quarterbacks to make Johnny Unitas Golden Arm Award list
From the Johnny Unitas Golden Arm Educational Foundation … The Johnny Unitas Golden Arm Educational Foundation, Inc. is proud to announce the Watch List for the 2018 Johnny Unitas Golden Arm Award Presented by A. O. Smith. Named after one of the greatest quarterbacks of all time, the prestigious award has been presented annually since 1987 to the nation's top college quarterback.
Candidates must be a college senior or fourth-year junior on schedule to graduate with their class. Criteria to be considered for the award include character, citizenship, scholastic achievement, leadership qualities and athletic accomplishments.
It was recently announced that A. O. Smith will be presenting the 2018 Johnny Unitas Golden Arm Award®, which will be hosted on December 7 at the Embassy Suites Baltimore Inner Harbor Hotel & The Grand. Proceeds from the event help support the Johnny Unitas Golden Arm Educational Foundation, which provides assistance to underprivileged and deserving student-athletes throughout Maryland and Kentucky.
"A. O. Smith has a legacy of innovation and performance in the water heating and water treatment industries, much like Johnny Unitas did on the football field," said Jeff Storie, A. O. Smith's director of marketing. "Both of these iconic names have been around for decades and share many of each other's values. For A. O. Smith, partnering with the Johnny Unitas Golden Arm Educational Foundation and the Golden Arm Award makes perfect sense. We're excited to tie our own efforts to further education in our trade with the Foundation's efforts to help further the education of youths interested in football around the country."
2018 Johnny Unitas Golden Arm Award Watch List
Jake Bentley, South Carolina
David Blough, Purdue
Ross Bowers, Cal 
Jake Browning, Washington 
Kelly Bryant, Clemson
K.J. Carta-Samuels, Colorado State
Christian Chapman, San Diego State
Keller Chryst, Tennessee
Taylor Cornelius, Oklahoma State
Eric Dungey, Syracuse
A.J. Erdely, UAB
Ryan Finley, NC State
Nick Fitzgerald, Mississippi State
Ty Gangi, Nevada
Will Grier, West Virginia
Justice Hansen, Arkansas State
Justin Herbert, Oregon 
Alex Hornibrook, Wisconsin
Tyler Huntley, Utah 
Tyree Jackson, Buffalo
Daniel Jones, Duke
Kyle Kempt, Iowa State
Hasaan Klugh, UTEP
Brian Lewerke, Michigan State
Drew Lock, Missouri
Jake Luton, Oregon State 
Trace McSorley, Penn State
Marcus McMaryion, Fresno State
McKenzie Milton, UCF
Gardner Minshew, Washington State 
Steven Montez, Colorado 
Hayden Moore, Cincinnati
James Morgan, FIU
Shea Patterson, Michigan
Bryce Perkins, Virginia
Gus Ragland, Miami of Ohio
Malik Rosier, Miami
Brett Rypien, Boise State
Kyle Shurmur, Vanderbilt
JâMar Smith, Louisiana Tech
Jarrett Stidham, Auburn
Brent Stockstill, Middle Tennessee
Jordan Taâamu, Ole Miss
Khalil Tate, Arizona 
Alex Thomson, Marshall
Clayton Thorson, Northwestern
Brady White, Memphis
Manny Wilkins, Arizona State 
Brandon Wimbush, Notre Dame
Past standout winners of the Johnny Unitas Golden Arm Award® include: Peyton Manning(Tennessee, 1997); Carson Palmer (USC, 2002); Eli Manning (Ole Miss, 2003); Brady Quinn(Notre Dame, 2006); Matt Ryan (Boston College, 2007); Colt McCoy (Texas, 2009); Andrew Luck (Stanford, 2011); Marcus Mariota (University of Oregon, 2014); Connor Cook (Michigan State, 2015); Deshaun Watson (Clemson, 2016) and the 2017 winner, Mason Rudolph(Oklahoma State).
–
—–
August 13th
… Foe Pause … 
CSU coach Mike Bobo placed on medical leave
From the Coloradoan … CSU football coach Mike Bobo missed practice Monday and is not with the team while undergoing medical tests due to numbness in his feet.
Bobo had knee replacement surgery after the conclusion of Colorado State University's spring game in April.
He has appeared in pain during recent training camp practices and has commented afterward about foot numbness. He's observed parts of some recent practices from a golf cart.
"I recently began to experience numbness in my feet. After our second scrimmage on Saturday night, it was determined by doctors that I should be admitted to the hospital to undergo further testing. I feel very encouraged by the test results to this point and hope to have some answers soon," Bobo said in a news release from the school.
"I also feel very encouraged about our 2018 CSU football team. We have excellent coaches and excellent leadership in this program, and I have full confidence that they will continue to have tremendous preparation on and off the practice field for as long as I must be away. My family and I appreciate all of the great care and support we are receiving."
–
—
CSU Fall Scrimmage – Defense gets the better of the Offense
Press Release from CSURams … The defense had the upper hand in Colorado State football's second scrimmage of fall camp on Saturday evening at Canvas Stadium.
After the offense had a strong showing in the first scrimmage one week ago, the defense responded with a good week of practice and showed notable improvement on Saturday.
"I thought it was a really good scrimmage," Bobo told the media post-scrimmage. "Offensively, they've probably got their head down a little bit. The defense has probably got the feel that they dominated it. It was a shorter scrimmage, probably less than a half, but the 'one' defense didn't give up a point, which was awesome to see. I thought they made plays even when they were in the red zone, in situations where they had to make plays."
Bobo continued to go a little more in-depth with his observations from the scrimmage.
"Like I told the offense after the scrimmage, 'you're going to think you played bad, (but) you're going to watch the scrimmage and realize you're kind of close there on a couple of plays," Bobo said. "But I was really proud of the defense. I thought they made plays, there was tight coverage…(freshman cornerback) Rashad Ajayi continues to show up. There's a good competition there at corner between Ajayi, V.J. (Banks) and (Anthony) Hawkins, which I like. The safeties, (Jordan) Fogal did a nice job, Josh Watson showed up…I thought the d-line got a little more pressure this time. I thought (defensive end) Emmanuel Jones in there created some pressure. Overall, it was a good day. A couple penalties here and there that were kind of self-inflicted wounds—some false starts and stuff like that, alignment things offensively that we've got to clean up. But overall, the 'ones' went 32 plays, the 'twos' (also) 32 and the 'threes' (went) 23. So it wasn't a lot of plays, it was kind of in and out, but overall it was a good scrimmage; really good to see the defense rebound and play with a lot of energy, they were really into, it was exciting to see."
… Continue reading story here …
–
—–
August 11th 
… Foe Pause … 
Pacific Takes: Colorado a bowl team – fourth in Pac-12 South
From Pacific Takes …
Pac-12 North … 
1 . Washington 11-2 (8-1) – I don't see the Huskies getting over their losing to elite teams hump against Auburn in Atlanta and I think they drop the mother of all traps the Pac-12 set up for them in Eugene. The Huskies run the table outside of that though, beat Utah in a rematch in the Pac-12 Championship Game and make a run to the Rose Bowl.
2. Stanford … 3. Oregon … 4. Cal … 5. Washington State … Oregon State
Pac-12 South …
1. Utah 10-3 (7-2) – I'm pulling the trigger on the Utes winning the South. They get USC and Arizona at home and a great coach and quarterback who's coming into his own. The Utes are the most-complete team in the division with a proven system and it's about time they win the division.
2. USC … 3. Arizona
4. Colorado 6-6 (4-5) – I'm not sure if Colorado is actually better than Arizona State and UCLA, but I love how their schedule breaks down, with almost all of their "toss up" games taking place in Boulder. Getting back to a bowl game would be a major breakthrough for Mike MacIntyre and company a year after it seemed they may have regressed right back to the bottom of the South.
5. Arizona State … 6. UCLA
–
—–
August 10th
… Foe Pause … 
Oregon practices at Nike facility … in order to get used to playing on the road
From GoDucks.com … The Ducks were 1-4 on the road last fall, and that doesn't include their Las Vegas Bowl loss on a neutral field. In part to prepare his team to perform away from home, first-year UO coach Mario Cristobal on Tuesday took Oregon football practice on the road, to Ronaldo Field at Nike World Headquarters in Beaverton.
"The approach to the entire thing has to be a change a mindset," Cristobal said prior to practice Tuesday. "It's a huge focal point for today."
Cristobal noted that the Ducks practice in the morning, and so an afternoon practice Tuesday also would prepare them for the varied game times of a regular season. And Tuesday was also the first day of this preseason camp that the Ducks were in full pads.
"We have a lot of things to prove today," Cristobal said.
The biggest was getting comfortable performing well away from home. Three of the road losses in 2017 came while Herbert was hurt, but he was healthy for a September loss at Arizona State. And the UO offense struggled to get untracked against Boise State in the bowl game.
For a 2018 team with championship aspirations, that simply won't do. Something, they know, needs to change.
"It's a business mindset, a business mentality," junior linebacker La'Mar Winston Jr. said. " 'I came to execute, and that's what I'm doing to do,' from the hotel environment to the field. I'm excited to see my team grow in that area this year."
… Continue reading story here …
–
—–
August 9th
… Foe Pause … 
CBS Sports bowl projections – No Pac-12 playoff teams … but Buffs are going bowling
From CBS Sports … The CFP semifinal games this year will be in the Orange and Cotton Bowls.  In the seasons where the Rose and Sugar Bowls are not part of the playoff, there is a possibility that some good teams could get aced out of the New Year's Six because of conference contracts.  The Rose and Sugar Bowls will get teams from their contracted conferences regardless of ranking.  That means, if my projections are correct, the SEC, Big Ten and Big 12 are guaranteed a second team in the New Year's Six.  That would also be true of the Pac-12 should it put a team in the CFP.
I have Boise State as the representative of the Group of Five.  I think the Broncos have a little easier run to a possible undefeated or one-loss season than any of the teams in the American Athletic Conference.  The AAC champion figures to be a contender for that spot also, and it could be a favorite if it posts a one-loss season or better.
College Football Playoffs:
No. 1 Alabama v. No. 4 Oklahoma
No. 2 Clemson v. No. 3 Ohio State
New Year's Six Bowls:
Sugar Bowl … Georgia v. Texas
Rose Bowl … Wisconsin v. Washington
Fiesta Bowl … Stanford v. Boise State
Peach … Miami v. Penn State
Pac-12 Bowls:
Alamo Bowl … West Virginia v. USC
Holiday Bowl … Iowa v. Arizona
San Francisco Bowl … Northwestern v. Utah
Sun Bowl … North Carolina v. Oregon
Las Vegas Bowl … Fresno State v. Colorado
Cactus Bowl … Iowa State v. California 
–
—
Wilner: Pac-12 looking into November non-conference games
From Jon Wilner at the San Jose Mercury News … Deep within the mountain of responses from coaches at Pac-12 media day last month came a morsel of A-level insight. It had nothing to do with injuries, depth charts or redshirt rules — no relevance whatsoever to the season at hand — and plenty to do with the conference's football future.
Stanford coach David Shaw was asked a routine question about the possibility of USC and Stanford not only opening but closing the conference season (their Week Two showdown and a duel in the title game) for the second consecutive year.
Instead of addressing the division races, Shaw spoke about the schedule in general and the potential for a significant adjustment to the calendar:
Playing non-conference games in November.
"We've had conversations about scheduling and different scheduling practices and different ways that we could do it going forward," Shaw explained at the late-July event in Hollywood..
If implemented, the revised model would add a meaningful (conference) game to the September lineup and move a low-value matchup (FCS opponent) to early November.
In the broader sense, it would bring the Pac-12 schedule into closer alignment with that of the SEC, which has long slotted cupcakes into its late-season lineup.
I followed up with Shaw on the issue.
"There has been a lot of discussion over the years about strength-of-schedule being huge (for playoff berths) and everybody playing different schedules,'' he said. "But we also don't have the ability to schedule non-conference games late.
… Continue reading story here …
–
—–
August 8th
… Foe Pause … 
USC adds junior college player who was arrested for punching a referee
… Another instance of: "Could you ever see the CU program getting away with this?" … 
From YardBarker.com … The USC football team announced on Tuesday the addition of a junior college player who has a checkered past.
Trojans head coach Clay Helton told the media that the program added offensive lineman Bernard Schirmer as a transfer. In 2016, Schirmer was playing for Mt. San Antonio College in Southern California when he punched a referee during a game, leading to his arrest.
Charges against Schirmer was dropped, but the lineman was suspended five years by the Southern California Football Association for his actions.
Helton said the program vetted Schirmer and felt comfortable adding him.
Helton on vetting Schirmer: "What we learned from the administrators, counselors and coaches that we were dealing with a tremendous young man, a man that is a great student and a great person and a guy that we had no question would be a great member of our Trojan family."
–
—
CBS rates every Division 1 school … from 1-129
From CBS Sports … For the third straight season, the preseason edition of the CBS Sports 129 leads off with Alabama at the No. 1 spot. The rankings, which compile ballots from college football experts at CBS Sports and 247Sports to rank every FBS team in the country, allow us to step back and look at the sport's entire landscape as teams jockey for position both inside and outside the top 25 spots.
While Alabama sits in its familiar spot at the top, they were not a unanimous No. 1 in our balloting. They are followed by Clemson, Georgia and Ohio State. The Buckeyes are making their fourth straight appearance in the top five of our preseason FBS rankings.
Our experts seem have given Wisconsin a greater boost than some others, placing the Badgers in the No. 5 spot to open the season, but otherwise, the top of the board falls in line with what we've seen from around the country. Boise State is our top Group of Five team in the preseason rankings at No. 21, joined by UCF at No. 23.
The Pac-12 … 
6. Washington
14. Stanford
17. USC
24. Oregon
27. Utah
26. Arizona
43. Nebraska
50. California
53. UCLA
61. Colorado 
72. Washington State
73. Arizona State
90. Colorado State
110. Oregon State
–
—–
August 7th
… Foe Pause …
List of top 50 players includes five players from the Pac-12
From ESPN … Who will be the best college football players in 2018? Sure, there will be plenty of representation from Alabama and Clemson — a list-high five players apiece — and a load of quarterbacks.
But it all starts up front with a game-wrecking Group of 5 defensive tackle. Not only does Houston's Ed Oliver top most NFL draft boards, he leads the way here.
And remember, this is about what players will do in 2018, not what they've done to this point. So you'll find Tua Tagovailoa high on this list, as well as breakout candidates like Georgia running back D'Andre Swift and Clemson receiver Tee Higgins.
From the Pac-12 … 
2. BRYCE LOVE
RB, Stanford
Class: Senior
Key stat: 2,118 rushing yards in 2017
The speedster is just the third player in college football history to return to school after rushing for 2,000-plus yards and has a chance to become the first Heisman Trophy runner-up to win the award the following year since Georgia's Herschel Walker in 1982.
–
14. JUSTIN HERBERT
QB, Oregon
Class: Junior
Key stat: Mel Kiper Jr.'s No. 1 underclass QB
When Herbert was on the field last season, Oregon was one of the most dangerous offenses in the country (the Ducks scored 49.1 points and averaged 516.5 yards per game in his eight starts). If he plays to his potential this year, an early departure to the NFL might loom.
–
15. JAKE BROWNING
QB, Washington
Class: Senior
Key stat: Has thrown for 9,104 yards in three years
After finishing sixth in the Heisman Trophy voting and leading the Huskies to the playoff in 2016, Browning wasn't nearly as productive in 2017, but the senior is a primary reason Washington is viewed as the best team on the West Coast.
–
19. KHALIL TATE
QB, Arizona
Class: Junior
Key stat: Set FBS QB single-game rushing record with 327 against Colorado
Arguably the most exciting player to watch in the country, Tate enters the season as a legitimate Heisman Trophy contender under new coach Kevin Sumlin. Though he's known more as a runner, Tate's ability as a passer should not go overlooked — he throws one of the best deep balls in the country.
–
28. MYLES GASKIN
RB, Washington
Class: Senior
Key stat: 4,055 career rushing yards over three seasons
Gaskin is already the school's all-time touchdowns leader (49) and has a chance to become the first Pac-12 player and 10th in FBS history to rush for 1,000 yards in four consecutive seasons. He enters the season with 4,055 rushing yards.
–
—–
August 6th
… Foe Pause … 
Eric Bieniemy is the NFL's lone minority offensive coordinator
From The Athletic … As an​ orator, Eric Bieniemy loves​ his new job.​ One​ task Bieniemy enjoys​ about his​ new​​ requirements as the Chiefs' new offensive coordinator is that he gets to move around even more on the practice fields during training camp. Among coach Andy Reid's staff, few assistants are as skillful as Bieniemy when it comes to spreading a message.
During a recent practice, Bieniemy roamed to every position on the offense as players went through drills — the very drills that, at times, can become dull. For Bieniemy, nothing about football is uneventful.
He began with the running backs and fullbacks, the positions he previously coached. Bieniemy shouted the same word — "Finish! Finish! Finish!" — as each ball carrier burst through the line of scrimmage, imploring them to complete the drill at full speed. With the receivers, Bieniemy looked at each in the face from a few yards away before they started their route. His persuasive message for Tyreek Hill, the dynamic and speedy third-year player, was simple: "The great ones don't take days off." With the offensive linemen, Bieniemy quizzed the group about each protection adjustment they went over the day before in a meeting.
When the team began scrimmaging, Bieniemy, with a walkie-talkie in his right hand, voiced the play calls from Reid to quarterback Patrick Mahomes through his helmet. Each play call was followed with Bieniemy quickly giving Mahomes encouragement or motivation. The phrase most used was "be aggressive."
Reid has relished watching Bieniemy in his new role. He appreciates how Bieniemy doesn't waste words.
"He's an unbelievable communicator, someone who can get his point across clearly and can take the complex and make it simple," Reid said. "He's teaching, and that's the important part. He's been great for everybody, from the quarterback all the way down through the offensive line."
… Continue reading story here …
–
—–
August 5th
… Foe Pause … 
CSU conducts its first fall scrimmage 
... Note … Bear in mind that the Coloradoan looks at the Rams through green-and-gold glasses … 
From the Coloradoan … CSU's football team opened up its first scrimmage of the 2018 season to the public Saturday, allowing fans to get an early look at the team.
Coloradoan reporters Kelly Lyell and Kevin Lytle were there and here are their impressions of what they saw:
What stood out to you the most?
Lyell: Quarterback K.J. Carta-Samuels looked relatively comfortable running an offense he's only had a couple months to learn. He looks like he's capable of getting the ball to a talented group of receivers and some strong running backs.
Lytle: Warren Jackson is your next Rams superstar. He showed flashes last year, and he could quickly become the guy. "No. 9 has a chance to be a man," CSU head football coach Mike Bobo said he told receivers coach Alvis Whitted after the scrimmage.
The Wide Receiver U reputation at CSU is alive and well with Jackson leading the next wave. There were a couple drops, but freshmen Nikko Hall and A'Jon Vivens also made some nice plays.
Carta-Samuels is your starting quarterback to open the season and he looked solid. His pass over Bisi Johnson's shoulder for a touchdown was gorgeous.
Justice McCoy looked pretty good, which is good news since he'll likely be the backup QB on Aug. 25 against Hawaii in the season opener.
–
—
Michigan transfer quarterback sold on Kelly's system at UCLA
From ESPN … Quarterback Wilton Speight understands why it's easy to question his decision to transfer from Michigan to UCLA to play for Chip Kelly in his final season of eligibility.
He doesn't fit the dual-threat mold that Kelly relied on during his time at Oregon and must emerge from a competition that includes four other players to win the starting job.
Those factors, he said, weren't of much concern.
"[Kelly] and I talked a lot about how he ran things with Nick Foles, Sam Bradford, Mark Sanchez [in the NFL]," said Speight, after his second practice with UCLA. "The success that he had with those guys. They could move but obviously weren't dual-threat. I saw the success they had and the things he would tweak for those guys. I saw myself doing the same thing."
Speight spent the winter rehabbing and training in Southern California, and he spent a lot of time with Sanchez. The former USC quarterback laid out a case for why it made sense for Speight to head to UCLA to play in Kelly's offense.
… Continue reading story here …
–
—–
August 3rd
… Foe Pause … 
Chris Petersen's highest-rated recruit asks for release from Washington
From the Seattle Times … One of the most touted recruits ever to sign with the Huskies has asked for his release from his National Letter of Intent.
Ale Kaho, a five-star linebacker who signed with Washington last December, has made a formal request through the NCAA to be released from his NLI, a family member told The Seattle Times on Thursday afternoon.
Kaho was in Seattle for six weeks this summer but was unable to participate in the Huskies' formal offseason training program because he still had one high-school class to complete before he could enroll at UW, according to a source close to the team.
Two members of Kaho's family, an aunt and an uncle, died suddenly in July. Kaho flew home to Reno, Nev., for their memorial services and has remained there. Family members were worried about Kaho's health after he apparently lost some 20 pounds while in Seattle.
Kaho's parents are also going through a divorce, putting a strain on the entire family, one of Kaho's family members said in an interview.
"He had so much stuff going on right now," said the family member, who asked for anonymity. "Football is not even our concern right now. He does not look right. He does not act right. He's not the same bubbly kid we know."
… Continue reading story here …
–
—–
August 2nd
… Foe Pause … 
USA Today/Coaches preseason poll released
From USA Today
1. Alabama (61 first-place votes)
2. Clemson (3)
3. Ohio State (1)
4. Georgia
5. Oklahoma
6. Washington … Previous ranking: 15. Opens: Sept 1 vs. No. 10 Auburn in Atlanta (ABC, 3:30)
Outlook: The Huskies have QB Jake Browning and RB Myles Gaskin returning to its offense as they bid to reach the playoff for the second time in three seasons. The season opener against Auburn should tell a lot about whether they're a contender or just the best team in the Pac-12.
7. Wisconsin
8. Miami
9. Penn State
10. Auburn
11. Notre Dame
12. Michigan State
13. Stanford … Previous ranking: 19. Opens: Aug. 31 vs. San Diego State (FS1, 9)
Outlook: RB Bryce Love decided to skip the NFL draft, giving the Cardinal one of the top weapons in college football. QB K.J. Costello, who welcomes back his top four receivers, has to do his part to take some pressure off Love. The defense was down a notch last year and is expected to be better.
14. Michigan
15. USC … Previous ranking: 10. Opens: Sept. 1 vs. UNLV (Pac-12, 4)
Outlook: It likely will be the defense, led by DL Christian Rector and LB Cameron Smith, that becomes the strength of the Trojans after the departure of QB Sam Darnold. With no significant experience at the position, true freshman J.T. Daniels could win the starting job which could mean some early growing pains.
16. TCU
17. Virginia Tech
18. Mississippi State
19. Florida State
20. West Virginia
21. Texas
22. Boise State
23. UCF
24. LSU
25. Oklahoma State
Others receiving votes: South Carolina 138, Florida 135, Oregon 105, Utah 81, Texas A&M 67, Northwestern 67, Kansas State 35, Florida Atlantic 27, Memphis 23, Boston College 23, NC State 22, Arkansas State 19, Troy 19, Appalachian State 16, San Diego State 15, Kentucky 8, Iowa State 8, Iowa 8, Washington State 7, South Florida 6, Duke 5, Fresno State 4, Louisville 3, Arizona 2, Houston 2, Army 1, Northern Illinois 1
–
—–
August 1st
… Foe Pause … 
Jon Wilner: Best case/worst case scenario for Colorado
From the San Jose Mercury News … Utah is the first team in the conference to open the regular season and the first in the South to start training camp.
What constitutes a successful camp?
That depends on the depth chart, of course, but the Hotline figured a dash of context might be in order.
Colorado
Best case: If tailback Travon McMillian (ex-Virginia Tech) loosely resembles Phillip Lindsay; the offensive line produces an upside surprise after the disappointing '17 season; defensive linemen Javier Edwards and Chris Mulumba are impact players consistently; and freshman cornerback Chris Miller plays like a veteran.
Worst case: If quarterbackSteven Montez isn't sharp; the young wideouts aren't consistent (the Buffs lost their top-three receivers); and coach Mike MacIntyre doesn't see a few of the same traits that were visible in Aug. '16, when CU was quietly positioning itself for a breakout season.
MacIntyre's mouth to our ears: "(Montez) has gone from algebra to calculus in understanding how to prepare for a game, his film study and all the things he's doing. He's been around the office all summer, watching tape, working on it, studying it. And Kurt Roper, our new quarterback coach, has done a great job with him."
My brain to this keyboard: We won't begin to speculate on CU's effectiveness on the lines of scrimmage — too many new players, too little game experience — but the Hotline would be surprised if Montez doesn't thrive under Roper's tutelage. Sometimes, a different voice can change everything.
Opener: Aug. 31 vs. Colorado State
… Read other Pac-12 South previews here …
–
—
Ohio State places Urban Meyer on administrative leave after investigation
… and no, the Mike MacIntyre/Joe Tumpkin story is not the same. MacIntyre reported to his superiors when he was told about allegations; Meyer did not … 
From CBS Sports … Ohio State has placed coach Urban Meyer on administrative leave, the school announced late Wednesday, as a response to a report that made it clear Meyer knew about domestic violence incidents involving former wide receivers coach Zach Smith but did not act or remove him from his football programs prior to this offseason.
"The university is conducting an investigation into these allegations," Ohio State said in a statement provided to CBS Sports. "During the inquiry, Urban Meyer will be on paid administrative leave. Ryan Day will serve as acting head football coach during the investigation. We are focused on supporting our players and on getting to the truth as expeditiously as possible."
Meyer also released a statement to CBS Sports through the university. "Gene and I agree that being on leave during this inquiry will facilitate its completion," Meyer said. "This allows the team to conduct training camp with minimal distraction. I eagerly look forward to the resolution of this matter."
Brett McMurphy reported Wednesday — through a string of interviews and text messages he uncovered — that Meyer did know about the 2015 incident in which Smith was arrested for felonious assault and domestic violence of his then-wife.
The report contains screenshots of text messages and graphic pictures that purportedly detail a pattern of abuse ranging from physical violence to text message threats made by Smith to his ex-wife Courtney.  In text message conversations with Shelley Meyer, Urban's wife and confidant, Courtney discusses Smith's behavior and receives sympathy and shock from Shelley, who referred to Smith as scary. Later Wednesday, Courtney said in an interview with Stadium that Shelley proposed talking to Meyer about the incidents, to which Courtney said she should do.
The evidence presented in McMurphy's report directly contradicts what Meyer said in July at Big Ten Media Days.
"[Regarding] 2015, I got a text late last night something happened in 2015," Meyer said on July 24. "And there was nothing. Once again, there's nothing – once again, I don't know who creates a story like that."
… Continue reading story here …
–
—–
July 31st
… Foe Pause …
Stanford coach David Shaw: College Football Playoff committee should pay more attention to schedules
From ESPN … Stanford coach David Shaw said the College Football Playoff selection committee should pay greater attention to when teams have byes during the season, and how the entire schedule is laid out.
Shaw, who sat down with ESPN on Tuesday for a wide-ranging interview, said he has thought a lot about the playoff this summer. He has spoken with several committee members this offseason, and CFP executive director Bill Hancock on Monday.
"How the schedule lays out may be more important than strength of schedule," Shaw said. "What I mean by that is, if you look at USC last year, to play 11 straight games without a bye — all Division I opponents, no I-AA opponents, and play right into the Pac-12 championship game and win that one — that to me is more impressive than just having a strong schedule but then having a Week 7 bye, or a Week 8 I-AA opponent, which kind of gives you a break."
Last season was the first since 1995 that USC played the entire regular season without a bye week. Its two losses were on the road — a Friday night at Washington State, and Oct. 21 at Notre Dame. In spite of beating Stanford for the Pac-12 title, USC finished No. 8, right behind three-loss Auburn, which had a bye week between back-to-back road games against Arkansas and Texas A&M.
The difference was that Auburn earned two November wins against the committee's No. 1 teams in Georgia and Alabama.
Hancock said Tuesday the 13-member committee does consider more than just who a team played and where the game was.
… Continue reading story here …
–
—
Pac-12 discussions with AT&T continue … but still no DirecTV
From Jon Wilner at the San Jose Mercury News … The Pac-12 Networks are in active conversations with AT&T about extending their partnership through the 2018-19 sports season, networks president Mark Shuken told the Hotline.
Carriage on DirecTV for the networks is not part of the discussion, however.
"We've isolated the conversation to one of continuing the current terms with U-verse alone," he said, "instead of continuing the conversation about DirecTV."
The original contract was signed in 2013 — one year after the launch of the Pac-12 Networks — and expires this summer.
AT&T didn't own DirecTV at the time. It acquired the satellite provider two years later and engaged in carriage negotiations with the Pac-12.
AT&T's proposal was rejected (unanimously) by the conference chancellors and presidents.
The omission of DirecTV carriage from the current discussions means the impasse, a source of deep frustration for fans, will continue for at least one more year — but only if the networks and AT&T agree to extend the current deal.
… Continue reading story here …
–
—–
July 30th
… Foe Pause … 
CU season ticket design getting national attention
From CBS Sports … Colorado's 2018 season tickets won't be just like any other year. Instead, the tickets will feature special artwork courtesy of the patients from Children's Hospital Colorado.
According to the school, which partnered with the CHC, this year's ticket designs were created by the winners of an art contest. Twenty-five submissions were sent in with six winners chosen from the pool. Most of the submissions either featured Colorado's mascot, Ralphie, or some variation of the buffalo.
Hands down, this is absolutely the best part of college football and why connections between schools and communities run so deep.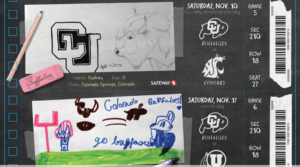 –
—–
July 27th
… Foe Pause … 
Pac-12 coaches like new redshirt rule
From azdesertswarm.com … -The NCAA implemented a new rule this offseason that allows players to appear in up to four games and still redshirt.
The four games do not have to be consecutive, either. Previously, a player could not redshirt if he played in just one game (unless there was an injury involved).
Unsurprisingly, the rule change is a big hit among Pac-12 coaches. Here is what some of them had to say about it at Wednesday's media day, and how they plan to implement it.
Oregon's Mario Cristobal: "It is a game changer. We love it. But at the same time, we don't want to let it affect the dynamic of our football team. We don't want playing time to be something, hey, you can redshirt, let's just play you. I think that would destroy your locker room. I think playing time is something that is earned, rightfully so."
Utah's Kyle Whittingham: "I think the new redshirt rule is a huge positive for the players. I think it was a great decision by the NCAA. There is a lot of conversation that's taken place and will continue to take place of how to use the new redshirt rule, because you can use any four games. It can be up front, at the end, mixed in between."
… Continue reading story here …
–
—–
July 26th
… Foe Pause … 
Larry Scott continues to defend Pac-12's status
From CBS Sports … Pac-12 commissioner Larry Scott spent part of his opening remarks at this year's media day defending what was an abysmal year for his conference in the postseason. In short, Scott wants to keep his conference's 1-8 bowl record and quick exit from the NCAA Tournament in perspective.
"Much was written and discussed about our bowl record last year," Scott told reporters. "From our perspective, a handful of season-ending games are not a communicator of a conference's overall strength and competitiveness.
"Nine of our 12 teams qualified for bowls and we placed two teams in the six New Year's bowls. At the end of the season, we have four teams among the top-25. It's clear by all those measures we've got a strong, deep and highly competitive conference that provides our fans with great matchups every week."
While it's true that bowl results outside of the College Football Playoff — which the Pac-12 was absent from last season — don't mean everything, there's no way to soften 1-8. This is especially true when all but one of the Pac-12 bowl opponents were Power Five brethren. And with only one team — Arizona — getting to the Round of 32 in the men's basketball tourney, only to be immediately upset, the Pac-12 missed out on making a name for itself in two major revenue-producing sports.
… Continue reading story here …
–
—–
July 25th
… Foe Pause … 
Pac-12 Networks to ramp up coverage
From CUBuffs.com … The TV entity of the conference, the Pac-12 Networks, laid out its coverage plans for the upcoming season and its enhanced efforts to provide more content across more platforms in covering the conference's 12 universities. In total, Pac-12 Networks will air 34 live games, including 13 over the first three weeks and finishing strong with 11 in the month of November.
The Networks also rolled out new programing coming up this fall, along with new and more convenient ways for the fans to follow their favorite teams. The highlights:
• "The Pregame" – For the first time ever, Pac-12 Networks will take its signature Saturday show on the road all season long. Each Saturday, beginning with the second week of the season, the hour-long program will kick start the day's live coverage from a different Pac-12 campus as the show will make stops at all 12 universities all season long.
Also, as for the first time ever, as part of "The Pregame" tour across all 12 campuses, on-site coverage for Pac-12 Networks will begin Wednesday of that week with content appearing across the network's linear, digital and social media channels every day, leading up to "the Pregame" on Saturday.
• "Football in 60" returns, with an added bonus of on-demand now being available for the fan's viewing pleasure. As with past years, each week Pac-12 Networks will re-air each of the previous week's Pac-12 football games in an action-packed and hour long package. Each "Football in 60" episode will now be available on-demand on the Pac-12 Now app and at Pac-12.com.
The Networks will produce quick recaps for all Pac-12 football games in a short-form fashion for its digital and social media channels, with one 60-second recap for each Pac-12 team every week.
• "Inside Pac-12 Football" – Returning this season with a new nightly home every Tuesday evening, "Inside Pac-12 Football" is your spot for all football analysis on Pac-12 Networks. It will start with a pair of episodes covering Pac-12 Football Media Days, while regular episodes begin Tuesday, Aug. 28 as part of the kickoff week of the season.
• "The Drive" – Pac-12 Networks will return its award-winning series with a new format as it continues to cover all 12 programs from an in-depth prospective. This season of "The Drive" will focus on key storylines from all 12 programs, with short-form features debuting across Pac-12 Networks digital and social media platforms.
On Pac-12 Network, five compilation episodes will air through the season, featuring the most compelling storylines from various teams per episode and covering all 12 institutions across four half-hour shows, starting with a special hour-long season previews on Aug. 27.
–
—
Pac-12 media poll – CU picked to finish fifth in Pac-12 South (with one first place vote)
From the Pac-12 … WASHINGTON was chosen the favorite to win the 2018 Pac-12 Conference football title in a vote of 42 media members who cover Pac-12 football. The Huskies received 37 votes to earn the preseason nod over defending Pac-12 Champion USC. The Huskies garnered 40 first-place votes to hold down the top spot in the Pac-12 North Division, while USC tallied 22 first-place votes to edge out UTAH (14 first-place votes) to win the South Division.
Washington (249 points) was the overwhelming selection to capture the North Division ahead of STANFORD (198) and OREGON (178), which each picked up single votes to win the division.
The media expects the South Division to provide a competitive race with USC (225) topping Utah (209) and ARIZONA (178), which picked up three first-place votes. UCLA collected two votes, and COLORADO one vote, to represent the South Division in the Pac-12 Championship Game.
The media has correctly selected the Conference Champion in 30 of 57 previous polls, but only three times in the last 11 polls. Following are the results of the preseason media poll (points 6-5-4-3-2-1, first-place votes in parentheses)
Pac-12 North:
1. Washington – 249 (40)
2. Stanford – 198 (1)
3. Oregon – 178 (1)
4. California – 108
5. Washington State – 98
6. Oregon State – 45
–
Pac-12 South:
1. USC – 225 (22)
2. Utah – 209 (14)
3. Arizona – 178 (3)
4. UCLA – 116 (2)
5. Colorado – 80 (1)
6. Arizona State – 72
PAC-12 TITLE GAME CHAMPION: Washington (37 votes)Others receiving votes: USC (2), Oregon (1), Stanford (1), UCLA (1)
The 2018 Pac-12 Football Championship Game will take place Friday, Nov. 30 and will be telecast to a national audience on FOX at 5 p.m. PT. The Championship Game will match the winner of the North Division vs. the winner of the South Division at Levi's® Stadium in Santa Clara, Calif.
–
—–
July 24th
… Foe Pause … 
CBS Sports: Pac-12 media day issues
From CBS Sports …  If the SEC Media Days are too long (four days), the Pac-12's media day is too short. It all goes down Wednesday in L.A.
The public and media deserve better from a league that is increasingly becoming marginalized in the national picture. At least give us another day to digest it all.
There is plenty to write about from the Left Coast. There are five new coaches — two of them making their college debut. There is the usual collection of strong-armed quarterbacks. Defending Pac-12 champion USC may have a true freshman (J.T. Daniels) behind center.
Elsewhere, here are five storylines to watch from the Pac-12 media day this week live from Hollywood.
1. The Pac-12's reputation: It needs work, and frankly, I'm tired of writing about it. It would be nice if the league got back into the College Football Playoff. Each team in the league lost at least three games last season. That has to change. Some notable nonconference wins would help. Pay attention to these September matchups:
Aug. 31: San Diego State at Stanford
Sept. 1: Auburn vs. Washington (Atlanta)
Sept. 8: Michigan State at Arizona State
Sept. 8: Colorado at Nebraska
Sept. 8: UCLA at Oklahoma
Sept. 15: USC at Texas
… Continue reading story here …
–
—
Jon Wilner speculates on hot topics at Pac-12 Media Day (Wednesday)
From the San Jose Mercury News … The Pac-12's annual mid-summer media gathering will unfold Wednesday in Hollywood, with all 12 coaches and a plethora of marquee players talking optimistically about the season to come.
Good chance the conference will have something to say, as well.
Commissioner Larry Scott typically uses the platform afforded by football media day to unveil a new alliance or initiative.
At the 2016 festivities, the conference announced Cox had agreed to place the Pac-12 Network's national feed on a basic tier, increasing access for viewers on Cox systems in Arizona and Southern California.
Last year, the conference announced an extension of the football title game at Levi's Stadium and measures designed to shorten the length of games.
What could we expect Wednesday from both the conference and the coaches?
Here's a rundown of topics, above and beyond the preseason media poll, that could surface:
… Continue reading story here …
–
—–
July 23rd
… Foe Pause … 
YardBarker: Nebraska one of the most over-rated teams this fall
From YardBarker … College football season is just around the corner, and it will only be a matter of time before the legitimate preseason polls are out. Too much weight can be put into these, but they're the best we have before games are played, so they're worth paying attention to.
That said, it's a good bet these polls will overrate some teams. There will even be other teams who aren't ranked, but are experiencing a lot of hype for various reasons that they might not live up to, at least in 2018. Here are ten such teams that might disappoint once the 2018 college football season kicks off.
10) Nebraska
To be clear, the Cornhuskers have a bright future, and it's not as if anyone is really expecting them to challenge for the Big Ten title this year. Still, the expectations for new coach Scott Frost might be a little high in his first year. The Huskers are coming from a four-win season and face a very difficult schedule. There are also major questions about a defense that allowed 36 points per game in 2017. The trajectory of the Nebraska program was good, and scrapping for bowl eligibility is actually a step forward, but don't be shocked if that's all they end up doing.
–
—-
Pac-12 Media Day questions which should be asked
From the Eugene Register-Guard … Media days are known for many things, but honesty is not high on the list.
This is spin season, when everyone has added 10 pounds of muscle and every team is working harder than it did last year. Before the harsh realities of fall set in, this is the time when everyone is undefeated and every backup is a star-in-waiting.
Just once, I'd like to spike every coach's Gatorade with truth serum and find out how they really feel. No boilerplate, no coach-speak, just unfiltered honesty.
Assuming everyone is required to tell the truth, here's what I would ask every coach at Pac-12 media day.
Chris Petersen, Washington: Two years from now, Pete Carroll retires from the Seahawks. You interested?
Seattle already hit the jackpot with a college coach from the Pac-12. Petersen seems to have the perfect demeanor for the NFL, and he's getting close to the now-or-never age. I have no idea if he'd consider an NFL job, but I'd like to hear his honest thoughts.
Mike Leach, Washington State: What's your deal, dude?
I'm not sure if Leach was being sincere when he tweeted a doctored clip of a Barack Obama speech. For a guy who fashions himself a scholar and a history buff, Leach sometimes comes across as more of a troll or a nutjob.
Goodness knows college football could use a little more personality, but I wonder if Leach knows when he's crossing the line between quirky and distasteful.
Mike MacIntyre, Colorado: How warm is that seat?
It's been downhill for MacIntyre at Colorado since he led the Buffaloes to the South Division title in 2016. One of his assistants was charged in a domestic violence case, and CU is coming off a last-place finish that dropped MacIntyre's Pac-12 record to 12-33. Goodwill from 2016 only goes so far.
… Read other "questions" here …
–
—–
July 22nd
… Foe Pause … 
Why Kansas is the toughest job in the Power-Five conferences 
From The Athletic … David​ Beaty was hired​ to fix​ Kansas football. Three years​ later, so was​ Jeff​ Long.
In Long's first​ few months​ on​​ the job, the Jayhawks' new athletic director must diagnose why this program has become so uncompetitive in the Big 12 over the past decade. And he must decide whether Beaty, his fourth-year head coach, is the man with the plan to fix it.
"It's time to break the cycle," Long said at his introductory news conference last week. "It's not gonna be easy."
Before he makes any decisions, Long must fully understand the scholarship crisis that Beaty inherited when he took over the program in 2015. Because calling it disastrous might be an understatement.
Kansas' scholarship problem, created by former head coach Charlie Weis, his botched blueprint and a long list of complicating factors, has made this by far the hardest coaching job at the Power 5 level. There are few other head coaches in FBS dealing with the kind of roster problems that Beaty has spent more than three years fighting.
"We've had to be very creative since we've got here. I daresay this just may be the most creative staff in the history of the game," Beaty told The Athletic, chuckling as he said it. "I've gotta laugh, because if I don't, I'll cry."
The Jayhawks are hoping to have 70 true scholarship players on the roster this fall, which puts them 15 players under the 85-man limit. That 70 includes many players who arrived as walk-ons whom Beaty and his staff have developed.
Why is it that Beaty remains 15 scholarships short entering his fourth year on the job? Because a program needs a ton of good fortune to overcome that debt. It needs recruiting classes that pay off big. It needs to avoid injuries. It needs a high level of retention. It needs a plan, sure, but it also needs so many things to go right. A lot has gone right at Kansas during Beaty's tenure. But his 3-33 record does not reflect much progress, and it has him sitting on college football's hottest hot seat.
Beaty has long avoided talking openly about Kansas' scholarship crisis. He does not want to make any excuses or make it about himself. But the man needs more time. As he enters his decisive fourth season, working with a new AD and feeling the win-now pressure, he understands he can't wait any longer. He's ready to start explaining — before it's too late.
… Continue reading story here …
–
—–
July 21st
… Foe Pause … 
NCAA – no change in position on sports wagering
From ESPN … While some universities look into possible revenue from legalized sports betting, the NCAA says it remains opposed to that and is focused on protecting student-athletes and the integrity of the games through education and consistent national guidelines.
The NCAA announced Thursday that an internal team of experts has started examining the long-term effect legalized sports betting could have on college sports, including officiating, rules and the use of integrity services.
In May, the United States Supreme Court struck down the federal ban on state-sponsored sports betting, opening a path for states to begin licensing bookmakers. Delaware and New Jersey have begun offering Las Vegas-style sports betting, and Mississippi and West Virginia expect to be up and running by football season.
"While we certainly respect the Supreme Court's decision, our position on sports wagering remains," NCAA chief legal officer Donald Remy said in a release. "With this new landscape, we must evolve and expand our long-standing efforts to protect both the integrity of competitions and the well-being of student-athletes."
… Continue reading story here …
–
—
July 20th
… Foe Pause … 
Career of USC wide receiver in doubt after second arrest for domestic violence
… Joseph Lewis was a four-star recruit from the Class of 2017, the highest-rated recruit from USC's 6th-ranked Class … 
From YardBarker … Joseph Lewis was one of the highest-rated wide receiver recruits in the country when he joined USC last year, but his career is in danger of falling apart before it ever got started now that he has once again been arrested for domestic violence.
According to a report from TMZ, Lewis was taken into custody on Wednesday night following a physical altercation with a woman. The victim reportedly fled the home where the incident took place and called police, and police came to the house and arrested the 18-year-old Lewis. His bail has been set at $100,000.
To make matters worse, Lewis was suspended from all football activities back in February following a separate domestic violence incident. He ultimately pled no contest and was given 36 months probation, so he could be in serious legal trouble if found guilty this time. Given the statement USC issued after the first arrest, it would not be a surprise if Lewis is dismissed from the team.
Lewis, the No. 31 overall recruit in his 2016 high school class, caught just four passes for 39 yards with the Trojans last season. He was expected to take on a much bigger role as a sophomore.
–
—
Pac-12 Networks detail Pac-12 Media Day coverage
Press release from the Pac-12 … Live from Hollywood, Calif., Pac-12 Networks will provide extensive multi-platform coverage all day Wednesday, July 25 of the 2018 Pac-12 Football Media Day.  The action begins on Pac-12 Network and the Pac-12 Now app with the first of two three-hour long episodes of "Inside Pac-12 Football: Media Day Special" airing live from 8:30 a.m. – 11:30 a.m. PT / 9:30 a.m. – 12:30 p.m. MT highlighting the Pac-12 North division, followed by coverage of the Pac-12 South from 1 p.m. – 4 p.m. PT / 2 p.m. – 5 p.m. MT.
The day-long event will feature several of the Conference's top student-athletes on-site, including a quintet of talented quarterbacks with Washington's Jake Browning, Oregon's Justin Herbert, Arizona's Khalil Tate, Arizona State's Manny Wilkins and Colorado's Steven Montez, as well as new head football coaches Mario Cristobal, Herm Edwards, Chip Kelly, Jonathan Smith and Kevin Sumlin along with all other head coaches.
Hosted by Pac-12 Networks' Mike Yam, both episodes of "Inside Pac-12 Football: Media Day Special" will feature analysis and commentary from Yogi Roth as well as reports and additional interviews from Ashley Adamson.   Following the conclusion of Pac-12 Football Media Day, each episode of "Inside Pac-12 Football: Media Day Special" will re-air across Pac-12 Network and the Networks' six regional channels in their entirety for several days, with condensed one-hour recaps premiering Wednesday, Aug. 1, summarizing both the Pac-12 North and South divisions' coverage.
In addition to six hours of live coverage on Pac-12 Network, the Networks will also provide extensive content across its digital and social media platforms, including:
Pac-12 Commissioner Larry Scott's opening remarks streamed live at 8 a.m. PT / 9 a.m. MT to the Pac-12's Facebook (facebook.com/Pac12Conference) as well as Twitter (@Pac12Network and @Pac12), Pac-12 Networks' YouTube channel, Pac-12.com and the Pac-12 Now app.
All 12 head football coach availabilities at the main stage will be streamed live to the Pac-12's Facebook (facebook.com/Pac12Conference), Pac-12.com and the Pac-12 Now app.
Following the live streams of Pac-12 Commissioner Larry Scott and each head coach availability, all will be uploaded and available on-demand at Pac-12.com, the Pac-12 Now app and Pac-12 Networks' YouTube channel.
HOW TO WATCH
Both episodes of "Inside Pac-12 Football: Media Day Special" will be available on either Pac-12 Networkor the Pac-12 Now app (available on the App store for iOS and Google Play for Android), on Pac-12.com/now as well as Pac-12 Networks regional channels.
Pac-12 Commissioner Larry Scott's opening remarks to kick off the 2018 Pac-12 Football Media Day will be streamed live at 8 a.m. PT / 9 a.m. MT to the Pac-12's Facebook (facebook.com/Pac12Conference) as well as on Twitter (@Pac12Network and @Pac12), Pac-12 Networks' YouTube channel, Pac-12.comand the Pac-12 Now app.
All 12 head football coach availabilities will be streamed live to the Pac-12's Facebook (facebook.com/Pac12Conference), Pac-12.com and the Pac-12 Now app.
More information on how to receive Pac-12 Networks anywhere in the United States is available here on Pac-12.com.
For specific times each day for each school's scheduled live appearances on Pac-12 Network, please visit Pac-12.com.
–
—–
July 19th
… Foe Pause … 
UCLA loses four-star recruit to admissions issues
… Addison, the second-highest rated UCLA recruit (51st-best athlete in the country according to Rivals), had offers from nine Pac-12 schools – though not Colorado … 
From the Daily Bruin … Former Gardena (Calif.) Serra athlete and UCLA signee Bryan Addison has been given his full release from the Bruins and is back on the market.
Addison was a big recruiting coup for the Bruins and was one of the headliners in their 2018 recruiting class. He was rated the No. 98 player nationally in the 247Sports Composite and flashed the potential to be an impact player at safety or receiver in college.
Addison chose the Bruins after taking visits to Arizona State, Nebraska and Washington and USC was heavily involved as well. He signed in December and was expected to compete for playing time at receiver as a true freshman.
"I had some issues with the college board and UCLA admissions," Addison said. "I have been fighting this for 5-6 weeks and things were a little slow to get going and time was running out for me. All the other freshmen were already enrolling and it was getting stressful for me.
"It felt like the college board was dragging their feet a little on this and I was starting to worry that if I didn't get cleared soon, it would be too late for me to go anywhere else. I asked for my full release and it was given to me earlier this week on Monday. I'm basically back to square one and looking at all my options again."
Addison said he has already heard from several programs including ASU, Oregon, USC, Nebraska and Washington. He was already cleared by those those programs prior to signing with UCLA and will be immediately eligible at whatever school he chooses.
Of the above mentioned schools, the Ducks are the only program he has never visited.
"I want to try and get out to Oregon if I can before I make a decision here," Addison said. "I don't have a lot of time though, I have to make my decision and be ready to go by next week.
"I will most likely make my decision by next Thursday, Friday or Saturday, sometime in that timeframe is when I have to decide and be ready to enroll. I'm just looking to God for guidance here and trusting Him. I feel like He gave me a second chance to re-evaluate my options and make sure I'm making the best choice for me so that's how I'm looking at."
–
—–