—
Colorado Daily – Washington
—
September 23rd – GameDay!
… CU in a few minutes … 
Buffs have some "unfinished business" to tend to in Pac-12 title game rematch
From CUBuffs.com … It's not an exaggeration to say the Colorado Buffaloes have been waiting for Saturday's Pac-12 opener against Washington for the last nine months.
Fact is, the Buffs were looking ahead to their Pac-12 opener even before they knew it would involve the defending conference champs in a rematch of last year's title game.
The Huskies being on the docket simply adds a little more juice to the atmosphere.
"I think everyone in this locker room thinks we have a little unfinished business from last year," CU senior left tackle Jeromy Irwin said after last weekend's win over Northern Colorado. "We didn't finish last year the way we wanted to, either in the championship game (a 41-10 loss to the Huskies) or in the bowl game (a 38-8 loss to Oklahoma State in the Alamo Bowl). I think there's a little redemption out there for us, and now we get a shot at a really good team with really good players and really good coaches."
… Continue reading story here …
–
—–
September 22nd
… CU in a few minutes …
Neill Woelk's Five Keys to the Washington game
From CUBuffs.com … It's not difficult to figure out what the 3-0 Colorado Buffaloes must do Saturday against the 3-0, seventh-ranked Washington Huskies.
After all, the two teams played just nine months ago in the Pac-12 championship game, a game Washington won rather handily, outscoring the Buffs 27-3 in the second half en route to a 41-10 win. While many of the names have changed, there are still plenty of familiar faces on both sides.
More than anything, the Buffs need to do their best not to repeat the mistakes they made last December inSaturday night's rematch at Folsom Field.
The details:
… Continue reading story here …
–
—
Phillip Lindsay: "The motivation is to show that we're here and it's not a fluke"
From the Daily Camera … Sitting in the summer sun outside of a Hollywood hotel in July, Colorado running back Phillip Lindsay was seven months removed from the previous season, yet still bothered by how it finished.
Sure, going 10-4 and winning the Pac-12 South title last year was sensational, especially for a CU team that had posted 10 consecutive losing seasons prior to that, but it was incomplete.
"If you go into the season winning, but at the end of the season you lose, you shouldn't be happy," he said that day. "Our goal was to win a Pac-12 championship, not go to a Pac-12 championship.
"We got embarrassed in the two games at the end of the year. The motivation is to show that we're here and it's not a fluke."
… Continue reading story here …
–
—
CU hosting a Food Drive Saturday
From CUBuffs.com … The University of Colorado Athletic Department will host a food drive before the CU Football vs. Washington game on Saturday, September 23. Kickoff is scheduled for 8 p.m.
Fans are encouraged to donate a canned food item to benefit Community Food Share to help fight hunger in Boulder and Broomfield counties.  September is hunger action month. A month where people all over America stand together with Feeding America and the nationwide network of food banks to fight hunger. It's a month to spread the word and take action on the hunger crisis, and dedicate ourselves to a solution.
Any factory sealed canned good is welcome but the most needed food items include:
Peanut Butter
Canned Meals
Cold & Hot Cereal
Canned Tuna/Chicken
Canned Vegetables
Pasta Sauce
Pasta
Volunteers will staff donations bins on game day located at all entrances.
–
—–
September 21st 
… CU in a few minutes … 
CU defensive backs not concerned about surrendering deep passes
From the Daily Camera … Using the speed that carried him to a couple of 400-meter championships in the Big Sky Conference, Northern Colorado receiver Alex Wesley got behind the Colorado secondary for a pair of long touchdowns on Saturday.
In all, the Buffaloes gave up three touchdown passes of 27 yards or more in the 41-21 win over the Bears.
Cause for concern for the Buffs?
"That's the only time we've shown it," head coach Mike MacIntyre said. "We'll just work on it. We haven't shown it any other times."
UNC was the first team to burn the Buffs on deep passes this year, although the Buffs haven't been spotless otherwise.
In the opener against Colorado State, the Buffs benefitted from three questionable offensive pass interference penalties and a CSU penalty for illegal hands to the face. All four of those flags wiped out deep completions, two which would have been touchdowns.
–
—
CU's leading tackler, linebacker Drew Lewis, is a former Washington Husky
… Related … "Former UW recruit Drew Lewis an early defensive revelation for CU Buffs" … from the Daily Camera
From the Tacoma News Tribune … Drew Lewis should have been exactly what coach Chris Petersen wanted at the University of Washington.
He was one of the bright football stars coming out of the state from Eastlake High School. He was a powerful linebacker, but also a dynamic tailback.
And it was all over for Lewis after a redshirt season in 2014 when he was dismissed for violating team rules.
"At the time, I thought it was crushing my dreams," Lewis said. "It felt like I was done at that point."
But Lewis never lost sight on what was ultimately most important, transferring to a junior college in the Midwest before signing with Colorado.
Now, Lewis is one of the Buffaloes' top defenders in his first season starting at Jack linebacker — a defensive end/inside linebacker in the 3-4 scheme. The 6-foot-2, 225-pound redshirt junior is not only the team's leading tackler (25 tackles, three quarterback hurries), he ranks sixth in the Pac-12.
Lewis and the Buffaloes host his former team Saturday in Boulder to open Pac-12 play.
"I know he'll be excited about playing in this game," Colorado coach Mike MacIntrye told area reporters this week. "He knows a lot of guys on that team."
As good as Lewis was at Eastlake, his former coach saw a teenager who had his ups-and-downs with confidence as a senior.
… Continue reading story here …
–
—–
September 20th
… CU in a few minutes … 
CU goal No. 1 v. No. 7 Washington – stop the run
From CUBuffs.com … Run the ball and stop the run.
No matter how the game of football changes, no matter how many exotic offenses and corresponding defenses are created, no matter how many different ways coaches try to spread the field, the ability to win the battle in the trenches is far more often than not the deciding factor.
Saturday's game between 3-0 Colorado and 3-0 Washington at Folsom Field (8 p.m., FS1) will almost certainly fit that bill. The last time the two teams met, in last year's Pac-12 championship game, the Huskies rushed for 265 yards; the Buffs ran for 82. Final score: Washington 41, Colorado 10.
Now in his fifth season in Boulder, Mike MacIntyre has seen his team win just two games when rushing for less than 100 yards in that period. At the same time, his Buffs are 8-0 since the beginning of the 2016 season when holding opponents to less than 150 yards on the ground.
"They ran for over 260 yards on us last year, completely dominated us, especially in the second half," CU head coach Mike MacIntyre said Wednesday morning. "They did an excellent job and we have to do a better job or we don't have a chance to beat them if we can't slow down their run game."
… Continue reading story here …
–
—
Injury report for Washington game
From CUBuffs.com …
S Ryan Moeller – shoulder – suffered a stinger v. Northern Colorado – Day-to-Day
C Jonathan Huckins – quad – suffered a strain v. Texas State – Probable
—
OLB Shamar Hamilton – knee – surgery; out for the season –  OUT
WR Jaylon Jackson – ankle – suffered a fracture and ligament damage in the 8/05 scrimmage; had successful surgery to repair but it out for the season – OUT
TE Dylan Keeney – back spasms – endured all of spring drills but was able to practice most days; limited to non-practice rehab at present – OUT
OL Kolter Smith – heart – has had palpitations, underwent a cardiac procedure Aug. 8, easing back into things – OUT
–
—
Mike MacIntyre post-practice talk with media (Wed.)
From YouTube, courtesy of BuffStampede.com
–
—–
September 19th
… CU in a few minutes … 
USA Today article on CU v. Washington
From USA Today …  Nobody really knows right now if "The Rise" is still real for the Colorado Buffaloes.
After their sudden, surprising climb last year into the national top 10, T-shirts are still for sale on campus that say "The Rise Is Real."
But that was last year's slogan. Those shirts have been pushed to the back shelf at the CU Book Store for $16.99 each. And they might not find any more buyers after Saturday unless the Buffs can do something they haven't done in 10 years — beat a top-10 team.
"What we're going to find out this week is how physical we can be," said Colorado standout cornerback Isaiah Oliver, whose team faces Washington (3-0) here Saturday night in the Pac-12 Conference opener for both teams. "That's where it's going to start."
The game will mark the first big test of whether last season was a one-hit wonder for this former college football powerhouse. It also will mark the first big test of whether Washington might be even better than last year.
… Continue reading story here …
–
—
What to wear at Saturday night's game v. No. 7 Washington
Striping Folsom Field …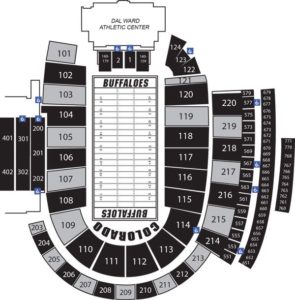 –
—
Mike MacIntyre Tuesday press conference quotes
From CUBuff.com …
Opening Statement
"Our guys had a good practice today. We're getting ready for Washington and watching them on film. I definitely believe they are better than they were last year. Their quarterback's throwing the ball better. He was a little banged up going into our game last year I thought. Watching him as the season's gone along, he's throwing it really well. [Dante] Pettis is a weapon and a half. Defensively, they lost some guys in the secondary, but No. 99 [defensive lineman Greg Gaines] and No. 50 [defensive lineman Vita Vea] are so powerful inside and with No. 36 [linebacker Azeem Victor] back at linebacker they look really good. I like [Taylor] Rapp, the safety; he's all over the place. They're an excellent football team. [Running back Myles] Gaskin can really run it and their tight ends are blocking well. I've been impressed with how they're clicking and how they're doing in every phase."
On Using The Pac-12 Championship As Motivation
"This is definitely a new team, but I'm pretty sure the kids that played in the game last year definitely have to be thinking about that. If they didn't, they're not really competitors. All the new guy playing have no recollection of that. I think our guys that played in the game would like to play a lot better than we did last year when we played them."
On Whether The Difference In The Pac-12 Championship Was Physicality
"In the first half it was 14-7, we could have had a play go either way there. We got behind at the beginning of the third quarter and then basically with about 10 minutes left in the fourth quarter until the end of the game they just ran the ball down our throat. They feasted on us when we got down since we had to throw it. They pretty much dominated us for the last 25 minutes of that game. For the first 35 minutes I thought we were pretty much toe-to-toe with them."
On Playing At Night On National Television In A Pac-12 Game
"Any time you step up in the Pac-12 there's more added to it. The game counts toward a conference championship, there's more at stake and the kids know more on those teams if they played against them before. That's why they came here. They came here to be a Pac-12 football player and play in big games, play on Folsom Field, play on national television and play against the best. That's what you want to do. You want to step up play against the best and see if you can beat."
On What It Takes To Win Multiple Road Games In A Row
"Well it takes good players, number one. Number two, they have a quarterback that understands how to manage a game in close situations. Number three, they have a head coach that has done that. I think at Boise State, they won 30-something games in a row. I don't know if they lost a road game in the WAC (Western Athletic Conference) for a while. He knows what he's doing. He has them prepared, he knows how to travel, he knows how to prepare them for night games and big games. To me, you've got to have an experienced team, a quarterback who knows what he's doing and a head coach that knows what he's doing. You've got to have a tremendous players."
On The Growth Of Inside Linebacker Drew Lewis
"The thing that I was really pleased with is that he's playing fast. He is fast, not just athletic. He's playing fast as far as executing and all that. I was pleased to see that, to see him settle down and play the same speed. Sometimes guys at linebacker for their first few games they get paralyzed by everything and they don't play as fast. I know he'll be excited about playing in this game. He knows a lot of guys on that team. He'd like to play better playing against them. There will be a lot of friends and family watching it all over Washington that know him. I'm sure he'll be excited to play."
On Teaching The Running Backs To Not Fumble
"We do a tremendous amount of drills with it every day. We call it the 'Winning Edge'; it's a ball-security period. We do it every single practice and even do it before every game. It's a consistent thing to stay after that. We're always trying to get our guys to grab and punch at the ball on the running backs and receivers. That's important. We had a big fumble last week going in that hurt us. You're going to throw an interception every once in a while. You'd like not to, but balls get tipped or somebody runs the wrong way. You can control fumbles if you're carrying it correctly. Every once in a while the helmet goes right on the ball and there's nothing you can do about it. If you're carrying it correctly, you've got a great opportunity not to fumble. That's what we do and I'm pretty sure that Washington does something like that. We constantly stay on it. It's something you can't stop. It's kind of like brushing your teeth. You better be brushing your teeth every day or nobody will talk to you. It's the same thing for carrying a football correctly."
On Recruiting Drew Lewis
"Ours is an interesting situation. We were recruiting Juwann Winfree from Coffeyville [Community College].  When we were talking to the coach from Coffeyville, he said, 'We got a linebacker that just got in here that we think is really good and that's a great kid.' We watched some high school film and watched the first few games of his redshirt freshman year in junior college. He looked really good. One of our coaches went and watched him play a game and thought he was really good. We started recruiting him and found out the story about it. His dad works for the Kansas City Chiefs, so we knew some people in that circle and started recruiting him and found out a lot about him. He wanted to be here and liked his fit for us and our jack linebacker. We liked his ability to run and liked his size. We thought he could be a jack linebacker for us and he has been. That's how it worked out. If we hadn't been recruiting Juwann, we might not have gotten on him as quick. We would have eventually found him. He was excited about us for sticking with him. He's an excellent student, so it all worked out."
On Evan Worthington's Value 
"He's extremely vital to us. He's an excellent player. He has all the skills and all the athletic ability. He's really matured as a person too which is very fun to see. He's done the same thing on the football field. He's a big guy, six foot two and two hundred fifteen pounds and he can run. He can play our nickel backer, our buff back, our safety. We're able to move him around and utilize him. He's a huge key for our success on defense."
On If Beating Washington Is A Step To A Pac-12 Title
"Different kids believe it at different times. I hope the guys that have played quite a bit already know it. It's the kids that step out there that haven't done it yet. Those are the guys that we're going to need to step up. Both teams have guys like that. That's where I see the difference will be made with those guys."
On Coach MacIntyre's Thoughts On The NCAA Targeting Rule
"I think the line is clear. They review it, they look at it. Number one, I like the rule because I think it protects everybody and it's a good rule. I did not like the way we implemented it when we first put it in, that the ruling on the field always stands because so many of them are bang-bang plays. With the 'ooh' and the 'ah' of the crowd. When they go and review it now they see it from all different angles. They come back and say, 'Hey it was targeting or no it wasn't targeting.' The other day we had two calls that were targeting and we had another one that wasn't targeting. I think that's a good way to do it. We've got to just teach our guys how to hit lower. It's a fine line and it's hard, especially when you're going after a quarterback or a receiver. If the ball is coming in the air you see it coming and you're going up to try and get it, you're up in that area. And if he catches it, you hit in that area. What they're looking for is in those plays you're going for the ball, and they know you're not trying to hit him. What they want to see is that when the receiver is catching the ball, you're launching and hitting him. On the quarterback it's tough too because a lot the time you're trying to get there as he's passing. When he lets it go, you've got to hit him low. We need to do a better job on coaching our guys on that."
On The 3-0 Start And The Criticism Of Performance Through The First Three Games
"It's great that we have high expectations. My wife was teasing me about that the other day. She said, 'A few years ago we'd just be happy if we won!' I think that's a great thing for our program. It shows that we're at a different level as far as the expectations are concerned. When you're trying to reach those expectations as an individual, a program, a company, etc. you push yourself to get there. You're not settled, and that's definitely a good thing there's no doubt about it. Some people thought we would be one and two right now. A lot of people didn't even think we'd beat CSU. That's what everyone was talking about. Now we're 3-0 and the narrative is, 'did we beat them bad enough' and 'did we do this'. To me that's a good thing. Everybody is talking different about us. There might be a negative thought or a negative vibe. I'm glad that we're not having parades in the street after going 3-0. We want to do something better than that. Hopefully we can and that's what we plan on trying to do just like everybody else in the Pac-12 does. But, I'd rather be 3-0 than 0-3."
On The Changes He's Seen In Quarterback Steven Montez
"The one thing about Steven is that I don't ever have to worry about him worrying about being on stage. He's ready to go. What Steven has done in the last six quarters is that he's taken a step in the right direction. You can see him sitting in the pocket looking down field, stepping up and making throws. If he sees pressure, he comes out looking down field. He's making plays with his eyes downfield now. In the first couple games, sometimes his eyes were looking at the rush and then looking downfield. When he was in high school, he had to do that a lot. He was the biggest, fastest, most athletic guy on the team. He'd make them all miss and throw it. Now he doesn't have to do that all the time. He has matured in that area. He can make all the throws and make all the plays. I'm excited about watching him Saturday night against a really good defense that will be challenging. I hope he plays well."
On Replacing Defensive End Chris Mulumba For The First Half
"We've got Jase Franke and George Frazier. We've got all those guys in there that we can use, so we'll be in good shape."
On Growth Of Quarterback Steven Montez In The Running Game
"He's good at that and has gotten better at that. I'm excited about it. That's a weapon that he has that we will continue to utilize. It helps slow down the rush and helps the offensive line. I've just got to teach him to slide better, which I am. We're going to keep working on it. He's got to get the first down or get out of bounds sometimes we know that, but he's got to get down sometimes too. We've been working on it and we worked on it today. Eventually he'll get it."
On The Journey Of Washington Head Coach Chris Peterson From Boise State
"Chris is an excellent coach. I started as a head coach at San Jose State and we were in the WAC and they (Boise State) were in the WAC. That's right after they won the Fiesta Bowl and they had all these dudes. It was like watching magic, they were unbelievable. Someone asked me if there was any comparison from Boise State to Washington and I said, 'Yeah.' To me, they had the quarterback, Kellen Moore, who could just dissect you. He wasn't a great runner, but he was really unbelievable. Jake Browning is just like him except that he's right handed. They played multiple tight ends and shifted, just like they did at Boise. They have a Pettis, just like they did at Boise. They both are receivers who return kicks. They're cousins. On defense, they always had a good defensive lineman who could rush. The only thing that they did a little bit differently at Boise that they don't do now is that they played a lot more quarters coverage than zone. I'm not knocking Boise State's corners, but they've got great corners at Washington, so they're able to play more man and play tighter. I also see Chris Peterson's hands all over everything they do and how the team is really disciplined always plays well. It's amazing to me, on offense, how many different sets they can do and they do it each week. They just changed the uniforms from orange to purple. He's got really good players and they do a good job."
On Reaction To Playing Washington In Pac-12 Home Opener
"I was excited. They had beat us so bad at the end of the season there. We have a chance to play them here at home, and hopefully we can bounce back and redeem ourselves. I was excited about that game being here early in the season, and I thought it would be a great matchup. I was hoping that both of us would be undefeated walking in here, I think it makes it even more special."
On Whether He's Had Any Moments Of Realization Of What This Team May Be Capable Of
"You do see different moments like that and I have seen that out of this team. I've seen it out of a lot of different individuals. You kind of know certain guys, and you're pushing other guys. You're putting guys in situations and seeing how they respond. Once you start seeing that on a consistent basis, you know that they can handle it. I have seen that. I keep seeing a hunger in this team. When they look at you and they're focused and they're into it and they're asking questions, you know they're going to get better. Over the last couple of years as you build a program and keep that culture, I see that all the time. To me, that gives you great understanding that things are going to click the way you want them to."
On Moving Aaron Haigler To Right Guard And Inserting Josh Kaiser Into The Lineup At Right Tackle
"We've been experimenting with that, we thought Josh can play all the spots (on the line), Aaron could be good inside at guard. We needed a little more size across there, so we made a couple moves there. At the same time, you do that because down the road you have different types of injuries. We're trying to get the best guys out there and the best combination of guys we have healthy. I thought that was a good move that Klayton [Adams] to try, and I think it's worked out well.
On Adjusting To Night Kickoffs Against Washington And UCLA After Having Noon Kickoffs The Past Two Weeks
"On game day of the noon games we don't meet in the morning, they just get up, have a pregame meal, we have a little walk-through, then we get on the bus and go. With a late game, we'll have breakfast, have meetings, have a walk-through, then a break, then we come back and have the pregame that afternoon. Old guys like me can take about an hour nap in the afternoon getting ready for those late games. Mark Johnson definitely needs one before that late night game."
… Continue reading for quotes from Isaiah Oliver and Phillip Lindsay …
–
—
Steven Montez already has experience facing Washington defense
From CUBuffs.com … When Colorado quarterback Steven Montez lines up against Washington on Saturday at Folsom Field, it won't be the first time the CU sophomore has stared into the heart of the Huskies' defense.
Matter of fact, Montez will actually be able to call upon his previous experience against UW and gather a little confidence.
After all, it was Montez who was calling signals in last year's Pac-12 championship game when the Buffs scored their only touchdown of the contest, a first-quarter score that temporarily tied the game at 7-7. Montez replaced an injured Sefo Liufau and engineered a 7-play, 55-yard touchdown march, completing two of three passes for 34 yards, including a 21-yarder to Shay Fields that put the Buffs in position for a pair of Phillip Lindsay runs and their only touchdown of the game. Colorado's only other score came on a third-quarter field goal as the Huskies pulled away in the second half for a 41-10 win.
Liufau returned to the game in the third quarter, but Montez still finished as CU's leading passer (5-for-12 for 60 yards) and he also had three carries for 11 yards (his 3.7-yard average was the best of any CU rusher in the game). The Buffs had only three drives all night that lasted longer than four plays, and Montez led two of those.
"That was a big experience for him," Colorado co-offensive coordinator Brian Lindgren said after Monday morning's practice. "Anytime you're playing on a big stage like that, Pac-12 championship game against a top 10 opponent, that's valuable experience. They got after us and did a nice job last year, and it was good for him to get in there and get a little taste of it. He's no doubt familiar now with some of the things they do."
… Continue reading story here …
–
—–
September 18th
… CU in a few minutes … 
USA Today coaches' poll national championship trophy 
From CUBuffs.com … The AFCA Coaches' Trophy, presented by Amway, the Symbol of Supremacy in College Football™, will be on the University of Colorado campus for the Buffaloes' home matchup with the University of Washington on Saturday.
Leading direct seller Amway partnered with the American Football Coaches Association (AFCA) and USA TODAY Sports to become the presenting sponsor of the illustrious Coaches' Trophy as well as the Amway Coaches Poll powered by USA TODAY Sports.  This year, the Trophy is embarking on a ten-stop Trophy Tour, appearing on college campuses across the country during some of this season's biggest matchups.
Colorado is the fifth stop of a ten-city tour throughout this college football season, during which fans will have the opportunity to see and take photos with the Trophy. The Trophy will be in the area starting on Thursday afternoon for placement in live shots, morning shows and taped segments.  A spokesperson will be available to answer questions and discuss the Trophy Tour & Amway Coaches Poll.
On game night, the trophy will be on display and available for fans to take photos with it in the Buffs Fan Zone, located in the Champions Center Indoor Practice Facility. The trophy will be on display there from 6-7:45 p.m.
The AFCA Coaches' Trophy, featuring the iconic Waterford© Crystal football, presented by Amway, will be awarded to the No. 1-ranked team, and national champion, in the Amway Coaches Poll following the conclusion of the college football season.
–
—
Mike MacIntyre post-practice talk with media (Mon.)
From YouTube, courtesy of BuffStampede.com
–
—
Neill Woelk – Ten Takeaways from Colorado v. Northern Colorado
From CUBuffs.com … Three weeks into the season, the 3-0 Colorado Buffaloes have shown enough in all three phases of the game to believe they can be a factor once again in the Pac-12 South.
Of course, all three phases will get their stiffest test yet — by a significant margin — Saturday, when the 3-0 Washington Huskies (No. 6 coaches poll, No. 7 AP) pay a visit to Folsom Field for the Pac-12 opener for both teams (8 p.m., FS1).
What did we learn from Saturday's 41-21 win over Northern Colorado in the Buffs' non-conference finale? Our weekly installment of "10 Takeaways …"
… Continue reading story here …
–
—
Offensive line lineup remains in flux
From the Daily Camera … It is a unit billed as a strength of the team just a few short weeks ago, with some believing the Colorado offensive line had the potential to be one of the best in the program's long history.
Certainly that potential is still there. However, through three games CU's offensive line could probably best be described as a work in progress.
Saturday's final nonconference date against Northern Colorado, a 41-21 victory, was supposed to mark the beginning of some stability up front for the Buffs. Instead, CU played without starting center Jonathan Huckins and, for the second consecutive week against smaller opposition, the Buffs were forced to make adjustments on the fly.
Tim Lynott shifted from his usual right guard spot to take over Huckins' duties at center Saturday, while Aaron Haigler moved from right tackle to right guard. Left tackle Jeromy Irwin made his first start of the season after being suspended for the first two games and his replacement during that time, Josh Kaiser, took over at right tackle.
… Continue reading story here …
–
—–
September 17th
… CU in a few minutes … 
UW's Chris Petersen on start of Pac-12 play: 'We know it changes now. It changes dramatically.'
… Related … UW's Jake Browning after 48-16 win over Fresno State: 'We're a pretty tough team to stop when we get some momentum' … From the Seattle Times
From the Seattle Times … (post-game press conference after 48-16 win over Fresno State)
(The team assessment through three games) We got to play a lot of guys in three games, which is really good. I think we've learned some things. I think we've made some improvements in some areas. Our pass protection has gotten better, for sure you can see that from last game to this game. We've gotten some guys used to bigger roles than they've ever had around here. I think it's been a pretty productive three games. We know it changes it. It changes dramatically. We are going into a truly hostile environment. We've gone a long way, but it's not going to feel the same as going into Boulder (Colorado). Here we go.
(on mentality against Colorado next week) On our side, this is brand new. That (the last game) was a long time ago. The rhythm of our team is different. We are still figuring some things out. We have to go on the road, which changes things for sure. This will be a big challenge. Heck of a way to open up the Pac-12 season.
… Continue reading story here …
–
—
Undefeated non-conference slate behind them, Buffs set sights on Washington 
From the Daily Camera … Given the rising expectations, many expected the first three games of this season to be a cakewalk for the Buffs.
They certainly haven't been as easy as expected, but after a 41-21 win against Northern Colorado on Saturday at Folsom Field, the Buffs are 3-0 for the first time since 2008.
"There's obviously some things that we can improve on, which there's going to be the whole entire season," sophomore quarterback Steven Montez said. "But, I think right now I'm pretty happy with where we are right now.
"We ended up walking out of there with a victory, so that's really all that matters to me, to be honest."
True, getting the win was the ultimate goal, and the Buffs have accomplished that goal every week to this point. Yet, Saturday's game — combined with a couple of shaky wins against Colorado State and Texas State — didn't do much to raise the confidence level of Buff fans.
Sixth-ranked Washington will be in Boulder next Saturday to open Pac-12 play, and that's a scary proposition for a CU fan base that just watched its team battle to beat UNC, which isn't projected to finish in the top six of the Big Sky Conference.
The Buffs, however, aren't feeling the same trepidation after their three nonconference games.
"We're going to be ready for Pac-12 play," head coach Mike MacIntyre said.
… Continue reading story here …
–
—–