—
Colorado vs.  Washington State Preview: "T.I.P.S." for a battle of division leaders
—
The college football world hasn't been able to wrap its collective head over how the game between Colorado and Washington State could be so important.
From ESPN: Both teams have been playing at a high level for weeks, but let's just take a second to acknowledge that this game — in mid-November! — is a match-up between first-place teams in their respective divisions. Take that, recruiting rankings.
This weekend, there are only two games pitting two teams which both carry national rankings – No. 11 Oklahoma at No. 16 West Virginia – and No. 20 Washington State at No. 12 Colorado.
Despite the quality Pac-12 contest coming to Folsom Field, ESPN didn't deem the match-up worthy of College GameDay – which would have been the fourth such trip to Boulder – opting to visit undefeated Western Michigan instead (even though the Broncos are 35-point favorites over visiting Buffalo this Saturday).
It should be a close game. VegasInsider has Colorado as a 4.5-point favorite, while ESPN gives the Buffs, according to its Football Power Index, a 59.1% chance of winning.
We'll see …
—
This week's "T.I.P.S." for Colorado v. Washington State … Saturday, 1:30 p.m. MT, Fox
—
T – Talent
"Whoa, Nellie!"
Sorry. In looking through the Washington State roster and their respective stats, I suddenly found myself channeling my inner Keith Jackson, the Hall of Fame announcer … and Washington State alumnus.
Yes, the Cougars are that good (and yes, Keith Jackson did go to school in Pullman).
A week after facing an Arizona offense in disarray, the Colorado defense now finds itself facing a Washington State offense which is putting up record numbers.
The offenses of Mike Leach, at Texas Tech and now at Washington State, have always been prolific. But the past few weeks, production has gone off the charts.
The Cougars have scored 50 or more points a record four times this season. The 125 combined points the past two weeks (69 v. Arizona; 56 v. Cal) are the most ever for Washington State over two games.
Leading the assault on the record books is quarterback Luke Falk. The junior posted his school-record 23rd 300-yard passing game last weekend with his 373-yard effort against Cal. Falk already has thrown for over 10,000 yards in his career, with 84 touchdown (Sefo Liufau, a senior, is just about to pass 9,000 career yards passing, with 59 touchdowns).
And Falk has many weapons.
Remember a fella (sorry, still with Keith Jackson) by the name of Nelson Spruce?
You know, that lanky kid who played for Colorado? The one who set the all-time Pac-12 receptions record last year, with 294 career catches?
Well, I'd like to introduce you to a receiver by the name of Gabe Marks. Last weekend, Marks had seven catches for 87 yards and two touchdowns. His final catch of the night – which went for a score – gave Marks 295 career receptions, setting a new standard for the conference. Marks has 3,268 career receiving yards, a school record.
Marks' running mate, River Cracraft, though has been lost for the season. The senior receiver has almost as many receiving yards as Marks this fall (709 to 701), and had nine catches for 87 yards and two touchdowns against Cal … before being lost for the season with a torn ACL.
Not to worry. Washington State has three other receivers besides Marks and Cracraft with over 40 catches this season (CU, by comparison, has only one receiver with over 40 catches – Devin Ross, with 45).
This is not to say that the Cougars are incapable of running the ball.
Two years ago, the Cougars averaged less than 40 yards per game on the ground. Last year, they bumped that total to 80 yards per game.
But this season, they are no longer last in the Pac-12 in rushing, averaging a (relatively) respectable 132 yards per game on the ground.
"Mike (Leach) will always run the ball if you give it to him," CU defensive coordinator Jim Leavitt said. "That's something we have to shore up, no question about it. We're going to have to play extremely well to beat them."
So, will this Saturday's game be a shootout? Will the Buffs just have to out-score the Cougars?
Don't count on it.
Washington State is more than adequate on defense, ranked 50th in the nation in total defense (388.5 yards per game) and 43rd in scoring defense (24.3 points per game).
Well … what did you expect?
When you are facing a ranked team, a team with an 8-2 record (and an eight-game winning streak), there are going to be talented players on the opposing sideline …
—
I – Intangibles
As hard as it has been for the Buff Nation to get used to the 2016 team setting records, similar head-scratching is going on in Pullman.
A scant two months ago, Mike Leach was considered to be on the coaching "hot seat". The Cougars opened with an 0-2 record, falling at home to a Big Sky Conference team (for the second year in a row) before losing at Boise State. There were rumblings that Leach, with his off-beat style (remember him saying after the loss to Boise State: "Right now we have the atmosphere of a junior college softball team"?), had worn out his welcome in the Palouse.
Since then, the Cougars have run off their first eight-game winning streak … since 1930.
And the Cougars are 7-0 in conference play … for the first time in school history.
Washington State will play for the Pac-12 North title at home against Washington next weekend, even if the Cougars lose to the Buffs on Saturday.
Meanwhile, the Buffs, if they lose on Saturday, may well be out of the Pac-12 South division race by Saturday night. If Colorado slips to 6-2 in conference play, and USC finishes 7-2 win a win over UCLA (a strong possibility), then the Buffs will be out of the Pac-12 South race.
For a team which has stated that its goal is to be Pac-12 champions, the Buffs have more on the line Saturday than do the Cougars.
The Cougars would very much like to win this game.
The Buffs must win this game.
Advantage: Colorado.
—
P – Preparation / Schedule
The schedule, as well as Pac-12 history, also work to Colorado's advantage:
— Since the advent of the Pac-12, no team has made it through conference play undefeated. Oregon and Stanford have fielded some quality programs over the past five seasons, including an Oregon team which played for the national championship. Yet none of those teams was able to work their way through the Pac-12's nine-game conference schedule unscathed. Even in a down year for the Pac-12 overall, Washington State is currently swimming upstream against a strong historical current;
— Speaking of down years for the conference, much has been made of the fact that Colorado "hasn't beaten anybody" this year. The Buffs have only played two teams currently in the top 25 nationally – No. 4 Michigan and No. 15 USC – and lost to both. Well, this just in: Washington State "hasn't beaten anybody" this year, either. The Cougars do own a win over a ranked team, with a win over then No. 15 Stanford. The Buffs' best win is also over Stanford, though the Cardinal wasn't ranked at the time. The rest of Washington State's schedule? The Cougars missed both USC and Utah from the South division, and have yet to play Colorado and Washington. Put another way – of the other 11 teams in the conference, the Cougars have beaten Stanford, so far missed the other teams in the top five, and have gone 6-0 against the bottom half of the league.
— One last item. Both Colorado and Washington State have rivalry games next weekend. The Apple Cup is a long-standing rivalry game, while the Colorado/Utah game has yet to morph into a true blood feud. Not only do the WSU players and coaches have a more heated game to look forward to, they have one less day to do so. The Apple Cup will be played on Friday of Thanksgiving weekend, while CU/Utah will be played Saturday night … giving the Cougars one less day to prepare for the game they want to win more than any other (and more than the game against Colorado).
—
S – Statistics
Irresistible force v. immovable object.
This weekend, it's the Washington State offense v. the Colorado defense:
WSU passing offense, No. 2 in the nation (385.5 ypg.) v. CU passing defense, No. 10 in the nation (176.9 ypg.);
WSU total offense, No. 10 in the nation (517.9 ypg.) v. CU total defense, No. 12 in the nation (308.4 ypg);
WSU scoring offense, No. 8 in the nation (44.3 ppg.) v. CU scoring defense, No. 9 in the nation (17.9 ppg).
Who you got?
While a great deal of attention has been – and will be – given to the battle between the Cougar offense and the Buff defense, the real chess match will be when the Buffs have the ball.
Washington State leads the Pac-12 in rushing defense (116.9 ypg.), but is 10th in pass defense (271.6 ypg.).
Can the Colorado offense generate enough offense running the ball to open up the passing game? Can the Buff offensive line – which has been suffering its share of injuries and illness the past few weeks – open holes for Phillip Lindsay and protect Sefo Liufau?
Answer those questions, and you'll probably be able to predict Saturday's winner.
—
Prediction … The Buffs are 4-0 at home for the first time since 2005. The Colorado defense has been impressive all season, but has been dominant at Folsom Field. The Buffs have out-scored opponents, 163-39, allowing just three touchdowns on Folsom Field turf (all on short fields: 27 yards by Idaho State; 31 by Arizona State; and 38 by UCLA).
Can the Colorado defense hold the Washington State offense to one touchdown (or less, as was the case with Oregon State)? Can the Buffs keep the Cougars from long scoring drives, or at least keep the Cougars from too many "explosion" plays?
I'm guessing, "no".
But that doesn't mean that the Cougars are going to post 50 points for the fifth time this season.
The game will likely come down to turnovers. Both teams have been living off of their opponents' mistakes this season, as Washington State is +10 on the season (No. 7 nationally), while Colorado is +7 (No. 18 nationally).
In other words … this game could go either way.
I'm hoping that Sefo Liufau will play his best game of the season.
I'm hoping that the CU offensive line will be healthy enough to pave the way for a 100-yard game for Phillip Lindsay.
I'm hoping for a cheap score – on special teams or by the defense – to help the Buffs keep up with the Cougars.
I'm hoping …
… No. 16 Colorado 31, No. 20 Washington State 28 … 
—–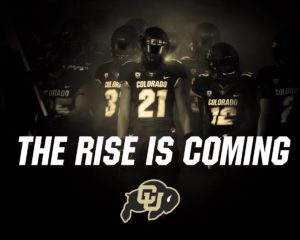 —–