—
Giving Thanks
—
The 2016 Redemption Tour by your Colorado Buffaloes continued this weekend with yet another victory. Before a national television audience on Fox, No. 12 Colorado took down No. 20 Washington State, 38-24, to run its record to 9-2, 7-1 in Pac-12 play.
There are, of course, the latest additions to the list of "not since" or "first time since" to add to the ever-growing pile of superlatives being posted by these Buffs … First win over a ranked team since 2009 … First five-game winning streak since 2002 … First nine-win season since 2002 … First 5-0 home record since 1994 …
And that's before we get to the heroics of the individual players.
Rather than pile on the statistics, though, let's talk about this historic ride, and what it means to those closest to the fray … the coaches and players who are making this run possible.
First, there is head coach Mike Macintyre and his coaching staff.
The meteoric rise of the Buffs this fall is looking more and more like the seismic shift the program took in 1985.
That season, in the fourth year under Bill McCartney, Colorado went from a dismal 1-10 record in 1984 to a 7-5 season, ending a stretch of six straight losing campaigns. McCartney, for his part, was named national Coach of the Year.
This season, in the fourth year under Mike MacIntyre, Colorado has gone from a disappointing 4-9 record in 2015 to a 9-2 season, ending a stretch of ten straight losing campaigns. MacIntyre, for his part, is looking more and more like a lock to be named national Coach of the Year.
There's no way of knowing for certain whether or not MacIntyre would have had this much success without the addition of co-offensive coordinator Darrin Chiaverini this year, and defensive coordinator Jim Leavitt last season.
But most observers would say it would have been highly unlikely.
This fall, Mike MacIntyre, at just over $2 million per year, is the lowest paid head coach in the Pac-12. His contract runs through the 2018 season.
CU athletic director Rick George did not get to his position, and foster as much success as he has at Colorado, by not understanding what's at stake here. Mike MacIntyre's resume indicates he has an overall record at CU of 19-29 (35-50 counting his stint at San Jose State). The win over Washington State was his first over a ranked team in 13 attempts at Colorado (and now 1-19 overall, counting his 0-6 record against ranked teams while the coach at San Jose State).
Not great numbers to the casual observer, but football fans understand how this works … Mike MacIntyre is a hot hand, and he has now successfully resurrected two programs in the past seven seasons.
There could be offers from other schools … and it's up to Rick George to keep MacIntyre wearing CU's black-and-gold.
The same holds true for keeping DC Jim Leavitt and co-OC Darrin Chiaverini. The better the Buffs do, the more national attention CU receives. The more attention CU receives, the more other schools take note of how well these coaches have done in Boulder, and have done so in a very short time span – an enticement for those schools looking to get better sooner rather than later.
Here's a modest proposal: CU was budgeting for around 40,000 fans per game this fall. The average for the first five games is over 45,000. That's over 5,000 extra tickets per game, multiplied times six home games (Utah will draw at least 45,000). At an average of say, $50/ticket, that's $250,000 extra revenue per game. For six games, that would be an extra $1.5 million in the coffers from ticket sales alone. Add in concessions, parking and apparel sales, and you've got a nice little nest egg with which to try and retain a coaching staff which, for at least one season, has it all figured out.
(Yes, this a gross over-simplification, but the reality is that winning teams bring in more revenue … and winning teams need to pony up to keep their coaches).
Which brings me to the players.
Now, we can't offer the players a raise, but we can offer them our support.
If you are planning on going to the Utah game next Saturday (5:30 p.m., MT, Fox), do me a favor, and go a little early.
I'm not talking about getting there in time to watch Ralphie run. I'm talking about getting there in time to cheer on the seniors as they are being introduced.
There are 24 seniors who will be running out behind Raphie for the final time next Saturday. Many will receive long – and deserved – ovations. Defensive stalwarts like Chidobe Awuzie, Ahkello Witherspoon, Jimmie Gilbert, Kenneth Olugbode and Tedric Thompson will all get loud receptions. Other familiar names, like center Alex Kelley, tight end Sean Irwin, defensive linemen Josh Tupou and Jordan Carrell, and linebacker Ryan Severson, will also receive prolonged applause.
Then there will be the introduction of Sefo Liufau. The ovation will be – and should be – loud and long. The holder of 84 school records (and counting), Liufau long ago won over the CU locker room. He has now completely won over the Buff Nation, with cheers of "Sefo! Sefo! Sefo!" echoing throughout Folsom Field in the fourth quarter of the Washington State game.
All of the above deserve our full-throated support during the pre-game introductions … but there are others on the list of two dozen seniors who also deserve their moment in the spotlight.
Like the stars, they have given their blood, sweat and tears to the program. While not always in the lineup, their sacrifice to make this 2016 season special has been no less difficult than it has been for the starters. If fact, in some ways, their path to the final home game has been even more difficult, as they have put in the work while not receiving the same attention and adulation of the starters.
So, let's give thanks next weekend to players like … wide receiver Jaleel Awini, the Air Force transfer … to offensive linemen Shane Callahan and Sully Wiefels, who have played well when called upon … and to defensive lineman Tyler Henington, whose promising career was cut short by injury.
We should give thanks to all of these seniors, as they were the group which finally broke through to give Buff fans the season they have been longing for for a decade.
We should also take the time to reflect this week on what a great run it has been in 2016.
As is usually the case, Drew Litton of the Daily Camera caught the moment perfectly. His cartoon posted on the day before the Washington State game: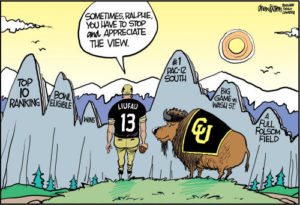 It's all happened so quickly, there hasn't been time to fully appreciate all that the Buffs have accomplished this fall:
— How's about opening the season with the following first quarter stats against Colorado State … Total yards – CU, 253; CSU, 10 … First downs: CU, 12; CSU 0 … Score: Colorado 21, Colorado State 0?;
— Or taking a 21-7 first quarter lead against No. 4 Michigan in the Big House (or a 28-24 lead in the third quarter before Sefo Liufau left the game)?;
— Or Ahkello Witherspoon's interception in the end zone in the final minute against Oregon, preserving the Buffs' 41-38 victory?;
— Or the first-ever win over Arizona State? The first-ever (in Pac-12 play) wins over Stanford and UCLA?;
— Or the 49-24 rout of Arizona, the largest margin of victory in a road game in over a decade?
What will you remember most from CU's 38-24 win over Washington State, the first victory over a ranked team in seven seasons?
Will it be the fourth down stop by Nick Fisher, the seldom used backup forced into action upon the ejection of Afolabi Laguda? Will it be the 13-yard touchdown run by Phillip Lindsay, with Lindsay taking would be tacklers with him into the end zone to give CU a 38-24 lead? Or perhaps the forced fumble by Jimmie Gilbert, recovered by Addison Gillam with three minutes to play, all but ensuring the Buff victory?
All great memories, for which we, as Buff fans, owe the coaches and players much thanks.
–
The 2016 Colorado Buffalo football team may not end up in the playoff for the national championship.
But they have already given the Buff Nation a season which will live long in our memories, and a legacy which will pay dividends in years to come.
They 2016 Colorado Buffalo football team may not, in the end, even play for the Pac-12 championship. A loss to Utah in the regular season finale would hand the Pac-12 South title to USC.
They may not live up to every expectation of the Buff Nation, a list of expectations which grows loftier with every new victory.
But they are already champions.
Thanks, Buffs … I hope you have a great Thanksgiving!
—–