—
Colorado v. UCLA Preview: "T.I.P.S." for the Thursday night Blackout
—
Stop me if you've heard this one … Colorado has never beaten UCLA in Pac-12 play.
Yes, the Buffs are 0-5 against the Bruins since joining the conference.
Yet in this breakthrough season, Colorado is taking out old records on an almost weekly basis. The Buffs entered the 2016 season with an 0-13 record in Pac-12 play against Oregon, Arizona State, and Stanford … but have gone 3-0 against those teams this season.
The only teams left for the Buffs to claim conference victories over are USC, Washington … and UCLA.
No. 21 Colorado will play UCLA as a twelve-point favorite (up from nine points at the opening on Sunday), coming into the game with an 8-0 record against the spread (the only school in the country with such an unblemished record).
That bodes well for the Buffs going 1-0 against the Bruins this week …
—
This week's "T.I.P.S." for CU v. UCLA … Thursday, 7:00 p.m. MT, FS1
—
T – Talent 
The last two games the Buffs have played, there were questions as to whether the top player for the opposition would take the field.
Arizona State quarterback Manny Wilkins? "Questionable" … but he played.
Stanford running back Christian McCaffrey? "Questionable" … but he played.
UCLA quarterback Josh Rosen?
Not likely.
According to the Bruin Report … UCLA quarterback Josh Rosen is more than likely out for the remainder of the season because of his shoulder injury, according to multiple sources.
Rosen suffered the injury toward the end of the Arizona State game Oct. 8th.  Since then he's only had a very limited time in practice, including on Saturday when he strained to throw a few short passes.
Rosen did not play in UCLA's last game, a 52-45 loss to Utah, with backup quarterback Mike Fafaul producing some prodigious numbers in his stead. The senior set school records for pass attempts (70) and completions (40), while throwing for 464 yards (third-best all-time at UCLA) and five touchdowns. Fafaul also had four interceptions, however, and a lost fumble, keeping the Bruins from posting an upset of the Utes.
Fafaul will be a key component of UCLA's offense Thursday, as the Bruins have all but abandoned the running game. UCLA will bring to Boulder an offense which is generating only 85.5 rushing yards per game … 128th out of 128 teams in the FBS.
So, if the Colorado defense can keep the UCLA passing game from taking off – and CU is 14th in the nation in pass defense – it could be a long night for the Bruins.
With the Bruin offense struggling, the UCLA defense has had to do much of the heavy lifting for the Bruins so far this year. In their last game, however, the Bruin defenders were gashed by the recently un-retired Joe Williams. The Utah running back went for 332 yards and four touchdowns against the Bruins (Bar bet winner: Utah running back Joe Williams and UCLA quarterback Mike Fafaul graduated together five years ago from the Fork Union Military Academy in Virginia).
Even with the decimation by Utah, the UCLA defense remains ranked 38th in the nation in total defense (CU is ranked 12th), giving up 368.8 yards per game.
As a result, the equation for Thursday night is actually quite simple … If the Sefo Liufau who torched Arizona State shows up, the Buffs win. If the Sefo Liufau who missed throws against Stanford plays (eight missed throws, by his own admission), it could be a tight game.
Here's how ESPN put it: Colorado QB Sefo Liufau played well upon his return from injury against Arizona State on Oct. 15 but struggled mightily against Stanford the following week (12 of 25, 135 yards). UCLA might not have an impressive record, but the Bruins are as talented a team as there is in the conference and have been in every game this year. In short, Liufau can't play the way he did against Stanford and expect to squeak out another win.
—
I – Intangibles
There has been plenty of discussion since 2011 as to which team should be the Buffs' chief "rival" in the Pac-12.
Utah was a natural choice, having joined the league when the Buffs entered the conference … But … No one likes the smugness of USC or Oregon … And … Arizona State rubs many Buff fans the wrong way (Arizona, too, but mostly in basketball).
A case could be made, though, for UCLA being a true rival for CU … at least based upon the past two seasons.
In 2014, No. 25 UCLA came to Boulder with a 5-2 record. Colorado, meanwhile, was 2-5, winless in four Pac-12 games. UCLA built a 17-point lead early, but squandered it as the Buffs came all the way back to force overtime. In the second overtime, Colorado kicked a field goal to take the lead, but UCLA quarterback Brett Hundley then scored on an eight-yard keeper, allowing the Bruins to escape with a 40-37 victory.
In 2015, No. 24 UCLA again entered the game with a 5-2 record, with Colorado traveling to the Rose Bowl at 4-4, 1-3. Once again, UCLA built a big lead – this time 21-3 – but once again the Buffs fought back. Colorado took a 31-28 lead early in the fourth quarter, but couldn't hold it, falling 35-31.
Two close games against the Bruins. Two games which featured a ranked UCLA team and a Buff team finding it difficult to win even a single Pac-12 conference game.
Two games the Buffs could have – perhaps should have – won.
These Buffs will remember those games. They will remember how close they came to beating the Bruins.
They should be primed to not let another get away.
—
P – Preparation / Schedule
Both teams are coming off of a bye week, with the Buffs having the better of the break – at least mentally.
Colorado is coming off a hard-fought 10-5 win over Stanford, a win which was the first for the Buffs against the Cardinal in Pac-12 play, and the first win for the program on California soil since 2002.
UCLA, meanwhile, is coming off a hard-fought 52-45 loss to Utah, a loss which left the Bruins with a 3-5, 1-4 record, and a three-game losing streak.
Both teams have had the chance to heal up some, and both have had the chance to reflect on their status with a month of football left in the regular season.
The Buffs are alone in first place in the Pac-12 South. Bowl eligibility has been achieved for the first time since 2007, and Colorado (at No. 21 in the AP poll; No. 20 in the USA Today coaches poll) has its highest national ranking since the 2003 season.
The Bruins, meanwhile, are facing an uphill battle just to make a bowl game. At 3-5, UCLA must go 3-1 the remainder of the season just to earn a bowl invitation. USC remains on the schedule, but so does Cal and Oregon State … two winnable games.
The math is clear … CU is playing for a seventh win and a guaranteed winning season; UCLA is fighting for its life, and will need to beat either Colorado or USC just to make the post-season.
As a result, I wouldn't discount the Bruins and their coaches pulling out all of the stops (i.e., trick plays on offense, gambling blitzes on defense) to try and pull of the upset.
—
S – Statistics
I'm still having trouble adjusting to CU's new reality.
Two-thirds of the way through the regular season, and the numbers the Buffs are putting up continue to impress … if not amaze.
A team which struggled to score 24 points per game last season is cruising along (even after posting only ten points against Stanford) at a 35.4 points per game clip, good enough for 22nd in the nation.
The Buffs are one of only six teams in the nation (the others being Alabama, Baylor, Louisville, Ohio State and Southern Mississippi) to be ranked in the top 25 nationally in both offense and defense. Colorado is 19th in total offense (495.8 yards per game, threatening to become the first Buff team in history to average over 500 yards per game), and 15th in total defense (307.8 yards per game).
If this is a dream, I hope I don't wake up for some time …
Some stats of note for the UCLA game:
— Lest you think that, based upon Utah's results, that Phillip Lindsay is a shoo-in for 200 yards rushing, please note that UCLA, even after being gashed for 360 yards by the Utes, are still giving up an average of only 173.0 rushing yards per game. Not great (68th nationally), but not abysmal, either;
— Turnovers are always hard to predict (or rely upon), but, if history is a guide, the Buffs are in good shape. Colorado is 4th in the nation in turnover margin (+10 on the season), while UCLA is ranked 108th (-.63);
— Don't want to jinx him, but … Sefo Liufau is riding a 148-pass streak without an interception, a school-record dating back to last November;
— It's feast or famine for the UCLA defense. The Bruins are 59th nationally in scoring defense, giving up 26.8 points per game … but are 8th in the nation in forcing three-and-outs from the opposition, with 44 (CU is 17th nationally in this category, with 37); and
— UCLA is 3-5, but is not getting blown out. The Bruins have lost five games this season by a total of 32 points. In each of those games, they have had the ball with a final possession to tie or take the lead.
—
Prediction … There's supposed to be a wide gap between the times fans go to games hoping to win, and the times they can go to games expecting to win.
The Buffs have spanned that gap in just two months.
If you were asked in August to choose between team A … a team with a 6-2, 4-1 record, first place in the Pac-12 South and ranked No. 21 in the nation, and team B … a team with a 3-5, 1-4 record and a three-game losing streak … who would predicted two months ago Colorado to be team A and Bruins to be team B?
Answer … no one.
Are the Buffs – a team picked to finish last (again) in the Pac-12 South – really that good?
Are the Bruins – ranked No. 16 in the preseason AP poll – really that bad?
Yes … and yes.
The saying goes, "You are what your record says you are" has applied negatively to the Buffs for a decade. At 6-2, it's difficult to gloss over the achievements of this team. The Buffs are well past moral victories; well past symbolic efforts.
This team is on a roll, and will have a national audience to play before on Thursday night.
"They've got everything in front of them they've always dreamed of and they've worked so hard to get here, they don't take it for granted," Mike MacIntyre said last week. "It's not like it's a common occurrence. … These guys will stay on each other, which is awesome."
Until further notice, I'm a believer.
I will be nervous as the game gets underway … you can't shake off a decade of disappoint that easily.
But then reality will kick in.
I can't see the Bruin offense being consistently successful passing the ball against the Colorado secondary. The Buff defense has played well when it has forced teams to be one dimensional … and UCLA has all but given up on its running game.
I also can't see the Bruin defense containing the Colorado offense the entire evening. Sefo Liufau needs to have a good game, not a great game, for the Buffs to be successful. The Buffs have too many offensive weapons to be kept at bay the entire game.
The fact that the Bruins have yet to be blown out is scary, but this is the Buffs' year of redemption.
… Colorado 35, UCLA 21 …
—–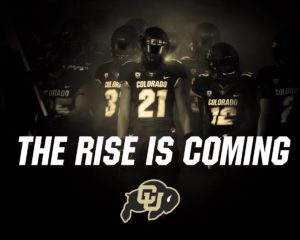 —–