—
"Friday" Fast Facts – No. 21 Colorado v. UCLA
—
Getting to Know … UCLA 
— UCLA is 3-5, but don't get too over-confident. The Bruins, in truth, are not all that far removed from 8-0 and a top ten national ranking.  The Bruins have lost their five games this season by a total of 32 points (6.4 avg. margin). In each of those five losses, the Bruins have had the ball with a final possession and a chance to tie or take the lead. The biggest margin was nine points, against Stanford, with the Cardinal returning a Josh Rosen fumble for a touchdown on the final play of the game.
— UCLA has posted a 13-9 record against ranked teams under Jim Mora, including seven wins in their past ten such games (in case you missed it, CU is ranked No. 21 this week);
— Bruin opponents are completing just 50.5% of their pass attempts this season, the lowest such mark in the Pac-12. The unit ranks seventh in the nation in pass efficiency defense, and the 5.4 yards per pass attempt is tied for the lowest in the Pac-12.
— UCLA head coach Jim Mora attended grade school in Boulder (ages 7-12). His father, Jim Mora, Sr., was an assistant coach under Eddie Crowder (1968-73). When Crowder resigned after the 1973 season, Jim Mora, Sr., joined Dick Vermeil's staff … at UCLA.
—
UCLA players to watch:
— Mike Fafaul/QB … With Josh Rosen reportedly out for the season, it's up to the former walk-on to lead the Bruins from a 3-5 record to a bowl game. Rosen had all of one pass in the first five games of the season, but was thrust into the lineup when Rosen was injured against Arizona State. Since then, Fafaul has completed 67-of-121 passes for 763 yards, with eight touchdowns … and eight interceptions.
Fafaul set school records with 70 attempts and 40 completions against Utah, with five touchdowns … and four interceptions. In the 52-45 loss, the Bruins had a grand total of 16 rushing attempts for all of 46 yards. If UCLA is going to win, it will be upon Fafaul's shoulders.
— Takkarist McKinley/DE … McKinley ranks first in the nation in tackles for loss per game (2.0) and has 13 tackles for loss in the last six games. His total of five tackles for loss against Utah were the most by a Bruin since Damien Holmes had the same number in 2012 … against Colorado.
—
Colorado and UCLA – head-to-head
This will be the 12th all-time meeting between the two teams, in a series dating back to 1980.
The first game played between the two teams is also the first game in the CU at the Game Archives, as it was my first game as a Buff. The game was a blowout, with the Bruins racing out to a 56-0 lead at halftime, coasting to a 56-14 win.
The Bruins then ran off three more wins in the series during the early '80's. The Buffs, wearing their own version of blue-and-goal uniforms, looked like UCLA, but didn't play like UCLA. The 1982 game is perhaps the most noteworthy of the three UCLA victories, as future Colorado coach Rick Neuheisel got into the game in garbage time in a 34-6 UCLA victory.
The Buffs' only two victories in the series came in a home-and-home in 2002 and 2003. The 2002 game, a 31-17 win over the No. 20 Bruins, still represents CU's most recent road victory over a ranked team (and, until last week, the most recent CU victory in the state of California). The 2003 win, a 16-14 decision in Boulder, is also noteworthy as it represented a homecoming for head coach Karl Dorrell and assistants Jon Embree and Eric Bieniemy, all former Buffs.
Since Colorado has joined the Pac-12, it has been all UCLA, though the Buffs have certainly gotten closer with time. After absorbing 45-6, 42-14, and 45-23 maulings from 2011-13, the Buffs have played on par with the Bruins. The last time the teams played in Boulder, the game went into double overtime, with UCLA prevailing, 40-37. Last season, the Buffs had a lead late, but ultimately fell, 35-31.
—
Colorado and UCLA … historical
In historical terms, Colorado wins out over UCLA, with the CU football legacy dating back to 1890, while the Bruins didn't field their first team until 1919. As a result, Colorado has a significant lead in all-time wins, with 691 (25th all-time) compared to UCLA's 588 (57th).
When comparing apples to apples – all-time winning percentage – CU and UCLA are very close. The Bruins are 34th on the all-time list (.587 – 588-409-37), while the Buffs are 37th (.582 – 691-492-36).
Both teams have one national championship, one Heisman trophy winner, and, ironically enough, have both spent seven weeks as the No. 1 team in the Associated Press poll (tied for 24th on that list).
UCLA leads Colorado in most other categories tracked by Winsipedia, including NFL draft picks (303 to 266), consensus All-Americans (40 to 31) and bowl appearances (35 to 28). The Buffs do, however, hold a lead in one category which will last for some time to come … conference championships. Colorado is 10th on the all-time list, with 26, while UCLA is 23td on the list, with 18.
—
Colorado and UCLA … Notes and Numbers
— UCLA is coming off of a game with its quarterback, Mike Fafaul, threw 70 passes, with four of those being picked off. In CU's last game, the Buffs had three interceptions, just the fourth time the Buffs have had three interceptions in a game in the last nine seasons (most recent against an FBS team before the Stanford game: v. Arizona in 2011);
— Colorado is 31-20-2 all-time on Thursdays (3-5 on non-Thanksgiving Day games);
— A total of 32 NFL scouts, representing 21 teams, will be on hand for the game. Owing in large part to the Thursday kickoff (scouts can watch the game and still catch a Saturday game elsewhere), the totals are both the highest-ever for a CU home game;
— Buff linebacker Kenneth Olugbode has 86 tackles so far this season according to CU coaches' video, a number which would rank him 8th in the FBS (and 14 more than any other player in the Pac-12). The Pac-12 stats, though, which are calculated differently, credit Olugbode with only 65 tackles, third in the Pac-12;
— The Buffs are 3-0 at home so far this year, out-scoring opponents 143-29. The CU defense has allowed only two touchdowns at Folsom, both on short fields after turnovers (27 yards by Idaho State; 31 yards by Arizona State);
— The Colorado defense has allowed only 27 "explosion" plays (defined as gains of over 20 yards) this season. The average (3.4/game) is down significantly from last season (5.1), and is ranked 10th in the nation;
— The most receiving yards posted by a Buff against UCLA? 145 yards in the 1984 game, by … Jon Embree;
— Four of UCLA's five losses have come against teams (Texas A&M, Utah, Washington State, Stanford) which have spent time in the Top 25 this season;
— Colorado is 5-0 when scoring over 30 points this season; 1-2 when not …
—
Pac-12 Notes … 
— Washington and Washington State are both 5-0 in conference play for the first time since 1997. The Huskies and Cougars are ranked at the same time for the first time since 2003;
— A total of 22 quarterbacks have started games for Pac-12 teams, with three each for Arizona and Arizona State. Only Cal, Utah, and the Washington schools have had the same starting quarterback for each game;
— Three Pac-12 players are national leaders … Luke Falk, Washington State (passing completions per game – 35.75); Takkarist McKinley, UCLA (tackles for loss – 2.0 per game); Mitch Wishnowsky, Utah (punting – 48.8 yards per kick);
— CU in the top 25 nationally … Total offense (19th); scoring offense (16th); passing yards allowed (14th); total defense (12th); turnover margin (4th); team passing efficiency (15th); and team passing efficiency – defense (5th);
— UCLA in the top 25 nationally … Passing offense (11th); passing yards allowed (24th); and team passing efficiency – defense (7th);
— CU first/last in the Pac-12 … Total defense (1st); pass efficiency defense (1st); opponent first downs (1st); opponent third-down conversions (1st); penalties (1st-lowest); red zone defense (1st) … punting (12th); PAT kicking (12th); opponent penalties (12th-lowest);
— UCLA first/last in the Pac-12 … Rushing offense (12th);
— Pac-12 bowl-eligible … Washington (8-0); Utah (7-2); Colorado (6-2); Washington State (6-2);
— Pac-12 teams one win away from bowl-eligibility … USC (5-3); Stanford (5-3); Arizona State (5-4);
— Pac-12 teams eliminated from bowl-eligibility … none.
—–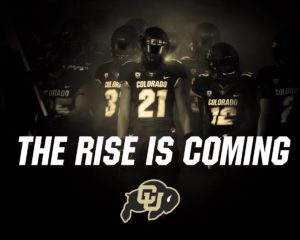 —–