—
Colorado Daily – UCLA
—
November 3rd – GameDay!!
… CU in a few minutes … 
Tweet of the Day … From Forever Buffs: "Trying to figure our your game day attire? We suggest wearing black. #GoBuffs" 
—
Drew Litton's take on the UCLA game
From the Daily Camera …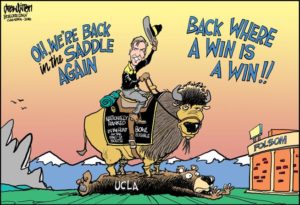 —
Neil Woelk's Five Keys to the Game
From CUBuffs.com … After enduring two agonizingly close defeats to UCLA in the last two seasons, the No. 21 (AP) Colorado Buffaloes don't want to leave anything to chance Thursday night when the two teams square off at Folsom Field.
Unlike the last two years, however, the scripts are flipped in this matchup.
This year, it's the 6-2 Buffs (4-1 Pac-12) who are battling for a Pac-12 South title. The Bruins, meanwhile, a top-25 pick in the preseason, have struggled to a 3-5 overall record, are just 1-4 in the Pac-12 and are now battling for bowl eligibility.
UCLA has been battered by injuries. Quarterback Josh Rosen, a preseason first-team all-Pac-12 pick, has missed the Bruins' last two games with a shoulder injury and reports say he's out for the rest of the season. Now, the Bruins will turn to Mike Fafaul, who threw a school-record 70 passes in a 52-45 loss to Utah on Oct. 22.
But despite their recent struggles, the Bruins are a dangerous, talented team. Their offensive output against a strong Utah defense was impressive, and their defense — at least prior to the Utah game — has been a strength. Before the big output from Utah, the Bruins hadn't given up more than 27 points in their previous six games.
… Continue reading story here …
—
Parking information for the weeknight game at Folsom
From CU Parking and Transportation Services …
Public Parking for Thursday, 11/3/2016
Main campus will accommodate ONLY permit holder parking. Public parking, with a shuttle, will be available for $10 at Research Park, beginning at 3:00 PM, Thursday, November 3rd. Please review public parking locations on this CU Boulder vs. UCLA Public Parking locator map.
Donor Parking for Thursday, 11/3/2016
Donor parking will be available beginning at 3:00 PM, Thursday, November 3rd. Please review donor parking locations on this CU Boulder vs. UCLA Donor Parking locator map.
Permit Holders Game Day Parking Impacts (Map)
On Thursday, November 3rd at 7:00 PM, your No. 23 Colorado Buffaloes will be in the national spotlight as they host Pac-12 opponents UCLA on Fox Sports 1.
While minimal disruptions outside of those usually associated with gameday activities are anticipated, members of the campus community should review their main campus plans for the day and be prepared well in advance.
Our campus community is encouraged to use alternative transportation rather than drive to campus on game day. Please review the tables and maps below listing lot closures and their specific alternate parking.
Road closures around Folsom Stadium will prohibit all RTD bus service through main campus beginning at 2 p.m., November 3rd. Internal campus bus stops will be inaccessible to RTD routes during this time; routes will be detoured to stop along Broadway, Baseline, Arapahoe, and 28th Street. Please verify stops on the RTD Rider Alert website. The HOP and Buff Bus routes/stops will be available on the CU Bus Tracker app, available on both iPhone and Android phones. Affected routes: Stampede, 209/209G, J and HOP. Additionally:
Buff Bus will operate on their football reroute beginning at 12 noon
Athens North will reroute via Folsom, left on Colorado, left on 28th, left on Arapahoe to Athens North
Discovery Express will run the football shuttle reroute beginning at 12 noon
Review the lists and maps for impacts and alternate parking arrangements for lots 380, 384, 386, 359, 360, 378, 391, 398 & 399. Vehicle access will be limited to emergency vehicles and authorized event traffic on Colorado Avenue and 18th Street with traffic attendants enforcing the closure.
—–
November 2nd 
… CU in a few minutes …
Tweet of the Day … From CU co-offensive coordinator Darrin Chiaverini (announcing the commitment of three-star defensive end Jacob Callier): "The Pride and Tradition of the Colorado Buffaloes will not be entrusted to the timid or the weak! #TheRise #CUin17 #CaliSwag"
—
MacIntyre: "These games are gonna be more fun than you've had, I promise you … Keep enjoying it"
From USA Today … With practice finished, the players gather near midfield and take a knee. In a few more days, they'll play the first of four November games that could turn a good season into something much more — which for this football program is a new and unusual circumstance. Mike MacIntyre's parting message is simple.
"These games are gonna be more fun than you've had, I promise you," the coach tells them. "Keep enjoying it. Keep enjoying it."
Anyone who's been associated with Colorado football these last few years — and this goes especially for those players from MacIntyre's first recruiting class of February 2013 — gets the connection to an analogy the coach made back then. A proud program had fallen and, despite several coaching changes, couldn't seem to get up. After seven consecutive losing seasons, including 1-11 in 2012, there wasn't a lot to sell.
"The bottom had kind of fallen out," says Darian Hagan, the former standout quarterback who's now coaching the running backs.
MacIntyre's pitch to that very first group of recruits wasn't extravagant. In living rooms, he invited parents and prospective players alike to join him in strapping into a roller coaster. The bar would come down, and there'd be no getting off, and a long, difficult climb would begin.
"It's gonna be hard," he told them. "It's gonna feel like we're never gonna get to the top. And then all of the sudden, we'll get there and — WHOOOOO!"
Sitting in his office with the view of Folsom Field and beyond that, the Flatirons, MacIntyre smiles.
"That's what we're doing now," he says.
This, finally, is Colorado football. After years of futility — and three seasons of building under MacIntyre without many positive outward results — the Buffaloes are screaming downhill, and greatly enjoying the ride. Colorado (6-2, 4-1 Pac-12 South) hosts UCLA on Thursday, already assured of a bowl berth for the first time since 2007, but wanting — and importantly, expecting — so much more.
… Enjoy continuing reading this story here …
—
CU defensive backs preparing for air raid from UCLA offense
From CUBuffs.com … Defensive backs live for challenges, for pass coverage on nearly every snap and for swarms of balls thrown in their direction(s). But jack-of-all-DB positions Chidobe Awuzie is cautious about Colorado's Thursday opponent at Folsom Field; UCLA presents a legitimate "be careful what you wish for" scenario.
"We know they pass the ball a lot, but we also know they're good at passing the ball," Awuzie said the other morning after practice.
Asked if this seemed to be the kind of game that might find a DB salivating just a little or maybe a lot, "Chido" responded, "A little bit, but you always want to be humble toward it. We always face great opponents in the Pac-12 . . . at the same time you want those opportunities but sometimes opportunities can expose you."
… Buffs safety Tedric Thompson, who is tied for the conference lead in interceptions (four of CU's 11), said the Bruins' lack of recent ground productivity shouldn't shade UCLA's rushing capabilities: "Early in the season they were running the ball really well and they still can run the ball well. They've got a great offensive line and three or four great running backs. So we've got to be prepared for anything."
… Chidobe Awuzie, meanwhile, remains focused on what actually is a weekly goal: render the opponent's offense one-dimensional. "We know if we stop the run – even if they're running only ten times (a game) – but if we only let them get two yards on those ten runs then we can really make them one dimensional and focus on bringing some pressure on third downs and trying to get a pass rush and playing our coverages. That's the main thing.
"We know they're not going to run the ball a lot but we do know it's going to be a big game for the DBs to play in space. They'll still run some screens, which are basically run plays. We have to make tackles and we're going to have to play the ball in the air."
… Continue reading story here …
—–
November 1st
… CU in a few minutes … 
Tuesday press conference quotes
From CUBuffs.com …
Opening Statement
"We had a good off week and we're excited about playing on Thursday night here at Folsom. It's going to be a great atmosphere, it's going to be a lot of fun. We're looking forward to seeing everyone there. It was good to have a bye week. Our guys got refreshed. We had excellent practices. We're excited about playing UCLA. UCLA is an excellent football team with a lot of excellent football players. They've played an extremely tough schedule, so they don't have quite as many wins as people would think they would. They're a really, really good football team. They're very talented. They've beat us the last three years I've been here, so it's going to be an extremely tough contest. It's another Pac-12 South game. We've got our work cut out for us."
On UCLA's Quarterback Situation Without Josh Rosen
"Mike Fafaul played really well last week. In each week since he came in – we watched all the games of course – he's making all the throws, he's doing a lot of good things. He's an older kid, he's a fifth-year senior, but he also went to prep school. He's an older mature guy, I guess he's around 23 years old probably after doing all that. He's made a lot of plays. Their offense has changed quite a bit with him. It's been interesting to watch what they've done. They threw the ball a ton, they've got great, skilled athletes to get the ball in space. The young man, Mike, can get the ball out of his hands quick and easy. He can make all the throws. It's going to be extremely tough for us."
On UCLA Throwing A Lot
"Well the number one thing is we've got to be able to pass-rush, but they do get the ball out of their hands quick so it's a little bit misleading. We're going to have to tackle well in space. They've got guys that can make you miss. They scored 40-some-odd points against an excellent Utah defense that doesn't give up points. I was really impressed with what they did there. Their skill guys are good. Their tight end No. 11 [Nate] Iese is a really good athlete, a big target that they threw to a lot. They'll stretch us for sure, so we'll have to play really good coverage."
On Jordan Carrell's Development
"Jordan got stronger over the offseason, he's more powerful. He harasses the quarterback a lot even though he might not have a lot of sacks. He gets in the pocket and makes the guy move. He's done an excellent job on the run holding his alignment for the linebackers and being stout in his gap. I've been very pleased with Jordan's improvement from last year. I thought he played really well last year and I think he's playing really well this year."
On Play Of Ryan Moeller
"Ryan's played really well, he really has. He's done a lot of excellent things. He's made plays up at the line of scrimmage, made plays in the backfield and made plays covering. Ryan was a good fit for us there. We play so many teams that play a lot of spread-type situations or one tight end with one back, so we were able to utilize his strengths there. He's extremely strong. If he took his shirt off, you'd see how big and powerful he really is. He's close to 210 (pounds). He's an excellent athlete. He has an advantage when linemen pull out, because he can dodge them. It's a little bit of a different animal for them to try to block out there than a bigger guy that's always going to take you on. He's done a very good job. It was a great move by Joe Tumpkin and Jim Leavitt to do that. We talked about it for a while when they brought it up. I was scratching my head thinking about it for a minute, and I said let's go with it, it sounds like a good idea. It worked out well."
On Jordan Carrell Playing The Most Snaps On The Defensive Line
"It takes good stamina. The reason that he's played more snaps than Josh [Tupou] and Samson [Kafovalu] is when we go to our nickel package, he has a little bit better first step on pass-rush than a three-technique. That's where we used him and where he's helped us in some of those pass-rush areas. That's why he's played more snaps."
On Davis Price
"He still has mono. We've done some tests and we'll do some more tests tomorrow or Thursday to see if he'll be able to play or not. Right now it's still up in the air."
On The Final Four Games Being A Fight
"We're in the heavyweight battles, it's what we wanted to be in. We're there now and now we've got to perform in the heavyweight fights. The kids are excited about and I'm excited about it. Now we've just got to go out and do it. Like we say, we've just got to do what Colorado does and not worry about anyone else. When they show up to play, then we'll have to show up and play and get more points somehow. We say 'Welcome to the fight' every day, because every day is a fight in life. We parallel it to life and to football. I think they're getting it."
On Who Will Return Punts
"Right now, Isaiah Oliver will be returning punts."
On How The Team Handled The Bye Week
"I think they approached it really well. It's unique. I haven't had one before where we had a game on Thursday coming out of a bye week. I like that to be honest with you. It kept up the energy of the game with it being closer. I'm excited about seeing them play. It's unique that both of us have the exact same situation with a week off before the Thursday game. That's the way the league should do it. You shouldn't have one of us have a week off and one of us have to play Thursday. That wouldn't be a fair advantage. I like the way our league worked that out. It being a national television game is nice too, playing here. I'm glad we're playing at night, but three o'clock in November in Folsom, there's nothing prettier than that. Hopefully we can get some more two or three o'clock games in the future."
On If The Kicking Situation Will Change Throughout The Game
"It really will depend how the game is going and how we're doing. It'll also depend on the wind in our stadium. As you know, sometimes it swirls in Folsom at times. We've really got to be alert to that. We will see how the guys kick this week and how they're kicking in warmups and get a feel for that. We definitely would like to score more touchdowns than kick field goals. We'll look at that as the game goes along and with different situations we come in to."
On Wind Being A Factor With The Kickers Without Diego Gonzalez
"Diego's leg was so strong, we didn't have to consider it as much."
On Sefo Liufau Playing Well
"Reps, reps reps, experience, experience, experience. He can see it. If he does make a mistake – which he'll  make one eventually – he'll be over it the next snap and ready to go again. He won't shy away a bit. It's just his experience and his competitiveness; he's seen so many things and studies film so well. He's just grown into it."
On Alex Kinney Place Kicking In Practice
"He has place kicked in practice this week. He has a very powerful leg. We've just got to get him back into the rhythm to be consistent hitting it. He has kicked in practice this week. Right now we'll look to Chris [Graham] first, and hopefully that goes really well. If it doesn't, then we'll go to Alex. Chris has had an excellent week. He's kicked better than he has any weeks that we had so far. He's made some kicks in some games, it's just getting into that rhythm and getting out there and doing it."
On Injuries To Phil Lindsay, Aaron Haigler And The Success Of The Running Game
"Phil and Aaron practiced all week and looked good, so we feel good about both those guys. Our offensive line has stayed relatively healthy. Aaron comes in and out, but he's back which helps us a tremendous amount. The other thing is Phil's done a good job of hitting the holes well, has good vision and runs through arm-tackles. I think it's a combination of that. Our quarterbacks have done an excellent job of getting us in the right calls, making sure we don't have as many negative plays. That's key. Playing extremely fast has helped us too, because there are some times when they aren't lined up right."
On Having More Motivation Preparing For UCLA After The Two Previous Years
"I don't think they have payback on their minds, but I definitely believe – against anybody we play – they believe they can win the game. I'm pretty sure UCLA thinks we'll find a way to screw it up, because we have the last couple years. What we need to do is go out there and focus and play Colorado football. I believe our guys will do that. We don't have anything up on the bulletin board or signs that say 'payback' or 'revenge.' We haven't been successful in the Pac-12 South. We won our first one the other day. They like the taste of it and I hope they keep coming with that same type of fire. Maybe it's a couple years of buildup and they keep doing it for every game we play."
On Phil Lindsay's Injury
"He's 100 percent healthy. His hair looks good too. I told him don't cut it."
On His Halloween
"I got home a little bit at the end of it with the eight o'clock group that came through. Our dog, Amelia, was dressed up like a queen mermaid. I don't know how they did that, but that's what she was dressed up as. Everybody loved our dog, so that was fun. I wasn't trick-or-treating. I'm glad I gave away all the candy, so I wouldn't eat any."
On Development Of Isaiah Oliver
"Isaiah's an excellent athlete. He scored points in the decathlon and the long jump or hurdles in the Pac-12, which is pretty impressive. He's extremely bright. I look at him as a starter back there. He plays a tremendous amount. When he's in there, we don't blink an eye. I've been very pleased with what Isaiah's done. I think he'll keep being an excellent player. He's definitely a high-caliber Pac-12 corner. He's long, athletic, he can judge the ball, he's tough and extremely bright. I'm very, very pleased with Isaiah."
… Continue reading – quotes from quarterback Sefo Liufau and defensive end Jordan Carrell – here …
Phillip Lindsay an "old soul" 
From ESPN … Phillip Lindsay is the Buffs' lovable old man in the locker room telling his teammates to get off his lawn. And he's not ashamed of it.
On an off day when he's back home, you might find him in his true grandfather form — playing dominoes or spades while listening to his records and wearing his moccasin slippers. He says he enjoys going on walks or riding his bike.
"He's definitely an old soul," Colorado running back coach Darian Hagan added.
But Hagan likes that Lindsay sees himself as more of a 70s- or 80s-era guy.
Because while Lindsay's persona off the field exudes old school, his on-field persona is an embodiment of that same era — a throwback, physical running style that Hagan thinks has been missing at the college level of late.
"In this day and age with offenses being so wide open and spread out, you don't really have to be physical to get a lot of yardage," Hagan said. "Whereas Phil, he'll go in and take on a guy just because that's how he was brought up in football. Instead of trying to avoid a person, he tries to run a guy over."
Lindsay is the Pac-12's fourth-leading running back (745) and he boasts the highest third-down conversion rate of any Pac-12 running back with at least 40 carries (87.5 percent). Likewise, only 9.2 percent of his rushes have been for no gain — the highest percentage of any top-10 Pac-12 running back.
… Continue reading story here …
—
Record number of NFL teams to be represented at Folsom this Thursday
From CUBuffs.com … Requests from NFL scouts for space in the press box for Thursday night's game continue to grow. As of Monday afternoon, 32 scouts from 21 NFL teams had asked for credentials for Thursday's game with the Bruins.
According to Sports Information Director Dave Plati, it will be the most scouts and most NFL teams ever represented at a CU home game.
The reason for the big numbers is actually twofold. One, of course, is that the Buffs have a number of players likely to be selected in next April's NFL Draft. The number of scouts at CU's weekday practices has grown dramatically from this year and more and more teams are becoming interested in looking at the Buffs in action.
Also, because it's a Thursday game, scouts will be able to catch the game and fly out Friday in time for another game Saturday.
—
INJURY UPDATE: MacIntyre said offensive tackle Aaron Haigler, who missed the last two games, should be available Thursday. Meanwhile, kickers Chris Graham and Alex Kinney have been handling field goal duties in practice this week as Davis Price continues to recover from mononucleosis.
—–
October 31st
… CU in a few minutes …
Mike MacIntyre post-practice talk with media 
From YouTube, courtesy of CUSportsNation:
—
Mike MacIntyre on mid-season watch list for Coach of the Year
From CUBuffs.com … University of Colorado head coach Mike MacIntyre has been named to the 2016 Dodd Trophy mid-season watch list that is presented by the Bobby Dodd Coach of the Year Foundation and Chick-fil-A Peach Bowl.
The list includes 18 of the nation's top college football coaches representing all Power 5 conferences, the American Athletic Conference, Mid-American Conference and Mountain West. Joining MacIntyre on the list from the Pac-12 Conference was Washington's Chris Peterson.
The head coaches on the watch list represent programs with the highest ideals of leadership, scholarship and integrity on and off the field – the three pillars of legendary coach Bobby Dodd's philosophy. Each of the coaches sits at the helm of programs with winning records, superior Academic Progress Rate (APR) scores and graduation rates, as well as a strong commitment to service within their communities.
Mike's father, the late George MacIntyre, won the 1982 Dodd Trophy while he was head coach at Vanderbilt University. Mike also played for two seasons (1987-88) under coach Bobby Ross at Georgia Tech, who won the Dodd Trophy in 1990.
MacIntyre has led the Buffaloes to a current first-place standing in the Pac-12 South Division heading into the final month of the regular season. Sitting at 6-2 overall and 4-1 in league play, CU is currently ranked No. 21 in the Associated Press Top 25.
Colorado is one of only four schools in the country that ranks in the top 20 in both total offense and total defense. The three other schools in that category are No. 1 Alabama, No. 5 Louisville and No. 6 Ohio State. Alabama's Nick Saban and Ohio State's Urban Meyer joined MacIntyre on the mid-season watch list.
As the season continues, an updated watch list will be released in November.
A voting panel of all previous winners, plus a committee made up of national college football media members, a member of the Dodd family and two College Football Hall of Fame members will determine the 2016 recipient. The winner of The Dodd Trophy will be announced in Atlanta during Chick-fil-A Peach Bowl week.
—
Buffs remain focused: "They've worked so hard to get here, they don't take it for granted"
From CUBuffs.com … After a couple of days off during their bye weekend, the Buffs returned to the practice field on Sunday to begin game-week preparations for Thursday's game at home vs. UCLA (7 p.m., Fox Sports 1).
MacIntyre said the players showed no sign of rust from the layoff, and neither did they exhibit any signs of complacency that might come with a national ranking and first place in the Pac-12 South.
"They came out ready to roar in practice," MacIntyre said. "They worked at it, they've been focused. They know what's in front of them and they know the only way you can do it is one game at a time. You slip up one time and it gets tighter and tighter. All the teams we play are excellent."
… Thus far, MacIntyre and his staff have done a good job of keeping the Buffs focused on the task at hand. But equally important has been the players' insistence on refusing to look past anything other than the next game. A group that has endured several years of losing seasons isn't likely to forget such adversity in only a few weeks.
"They've got everything in front of them they've always dreamed of and they've worked so hard to get here, they don't take it for granted," MacIntyre said last week. "It's not like it's a common occurrence. … These guys will stay on each other, which is awesome."
BUFF BITS: The last time the Buffs were bowl eligible after eight games was 2005, which is also the last time CU won a conference division title. … The Buffs have now had three games without an offensive turnover this year, and they've gone nine straight quarters without turning the ball over. … The Buffs have nine pass plays of 50 yards or longer this season, and five different players on the team  have caught one of those big pass plays. Shay Fields' four receptions of over 50 yards this year are tied for the third most of any player in the country. Other players with at least one 50-yard reception are Bryce Bobo (two), Devin Ross, Phillip Lindsay and Kabion Ento. … In five Pac-12 games, Lindsay is also averaging 113.8 yards per game rushing. … Buff cornerback Ahkello Witherspoon is one of only two players in the nation with at least one pass breakup in every game this year. The other is Indiana's Rashard Fant. Fant leads the nation with 13 PBUs and Witherspoon is second with 12.
… Continue reading story here …
—
Mike MacIntyre post-practice talk with media
From YouTube, courtesy of CUSportsNation:
—–
October 30th
… CU in a few minutes … 
Colorado a double-digit favorite over UCLA
No. 21 Colorado will host UCLA on Thursday (7:00 p.m., FS1). The vegasinsider website had CU as a 9.0-point favorite at the opening, with the line quickly moving to 10.5 points.
Other Pac-12 lines:
— Washington a 17.0-point favorite on the road against Cal
— USC a 14.0-point favorite at home against Oregon
— Stanford a 15.5-point favorite at home against Oregon State
— Washington State a 16.5-point favorite at home against Arizona
… Arizona State and Utah have byes …
—–
October 29th
… CU in a few minutes … 
Colorado defensive surge over the past two seasons directly correlated to the hiring of Jim Leavitt
From CUBuffs.com … Coming into the season, the Colorado Buffaloes believed their defense would have to take another significant step forward if they were going to make headway in the Pac-12 standings.
Two-thirds of the way through the season, it's safe to say defensive coordinator Jim Leavitt's group is living up to its end of the bargain.
Heading into this weekend's play (the No. 23 Buffs have the weekend off), Colorado is ranked among the nation's top 30 teams in virtually every key defensive category, including the one that counts most: scoring defense.
Quotes from the article:
— "I interviewed a ton of people,"  MacIntyre said of the coaching search that brought Leavitt in as his defensive coordinator. "I ended up liking Jim, what we wanted to do. I wanted to be a 3-4 type defense because I knew with the spread offenses it helps you. … I knew we had really good young talent. I sold him on that and he saw it when he got here and realized we had good talent. That makes you a good coach."
— "It's talent, and it's experienced talent that's gotten bigger and stronger," MacIntyre said. "That's how you win. Our coaching staff has done an excellent job of coaching them and getting them in the right spots and they're going a great job of listening. Those young men have stuck with us and kept working and kept fighting. We've done a heck of a job of recruiting, even though some of the recruiting sources said we didn't, and we did."
— "Their competitive spirit, they don't blink anymore," MacIntyre said. "They just go play and I think that's important. You have bad things happen to you and they just shrug it off and go play. They understand you just keep playing."
… Continue reading story here …
—–
History of Folsom Field – Part II
From CUBuffs.com … .This is the second installment of a three-part series, written by CU student David Collins, on the history of football stadiums on the CU campus, from Gamble Field to the current version of Folsom Field. Part One was published in September.
BOULDER — "It was a most fitting tribute to this man, alumni of this University will join with me in the satisfaction that the name of Fred G. Folsom and the things he stood for will be perpetuated as a tradition in the University of Colorado."
With that statement by Professor Walter B. Franklin, on Nov. 24, 1944, Colorado Stadium was renamed Folsom Field after legendary CU football figure Frederick Folsom.
Folsom coached the team from 1895-99, 1901-02 and 1908-15. In the 15 years, Folsom coached in 102 games and CU went a historic 77-23-2.
Folsom died on Nov. 11, 1944, after CU had already played its final home game of the 1944 season. Thus, the newly named stadium would have to wait till the 1945 season to host its first game.
Although the Buffs lost their home opener in 1945 to Ft. Warren by a score of 6-0, they returned two weeks later to get the first win at Folsom Field, beating Utah 18-13 on Homecoming weekend.
Over the next decade Folsom Field didn't see much change.  But as the 1950s rolled along, the football program began to grow and the product on the field improved to the point that in 1956 CU participated in and won its first bowl game.
On Jan. 1, 1957, CU capped an 8-2-1 season by beating Clemson, 27-21, in the Orange Bowl, a successful end to a season that had begun Sept. 22, 1956, in a much bigger Folsom Field.
As soon as the 1955 season had concluded, construction began on the Folsom Field upper deck, expanding the original single-level bowl that Folsom Field had been to that point.  At its completion, the expansion project was four stories high on the eastern side of the stadium and two stories high on the south side.
The additional seating raised the capacity of Folsom Field from its original capacity of 26,000 to a whopping 45,000 seats.  That gave Folsom Field the second-largest capacity in the Big Seven entering the 1956 season.
… Continue reading story here …
—–
October 28th
… CU in a few minutes … 
Tweet of the Day … From co-offensive coordinator Darrin Chiaverini: "A coach's job is to take players where they can't take themselves! Love coaching this group of players! They love CU and represent it well!!"
—
Buffs looking to improve red zone scoring 
From the Daily Camera … "It's important to go out there and put points on the board, especially touchdowns," Liufau said. "If you want to beat good teams, you're going to want to put up touchdowns and not just field goals."
With a bye this week, the Buffs are working on improving their red zone success rate.
"There's some things I think we'll clean up and some things that we could have done differently (against Stanford)," Lindgren said.
Of course, execution of the play can be better. Get a block against Stanford and Frazier might have hauled in an easy touchdown catch. Take out the penalty in the end zone and the Buffs could have had another score.
Getting the players in the right situation to score is also essential, and Lindgren said mixing up the play selection could help.
"Looking at it, especially with the team we have, you'd always like when you get down there to just be able to run it in," Lindgren said. "There's some times, looking at it, that we could be a little bit more aggressive throwing it, and giving our guys some opportunities to score from higher out, so you don't always get caught down inside the 10. Your play selection is so limited (inside the 10)."
… Continue reading story here …
—
Colorado running game prospering
From CUBuffs.com … The biggest story on the offensive side of the ball for the Buffs — or at least maybe the most surprising?
The Buffs are running the ball with an efficiency and effectiveness not seen in years at Colorado. In fact, if the Buffs continue at their current pace of 216 yards per game on the ground, they'll finish with 2,592 yards rushing — the most by any CU team since 2002, when Chris Brown and Bobby Purify teamed up to help CU rush for 3,136 yards.
Already, Colorado's 1,728 yards rushing this year is the third-best total in the last nine years. If they can match their season average in the next two games, it will be the most since that 2002 season, with two games still to go.
Has Colorado become the Ground Buffs?
"The misconception about what we do offensively is people think we always try to throw the football," Chiaverini said Thursday morning. "But what we really try to focus on is throwing the ball to open up the run game. If they jam up the box to stop our running game, fine. We'll throw it. But if they give us the opportunity to run, we're going to take it."
Improving CU's running game was one of head coach Mike MacIntyre's biggest priorities in the offseason, as the Buffs had finished 10th, 9th and 10th in the league in rushing offense in his first three years in Boulder. To address the issue, he did what may at first seem counter-intuitive: he brought in an offensive mind from a team known for its passing attack to help address CU's run deficiencies.
"That was the whole idea of the tweaks we made was to be able to run the ball better, be more precise in our passing game, be able to play a little bit faster and spread the field a little bit more horizontal to open up running lanes," MacIntyre said. "We knew our offensive line would be better if we stayed healthy, and we've stayed pretty much healthy. The guys have done well with our scheme and the offense knows it really well. They were good tweaks that we made to our offense."
… Continue reading story here …
—–
October 27th
… CU in a few minutes … 
Coach MacIntyre post-practice talk with media
From YouTube, courtesy of CUSportsNation:
—
Irwin twins have had a good run
From the Daily Camera … Sean Irwin and his twin Jeromy were not going to leave Texas without one another.
They found the perfect home together with the University of Colorado football program, though as it turns out the Irwins have spent a relatively sparse amount of time together on the field since arriving in Boulder more than four years ago.
With five games remaining in the season — four in the regular season, plus a likely bowl date — in addition to a possible appearance in the Pac-12 Conference championship game, the beginning of the end is at hand for the Irwin twins as teammates.
As the Buffs attempt to remain sharp during a bye week ahead of Thursday night's matchup against UCLA at Folsom Field, the extra down time has allowed a few moments of reflection for the twins from Cypress, Texas, who had been a part of just 11 wins in four seasons before this year's 6-2 start.
"I've been thinking about it a lot," said Sean Irwin, a senior tight end. "He's been injured a lot, so we played together more in high school than we have in college. I don't have my hand on the ground (next to Jeromy) too much. I mainly come out the backfield, but I've been next to him a little bit.
"It's been great. It's been fun. It stinks it's coming to an end, but everything comes to an end."
… Continue reading story here …
—–
October 26th
… CU in a few minutes … 
Tedric Thompson getting good press 
From the Daily Camera … "CU Buffs' Tedric Thompson shining in senior season"
From CUBuffs.com … "Buffs Safety Thompson Personifies CU's Rise Back To Relevancy"
Quotable …
"I think we still have that chip on our shoulder from being at the bottom of the league for so long," said Buffs safety Tedric Thompson, who earlier this week was named the Pac-12 Defensive Player of the Week after his 12-tackle, two-interception performance against Stanford. "It's not like we've forgotten that."
Thompson is one of the Buffs who personifies "The Rise" this season. A part-time starter as a true freshman, he's been a regular in the lineup since. He's seen the good times and bad, he's stuck with the process — and now he's on the cusp of helping lead the Buffaloes to a very special season while also solidly injecting his name into the NFL Draft conversation.
"Give credit to God for putting me in the position I'm in and credit to my mom for always pushing me when I've needed it," Thompson said. "The coaches I've had through the years have all been a big help. My teammates … there are a lot of people I'd have to thank for the opportunity that I've been given."
—
"He's had a phenomenal season," head coach Mike MacIntyre said. "He's played a lot of football here for us and just grown up and gotten better and better and better. It's really exciting to see how he's grown into a man on the football field and off the football field. He's done excellent."
Thompson has a career-high four interceptions and he's among the national leaders with 10 passes defended. He believes this is the best season of his career for only one reason, though.
"We're winning right now and that's all that matters," he said. "I really don't care about individual stats. As long as we win, I'll be happy at the end of the day."
—
Coach MacIntyre post-practice talk with media
From YouTube, courtesy of CUSportsNation:
On bye weeks, scoreboard watching, Phillip Lindsay's ankle, Tedric Thompson's POTW award:
—
Coach MacIntyre last in the Pac-12 in base salary
… Related – From CBS Sports … "The five most underpaid Power Five college football coaches"
… 1. Mike MacIntyre, Colorado ($2.011 million): Patience has paid off for Colorado as MacIntyre's Buffs finally broke through in 2016. The program has let the full lose big-lose-small-win-small cycle play out, and now they're on the verge of the final step — "win big" — as a legitimate Pac-12 South title contender. MacIntyre has the lowest salary of any Pac-12 coach in the database, though that is certain to change should the Buffs memorable 2016 continue.
—
The USA Today has posted the annual salaries for FBS coaches. No. 1 on the list is Jim Harbaugh, making over $9 million/year at Michigan (and over $2 million more than the No. 2 coach, Nick Saban at Alabama).
The Pac-12 (note: USC is private institutions, and is not required to report salaries. Safe bet, though, that both Clay Helton is making more than Mike MacIntyre's $2 million/year):
No. 19 – David Shaw – Stanford – $4 million
No. 24 – Kyle Whittingham – Utah – $3.6 million
No. 25 – Chris Petersen – Washington – $3.6 millioin
No. 27 – Jim Mora – UCLA – $3.4 million
No. 29 – Mark Helfrich – Oregon – $3.3 million
No. 34 – Todd Graham – Arizona State – $3.1 million
No. 38 – Mike Leach – Washington State – $2.9 million
No. 39 – Sonny Dykes – Cal – $2.9 million
No. 41 – Rich Rodriguez – Arizona – $2.5 million
No. 45 – Gary Andersen – Oregon State – $2.5 million

No. 55 – Mike MacIntyre – Colorado – $2 million
Power Five conference schools with coaches reportedly earning less than Mike MacIntyre: Rutgers; Iowa St; North Carolina; Illinois; Notre Dame(?); Minnesota; and Kansas
—–
October 25th
… CU in a few minutes … 
Tweet of the Day … From defensive coordinator Jim Leavitt … "Just another morning in paradise! Excited for another opportunity. UCLA. Thursday night! Go Buffs!"
—
Phillip Lindsay – ankle "feels good right now"
From the Daily Camera … A bum ankle prevented Phillip Lindsay from finishing Colorado's game at Stanford on Saturday.
The junior running back said it won't keep him out long, though.
On Tuesday, the Pac-12's leading rusher said it was "just a little sprain" that kept him on the sidelines for the fourth quarter of CU's 10-5 win at Stanford. Having a bye this week will help his quest to return to the lineup on Nov. 3 when UCLA visits Boulder.
"I'm doing pretty good," he said. "I've been doing rehab for the past couple of days. It's getting better.
"It feels good right now and I'll be ready by (the UCLA game)."
… With four games to play in the regular season and a Pac-12 South title in sight, Lindsay said the Buffs have to keep the momentum going on the ground.
"We're going into our gold games now and we have to peak," he said. "The run game has to peak. If you're going to go anywhere in this last four-game stretch you have to be able to run the ball. We have to get those dirty yards, because that's what matters."
Lindsay explained that "gold games" are "the games where we have to peak now. This next week against UCLA will be a game that we need to come out and we need to look like we have peaked. Going into this four-game stretch, we got this little rest, but now it's time for us to go to that next step if we want to become Pac-12 champions."
… Continue reading story here …
—
Join the Rise!
From a tweet from CU co-offensive coordinator Darrin Chiaverini: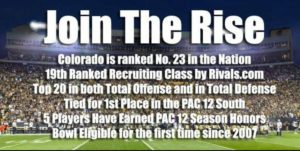 —
Mike MacIntyre In-and-Out Order: 165 Double-Doubles with Fries
From ESPN … The moment Colorado sealed its road win over Stanford this past Saturday, Buffs operations assistant Scott Unrein rushed to his rental car.
In-N-Out Burger doesn't take phone orders, and football teams don't like to wait around when traveling, so Unrein had to reach the fast food joint to put in an order for 165 Double-Doubles and 165 orders of fries.
That, as Unrein and his boss Bryan McGinnis calculated, would be enough to feed the entire Colorado travel contingent, whose charter jet waited at San Francisco International Airport — less than a mile away from the chosen In-N-Out location.
The restaurant immediately began cranking out Colorado football's $780 request. The Buffs' buses left Stanford Stadium and followed Unrein's path up 101 North. When they rolled into the In-N-Out parking lot, the massive order was ready.
The execution of the entire operation — much like that of the Colorado defense in its 10-5 road win over Stanford — was perfect.
"The In-N-Out staff did an amazing job," said McGinnis, the Buffs' director of football operations. "They're a machine in that place."
… Continue reading story here …
… A happy Mike MacIntyre delivering In-and-Out burgers to the team …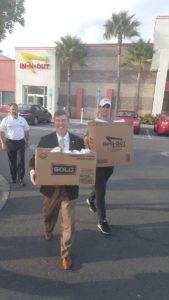 —
What do you do during bye week? It's team photo day …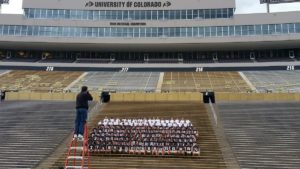 —
Mike MacIntyre's first recruiting class reflects on their journey 
Two stories on Mike MacIntyre's first recruiting Class.
Neill Woelk's "Buffs Turnaround Result Of Steady Process" from CUBuffs.com can be found here.
"How bad was it at Colorado? Mike MacIntyre's first recruiting class remembers" from ESPN can be found here
Some quotes from the articles: 
— "We are a tougher, physical team than we have been," said Mike MacIntyre. "That's been a process. It did not just happen this year. Every year we've gotten a little better at it. It all came into fruition this year with the maturity of the team and the guys that have played and understand it."
— "No one left, no one quit on each other," said quarterback Sefo Liufau, a member of MacIntyre's first recruiting class in Boulder. "To go from one-and-something a couple years ago to 6-2 now, it means everything. It's a great accomplishment, but we're trying to go even further from here. We still have a lot left to accomplish."
— "We are way too quick this day and age to jump on the backs of coaches when they're trying to build something," said Stanford coach David Shaw after last weekend's game. "You give someone an opportunity to build a program and you give them the time to do it. Mike MacIntyre has done that. Colorado's administration stuck with him and now you are starting to see the result."
— "When I first got here, we had guys who busted their butts, but you didn't see the same attitude," said outside linebacker Jimmie Gilbert. "There wasn't the same fire. You could tell those guys had been beaten down for the last three or four years."
— Added wide receiver Bryce Bobo: "When I first got here, we didn't have much leadership on the team. No one would really listen to each other, much less the coaches. We weren't disciplined."
— "I've never been around a team that has this much confidence," said linebacker Addison Gillam. "It's a completely different confidence level [from the first year]. We do a lot on our own. We don't rely on the coaches to worry about us keeping people in line. They put that on us, and that's really what helped the most."
—–
October 24th 
… CU in a few minutes … 
Tweet of the Day … From running back Phillip Lindsay … "I'm too small…OK Thanks..I'm not fast enough…OK Thanks… I'm not what an RB is suppose to look like… Ok Thanks!! #lovebeingtheunderdog'
—
Tedric Thompson – Pac-12 Defensive Player-of-the-Week … CU's fifth POTW so far this year
From CUBuffs.com … After recording two interceptions and leading the Colorado defense that held Stanford to just 263 yards and a lone field goal in a 10-5 win, Buffalo strong safety Tedric Thompson was named the Pac-12 Defensive Player of the Week on Monday.
This is the first such award of Thompson's career and he becomes the fifth different Buffalo this season to earn one of the Pac-12 Player of the Week honors. The five honorees (three offense, one defense and one special teams) through only eight weeks of the season are the most in a year since 2004 when the Buffs also had five player of the week selections when back in the Big 12 (three defensive, two special teams).
Thompson recorded his first multi-interception game of his career against the Cardinal, now giving him 10 career picks. He became the 13th player in school history to have that many in a career. It was also the 76th time in school history a player has intercepted two or more in the same game.
He had five tackles, a third down stop and a touchdown save in the win where CU's defense was dominant. In addition to holding Stanford to 263 yards CU also recorded four total takeaways in the game, its third game this season with that many. Colorado is the only school in the country that has three different games with four turnovers gained and its streak of 21 consecutive games forcing a turnover is the longest active streak in the FBS.
Thompson's four interceptions this season are tied for the most in the Pac-12 with Utah's Brian Allen and he is also third in passes defended with 10, just behind teammate Ahkello Witherspoon and Arizona's Jace Whittaker who both have 11.
—
No timetable for the return of UCLA quarterback Josh Rosen
From CBS Sports … An already disappointing season for UCLA is getting worse. When it will get better — if it will — remains to be seen.
On Monday, coach Jim Mora confirmed what many could essentially see for themselves: that quarterback Josh Rosen has a nerve problem in his throwing shoulder. The timetable for his return is unknown.
The sophomore missed the last two games against Washington State and Utah dealing with what was publicly an unknown injury. Mora has been scarce on specifics regarding Rosen and said after the Utah game only that he was "not worried about Josh."
Rosen, who initially injured his leg and throwing shoulder against Arizona State earlier this month, was clearly bothered by his shoulder during warm-ups of the Week 8 game against Utah. Senior backup Mike Faful has started the last two games — against Washington State and Utah, both losses — and thrown for 722 yards, eight touchdowns and six interceptions.
On the year, Rosen has 1,915 yards, 10 touchdowns and five picks. UCLA, 3-5, travels to Colorado for its next game. With the Buffaloes reaching bowl eligibility, the Bruins could drop to 3-6 on the season, making their own postseason hopes a longshot at best.
—
A few Stanford leftovers … 
In case you are getting grief this morning at work about the "ugly" CU victory, here are some notes to keep in your back pocket:
— Stanford came into the game against Colorado with a 32-5 record at home under head coach David Shaw;
— Under Shaw, the Cardinal was 51-8 when scoring first (Stanford led 3-0 in the first quarter);
— Under Shaw, Stanford has not lost to Arizona, UCLA, Cal, or Oregon State … but has now lost to Colorado;
— Since 2010, only six schools in the nation (Alabama, Ohio State, Boise State, Clemson, LSU and Northern Illinois) have had fewer home losses (all with four) than the the five the Cardinal had lost (before the Buffs made it six!).
—
Bye week comes at a good time for Buffs who need time to heal 
From the Daily Camera … Despite being hobbled by a nagging left ankle injury that ultimately left him unable to finish the game against Stanford, Lindsay still provided a spark on a day when the offense never truly got rolling, finishing with 131 rushing yards on just 12 attempts.
"I tweaked it up a little bit," Lindsay said. "We felt that Kyle (Evans) was going to be able to continue to carry the load, so I didn't want to go in there and continue to hurt it. We have a lot more games coming.
… With several players battling bumps and bruises — including Lindsay's ankle, tackle Aaron Haigler's knee and kicker Davis Price with mononucleosis — the bye week probably comes at a good time.
"We need to get some energy back in us and we need to be ready to roll (against UCLA)," MacIntyre said. "It's an interesting bye week. I haven't been through one like this before where you play on a Thursday (after the bye). Then we get a couple more days to recover and then go to Arizona (on Nov. 12).
"I'm looking at it as a huge positive for us. It works out pretty good."
—
UCLA abandons running game (71 passes, 16 rushes) in 52-45 loss to Utah
… UCLA quarterback Mike Fafaul made Bruin history in the 52-45 loss to Utah, setting UCLA records for pass attempts (70) and completions (40) while throwing for 464 yards, third most in school annals. UCLA essentially abandoned its awful running game, which began the weekend ranked 126th out of 128 FBS teams …
From the Orange County Register … UCLA's program officially ground to a halt Saturday, and that is meant literally, the offensive coaches deciding at halftime to not even attempt to run anymore. That's right. Not. At. All.
The Bruins' lone "running" play of the third quarter came on the final snap and happened only because Fafaul was forced from the pocket and scrambled for 15 yards.
That run, by the way, was the longest of the day for UCLA.
To understand how desperate this situation has become, consider that offensive coordinator Kennedy Polamalu still was preaching the importance of balance after the game and calling himself "an old-school running backs coach."
This, following an afternoon during which the Bruins called 77 pass plays and only 10 running plays.
The disparity and despair were so stark that, after a 7-yard gain by Bolu Olorunfunmi early in the fourth quarter, the UCLA fans actually offered a mock cheer.
That run, by the way, was his longest of the day, a day on which the Bruins would total 46 rushing yards.
All of which placed the game in the hands of Fafaul, who wasn't even on scholarship until last season. Had Jerry Neuheisel not left UCLA to go play in Japan, Fafaul would be third-string right now.
… In addressing the running game problems by ignoring the running came completely, Jim Mora and his assistants weren't only thinking outside the box. They were thinking inside an entirely different box, one turned upside down and on its side.
Yes, the Bruins have operated an up-tempo offense in the past and this season have gone largely without huddling.
But the pace and play selection Saturday represented something quite different for a team searching for answers but still finding only frustration.
"Your objective is to win, whatever it takes to win," Mora said. "That's what you have to be willing to do. You can't be so stubborn as to say, 'We're not going to try that because that's not conventional.' You have to be wiling to try to win."
The Bruins tried against Utah. And tried. And tried. And tried. Tried until their quarterback's arm was sore.
But they didn't win, despite the efforts of Mike Fafaul, who overcame a lot just to be here Saturday but ultimately couldn't overcome his own team's one-dimensional offense.
So a potential great story remains unwritten today and that, too, is a shame.
… Continue reading story here …
—
Practice schedule for bye week
With the bye week, the practice schedule will be different than it is for normal weeks:
Monday – October 24th – NO PRACTICE (Lift/Meetings)
Tuesday – October 25th – NO PRACTICE
Wednesday – October 26th – Practice (10:00-11:00 a.m.)
Thursday – October 27th – Practice (9:30-11:00 a.m.)
Friday – October 28th – NO PRACTICE (Lift/Meetings)
Saturday- October 29th – DAY OFF
Sunday – October 30th – Practice (11:20-1:00 p.m.)
Monday – October 31st – Practice (8:35-10:30 a.m.)
Tuesday – November 1st – Practice (9:55-10:55 a.m.)
Thursday – November 3rd – CU v. UCLA – 7:00 p.m., MT, FS-1
—–