Colorado Daily
January 30th
Jimmy Smith: "I'm glad to be representing the Buffaloes" in the Super Bowl
From cubuffs.com … For most NFL players, the idea of playing in the Super Bowl is only a dream, but for Jimmy Smith, it's reality. In only his second year in the National Football League, Smith will participate in his sport's biggest event – and arguably the sporting world's biggest.
Smith, a former cornerback at the University of Colorado, already has competed in five playoff games, including two AFC Championships. His 29th career game will come on the biggest stage of all when Super Bowl XLVII kicks off on Sunday in New Orleans.
"Having the opportunity to play in the AFC championship game last year really prepares you for such a big moment," Smith said in a telephone interview for CUBuffs.com. "And then going out there again this year, you don't get the same feeling because you have already been there."
Smith, now 24, is accustomed to contributing at a young age. As a freshman at CU he played in all 13 games during a season (2007) that included a trip to the Independence Bowl, contributing largely on special teams and at cornerback.
In the final game of the season, with CU needing a win against archrival Nebraska to obtain bowl eligibility, it was Smith who returned an interception of Cornhusker quarterback Joe Ganz 31 yards for a touchdown. The play gave CU the lead and all the momentum it needed to carry the Buffs into the last bowl appearance the program has made.
It was just the beginning of what would be a long and successful CU career for Smith. His accomplishments as a Buff led to the Baltimore Ravens selecting him with the 27th overall pick in the 2011 NFL draft.
Now preparing for the Super Bowl and even though he is still young in NFL years, the moment doesn't seem too big for Smith.
"I understand the magnitude of it and how important it is and how big the game is. But, being on this team I am almost spoiled in the sense that I kind of expected to be here," Smith explained. "That is just our team's mentality, we expected to go this far."
One reason Smith might have had such high expectations so early in his career is because he plays alongside two future Hall of Famers in Ray Lewis and Ed Reed.
Lewis, a 17-year NFL veteran, won a Super Bowl with the Ravens in 2001 while Reed, an 11-year 'vet', has played in 11 career playoff games.
The leadership and work ethic both players exhibit have left an impact on the young Smith, who would like nothing more than to help his teammates win a Super Bowl.
"It has been an enlightening experience playing with both of them," said Smith. "It rubs off on you, the impact and influence they have had on me is insurmountable and you can't even put words together to describe it."
Yet, both players can thank Smith for the opportunity they have ahead of them on Sunday, because without one very important tackle it may have never existed.
During their improbable come-from-behind victory over Denver in the divisional round of the playoffs, Smith delivered the biggest play of his NFL career. With 3:59 remaining in overtime, Baltimore was forced to punt to Denver's Trindon Holliday, who had already returned a punt and kickoff return for a touchdown.
Holliday fielded the punt with seemingly no Raven defenders in sight and the end zone on his mind. However, Jimmy Smith was there and the only thing he was thinking about was bringing Holliday to ground.
"Once I got down there I saw him catch the ball and I knew he was going to try to bounce it out around me, so I just timed it up perfectly," said Smith. "He started running towards me and I knew he didn't want to cut back, he wanted to get around me, and he had a whole lot of grass in front of him so I just wanted to make sure I cut his angle off and made a sure tackle."
The Broncos' ensuing drive would end with an interception, which the Ravens took advantage of by kicking a game-winning field goal early in the second overtime to advance to the team's second consecutive AFC Championship game.
Since then, there has only been pure joy and excitement throughout the city of Baltimore. And for the Ravens, emotions have surely been flying high, but Smith says the mood in practice has not changed because their goal has yet to be accomplished.
Although most of the nation severely doubted the possibility of Baltimore playing this late into the year, the mentality among Raven players was "Super Bowl or bust" and it never wavered even as the team's injury report grew larger week after week.
Smith became one of those players forced to the sideline after suffering a sports hernia that required surgery in November. It was a tough process for him to deal with. He never was injured during his CU career, and he wanted badly to contribute to a Ravens team that was already stricken with injuries.
Said Smith: "It was just hard for me to sit on the sideline and not be playing. I knew it was only because I was injured, but it was still hard to swallow that."
Smith was able to remain positive thanks to the support of his coaches, teammates, and family – particularly his brother who talked with him almost daily on the phone. Smith described it all as a roller coaster-type experience.
He was able to overcome the challenge and now looks forward to the opportunity to win the Super Bowl.
"I am going to enjoy every moment of this, because it doesn't come around that often and who knows the next time I could be in this game. Shoot, I may never even play football again; you never know what can happen," Smith explained. "I am definitely going to embrace all of it and take it all in but I'm just not going to let it overwhelm me."
When the entire world is watching, Smith will surely be looking to make another timely play as he has done so often in his football career.
"I'm going to hold it down, I'm glad to be representing the Buffaloes and hopefully we will come up with the victory to make all of CU proud," he said.
January 29th
Judge: Anti-trust suit against NCAA may proceed
From ESPN … In dismissing a motion by the NCAA to prevent football and men's basketball players from legally pursuing a cut of live broadcast revenues, a federal court judge Tuesday raised the stakes for the governing body of college sports as it defends its economic model.
Judge Claudia Wilken issued her ruling Tuesday, rejecting the NCAA's motion that players in the antitrust suit led by former UCLA star Ed O'Bannon should be precluded from advancing their lawsuit on procedural grounds.
The NCAA had objected to the players amending their lawsuit last year to claim a share of all television game revenues, not just those from rebroadcasts.
"Now the (NCAA and its co-defendants) are facing potential liability in the billions of dollars instead of tens or hundreds of millions," said Michael Hausfeld, interim lead counsel for the plaintiffs. "It's a more accurate context for what the players deserve."
Unlike NFL or NBA athletes, players lack a union or similar body to negotiate a share of revenues flowing from media and other licensing contracts. The NCAA does not legally treat athletes as employees, and players have not organized to represent their interests collectively.
The O'Bannon suit attacks that model through the means of class-action, the legal question now before Wilken. Former college stars such as Bill Russell and Oscar Robertson have joined O'Bannon on behalf of all Division I players in football and men's basketball, asking Wilken to declare that they are similarly situated and to certify the class.
Wilken on Tuesday set the hearing on that motion for June 20 and ordered the NCAA to make its arguments against class certification on the merits rather than procedural objections such as the one she just rejected. The NCAA was joined in that motion by its partner, Collegiate Licensing Company.
In a statement, NCAA general counsel Donald Remy characterized the ruling as a partial victory for the NCAA.
"Although our motion to strike was denied, the judge has signaled skepticism on plaintiff's class-certification motion and recognized the plaintiffs' radical change in their theory of the case," Remy said. "This is a step in the right direction toward allowing the NCAA to further demonstrate why this case is wrong on the law and that plaintiffs have failed to demonstrate that this case satisfies the criteria for class litigation."
The ruling was met with enthusiasm by Hausfeld, who leads a team that includes more than a dozen law firms that have invested more than $20 million in legal fees pursuing the lawsuit since 2009. The prospect of an award that recognizes live broadcast revenues helps support their efforts.
In the event that the plaintiffs prevail, Hausfeld has set up a mechanism for players to collect licensing revenues. The Former College Athletes Association (FCAA) would negotiate licenses with the NCAA, member colleges, video game and media companies, according to Jon King, a former Hausfeld LLC lawyer who worked on the case.
King disclosed the existence of the FCAA in a wrongful termination suit he filed against Hausfeld earlier this month. He was fired by Hausfeld for undisclosed reasons in October, after serving as one of the lead lawyers in developing the case for the plaintiffs.
Details about the FCAA are scant, but Hausfeld said it would not serve as a revenue stream for his firm. Overseeing formation of the FCAA are Sonny Vaccaro, an unpaid consultant who has worked with Hausfeld to build the anti-trust case; Ramogi Huma, president of the National College Players Association; and Ken Feinberg, a prominent Washington D.C. attorney who helped distribute nearly $7 billion to victims of the 9/11 terrorist attacks and has run other major victim compensation efforts.
Wilken has set a jury trial on the matter, if it gets that far, for June 2014.
January 27th
So … Who's Left?
Less than two weeks remain before Signing Day (Wednesday, February 6th), and for a transition recruiting Class, it's fairly quiet in the Buff Nation. The new coaching staff has apparently been very successful in retaining previous commits, hanging on to a few grayshirts, and keeping returning players from immediately transferring.
The Recruiting Class of 2013 stands at 15, with – barring last minute defections – only 2-3 potential scholarships left to hand out.
That doesn't mean, though, that there are no scholarships being offered. By one count, there are still over two dozen uncommitted players out there who have scholarship offers from the University of Colorado.
So … Who's Left?
If rankings are a consideration, the Buffs are still hopeful of landing a high-profile defensive back or two. Five of the top rated uncommitted players still looking at Colorado are safeties or cornerbacks:
D.J. Moffit – a three-star prospect from Concord, California (Rivals has him listed as a linebacker). Moffit has offers from at least four Pac-12 schools, but his choice may come down to UNLV or Nevada.
Joshua Jones – a three-star prospect from Walled Lake, Michigan. A recent Illinois de-commit, the No. 29 safety nationally may be the most coveted of the remaining hoped-for commits. Jones took an official visit to Pitt two weeks ago, was in Boulder last weekend, and visited North Carolina State this weekend. His choice will come down to one of these three schools. (UPDATE: It is being reported that Jones, after his official visit this past weekend, committed to North Carolina State).
David Price – a three-star prospect from Long Beach, California, Price is considered the No. 58 safety nationally by Rivals, No. 46 by Scout. Price has offers from Arizona, SMU, and Fresno State, but is taking an official visit to San Jose State next weekend, the last weekend before Signing Day. Despite numerous offers of scholarship, Price might still opt to go to USC as a preferred walk-on.
Tedric Thompson – a three-star prospect from Valencia, California, Thompson is considered by Scout to be the No. 65 safety nationally. Thompson took his official visit to Colorado last weekend, and stated that he would choose between Colorado and Fresno State. Don't count out Minnesota, however. Thompson's brother plays for the Gophers, and Thompson will take an official visit there next weekend.
Chidobe Awuzie – a three-star prospect from San Jose, California, Awuzie is rated as the No. 96 cornerback nationally by Scout. Awuzie has taken official visits to Washington State, his hometown San Jose State, and Colorado. Buff fans thought Awuzie would commit to Colorado this past week, but he has held off on his commitment. He had in-home visits with the CU coaches this past week, but Mike Leach will be coming in for an in-home visit this week. Awuzie will likely choose between the two schools later this week.
While defensive backs are a priority for the Buffs, linebackers are also high on the wish list for Mac and Co.
George Williams – a three-star prospect from Hialeah, Florida, Williams is considered by Rivals to be the No. 37 inside linebacker nationally, while Scout has Williams as its No. 48 middle linebacker. Williams has offers from all over the country, including Arkansas, Auburn, Nebraska, Miami, Florida State and Georgia. While he would be a great get, there is no indication that CU is high on Williams' list right now.
Koa Kaleopaa – a three-star prospect from La Mirada, California, Kaleopaa is rated by Scout to be the No. 59 middle linebacker nationally. Kaleopaa has offers from numerous schools, including UCLA, Mississippi, Arizona, Utah, and Hawai'i. His favorites are reportedly Cal and Nevada, but Cal wants Kaleopaa to play defensive tackle, and he is resisting.
Keree Renchie – a three-star prospect from Missouri City, Texas, Renchie is rated by Scout to be the No. 72 outside linebacker nationally. Renchie has offers from Arkansas, Texas Tech, and Colorado, and interest from schools like Michigan State, Purdue, and Texas A&M. Texas Tech is considered to be the favorite.
Other players rated in the top 100 at their positions holding CU offers who remain uncommitted …
Kylie Fitts … defensive end, Redlands, California
Devin Lauderdale … wide receiver, Bellaire, Texas
Coleman Shelton … center, Los Angeles, California
Kelly Hilinski … quarterback, Sherman Oaks, California
Gaius Vaenuku … defensive end, Euless, Texas
Poet Thomas … offensive tackle, Beverly Hills, Michigan
Edward Williams … linebacker, New Orleans, Louisiana
Deonte Reynolds … defensive tackle, Pinole, California
Corcy Manges … tight end, Rowlett, Texas
Andrew Bucklin … offensive guard, Palos Verdes Estates, California
And other players who have taken official visits to Colorado, but are not rated in the top 100 at their position
Lawrence Montegut … linebacker, La Marque, Texas
Michael Adkins … running back, La Mesa, California
—
Reminder … CU at the Game will be providing minute-by-minute updates on Wednesday, February 6th – Signing Day. From the first confirmed Letter of Intent (shortly after 8:00 a.m.) to the Mike MacIntyre press conference (around 2:00 or 3:00 p.m.), coverage will continue throughout the day … My motto: "Taking the day off so you don't have to" …
—
January 26th
Kasa picks up one catch at Senior Bowl
Nick Kasa had only one catch in the Senior Bowl, for eight yards, in the Senior Bowl Saturday. Kasa's catch came on the first play of the third quarter on the North's first touchdown of the game in a 23-16 loss to the South.
Here's a picture of Kasa wearing his black CU helmet: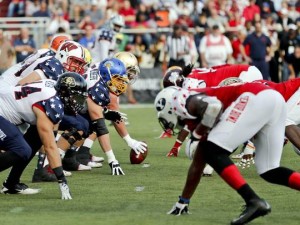 January 25th
Kasa turning heads at Senior Bowl
From the Daily Camera … He is surrounded by all-conference players, All Americans and bowl game MVPs, yet Nick Kasa still has found a way to stand out.
He is in a crowd of NFL hopefuls he never expected to be in, playing a position he had never tried until his career at Colorado was in its final stages.
"There's no way I thought I'd be in this position," Kasa said. "Just no way. Not even close, not even close. And if I wouldn't have switched positions, I wouldn't be."
Kasa is the lone representative from a football-playing college or university in Colorado at the Senior Bowl this week. The former prep All-American defensive lineman at Legacy, now is a tight end who has put himself on the NFL's radar.
With disappointment weighing on him and his confidence draining, Kasa talked to former Buffs coach Jon Embree about a position switch from the defensive line eight games into the 2011 season. Embree, a former tight ends coach in the NFL who was hired by the Cleveland Browns on Thursday to coach the position again, saw potential and Kasa saw freedom.
"I really wasn't doing anything on the D-line," Kasa said. "I was just kind of filling a slot on the roster. Coming in as a big recruit, it just wasn't right for me. I felt like I needed to accomplish something for the team. I was just getting in there being a filler, for reps. And without coach Embree talking to me about it, and then moving me over, none of this happens."
"He's a big guy that can run, very athletic," Embree said. "J.D. Burkhardt (former Buffs tight ends coach) did a great job of working with him on a daily basis and helping Nick with his confidence. Nick being there this week is a testament to his work ethic and his desire and want-to. I'm very happy for him, I actually talked about him in my interview with Cleveland."
At a time when the tight end has become the match-up offenses believe they can win all over the field, Kasa has shown the speed of a smaller player despite being 6-foot-51/2-inches tall and 271 pounds.
As the week progressed in Mobile, scouts from several teams said Kasa seemed to catch the ball better every day against some of the nation's best defensive prospects. In a red-zone drill during Thursday's practice, Kasa plucked a low fastball with a defender hanging all over him.
"In a lot of ways, I think the sky's kind of the limit for me and I think I've only scratched the surface of what I can do," Kasa said. "I've done pretty well with just one year under my belt. I'd like to see what I can do with eight like most of these guys have. I know there's a lot I still have to learn, but I'm learning fast.
"This all has turned football around for me. I was really down on myself. And even as disappointing as it was this past year (when the Buffs finished 1-11), I felt like I kind of discovered the game again."
Embree said Kasa's time at defensive end — Kasa played in 24 games on defense in his career in Boulder, including one start, against Texas Tech in 2010 — could help his cause.
"You look at the way Nick can run, that athleticism and that he plays with that mindset of a defensive player, he should impact things on special teams right away," Embree said. "That defensive background will be a plus for him."
The Oakland Raiders staff, including coach Dennis Allen, a former Broncos defensive coordinator, is expected to give Kasa plenty of playing time in Saturday's game. Kasa has often worked with the North's No. 1 offense in practices this week.
"I can move pretty well for being as big as I am," Kasa said. "That's kind of the thing in the NFL right now. But obviously I'm still pretty inexperienced, but a lot of teams say just keep doing what you're doing," Kasa said. "I'm staying on track and I'm trying to do as well as I can."
"He'll have bright future no doubt," Embree said. "His strengths will be a premium for what offenses are doing right now."
But as for all of those calls Embree has received this week from tight ends coaches around the league about Kasa? Well, the Browns' newest assistant coach says those will have to wait.
"I have some of them trying to get information, but I'm not giving it out," Embree said with a laugh. "They're going to have to figure it out on their own right now, because Nick has an opportunity to realize a dream."
Austin Vincent trying to make his way back onto the team
From the Daily Camera … Sports information director Dave Plati said former CU wide receiver Austin Vincent has re-enrolled in classes at CU but nothing has been decided regarding his involvement with the football team.
Vincent left CU last year after pleading guilty to exposing himself to a female student while she was showering in a campus dorm in November 2011. He received five years probation.
Plati said Mike MacIntyre has not spoken with Vincent. Plati said Vincent is paying his way at CU and would have to walk-on if he is welcomed back into the program in the spring. It is unclear if he would be academically eligible to compete right away if he was welcomed back to the program.
… Vincent was a two-star wide receiver out of Desoto, Texas, as part of the Recruiting Class of 2011. Despite his low rating, Vincent had offers from over a dozen schools, including Arizona and Utah from the Pac-12, Iowa State and Kansas from the Big 12, as well as Iowa and Arkansas.
January 24th
Jon Embree hired as tight ends coach for the Cleveland Browns
From the Cleveland Plain Dealer … The Browns have hired former Colorado head coach Jon Embree to coach tight ends on head coach Rob Chudzinski's staff, a source told The Plain Dealer today.
Embree, a former tight end for the Rams in 1987-88, spent the past two seasons as head coach of the Buffaloes, where he went 4-21, including 1-11 in 2012 before being dismissed in November.
Prior to that, Embree was tight ends coach of the Redskins in 2010 and the Chiefs from 2006-08.
Embree also spent three seasons as an assistant at UCLA and 10 at Colorado, his alma mater. He takes over a position that includes Jordan Cameron, Alex Smith and Ben Watson, who will become a free agent on March 12.
January 22nd
Colorado Class of 2013 not as bad as it may appear
From The Big Chill (1983) …
Michael: I don't know anyone who could get through the day without two or three juicy rationalizations. They're more important than sex.
Sam: Ah, come on. Nothing's more important than sex.
Michael: Oh yeah? Ever gone a week without a rationalization?
… Okay … so here's why you shouldn't be concerned about Colorado having the 12th-best recruiting Class in the Pac-12.
For starters, let's look at the size. Last year, Colorado took in 28 new players on Signing Day. This February, the number will be barely half that. With each recruit (or the top 20, if the Class is over 20 members) being rated, it's difficult for any school this side of USC to have a highly rated Class with fewer than the 25 members of a standard sized Class.
Second, in looking at "star" quality, Colorado is really not doing too poorly in comparison to the other Pac-12 schools.
The average "stars" for CU's current Class of 14 recruits has an averaging rating of 2.798 stars, ahead of Washington State's 2.75, and on par with the 2.88 stars of Arizona and Utah, and within shouting distance of Oregon State (2.95), Arizona State (3.00) and Cal (3.08).
Colorado may be the only Pac-12 school without a four-star recruit, and the Buffs will likely finish at the bottom of the Pac-12 in the final recruiting rankings (and somewhere in the bottom third nationally), but taken as a whole, Buff fans can be satisfied. The new coaching staff didn't lose any of the previous commits, a feat in and of itself. And it must not be forgotten that there was a great deal of talk about transfers after Jon Embree was fired. Mike MacIntyre has – at the very least – diffused the situation, getting players to defer transfer plans until after spring practices.
Colorado might not have the most talented roster in the league, but – as Buff fans have very painfully experienced over the past few years – getting younger doesn't always equate to getting better.
—
Nick Kasa one of six tight ends at Senior Bowl – "One of the most underrated prospects in this class"
The Senior Bowl kicks off at 2:00 p.m. (MT, NFL Network). One Colorado Buffalo, tight end Nick Kasa, will be playing for the North team.
Kasa will be one of six tight ends competing for the attention of NFL Scouts. Joining Kasa on the North team will be Jack Doyle of Western Kentucky and Ryan Otten of San Jose State. Competing for the South will be Vance McDonald of Rice (considered to be the top tight end prospect in Mobile this weekend), Mychal Rivers of Tennessee, and Michael Williams of Alabama.
According to NFLDraftcountdown.com … "Colorado tight end Nick Kasa may be quietly one of the most intriguing physical specimens in this game. The former defensive end has a large 6'5 1/2″ frame, and carries 271 pounds extremely well. A great athlete, Kasa is one of the most underrated prospects in this class, and his best football is still ahead of him."
Pac-12 participants …
North: Kyle Long, OL, Oregon; Jonathan Franklin, RB, UCLA; Jordan Poyer, RB, Oregon State; Datone Jones, DL, UCLA; T.J. McDonald, S, USC; Kenjon Barner, RB, Oregon; Nick Kasa, TE, Colorado; Jeff Locke, P, UCLA; Desmond Trufant, CB, Washington; Markus Wheaton, WR, Oregon State.
South: Chase Thomas, LB, Stanford; Stephan Taylor, RB, Stanford; Brian Schwenke, OL, California; Marc Anthony, CB, California.
Utah DT Star Lotulelei, a sure early first-round pick, opted not to play. McShay notes that Oregon DE Dion Jordan and Oregon LB Kiko Alonso are not participating due to injury, the same for USC QB Matt Barkley. He also noted that USC C Khaled Holmes stood up the Senior Bowl with less than 72 hours' notice.
January 21st
Brian Cabral to Indiana State
Former Colorado coaches continue to find employment, with Brian Cabral joining the ranks of Greg Brown (Alabama) and Eric Bieniemy (Kansas City Chiefs) who are back on the payrolls of other teams.
The latest to join the ranks of the re-employed is former CU linebackers coach (and one-time interim head coach) Brian Cabral.
From cubuffs.com … Longtime University of Colorado football staffer Brian Cabral has been hired by Indiana State University as its defensive coordinator and linebackers coach.
Cabral, 56, completed his 24th season as a Buffaloes assistant – 23 in a full-time role – at the conclusion of the 2012 season. A 1978 CU graduate, he played linebacker for the Buffs from 1975-77, serving as a captain on the 1976 Big Eight championship team.
At Indiana State, Cabral will work for head coach Mike Sanford. Cabral and Sanford first crossed paths when Cabral left the NFL and was a graduate assistant for a year at Purdue, where Sanford was a position coach.
"I met him there and we've been friends ever since," Cabral said, adding that Sanford approached him about becoming his defensive coordinator when Sanford was UNLV's head coach (2005-09).
But Cabral, who coached many of the Buffs' highest profile linebackers, spurned Sanford's offer because he didn't want to uproot his youngest daughter, Mele, who was a high school senior.
"I wasn't willing to do it and turned him down," Cabral said. "But he happened to have an opportunity now at the same time I'm picking retirement (from CU). I'll be working for a guy I know and appreciate."
Cabral worked under five head coaches at CU, was assistant head coach under Gary Barnett for seven seasons, and twice served as interim head coach. In November, 2010, he led the Buffs to a 2-1 record after the dismissal of Dan Hawkins.
Mitchell Parsons ends recruitment
Tight end Mitchell Parsons, from Parker, Colorado, was the first commit of the CU Recruiting Class of 2013. Parsons de-committed in October, and was not on the radar of the new CU coaching staff.
Parsons, the No. 2 player in the State of Colorado this recruiting cycle, has been the topic of many discussions amongst CU commits for the past year, but today announced that he is planning on signing with Vanderbilt on February 6th.
If you would like to refresh your memory on Parsons, here is his bio …
Mitchell Parsons – TE – De-committed October 24, 2012
Just the facts … Committed March 30th … Parsons is a tight end prospect from Parker (Chaparral) Colorado. Parsons is 6'5″, 220-pounds. Rivals bio Scout bio ESPN bio
What others say about Parsons … Parsons is considered to be a four-star prospect by Rivals, and a three-star prospect by Scout. Rivals lists Parsons as the No. 7 tight end in the country, and the No. 2 player out of the state of Colorado. Scout rates Parsons as the No. 20 tight end nationally, and list Parsons as one of the top five tight ends in the West. Last season Parsons, like Phillip Lindsay, was one of five juniors named the Denver Post All-state team, all in his first year playing the position. A player evaluation from Scout had this to say about Parsons: "Parsons lines all over the field and plays a lot as a wide out but projects as a tight end. He has very good hands, as good as anyone in the region and shows excellent body control as well. He adjusts well to balls high and behind him and has a large catch radius. He also shows surprising athleticism and can make plays down the field. He's a physical kid, very tough and should be a solid blocker in college."
In his own words… After visiting Colorado for its first Junior Day of spring practices, Parsons told Scout.com, "I really like Coach Embree and Coach (J.D.) Brookhart. They really like using the tight end position and they both have a lot of experience using the tight end so that stands out to me. Plus they're close to home and I think they're really on their way up. And I've been there a bunch." At the time, Parsons did not foresee an early commitment. "I haven't put a timetable on when I want to announce," said Parsons. "I want to take my officials, get to know the coaches and learn more about them. I don't want to be that guy who commits, then finds out later I didn't really want to go there and have to decommit. I want to be sure before I decide." With Colorado limited in the number of scholarships available for the Class of 2013, though, Parsons decided to pull the trigger. "I thought about some other tight end taking a visit there and seeing how awesome Boulder is and how special what they've got going on there is and him taking my spot," Parsons said. "So I wanted to secure my spot as a Buffalo."
… and now he's a Commodore …
January 17th
Mike MacIntyre named FCA Coach of the Year
From cubuffs.com … Mike MacIntyre, who in 2012 led San Jose State to its first 10-win season in a quarter century before being named head coach at Colorado in December, has been honored by the Fellowship of Christian Athletes as the winner of the Grant Teaff National Coach of the Year Award.
MacIntyre was named head coach at Colorado on Dec. 10 after leading San Jose State to a 10-2 regular season record and a No. 24 ranking in the three major polls (Associated Press, USA Today/ESPN Coaches, BCS Standings).
Including a Military Bowl victory (in which MacIntyre did not coach but in which future CU defensive coordinator Kent Baer did on an interim basis), the Spartans made a 10-game improvement in a two-year span in going from 1-12 to 11-2. The lone losses came to Pac-12 Conference and Rose Bowl champion Stanford, 20-17, in the season opener, and to Western Athletic Conference champion Utah State.
"I am honored and humbled to receive this award," MacIntyre said. "It represents a great man and the values I try to uphold. The team and staff at SJSU deserve a lot of credit for this award."
In San Jose State's first 10-win season since 1987, MacIntyre's Spartans averaged 42.3 points per game during the regular season, including seven games in which they scored at least 35 points. SJSU's defense also ranked among the national leaders in several statistical categories. Sixteen Spartans earned All-WAC honors and 36 school and conference records either were tied or broken.
"Mike MacIntyre took over a San Jose State program in disarray and turned it around," former FCA executive director and longtime college football coach Dal Shealy said. "He hired a group of fellow Christians to join his coaching staff and, not only built a winner, but really got a lot of people in that community on board. Through the years, he's been one of FCA's greatest supporters."
MacIntyre was presented the award at the American Football Coaches Association convention in Nashville earlier this month. Named in honor of former Baylor coach, AFCA executive director and member of the FCA Board of Trustees Grant Teaff, the Coach of the Year Award presented by FCA recognizes a football coach who exemplifies Christian principles and who is involved in FCA. The award is also based on the success and performance of the coach's team that season. Previous winners include Mike London, last year's recipient at the University of Virginia, Tommy Bowden, Jerry Kill, Tommy Tuberville, Sylvester Croom and Phil Jones.
January 15th
Buffs perfect in graduating seniors
Colorado only had eight seniors this past fall, but the graduation rate is heading for a perfect 100%. Two seniors had already graduated before the season began, offensive lineman Ryan Dannewitz and wide receiver Dustin Ebner. Four more graduated in December: linebacker Jon Major; safety Ray Polk; linebacker Doug Rippy; and offensive lineman Eric Richter. The remaining two players, defensive lineman Will Pericak and defensive lineman Nick Kasa (a fourth-year senior) are in line to graduate in May.
Two other players from the team, defensive back Vince Ewing and offensive lineman Max Tuioti-Mariner, also graduated in December. Ewing will be back for his final season of eligibility next fall, will Tuioti-Mariner has been medically retired.
Congratulations to all of the above players on their accomplishments. Perhaps it will be one of the unrecognized positives of the Hawkins and Embree eras that the Academic Progress Rate (APR) has significantly improved the past few seasons …
January 13th
Spring practices open March 7th; Spring game to be televised
There are three dates to mark on your CU calendars. The first is Wednesday, February 6th, which is Signing Day (remember my CU at the Game motto: "I take the day off, so you don't have to", with continuous updates throughout the day on the latest CU recruiting Class).
The second date to remember is Thursday, March 7th. Not only is that the first day of the Mike MacIntyre era in pads, but the first day of spring practices will also bring about the first day of spring practice reports. Unlike former head coach Jon Embree, coach MacIntyre will have his practices open to the public.
"I think it's important for our fans to see things," MacIntyre told the Daily Camera. "I love having high school coaches come around, junior high coaches, junior pro coaches. If a guy gets off early and wants to take his son out to practice, I think that's important and it's good for our program." MacIntyre said he wasn't all that concerned about other teams watching CU's practices, saying that there is so much film available on opponents in this day and age, it's more than enough to prepare for the Buffs without also trying to scout CU practices.
(Note: my source for practice notes during the Hawkins era has graduated. So, if you happen to be fortunate to be living in Boulder, and would be willing to scout out some practices for CU at the Game readers, drop me an email at cuatthegame@gmail.com).
The third date for CU fans to circle on their calendar is Saturday, April 13th. That is the date for the Spring Game, with CU hopefully having enough bodies to play an actual game this year. The Spring Game will be televised by the Pac-12 Networks, with kickoff set for noon.
One footnote … in an unusual move, coach MacIntyre has reserved one of his allotted 15 spring practices for Monday, April 15, the Monday after the Spring game. He said the Buffs will meet and review film of the spring game on Monday, April 15 and then head to the field one last time to work on the mistakes they made.
He said he also likes having a practice after the spring game in order to provide players some direction for summer workouts. The NCAA does not allow coaches to work with players from the end of spring ball until fall camp begins in August.
"It is unusual," MacIntyre said. "Only a couple schools do it. I think it's a phenomenal idea the way we do it. In the summer, the kids throw on their own and do all that. So we just take them through a segmented practice kind of like how you'd like to do it."
I'd never heard of that happening before … but it makes perfect sense. Bring on the MacIntyre era!
Roster remains remarkably stable
While a certain amount of attrition is expected with any coaching transition, none has yet to occur at the University of Colorado. While there may well still be some transfers at the end of the spring semester, school opened this week for the spring semester, and all of the current Buffs are on board. Coach MacIntyre acknowledged this week that a handful of players discussed transferring, but all have apparently agreed to go through spring football first and make a decision after seeing how they fit into the new system.
Two Senior Days … At the Utah game last November, two red-shirt juniors, tight end DaVaughn Thornton and wide receiver Jarrod Darden, were introduced along with the outgoing seniors. Despite having a year of eligibility left, Thornton and Darden were told that their scholarships would not be renewed for 2013, and these two graduating players were told to look elsewhere if they wanted to keep playing football.
Coach MacIntyre, though, has invited Thornton and Darden back, and both will be returning for their senior seasons – and a second Senior Day – next fall.
A third red-shirt junior, kicker Zach Grossnickle, also went through Senior Day before the Utah game, and has opted not to continue playing football for Colorado.
January 9th
Three grayshirts on campus for January enrollment
Three grayshirts from the Recruiting Class of 2012 are reportedly in Boulder and enrolling at the University of Colorado: Offensive lineman Gerrad Kough; defensive end Derek McCartney; and wide receiver Jeffrey Thomas (note: Thomas wasn't a grayshirt by design. He left Boulder midway through fall drills and returned home to Texas, citing personal reasons. Thomas will still have five years to play four, however, just like Kough and McCartney).
Here are their bios from last February's "Recruiting Class of 2012":
GERRAD KOUGH – OL
Just the facts … Committed July 1st … Kough is an offensive line prospect from Pomona, California. Kough is 6'4″, 265-pounds. Rivals bio Scout bio YouTube highlights ESPN bio
What others had to say about Kough… Kough is considered a two-star prospect by both Rivals and Scout. Kough plays tackle for Pomona, but is being recruited by Colorado to play guard, and is considered by Scout to be the No. 102 offensive guard prosect in the nation.
Offensive coordinator and running backs coach Eric Bieniemy was responsible for Kough's recruitment from the Buffaloes' staff. Kough had also been in contact with head coach Jon Embree and offensive line coach Steve Marshall. Here is what an ESPN analyst had to say about Kough: "Kough is a tough run blocker who displays the upper body playing strength to dominate his present level of opponent. Has the size and athleticism for the offensive tackle position at the major level of competition. Will need to work on initial quickness and explosion as well as adding body mass to his frame. Playing out of a three point stance we detect some hip and ankle stiffness however it does not appear to affect his ability to play on his feet in space; comes off the ball aggressively but too high when establishing initial contact; does tend to narrow his base but is able to get movement and sustain due to his persistent leg drive. Flashes good pull around ability; we see the potential to set the edge and maintain leverage on "5″ technique defenders. With improved initial quickness and pad level we see the potential to consistently get a hat on active 1st and 2nd level defenders. Additional body mass along with the nasty finishing attitude this guy plays with, we see a lineman capable of making the necessary run blocks at the next level. Flashes nimble feet and along with his arm length and quick hands he should be an effective pass pro blocker. Shows the ability to quick set but must work on bend and balance; plays too high and gets caught up on his toes at times. Demonstrates good initial punch and placement, working to re-locate the hands inside the frame. Kough does not appear to be an immediate starter at the BCS level of play, rather a prospect in need of some time and perhaps a red shirt year to grow physically, improve his athleticism while polishing his technical skills."
Kough had other offers from … only Army and Portland State. However, Kough was drawing interest from Arizona State, UCLA, Washington and Fresno State. "Since I committed (in July), it has just been Colorado that I have been talking to," Kough told BuffStampede.com. "Colorado said they like me because I am a good run blocker and I have good feet. They want me to come in and compete at (offensive) guard."
In his own words… "Colorado said they like me because I finish, I play through the whistle," said Kough. As to his official visit in December, Kough told Scout.com. "It was real nice and real pretty out there. All the facilities were real nice and it's just a real nice school and the best one I've been to." Kough was hosted on his visit by Alex Lewis but also spent a lot of time with Jered Bell, his former teammate at Colony HS in Ontario."I got to talk a lot with Jared," said Kough. Kough also got to talk at length with offensive line coach Steve Marshall. "We had a position meeting with Coach Marshall," said Kough. "They're talking most likely guard or maybe center for me. There is a good chance I can play early."
JEFFREY THOMAS – WR
Just the facts … Committed June 18th … Thomas is a wide receiver prospect from Duncanville, Texas. Thomas is 6'3″, 180-pounds, and runs a 4.66 in the 40. Rivals bio Scout bio YouTube video highlights ESPN bio
What others say about Thomas … Thomas is considered by both Rivals and Scout to be a three-star prospect. Scout rates Thomas to be the 117th-best wide receiver in the nation. For a 7-4 Duncanville high team this past fall, Thomas led the team with 59 receptions for 899 yards and 12 touchdowns. One report from Scout.com had this to say about Thomas: "Thomas is a big receiver with long arms who uses his body effectively to shield defenders from the ball. He will work the middle of the field and will make the sound catches. Because of the style of his game he will thrive once he gets in to college and starts to add on weight with maturity and conditioning."
An Orangebloods.com's scout had to say about Thomas: "I don't know why things haven't completely come together for the 6-3, 180-pound Thomas because he's a guy that at his best has some absolute star upside as a receiver. Obviously, the kid has size, but he's a guy that has flashed really good ball skills and big-play upside in his time at Duncanville. What you like about Thomas a big-play receiver is that he can stretch the field and go up to get the football. But he also has a little shake and bake after the catch that makes him a difficult player to defend in space. The knock on Thomas is that he's not a burner and it's fair to say that he'll have average speed as a college receiver … At this point, he's a work in progress, but there's a lot there to work with. When we talk about three star prospects with four-star upside, he's a perfect example."
Thomas had other offers from … a number of schools, but only one other from a BCS conference school, Iowa State. Thomas did also hold offers from schools like Boise State, Memphis, Tulsa, Wyoming and North Texas. Thomas had attracted attention from Georgia, Cal, Kansas, Oklahoma State, Baylor, and Texas A&M.
In his own words … Colorado used wide receivers coach Bobby Kennedy's seven years of service as the recruiting coordinator at Texas to its advantage. "I met (coach Kennedy) at a Texas camp and when he changed schools he kept up with me," Thomas told BuffStampede.com. "He came out to spring ball (in May) and offered me on the spot. I was excited about that." Thomas said he's intrigued by Colorado and the prospect of playing in the Pac-12. He also likes the idea of playing in a pro-style offense. "I think my biggest strength is my ability to go up and make plays, I'd consider myself a physical receiver and I definitely like to use my size and strength to my advantage," Thomas told the OldCoach.com, who says he wants to improve his straight line speed and his route running this summer.
"Out of all the schools that I talked to and possibly could get an offer from, Colorado just had everything right to offer and I see no downside to it. Now was a better time than ever," Thomas told BuffStampede.com. "When I committed, I talked to every coach on their staff and they all loved me and can't wait to get me out there. They were excited." Thomas grew up in the Richmond area of Northern California. He moved to the Lone Star State prior to seventh grade. "I have a lot of family still out there in California and they can come see me play in the Pac-12," Thomas said. "I wanted to play in the Pac-12 my whole life. Knowing that I am going to play against USC and Oregon and all those schools, it is just great."
And this from the "Colorado Daily – January, 2012" on Derek McCartney:
Coach Mac's grandson joins Buffs
Derek McCartney, son of former Buff Shannon Clavelle, and grandson of former CU head coach Bill McCartney, will join the Buffs as a gray-shirt.
McCartney, a 6'4″, 220-pound defensive end from Faith Christian in Arvada, will use the extra season to try and bulk up. Like offensive lineman Alex Lewis, who committed to the Buffs in February, 2011, then joined the team this January, McCartney will join the team as a scholarship player in Janaury, 2013. McCartney will still have five years to play four as a Buff.
McCartney did not have any BCS conference scholarship offers coming out of high school, though he had been invited by both Baylor and Oregon to join their teams as a walk-on.
Austin Vincent to return to CU?
So far, this is nothing but a rumor, but … It is being reported that former CU wide receiver Austin Vincent may be returning to the Buffs as a walk-on. Vincent was a member of the CU recruiting Class of 2011, a two-star wide receiver out of DeSoto, Texas.
Vincent was arrested on November 18, 2011, for allegedly exposing himself to an 18-year-old woman. According to the police report, an 18-year-old CU student said she was taking a shower in the women's restroom at Willard Hall when she heard a man enter the restroom and announce he was going to take a shower.
The woman told police the man began to make small talk and, at one point, asked to borrow her shampoo, which she handed to him over the curtain. The woman said the man, identified as Vincent, then opened the curtain to her shower stall and stood before her naked as she tried to cover herself up with the curtain.
Vincent then went back into his shower stall, the woman told police, and she wrapped herself in a towel and fled the restroom. The woman told officers she never asked Vincent to leave because she felt "vulnerable" and "exposed."
She told police Vincent lived next door to her in the dorm and had made flirtatious comments to her in the past. Another female resident said Vincent previously had entered the women's restroom while she was showering, but he did not open her curtain. An RA also informed police she had told Vincent in the past to stop using the women's restroom.
Vincent was suspended from the team after the incident.
Vincent, while remaining quiet about the incident which led to his suspension, did say last January that he was planning on working his way back onto the team. Vincent went back home to enroll at Cisco College in central Texas. His intent was to take classes and stay on his eligibility track. If all went well, Vincent stated last January, was to complete spring courses at Cisco and return to Boulder and re-enroll at CU in the fall. Vincent asked BuffStampede.com to pass along this message to the Buff Nation: "Hopefully I can return really soon. I just want the Buff fans to know that I am moving forward through this rough time in my life."
Hopefully, Vincent has done just that.
Again, this is nothing but a rumor at this point,  but stay tuned …
Here is Austin Vincent's bio from "The Recruiting Class of 2011" …
Austin Vincent – WR
Just the facts … Committed May 20th … Vincent is a wide receiver from DeSoto high school in Texas. Vincent is 6'1″, 176-pounds, and runs a 4.6 in the 40. Vincent was originally a commit to Iowa, but was not qualified by the NCAA when most members of the Class of 2011 signed their letters of intent back in February. Iowa took other players instead of Vincent, freeing up Vincent to sign with Colorado when he did become qualified. Rivals bio Scout bio YouTube video highlights
What others say about Vincent … Vincent is considered to be a three-star wide receiver prospect by Scout, which had him rated as the No. 141 wide receiver out of the recrutiing Class of 2011. Rivals had Vincent listed as a two-star prospect. A Scout.com evaluator had this to say about Vincent: "He is over six foot but is not very thick. He does a great job of getting open and beating the coverage. Tends to catch the ball too close to the body, but he holds onto the ball. His lack of size does not let him bounce off of tackles. He does not have a lot of speed, he gets extra yards by not hesitating once he catches the ball. Seems to get up for big plays around the end zone."
In November, Vincent broke his fibula, ending his high school career eight games into his senior season. Vincent had surgery on his leg in November, with eight screws and a plate inserted. Before his injury, Vincent had 16 catches for 327 yards and six touchdowns. His 20.7 yards per catch average was one of the best in the state of Texas in 2010. Vincent may not have received as much attention as he deserved in 2010, as he committed to Iowa last June.
Vincent had other offers from … many schools. Before his commitment to Iowa, Vincent had offers from a number of other BCS programs, including Kansas and Iowa State from the Big 12, as well as Arizona and Utah from the Pac-12. Vincent was not able to sign a letter of intent with Iowa in February, as he had not yet qualified. Vincent was scheduled to take the ACT in November, but suffered a broken fibula the night before the test. A night in the hospital forced him to miss the test, keeping him from being a February qualifier. "I have a 3.1 core GPA, but I need an 800 or 820 on my SAT," Vincent told HawkeyeReport.com on February 1st. "All I can do is pray that my SAT score is good enough to get into school. I have the grades. I maintained an A/B average in the classroom, but didn't make the score."
In his own words … "My best attributes are my speed and my route running," said Vincent. "Blocking is another thing I do well on the football field … I know I need to improve my hand-eye coordination, my ball catching, and that is another reason I am going to be coming back to Colorado this summer, to workout with the quarterbacks."
"I know I am not redshirting. Colorado told me that," Vincent told BuffStampede.com. "I have a real, real, real good opportunity to get quality playing time as a freshman. They already know I am coming up there to be a playmaker and do my thing." As to what he needs to work on when he arrives in Boulder: "Size is the biggest thing I need to improve on to be successful in college. I need to get in the weight room. I am always going to be fast, and I have good route running skills. I just need to get bigger. That would be icing on the cake."
January 8th
David Bakhtiari declares for the NFL draft
Colorado junior offensive lineman David Bahktiari will forego his senior season and declare for the upcoming NFL draft. Thoughts on Bahktiari's draft status range from fourth round to seventh round … to not likely to be drafted.
Bakhtiari was named second-team All-Pac-12 this past season, for the second year in a row (and the only Buff named to either the first or second teams). This past fall, Bakhtiari was third on the offensive line in terms of snaps (729, behind Daniel Munyer and Alex Lewis), and had the best season grade of 89.8. Bakhtiari was second on the team in "Will-Breaker blocks" defined as "knockdowns/downfield blocks/blown off the line/finishes", but led the offensive line in penalties against, with seven.
As a sophomore in 2011, Bakhtiari earned second-team All-Pac 12 honors from the league coaches, Phil Steele's College Football and collegesportsmadness.com, was a second-team sophomore All-American by collegefootballnews.com and a first-team All-Colorado performer as selected by the state's chapter of the National Football Foundation. He started 11 games at left offensive tackle; he suffered a severe knee sprain on just the seventh offensive play of the game in the season opener at Hawai'i and missed the next two games (Cal, CSU). He graded out to 84.4 percent for the season, second highest of all the offensive linemen (532 plus plays out of 630 total snaps), he had 21 "great effort" blocks, two touchdown blocks and 12 downfield blocks while allowing just two quarterbacks sacks and three pressures; he was called for just one penalty all year.
Peyton Williams not coming to CU
Adam at BuffStampede.com is reporting that wide receiver Peyton Williams, a 2012 recruit who gray-shirted after suffering a knee injury late in his senior year, will not be playing for Colorado. Instead Williams, who was enrolled as a part-time student at CU this fall, is looking for an opportunity to play college football closer to home in Texas.
Here is Williams' profile from the "Recruiting Class of 2012":
Just the facts … Committed July 14th … Williams is a wide receiver prospect from Southlake, Texas. Williams is 6'1″, 185-pounds, and runs a 4.5 in the 40. Rivals bio Scout bio ESPN bio
What others had to say about Williams … Williams is considered to be a three-star prospect by Rivals, but only a two–star prospect by Scout. As a senior, Williams, before being injured, had 81 catches for 1,064 yards and ten touchdowns. Williams' Carroll Dragons went 16-0 and was ranked as the No. 14 team nationally (Williams was injured in the first quarter of the state semi-finals). Last May, Williams' 4×400 relay team captured a state championship. "I had a low 48 in my split, which wasn't my best, but we won with a time of 3:13," Williams said.
Williams had other offers from … a diverse collection of schools, including Pittsburgh, Minnesota, Memphis, Tulsa, Wyoming, and North Texas. Other schools reportedly showing interest were Kansas, Texas Tech, Iowa and West Virgnia. Why Colorado? Thank CU wide receivers coach Bobby Kennedy. "I call Coach Kennedy every week," Williams told BuffStampede.com back in April. "I love Coach Kennedy. He was at Texas, now he is there. Colorado seems like a really cool place."
In his own words … "My personality is that I'm not satisfied with anything," Williams told Patherlair.com. "I'm trying to work on everything. I'm not happy with anything yet." As far as his game skills, Williams told BuffStampede.com: "I am not afraid to go across the middle and make plays and I am a good blocker. I like to think I have the whole package."
Concerning his knee injury … "I had surgery (in early January) and it went really, really well," Williams told BuffStampede.com a year ago. "The doctors were very pleased and very impressed with how it went. I started rehab that next week so I am already into that. It feels good. You just sit there for a while and you sulk and stuff but now I have the surgery over with, that is a big step, and now I have the rehab, standing up and walking and all those steps. Every day it is getting better."
Some Colorado fans wondered if Williams might grayshirt and join the Buffs next spring. Williams said that was never discussed. Not only did Williams not see himself as a grayshirt candidate, he is not even looking at a red-shirt season in 2012. "Well, I'm anticipating I'll be full go (for fall), but, you know, they say about six months," Williams told BuffaloSportsNews.net. "But I'm not like most people. I'm going to work a lot harder. So I'll probably heal a lot faster I'm assuming."
… Of course, that didn't work out for Williams, or for CU …
January 7th
Mike MacIntyre's "4 F's"
Excerpts from Ken Reed of Mile High Sports (I highly recommend the entire article):
It doesn't take long when you're around Mike MacIntrye for the first time to realize he isn't the stereotypical, Vince Lombardi-type, football coach.
The new headman at the University of Colorado seems to have very little ego. He doesn't strut around like the new sheriff in town. He speaks to everyone he encounters – even writers – with respect. He seems to operate by the Golden Rule.
In short, he's a class act.
…
It's all part of the MacIntrye Way, his four-part approach to college football coaching: Foundation, family, future and football. In that order. He feels that everything else is clutter in a young player's life.
"If our players focus on the 4 F's, it will lead to great things," says MacIntyre. "Foundation is about becoming a solid person on a daily basis. That means things like self-discipline, perseverance, time management and responsibility. Family is about being close, caring about each other and being accountable to each other. Our players have to fully understand how their actions affect the other guy – on the field and in life. Their actions also represent Colorado and their individual legacies.
"Future is putting the necessary energy into their academics. Academics are their future. Even if they play in the NFL for three to five years, they need to have an idea about what they want to be the rest of their lives. Football is what they currently do, it's not who they are. I tell them to use football to get an education and a better future. Don't let football use you. Early in their careers, we do a lot of things to really help them decide what they want to do with their futures.
"The last 'F' is football. My belief is if they have a good foundation, they're doing the right things, they care about the guys on their team, and they're doing well academically and know what their future is, when they come to football practice they're freed up, they'll play better, they don't have a lot of baggage.
"If they take the 4 F's approach, when they leave us, they'll be ready for life. That's what we teach all the time. Our kids will know those 4 F's. They'll memorize them and there are a lot of things we'll do – on and off the field – to reinforce those four F's. We don't just put them on the wall and then forget about it. It's something we talk about all the time.
…
MacIntyre's football philosophy is to constantly attack – offensively and defensively. He wants to be the aggressor.
"We're going to attack, attack, attack," says MacIntyre. "Defensively, we had the most tackles for loss in our league and most sacks. Offensively, we're going to constantly put pressure on the defense. I want to be able to run the ball downhill. I want to be able to play action. I want to be able to get the ball in our receiver's hands quick to make things happen."
When you walk out of MacIntyre's office, your gut tells you he's going to definitely make things happen at CU. Good things. Accomplished the right way.
MacIntyre's passion for football, his desire to help young people grow as both people and football players, and his attacking style will translate into winning teams at Folsom Field.
…
January 4th
Buffs lose former star Bryan Stoltenberg, 40
Former Buff All-American center Bryan Stoltenberg has passed away at the age of 40.
From Dave Plati … Many of you know he was in a car accident last month; he had some nasty injuries and several broken bones. But he made his through multiple services, and his pastor told me that he felt better today than he had in a long time. They suspect that a blood clot to the heart or brain may have caused his death. He is survived by his wife, Laura, and three sons, Austin, 16; Jacob, 14; and Andrew, 11 (the younger two have birthdays within the next month). Services are pending, will be either Monday or Tuesday at the Sugarland Baptist Church (located at US 59 and Sweetwater Blvd). I will post final arrangements when known; Laura wanted to me get the word out to as many teammates as possible, which we did this morning by phone and text, and we can now go public with it …
Stoltenberg was a great player for the University of Colorado, and was referenced here at CU at the Game as late as the Oregon game this year, when defensive end Will Pericak started his 45th consecutive game, breaking the mark Stoltenberg set between 1992-95. Stoltenberg, from Sugarland, Texas, red-shirted his freshman year of 1991 after coming to Colorado as an honorable mention all-state center. When he started all 11 games in 1992, Stoltenberg became the first freshman to do so since Joe Garten in 1987. After earning honorable mention as a Big Eight player as a freshman, Stoltenberg was second-team All-Big Eight as a sophomore in 1993.
In his junior and senior seasons, Stoltenberg was a unanimous All-Big Eight selection, earning first-team All-American accolades his senior year from UPI, Walter Camp, and Football News. Stoltenberg was one of ten semi-finalists for the Lombardi Award in 1995, an award given to the nation's most outstanding lineman. A sixth-round draft choice in the 1996 NFL draft, Stoltenberg went on to play in 50 games in the NFL, playing for the San Diego Chargers, the New York Giants, and the Carolina Panthers.
January 2nd
Coach Mac: "Recruiting is like shaving; you can't miss a day or it shows"
The January edition of the Mile High Sports magazine has a great interview by Woody Paige with new head coach Mike MacIntyre. Here is a link to the entire interview, which I whole-heartedly urge you to read. The interview is on pages 56-61 (but you'll also want to check out pages 102-03, where Mile High Sports spotlights its Coach of the Year, Tad Boyle; page 96, where not one, not two, but three Buffs – Carlon Brown, Andre Roberson, and cross-country runner Shalaya Kipp – are recognized as finalist for the Mile High Sports College Athlete of the Year; and page 106, where there is another Woody Paige article, this one on CU athletic director Mike Bohn).
Some of the quotes from Coach MacIntyre's interview with Woody Paige:
On what he learned from Dallas Cowboys head coach Bill Parcells and Ole Miss head coach David Cutliffe … "With Parcells, I really learned the organizational factor of practice. That was one of my jobs when I was with him in Dallas; I did the practice schedule for him. I learned a tremendous amount. The other thing I learned from Bill was how to evaluate players; he's a phenomenal evaluator of talent. And then, how he builds a team was very  mpressive. I learned a lot of other things, but those three really stand out … David Cutliffe is the best college football coach in America. His knowledge of the game is amazing – offensive, defensive and special teams. The way he is able to coach the coaches, so to speak, understand recruiting and fundraising, building facilities – he can do a little bit of everything. That's what's so special about him. Another thing I learned from David is how he is so honest with everybody. He really cares for the people that he works with. That meant a lot. But he is a phenomenal, intense football coach; one of the best minds I've ever been around."
On recruiting to a school with high academic standards like Colorado … "Yes, I'm aware of those challenges, But I tell you, I don't necessarily think it's a bad thing at all. The way all of the NCAA standards are ramping up over the next couple of years, there are more studentathletes that will be viable for places like Vanderbilt, Duke, Stanford and Colorado. The whole landscape of college football is changing on that front, more so than people have noticed."
On the types of offenses and defenses he plans to run at CU … "When you say 'pistol', most people think it's all option. We just line up in the pistol formation, in the gun. But we can run the ball downhill, run the power game, run the inside zone, run counter, run hard play-action pass, use our tight ends and hit deep crossing routes. But also when you're in the gun, you can get the ball out of your hands  quickly, running bubbles, quick screens and spread stuff. We have a very good mixture of being able to hit somebody in the mouth and run downhill, plus being able to do boots, play action and those types of things. It keeps the defense in conflict. And then we're able to do a lot of the spread concepts that people like to use today, getting it to our receivers in open space and let them make some people miss. I like what we do. I think it also helps our defense get better; they can play against downhill running teams and also spread stuff. Overall, it helps our whole football team."
On retaining present players and recruits, and on recruiting in general …"As a head coach, you start letting these young men know that you care. Then, you have to start letting them see your expertise, to show them that you're able to help them achieve their goals, both on and off the football field. Once they realize how much we care and what we do, then these young men will want to stay. But they have to give you time to be able to show that. It doesn't happen in one meeting. You ask them to give you time, so you can show them in the spring, summer and next fall that you can be successful. On the recruiting front, is an all-year process. It's just like shaving; you can't miss a day or it shows. We'll keep working that and we'll start producing good results eventually."
….
And then there was this great quote in the Woody Paige "Back Page" article entitled, "The Right Man for the Job" – In discussing Cincinnati head coach Butch Jones backing out of the CU job at the last minute, Paige quoted CU athletic director Mike Bohn: "In retrospect, Jones probably did us a favor", said Bohn. "In coach speak, he didn't have the stones to come to Boulder. We ended up getting the right fit for Colorado."
Ouch!
January 1st
UCLA star linebacker to return for senior season
From ESPN … UCLA junior linebacker Anthony Barr, a potential first-round draft pick, will be back for his senior season.
After switching from running back to outside linebacker this past year in UCLA's 3-4 scheme under new head coach Jim Mora, Barr flourished in the role and was one of the premier defensive players in the country in 2012.
He was a first-team selection to the All-Pac-12 team while compiling 13.5 sacks and 21.5 tackles for a loss — which ranked in the top 10 nationally for both categories before the start of the bowl season.
ESPN's Mel Kiper Jr. had Barr at No. 10 on his Big Board.
"I have carefully explored my options and have decided to continue my football career with UCLA," Barr said in a statement released through the school Monday. "I felt a strong connection with my teammates and coaches that I do not want to see end. I will continue to pursue my degree and take part in the team drills after the holidays. The time will come soon enough to live my dream of playing at the next level."
Wide Receiver Robert Woods announces for NFL Draft
From ESPN … USC wide receiver Robert Woods announced Monday that he will declare for the NFL Draft.
"I feel like I accomplished a lot at USC and I'm very prepared to play at the next level," Woods said in a Hyundai Sun Bowl postgame radio interview. "I would like to thank my coaches and teammates for everything they helped me with in my career at USC."
Woods is the No. 41 overall player for the 2013 draft, ranked by ESPN's Scouts Inc. He could be an option for the Houston Texans late in the first round, according to ESPN's Todd McShay.
After a Pac-12 record 111 catches last season, Woods had surgery on his ankle and sat out spring drills and offseason workouts before the 2012 season. When the year began, it was clear that the top spot in the USC receiver corps belonged to Woods' former high school teammate, Marqise Lee, who went on to be named the Biletnikoff Award winner. Woods still managed to catch 76 balls in 2012 to go along with 11 touchdowns.
Woods said after the Sun Bowl that his decline in targets this season did not play "much" of a role in his decision to forego his senior year. But he admitted it was considered.
"If the coaches wanted to keep me another year, they would've probably got me the ball," he said.
December 31st
Boise State staying in the Mountain West
Well, it never made sense for Boise State to play in the "Big East", anyway …
From ESPN … Boise State will remain a member of the Mountain West Conference and will not join the Big East in 2013.
The Broncos' decision, confirmed in news releases by the the school and Mountain West on Monday, is the latest crippling blow to the Big East Conference, which has had 14 schools announce they were leaving the league in the past two years.
"As I've stated many times, I have had the utmost trust that the university would make the right decision in what is best for Bronco football and all our sports at Boise State," football coach Chris Petersen said in the statement. "This innovative proposal to get football the maximum exposure on national television will be a tremendous boost to our program as we continue to grow the Bronco brand.
The Broncos will remain a Mountain West member in all sports instead of joining the Big East next year as a football-only member and the Big West in all other sports.
Although Boise State never spent a day in the Big East, the Broncos still must pay a $5 million exit fee to the Big East, though Boise State officials said there are contract provisions that could lower that amount. The Mountain West is expected to help pay that fee, sources said.
As devastating as Boise State's decision is to the Big East, it's just as big a boost to the future of the Mountain West.
"Maintaining the Broncos program as part of the already solid foundation we have established creates a posture of great stability for the Mountain West going forward," commissioner Craig Thompson said in the statement. "It also enhances the conference's competitive and marketplace platforms, positioning us favorably in the evolving FBS landscape."
With Boise State remaining in the MWC, the league will have 11 football members in 2013: Air Force, Boise State, Colorado State, Fresno State, Hawai'i, Nevada, New Mexico, San Jose State, UNLV, Utah State and Wyoming.
Boise State's decision also will impact the Mountain West's television deal. Last week, the MWC and CBS agreed to restructure their deal, which will allow the Mountain West to sell packages to two other networks. With Boise State remaining, the value of the MWC's deal could increase to at least $25 million, sources told ESPN.
Meanwhile, the Big East must still try to negotiate its new media-rights deal — the league's basketball deal will expire after this season, and the football deal will expire after the 2013-14 season — with an uncertain future.