Coaching Change at the University of Colorado
December 10th
What others have to say about Mike MacIntyre
ELI MANNING
New York Giants Quarterback
MacIntyre recruited Manning to Mississippi while on the Rebels' staff.
"As good a coach as Mike MacIntyre is, he is an even better person.  He recruited me to Ole Miss with a little help from my mother and father, and I was fortunate enough to work with him on both sides of the ball.
"He coached our wide receivers my freshman year, so I worked closely with him on our passing game, and then for the next two years I got to throw against his secondary every day in practice when he coached the defensive backs, which was invaluable in my preparation.
"He's a great coach and a great recruiter, and he will not be outworked.  I wish Mike all the best at CU."
PATRICK WILLIS
San Francisco 49ers Linebacker
MacIntyre recruited Willis to Mississippi while on the Rebels' staff.
"Coach MacIntyre is a great guy, a guy who knows how to recruit.  A guy who knows how to get guys to play, get guys on one accord.  He proved that at San Jose State this year, leading them to a great season.  I'm really happy for him and I wish him the best of luck at Colorado."
DAVID CUTCLIFFE
Duke Head Football Coach
MacIntyre worked for Cutcliffe at both Mississippi and Duke.
"Congratulations to Coach MacIntyre and his family – the University of Colorado has hired an excellent coach and an even finer man.
"Obviously our history together runs deep, and I couldn't be happier for him, Trisha and their children.  Plain and simple, Coach MacIntyre knows how to coach the game of football.  It's in his blood.  He understands the importance of the well-rounded student-athlete as well as the football program's place in the community.
"His success in three years at San Jose State is well-documented and his work as an assistant coach on both the collegiate and professional levels speaks for itself.  But on top of all of his coaching excellence – and there is a great deal of that – Coach MacIntyre is a tremendous person."
MARV SUNDERLAND
Tennessee Titans Scout
MacIntyre worked Sunderland when both were with the New York Jets
"He's highly organized, a very good teacher, and a disciplinarian, but not in a nasty way, he commands it through respect.  He's a very people-oriented type of person who will be a great recruiter for the University of Colorado.  This man is a class guy."
Mike MacIntyre hired as 25th CU head football coach …. really!
Okay, this time we mean it!
Multiple sources are indicating that San Jose State head coach Mike MacIntyre will be named as the next head football coach at the University of Colorado. The press conference to introduce MacIntyre to the Buff Nation has been scheduled for 4:00 p.m. this afternoon.  You can watch the press conference live here.
Mike MacIntyre is 47 years old, and just completed his third season with the San Jose State Spartans, his first head coaching job. A native of Miami, MacIntyre is new to the west. MacIntyre is an impressive candidate for one reason – that he turned around a San Jose State program which was on the verge of being shelved, and turned it into a bowl team in three seasons. After a rough 1-12 campaign in 2010, MacIntyre led the Spartans to a 5-7 record in 2011, and a 10-2 record (and a No. 24 ranking) this season.
Now in his 22nd season of coaching, the 47-year old MacIntyre came to San Jose State after two seasons as the defensive coordinator at Duke University. Those Blue Devil defenses were among Duke's best statistically over a 20-year span. In 2009, Duke's five wins were the most in a season by the Blue Devils since 1994. The American Football Coaches Association (AFCA) named him its 2009 FBS Assistant Coach of the Year.
Prior to joining the staff at Duke, MacIntyre spent five seasons in the NFL with the New York Jets (2007) and Dallas Cowboys (2003-06) coaching defensive backs.  Working for legendary coach Bill Parcells, the Cowboys returned to the playoffs in 2003 and again in 2006 after missing out on post-season competition during the 2000 through 2002 seasons.
MacIntyre has coached on both sides of the ball, spending four years at Ole Miss (1999-2002) where he started as the wide receivers coach for two seasons and the defensive secondary coach in his final two years.  The Rebels posted a 29-19 record in that time with bowl appearances in the 1999 and 2002 Independence Bowls and the 2000 Music City Bowl.  The 2001 Rebels ranked fifth nationally in pass defense, allowing just 161.3 yards per game.
…
Much more as the day progresses … Below is a story on what MacIntyre accomplished in three years at San Jose State …
Mike MacIntyre – "Miracle at San Jose State"
From the San Jose Mercury News …
In Mike MacIntyre's first game as head football coach at San Jose State, his team lost at powerhouse Alabama 48-3. Before 101,000 fans in Tuscaloosa, the Spartans were hammered, pounded, overmatched and routed.
MacIntyre still found something positive to say about his players.
"They played harder in the fourth quarter than they did in the third quarter," he noted.
Hey, you've got to start somewhere.
That game was in September, 2010. San Jose State went on to finish with a miserable 1-12 record that season. But now, a mere two years later, those won-lost numbers have been almost completely reversed. The Spartans have concluded a 10-2 regular season, are ranked 24th in the nation by every significant national college football poll and are headed to a bowl game.
They also play hard in all four quarters.
The turnaround hasn't been by accident. It incorporates many factors. Most, however, have been an outgrowth of MacIntyre's master plan, the one he first outlined as a job candidate. MacIntyre was an assistant coach at Duke University when he interviewed with former San Jose State athletic director Tom Bowen in December of 2009.
Bowen, who now runs the athletic department at the University of Memphis, has vivid memories of those interviewing sessions. MacIntrye's enthusiastic personality was obvious. Bowen wanted to know what lay beneath. He liked what he found.
"He wasn't afraid," Bowen said by telephone this week. "He wasn't fearful about confronting the challenges."
The San Jose State football program definitely does offer special hurdles — some would call them obstacle courses with brick walls topped by barbed wire — compared to others in the top tier of college football. It is why the Spartans have had only three winning seasons in the past 20 years.
Those hurdles involve both geography and money. Often dwarfed in the Bay Area by the attention paid to Stanford and Cal of the Pac-12 Conference, the Spartans play in the less-famous Western Athletic Conference. This provides much less television revenue for the Spartans. They also struggle for attendance and student body support. They have battled with academic issues involving NCAA requisites. It's difficult for the school to hire and retain top assistant coaches because of the Bay Area's high living costs.
MacIntyre, during his interview, brought out a folder to address every single issue. Bowen, who eventually offered him the position, remembers being both delighted and slightly taken aback by MacIntyre's response.
"I remember him saying, 'I'm ready for this — how about you?' " Bowen said, with a chuckle.
Those first months and that 2010 season were indeed a rugged road. Bowen and previous football coach Dick Tomey had improved San Jose State's infrastructure, especially in the academic areas. Bowen also managed to coax an inner circle of donors into writing big checks for an assistant coach hiring pool. But on the field, losses mounted. Bowen had been forced to schedule three so-called "body bag" games at Alabama, Wisconsin and Utah to fill the program's coffers. In those games, San Jose State was outscored 131-20.
Bowen insists he had no serious concerns about MacIntyre through the 1-12 slog. But he recalls being comforted when his special assistant, former Stanford and SJSU coach John Ralston, walked into Bowen's office and said of MacIntyre: "I like this guy. We're going to be OK." And there were some signs of progress, even in that opening squash job at Alabama. San Jose State committed no stupid penalties and only one turnover. The players never seemed to give up.
"We definitely learned from those games," said linebacker Vince Buhagiar, who started that game at Alabama as a wide-eyed freshman, just a few months out of Clayton Valley High School. "Every game we lost, we learned something. It actually made us hungry for the next game."
The subsequent offseason of 2010-11 then allowed MacIntrye to implement two key master-plan moves. He realized his team needed to match up better physically with opponents. He was impressed with how Stanford had beefed up and become more powerful under coaches Jim Harbaugh and David Shaw. So MacIntyre reached out and hired Stanford's assistant conditioning coach, Dave Forman.
"I want us to look like a different football team when we get off the bus in 2012," MacIntyre told Forman, thinking two years ahead.
"Coach, I think we can look like a different team getting off the bus in 2011," Forman replied, an answer MacIntyre liked.
Forman subsequently instituted an aggressive strength program, using a mantra he stole from motivational speaker Jim Rohn: "You can either choose the pain of discipline or the pain of regret."
MacIntrye, meanwhile, organized a plan to have he or one of his assistant coaches meet and personally shake the hand of every single high school football coach in California. MacIntyre also organized "traveling San Jose State camps" at high school fields in San Diego, Bakersfield, Los Angeles, Ontario and Sacramento. They were one-day clinics that cost $40 for players to attend — but also served as evaluation sessions. The high school coaches were encouraged to send along any player they thought had college potential.
"California is like four states in one," MacIntyre said. "It was a way for us to spread the word about San Jose State. If we sign 20 players in a recruiting season, at least 17 or 20 of them have been at our camps."
The new recruiting effort, plus the conditioning ramp-up, made the Spartans far more competitive in 2011. MacIntyre was also able to keep his coaching staff stable. Although San Jose State finished with a 5-7 record, late season victories over Navy and Fresno State created momentum moving forward.
"I could see in the players' eyes that it was working," MacIntyre said. "The culture had changed."
The 2012 season began in September with a hard-fought 20-17 loss to eventual Pac-12 champion Stanford. Afterward, Cardinal head coach Shaw said he was impressed with how much more physical San Jose State had become. San Jose State went on to win 10 of the next 11 games, including impressive victories over San Diego State, Navy and BYU. It helped that the landscape of San Jose State's conference — the WAC — had changed radically. Two of its best football programs, Boise State and Fresno State, had joined the Mountain West Conference. They were replaced by less powerful programs such as Texas State and Texas-San Antonio. This lessened the week-by-week physical toll on the Spartans and allowed them to get on a roll.
"Once we started winning, we just kept going," MacIntyre said.
And they stayed healthy. Forman's strength program was paying big dividends. In the 2010 season, the Spartans had lost 80 cumulative games because of injuries sustained by players on the two-deep roster — the first two offensive and defensive units. In 2011, that figure dropped to 41 games missed. This season, the number was 28.
The Spartans closed the season looking stronger than any SJSU team of the past 20 years, with solid grind-out victories over BYU and Louisiana Tech. The next task is to beat Bowling Green in the Military Bowl, scheduled for Dec. 27 at RFK Stadium in Washington D.C.
Between now and then, the players say, they are enjoying the feedback from fellow SJSU students. It may be unprecedented.
"The way it is on campus right now, I never thought it would be that way," Buhagiar said. "Guys will be walking down halls and getting high fives. People you don't know will stop you and congratulate you on a game or on the team's ranking. That's new for us."
To keep the momentum going, new SJSU athletic director Gene Bleymaier has been shaking the trees and raising money for larger staff salaries and new facilities. MacIntrye has been mentioned for other head coaching jobs but says he plans to stay at SJSU for a while. He will definitely have a smile on his face when his team climbs on the charter flight to D.C. in two weeks.
"We look like a strong, athletic football team," MacIntyre said. "We look like a good football team. And we are. It's a long way from 48-3 in Tuscaloosa.
December 7th
Opening up the Search
With Butch Jones off to Knoxville to coach the Tennessee Volunteers, the Colorado search committee – athletic director Mike Bohn; professor Liz Bradley; Robert Boswell, vice chancellor of diversity, equity and community engagement; and George Solich, an alumni and one of the athletic department's biggest financial contributors – are back to work trying to land "Mr. Right" for the CU football program.
As there are no known favorites (and don't look for any leaks on front-runners. We may not know the name of the next head coach until a press conference is called), there is plenty of room for speculation.
So, who's out there who might be willing to become the 25th head football coach in CU history?
The favorites … or at least those names mentioned most often:
Tim DeRuyter, head coach, Fresno State … DeRuyter will turn 50 in January, and will celebrate the big birthday after having a very successful first season as the head coach at Fresno State. DeRuyter took a 4-9 team and made it into a 9-3 team with a share of the Mountain West Conference crown. The Bulldogs, as Buff fans well know, destroyed Colorado, 69-14, in September. Fresno State also played Oregon tough (42-25 loss in Eugene), and had no trouble with Colorado State (28-7) in a game played in Ft. Collins.
Before being named the head coach at Fresno State, DeRuyter spent two seasons with Texas A&M as defensive coordinator.  DeRuyter made an immediate impact during his first season in Aggieland as the 2010 squad improved fifty spots in the national rankings for total defense, rising to No. 55 in the country as the resurrected Wrecking Crew helped lead A&M to the Cotton Bowl. Highlighting a long list of players who excelled under DeRuyter's scheme was Von Miller, who in addition to earning All-American honors was awarded the 2010 Butkus Award, given annually to the nation's most outstanding linebacker. Miller went on to become the second overall pick of the Denver Broncos in the 2011 NFL draft. In 2011, Texas A&M led the nation with 51 sacks and the Aggies were second in the Big 12 by only allowing 106.0 rushing yards per game.
Before coaching the Aggie defense, DeRuyter spent three years as the defensive coordinator and safeties coach at his alma mater, Air Force. He also held the title of associate coach in 2008 and 2009. His last year at Air Force saw the Falcons sport one of the top defense's in the country. Air Force ranked 11th in the NCAA in total defense in 2009, allowing just 288.3 yards per game. The secondary, under his watch, ranked fifth in the country by giving up just 154.3 passing yards per game and its 20 interceptions were the seventh-most in the FBS. For the season, Air Force created 34 turnovers to rank No. 5 nationally and the Falcon defense also ranked high nationally in fewest first down's allowed (No. 4 at 14.62 per game), scoring defense (No. 10 at 15.69 points per game) and third-down efficiency (No. 13 at 30.86 percent).
His transformation of the Falcon defense was evident in the fact that the year before he took over, Air Force ranked 70th nationally in turnovers gained, 78th in both total and scoring defense and dead last in third-down defense.
Mike MacIntyre, head coach, San Jose State … is 47, and just completed his third season with the Spartans. A native of Miami, MacIntyre is new to the west (and is reported to be interviewing for the South Florida head coaching vacancy). MacIntyre is an impressive candidate for one reason – that he turned around a San Jose State program which was on the verge of being shelved, and turned it into a bowl team in three seasons. After a rough 1-12 campaign in 2010, MacIntyre led the Spartans to a 5-7 record in 2011, and a 10-2 record (and a No. 24 ranking) this season.
Now in his 22nd season of coaching, the 47-year old MacIntyre came to San Jose State after two seasons as the defensive coordinator at Duke University. Those Blue Devil defenses were among Duke's best statistically over a 20-year span. In 2009, Duke's five wins were the most in a season by the Blue Devils since 1994. The American Football Coaches Association (AFCA) named him its 2009 FBS Assistant Coach of the Year.
Prior to joining the staff at Duke, MacIntyre spent five seasons in the NFL with the New York Jets (2007) and Dallas Cowboys (2003-06) coaching defensive backs.  Working for legendary coach Bill Parcells, the Cowboys returned to the playoffs in 2003 and again in 2006 after missing out on post-season competition during the 2000 through 2002 seasons.
MacIntyre has coached on both sides of the ball, spending four years at Ole Miss (1999-2002) where he started as the wide receivers coach for two seasons and the defensive secondary coach in his final two years.  The Rebels posted a 29-19 record in that time with bowl appearances in the 1999 and 2002 Independence Bowls and the 2000 Music City Bowl.  The 2001 Rebels ranked fifth nationally in pass defense, allowing just 161.3 yards per game.
Other existing head coaches who have/may be considered …
Bronco Mendenhall, BYU head coach … It was widely reported that Mendenhall, 46, interviewed with the University of Colorado last Sunday. That was apparently news to Mendenhall, who told the Deseret News on Wednesday: "I didn't express any interest, haven't been contacted, didn't interview and didn't know I was a candidate," he said. "Other than that, I guess I'm a finalist, from what I've been told." Word certainly gets around. "I was asked by a recruit just (Tuesday) night," said Mendenhall. "I have been the (BYU) coach for eight years. We (he and his wife) are yet to look at a newspaper article. I don't ever watch the sports news. I don't listen to any radio talk shows. So our neighbors started calling us. I guess I was rumored to be going somewhere. That was news to us."
Still, Mendenhall did add, "It's an interesting thing. It's a compliment to be considered and sometimes you're considered or on a short list and that gets out to people even before you're interviewed. So who knows?".
Taking over a BYU program in 2005 that was coming off three losing seasons, Mendenhall has guided his teams to eight straight bowl invitations, two outright conference championships and regular national top-25 rankings. The Cougars finished their first season as a football independent in 2011 with a 10-3 record and No. 25 final ranking to finish nationally ranked for the fifth time in the last six seasons. This past season, BUY stumbled to a 7-5 record, but that included a tough 17-14 loss to Notre Dame, a 42-24 loss to Oregon State, and a 7-6 loss to Boise State – all ranked teams.
Dan Mullen, Mississippi State head coach … Mullen, 40, has been the head coach at Mississippi State for the past four seasons, posting a 29-21 record overall. This season, the Bulldogs are 8-4, and have been invited to play in the Gator Bowl. Mullen coached previously under Urban Meyer at Utah and Florida. It has been reported that Mullen was a high priority for the CU search committee, but that Mullen has not expressed any interest in the Colorado coaching vacancy.
Gary Andersen, Utah State head coach … Andersen, 48, has been the head coach at Utah State for the past four seasons. The overall record is not impressive, 25-24, but that includes a 10-2 record this fall, with a win over Utah, and the only two losses being close games (16-14 at Wisconsin; 6-3 at BYU). Andersen had been reported as a candidate for the Cal head coaching vacancy, along with that of CU's, but has stated that he is not interested in leaving Logan.
Jim Grobe, Wake Forest head coach … Grobe is 60 years old, and has been the head coach at Wake Forest for the past 12 years. Grobe has a 73-74 record with the Demon Deacons, and has one ACC title to his credit (2006). Prior to coaching at Wake Forest, Grobe was the head coach at Ohio for six seasons, accumulating a 33-33-1 record. Word is that Grobe and Wake Forest have grown tired of one another, but I have no idea why Colorado would be interested. Grobe would be about as far from a "splash" hire as you could get.
Frank Solich, Ohio head coach … Solich, 58, has been the head coach for the Ohio Bobcats for the past eight seasons. While at Ohio, Solich has compiled a 58-44 record, including three conference division titles. The Bobcats have been invited to play in five bowl games during Solich's tenure, including this year's Independence Bowl after an 8-4 season. Of course, Buff fans remember Solich as the six-year head coach at Nebraska (1998-2004). Despite putting together a 58-19 record, three division titles and a conference title (the last for the Bugeaters, in 1999!), Solich was fired after a 9-3 season. Whether Solich is interested in coming, or if CU has a serious interest in him, is unknown.
Thinking Outside the Box … NFL, disgraced coaches, existing coordinators ….
Jim Tressel, former Ohio State head coach … Mike Bohn has publicly stated that he is not interested in looking at coaches with "issues", and Tressel certainly has issues. While at Ohio State, Tressel, a/k/a, "The Vest", has a 241–79–2 combined record (74.8 winning percentage) over 25 years as a college coach. At Youngstown State, Tressel went 135–57–2, with four Division I-AA national championships and six national championship game appearances in 15 seasons from 1986-2000. At Ohio State, Tressel carried a 106–22 record from 2001-2010, with seven Big Ten titles, eight BCS bowl appearances, three BCS national title game appearances and an undefeated 14–0 BCS national championship campaign in 2002.
What baggage Tressel would bring with him, though, is the "show cause" requirement imposed upon Tressel by the NCAA. After being given "at least four different opportunities to report" information on players receiving impermissible benefits, Tressel was slapped with a five-year show cause — meaning Colorado would have to receive permission from the Committee on Infractions and "show cause" for not being penalized as a result of hiring Tressel. From there, Tressel would be suspended from team meetings, practices and games for the first five weeks of the season. Colorado would be ineligible for a bowl during Tressel's first season. The university and its new coach would also have to meet with the NCAA every six months until Dec. 2016. Otherwise, barring additional NCAA action, it would be business as usual after the first five weeks of Tressel's tenure.
Jeff Tedford, former Cal head coach … Tedford, 51, was recently fired as the head coach at Cal, after 11 years in Berkeley. Tedford posted an overall record of 82-57, with one conference title (2006). The Golden Bears finished ranked four times under Tedford, but went 15-22 the past three seasons, including a disappointing 3-9 campaign in 2012. While Tedford has certainly shown he can compete in the Pac-12, the timing may not be right for either Tedford or CU to get together right now.
Jack Del Rio, defensive coordinator, Denver Broncos … Del Rio, 49, is in his first year as the defensive coordinator for the Broncos. Previously, Del Rio was the head coach for the Jacksonville Jaguars, compiling a 68-71 record in seven seasons. Del Rio played 12 years in the NFL, and coached only in the NFL. He has no collegiate coaching experience, either as a head coach or a coordinator … which probably makes him an automatic disqualifier considering CU's present situation.
Mike Stoops, former head coach, Arizona … Stoops, 50, is currently the defensive coordinator for his brother, Bob Stoops, at Oklahoma. Previously, Stoops was the head coach at Arizona, 2004-11. Stoops posted a 41-50 overall record, with 8-5 records in 2008 and 2009 being the pinnacle. After a 1-5 start to the 2011 season, Stoops was fired.
Josh Heupel, co-offensive coordinator, Oklahoma …Heupel, 34, is the co-offensive coordinator at Oklahoma. Heupel was an All-American quarterback at Oklahoma before spending two seasons trying to make NFL squads. Other than a year at Arizona with Mike Stoops, Heupel has been with Bob Stoops at Oklahoma, the past three seasons as co-offensive coordinator.
Hue Jackson, assistant coach, Cincinnati Bengals … Jackson, 47, is in his first season as the secondary coach for the Bengals. He was let go last winter by the Oakland Raiders after serving one season as head coach (8-8). Jackson has been a coach in the NFL since 2001, but before that spent much of the previous 13 seasons in the Pac-10, as an assistant for Arizona State (1992-95), Cal (1996), and USC (1997-2000).
Bobby Petrino, former Arkansas head coach … Petrino, 51, was the head coach at Arkansas from 2008-2011. While at Arkansas, Petrino compiled a 34-17 record, and won 21 games in the last two seasons before being let go last spring. In April 2012, Petrino was involved in a motorcycle crash He was riding along with former Arkansas All-SEC volleyball player Jessica Dorrell, whom he had hired on March 28, 2012 as the student-athlete development coordinator for the football program after serving as a fundraiser in the Razorback Foundation. Petrino initially said he was alone. However, on April 6, just minutes before a police report was to be released showing Dorrell was also aboard, Petrino revealed that Dorrell was not only a passenger, but that he had been conducting an adulterous relationship with her.
Prior to coaching at Arkansas, Petrino was the head coach at Louisville, going 41-9 in four seasons. In all, Petrino coached teams have gone to seven bowls in eight seasons, including two BCS bowls.
Dirk Koetter, assistant coach, Atlanta Falcons … Koetter, 53, is the offensive coordinator for the Atlanta Falcons. Koetter is in his first season in Atlanta, having spent the previous five seasons with the Jacksonville Jaguars. Before leaving for the NFL, Koetter was the head coach at Boise State and Arizona State. While in Boise (1998-2000) Koetter put together a 26-10 record, including back-to-back ten win seasons, before leaving for Arizona State (and being replaced in Boise by Dan Hawkins). In Tempe, Koetter was 40-34 in six seasons, never better than third in the Pac-10.
Jim Fassel, former New York Giants head coach … Fassel, 63, is currently the head coach, general manager and president of the Las Vegas Locomotives of the United Football League. In his first three seasons in the UFL, Fassel's teams have won the title twice, and lost in the championship game last season. Prior to coaching in Las Vegas, Fassel was the head coach for the New York Giants for seven seasons (1997-2003). Fassel's teams made it to the playoffs three times, making it to Super Bowl XXXV in 2000, but was fired after a 4-12 season in 2003. Fassel does have collegiate coaching experience. He was the head coach at Utah from 1985-89, compiling a 25-33 record.
Craig Bohl, head coach, North Dakota State … Bohl, 54, has been the head coach at North Dakota State for the past ten seasons. As head coach, Bohl has led the Bison to an 86-32 record, and has three conference championships. North Dakota State won the FCS national championship last season, and are the No. 1 seed in the playoffs this season (the FCS are in the quarterfinals this weekend). The past two seasons, North Dakota State has gone 25-2, including a win over Colorado State in Ft. Collins this fall.
Bob Diaco, assistant head coach, Notre Dame … Diaco, 39, is the defensive coordinator, linebackers coach, and assistant head coach at Notre Dame. Diaco is in his third season at Notre Dame, with previous stops at Western Illinois, Eastern, Western, and Central Michigan, Virginia and Cincinnati. Diaco was given the Broyles award this fall, given to the top assistant coach in the nation.
John Wristen, head coach, Colorado State – Pueblo … John Wristen, 2011 National Coach of the Year by American Football Monthly magazine, has coached six seasons at Colorado State University-Pueblo.  In his time, he has dramatically elevated the football program from upstarts to legitimate national power in just four seasons. A former all-conference quarterback at CSU-Pueblo from 1980-83, Wristen faced the monumental task of forging a football program from the ground up when he accepted the job in July 2007.  He arrived at CSU-Pueblo with no coaching staff and no players, given the job of building CSU-Pueblo's first football team since 1984 in just a 365-day window. Wristen was a graduate assistant for the 1990 national championship Colorado team, and was an assistant for Gary Barnett at Northwestern before returning as an assistant at Colorado from 1999-2006.
Far, Far Outside the Box
Norv Turner, head coach, San Diego Chargers … rumored to be in his last season as the head coach in San Diego.
Paul Chryst, head coach, Pittsburgh … If he won't return to Wisconsin, where he was the offensive coordinator, he's not coming to Boulder.
Kirby Smart, assistant coach, Alabama … If he wasn't interested in SEC coaching vacancies, he won't be interested in the Pac-12.
Mike Hankwitz / Nick Aliotti, assistant coaches, Oregon … Hankwitz was an assistant at Colorado, but did not leave under the best of circumstances. Both will likely wait to see if Chip Kelly bolts for the NFL, opening up the top spot in Eugene.
Butch Davis, former head coach, North Carolina … USF  would be a better fit for a coach who has never coached college ball in the west.
Al Golden, head coach, Miami – The Hurricanes have self-imposed bowl bans the last two seasons, with NCAA sanctions still looming. Get while the gettin's good?
Phil Fullmer, former head coach, Tennessee – Fulmer, 62, was 152-52 in 17 seasons with the Vols, including a national championship in 1998. Too old?
Others? Send me a note at cuatthegame@gmail.com, or post a comment, below …
December 6th
DiStefano: "We are not deterred"
CU-Boulder Chancellor Phil DiStefano released the following statement: "Amid the very competitive environment for college coaches right now, it is vital for CU to get the right fit: a coach who can take our program to new levels of success, who embodies and endorses our values, and who is committed to taking us to the highest levels of competition in the Pac-12 Conference. We are not deterred in our process of finding this special coach and our search continues."
Bohn: "We were really in a good postion to get the deal … Then there was a whole new development"
From the Denver Post … Athletic director Mike Bohn told The Denver Post, "We competed as hard as any school could (to get Jones). We made a compelling, competitive offer that was extremely well thought out. He and his people were very receptive to everything we did, and both sides were candid throughout the process.
"It was so extremely close. We thought we were really in a good position to get the deal until early (Wednesday) night. Then there was a whole new development."
That new development was apparently Tennessee moving in to court Jones soon after it was turned down by Louisville coach Charlie Strong.
Bohn wouldn't identify what happened, other than to say, "When it came down to it, he just couldn't do it, couldn't make the final decision to come to Colorado. … There are a lot of things I can't go into now. But, they should be clear in the next day or so."
Jones did not talk to the media Thursday. His withdrawal from pursuing the Colorado job was announced by Cincinnati sports information representative Ryan Koslen on Thursday morning. According to Cincinnati media, Jones has called a team meeting for early Friday morning.
Bohn said he's optimistic about finding a great coach. "We've been working on a Plan B in the past week, and we're sure we will get a coach everybody will be proud of."
Jones turned down a five-year, $13.5 million offer from CU, which would have made him the highest paid coach in school history. CU also pledged to Jones that it would upgrade Folsom Field, the Dal Ward Athletic Center and the team's practice facilities.
A source close to the negotiations told The Denver Post on Wednesday afternoon that Jones was ready to take the Colorado job, with only final details to be worked out before an announcement was made. But, the coach denied that report soon after, saying he was still trying to make up his mind.
Program Note … Friday morning, I will be firing up the rumor grill once again. I will put together a list of the top ten names (with resumes) who are being connected to the Colorado coaching vacancy. If you have a favorite, or a candidate you would like more information on, feel free to post a comment, or send me an email at cuatthegame@gmail.com, and I get you a write-up. At this stage, your guess is as good as mine!
Butch Jones says … "No" … to Colorado
And so it goes …
From Cincinnati.com … University of Cincinnati football coach Butch Jones withdrew his name for consideration for the head coaching job at Colorado, UC sports information contact Ryan Koslen said Thursday. Jones received a counter offer from his current employer and has decided to remain as head coach of the Bearcats for a fourth season in 2013.
… unless, of course, Wisconsin comes calling …
So, who's got next?
Colorado officials are likely to contact San Jose State coach Mike MacIntyre or Fresno State coach Tim DeRuyter. 
MacIntyre went 1-12 in his first season at San Jose State in 2010, improved to 5-7 last year, and had a 10-2 team this season (with one of the losses being a 20-17 loss to Stanford – considerably better than CU's 0-48 effort. San Jose State also beat Colorado State, 40-20).
DeRutyer turned a 4-9 Fresno State team into a 9-3 team this season, but DeRuyter has been a head coach for only one year and might not have the experience CU desires in its next head coach.
It has been reported that BYU head coach Bronco Mendenhall was interviewed on Sunday, but was not considered a candidate worthy of an offer (at least not with Butch Jones in the picture).
Others … Jeff Teford, the former coach at Cal, might return to the picture, though the timing might not be right for either party …  Dan Mullen, head coach at Mississippi State, reportedly was contacted, but did not have any interest in the CU job …
CU athletic director Mike Bohn previously stated that he was targeting an existing head coach for the CU job. With Butch Jones no longer a candidate, are coordinators back in the picture?
Jones: "I'm taking my time and making sure I make the right decision"
From Cincinnati.com … "No decision has been made," Butch Jones said Wednesday night when contacted about the Denver Post report. "That's false and erroneous. I'm just trying to make a decision. I'm taking my time and making sure I make the right decision because there's a lot of families at stake."
Jones spoke by phone from a restaurant in Charlotte, N.C., where he was waiting for his flight home from a Belk Bowl press conference earlier in the day. He was accompanied by Ryan Koslen, UC's sports information contact for football.
"We're in a Cracker Barrel in the middle of waiting for our plane, and my phone blows up that I've accepted the Colorado job," Jones said.
Asked when he would make his decision, Jones said, "I don't know. I've got to get this over with. I'm not doing anything tonight."
Jones said he had not talked to anyone from Colorado on Wednesday. He spent the day, he said, at the press conference and later sat in on some position meetings with the NFL's Carolina Panthers.
Colorado officials also denied the media reports through a press release.
"We are still in the active process of hiring our next head football coach," said David Plati, Colorado's associate athletic director. "We have nothing to confirm at this time, and no deal with anyone has been reached."
Jones confirmed that he met with UC athletic director Whit Babcock before leaving for Charlotte, but said the meeting was not about his discussions with Colorado.
"That was just catching up," Jones said. "He's been out of town in New York City. We always do that. We would have been in there even if there was nothing going on."
Asked if UC had made a counter proposal, Jones said, "They're working on it. They'll do the appropriate thing. I'm not trying to play one side against the other. That has nothing to do with it."
December 5th
Denver Post: Butch Jones accepts position as CU head football coach
UPDATE: (8:30 p.m) – Interesting read from the Cincinnati Rivals website … The Denver Post, a nationally-respected newspaper, reported that Butch Jones had accepted the University of Colorado position as of Wednesday, December 5th, afternoon.
Butch Jones quickly reached out to local and national writers like Pete Thamel (New York Times) with a message to the contrary.
"No decision has been made," Jones told the Cincinnati Enquirer. "That's false and erroneous. I'm just trying to make a decision. I'm taking my time and making sure I make the right decision because there's a lot of families at stake."
Oh, my there are a lot of families. The obvious family of prominence in Coach Butch Jones and his family. And then you have alumni of Colorado and Cincinnati, most of them emotionally and even financially invested in the outcome of this decision.
According to FootballScoop Staff John Elway, John Fox, and Peyton Manning all reached out to Butch Jones to speak positively about the Colorado opening.
As of 5 PM FootballScoop is on record as saying "the agreement is currently being finalized. Not done; but headed that way…"
UC players
Players on the current roster are both worried and relaxed. Without practices to occupy their time some are active with video games. Others are just sitting around and talking with teammates.
"My thing is, if you are going to do it, just do it already," said one current Bearcat.
It is quite possible you could spot a player or two loosely competing in another sport like bowling or basketball in the interim.
Every individual on the football team represents a tribe of supporters, a town of well-wishers.
When Coach Jones refuses to address the media following his exceedingly public visits to Purdue and Colorado his players get saddled with the probing questions.
"He is gone," shouted a UC Bearcat football player.
Young men like Shaq Washington, Austen Bujnoch, or Deven Drane become de facto spokesmen to the school, the city, the region.
UPDATE: (7:00 p.m) – Pete Thamel of Sports Illustrated, who was one of the first reporters to throw a wet towel on the Denver Post story, tweeted the following at 7:00 p.m. MT: "I've been told to expect a decision on Butch Jones and Colorado sometime tomorrow. Could go either way" … It is being reported by a Cincinnati television station that Jones will hold a press conference on Thursday "to explain everything" …
UPDATE (4:00 p.m) – From the Denver Post… "Cincinnati football coach Butch Jones has accepted the coaching job at Colorado, a source close to the negotation said Wednesday afternoon". Two hours later, the story was revised to read: "A source close to the negotiations told The Denver Post earlier Wednesday afternoon that Jones would be the new CU coach, but that final details were being worked out".
Not exactly the same story …
Senior Sports Illustrated writer Pete Thamel tweeted shortly after the Denver Post story came out: "Just reached out to Butch Jones, who said any report of him taking the Colorado job is "absolutely false."
CU spokesman Bronson Hilliard says report that CU has hired Butch Jones are not accurate. "The search is still active."
From the Cincinnati Enquirer … "The University of Cincinnati is in the market for its fourth head football coach since 2004 after Butch Jones decided Wednesday to accept the head coaching job at Colorado, according to multiple sources close to the situation" … but then the paper back-tracked.
The University of Colorado put out this non-denial denial in a statement from CU Sports Information Director David Plati: "We are still in the active process of hiring our next head football coach. We have nothing to confirm at this time, and no deal with anyone has been reached."
Football Scoop … "Sources close to the situation tell us that the agreement is currently being finalized. Not done; but headed that way…".
Adam at BuffStampede.com … "I am told that while Butch Jones will likely be the Buffaloes' next head coach, it is not official yet".
If you ask me … There is a deal, but it hasn't been signed yet. There may be clauses in the contract concerning facilities upgrades (I certainly hope so), and that details on the CU end might have taken more time to finalize than anticipated. Still, it seems that the indicia are all pointing towards a deal. Let me put it this way … if Butch Jones wasn't about to become the next CU head football coach, or didn't want to become the next CU head football coach, it would be a pretty easy statement to release to the media and the public: "I would like to thank the University of Colorado for their time and interest, but I am no longer a candidate to fill their coaching vacancy".
Until that announcement is actually made, the odds are still in CU's favor …


UPDATE: (3:00 p.m.): Decision coming "pretty soon"
At his Belk Bowl press conference in Charlotte, North Carolina, Cincinnati head coach Butch Jones said that there will be a resolution to his job status "pretty soon".
When asked if his job interviews with other schools were a distraction for his existing Bearcats, Jones replied: "We talk to our players all the time about the clutter and handling distractions and from day one, the way our players have managed their business has been exceptional. It has not been a distraction. I've been very up front and honest with them. They understand. All this speculation is really a compliment to them. It has nothing to do with me. It's a compliment to our players and our coaching staff, the way we play the game, the way we execute the plan to win. It has not been one distraction at all."
Earlier today, it had been reported that Jones was to have a team meeting with his players around 1:00 p.m. MT. However, Jones was still in Charlotte at 1:00 p.m. The more recent reports have that meeting at 3:30 – 4:00 p.m. MT … or it may not happen at all.
For the conspiracy theorists … Those tracking comings and goings at JeffCo airport note that there are planes coming in from Lafayette, Louisiana (close to Louisiana Tech, where Sonny Dykes is the head coach) and from Tulsa, Oklahoma (where Bill Blakenship has put together a 17-8 record the past two seasons as the head coach of the Golden Hurricane).
Just sayin' …
UPDATE (2:00 p.m): Jones and Colorado still talking
From the Daily Camera… While Cincinnati football coach Butch Jones continued to do his current job Wednesday by fulfilling a contractual obligation to participate in more press conferences and promotional activities for the Belk Bowl, his representative and University of Colorado officials continued dialogue about possible contract terms if Jones decides to accept the CU job, a source said.
While Jones hasn't informed CU he will accept its job offer, the two sides have been communicating since Jones and his wife left Boulder on Monday evening to fly home to Cincinnati and talk over the opportunity with their children and Jones' assistant coaches.
Jones also has been in regular communication with his bosses at Cincinnati, including a meeting Wednesday morning with Cincinnati athletic director Whit Babcock, according to published reports.
All indications are Jones is still very interested in Colorado and might be thinking through parts of the transition process if he chooses to come to Colorado.
Jones received the offer to become the Buffs' 25th head coach in the middle of the day Monday while visiting Chancellor Phil DiStefano's residence in Boulder. CU offered him a five-year contract with an annual salary of approximately $2.7 million, sources have confirmed.
Butch Jones on a plane … to Charlotte
From Cincinnati.com … Butch Jones, still weighing his options has he tries to decide whether he'll coach at Colorado next year are remain at UC, was on the UC campus this morning meeting with athletic director Whit Babcock.
What that means is anybody's guess. He's expected to fly to Charlotte later this morning for a Belk Bowl press conference and then will return immediately to Cincinnati by late this afternoon.
… Read into that what you want, but if Jones had decided to become the next head coach at Colorado, don't you think he would want to get started on the new job, instead of fulfilling obligations for his old one? …
Butch Jones' options from a Cincinnati perspective
From Cincinnati.com … Because he is Midwestern to the core, with all that implies, it's hard to see Butch Jones leaving the University of Cincinnati for Boulder, Colorado. Beautiful place, Boulder. Also, granola to the max. The only thing Jones and Colorado have in common is they share a planet. And football. For some coaches, that'd be enough.
Not this guy.
He's as earnest today as he was when he arrived in Clifton. The corny sayings – Represent the C! – the quaint notions of football family, the semi-impossible dreams of a sold-out Nippert Stadium: They all emanate from a beautiful Midwestern mind.
Jones could go to Colorado, make more money and awaken to postcard views every day. If history held, he wouldn't win enough. He wouldn't get the running backs Southern Cal gets, he wouldn't get Stanford's QBs. He wouldn't play his home games in the Rose Bowl, a la UCLA.
Coaching Colorado in the Pac-12 is like coaching Purdue in the Big 10. You get fired from Colorado, where do you go next?
It's a tribute to Jones that in the last 12 months he has spurned two Big 10 schools (Illinois and Purdue), two ACC schools (North Carolina and N.C. State) and, now, possibly, two Pac-12 suitors, UCLA last year and Colorado.
(By the way, could you see Butch at UCLA? Could you see Spicoli at Elder?)
As I type, the consensus among Those Who Would Know is that Jones is staying put. He is agonizing as all coaches in his spot agonize. Maybe a little more, because earnest Butch really does concern himself with the well-being of his players and his family. His family likes it here. That matters to him.
Besides, UC supposedly will have a better team next year, and if the Bearcats win 10 more, Jones will welcome yet another pack of suitors lugging suitcases full of money. That's how it works in quasi-amateur football.
Beyond Jones, the university has to decide some things. Namely: Does it want to go MAC, figuratively speaking? Or does it want to go pro? Because while we might think this whole exercise is about keeping a football coach, it's really about determining the future of UC athletics.
If it were just about sports, the answer would be simple: Let Jones walk. Do not even ponder spending an estimated $60 million to renovate a century-old stadium that you can't fill. Understand who you are, and who you aren't.
Just wondering: When you can't sell 35,000 tickets to a game, you know, ever, why would you consider adding 10,000 more? When your tickets are the best sporting deal in town and you still can't move them all, why would you think people would pay obscenely more to lease luxury suites?
It's not just about sports, though, so Jones is being incentivized to stay and drawings of a new Nip have been rendered. It's advertising and marketing and letting the country see you from a blimp's-eye view. Schools sell themselves through sports. Xavier doesn't consider the money it throws at basketball strictly as an investment in basketball.
UC needs to decide what that advertising is worth. Santa Ono and Whit Babcock and the rest need to decide what UC is going to be. Butch Jones is just a chess piece in that big game.
I don't think it's about the money for Jones. He has turned down bigger money. It's about competitive issues: Recruiting budgets, facilities, a relative assurance that the current lousy conference situation will be improved upon, eventually.
To persuade the fat conference (ACC) to let the skinny kid (UC) eat means dressing up the dinner table and offering a quality spread. That's why dolling up Ol' Lady Nippert is so important.
If you think it is.
I'm not so sure.
The arms race in college football is equal parts greed, ego, competitiveness and panic. It's an unseemly way for educational institutions to behave. Coaches have become expert at playing those emotions. But it's your school, not theirs. It's your honor, if that matters anymore. To most coaches, your school is a bus stop. Today's guy gets what he wants, takes the next bus, you hire a new guy and repeat the process.
I don't put Butch Jones in that category. I believe his earnestness. But he's as ambitious as the next coach. He wouldn't win if he weren't. Ultimately, it's not about Jones, because he will leave or get fired. It's about what Ono the president and Babcock the athletic director – and the board of trustees and the big-swinging boosters — want their school to be.
Butch Jones will get his. Somewhere.
December 4th
UPDATE: No news tonight?
A tweet from Santa J. Ono, President of the University of Cincinnati: "BearcatNation. Sorry that I have no news at this time. Have a good night".
UPDATE: Butch Jones sitting down to dinner with family before deciding?
One possibility (okay, it's from Kyle Ringo, but it does make some sense) … Jones and his wife got home late last night … three children were in school today … wanted to wait until tonight to talk with kids and make a final decision …
UPDATE: Will Brett Bielema's move to Arkansas impact Butch Jones?
Enter … Wisconsin?
Arkansas is no longer in the market for a head coach, hiring Wisconsin head coach Brett Bielema. The issue for Buff fans … does this put Wisconsin in the running for the services of one Larry Allen "Butch" Jones, Jr.?
I'm in the "it is what it is" category on this one.
If Jones will put Colorado on hold to talk to Wisconsin, I would say let him go. Not because CU can compete with Wisconsin in terms of dollars, facilities, and, BTW, better personnel, but because if Jones is not sold on CU by now, he's not going to be. If Jones doesn't like what he sees in Boulder, he's always going to be looking for something better, and would treat Boulder as a platform to an even better contract elsewhere.
Colorado has made its pitch. From all reports, Jones and his wife were very impressed with CU and Boulder. The decision now is whether they want to take the leap, and be in charge of  rebuilding a program, or sticking with what they know, and holding out for a better upgrade in a few days, weeks, or years …
UPDATE: Nothing out of press conference … except more questions
Butch Jones opening remarks at Cincinnati press conference today: "I think we are all professionals and I think Ryan Cosslin (UC Associate Sports Communications Director) told everybody that this is about the Belk Bowl and that is why we are here today," Jones said. "We are just excited about our football team. I am still the head football coach here. I think that speaks volumes."
From the Daily Camera .. University of Colorado officials still had not received an answer from Cincinnati coach Butch Jones about their offer to him to become the 25th head coach in CU history when Jones participated in a press conference today at Cincinnati to discuss the Bearcats' bowl game later this month.
Cincinnati officials asked that reporters limit their questions to those about the Belk Bowl on Dec. 27 in Charlotte against Duke and this season's Cincinnati team. Reporters responded by doing their jobs and making the first two questions about Jones' job status.
"I think all you have to do is look at my past and the past years of what's happened and I'm still the head football coach here," Jones said. "I think that speaks volumes."
A follow up question was asked about whether Jones' intention is to coach the Bearcats in the bowl game.
"I'll say it again, I have every intention, but again, that's not why we're here today," Jones said. "If you guys don't, we can end it right now."
Reporters backed off at that point and made the rest of their questions about the bowl game and the Cincinnati program. The press conference lasted about 10 minutes.
Jones visited CU on Monday with his wife, Barb, and agent, Trace Armstrong, and flew home late Monday night with a job offer, including a five-year contract for more than $2.5 million annually.
If Jones accepts the job, he will become the highest paid coach in Colorado history. If not, CU officials will turn to a list of alternative candidates such as Brigham Young coach Bronco Mendenhall, Fresno State coach Tim DeRuyter and San Jose State coach Mike McIntyre.
Cincinnati reportedly has given Jones a counter offer today and he is now considering both options and discussing them with his family and assistant coaches. His agent has said he expects Jones to make a decision at some point today.
Report … Cincinnati press conference about Belk Bowl, not about Jones' status
The wait continues …
The news conference scheduled for 11:00 a.m. (MT) at the University of Cincinnati will be about the upcoming Belk Bowl matchup between the Bearcats and the Duke Blue Devils.
It will not be about head coach Butch Jones and his future.
The previously scheduled news conference will go forward as planned, but it will not be, as had been assumed, the defining moment as to Butch Jones' future at Cincinnati.
UC press release … "The 1 p.m. press conference with Butch Jones  is about the Belk Bowl, not about Jones and another job. Jones, UC President Dr. Santa Ono, Belk Bowl executive director Will Webb and select UC student-athletes will be available to the media".
We'll just have to wait some more …
December 3rd
UPDATE: Jones reportedly "torn" about decision
From Cincinnati.com … University of Cincinnati football coach Butch Jones is expected to decide no later than Tuesday where he will coach in 2013.
Jones and his wife, Barbara, visited the Purdue campus in West Lafayette, Ind., on Sunday to meet with officials about the Boilermakers' head coaching position and were in Boulder, Colo., on Monday to discuss the Colorado job. He is also considering staying at UC, where he has been the head coach for three years and is under contract through 2017.
UC president Santa Ono, contacted late Monday afternoon while Jones was still in Boulder, said he could not get into specifics about what the school is prepared to do to keep Jones.
"I certainly think the world of Butch," Ono said. "I consider him part of the family here, the leadership team that we have here. I'm very pleased with his performance. I think he's a fantastic coach. I think he fits very well at the University of Cincinnati. I think it's the right place for him."
Jones and his wife were scheduled to leave Boulder at 5:30 p.m. Mountain Time on a flight back to Cincinnati, but sources said he agreed to remain an extra hour.
"It's been a productive day," Colorado athletic director Mike Bohn told reporters.
Jones is scheduled to appear at a press conference at 1 p.m. Tuesday in UC's Lindner Center to preview the Bearcats' Dec. 27 game against Duke in the Belk Bowl in Charlotte, N.C. Neither Jones nor UC athletic director Whit Babcock returned calls Monday.
UC has gone 23-14 under Jones, with a win last year over Vanderbilt in the Liberty Bowl. The Bearcats won a three-way share of the Big East championship in 2011 and a four-way share this season. UC was 4-8 in Jones' first season in 2010.
At the end of last season, UC extended Jones' contract through 2017 after he reportedly turned down overtures from Illinois, North Carolina and UCLA. His new contract increased his guaranteed annual compensation from $1.1 million to $1.575 million, with annual increases through 2017 when he would be paid $2.05 million in the final year of his contract. The contract includes a $1.4-million buyout if he leaves UC before Jan. 1, 2013.
Jones reportedly is torn about his decision. Friends say he and his family love Cincinnati and want to remain here, but that he felt compelled to listen to the offers from Purdue and Colorado. If he decides to leave UC, Colorado is believed to the frontrunner for his services.
UC's struggle to find a suitable conference home is considered a major factor in Jones' decision to entertain other offers, along with the school's inability to locate the money to upgrade Nippert Stadium. Colorado, which plays in the Pac-12 Conference, reportedly offered Jones a five-year contract worth $13.5 million, with upgrades to 53,613-seat Folsom Field, the Dal Ward Athletic Center and the team practice facilities.
According to sources close to the situation, Jones has been in discussions with UC to re-do his contract, with the stipulation that Nippert Stadium will be renovated, although it's not known where that money – estimated at $60 million to $70 million by University Architect Beth McGrew – would come from.
If Jones leaves, it will be another major blow to the UC athletic department, which last week learned that its attempts to leave the wobbly Big East Conference for the Atlantic Coast Conference had been rebuffed, with the ACC choosing to invite long-time UC rival Louisville instead. That left the Bearcats to compete in a league that has lost its status as one of the top six football conferences in the country and with no automatic tie-in to a major bowl game when the current BCS contract expires at the end of next season.
UPDATE: Unconfirmed report of Butch Jones being hired by the University of Colorado
Well, it's out there. There is an unconfirmed – and, at this point, that needs to be stressed – unconfirmed report that Cincinnati head coach Butch Jones has been hired as the 25th head football coach at the University of Colorado.
Jones met with CU officials (and players) this afternoon. His flight back to Cincinnati was scheduled to depart at 5:30 p.m. (MT), but was delayed so that Jones could complete a tour of the Dal Ward Center (a good sign).
All Colorado athletic director Mike Bohn had to say to reporters was that "it has been a productive day".
Much more on Jones if and when there is a reliable source confirming the hire …
Note … Even if reliable sources come forward to confirm the story, the hire may not be known, officially, until Jones has a chance to get back to Cincinnati and meet with his players. One possible scenario: Jones is introduced at halftime of the CU/CSU basketball game – that would be a nice touch!
Tweets … Kyle Ringo tweeted that the wives of the athletic director, chancellor and President came to Folsom in the late afternoon (another good sign) … Eric Goodman tweeted that Butch Jones was met with designated player representatives – quarterback Shane Dillon, offensive lineman David Bakhtiari, and wide receiver Paul Richardson – also a good sign
Did you know … That presumptive starter at quarterback next fall, red-shirt freshman Shane Dillon, got his first scholarship offer from … wait for it … Butch Jones?
UPDATE: Purdue's offer better than CU's?
From WLTW.com (a Cincinnati television station) … A battle to lure the University of Cincinnati's football coach away could be leaning Purdue's way.
The Denver Post said Monday that Colorado is expected to offer Butch Jones $13.5 million over five years, plus promise upgrades to athletic facilities. The paper said Jones is in Boulder on Monday.
But News 5's George Vogel said that he has learned from a source that Purdue's offer to Jones, apparently made during a visit Sunday, is considerably better than the reported deal from Colorado.
Vogel said the source was not able or allowed to give him specific details of the offer.
Butch Jones in Boulder for interview with CU officials
Now, the waiting begins …
Cincinnati head coach Butch Jones was late getting to town, with his original arrival time of 9:30 pushed back, with Jones arriving at JeffCo airport around noon.
Jones met with Purdue officials for about four hours on Sunday, but did not leave with a press conference … or a contract.
Cincinnati officials are trying to retain Jones with a bump in salary, but, according to Cincinnati.com, the school may be hard pressed to come up with the extra dollars:
Jones is also known to have been frustrated at UC by the inability of the school to renovate Nippert Stadium. Furthermore, when Jones wanted to build a players' lounge he had to raise the money himself through his 1200 Club for football boosters.
Jones does have great faith in UC athletic director Whit Babcock, who has been on the job for 13 months after replacing Mike Thomas. Whether that faith in Babcock will be enough to get Jones to turn down what Colorado is offering remains to be seen.
According to sources, UC has talked to Jones about re-doing his contract, including a pledge to renovate Nippert Stadium, but UC officials have said they don't have the money to renovate either Nippert Stadium or Fifth Third Arena, so it's unclear where that money would come from.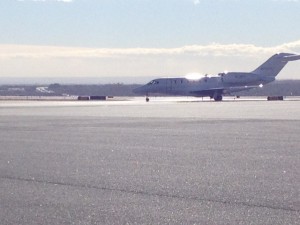 In the just for fun category … Kyle Ringo of the Daily Camera snapped a photo from the awards room at the Dal Ward Center … with the Rashaan Salaam's Heisman trophy missing. Here's guessing the trophy is up in the suites above the stadium, along with Butch Jones, Mike Bohn, Phil DiStephano. Glad it's a nice sunny day in Boulder – a good day to show off the Flatironss!
December 2nd
UPDATE: Buffs interview BYU head coach Bronco Mendenhall
BYU (7-5) completed its regular season on Nov. 24 with a 50-14 victory at New Mexico State as James Lark, in place of injured starter Riley Nelson, threw for 384 yards and six touchdowns passes in his first career start while wide receiver Cody Hoffman hauled in five of those TD passes — a school record.
The Cougars will face Mountain West Conference co-champion San Diego State (9-3) in the Poinsettia Bowl on Dec. 20 at Qualcomm Stadium in San Diego.
Will Bronco Mendenhall be their coach?
Sources have reported that Colorado interviewed Bronco Mendenhall on Sunday night. So far, this is only being reported by sources which may or may not have it right … but there is enough smoke there that the report should be given credence.
The Salt Lake City Tribune is already weighing in on the rumor … There are decent reasons for Mendenhall to take a look at the Buffs, or some other team.
Foremost among them: He doesn't look happy at BYU. He looks … twisted.
That's a subjective observation, but Bronco has been the coach in Provo for eight seasons now and he's had his successes, most of them earlier in his time there. He's always said he wouldn't be a lifer, like LaVell, and he backed that when he turned down a five-year extension before the 2011 season, opting instead for a three-year deal.
Back then, it seemed as though Mendenhall could call the shots at BYU for as long as he wanted. He had turned around the mess Gary Crowton left behind and won a good number of games.
But he rarely seemed — seems — completely at ease in his role as BYU's lead dog. That, too, is subjective. When Mendenhall first arrived, as Crowton's defensive coordinator, he acted more like a football coach. He was animated and wild-eyed, calling for his players to embrace his defensive philosophy of "complete disruption."
He said back then: "I hope the defense is a reflection of my personality. If I'm not passionate or energetic out there, how can I expect the players to be? … How can the coach not be emotional and disruptive? I'm kind of saying to them, 'Follow me.' "
These days, Mendenhall's passion is buried five layers deep. He has the general demeanor of a stake president, not a football coach. He looks conflicted and sometimes comes across as awkward, not just with fans and reporters, but also with his players. One of those players recently described Mendenhall as "an odd duck."
Odd can work. There's no script for how a coach has to be, but he should be real. At BYU, Mendenhall tries to be what he thinks his bosses want him to be, when he should just be himself.
BUTCH JONES UPDATE: Cincinnati head coach Butch Jones met with Purdue officials Sunday. Jones arrived in West Lafayette around 11:45 this morning (ET) to interview for the vacant Purdue football opening. Jones stepped off the Purdue plane, along with athletic director Morgan Burke. Jones' wife, Barbara, also made the trip. Burke's wife, Kate, was on the plane as well.
Jones departed the Purdue airport around 3:30 p.m.
Morgan Burke declined to take questions about Butch Jones: "I've given you all you're going to get today."
A primer on Butch Jones
From GoldandBlack.com, the Purdue Rivals website …
Since Day 1, Cincinnati's Butch Jones has been a primary target for Purdue in its search for a new head coach.
Because of that, it's worth taking an in-depth look at Jones, his background and his résumé.
The following are five things you need to know about the candidate.
1. Jones turns 45 on Jan. 17, which would make him Purdue's youngest head coach since Leon Burtnett, who was 38 when he became the Boilermakers' boss in 1981.
A Saugatuck, Mich., native and '90 graduate of Ferris State, where he played, Jones has a career record of 49-27. He's had only one losing season, when he guided Cincinnati to a 4-8 record in his first season there in 2010. The Bearcats are 8-3 this season, with a Big East regular-season finale Saturday against Connecticut in Hartford. UC can win at least a share of the conference title for the fourth time in five seasons if it beats the 5-6 Huskies. The 'Cats were picked to finish fourth in the preseason Big East media poll.
In three years at Central Michigan, Jones guided the Chippewas to a 27-13 record, was a two-time MAC champion and played in two bowl games, including a loss to Purdue in the 2007 Motor City Bowl. His 11-2 CMU team, guided by All-America QB Dan LeFevour, lost in the MAC championship game, ending its year short of a bowl appearance.
Prior to his head coaching experience, Jones served a season under Brian Kelly as running backs coach at Central Michigan; he then spent two years as the wide receivers coach at West Virginia, coached by Rich Rodriquez, before succeeding Kelly at CMU in 2007.
Jones replaced Kelly as the Bearcat coach in 2010. And after struggling in Year 1, he reloaded and guided UC to a 10-win season and a victory over Vanderbilt in the Liberty Bowl, the program's first bowl win over a BCS opponent.
2. On his web site, Jones describes his offense as "no-huddle, up-tempo … that utilizes multiple personnel groups and formations to attack and wear down the defense. We will make the defense defend the entire width of the field, not only with our formations, but also with our run game, our short- and intermediate pass game and with our screen passes."
It's been a highly effective attack. Since the 2008 season – the latest the NCAA keeps statistics online – Jones' offenses have scored at least 29.5 points per game in all but one year. The one exception was in '10 when the Bearcats were the 57th-best scoring team in the country, averaging just more than 27 points per game.
While LeFevour did a bit of everything at Central, leading the Chippewas in rushing and passing during Jones' three seasons there, it hasn't been a one-man show at Cincy. George Winn leads with 1,134 yards rushing, with 11 TD, while the Bearcats' QBs have combined for about 500 yards rushing and six scores.
UC has had some instability at quarterback this season and has rotated between Munchie Legaux and Brendon Kay; the duo has combined for 2,400 yards, 18 TDs and 11 picks.
In 2011, All-Big East running back Isaiah Pead had 1,259 yards and 12 TDs, while two quarterbacks – Zach Collaros and Legaux – combined for nearly 2,700 yards, 20 TDs and 14 picks. They also had 10 rushing touchdowns.
3. Jones agreed to a three-year contract extension with Cincinnati following the 2011 season.
According to ESPN.com, he was set to earn a base salary of $1.575 million, plus incentives. His base salary is set to gradually increase, with a '17 of $2.05 million.
As part of the deal, the salary pool for Jones' assistant coaches increased from $1.6 million to $1.85 million. Much of Jones' staff, by the way, followed him from CMU to Cincinnati. His offensive coordinator is Mike Bajakian, who has Big Ten experience as a G.A. at Michigan in 2000-01, while the defense is managed by co-coordinators Steve Stripling and John Jancek. Stripling, the assistant head coach, is a veteran of 30 years, with stops at Michigan, Michigan State, Minnesota and Indiana.
Purdue is prepared to pay upward of $4.5 million for a total compensation package.
Jones' buyout, according to ESPN.com, is $1.4 million (up from $1.25 mllion from before the extension) if he leaves prior to Jan. 1.
4. Jones is known for offense, having thrice been a coordinator before a head coach, but his defenses haven't been too shabby either.
The Bearcats' defense is allowing only 17.2 points per game this season, the 13th best in the country. And they give up only 373.8 yards per game, the 41st-best mark.
In the four years previous to this, Jones' defenses have twice ranked in the top 20 in scoring, ranking No. 20 in '11 (20.3 ppg) and 17th in '09 (18.9 ppg).
On his site, Jones says his defense is "an attacking seven- or eight-man front D, our base being a '4-3' alignment. The front seven uses a variety of simple alignment variations to create assignment problems for the offense, limiting their efficiency and overall effectiveness. We are a unit which prides itself in being fundamentally sound in our tackling, leverage and knowledge of the defensive scheme."
5. A few of notes of interest on Jones …
Since taking over for Kelly at UC, he has recruited Indiana hard, particularly the Indianapolis area. In his four Cincinnati recruiting classes, including the one currently being assembled and the one that Kelly started and he held, Jones recruited nine Indiana natives. By comparison, Purdue over the same stretch recruited 10.
Prior to this season, Jones' teams had been 32-1 when leading at halftime or to start the fourth quarter.
Jones' 2011 Bearcats' team, for which he won Big East Coach-of-the-Year, finished No. 1 in the country in tackles for loss. The 10-win team, Jones' finest in his six seasons as a head coach, was salty on defense, allowing only 20.3 points per game and just 357.4 yards. Its rush defense ranked No. 6 nationally, allowing about 96 yards per game.
Jones might want to vacate the floundering Big East Conference soon and is very likely being courted by more than just Purdue, with potentials such as Tennessee and Colorado, as well.
Jones' special teams philosophy: "… has always been take what they give you. We will be a punt block team or a punt return team; it will depend on who we are playing and what we can best do to take advantage of the alignments of our opposition and situation in the game. This is the mind set in all areas of our special teams."
At UC, Jones has a special teams coordinator, Mark Elder, who also coaches the 'Cats' safeties. Previously, he's coached linebackers, tight ends and running backs.
In the three seasons since Jones left CMU, the Chippewas are 12-24.
Butch Jones meeting with Purdue on Sunday
From the Daily Camera .. Colorado's top candidate to replace Jon Embree appears to be Cincinnati coach Butch Jones, but it's unclear exactly what Jones thinks of CU. Jones led the Bearcats to a share of the Big East Conference title by beating Connecticut 34-17 on Saturday.
"I'm not going to talk about my job status," Jones said in his postgame press conference. "Today is about the kids."
Cincinnati improved to 9-3 and will play in a bowl game later this month, possibly the Belk Bowl in Charlotte n Dec. 27, but whether Jones coaches the game remains to be seen. He is reportedly scheduled to visit Purdue on Sunday to talk with officials there about replacing fired coach Danny Hope. He is scheduled to visit Boulder on Monday.
Jones might be eager to leave Cincinnati because it appears to be stuck in the Big East Conference which will be a league lacking clout and an identity in the coming years as it replaces defectors such as Louisville, Rutgers, Pittsburgh and Syracuse with programs such as Boise State, Central Florida, San Diego State and Southern Methodist.
With conference realignment continuing to evolve, there is no predicting what the Big East might look like in two or three years.
Jones flirted with North Carolina, Illinois and UCLA last year but ultimately chose to remain with the Bearcats. He is an offensive coach who runs an up-tempo, no-huddle, pro-style offense. He has previously served as an offensive coordinator and wide receivers coach with experience at a BCS level when he coached two years at West Virginia under Rich Rodriguez, who is now the head coach at Arizona, a fellow member of the Pac-12 south division.
Colorado wants to hire someone with college head coaching experience. It is also believed to be interested in Brigham Young coach Bronco Mendenhall, San Jose State coach Mike McIntyre and Fresno State coach Tim DeRuyter.
… This is the first time I have heard Bronco Mendenhall's name mentioned … CU wasn't able to get LaVell Edwards out of Provo in 1982, settling on Michigan's defensive coordinator for its next head coach. Ironic bit of history if the Buffs take Mendenhall? …