Colorado Daily – February
February 28th
McCartney; Garten look to join College Football Hall of Fame
In 2010, Colorado linebacker Alfred Williams became the fifth Buff to be enshrined in the College Football Hall of Fame in South Bend, Indiana, joining Byron "Whizzer" White (inducted in 1952), Joe Romig (1984), Dick Anderson (1993), and Bobby Anderson (2006).
Former head coach Bill McCartney and former All-American offensive lineman Joe Garten were nominated Tuesday to join that list. A total of 76 players and eight coaches were nominated. The 12,000 members of the National Football Foundation, along with current members of the Hall of Fame, will vote on ballots for the next Class of Inductees. The NFF's Honors Court will then deliberate and select the Class. The Class will be announced on May 15th, with inductions to take place on December 4th.
Bill McCartney, of course, is the winningest coach in Colorado football history. No CU head coach coached more games (153) or won more games (93) than did McCartney. While McCartney's winning percentage is not that impressive (.624, only good enough for 13th out of the 26 all-time head coaches in CU history), it must be remembered that "Coach Mac" started his career at Colorado with a 7-25-1 record in his first three seasons, and did not reach .500 as a head coach until midway through the undefeated regular season of 1989. McCartney was named the Big Eight Coach-of-the-Year three times (1985, 1989, and 1990), and led the Buffs to their first national championship in 1990.
Joe Garten, while not necessarily a household name for some Buff fans, is nonetheless one of the most decorated names in CU history. Garten is one of six players in Colorado history to be named a unanimous All-American. A runner-up for the Outland Trophy in 1990, Garten was also a consensus All-American in 1989 and a two-time first-team All-Big Eight performer. Garten went on to play for the Green Bay Packers in the NFL.
Other Nominees
Of the 76 players, ten are from the Buffs' former brethren in the Big 8/12. Three are from Nebraska, including 2001 Heisman trophy winner Eric Crouch. Two more are from Oklahoma, including CU nemisis Brian Bosworth. Two more are from Texas, with one each from Kansas State, Baylor and Texas Tech.
Out of the Pac-12, there are 14 nominees in addition to Garten. The only schools with multiple nominees are USC, with three, and Cal and Arizona State, with two each. Every other school in the conference, with the exception of Utah, has one nominee.
Some names of note … running back Otis Armstrong (Purdue), quarterback Steve Bartkowski (Cal), tight end Dave Casper (Notre Dame), punter Randall Cunningham (UNLV), quarterback Ty Detmer (BYU), running back Eric Dickerson (SMU), quarterback Tommie Frazier (Nebraska), running back Bobby Humphrey (Alabama), wide receiver Raghib "Rocket" Ismail (Notre Dame), defensive back Greg Myers (Colorado State), quarterback Vinny Testaverde (Miami), safety Scott Thomas (Air Force), quarterback Danny Wuerffel (Florida).
Of the seven other head coaches who have been nominated along with Bill McCartney, three were contemporaries … Phillip Fulmer (Tennessee); Jimmy Johnson (Oklahoma State, Miami), and R.C. Slocum (Texas A&M).
Missouri and Texas A&M to pay double CU's exit fees
The Buffs got off cheap …
As hard as it was for Colorado to eat the $6 million loss of revenue to leave the Big 12 after the 2010 season, Colorado got a bargain.
Missouri's and Texas A&M's price tags for leaving the Big 12 will be $12.41 million each, the conference announced on Tuesday.
In the fall of 2010, both schools announced they would be leaving the Big 12 on July 1, 2012. Big 12 bylaws state that universities that provide less than 12 months' notice are subject to having 90 percent of their conference revenue withheld. That total was estimated at nearly $30 million for each school, but lawyers for both sides settled on $12.41 million.
In 2010, it cost Nebraska and Colorado just over $9 million and $6 million to leave the conference, but they gave the Big 12 more than 12 months' notice before leaving. According to Big 12 bylaws, Nebraska would have owed the Big 12 nearly $20 million, but the Huskers settled on their new number as well.
February 27th
Coaches Week – Day 1 video
Originally from cubuffs.com, a video of the Buffs' February 27th 6:00 a.m. workout has already made it to YouTube.
Several impressions from the video:
1) I don't have what it takes (and never did) to be a college athlete. These young men are working hard at 6:00 a.m. on a Monday in February;
2) Colorado is in dire need of a new and better practice facility. Balch Fieldhouse was old 30 years ago. It's crowded and cramped. Granted, it's not like the Buffs need a spa for off-season workouts, but larger and better facilities couldn't hurt; and
3) After watching the video, it's hard not to get excited about the upcoming spring practices and fall season!
February 25th
Ryan Miller only Buff at NFL Combine
Colorado had 28 seniors on the rosster in 2011, but only one was invited to the NFL Combine this week in Indianapolis, offensive lineman Ryan Miller
Miller, all 6'7″, 321 pounds of him, ran a 5.27 in the 40 on Saturday. Miller also did 32 reps in the bench press, tied for fourth-best amongst offensive linemen.
Here's what the NFL Network had to say about Miller:
There will be discussions whether or not to move Miller outside to tackle or keep him inside at guard, his primary college position. This debate revolves around Miller's size, much like last year's first round pick at OT, Nate Solder. Given Miller's solid athletic ability and size, a move to the outside seems imminent. Miller would need to learn the position after spending the past two years inside, but he could transition well with his talent and versatility. Look for Miller to be selected early on as a result of his size, athletic ability and versatility on the line; he could go as early as the late first round, but most likely will settle in nicely in the second round.
Looking at Miller's positives and negatives:
Strengths: Miller did everything well on the front line for Colorado as he is able to come off the ball quickly and bend well despite his immense height. In the parts of three years he spent at tackle, he sustained on his blocks well and often finishes through the play.
Weaknesses: Some will consider Miller a tweener and wonder if there is a hidden aspect to his ability that made him play inside despite prototypical tackle size. He is a bit of a slow mover and will take some time to develop if moved outside to tackle.
February 24th
Kickoff changes designed to limit injuries
Kickoffs in major college football will move from the 30 to the 35-yard line next season, a change intended to keep players safer. The change was approved this week by the NCAA playing rules oversight panel.
The NFL moved up kickoffs 5 yards this past season and touchbacks increased dramatically. Another new NCAA rule involving free kicks will move touchbacks from the 20 to the 25-yard line, a move intended to encourage more touchbacks.
Few teams will be helped by having fewer kickoff returns per game than Colorado, as the Buffs have been woeful in special teams for the past several years. Last season, Colorado was 115th in the nation (out of 120 teams in 1-A) in kickoff returns, averaging 18.5 yards per return (a full ten yards per return worse than the national leader), and 77th in the nation (22.5 yards) in covering kickoffs.
Other new rules adopted for 2012:
– On kickoffs, the running start by players on the kicking team will be limited to 5 yards;
– A new rule will require a player who loses his helmet during a play to leave the game for one play;
– There are new guidelines regarding blocking below the waist and blocking on punt returns; and
– Players will also be prohibited from leaping over blockers when trying to block punts.
February 23rd
NCAA any closer to a "Plus-One" playoff?
Inconceivable … or inevitable?
The 11 BCS conference commissioners, Notre Dame athletic director Jack Swarbrick, BCS executive director Bill Hancock and Washington, D.C.-based BCS lawyer Tripp Monts met for the second of two half-day meetings on Wednesday, spending nine total hours over the two days searching for "understanding" of a number of playoff possibilities that could include 50 to 60 options.
"What everybody is trying to do is understand all the models as best they can," Big Ten commissioner Jim Delany told ESPN. "Nothing has been ruled out, and nothing has been ruled in."
Pac-12 commissioner Larry Scott described the conversations as "robust" and "open."
Delany described the current level of understanding of the models as "modest," but added that there is, "No one I know who has any interest" in either an eight- or 16-team playoff format. However, he said he was open to discussing the models.
The Plus One concept – four teams, three games to determine a national champion – is more than just finding the teams and playing the games. There are multiple issues being debated, and numerous hurdles to clear.
Among the issues facing the group of conference commissioners and Notre Dame athletic director Jack Swarbrick:
— Where to play the games?
— Are current bowl games involved?
— Will impact will the format have on the academic calendar?
— Are there television conflicts with the NFL?
— Does it make sense to move up the season to allow for greater flexibility in December?
About the only certainty is the BCS points series will likely choose the four teams to play in the Plus One. Other than that, the process likely lasts well into June.
"These are things you simply can't agree upon in a couple of days," said one BCS source. "While we're all working toward the same thing, everyone at the table has their own idea of how it will impact them."
When will a decision be made?
"It's an ongoing process that's going to take some time. We're at the very early stages," Scott said. "I know I'm going back and I've got a lot of discussion with my conference and the various stakeholders we've got."
One clue … a benchmark date could be Oct. 1, when ESPN's exclusive 30-day window opens to negotiate for the price of a BCS that could look much different, or could still look the same.
Hancock, though, said even that Oct. 1 date, however, could be pushed back, according to the BCS' television contract.
So, we're getting closer, but we're not there yet.
February 21st
Colorado opting for another road payday?
Say it isn't so …
In a chat for the Daily Camera, Kyle Ringo was asked about future non-conference scheduling for the Buffs, and he had a disturbing response …
"CU will play at Big Ten school in 2014. You might hear about that deal pretty soon. CU is basically kicking off the series with the Big Ten three years early. Beginning in 2017, every Pac-12 school will play a Big Ten school every year. CU will have one on the schedule in 2014, 2015 and 2016. And, no, none of them are Nebraska. You might have to wait until 2017, 2018 or 2019 for that game … The details haven't been finalized on the three games in 14, 15 and 16. My impression is there is a home-and-home and a one-game deal for CU to go on the road.'
Seriously?
The excuse for Colorado going on the road to get pummeled by Ohio State last season was that CU needed the money. Between the costs of leaving the Big 12 and the costs paying off the Dan Hawkins' regime, the CU athletic department needed to sacrifice the health and psyche of Jon Embree's young team and play a 13th game.
Playing for the $$$ has also been the rationale in the past for scheduling tougher non-conference opponents than did Colorado's conference brethren. Home-and-home games with the likes of Georgia and West Virginia attracted large crowds and national television audiences. You can't fill the coffers, so the argument went, (even though you risk early season losses) by playing teams which the networks – and the finicky Buff Nation – wouldn't pay to watch.
All that was supposed to come to an end with the new Pac-12 money. In 2013, Colorado stands to make close to double what the Buffs were making in television revenue in the Big 12 – and that's the smallest payout CU will receive as part of the 12-year agreement. Once the Pac-12 Network begins to generate revenue, the media revenue could easily be four to five times the $$$ which CU was used to receiving. The ESPN/Fox contracts, combined with the Pac-12 Network money, should, by the end of this decade, be generating about 2/3 of what Colorado was used to seeing in terms of revenue for the entire athletic department.
The apparent end of "play-for-pay" was further evidenced when Colorado scheduled Sacramento State for the 2012 season, and Central Arkansas for 2013. CU had learned the hard way, but it had learned. You need six wins and a bowl appearance to move forward. You don't do that by being mauled in Columbus, even it is means $12 million for one afternoon's embarrassment.
And now?
A home-and-home with a Big Ten team, before the Pac-12/Big Ten marriage officially begins in 2017, is fine. A number of Pac-12 teams are venturing out to play home-and-homes with other BCS conference schools … UCLA just played Texas in back-to-back seasons, and has Virginia and Rutgers coming up over the next few seasons. Arizona is doing the same with Oklahoma State; Arizona State with Illinois and Missouri. And, of course, Stanford and USC have annual grudge matches with Notre Dame.
Home-and-homes are not the issue. Victory-starved Buff fans can point to CU victories over Georgia and West Virginia amongst the few highlights of the past few seasons.
No. The problem is with another pay-for-play game. Yes, it is true that a Michigan or a Penn State, with stadiums which hold over 100,000 fans, can offer a payday which the Buffs can't offer in return. Yes, it is true that Colorado is trying to recruit nationally, and needs national exposure to get out the CU brand.
But it's not worth throwing a team with a school-record streak of six straight losing seasons under the bus just for a paycheck. When did Colorado decide it was okay to become the patsy everyone wants to schedule without a return date?
When the Pac-12/Big Ten contract kicks in, 11 of Colorado's 12 games will be pre-determined each year – nine conference games; CSU; and a Big Ten game. That leaves very little room for creativity come the 2017 season and beyond.
In the meantime, Colorado has to re-establish a winning tradition. You can't do that if you are the team always facing six road games, including a game where Colorado is the sacrificial lamb for an elite program.
Let's hope Ringo's information proves incorrect … and that his article back in January, wherein he speculated about Colorado playing a two-for-one (with CU getting the two home games) with newly minted 1-A UMass, is closer to the truth.
February 18th
Multiyear scholarships coming to CU?
It came out with little fanfare, but it could have long term implications …
According to an NCAA release, multiyear scholarship legislation, one of several measures the Division I Board of Directors adopted in the wake of an August 2011 presidential retreat, was upheld in a membership override vote that concluded Friday.
As such, Division I schools will have the option to offer scholarships guaranteed for more than one year.
Of 330 institutions voting, 62.12% percent voted to override the legislation. A 62.5% majority of those voting was required to override legislation. More than 90% of Division I institutions voted.
"I am pleased that student-athletes will continue to benefit from the ability of institutions to offer athletics aid for more than one year, but it's clear that there are significant portions of the membership with legitimate concerns," NCAA President Mark Emmert said. "As we continue to examine implementation of the rule, we want to work with the membership to address those concerns."
The rule was put in place last October, giving schools the option to offer multiyear scholarships instead of those that need to be renewed annually. It took effect immediately and a number of schools confirmed on the Feb. 1 national signing day they would be giving out scholarships that no longer have to be renewed annually, including Ohio State, Auburn, Michigan, Michigan State, Florida and Nebraska.
Uh-oh …
Before we talk about why this is disconcerting, allow me to digress for a moment.
To me, there are four tiers to Division 1-A football.
First, there are the elite college football programs, schools which are regularly competing for titles, and have budgets and stadia which all other schools envy. Schools like Alabama, Ohio State, USC, Texas, and yes, Nebraska, fit into this category.
The second tier consists of most of the rest of the BCS conference schools, programs which would like to be elite, and can occasionally make a statement on the national stage. Schools like Washington, Georgia, Clemson, West Virginia, and yes, Colorado, fit into this category.
The third tier consists of schools happy (lucky?) to be in a BCS conference, like Vanderbilt, Duke, Washington State and Indiana, and the top tier non-BCS schools (who are now taking the leap to the BCS), such as Boise State and TCU.
The final Division 1-A tier consists of the remaining non-BCS schools, programs which are now scrambling. They see what is happening with the new network contracts ($3 billion over 12 years for the  Pac-12) and other sources of revenue (Pac-12 Network may turn out to be even more lucrative than the ESPN/Fox contracts). Schools like Colorado State can try and put a good face on the Mountain West / Conference USA "Association", but all the spin doctors in the world will not create dollars for these schools to compete financially with the BCS programs.
Which leads us back to the NCAA legislation vote …
While on the face of it, there is little to criticize in the concept of guaranteeing players more than a year-to-year scholarship. It is their hard work – and sacrificed bodies – which allows the top schools to cash checks with a ludicrous number of zeroes behind them (it is being reported that last season, the SEC distributed a record $19.5 million in television revenues to each school, a 50-percent increase from just two seasons before), Why not give some security to the players?
Look at the schools which are already lining up to give out multi-year scholarships … Ohio State, Auburn, Michigan, Michigan State, Florida and Nebraska.
See a pattern?
The above schools are, for the most part, members of the top tier of Division 1-A football.
Which gives me pause.
Colorado fans have been celebrating the move to the Pac-12. The conference is a much better fit for the Buffs, and Larry Scott has been a magician in making the league's members very, very rich. Colorado, while not on equal footing with USC and Oregon, has obtained something closer to parity with the new riches.
Well, just as the Buff Nation enjoys distancing itself from the CSU Rams, USC fans like to have a little bit of room between themselves and the remainder of the other Pac-12 teams.
And multiyear scholarships may be just the means to accomplish that end. Schools with more money than they know what to do with will find a way to make it work to their advantage. After all, Oregon's weight room can only be so large before its overkill, and the players' lounge can only have so many big screen televisions. With all of the new money from television contracts, The Law of Diminishing Returns is now working against the tier one schools.
The multiyear scholarships, though, could help to widen the gap once again. While schools like Colorado will use their new found riches to try and compete in the arms race which has become facility enhancement, the elite schools can use the new rule to offer four year scholarships to five-star recruits. The elite schools will be able to take the risk – both financially and in terms of the depth chart – on offering the very best prospects the very best deals. 
But wait a second … aren't 85 scholarships 85 scholarships? Wouldn't the financial cost be the same, even with a multiyear scholarship guarantee? Let me put it this way … there is a salary cap in major league baseball and basketball. There are roster limits in baseball and basketball. Anyone believe that the Kansas City Royals are on equal footing with the Yankees? That the Minnesota Timberwolves compete on a level playing field with the Los Angeles Lakers? USC, limited to 75 scholarships due to NCAA sanctions, will compete against the rest of the BCS ten shy of the normal limit – and yet the Trojans are ranked in the top three of most 2012 preseason polls. It is not just a matter of dollars put out in a given year for scholarships, it is the risk of having that "elite" player tie up a roster position for four years.
To put it another way – Which Buff prospects over the past several years have topped the Colorado Signing Day list? Going backwards in terms of classes (source: Rivals ratings), the top CU recruits over the past four years have been: Paulay Asiata, Jered Bell, Nick Kasa, and Darrell Scott. Had Colorado tied up four-year scholarships to a significant part of its roster, the coaches today would be hamstrung with limited available scholarships.
USC and other elite schools, meanwhile, can afford a flame out or a bad choice. They will just move onto the next five star recruit on their roster. The playing field, once again, is tipped in favor of the schools with more resources.
So … Will multiyear scholarships be a means by which elite teams find a new way to separate themselves from the second tier of BCS schools?
Or is it just a coincidence that the schools jumping at the chance to utilize the new legislation are all elite schools? 
If you cut your teeth as a Buff fan with the old Big Eight – or, more precisely, the Big Two and the Little Six – you can be forgiven for suspecting that the former answer is the most likely.
Can Colorado goes its own way, and stick to single year scholarships? No. If the elite schools offer multiyear scholarships, Colorado will offer multiyear scholarships. The Buffs have to try and keep up with the Joneses – or, in this case, the Ducks and the Trojans. CU's new $7 million video boards? They are as much for recruits as they are for the fans in the stands. Trying to keep up with the top tier schools is a way of life at the University of Colorado. Multiyear scholarships is just the latest obstacle to parity.
Multiyear scholarships may welll become commonplace over the next few years.
Whether multiyear scholarships are in the best interests of competitive balance, however, remains an open question
If you cut your teeth as a Buff fan, as I did, with the old Big Eight – or, more precisely, the Big Two and the Little Six – you can be forgiven for suspecting that the former answer is the most likely.
(Note: According to the Daily Camera, Colorado was one of the schools which voted against the multiyear scholarship allowance. Most of the other schools in the Pac-12, and almost all of the schools in the Big Ten, voted in favor of the move. According to the story, David Clough, CU's faculty athletics representative said he met with 25 members of the Student-Athlete Advisory Committee and 24 of the 25 were opposed to multi-year scholarships. He said SAAC groups at the campus, Pac-12 and national level all voted against the measure that NCAA president Mark Emmert fought hard to get passed because he believes it provides student-athletes more security in the long run. "The number one reason they were against it is they want to have their feet to the fire," Clough said of the student-athletes).
February 16th
CU running backs tops in the Pac-12
It's good to  be first in something … and Rivals has rated the CU running backs the best of the Pac-12 for this year's recruiting Class.
According to Adam Gorney, from Rivals.com recruiting: "After a 3-10 season in 2011, Colorado needs players that can make things happen all over the field and the Buffaloes did a quality job loading up at running back by signing four players. Three-star Davien Payne and Terrence Crowder are big, punishing backs and Donta Abron could be the sleeper in this class. Clay Norgard is expected to play fullback and he's a tough, hard-nosed player."
As for other unit rankings from the Class of 2012:
Quarterbacks – CU's Shane Dillon is rated 4th, with Washington (and Mullen's Cyler Miles) rated the best (Washington actually had two quarterback recruits this year, with the other being in-state star Jeff Lindqist);
Wide Receivers – Colorado in at No. 8; Cal at No. 1, with CU offeree Bryce Treggs at the top of the Bear class;
Tight Ends: CU's signees were rated 4th, with Oregon considered to have the best tight end signees (including another Coloradoan, Evan Bayliss);
Offensive Line: Colorado dead last, in at No. 12 (which, with all of the in-state talent at offensive line in 2012, has to be considered a disappointment). Stanford is considered to not only have the best offensive line recruits in the Pac-12, but the best in the nation;
Defensive Tackle: CU is rated 4th, which is somewhat of a surprise, if only due to the number of linemen the Buffs signed. UCLA was given the nod as having the best Class.
Defensive Ends: Colorado down at No. 7, with the low ranking a fair indication of how coveted quality defensive ends are in the Pac-12. Oregon beat out Stanford for the best defensive end Class, but not by much;
Linebacker: A N/A for the Buffs, with CU not signing any linebackers in 2012. USC was considered to have the best Class of linebackers this year;
Defensive Backs: CU signee's were rated no better than 6th, which again is surprisingly low. The Buffs' best two new players – at least in terms of national ranking – were both defensive backs, so if credit was to be given the Colorado recruiting Class, you would have thought the high ranking would have come here. UCLA, meanwhile, was considered to have the best defensive back recruits.
Some notes … Oregon and Washington were each tabbed as having two of the best units, with one each for Colorado, Cal, Oregon, Stanford, UCLA and USC … Shut out were Arizona, Utah, Arizona State and Oregon State … Of the above nine rated units, only three belonged to Pac-12 South teams. 
February 15th
Ralphie restricted to athletic department
Raphie has left the building …
at least the UMC.
According the Daily Camera article, the University of Colorado is restricting the use of Ralphie logo outside of the athletic department.
Academic departments can no longer use the buffalo image on their letterhead, and the University Memorial Center can no longer purchase new uniforms with Ralphie's logo for its food service workers.
"We're trying to keep Ralphie in the realm of sports and competition," said Frances Draper, vice chancellor for strategic relations on the Boulder campus.
Instead, CU system spokesman Ken McConnellogue said, departments should be using the interlocking CU logo. He said consistency is necessary for the school's branding efforts.
He joked that he doesn't like playing "logo cop … But, if we don't have standards and guidelines, you get the slide where there are hundreds of different logos," McConnellogue said.
"The enforcement may seem Draconian, but we are a $2.8 billion enterprise that has invested a lot of time and money in getting our branding straight so that we can communicate with one voice," said Regent Stephen Ludwig, D-Lone Tree. "Our staff needs to represent who we are — and that includes our vendors."
Michael Carrigan, D-Denver, said he used Ralphie in his regent campaign because it's a great logo. "When I ran, I used Ralphie because that's what people recognized," he said. "I'm not an expert, but I feel like we're not taking full advantage of that."
CU rolled out its new image a year ago and began phasing out a hodgepodge of inconsistent logos — which have widely varied across departments and campuses, being used on websites, business cards and letterheads.
The $780,000 branding project was paid from the president's initiative funds, which are interest earnings on CU's investments.
So when you look at the Buffalo at the top of the page, please ignore any potential symbolic reference to the University of Colorado …
… I just happen to like bison.
February 13th
Pac-12 Network update
As the Pac-12 Network broke ground on its new facilities in San Francisco, Jon Wilner of the San Jose Mercury News posted updates on progress of the Network itself.
Highlights:
– The Pac-12 Network(s) is scheduled to launch August 15, a little over two weeks before the start of the football season, thus giving the conference a cushion in case of glitches.
– Will the national and regional networks both be available within the league's footprint, or in a specific metro area? For example: Would a fan in Seattle who subscribes to Comcast have access to both the Pac-12/Northwest and Pac-12 National feeds? "It's unclear," Scott said. "Each distributor will have to make its own decision." Comcast has committed to one feed in Seattle but would have the option to provide both Pac-12 NW on basic cable and Pac-12 National on a sports tier. "At a minimum, (Pac-12 National) will be offered online," Scott said.
– All football and men's basketball games not shown on ESPN/Fox will be broadcast on the national and all the regional networks. In other words, an Arizona basketball fan living in Seattle will be able to watch to all Wildcat games on Pac-12/NW … an Oregon football fan living in San Francisco will be able to watch to all Duck games on Pac-12/Bay Area, etc.
– The conference has held discussions with Direct and Dish, but I don't expect any deals for months. Such agreement typically aren't reached until weeks/days before a network launches. The Pac-12′s deal with its four cable partners is unusual. (This is bad news for those of us living outside of a Pac-12 media market, and out in the boonies where you have to have a dish … ).
– The conference received what Scott called "certain pre-payments" from its deals with ESPN and Fox — money that will be used to offset the massive startup costs associated with the seven TV networks. Scott reiterated that, from an operations standpoint, the Pac-12 Network(s) will be revenue-positive in Year One, although he doesn't expect the league to distribute any network-related income to the schools in 2012-13.
February 10th
Colorado in at No. 48 in recruiting budgets
Ya gotta spend money to make money … or in this case, gather up five-star recruits.
The Business of College Sports has put out a list of recruiting budgets for college programs. Colorado comes in at No. 48 on the list, with total recruiting expenses of $885,421, with $633,190 allocated to men's sports; $252,231 to women's sports.
At the top of the list is Tennessee, with a recruiting budget of just shy of $2.3 million. Auburn and Notre Dame are Nos. 2 and 3, with the Tigers and Fighting Irish joining the Volunteers as the only teams with recruiting budgets in excess of $2 million.
Overall, six of the top eight spots are taken up by teams from the SEC … no real surprise there. The top Pac-12 team should also not be a surprise … with Oregon checking in at No. 18 with a recruiting budget roughly 50% higher than that of Colorado, at $1.2 million.
Also ahead of Colorado on the list from the Pac-12 are teams ranked 27th-29th, with Washington, Arizona and Stanford all at around $1 million per year. UCLA and USC are ranked No. 36 and No. 37, with Cal, at No. 45, the only other team from the Pac-12 spending more than the Buffs on recruiting.
Coming in behind Colorado are the four remaining schools in the Pac-12: Arizona State; Utah; Oregon State and Washington State.
The only ranking which does seem out of sorts with the results on the field is USC, with the Trojans no better than 6th in the conference, and 37th overall. Perhaps it has to do with the recruiting penalties imposed upon USC by the NCAA, or perhaps the Trojans have cleaned up their act on the recruiting trail, and are doing more with less.
Let's go with the former explanation …
February 9th
Two eight team conferences to merge for 2013-14?
According to ESPN, Conference USA's board of directors will meet later this week to discuss the possibility of a full-scale merger with the Mountain West Conference, according to a source with knowledge of the situation.
The prospect of a merger was already on the meeting agenda, even before C-USA member Memphis was on the verge of joining the Big East, the source said.
Memphis was officially invited into the Big East on Wednesday and has accepted the invitation. The school will join in 2013.
In the past year, C-USA members Houston, SMU and Central Florida accepted invitations to join the Big East in 2013-14.
That, along with Memphis' pending departure, would leave C-USA with eight members: Southern Miss, Tulsa, Marshall, Rice, UAB, Tulane, East Carolina and UTEP.
The Mountain West is adding Nevada and Fresno State from the Western Athletic Conference for all sports and Hawaii in football. But the MWC is losing San Diego State to the Big East in football and the Big West for all other sports; Boise State to the Big East in football and the WAC in other sports; and TCU to the Big 12.
That means in 2013-14, the MWC would have eight football members, including Hawaii, and seven in all sports: UNLV, New Mexico, Wyoming, Colorado State, Air Force, Fresno State and Nevada.
A merger between C-USA and the MWC could consist of a conference with its current 2013-14 membership of 15 in all sports and 16 in football.
February 8th
Recruiting pipelines?
This past recruiting cycle, Colorado signed players from all over the nation, in several cases with players joining former teammates who were already on the CU roster.
As for the Class of 2013, Colorado coaches are already at work at those same schools.
The Buffs signed highly regarded cornerback Yuri Wright this February, with Wright joining Don Bosco prep (N.J.) teammate Tony Jones.
For next season, Colorado would like to sign four-star defensive end Alquadin Mohammad (Rivals bio) (Scout bio).
On Signing Day, 2012, Colorado signed three players from Upland, California – defensive back Marques Mosley, running back Donta Abron, and fullback Christian Powell. Now Colorado is recruiting four-star defensive end, and Upland teammate, Joe Mathis (Rivals bio) (Scout bio).
From Edna Carter Magnet school in New Orleans, Colorado signed wide receiver Keenan Canty. Next spring, CU hopes to land Canty's former teammate, cornerback Lowell Ellis. (Rivals bio)  (Scout bio).
The Buffs are hoping that the dismissal of wide receiver Austin Vincent from the roster will not hurt their chances with fellow DeSoto, Texas, star, four-star running back Dontre Wilson.(Rivals bio)  (Scout bio).
Of course, there are other schools which have sent multiple players to Boulder which the Buffs are currently recruiting (including many Colorado high schools) …
We know that recruiters often work hard to convince the mothers of players about the benefits of having their son play for the Buffs.
Also important, though, is the relationship college coaches develop with high school coaches, who are often looked to for advice from prospective recruits.
If the offer sheet for 2013 is any example, than it can be said that the CU coaches have some pretty fair relationships with high school coaches across the nation.
February 5th
Buffs and the Super Bowl
Colorado has had 31 different alumni win Super Bowl rings.
Nate Solder would have liked to have become No. 32.
A year ago, Solder was a consensus All-American for the Buffs.  Solder was then selected in the first round of the NFL draft (No. 17 overall) by the New England Patriots.
This season, Solder played in all 19 of the Patriots' games, starting 16. Solder was the starting right tackle, and was named to the Pro Football Weekly's All-Rookie Team.
If New England had won, Solder would have become the seventh Buff to earn a Super Bowl ring in his rookie season, and the first since Tom Ashworth, also a Patriots' offensive lineman, did so in 2001.
The 31 former Buffs who have earned Super Bowl rings have amassed a total of 47 rings total. There was a Buff – Boyd Dowler – who won Super Bowl rings in Super Bowls I and II, up to last season, when kicker Mason Crosby and linebacker Brad Jones won rings with the Green Bay Packers.
Buffs with multiple Super Bowl rings:
WR – Bowd Dowler – Green Bay (1966; 1967)
DB – Dick Anderson – Miami (1972; 1973)
WR – Cliff Branch – Oakland (1976; 1980; 1983)
DB – Mike L. Davis – Oakland (1980; 1983)
DB – Odis McKinney – Oakland (1980; 1983)
P – Barry Helton – San Francisco (1988; 1989)
OT – Matt Lepsis – Denver (1997; 1998)
P – Tom Rouen – Denver (1997; 1998)
DE – Alfred Williams – Denver (1997; 1998)
OT – Tom Ashworth – New England (2001; 2003; 2004)
LB – Ted Johsnon – New England (2001; 2003; 2004)
TE – Daniel Graham – New England (2003; 2004)
TE – Christian Fauria – New England (2003; 2004)
February 2nd
Recruiting Luncheon notes
For those of us looking for a major announcement concerning facilities (see story, below) at the recruiting luncheon, Thursday was a disappointment.
While Colorado athletic director Mike Bohn did announce that the $7 million video boards had been approved by the Board of Regents, and did officially announce that Colorado would be adding women's lacrosse for the 2014 season, here's what Bohn had to say about additional facilities …
"Stay tuned".
That's it. Bohn did take the time to sell helmets worn for the USC game – at $5,000 apiece – to raise money to replace the turf inside the practice bubble, but there were no announcements concerning other facility improvements.
Jeremy Bloom
After CU head basketball coach Tad Boyle thanked Jon Embree for helping to restore "Buff Pride", the featured speaker, Jeremy Bloom was introduced.
Bloom spoke about being a Buff, as well as being an Olympic skier. Highlights of Bloom's last run in the Winter Olympics in Torino were shown, with Bloom, a pre-race favorite, finishing out of the medals.
Bloom talked about how he dealt with disappointments – that he would give himself 48 hours to dwell on the defeat; 48 hours to mull, replay, and cry over what might have been. Then, Bloom said, that after the 48 hours, he was done with what had taken place, and was ready to move on.
Bloom related his experience to what the Colorado football program has been going through the past six years. "Our 48 hours are over," Bloom declared. "Time for excuses is over … The right people are in place to bring the swagger back to Boulder."
Bill McCartney
Coach Mac was his usual self. He told the story about how, many years ago, a man set out to find the perfect horse. He learned about horses. He learned to train horses. He learned what to look for in a good horse.
The man then sent his soldiers out across the lands, looking for horses which met his new criteria. His men brought back 100 horses. The man then trained the horses, including how to come to him whenever he called.
The man then left the horses out in the desert heat, keeping them stalled 100 yards from water. The horses were all dying to get to the water, but the man would not release them. Then, finally, he had the stall opened, calling out to the horses. 99 of the horses went to the water … one came to the man.
It was that horse, the "one in a hundred", which the man used to start the Arabian breed of horse, recognized around the world as the best horses.
"Jon Embree is one in a hundred", McCartney declared. Embree is the sort of man, the sort of coach, which can lead the Colorado program back to greatness.
Still, McCartney cautioned, it will take time. Even the Arabian breed, he noted, took several generations to take hold …
—
Coach McCartney was also there to rally the troops. Coach Mac announced a fund-raiser – a pre-Spring game rally in the indoor practice bubble before the Spring Game (April 14th). McCartney also announced that every Thursday night during the season, there would be a pep rally at the First Bank Center in Broomfield, with 5,000 fans expected for each event.
Mark your calendar!
February 1st
Facilities upgrade unveiled
Sorry about the picture quality – it's from a twitter feed, but it does give you an idea of what is being proposed for an upgrade to Folsom Field.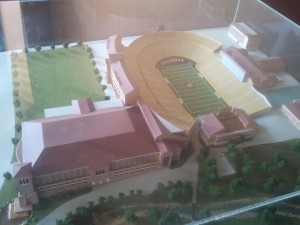 Which you can compare to the present Folsom Field: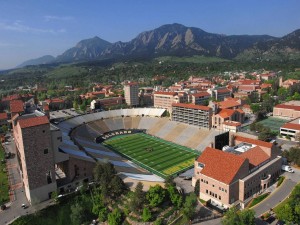 The new building, which will be to the northeast of the stadium, will also come with some additional seating in the northeast corner. When this expansion will take place, how much it will cost, and how it will be paid for, will hopefully be explained at the recruiting luncheon on Thursday.
Rocky Mountain Showdown moved to Sunday
Not a real surprise, when you've got 3-9 v. 3-10 …
While the television coverage, and the time for kickoff, have yet to be announced, the Rocky Mountain Showdown between Colorado and Colorado State in Denver has been moved from Saturday, September 1st, to Sunday, September 2nd.
Colorado to add women's lacrosse team
The University of Colorado has worked with the NCAA minimum of 16 sports for a number of years.
With the new Pac-12 television contract money now in sight, the Buffs are looking to expand their athletic footprint.
Earlier this month Colorado athletic director Mike Bohn said that girls lacrosse is the fastest growing sport at the high school level in Colorado and much of the rest of the nation and that it would make sense for many reasons for CU to add women's lacrosse. Bohn said at that time the department is targeting the 2013-14 school year for the new women's program to begin competing. He said it could compete as a club sport prior to that.
Startup costs for the program will be relatively minimal with no new facilities required.Women's lacrosse is played in the spring and the CU team would play in Folsom Field and likely use the practice bubble and the same outdoor practice fields utilized by the football team.
The program will compete in the Mountain Pacific Sports Federation in the sport because the Pac-12 Conference does not sponsor women's lacrosse. That could change in the future because CU will be the fifth Pac-12 school to field a women's lacrosse program along with Stanford, Cal, Oregon and USC.
Bohn said earlier this month that CU needed to add a women's sport to help correct the imbalance in the department between the total number of opportunities offered to men and women and the money spent on men's and women's programs as required by Title IX laws.
Women's lacrosse will be the 10th women's sport at CU joining women's basketball, cross country, golf, skiing, soccer, tennis, indoor track, outdoor track and field and volleyball.