February 1st
Facilities upgrade unveiled
Sorry about the picture quality – it's from a twitter feed, but it does give you an idea of what is being proposed for an upgrade to Folsom Field.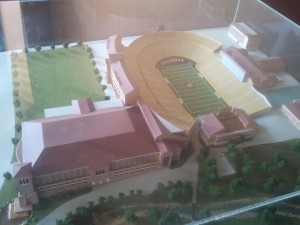 Which you can compare to the present Folsom Field: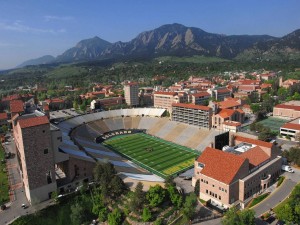 The new building, which will be to the northeast of the stadium, will also come with some additional seating in the northeast corner. When this expansion will take place, how much it will cost, and how it will be paid for, will hopefully be explained at the recruiting luncheon on Thursday.
 Rocky Mountain Showdown moved to Sunday
Not a real surprise, when you've got 3-9 v. 3-10 …
While the television coverage, and the time for kickoff, have yet to be announced, the Rocky Mountain Showdown between Colorado and Colorado State in Denver has been moved from Saturday, September 1st, to Sunday, September 2nd.
Colorado to add women's lacrosse team
The University of Colorado has worked with the NCAA minimum of 16 sports for a number of years.
With the new Pac-12 television contract money now in sight, the Buffs are looking to expand their athletic footprint.
Earlier this month Colorado athletic director Mike Bohn said that girls lacrosse is the fastest growing sport at the high school level in Colorado and much of the rest of the nation and that it would make sense for many reasons for CU to add women's lacrosse. Bohn said at that time the department is targeting the 2013-14 school year for the new women's program to begin competing. He said it could compete as a club sport prior to that.
Startup costs for the program will be relatively minimal with no new facilities required.Women's lacrosse is played in the spring and the CU team would play in Folsom Field and likely use the practice bubble and the same outdoor practice fields utilized by the football team.
The program will compete in the Mountain Pacific Sports Federation in the sport because the Pac-12 Conference does not sponsor women's lacrosse. That could change in the future because CU will be the fifth Pac-12 school to field a women's lacrosse program along with Stanford, Cal, Oregon and USC.
Bohn said earlier this month that CU needed to add a women's sport to help correct the imbalance in the department between the total number of opportunities offered to men and women and the money spent on men's and women's programs as required by Title IX laws.
Women's lacrosse will be the 10th women's sport at CU joining women's basketball, cross country, golf, skiing, soccer, tennis, indoor track, outdoor track and field and volleyball.
January 31st
Colorado defensive lineman Will Pericak arrested
Not the news the Buff Nation was looking for – especiall when the defensive line is already paper thin (so thin that the Spring Game might once again be a Spring Scrimmage) …
According to the Daily Camera … Boulder police arrested senior-to-be Will Pericak after they say he lit the contents of a metal bucket on fire at a Pearl Street bar and then refused to leave early Sunday morning. Pericak, 21, a starting defensive lineman for CU, was arrested on suspicion of physical harassment and trespassing, according to a police report.
According to the report, at around 1 a.m. Sunday, a bartender at the Pearl Street Pub and Cellar at 1108 Pearl St. said Pericak lit the contents of a metal bucket on fire. Bartenders said the bucket contained trash and miscellaneous papers and were able to put it out with no damage to the bar.
When the bartender asked Pericak to leave, he refused and then started swearing and walked aggressively towards the bartender, police said. The bartender told police Pericak then gave the bartender what he described as a "chest-bump."
Pericak, who graduated from Boulder High, played in 13 games for the Buffs and was fourth on the team in tackles with 64 in 2011, his junior season.
Dave Plati, a spokesman for CU athletics, said head coach Jon Embree is aware of the arrest but is waiting for the case to be resolved before making a decision on any disciplinary action.
Pericak is free on bond. He did not return calls for comment Tuesday afternoon.
In January of 2011, Pericak and two other CU football players were investigated for vandalism after security tapes in a Denver parking garage caught one of the players kicking a car. The players paid for damages and no charges were filed.
The incident might not cost Pericak a great deal of playing time this fall (unless stupidity is made a felony), but there will almost certainly be some form of punishment, which could include a suspension.
January 30th
Identifying the mystery recruit
There has been a great deal of hinting/guessing/speculating about a "mystery" recruit signing with the Buffs on Wednesday. The reason for the "mystery", as the story goes, is that the player has already committed to another team, but does not want to disclose his change of heart before Signing Day, so as to avoid having to discuss his change of heart.
If a player is going to "flip" to Colorado at this late date, chances are pretty good that they have taken an official visit to Boulder (best guess: A recruit just isn't going to change a commitment on spec). That being said, for it to be such a mystery, it is likely going to be a player of fairly high ranking – otherwise why the fuss?
Taking those factors into consideration, here are the candidates who meet all three criteria: 1) a commit to another school; 2) who has taken an official visit to CU; and 3) has a high-profile ranking:
(1/31 UPDATE: Hints are that it will be fullback Christian Powell, below, who will become the "mystery" signee on Wednesday) …
Kyle Kelley – Arizona Commit – DE – Just the facts … Kelley is a defensive end prospect from Irvine, California. Kelley is 6'3, 205-pounds, and runs a 4.82 in the 40. Kelley is considered by Rivals to be a four-star prospect, the No. 13 defensive end in the nation, and the No. 205 player on the Rivals 250. Scout lists Kelley as a three-star prospect, the 41st-best defensive end nationally. Kelley has other offers from … a number of other schools, most significantly Arizona.   Kelley committed to the Wildcats in July, but has been looking around since Mike Stoops was fired in October. Kelley remains on the Arizona board, but he has interest from schools other than Colorado, including both Washington schools, Utah, UCLA, Arizona State, and Florida. Rivals bio  Scout bio
Jalen Cope-Fitzpatrick – USC Commit – TE – Just the facts … Cope-Fitzpatrick is a tight end prospect from Rocklin, California. Cope-Fitzpatrick is considered to be a four-star prospect by both Rivals and Scout. Cope-Fitzpatrick is 6'5″, 250-pounds, but can still run a 4.9 in the 40. Rivals has Cope-Fitzpatrick as the No. 7 tight end in the nation, while Scout lists him as the No. 4 tight end nationally.He caught 29 passes for 433 yards and five touchdowns while helping Whitney to 10 wins and a Capital League title this fall. Cope-Fitzpatrick has other offers from … just about everywhere, even though he has been a USC commit since June. Almost every Pac-12 school has offered Cope-Fitzpatrick, as well as schools like Nebraska and Miami. Cope-Fitzpatrick has taken official visits to Oregon and UCLA, but his decision will come down to one of three schools – Oregon, Colorado and USC. When asked at the Under Armour camp about his commitment, Cope-Fitzpatrick indicated that he remained "solid" with USC, and will take his official visit to USC the weekend after visiting Boulder. To be honest, it sounds as if Cope-Fitzpatrick is just enjoying the recruiting process, and that CU has little or no chance of flipping this prospect. He has been to Boulder already (this past summer), and when asked about visiting Colorado, he was most interested in … "seeing the snow".
Steven Moore – Cal Commit  – OL –  Just the facts … Moore is an offensive line prospect from Elk Grove, California. Moore is 6'6″, 265-pounds, and is considered to be a three-star player by both Rivals and Scout. According to Scout, Moore is the No. 54 offensive tackle in the country. Moore has other offers from … at least four Pac-12 schools, including Utah and UCLA. Moore has been an Arizona commit since June, but de-committed after Mike Stoops was fired. Moore only took official visits to UCLA, Cal, and Colorado. Rivals bio  Scout bio
Christian Powell – UCLA Commit – FB – Just the facts … Powell is a fullback prospect from Upland, California. Powell is 6'2″, 250-pounds, and also plays defensive tackle. Powell is considered to be a three-star prospect by both Rivals and Scout. Rivals has Powell rated as its No. 57 "athlete", while Scout ranks Powell as the No. 9 fullback prospect in the nation. Powell has other offers from… Nebraska, Texas A&M, and Washington, and has attended camps at both UCLA and USC. Colorado was Powell's fourth official visit, having already taken in the sites in Lincoln, Seattle, and College Station. While the Buffs' pro-style offense, which is in desperate need of a fullback, would seemingly be a draw for a player like Powell, it sounds as if the Buffs have their work cut out for them. "I would say Washington and Texas A&M are my top two," Powell said – before he committed to UCLA. "I told the Washington coaches I was really interested in them and that I that their program would be a good fit for me, but that I wanted to take all my trips before making a final decision."  Rivals bio  Scout bio
Reshawn Hooker – Utah Commit – LB – Just the facts … Hooker is a linebacker prospect from Fontana, California. Hooker is 6'2″, 200-pounds, and runs a 4.57 in the 40. Hooker is considered to be a three-star prospect by both Rivals and Scout. Rivals has Hooker rated as its No. 43 outside linebacker nationally, while Scout ranks him No. 55. Hooker has other offers from … at least a dozen other schools, including most of the Pac-12. Both Arizona schools offered, as did UCLA and Washington State. Hooker only took two official visits – to Colorado (for the Washington State game), and Utah in January. Said one scout on Hooker: He is somewhat slight, but has great agility and speed and can hit. He moves extremely well laterally and has good change of direction. Needs to add some weight.
Other possibles (though less likely as CU has just added three defensive backs in the past week) … Defensive back Leo Thomas (three-star Arizona commit, only took official visits to CU and Arizona) … Defensive back Ryan Lewis (three-star Pitt commit, only took official visits to CU, Pitt and Utah).
First of Facility upgrades?
According to the Boulder Daily Camera, The University of Colorado will add two new digital video boards to the north and south ends of Folsom Field in time for the 2012 season if the Board of Regents approves the $7 million project at its Wednesday meeting.
The stadium currently uses boards that are 13 years old and feature outdated technology. The boards have malfunctioned numerous times on game days and during other events in recent years.
The new boards will fill the existing framework of the old boards 100 percent with video. The current boards only use about 40 percent of the available space for video. They were installed in 1999 at a cost of $3.6 million and had a 10-year life expectancy. The new boards are expected to last 12 years.
"The new boards will be a dramatic improvement in quality, quantity of video and the presentation will significantly enhance the fan experience exponentially," athletic director Mike Bohn said.
Bohn said the new boards will be paid for through a variety of auxiliary revenue sources, including advertising money from ads that appear on the boards during games, private donations, ticket revenue and conference distributions.
This is the first facilities upgrade at Folsom Field since 2003 when the east side expansion was completed, adding 1,903 club seats and 41 suites to the stadium at a cost of $42 million.
January 27th
Austin Vincent still wants to be a Buff
This week it was announced that freshmen offensive lineman Paulay Asiata and wide receiver Austin Vincent were no longer with the team.
At the time, the loss of Asiata, who played as a true freshman at guard, and was being looked upon as a potential starter in 2012, was seen as the greater loss. There was hope for his return, but then Asiata posted on Facebook, "Farewell Colorado, it's been a fun ride. Sorry to disappoint everyone. One day, I'll be back on top."
The loss of Vincent, on the other hand, was largely met with indifference. Vincent appeared in only one game last fall, and was suspended from the team after he was arrested on misdemeanor charges stemming from an incident in a dorm shower. Vincent returned for spring classes only to be informed that he had been suspended for the spring semester by the CU Office of Judicial Affairs.
Done and done, right?
Not so much in Vincent's case, as it turns out.
Vincent, while remaining quiet about the incident which led to his suspension (the matter is under appeal), is planning on working his way back onto the team. Vincent is from DeSoto, Texas, and has gone home to enroll at Cisco College in central Texas. His intent is to take classes and stay on his eligibility track. If all goes well, Vincent will complete spring courses at Cisco and return to Boulder this summer to work with his CU teammates and re-enroll at CU in the fall.
Vincent asked BuffStampede.com to pass along this message to the Buff Nation: "Hopefully I can return really soon. I just want the Buff fans to know that I am moving forward through this rough time in my life."
As we don't know all that happened in the dorms last November, all we can do is take at face value what Vincent is saying. While Paulay Asiata couldn't be bothered to go to classes or meetings, Vincent has recognized his mistake, and is actively attempting to find his way back onto the team.
Here's hoping it works out for him …
January 26th
Not too early to look at 2013 … and 2014
While the Colorado recruiting Class of 2012 continues to take shape, there are two 2012 prospects who will not become Buffs on February 1st …
… but they still may end up wearing the black-and-gold.
Ed Caldwell
BuffStampede.com is reporting that offensive tackle Ed Caldwell, from Highlands Ranch, Colorado, has agreed to join the Buffs as a preferred walk-on.
Caldwell is 6'6″, 278-pounds. He was second-team All-Continental league last fall, and was a participant in CU's Big Man Camp last year. Caldwell was only being recruited by FCS schools, and chose to come to Boulder as a preferred walk-on instead.
(A preferred walk-on is still a walk-on – they are not on scholarship. They are, however, as invited players to the team, given a closer look and are allowed to participate more actively with the team. The promise to a preferred walk-on: You show us you  belong, and we'll have a scholarship for you. A significant number of former Buffs began their careers as walk-ons, including Travis Sandersfeld, Jason Espinoza, Scotty McKnight, Joel Klatt, John Torp, Ryan Sutter, Jeff Campbell, etc., etc., etc.). Rivals bio
Jason Gaines
If you have been paying close attention to the official visit list, the name Jason Gaines should sound familiar.
Gaines was an official visitor this past weekend, but his presence raised some eyebrows. To refresh your memory, here was Gaines' write-up from "Stoppin' by for a Visit – January 20th":
"Jason Gaines – TE/'WR – Just the facts … Gaines is an unrated wide receiver/tight end prospect from El Cajon, California. Gaines is 6'4″, 205-pounds. For a 10-3 Christian high team in El Cajon, California, Gaines had 47 catches for 557 yards and six touchdowns. Gaines also had eight carries for 54 yards and two touchdowns (he also had time to post 25 tackles, including four sacks, on defense). Gaines has other offers from … no one. Neither Rivals nor Scout has them in their database, and no stories mentioning Gaines have been posted by either recruiting service. Gaines' only apparent claim to fame at this point, as far as the Buff Nation would be concerned, is that he is a teammate of CU quarteraback commit Shane Dillon, who will also be taking his official visit this weekend. Take that information for what you will, but from a purely objective standpoint, Gaines would appear to be a reach for a scholarship offer …".
As it turns out, Gaines does not have a scholarship offer from Colorado … at least not yet.
According to BuffStampede.com, it is Gaines' intention to attend junior college, with a curriculum designed specifically to meet the stiff requirements of the University of Colorado admissions office. "Coach Embree gave me suggestions on some Junior Colleges that I should look into and he said he is going to do everything in his power to help me get there to Colorado," said Gaines. "Their coaches are willing to be there for me and that means a lot. There are not many college coaches that are willing to be there for a player if he has to go to Junior College for two years."
Here's hoping that Mr. Gaines does well on the field in junior college – as well as in the classroom – and that he will be able to join his high school teammate, Shane Dillon, in 2014.
January 25th
Austin Vincent suspended; Asiata ineligible
Paulay Asiata
Freshman offensive lineman Paulay Asiata has left the program – for now.
Asiata struggled academically in the fall semester and is academically ineligible to play. Asiata could fix that problem over the spring and summer semesters.
However, a new NCAA rule mandates that football players who become academically ineligible during the fall semester must sit out the first two games the following season. There is a one-time waiver of the penalty for each athlete. "All I have to say is I'm sorry, and this was a personal decision that I made," Asiata told buffzone.com. "Also, I like to apologize to all the fans and I'm sorry I let them down."
Asiata said he plans to remain in school at CU through the spring semester, but he will not participate in football. He said he doesn't know whether he will continue to play football after leaving CU. He would have to be academically eligible when he leaves CU in order to be eligible to receive financial aid from another school.
"Honestly I really dont know," he said when asked ahout his future on the gridiron. "I'm going to pray about it because the passion is questionable at this point. I just need time right now to figure out everything because I know I have disappointed a lot of people, especially my teammates. They are the ones I care about the most, not the coaches." (Really? "not the coaches"? You couldn't maintain eligibilty by going to class, and you have no love for your coaching staff? Yuck).
The loss could prove to be a significant. As a true freshman, Asiata was in for only 41 snaps from scrimmage n 2011 (with another 31 on PAT's and field goal attempts), but he was being counted upon to step in as a starter at left guard in 2012, replacing departing seniors Ethan Adkins and Shawn Daniels.
It should be noted that the other guard position also loses two seniors, Ryan Miller and Sione Tau. As a result of the departure of Asiata, in the three-deep end-of-season depth chart, only Daniel Munyer, a converted center, remains on the team.
Austin Vincent
Freshman wide receiver Austin Vincent was recently suspended for the spring semester by the CU Office of Judicial Affairs after he was arrested in the fall semester for allegedly exposing himself to an 18-year-old  female CU student in the women's bathroom at Willard Hall while she was showering.
Vincent played in one game in his true freshman season last fall against Cal in September. He did not dress for another game the rest of the season, according to notes assembled by the CU sports information staff. Vincent could not be reached for comment.
Colorado now very likely to oversign the Class of 2012
It has long been the position of Colorado head coach Jon Embree that he will sign 27-28 players on February 1st. It is being reported, though, that the Buffs are preparing to send out 32 Letters of Intent. Not all are likely to be returned, but if they are … how would that work?
Even though a school is only allowed 25 members per Class, and only allowed to have 85 scholarship players on the roster at any one time, there are several ways around the 25/85 player limits:
1) Have a player enroll early, and count against the previous year's Class (which is what the Buffs are doing with fullback Clay Norgard);
2) Have a player delay enrollment, staying out the fall semester, then enrolling in January, 2013, and have that player count against the following year's Class (which is what the Buffs are doing with defensive lineman Derek McCartney);
3) Figure that some of your prospects will not qualify. The 25-player limit only counts as to the players who show up in August. Many SEC teams for years have used this tactic, signing classes with 30-32 members, knowing that some of the prospects will not qualify, and will not count – ultimately – as a member of the recruiting Class.
If you take a full Class, and have over 85 players on your roster, you still have until August to trim the number back to 85 (since many of the incoming Class members will not enroll until summer, or even the fall). At this point, a school may take "advantage"  of the fact that scholarships are year-to-year agreements with the student-athlete. Although there is some talk amongst the NCAA Board of Governors concerning changing this rule, the reality of today is that, if a coach likes a 2012 recruit more than his senior-to-be backup punter, he can cut the kicker and replace him on the roster with the new player.
Colorado had a large senior Class in 2011, freeing up the coaching staff to have a huge recruiting Class in 2012. The same will not hold true in 2013. The Colorado senior Class will only have 12-15 scholarship seniors. With the Buffs filling out their 85-man roster with an over-signing in 2012, Colorado will have a recruiting Class about the size of USC, which is under an NCAA-madated limit of 15 scholarships.
It is being reported (see below) that offensive lineman Paulay Asiata has been dismissed from the team (for missing classes and workouts), which would free up one more scholarship.
Otherwise, it would only be through attrition that the Buffs would be able to sign a full Class in 2013.
Which should make for some interesting competition in spring practices next month …
Jeffrey Hall not quite ready to commit
For those of you who thought you would wake up this morning to news of a new Colorado verbal commitment … you'll just have to wait.
It was reported on several sites Tuesday night that defensive back Jeffrey Hall, from La Place, Louisiana, had committed to Colorado. While that may still take place, it hasn't yet. Hall is choosing between Colorado and Indiana (where he took an official visit this past weekend), and will announce his decision on Friday.
Hall took his official visit to Boulder on January 13th, and here was the write-up posted at "Stoppin' by for a Visit – January 13th":
Jeffrey Hall – DB – Just the facts … Hall is a defensive back prospect from La Place, Louisiana. Hall is considered to be three-star cornerback by Rivals, but a two-star wide receiver by Scout. Hall is 5'11″, 180-pounds. Playing cornerback for the first time in his prep career as a senior, Hall recorded nine interceptions, 55 tackles, four-and-a-half tackles for a loss and four forced fumbles. He also accounted for 672 all-purpose yards while helping St. Charles Catholic to a 3A state championship. Hall has other offers from … only a handful of schools. Kansas State has offered Hall, as has Louisiana-Lafayette, Louisiana-Monroe, Indiana and North Texas. Colorado, along with North Texas, were the only schools to do an in-home visit with Hall in December (Eric Bieniemy and Greg Brown made the trip), which impressed Hall and his mother. The competition, though, for Hall's services, may come down to CU, North Texas, and the Louisiana schools, because both Louisiana-Lafayette and Louisiana-Monroe have offered Hall the opportunity to play two sports at their schools – Hall batted .453 as a center fielder last season, and may still choose baseball over football. UPDATE: Indiana came in late, with Hall taking his official visit to Bloomington on January 20th.
January 22nd
Coach Mac grandson joins Buffs
Derek McCartney, son of former Buff Shannon Clavelle, and grandson of former CU head coach Bill McCartney, will join the Buffs as a gray-shirt.
McCartney, a 6'4″, 220-pound defensive end from Faith Christian in Arvada, will use the extra season to try and bulk up. Like offensive lineman Alex Lewis, who committed to the Buffs in February, 2011, then joined the team this January, McCartney will join the team as a scholarship player in Janaury, 2013. McCartney will still have five years to play four as a Buff.
McCartney did not have any BCS conference scholarship offers coming out of high school, though he had been invited by both Baylor and Oregon to join their teams as a walk-on.
Welcome to the newest member of the black-and-gold!
January 21st
Tyler Hansen goes out a winner
Most of the players who will be selected in the early rounds of the NFL draft will be playing in the Senior Bowl next weekend, but there were a number of players hoping to improve their draft status took the field for the 87th East-West Shrine game in St. Petersburg, Florida, Saturday.
And Colorado quarterback Tyler Hansen didn' t hurt his chances of getting a look by the NFL.
The West team rallied from a 10-0 deficit to post a 24-17. Tyler Hansen posted the best stats of the three West quarterbacks, completing 12-of-17 for 144 yards. Hansen also contributed a three-yard touchdown run midway through the second quarter to give the West its first lead of the game, 14-10.
January 20th
Prospect Yuri Wright expelled
Not since the Darrell Scott saga has the Buff Nation been as fixated on the trials and travails of a single recruit.
Four-star cornerback recruit Yuri Wright has been in the Buffs' sights for months, and has also been heavily recruited by Notre Dame, Michigan, Cal, Rutgers, etc. He was expected to make his announcement in the next week. And now …
Yuri Wright expelled over explicit posts on Twitter
Colorado may still be in the lead for Wright's services. Michigan has apparently cooled, Cal has had a huge turnover in coaches this week. Notre Dame and Rutgers?
Who knows?
Does Colorado still want Wright?
Here's guessing the answer is still "yes".
Here is the write up I did on Wright before his official visit to Boulder on December 10th:
Yuri Wright – DB – Just the facts … Wright is a cornerback prospect from Ramsey, New Jersey. Wright is 6'2″, 180-pounds, and has been one of the most discussed recruits this cycle. Wright is considered to be a four-star prospect by both Rivals and Scout. Rivals ranks Wright as the No. 3 cornerback in the nation, and the No. 57 prospect in the nation overall. Scout, meanwhile, rates Wright as the No. 5 cornerback nationally. Wright has other offers from … everywhere. From Auburn to Wisconsin, from California to Virginia Tech, Wright has offers. Wright's top seven are reported to be Cal, Colorado, Georgia, Georgia Tech, Michigan, Notre Dame, and Rutgers. While home-state Rutgers has been working on Wright for some time, boyhood favorite Michigan and Notre Dame and Cal seem to be the Buffs' main competition. Former CU assistant coach Ashley Ambrose has been courting Wright for Cal, and reportedly has been doing a good job of it. Still, Cal was supposed to be Wright's December 9th official visit, then it was December 16th …
In the end, Wright took official visits to Colorado and Notre Dame, and has scheduled visits for Rutgers this weekend and Cal next weekend.  Rivals bio  Scout bio
January 18th
Buffs' winter conditioning underway
The 2012 Spring semester started today, and CU football players have more than just classes to worry about.
It's also the return of winter conditioning.
There is a good article at cubuffs.com concerning Colorado strength and conditioning coach Malcolm Blacken, and how much better things are for the program compared to a year ago.
"Coming in fresh last year, I did not know the personnel," Blacken told cubuffs.com Wednesday morning before the second of three group workouts. "I evaluated them during this period last year, got a feel for some guys, but I didn't know what they could do on the football field when it counted – and how much of this stuff transferred out to the field."
With a season in the books – albeit a disappointing three-win season – Blacken has files to consult. His understanding of the guy he's working for and the players he's working with has increased tenfold. And he has a better grip on what Embree needs from a strength and conditioning standpoint (additional recruiting classes aside).
"I think we have some good building blocks," Blacken said. "I've spoken with the guys who are going to be big factors, guys who are going to contribute a lot to this team next year and told them, after having a year under my belt, what we have to work on between now and the first game next fall. I've identified strengths and weaknesses and we're going to work on both. Communication with these kids – they're like sponges at this age; they like to learn."
That process started Wednesday morning with one group reporting at 6:30 and two others at 11:30 a.m. and 1:30 p.m. About 80 returning players are participating, with that number divided into three groups. Class schedules permitting, Blacken has tried to place players in groups that will be competitive according to positions – i.e., O-linemen and D-linemen, receivers and defensive backs, etc.
Skill position players are doing full-body workouts on Monday, Wednesday and Friday. The "big guys" are doing lower body work on Monday, upper body work on Wednesday and a combination workout on Friday. The full team runs on Tuesday and Thursday.
The winter conditioning work will not conclude until March 9, the Friday prior to the start of spring drills on Saturday, March 10. A team bench press competition is scheduled for March 7, with CU's pro timing day on March 8th.
Most would agree – Embree and Blacken among them – that CU's first exposure to the Pac-12 last fall exposed the Buffs' overall lack of speed. He might not be able to lower 40-yard dash times by a couple of seconds, but Blacken is doing what he can to help the last portion of the bigger/stronger/faster equation.
"I changed a few things," he said. "After looking at this team and how we compared in the Pac-12, I'm starting my speed work sooner this year. I'm working on a lot more power from the ground movements. Football is a game of balance; you get knocked off balance, you have to recover it in a short amount of time. We're going to do a lot of sport specific training, more so than we did last year."
He's also stressing better hydration and nutrition. "We're going to beat into these guys' heads how important it is to get the proper rest while they're training, and how one part of the focus on fitness affects the other," he said. "We can work their butts off, but if they're sleeping three hours a night and eating bad, then that hurts us in the long haul. But we've got time."
Entering spring drills and fall camp, Blacken also will have a better understand of how Embree conducts his practices – "And that changes things for me a little bit," Blacken said. "As far as cardio (work) is concerned, he runs a fast-paced practice, and that's good. The players understand that and we'll train accordingly.
"Right now my focus is to train these kids well enough to get through spring ball without incident, so they can run around fast, move fast without pulling and snapping stuff. That's my goal."
January 17th
Central Arkansas completes 2013 schedule
While it had been considered likely for some time (fbsschedules.com has had it up for a month or so), the University of Colorado has confirmed its 12th opponent for 2013, the Bears of Central Arkansas.
Central Arkansas competes in the Southland Conference. The Bears posted a 9-4 record in 2011, falling to Montana in the second round of the FCS playoffs.
Colorado will play Central Arkansas in Folsom Field on Saturday, September 7, 2013. The move gives Colorado six home games next season, with five road games to go with the CSU game in Denver.
For those willing to look ahead, the 2013 season is shaping up to be the "break out year" for the Buffs. Colorado does not leave the state of Colorado in non-conference play, with Stanford and Washington dropping off of the Pac-12 schedule (replaced by Oregon State and Cal). With both Cal and Oregon State the two teams most in disarray in the league right now, the trade of the Cardinal and the Huskies for the Bears and the Beavers might be coming at just the right time.
A look at the Colorado 2013 schedule:
Non-conference:
August 31st – v. CSU – Denver
September 7th – Central Arkansas
September 14th – Fresno State
Pac-12 South conference games (times and dates TBA):
home: USC; Arizona
away: Utah; UCLA; Arizona State
Pac-12 North conference games (two home; two away; TBA):
Oregon; Washington State; Oregon State; Cal
With the small number of seniors the Buffs will put onto the field in 2012, there will be a number of starters returning for the 2013 season. If the 2012 Buffs can muster out a six win season this fall, and garner a bowl game, building momentum for a relatively easy 2013 schedule ….
Dare to Dream!
January 14th
Off-Season injury report
The following Buffs remain on the mend, according to the CU athletic department:
Pos  Player                       Injury      Notes                                                                     Status/Spring
CB Jered Bell –  Knee –  Suffered a torn ACL in the third fall practice (Aug. 6) – PROBABLE
DT Nate Bonsu – Shoulder – Underwent postseason surgery to clean up chronic issue – OUT
TB Malcolm Creer – Knee – Suffered a severe sprain in the second quarter at Arizona State (Oct. 29); had November surgery – OUT
ILB Brady Daigh – Wrist – Underwent postseason surgery to mend break that occurred late in the season – PROBABLE
DB Vince Ewing – Knee – Will undergo surgery for chronic problems in January – OUT
DB Sherrard Harrington -Hip  – Sat out true freshman season with a stress fracture, rehabbed without surgery – PROBABLE
OT Jack Harris – Ankle – Suffered a break in the California game, had surgery Sept. 22 – PROBABLE
QB Nick Hirschman – Foot  – Undergoing additional surgery for injury sustained in camp; too early to know spring involvement – QUESTIONABLE
ILB Douglas Rippy – Knee – Suffered torn ligaments against Washington (Oct. 15) and underwent surgery on Nov. 15 – OUT
WR Alex Turbow  – Hernia – Underwent postseason surgery – PROBABLE
While many believed, at least from scout team reports, that the quarterback battle between tranfer Connor Wood and returning backup Nick Hirschman would be ultimately won by Wood, the injury to Hirschman, which is rendering his questionable for spring practice, certainly makes Wood the odds on choice for starting quarterback come September 1st. 
Of perhaps equal concern is the injury to defensive tackle Nate Bonsu. With Bonsu out, the Buffs are left with just three healthy interior defensive linemen for spring practices. Senior Will Pericak is the only healthy defensive tackle that has played more than seven snaps at the FBS level. Colorado does have eight defensive linemen on its commitment list for the Class of 2012, but none have enrolled early, so the CU coaching staff will have to wait until August to have a full complement of bodies along the defensive line.  
January 13th
How much are the Buffs worth?
It's a down day for the Buff Nation. Both the men's and women's basketball teams are reeling from losses to Cal – games which were both winnable.
The latest recruiting news has not been great. Four-star recruits on the CU board are being lost left and right to other schools, most often Pac-12 rivals. Meanwhile, Colorado's latest commitments have been from players who were either two-star prospects – or were not even rated by the major services. And this weekend, with Boulder showing off its "yes it's 65 degrees in January!" weather, there are only a handful of recruits in town for official visits.
But hey, at least the football program has great re-sale value!
For a Wall Street Journal article, Ryan Brewer, a professor at Indiana University-Purdue University Columbus, took the time to calculate how much each collegiate program is worth. Among other factors, the study examined each program's revenues and expenses and made cash-flow adjustments and risk assessments and growth projections for every school.
Not surprisingly, Texas was the top school, worth, in Brewer's estimation, $805 million. The only other two schools worth as much as $600 million were Florida ($630 million) and Michigan ($618 million).
Colorado came in a more than respectable 29th on the list, valued at $156 million. That was good enough for fourth amongst Pac-12 schools, with USC ($302 million), Washington ($213 million) and Oregon ($199 million) worth more.
Here is a breakdown of the Pac-12 schools (along with their national ranking):
16 – Southern California – $302.3
22 – Washington – $213.1
26 – Oregon – $199.2
29 – Colorado – $156.0
30 – Arizona State -$154.9
35 – California – $135.4
39 – UCLA – $122.6
44 – Oregon State – $119.4
46 – Utah – $113.8
51 – Arizona – $105.4
55 – Stanford – $84.1
63 – Washington State – $63.3
While it was not a surprise that Washington State came in last, it was a surprise that the only other school in the Pac-12 worth less than $100 million was privately owned Stanford.
In case you were wondering … If Colorado was still part of the old Big 12, the Buffs would find themselves seventh overall, sandwiched between Texas Tech (28th) and Kansas State (31st).
So the Buffs have that going for them this weekend … which is nice.
January 10th
Leilon Willlingham transferring to Northern Colorado
It hasn't even been a year …
Remember how frantic things were, as Signing Day, 2011, approached? Colorado was still in the hunt for several top prospects. Offensive lineman Paulay Asiata had de-committed from Washington, and the Buffs had a chance. Defensive lineman Stephane Nembot had committed to Washington State, then Washington, and was delaying his announcement until late on Signing Day, so that his family in Cameroon could watch him on television. Wide receiver Devin Lucien was choosing between Colorado and UCLA (he went with UCLA).
And then there was Leilon Willingham.
The top rated player out of Colorado in the Class of 2011, the four-star linebacker from Mullen high had offers from all over the country, and the Buff Nation wanted him.
Here's what I wrote on February 1, 2011, on the eve of Signing Day …
"Four-star linebacker Leilon Willingham would be a huge get, not only because he is a star player, but because he is the top player in the state of Colorado. For Jon Embree to make his mark, he will have to close the state borders to intruders, so getting Willingham to be a member of his first recruiting class would be a huge first step. Willingham committed to Texas A&M over the holidays, then de-committed right before he was scheduled to take his visit to College Station. Willingham took official visits to Colorado, Arizona State, Washington, Michigan, and Central Florida. Willingham visited Michigan last weekend, and the whispers are that Willingham will commit to the Wolverines at 7:30 a.m., tomorrow – maybe …".
Willingham ultimately signed with Central Florida, much to the disappointment of the Buff Nation.
Now, Leilon Willingham is leaving Central Florida, transferring to 1-AA Northern Colorado. Leilon said it was about getting back to Colorado. "I loved the place and everything," Willingham told the Orlando Sentinel about UCF. "Coach [George] O'Leary and everyone in Orlando were great. UCF fans are great people. I just needed to be closer to home in Colorado."
UCF coaches may have had a different take. "I think he's a kid that I want to see where he best fits," O'Leary said at the end of the 2011 season. "I think Leilon's biggest problem is just coverage. … He has a great passion for the game. I was trying to get him on the field as far as a guy that can help us and try to improve the rush status. I think he's a player we have to evaluate in the offseason to see where he can help us."
With the move to a 1-AA school, Willingham will be eligible to play right away, and will not have to sit out a transfer year. Still, it is a considerable comedown from being a four-star, top-prospect-in-the-state to a transfer to a Big Sky team which has gone 7-37 the past four seasons, including an 0-11 mark in 2011.
Over the next month, there will be much time and energy devoted in the Buff Nation to the players Colorado will and will not sign, and yes, I will be spending as much time as anyone dissecting the Colorado Class of 2012.
But, as Leilon Willingham's story tells us, it's not always about the stars.
It's about the fit.  
January 8th
CU athletic director Mike Bohn talks about the future
The Boulder Daily Camera put out an interview with Colorado athletic director Mike Bohn. The article covers many topics of interest to the Buff Nation, and is worth reading in its entirety, but here are some of the highlights for Buff fans …
So are you considering getting out of the CSU series (in light of the new contract to play Big Ten teams in non-conference games), which has eight years remaining?
"It's premature to say that, but the dynamics are certainly changing for us. The change from eight to nine conference games, and now essentially, nine to 10, and all the other things that are moving on us creates another dynamic. But we have a contractual agreement and we honor our contracts."
Translation: We'd love to get out from underneath that contract, and are trying to figure out a way to do so which doesn't look like we're running away scared.
Is the Pac-12 putting itself at a disadvantage because it already plays nine conference games and the Big Ten and other leagues only play eight? Now your conference leader, whoever that is each year, will have a harder road to get to a BCS game than other teams.
"I think you look at Oregon and what a wonderful job they did playing against LSU earlier in the season. I think that's what we want to do. We want to play on the big stage. We want to play marquee opponents and we want to be in marquee TV slots. We want to continue to draw audience, fans, alumni and young people to the University of Colorado. That will help us do that. One of the neat things about this alliance is we have a wonderful and strong alumni base in the Chicago area and getting to play back in that area at times will be huge for us."
Translation: It's all about the $$$. The wins are nice, but we are in this business to make money (although it wouldn't hurt to win some games and get to a bowl – see Sacramento State, 2012 schedule).
What sort of upgrades is CU planning for Folsom Field and the football program, which generates most of the revenue for your athletic department?
"It has been a very busy 2011 particularly related to the Pac-12 with the new network and with the new revenue streams associated with the network. You're seeing a lot of our peers in the conference making major investments and the University of Colorado is working extremely hard through the process for similar types of initiatives here. We will continue to work through the process and engage our top leadership and campus leadership and do everything we can to provide upgrades that I believe our fans, incoming recruits and future recruits and our current student-athletes and our community will benefit from long term."
Translation: We are late to the facilities upgrade party, and are scrambling to figure a way to catch up.
There is a perception from some CU fans that we hear from at the paper, that CU is dragging its feet on announcing facilities upgrades. Why can't you say more about what you are planning at this point?
"Well, certainly the scope of these projects are such that it requires us to pay attention to every detail. We're very proud of our track record of improvements that have benefited all of our programs. This basketball practice facility is one that we are very proud of, and our history of delivering on those is validation that we are committed to making more improvements and delivering on those once we have all of our ducks in a row."
Translation: I hear about this every day. I wish I had an answer, because I know that we are being ridiculed by the fans and media (see CSU story, below). I wish I could have a press conference tomorrow, with blueprints in hand, but, for some reason, we haven't picked up on the idea (unlike the rest of the Pac-12 schools), that the checks are coming, starting next year, and we should be planning accordingly.
There is an impression out there that you are getting this windfall of Pac-12 money down the road and that is going to solve all your problems and you will be able to build new facilities and make improvements with that money alone. Is that true and what part do donors play?
"When you look at all the significant upgrades around, whether it is in the Pac-12 or TCU's new initiative or others, there is a private element. Obviously that is a part of it. Part of the silent phase or the process we're going through first before we start announcing initiatives that aren't finalized is working on the major private element that is a part of the formula. We're still dealing with the (financial) issues associated with the departure from the Big 12. We're discussing the issues associated with adding a new women's sport. We're discussing a lot of different pieces that make up all these different issues we're talking about, which is why we're not going to come out with a plan or some type of initiative without it being viable."
Translation: Phil Knight bought Oregon its first Rose Bowl victory since 1917. T. Boone Pickens bought Oklahoma State its first Big Eight/12/10+ title since 1976 (one shared with CU and Oklahoma). Where's my big check writer?
What women's sport will you be adding?
"We're not prepared to make that announcement at this time."
Translation: We're trying to figure out a way to make adding women's lacrosse sound like a quantum leap for the athletic department.
Can you say when you expect to add the sport?
"We plan to make the announcement of the women's sport later this spring, and the team will begin competition full-fledged in the 2013-14 year."
Translation: We have no baseball/softball facilities, so it's got to be a sport which doesn't require any new buildings. Unless I can sell women's bowling,  lacrosse would be the logical choice.
…
January 6th
Jack Graham looking for new stadium by 2014
According to a 9News.com story, Colorado State University is planning on having a new, on-site football stadium is not only "going to happen", but that it will be ready for use by 2014.
"A new stadium is going to happen. This is not a 'maybe it's going to happen' kind of a conversation", said CSU athletic director Jack Graham. "We are actively moving toward the construction of a stadium on our campus and it is going to happen".
He said on Wednesday the cost would be between $100 and 200 million. The university will be asking its alumni for donations and will rely upon private funding – not money from Colorado taxpayers – to finance the new stadium.
A location isn't chosen yet and a myriad of details need to be worked out. Graham promises to "engage the community" when deciding on a site.
Okay, so no money has been raised, a site hasn't been picked out, and the Rams don't know how much it will cost …
What the Colorado State athletic director does have, though, is a vision.
Jack Graham can see the writing on the wall in college sports – either you are a "have" or a "have not".
With CU set to receive ten times as much (and that's conservative) television revenue as CSU, the Rams are painted into a corner: either find a niche and become relevant, or fade into college football obscurity.
Colorado State is sort of like the downtown mom-and-pop hardware store, fighting to keep alive when Lowe's and Home Depot come to town and set up shop. Jack Graham can see that fellow Mountain West teams Utah, BYU, Boise State, TCU and San Diego State have made it to the big time … so why not Colorado State?
Why not indeed?
Ft. Collins is always listed amongst the top ten in places to live, and, other than CU, does not have a major BCS around for hundreds of miles. If the Rams ever hope to become relevant (perhaps in the long term as part of a Big 12/16), now is the time to act. The next time the game of musical chairs starts, it might be to form four 16-team super conferences … and CSU doesn't want to be on the outside looking in.
Can Jack Graham pull it off?
That remains to be seen. For a school which is averaging about 20,000 in attendance in a 35,000-seat stadium, taking a "if you build it, they will come" attitude might not make it with enough donors to make the dream a reality.
But, with Colorado stuck in neutral when it comes to announcing facility expansion (see story, below), you have to at least give Jack Graham credit for trying …
Seven Pac-12 players (to date) have declared for the NFL draft
This week, the number of players from the Pac-12 who have declared for the 2012 NFL draft went from five to seven (eligible underclassmen have until January 15th to declare):
Those players who CU will not have to face next fall include:
LaMichael James, RB, Oregon
Brock Osweiller, QB, Arizona State
Vontaze Burfict, ILB, Arizona State
David DeCastro, OG, Stanford
Matt Kalil, OT, USC
Andrew Luck, QB, Stanford
Jonathan Martin, OT, Stanford
Nick Perry, DE, USC
Chris Polk, RB, Washington
Other notables … include USC quarterback Matt Barkley who has declared that he will return for his senior season next fall, and former Buff Darrel Scott, now of the South Florida Bulls, who has declared that he is opting to try his luck in the NFL draft. While Barkley would likely have been a first round pick, the same cannot be said for Darrel Scott. Scott, who played one season for USF after transferring from Colorado, rushed for a team-best 814 yards. The 6-1, 239-pounder scored all six of his touchdowns against Ball State, Florida A&M and UTEP. He did not rush for more than 100 yards and did not score in eight games against BCS competition.
January 2nd
Ringo on facility upgrades
There has been much hand-wringing in the Buff Nation about the announcements – by seemingly every other team in the Pac-12 – of facility upgrades. There is also the not-so-pleasant reality that the University of Colorado employs the only six figure football head coach.
Kyle Ringo, of the Daily Camera and BuffaloSportsNews.net, has given out a few details concerning what he has heard about facility upgrades. Those comments are worthy of reproduction here:
From the Daily Camera –
"First let me say that CU is scheduled to receive a little more than $21 million in conference distributions in just the first year. It should increase each year after that, especially a few years down the line when the Pac-12 networks are humming along and gaining more audience.
"CU has some big dreams and some smaller ones in terms of facilities upgrades. The priority is a permanent indoor practice facility for football that would be located next to Folsom Field and likely attached to the Dal Ward Center in the northeast corner of the stadium. It would be built on the site where there is currently a small parking lot for student athletes and staffers and where the grounds and recycling center currently resides. It would feature an underground parking lot that could be used on game days by some fans, probably those season-ticket holders with the highest priority numbers, and it could be used by students the rest of the time, including as a parking place for students who want to visit the campus recreation center. It also would include other amenities for student-athletes in all sports, a new football locker room, an expanded weight room and more space for academic needs.
"This idea also would lead to enclosing the northeast corner of the stadium and likely adding more seats, maybe a few thousand at most.
"CU officials also would like to tear down and replace Balch Fieldhouse and Carlson Gymnasium and add suites and a new pressbox to the west side of Folsom Field and new office space for other sports. If the program could justify it with increased demand for tickets, the school might embrace the idea of adding a small second deck of seats on the west side as well when these improvements are eventually made.
"Beyond that, the school always has been interested in improving facilities on south campus for tennis and possibly other sports, but the city has not allowed water out there because some believe it will lead to sprawl. Smaller scale improvements for soccer, cross country/track and field and skiing eventually will happen as well. All of this will take time and is still a few years away at the very earliest. And it won't be accomplished simply by relying on the new money from the Pac-12. Donors are going to have step up a contribute millions."
Ringo's comments from BuffaloSportsNews.net, which has a few variations –
"I was asked last week for the Friday Buffzone.com mailbag about what CU plans to do in terms of facilities upgrades with the new Pac-12 money. I guess the way I worded my answer left some people thinking that I was saying CU is just dreaming about doing what I outlined in my answer.
"Let me clear up that confusion for those of you here. There is a plan in place that will be announced in the near future that calls for CU to build a permanent indoor facility in the area just outside the northeast side of Folsom Field. It will have a parking garage and will be attached to the Dal Ward, thereby expanding that building. It will expand the weightroom, athletic trainer facilities, academic support facilities, etc. and provide other perks for the student-athletes in all sports and maybe even a space for media to work. It would lead to enclosing that corner of the stadium and adding a couple thousand seats at most, maybe not even that many. There are some pretty cool ideas being kicked around for other enhancements tied to this.
"This is the top priority for the athletic department as far as facilities improvements go, but there are many other smaller scale projects the department would also like to do. So, I just want to be clear, since a couple people have emailed me about this, that this is the plan you can expect to be hearing more about from CU in the near future.
"Some people might say it sounds just like the facility originally conceived by Dick Tharp in the Athletics 2010 plan. It is very much modeled after that and keeps a lot of that design, but it is also being updated in many ways.
"Why isn't CU announcing this yet? It's just a big idea at this point and Bohn and his staff and the fundraisers at the CU Foundation need to get regents, president, chancellor, faculty on board. PLUS, and this is very important, this project will not get done without major contributions from the few big donors CU has. So they are working that end of it, too. At least trying to get a gift or two lined up to show there is donor backing and it won't all have to be paid for by borrowing against future Pac-12 revenue."
While many can understand that the CU administration will require more than Pac-12 revenue to fund capital improvements, there also seems to be a lack of understanding in the athletic department that, just like in recruiting, winning breeds winning, and losing breeds losing. As this off-season has demonstrated, it's tough for Jon Embree and Co. to sell some of the nation's elite prospects that they can turn around a program with just three wins in 2011, and bearing  the yoke of six straight losing seasons.
It's also tough for CU fans to invest in a vision for the future, when no vision for the future has been laid out.
Schools like Utah, Washington State, and Colorado State, schools which many Buff fans would not see as the equal of the University of Colorado, are talking big. Will the new facilities and grandiose plans for the future bear fruit, and propel these programs into the national spotlight? Perhaps. Perhaps not.
But many Buff fans would like to see CU at least get into that same conversation … 
Only two early enrollees this January
In Division 1-A, teams are only allowed 85 scholarship players, and can only sign 25 players in any one class.
There are ways around that, of course.
One way is have a prospect who can graduate early from high school enroll in January. That team can then count the early enrollee against a previous year's class, provided that class did not have 25 members.
Colorado had 22 members which counted against the Class of 2011, giving the Buffs a chance at having up to three early enrollees this January.
There will be only one.
That is one of the Buffs' first commits, Clay Norgard, who will play fullback at Colorado. The position was phased out of the program under former coach Dan Hawkins. Norgard recently told recruiting services that CU coaches already have told him he will play as a true freshman.
"I just love to play the game," he said in an interview with Scout.com this month. "I played fullback in high school some. I know how to block and I think my speed from linebacker will carry over."
Colorado used converted linebackers Evan Harrington and Tyler Ahles at fullback during Embree's first season this fall. Harrington eventually proved to be more effective, allowing Ahles to return to defense late in the season.
The other player who will enroll at Colorado in January was a member of the Class of 2011, offensive lineman Alex Kelley. Kelley, from Vista, Calif., signed with the Buffs last February as part of the 2011 recruiting class, but he broke a bone in his left foot in a non-football related accident during the summer and decided to grayshirt this fall, delaying his enrollment to January.
Kelley said he would have come to CU this year a true freshman if not for breaking his foot.
"It was horrible just watching, because I watched all the Colorado games every weekend, and just seeing them going through what they went through I just wish I could have been there and at least try to contribute somehow with what I could bring," Kelley told the Daily Camera. "But I think this is good for me because it gives me a chance to grow up a year and get a year stronger and everything."
With the lack of early enrollees, Colorado may not be able to reach the planned number of 28 recruits from the Class of 2012. The only way to move the mark above 26 will be to have a few players agree to grey-shirt, as Kelley did, and defer their enrollment until January, 2013.
The CU coaching staff reportedly asked defensive back recruit Ma'ne Manaea to grey-shirt, but the Lakewood, Washington, prospect has balked, and is reportedly looking to accept an offer from another school (Washington State, Idaho, or Montana).
December 29th
Embree talks recruiting
B.G. Brooks of cubuffs.com did an interview with Colorado head coach Jon Embree, which is important enough to reproduce in its entirety here …
1.    CUBuffs.com: The current dead period ends Jan. 4, and I'm assuming you'll hit the road immediately. What direction will you head?
Jon Embree: "That's right . . . and I'm heading West, to Hawaii and California. It'll be my first trip to Hawaii and second to California."
•2.    CUBuffs.com: What's the biggest difference in this recruiting season and last – taking into account the full season you've had as opposed to last year?
JE: "The biggest difference is that a year ago, we really didn't get started (recruiting) until this coming week . . . talk about a short window. This year, we've had a better evaluation of players. We've gotten to see how they really feel about football and where it is on their list of things that are important to them, where it fits into their lives. And we've been able to establish relationships. We're almost where we need to be . . . I'd like to be doing a lot of junior recruiting, but we're not at that point yet. Next year I think we can be comfortably looking a year ahead."
•3.    CUBuffs.com: How would you rate things to this point?
JE: "I think it's gone very well. We've missed on a couple of elite players, but only won three games. Say what want, but at end, it (winning) has to help. At the same time, we've gotten commitments from some very good players. We've been able to balance the roster at some positions. And there are still some guys we can finish on and have a very good class."
•4.    CUBuffs.com: Have there been any major surprises out there for you?
JE: "The response has been really good . . . I don't feel like it's ever been, 'Wow, we don't have a chance on that kid,' but at the same time just getting in on a kid is not what you're looking for. Are you in their top two? Did you have a legitimate chance? If you're just one of five, you're not really in it. You have to be in their top two."
•5.    CUBuffs.com: You've said before your visits began that prospects' reception has been good . . . has that held up?
JE: "Yeah, it's gone very well. Kids have been real receptive. They see the direction of program and want to be involved in helping us continue that process . . . and do some exciting things."
•6.    CUBuffs.com: Along those lines, is there one common question recruits are asking you?
JE: "Not really, there's not one general question, but kids see what's going on. It's not like they haven't been paying attention. They see opportunity . . . they can come in and have an impact early. Those kinds of things. Most kids want that opportunity. I'm asking them, 'Do you want to play or stand on the sidelines and wait your turn?' These kids want to be a part of something that's growing. We won two of our last three, and we've talked to them about that every time we've called them. But you can't sit there and pretend like you don't have scars. We do, and I'm going to be honest. I'll tell where we are, what the deal is. At the end of the day, they'll know what our goals are – changing the culture, changing the environment, and giving them the opportunity for success in college. They've paid attention. It's been really good."
•7.    CUBuffs.com: Do you have any "silent" commits?
JE: "Yeah, we've got a couple of guys – if they stay true to what they say. But I've told them that they need go public. They can help with some of the other players we're after. If they're going to truly be in, they need to be in. Taking trips is great, but if you're going to be a Buff, now's the time to do it. I can understand that some kids are involved in things they have to do, in recruiting and out. But we'll see over the next two weeks or so."
•8.    CUBuffs.com: CU "turned" a handful of recruits last year . . . do you feel you have to take that approach this year?
JE:  "There are a couple of guys we're actively recruiting who are committed to other schools. A year ago, we went out and got eight players from someone else. This year, we feel like we have to be good with the guys we've got (committed). The next two weeks are really important. Some schools during this time frame don't go out at all. Some go to (high school) all-star games and see guys. We'd rather see the guys we have (committed)."
•9.    CUBuffs.com: Coaching changes have been prevalent . . . has there been an effect on your approach to things?
JE: "It really hasn't affected us. It may here or there help on a guy, but for the most part it hasn't done anything. Some name schools – for example, UCLA – didn't have a coach and still had three kids commit. Now, whether those kids wanted to get in before a coach was named and fill a scholarship, I don't know. But the overall situation (of schools changing coaches) hasn't really affected us."
10.CUBuffs.com: How would you respond to those recruiting analysts who say you're dangerously short on four- and five-star prospects?
JE: "That's all right, it doesn't bother me. To get elite playmakers we have to continue to improve ourselves. You can go around all day about stars. Greg Henderson (freshman corner) did pretty well for us and he wasn't a five-star guy. I just want football players. That (star rating) stuff is for barrooms and the Internet. You can point to five stars that bust and one stars that become stars. I'm just trying to get the best players. But again, we won three games . . . I don't think people realize how hard it was for us (CU) in the mid-90s. We'd won a lot of games, we had guys who had won the Heisman, the Thorpe Award and the Butkus. People have to realize we're not a logo school . . . Ohio State and USC have great classes every year. They've got 50 or 60 years of tradition, huge national fan bases. But that doesn't mean we can't do it here. That's what we're shooting for."
•11.CUBuffs.com: So, from that answer on the star system, I'm guessing your opinion of those ratings hasn't changed?
JE: "How many of these people really see kids play? A kid commits to Texas and goes from no stars to three, or from three to five. Explain that to me. I'm not down on these (recruiting) sites; they give fans good reason to go them, but it's like being in a sports bar. I'm not down on Rivals.com and Scout.com . . . I know they've helped kids get noticed. But their rating systems are different from coaches. Look at Michigan State, what was their senior class rated? You get a transfer in, you get some guys who pan out that weren't five-star guys . . . We – and I'm talking about coaches – have to be able to develop guys to give yourself a chance. That's just my take on it."
•12.CUBuffs.com: What would be a best-case finish for the Buffs in the final month leading to signing day?
JE: "First, I'm very happy with the guys we have; we want to hold onto them. But if we could get a couple of more corners, the right tight end, maybe a playmaker or two, the right defensive lineman . . . our situation on that side of the ball is not good. We need to get as many as we can (on defense). Some will play, some will redshirt. We need to build there and have legit depth. This class, with last year's class, gives us a good base from a program standpoint. We just have to go out and finish strong – and hopefully get a head start on some seniors for next year."