July 31st
Texas A&M serious about bolting to SEC
When Colorado was asked to join the Pac-12, it was cause for celebration in the Buff Nation.
When Texas announced the creation of the Longhorn Television Network, a multi-billion marriage with ESPN, Buff fans breathed a sigh of relief.
Colorado was very lucky not to be a part of the Texas et al. "Big 12". Even after Big 12 commissioner Dan Beebe was hailed for managing to hold the conference together last summer, it was clear that the new conference was retaining – in fact endorsing – a league of "haves" and "have nots". Unlike the Pac-12, where the teams agreed to share television revenue equally, the Big 12 maintained (though it was modified slightly) a system where the more powerful schools (Texas, Oklahoma, Texas A&M) received a disproportionate amount of revenue.
The Texas Longhorn Network, though, irked even Oklahoma and Texas A&M. The TLN would not only bring in unprecedented revenue to the school – which the Longhorns didn't have to share with the rest of the league – but would also give Texas exposure to recruits unavailable to other teams in the league.
Then, the TLN announced it was going to purchase a pair of tier two Big 12 games from Fox Sports, as well as show Texas high school football games.
This move may have been the last straw. Even Big 12 Commissioner Dan Beebe felt the move was too much. Beebe stepped up and put a moratorium on the network to prevent ESPN from moving forward with plans to show high school games and a TBA conference game. He hoped the edict would stop ESPN in its tracks and placate agitated conference members Texas A&M and Oklahoma that felt the LHN was expanding into programming areas that violated the spirit of the conference agreement cobbled together hastily last year in the face of realignment rumors that threatened to destroy the conference.
Now, the NCAA is getting involved, looking into the issue of broadcasting high school games on proprietary conference-specific and university-specific networks. This is an area without precedent, so the NCAA plans to collect information, with a meeting scheduled for August 22nd. At issue, though, is whether the NCAA can tell ESPN what it can and cannot show on one of its stations. 
So, if the NCAA and Dan Beebe can't stop the TLN network from gaining in unfair advantage in recruiting – by showing Texas high school football games – what are the other teams in the Big 12 to do?
Explore other options, of course.
According to David Sandhop of Aggie Websider, Texas A&M administrators believe that ESPN is unlikely to compromise on the high school games and they are moving forward with an aggressive approach to programming meaning they are in no mood to compromise. If ESPN/Texas does not back down at the upcoming athletic directors meeting next week, this could be the tipping point. From a Texas A&M standpoint, that would likely be a move to the SEC.
As early as 2013.
If Texas A&M bolts, the Big 12 disintegrates.
As for other schools –
–  Missouri is also reportedly manuevering for an invite to the SEC, in a manner similar to the way the Tigers tried to manipulate their way into the Big Ten a year ago. Arkansas is believed to be in favor of a package which includes expanding the SEC West by two schools – Texas A&M and Missouri.
– Oklahoma is coveted by many members of the SEC, but the SEC isn't interested in the Sooners' little brother, Oklahoma State;
– Kansas is reportedly talking to … the Big East (why not? The "Big East" already includes TCU), with Kansas State perhaps coming along for the ride with the Jayhawks;
– Texas Tech still wants to be a member of the Pac-12, but that does not seem likely based upon the league's criteria (read: the Red Raiders do not bring to the party enough television sets to justify the league expanding that far to the east – unless Texas comes along as well).
Stay tuned, Buff fans. If ESPN and the Texas Longhorn Network cannot be pursuaded to abandon the concept of televising Texas high school games (unlikely), Texas A&M and Oklahoma may see this recruiting advantage as too great a burdent to bear, and the Big 12 may fall apart …
… sooner rather than later. 
July 27th
The formation of the Pac-12 Network "all but eliminates" the possibility of Texas joining "Pac-16"
Lost in the details of the announcement of the formation of the Pac-12 Networks is the comment from Pac-12 commissioner that the structure of the Networks all but eliminates the chance that the Texas Longhorns will join the Pac-12, Pac-14, or Pac-16.
"I think you could certainly imply that, with the news of the (Pac-12 Networks), Larry Scott told the Austin American-Statesman. "The Longhorn Network would certainly be a huge impediment."
While the Longhorns' unwillingness to play fair and share will likely preclude Texas joining the Pac-16, that doesn't mean that the Pac-12 has completely ruled out the possibility of expansion.  "It's not something we are looking at now," Scott told the newspaper. "We did our deal. We're very happy with it. We're not thinking or looking at expanding at the moment, but we are trying to create the strongest conference possible. I do feel there will be further expansion, and I want to be an attractive place to come."
July 24th
Colorado to have multiple open practices
It's going to be a busy August here at CU at the Game …
The first 18 fall practices, including the first two scrimmages, will be open to the public. Only practices after August 22nd, when preparation for the September 3rd opener against Hawai'i begins in earnest, will be closed.
Colorado head coach Jon Embree said he wants to embrace an open door policy as much as possible in the spring and during fall camp, but he also must be smart about just how much information makes its way to opponents. With the Buffs opening this season at Hawaii, there is less risk of that. However, Embree said practices could be closed if video, play-by-play analysis or extremely detailed reports are published by fans or media.
Cell phones will be prohibited for anyone who chooses to attend the open practices. Live blogging, tweeting, and posting to message boards and social media sites also are prohibited, according to policies announced by the sports information department. However, as has been the case with practices in the past, it will not take long for attendees to identify standout play and players.
Players report for physicals and a team meeting on Wednesday, August 3rd, with the first full practice to take place between 5:30 – 8:30 p.m.
Rivals puts out first team rankings list for Class of 2012
Signing Day for the Class of 2012 is still over six months away …
… but that also means that it has been almost six months since the first Wednesday of February, 2011, with six months for next year's class to make their commitments known.
Colorado has 10 known commitments, far more than was ever the case in the Dan Hawkins era, which has resulted in the announcement of  the first team rankings on Monday all the more relevant to the Buff Nation.
Colorado's 2012 Class is considered 50th best in the nation, which is a good thing, as the rankings only go to 50. The bad news is that the Colorado Class only rates 10th in the Pac-12, ahead of only Utah and Washington State.
USC leads the Pac-12 in the rankings, at least for now. The Trojans are ranked 11th overall, with nine commitments. However, USC is limited to 15 signees for the Class of 2012, so while there will still be quality in the Trojan recruiting class (seven of the nine commits are four star prospects), look for the overall ranking of the USC class to decline over the fall.
Second on the Pac-12 list is Stanford, at No. 15, followed closely by Cal, coming in at No. 17 (despite having only four known commitments for the 2012 class). A surprise at No. 4 in the Pac-12 is Oregon State, with the 21st-best class to date, while Arizona, as the fifth Pac-12 entry, rounds out the Top 25.
Also rated ahead of Colorado on the Rivals list are Oregon (No. 27), UCLA (No. 32), Washington (No. 34), and Arizona State (No. 39). As noted, only Utah and Washington State failed to make it into the first 50 on the Rivals list.
What does all this mean?
Absolutely nothing.
First, there are no guarantees that any of the players on any of the lists will remain with their teams coming Signing day. Second, player rankings are highly subjective, and will likely change dramatically as these players senior seasons unfold. Third, there are the ratings themselves. Colorado's average player rating of 2.70 is higher than that of the players on the lists for UCLA, Washington, and Arizona State, but, because the total commitments of those schools are equal to or greater than Colorado's, the overall team ranking is higher (this will work to Colorado's "advantage" next February, as the Buffs are expected to sign a class of 28 or 29 players).
So, these team rankings mean absolutely nothing …
… and we'll be following them closely for the next six months!
July 23rd
Ohio State avoiding "failure to monitor" label
When in doubt, thrown the coach under the bus.
It was apparent from the time of Ohio State head coach Jim Tressel's firing turned resignation, that the strategy for the school was to center all of the blame on their once beloved coach. By saying that Jim Tressel acted alone, the institution hoped it might avoid more sweeping penalties from the NCAA.
And it appears that the strategy is working.
The Columbus Dispatch is reporting that Ohio State is avoiding the dreaded "failure to monitor" and "lack of institutional control" which would likely lead to losses of scholarships and bowl bans. The NCAA reportedly has not found any additional wrongdoings other than those which have been reported concerning the five players and their trading of memorabilia for tattoos and cash.
The NCAA infractions committee meets with the university on August 12th, with the banished Tressel expected to fall on the sword for the school, stating that he, and he alone, knew about what was going on with his players, and that he, and he alone, decided to keep the story secret. Tressel told the NCAA in a February interview that he knew NCAA sanctions were "inevitable" when he learned of the infractions, but that his "heart was torn out" out of concern for his players.
And the NCAA, without evidence to the contrary, might have to buy into the concept that the head coach was aware of wrongdoings by multiple players, but that every other member of the athetic department was in full compliance with NCAA rules, and never had a clue that anything might be going on with the gang of five.
Really?
It ain't over 'till it's over, but the self-imposed penalties Ohio State is taking – vacating last year's victories (Who cares? Does that really mean – long term – anything to anyone?) and two year's worth of probation (yawn) – might hold up.
If that proves to be the case, look for the rehabilitation of Jim Tressel to begin almost immediately thereafter. There are already plans for high school head coaches to wear a sweater vest and a tie during their first games this fall in honor of Tressel. The remaining Ohio State coaching staff and players will "play for Tressel" this fall.
You could then look for a "Jim Tressel Day" in say, 2014, honoring the coach who wrote about following the rules, but then decided that he was above them.
Why not?
If Ohio State does not receive any additional NCAA penalties, as a result of Tressel's willingness to absorb all of the blame, a "Jim Tressel Day" would be the least the school could do for its former coach.
July 22nd
Colorado locker room picture
Quite impressive … !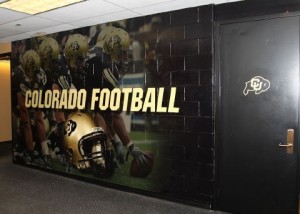 Utah chooses opponent for its annual blackout game
Let the rivalry begin!
Utah has selected its opponent for its fourth annual blackout game, and the winner is …
Oregon State.
Colorado did not make the cut as Utah's blackout opponent, a tradition on the newer side in Salt Lake City (started in 2008 v. TCU).
Washington will be the Utes Homecoming opponent (on October 1st), with the UCLA game on November 12th Utah's "Salute America" game (the day after Veterans' Day).
Colorado will be – of course – the Senior Day opponent, coming on the last home game of the season, but it is interesting that in Utah's first season in the Pac-12, the Utes chose Oregon State for their Blackout opponent.
One benefit of the doubt to give the Utes – the game time for the CU/Utah game on November 25th has already been scheduled for 1:30 p.m. An afternoon game would lessen the impact of a blackout, and perhaps Utah sees the Oregon State game as the most likely to be chosen for a night game.
Or we can start the rivalry trash talk a bit early …
July 21st
Pac-12 Media Days start on Tuesday
The Pac-12 media days will start in Los Angeles on Tuesday, July 26th, and concludes on Thursday on the east coast.
Fans can watch the morning's press conferences on Pac-12.org. The three-day media blitz concludes July 28, 2011 on the East Coast.
Starting at 10:00 a.m. MT, a free live video stream of Tuesday's Pac-12 Football Media Day will be available on Pac-12.org. Video featuring a player and coach from each of the Pac-12 teams will be posted on Pac-12.org for on-demand viewing throughout the day on Tuesday. Colorado will be represented by head coach Jon Embree and senior quarterback Tyler Hansen, starting at 12:15 p.m. The Buffs will be sandwiched between Arizona State and head coach Dennis Erickson, and UCLA's Rick Neuheisel.
If you would want to have a good time, set aside 15 minutes at 10:20 a.m. on Tuesday – that's when Oregon head coach Chip Kelly will speak to the media for the first time since the Willie Lyles story broke. Not surprisingly, Oregon is leaving at home its Heisman trophy candidate, running back LaMichael James (you know, the guy who calls Willie Lyles a mentor and a friend).
July 20th
"CU at …" Photo Contest award winners announced!
It's never a slow news day when it comes to the University of Colorado football, but I had to cut short my postings today for another purpose …
Please join me in congratulating the winners of the "CU at … " photo contest. Over 100 photos were entered, with the Buff Nation showing representation in all seven continents, over 20 countries, and over half of these United States!
The only downside to the contest for me was having to pick out 15 winners from all of the submissions. Thank you to all who participated, but I hope you will agree that some of the photos selected were very special.
The Grand Prize winner(of two 50-yard line tickets to a CU home game) was taken in 2008, and was a family reunion taken abroad the USS Abraham Lincoln after a deployment to Iraq and Afghanistan. That the CU logo wound up being prominently displayed in a joyous family moment was serendipitous.
Other winners ran the gambit, from a photo taken just after "The Catch" in Ann Arbor, to the College GameDay set when the ESPN crew was in Boulder; from Alaska to Peru to Iraq; from CU home games to CU road victories.
I hope you will take a few moments to check out the winning photos. Just click on the "Click here to check out the winners" on the CU at the Game front page, or, even easier, click here.
July 19th
Brian Lockridge making progress on recovery
First, the good news …
Senior running back Brian Lockridge has been named as a nominee for the 2011 Allstate AFCA Good Works Team. To be nominated for the award, one of the most prestigious off-the-field awards in college football, a nominee must be engaged in a number of community service projects.
Lockridge's resume includes:
Volunteering weekly at Casa de Esperanza, an after-school program for children of migrant workers;
regularly cooking meals for the homeless at a Boulder shelter; and
actively supporting local youth through his participation in the Read with the Buffs program, various motivational speeches at local schools, and visiting sick children in area hospitals through the Buffalo Hugs program.
Congratulations, Brian, for all of your good works …
Okay, now the bad news.
Brian Lockridge is still recovering from his ankle surgery last fall, and will not be ready for the start of fall camp. Lockridge told Kyle Ringo his ankle is recovering well and he is running and doing a lot of the training with his teammates this summer.
Lockridge admitted, though, that might be a little optimistic to expect him to be a full participant when fall camp opens August 3rd. He said he will probably test where he is at the start of camp and if he needs to wait and give it a little more time to heal and get stronger, he might have to do that.
When Lockridge had surgery last fall to repair the damage in his left ankle, doctors originally told him it would take a full year to heal, which would mean he wouldn't be able to play until the second half of this season. Under that criterion, Lockridge is ahead of schedule.
Other than Lockridge and Rodney Stewart, there are no Buffs on the current roster who have had a carry in a regular season game for Colorado, so here's hoping that Brian Lockridge takes all the time he needs to heal properly – and that his timetable for recovery puts him on the field early this fall.
Of the multitude of Buffs who were injured for spring practices, Lockridge is the only remaining Buff who is a question mark for the fall (see June 30th update, below).
July 18th
Rodney Stewart named to Doak Walker Award Watch list
Perhaps recognition will not be as hard to obtain in 2011.
Rodney Stewart, the only Big 12 running back in the 15-year history of the league to rush for 1,000 yards (1,318) and not be named to any of the All-Big 12 teams, is finding the spotlight easier to find in 2011.
Already named to the watch list for the Maxwell Award, given to nation's top overall player (see July 11th update, below), Stewart has also been placed on the watch list for the Doak Walker Award, given annually to the nation's top running back.
Stewart is one of 52 backs named to the watch list, including eight from the Pac-12 (though none, for a change, are from USC).
Colorado has one Doak Walker Award winner, Rashaan Salaam in 1994. In 2001, Chris Brown was the runner-up for the award.
July 17th
Buffs trying to get a head start on game plans
It's still seven weeks to the first game of the season, but the Buffs are working this summer on preparing for Hawai'i …
and Cal … and Colorado State.
Colorado coaches are allowed to work with their players during the summer (The strength and conditioning coach can monitor workouts, but other than that, the players are left to their own devices for seven-on-seven practices), but that hasn't stopped the Buffs from working on installing game plans for the first three games of the 2011 season.
Senior quarterback Tyler Hansen has taken charge of the workouts – and the game plan installation. "They gave me some stuff to kind of introduce to them," Hansen told the Boulder Daily Camera. "We can`t have the coaches out there, but I`ve talked to the coaches and we already have the game plan for Hawaii done. So I already know most of what we`re doing.
"There is some stuff we can have certain leaders like Toney Clemons and Ryan Deehan introduce to the younger guys and go, 'Hey, this is what we`re going do at Hawaii. We`re going to run this concept against this coverage.` So we`ve kind of gotten a head start on that."
Tyler Hansen understands that there is added responsibilities coming with being the undisputed starter – something Colorado hasn't had at the quarterback position in the summer since 2005. "There is a lot more responsibility this summer and you`ve got to think about that all the time," Hansen said. "If you go somewhere, you`re the starting quarterback and you`ve got to understand that. In year`s prior, that has never been the case at this time. You never knew who the guy was.
"So there is a lot of responsibility and it`s a big weight on your shoulders that you`ve got to carry around and be smart with it."
Hansen has one more week in Boulder before returning home to California. Hansen will meet up with head coach Jon Embree in Los Angeles on July 26th for the annual Pac-12 media day. After that, it's back to Boulder for the start of fall camp, with players reporting on Wednesday, August 3rd.
July 16th
Buffs trying to guarantee every game in 2011 is televised
The 2011 season will be unique for the University of Colorado in many ways … The Buffs' first year in the Pac-12 … The first year of the Jon Embree era …
… The last year without a television contract.
Colorado will be in limbo this fall. The old Pac-10 television contract expires, with the new, 12-year, $3 billion deal with ESPN and Fox set to start in 2012.
So, what's a school to do to get on television this fall?
It appears that Colorado is being pro-active, finalizing a deal with Fox College Sports which will ensure that at least 11 of Colorado's 13 games will be televised this fall. ESPN and/or FSN have already chosen five of Colorado's games this fall, including national telecasts of the Hawai'i, CSU, USC, and Utah games. Six other games, including all of Colorado's remaining home games, will be televised.
The remaining two games may still be picked up. "Our goal was 13, but it looks like we're headed to 11 currently," Colorado athletic director Mike Bohn told the Daily Camera. "We're still working on trying to get all the times right and all the agreements put in place."
The hangup for the remaining two road games is that the host schools have yet to commit to start times, and the start times may confllict with the window for games being televised by ESPN and/or FSN. If the games are picked up by those networks, or if the host schools agree to have their kickoff outside the contractual window for ESPN and FSN, the games could still be televised by FCS.
While it would be nice to have all 13 games on television this fall, there is a part of me that wouldn't mind having one game go untelevised.
Why? Well, starting next year, the Pac-12 agreements are such that every football game (not to mention every men's basketball game) will be televised. As a result, 2011 may be the last year – ever – that Colorado doesn't have a game on television.
Why would it be a good thing not to have a game televised this fall? Because otherwise, the last game in Colorado football history not to be televised would be the ninth game of the 2010 season. That particular game would then become the answer to a CU trivia question.
You remember that game …
It was Colorado at Kansas, one of the most infamous implosions in college football history.
I'd just as soon not have to have any other reasons to remember that afternoon.
July 15th
College Football Hall of Fame Enshirement Festival
Busy this weekend?
On Friday, July 15th, and Saturday, July 16th, thousands of college football fans from across the country will join the National Football Foundation at the College Football Hall of Fame in South Bend, Ind. for the annual Enshrinement Festival, which will pay tribute to the storied careers of 20 of the game's greatest players … including Colorado's Alfred Williams.
The bio of Alfred Williams, as presented by the National Football Foundation, can be found here.
Some highlights:
"Williams was one of the key figures in the University of Colorado football team's rise to national prominence in the late 1980s. The 1990 Butkus Award winner as the nation's top linebacker, Williams led the Colorado Buffaloes to the 1990 national championship and two straight Big Eight Conference titles. Alfred was a standout player all four of his seasons with the Buffs, first playing as a true freshman in 1987. He was named a consensus All-America as a junior in 1989 and a unanimous All-America during the 1990 season. Williams helped the Colorado team reach a 14-0 mark against Big Eight opponents during his junior and senior seasons.
"Our hats are off to Alfred for his prominence on the football field beyond CU, but also what he continues to stand for as it relates to our football program, athletic department and the entire university," Colorado athletic director Mike Bohn said. "Many feel that it is more than appropriate that Alfred is the first to go in (to the College Football Hall of Fame) from the national championship team not only because of what he meant to that team, but how he has represented and supported the university through the years."
Congratulations, Alfred, for all you have done for the University of Colorado!
Colorado State without a star 2011 signee
One of Colorado State's top recruits from the Class of 2011 will not be wearing green-and-gold this fall.
Running back Kapri Bibbs, a 5'10", 198-pound all-state star from Plainfield North High in Illinois, did not qualify academically, and will be heading off to junior college. Bibbs became academically ineligibile after his ACT score missed requirements. 
"I can do what I need to do," Bibbs told the Denver Post. "I'm not gonna cry about it. It's my fault. I messed around my freshman and sophomore years and now I'm paying for it." Bibbs plans to enroll in a junior college for one year, perhaps in Utah.
While Bibbs will not be a Ram this fall, his present intention is to eventually find his way to Ft. Collins.
"I want to reassure the fans that I'm still around," Bibbs said. "I'm not going to change my mind. I'm going to be loyal to my commitment. I want to set up for a successful future with CSU. I made a lot of promises to them I want to keep."
CSU notes …
While Colorado has now hit double digits in recruits for the Class of 2012, Colorado State remains at … zero.
There is also a report that another highly rated recruit from the Class of 2011, defensive tackle Isiah Norton, will also be an academic casualty. Norton, from Dallas, Texas, had offers from five Big 12 schools, as well as Purdue, Tennessee, and Nebraska. Norton, however, is not showing up on the recently released 2011 Colorado State football roster.
July 14th
Buffs to have the look of champions
The Colorado athletic department has confirmed that the team will again don throwback jerseys this fall, with the Buffs to wear 1990-style uniforms for home games. The look, with "COLORADO" in bold letters across the chest and striped sleeves will be popular with many CU fans.
"They represent the tradition and prestige and the classic look of Colorado football," athletic director Mike Bohn told the Daily Camera when asked if there would be uniform changes this year. "They were well received by both our players and our fans and Nike has helped us resurrect them both home and away."
While Jon Embree will get some of the credit for keeping tradition alive, in fact he had no role in deciding the uniforms for this fall. Embree has expressed, though, a dislike for the white-on-white road uniforms. Those will not return (yea!), even though they were popular with the players. Colorado will wear black pants with their white jerseys on the road this fall.
July 12th
Ryan Miller makes watch list No. 2
e pluribus unum … out of many, one.
Colorado senior guard Ryan Miller has made his second national award watch list, being named to the preseason watch list for the Rotary Lombardi Award. The Lombardi Award is given annually to the best lineman or linebacker in the nation. The entire list consists of 125 names, including 13 players from the Pac-12. In addition to Miller, there are representatives from seven other teams in the conference, including three players from Stanford.
Colorado has never had a winner of the Lombardi Award, though in 1995, center Bryan Stoltenberg was a semi-finalist.
Colorado season ticket sales going well
It may be mid-July on the calendar, but it's Christmas in July at the Colorado season ticket office.
The Buffs are already over 1,000 season tickets ahead of last year's pace of 21,000. Early this year, Colorado athletic director Mike Bohn stated his goal for 2011 was 25, 000 season tickets sold. That seemed far-fetched for a team coming off of five straight losing seasons, but now it appears that the Buffs might pull it off.
"It has been our goal and we`re working hard at it," Bohn told the Boulder Daily Camera of the 25,000-seat target. "We continue to be inspired and thrilled by the response of our fans."
The overall poor economy, along with the overall poor performance on the field by the Buffs has apparently been more than offset by the excitement generated by the new coaching staff, along with Colorado's move to the Pac-12. The increase in sales may also – at least in part – be due to the home package being only five games (plus the CSU game in Denver) rather than six home games plus CSU.
"Obviously the strength of the schedule is extremely attractive to our fans and our corporate sponsors," Bohn said. "Having one less game does allow us to present a little bit more affordable packages for fans to consider."
Whatever the reason, having more black-and-gold in the stands come this fall is welcome. With Pac-10 teams notorious for not traveling particularly well (with the exception of USC), Folsom Field could become an even greater home field advantage …
July 11th
Rodney Stewart on Maxwell Award watch list
Rodney "Speedy" Stewart has been named to the Maxwell Award watch list. The Maxwell Award, given to the nation's top overall player, has a watch list with 66 names. From the Pac-12, 11 players from seven teams were named, with USC, Oregon, Arizona and Stanford with two players each. Shut out from the list were Arizona State, Utah, Washington State, Cal, and Oregon State.
No player from Colorado has ever won the Maxwell Award. In 1994, Rashaan Salaam, the Buffs' sole Heisman trophy winner, was the runner-up for the Maxwell Award, finishing behind quarterback Kerry Collins from Penn State.
Interestingly enough, no Pac-10/12 player has won the Maxwell Award since 1981, when Marcus Allen from USC won the award.
July 9th
Spring grades show continued improvement
Remember back in May, when Colorado's APR (Academic Progress Rate) finally showed that the football team was out of APR danger?
Well, that positive status should not be changing anytime soon.
The football team recorded a cumulative GPA of 2.640 this spring, the highest average for the team in the 30 semester terms that such data has been collected. The mark was just slightly higher than the previous mark, 3.637, which was set in the spring of 2009. The improvement from the fall semester, when a cumulative 2.246 GPA was recorded, was also the best in program history.
Overall, the 304 student athletes enrolled at Colorado had a term GPA of 2.862, third highest in the 15-year history of the APR. Only in the spring of 2000 (2.891) and the spring of 1999 (2.871) have Colorado teams posted higher cumulative GPA's. Spring 2011 marks the seventh straight semester in which Colorado's students have posted a cumulative GPA of over 2.80.
A school-record 162 students earned recognition for the Big 12 Conference Commissioner's Honor Roll, earning GPA's in excess of 3.0. Women's track and field had the most honored athletes, with 34, followed by football, with 29. (Men's basketball had six players on the list, tying its best-ever showing).
Congratulations, Buffs! 
July 8th
Ohio State 0-13 in 2010
Colorado's 2011 schedule just eased up …
Instead of playing a team on September 24th which went 12-1 last season, the Buffs will now play a team which went 0-13.
Now, don't you feel better?
In an attempt to self-punish before facing the NCAA infractions committee on August 12th, Ohio State on Friday vacated all of its victories in 2010, including its Sugar Bowl victory over Arkansas. Athletic director Gene Smith wouldn't speculate on what else the NCAA might do, but he called the university's actions significant. Not only is the entire 2010 season wiped out along with the Sugar Bowl — the Buckeyes went 12-1, the lone loss coming at Wisconsin — but so is the university's seven-game winning streak over rival Michigan.
"That's a significant impact to those who participated, and some of them are still here today," he said. (As a side note, the Columbus Dispatch, on the front page of sports section of its website, carries the following banner: "Days since Michigan's last victory over Ohio State in football: 2785" – guess the local paper hasn't gotten around to vacating last year's victory just yet).
In addition, the school placed itself on two years' worth of probation, but – significantly – did not impose any loss of scholarships or a bowl ban. Those penalties, however, could still be imposed by the NCAA.
Also announced Friday, former head coach Jim Tressel did not, in fact, resign as the Buckeyes' head coach. Instead, Tressel's termination is now listed as a "retirement", and the $250,000 fine imposed upon Tressel by the school has now been waived.
In the introduction to its 66-page "Response to the: NCAA Notice of Allegations", Ohio State (sorry, The Ohio State) stated:
"Introductory Statement
"This issue was self-detected and self-reported by The Ohio State University (University). The institution is very surprised and disappointed by the lack of action in this matter by then Head Football Coach Jim Tressel. His behavior in this situation is out of character for him, as he has been a man of integrity and high moral standards since his hiring as the head football coach in 2001. His lack of action in this matter appears to have been the result of indecisiveness regarding the appropriate actions to take in this specific situation in which he was placed, as opposed to a blatant disregard of NCAA legislation. Nevertheless, he should have forwarded this information in some manner to appropriate institutional officials. He did not, and both he and the institution understand the significance of this issue. The institution will not excuse such behavior. As a result, the institution has imposed significant corrective and punitive actions upon itself and sought and received the resignation of Tressel."
Convenient.
On the same day that the school throws Jim Tressel under the bus – "It was all the coach's fault, don't punish the school" – Ohio State announced that not only would Tressel not have to pay the $250,000 fine it had imposed earlier, but that the school would also be paying its former head coach an additional $52,250 …
Before his resignation, Tressel was to have been sanctioned with a five-game suspension in addition to being fined. Instead, the university will pay him $52,250 – the equivalent of the salary and benefits he would have earned through the end of June 30th. OSU's decision to drop the fine goes against an assertion by Gee last month that Tressel would be required to pay no matter what the other terms of his departure were. "We've levied a $250,000 fine against the coach, and he will pay that," Gee told The Dispatch on June 11th.
Tressel also will collect his unpaid sick and vacation time up to 250 hours and will be eligible for health-insurance coverage for himself and his family under the plan available to all state retirees, according to the settlement. "I am grateful for this opportunity to retire from the university that I so deeply respect and that I will continue to support," Tressel said in a news release.
Tressel will be appearing at the infractions hearing on August 11th, arguably to now fall on the sword for the benefit of the university.
Whether Ohio State's preemptive imposition of penalties, not to mention its change of heart with regard to Jim Tressel, will hold any sway with the NCAA infractions committee remains to be seen …
Ryan Miller on Outland Trophy watch list 
Colorado senior guard Ryan Miller has been named to the Outland Trophy preseason watch list for the second consecutive season. Miller is one of 65 players vying for the trophy, awarded annually to the nation's best interior lineman.
Miller's former teammate, Nate Solder, was a finalist for the Outland Trophy last season. No Buff has ever won the award, but in 1990, guard Joe Garten was the national runner-up for the award.
Ryan Miller is a fifth-year senior, but has already played in four seasons. Miller broke his leg in the fourth game of the 2008 season (against Florida State), and was granted a medical redshirt season. Miller has already played in 38 games in his Colorado career, with 35 starts. Miller, along with defensive linemen Curtis Cunningham and Will Pericak, are the only returning starters who started every game in both 2009 and 2010.
July 7th
Quarterback Cody Green talking with USC
As Yogi Berra would say, "It's like deja vu all over again" …
ESPN is reporting that former Nebraska quarterback Cody Green is planning on visiting USC, as early as this week. Green was a highly recruited quarterback out of Dayton, Texas, but was beaten out for the starting job by Taylor Martinez. However, in 2010, Green did play against Colorado, completing 10-of-13 passes for 80 yards and two touchdowns, while rushing for 23 yards and another score.
Green was a sophomore last season, with a red-shirt year to sit out for his transfer year, giving him two years to play two starting in 2012. Green is also talking with Tulsa and Kansas State, and hopes to enroll in a school in time to participate in fall camp.
Tyler Hansen back in black-and-gold in 2012?
Charles Johnson and Joel Klatt were talking the other day about the possibility that Colorado and Tyler Hansen are considering trying to get Hansen a fifth year of eligibility due to Hansen's checkered past in Boulder.
Don't get your hopes up …
The history:
2008: Hansen was supposed to red-shirt his freshman season, but, midway through the year, his red-shirt was inexplicably torn off. Hansen went on to become just the fifth true freshman to start at quarterback in CU school history.
2009: Once again, Hansen was in line to red-shirt, watching from the sidelines as Cody Hawkins was named the starter. Once again, Hansen's red-shirt was torn off midway through the season, with Hansen starting the final seven games of the season.
2010: Hansen earned the starting job, but was injured in the seventh game, with Cody Hawkins finishing out the year.
In all, Hansen has played in just 20 games over three seasons.
Does the senior quarterback deserve a second senior season in 2012?
Probably.
Will he get it?
Probably not.
Normally, for a player to earn another year of eligibility, they need to have played in less than 25% of team's games. That isn't the case with Hansen. While there could be plenty of sympathy for Hansen's unfortunate history, it would be very unlikely for the NCAA to give Hansen a break.
True, the NCAA does look at cases individually, and reserves the right to overlook the rules in cases where logic is stronger than the rulebook.
For those dreamers, I have but two words …
Jeremy Bloom.
July 6th
Old is new again
It is looking more and more like the Buffs of 2011 will look a great deal like the Buffs of 20 seasons ago … 
Uni-watch.com is reporting that the Colorado white road uniforms will be the look Colorado had between 1989-94, with three stripes along the side of the jersey.
Here is what Chip looked like wearing the new/old uniform:
If reports are accurate, the white-on-white road uniforms, with white pants, will be a thing of the past (yea!), with the road pants to be either black or gold.
We'll see soon enough …
July 5th
Sal Aunese Trailer updated
The trailer for "Born to Lead: The Sal Aunese Story" has been updated. For those of you who have seen it, it is worth catching again.
If you haven't seen it yet, be prepared to be inspired … "Born to Lead: The Sal Aunese Story".
July 4th
Colorado 66th in Directors' Cup standings
For the 17th-straight year, Stanford finished No. 1 in the Directors' Cup standings, with the Cardinal accumulating more overall points than any other school in the nation. Stanford annual domination is due – at least in part – to the fact that Stanford has teams in almost every sport open to competition, including men's and women's fencing, field hockey, men's and women's sailing, squash, and men's and women's water polo.
With 1550.25 points, Stanford easily out-distanced the No. 2 school, Ohio State, which had 1277.05. In the Pac-12, Cal came in third in the overall standings, with UCLA (11th), USC (14th) and Arizona (16th) finishing in the top 20.
Colorado, which offers the minimum number of sports allowed under NCAA rules (16) finished in 66th place. The only Pac-12 schools to finish below Colorado were Oregon State (69th), Utah (71st), and Washington State (135th).
It will take time, but, with the new Pac-12 media money guaranteed to the Colorado athletic department, look for the Buffs to slowly but surely work their way up the Directors' Cup standings. In the next decade or so, Colorado will be in a position to offer more sports to its athletes. More sports leads to more participation, which leads to better point accumulation, which leads a higher ranking in the Directors' Cup.
Brock Berglund done at Kansas?
The last time we heard from Brock Berglund, he was missing spring practices in Lawrence. Now it may be much more than that …
Remember Berglund? He committed to Colorado before the coaching change, and then switched his commitment to Kansas.
Initially, Berglund stayed with the Buffs and the new staff. Here is the December 5, 2010, Colorado Daily update:
Brock Berglund stars in state finals – Colorado recruit Brock Berglund led his Valor Christian team to the state Class 4A title Saturday. Berglund, who reaffirmed his commitment to Colorado after Dan Hawkins was fired, threw for 280 yards and ran for another 122 in leading Valor Christian to a 38-8 victory over Wheat Ridge in the state title game. Berglund went 12-of-16 passing for three touchdowns and had 14 rushes for his 122 yards, including a 24-yard run for another score. "I love it in Boulder and I've grown up a CU fan, and that's where I'm going to school," said Bergland after the game.
Shortly thereafter, however, Berglund switched his commitment: 
"Berglund emphasized that the choice to don Crimson and Blue instead of Black and Gold had nothing to do with the Colorado coaching staff, for whom he maintains the utmost respect," wrote Aaron Cedeno for Phog.net. "As long as they're not playing Kansas, he said, he'll always root for the Buffaloes. But the combination of factors in Lawrence, from the town and the school to the coaching staff and the system, ultimately proved to be the perfect fit."
Since commiting to Kansas, though, things have not been going as well as planned.
Here is what was in the March 3rd Colorado Daily update:
Heralded freshman quarterback recruit Brock Berglund will not be a participant in spring practices at Kansas. Berglund, who committed to Colorado before the coaching change, is enrolled for spring classes at Kansas, but, due to a "personal matter", will not be on campus when spring practice begins April 1st. Berglund is reportedly in good standing as a student, and has made arrangements to continue taking classes on-line while he is away.
Kansas fans had been hoping that the dual-threat quarterback would participate in spring practices, and compete with Jordan Webb and Quinn Mecham for the starting job this fall. While that remains a possibility, not participating in spring drills will set Berglund's development back, leaving Jayhawk fans to pick between Webb and Mecham, neither of whom was overly productive (except for one quarter v. CU) in Kansas' 3-9 2010 season.
And now ….?
"Berglund has as much chance of ever suiting up for a Kansas football game as does Lady Gaga, and, really now, can you ever see her agreeing to wear that much clothing?," wrote Tom Keegan for LJWorld.com. "Berglund will play football for KU the day Charles Barkley breaks 70 on Augusta National. He'll command a huddle surrounded by Jayhawks just as soon as Jane Fonda commands our nation's armed forces. Berglund will throw a pass to tight end Jimmay Mundine when pigs fly, Pakistan comes clean about harboring Osama bin Laden and Wilford Brimley beats out Leonardo DiCaprio for an Oscar."
The problem apparently is that Brock Berglund was full of himself when arriving on campus. When asked which quarterbacks he would compare himself to, Berglund replied: "I would say Tim Tebow, Michael Vick and Peyton Manning, kind of all put together". His play, however, did not match his attitude. Berglund did not participate in spring drills, missed the spring game, and reportedly has not been a participant in the Jayhawks' voluntary summer workouts.
Since summer voluntary workouts are supposed to be "voluntary", Kansas head coach Turner Gill can't boot Brock Berglund from the team. The best bet now is that Berglund will try to find a school who will take him as a transfer.
Colorado? Perhaps, but not likely. The new Buffs coaching staff went with Stevie Dorman after Berglund defected, and have Shane Dillon as a verbal commitment for the Class of 2012. Colorado head coach Jon Embree indicated earlier this year that he was only interested in taking one quarterback this year, which would seemingly leave Berglund out of a spot in Boulder.
Buff fans were upset/concerned/alarmed when a quarterback ranked as the 15th-best dual threat quarterback prospect in the nation defected from his home state school and went with Kansas. The recruitment of Stevie Dorman, considered by Scout to be the 78th-best quarterback in the country by Scout (and outside the top 100 by Rivals), seemed to be a step down.
It doesn't seem like such a step down today …
June 30th
Brian Lockridge only returning Buff out
There were 15 players who missed the Colorado 2011 spring game. As June turns into July, and fall practices approach, only one player, running back Brian Lockridge, remains a question mark for the 2011 season opener on September 3rd against Hawai'i.
As you may recall, there were a number of Buff players who were recovering from off-season surgeries, and sat out spring practices. Two of those players have moved on due to their injuries, offensive linemen Maxwell Tuioti-Mariner and Mike Iltis.
Others who were injured and out for much if not all of the spring, however, are on the mend and should be ready for fall practices. That number includes: FB/TE Matt Bahr (shoulder surgery); offensive lineman Blake Behrens (shoulder surgery); defensive back Vince Ewing (knee); defensive back Parker Orms (knee); and defensive back Anthony Perkins (knee).
Then there are those players nicked up enough to miss the spring game, who will be a "full go" for fall practices, including: wide receiver Toney Clemons; offensive lineman Ryan Dannewitz; defensive end Nick Kasa; tight end DaVaughn Thornton; and linebacker Derrick Webb.