August 25th
Texas A&M gives its notice … sort of
In a news release today, Texas A&M University "officially notified the Big 12 Conference that it is exploring options related to the institution's athletic conference affiliation. Texas A&M also requested that the Big 12 outline the process to be followed should the university elect to withdraw from the conference."
What does that mean?
In the letter to Big 12 Commissioner Dan Beebe, Texas A&M President R. Bowen Loftin indicated that if the university withdraws from the conference, Texas A&M would do so in a way that complies with the Big 12's bylaws. Additionally, Texas A&M would be supportive of the Big 12's efforts to seek a new member of the conference.
"As I have indicated previously, we are working very deliberately to act in the best long-term interests of both Texas A&M and the State of Texas. This truly is a 100-year decision," said Loftin. "While we understand the desire of all parties to quickly reach a resolution, these are extremely complex issues that we are addressing methodically."
Coincidentally, SMU athletic director Steve Orsini made public his belief Thursday that the Mustangs are ready to join an automatic-qualifier BCS conference and has made his case to certain Big 12 officials.
The Big 12's board of directors is scheduled to meet on Saturday.
"The letter received today from Texas A&M president R. Bowen Loftin will be addressed by the Big 12 conference board of directors," Big 12 commissioner Dan Beebe said in a statment. "It remains our strong desire for Texas A&M to continue as a member of the Big 12 and we are working toward that end. However, if it is decided otherwise, the conference is poised to move aggressively with options."
Nothing official, but there would be no reason for Texas A&M to issue such a statement unless it felt fairly certain that it was leaving the Big 12, and that the school had a new home – the SEC – ready to accept them when they bolted.
Does this latest news affect Colorado and the Pac-12?
According to Jon Wilner of the San Jose Mercury News, the Pac-12 should not – and will not – expand.
Here is Wilner's take on the situation –
"And here's a 10-digit summation of the Pac-12's position:  925-932-4411.
"That's Larry Scott's number. Call if your school is interested in joining the Pac-12, because he isn't calling you.
"The sense I got from numerous sources is that Scott believes he has made the Pac-12 an attractive place to be (which he has), with a rock-solid business model (which it has), and he's finished shopping (as he should be)."
However, Wilner does outline a scenario in which it would make financial sense for Texas to give up its solo Texas Longhorn Network and play nice sharing with the Pac-12 –
"Specifically: The Pac-12 divides its TV revenue equally and The Longhorn Network, a partnership with ESPN, is set to pay Texas about $11 million per year. Those business models cannot co-exist.
"But that doesn't mean UT to the Pac won't happen. Several sources said that if Texas and ESPN are willing to make it work — granted, that's a colossal if — it could work …
"Not-so-quick aside: I disagree with the notion that Texas is better off financially in the Big 12 with TLN than it would be in the Pac-12 without TLN. Look at the numbers:
"The Longhorns are set to receive about $30 million annually from TLN and the Big 12's first- and second-tier media deals with ESPN and Fox, respectively.
"The Pac-12 schools will receive an average of $21 million from the league's deals with ESPN and Fox that kick in next summer.
"But that figure does not include the revenue from the Pac-12 Network, which should be millions of dollars per school once it has fully ramped up on the distribution and advertising fronts.
"And that figure does not include the added revenue that would come from revised deal with ESPN and Fox prompted by Texas joining the conference.
"Add Texas, Texas Tech and the Oklahoma schools, and ESPN and Fox would have to substantially increase the annual payouts. Toss in the revenue from a Pac-16 Network, and we're talking much more than $30 million per school.
"Would Texas be better off financially in the Pac-16 than as a football Independent? It would depend on the Longhorns making the BCS. (Notre Dame reportedly brings in $15 million annually from its NBC deal.)
"Now, as I was saying …
"The question is whether the Longhorns and ESPN would be willing to make a merger with the Pac-12 work — to shred or revise contracts, check their egos at the door, etc."
Here's betting that Texas – even if the numbers are higher – will not be willing to give up their solo network, or share revenue equally.
If the Longhorns were willing to do so, they would have joined the Pac-16 in 2010.
August 24th
Texas joins Colorado in the bricklaying business
As they say, imitation is the most sincere form of flattery.
Let me know if the following sounds familiar: "Brick by Brick"; "Building a New Foundation One Brick at a Time"; and "The pride and and winning tradition of the Texas Longhorns will not be entrusted to the weak and the timid".
Wait a second – "Texas Longhorns"?
Three phrases which have been heard around Folsom Field over the years, especially since the hiring of the new coaching staff, are now the official motto of the 2011 Texas Longhorns. Here is a link to the ESPN story about how the 5-7 Longhorns are planning on taking the upcoming season one step at a time, one game at a time, one brick at a time.
Buff fans have been hearing for months about how new head coach Jon Embree wants to reinstate the brick wall at the Dal Ward Center, with each brick representing a significant Coloado victory. The first "brick" of the Jon Embree can be earned by ending an 18-game losing streak with a victory in the season opener against Hawai'i on September 3rd.
Now, less than two weeks before the start of the season, Texas has unveiled its motto for the 2011 season, "Building a New Foundation one Brick at at Time".
Better late than never, Texas?
August 20th
Second scrimmage – good news and bad news
Senior quarterback Tyler Hansen joined his head coach in stating that Friday's scrimmage was not a great one for the offense. "There's no excuses," Tyler Hansen said. "We've got to be better than we were (Friday) running the ball."
Installing some gameday situations, like hand-signals to deal with crowd noise, also hampered the offense, but should not have caused the problems that it did. "We were doing game-day signals . . . that takes a little getting used to," said Hansen. "But we have to get better overall (offensively). There's no other way. We've got to be sharp these next two weeks. We've got Saturday and Sunday off, and Monday's going to be different."
Sophomore left tackle David Bakhtiari spoke about the overall lackluster performance this way – "You could just kind of see it as a whole – and I'm not throwing anybody under the bus because all of us were flat for some reason. The twos and threes played pretty well, but we need all 11 players (on the first unit) clicking.
"I think a lot of guys just came out going through the motions. It was pretty disheartening to see, but I'm not too worried about it. I know we'll bounce back these next two weeks. I know 100 percent that's going to happen."
On the positive side …
Several players were singled out for playing well on Friday. Jon Embree praised receivers Logan Gray, Tyler McCulloch and Kyle Cefalo for their efforts … though it is noteworthy that all three of these players were not supposed to be amongst the elite on the team this fall: Logan Gray is a senior transfer from Georgia; Tyler McCulloch is a true freshman who was not signed until after Signing Day in February; and senior Kyle Cefalo is a walk-on who was just awarded a scholarship this week. Notably absent from Embree's list of praiseworthy wideouts was senior Toney Clemons (sophomore Paul Richardson was held out of the scrimmage, with his position at starter solidified).
Senior Travis Sandersfeld and freshman Greg Henderson appear to have won the two cornerback spots, but defensive back Greg Brown is still trying to find an extra cover man to line up against pass-happy Hawaii and its four- and five-receiver sets.
Brown said Henderson, a 5-11, 185-pounder from Corona, Calif., has acclimated extremely well for a first-year player: "He's very intelligent and physical. He's really picked it up fast."
"I came into camp just wanting to prove myself and try to get in position to start," Henderson told cubuffs.com. "I felt like I was a good cover guy and good in bump-and-run and being aggressive – that's what the coaches like."
Henderson said he expects to be targeted by Hawaii and every other opponent: "I think a lot of people are going to try and come at me because I'm a true freshman. I've just got to hold my ground and show them I'm tough."
Sandersfeld was pulled early Friday to allow evaluation of several players at corner, among them Parker Orms, Josh Moten and Jonathan Hawkins. Ayodeji Olatoye and Paul Vigo sat out the scrimmage, with linebackers Patrick Mahnke, Jon Major and Doug Rippy and safeties Anthony Perkins and Ray Polk exiting early to allow more personnel evaluation.
– The only injury which was reported was to freshman defensive back Will Harlos, who suffered a concussion.
– Jon Embree stated that he expects to burn the red-shirts of "nine or ten" true freshman this fall. Included amongst those who will be playing this fall is defensive end phenom Stephane Nembot. This one surprises me. The one unit in which Colorado is deep and experienced – six seniors – is along the defensive line. Combined with the fact that Nembot has only two years in football, and would benefit from a year of training, would lead one to believe that he would benefit from a red-shirt season.
April 18th
Team captains named
Three seniors and a junior were named Thursday to be the Buffs' team captains in 2011.
For the offense, senior quarterback Tyler Hansen and senior right guard Ryan Miller were selected by their teammates, while on the defensive side of the ball, junior linebacker Jon Major and senior safety Anthony Perkins were honored.
Embree also will select a fifth captain for each game, which he said will almost always be based on the previous week's special teams performances or for a special situation that would warrant a player being chosen.
It's the first time as many as three Colorado high school performers will serve as team captains since 2004, when Joel Klatt (Arvada), defensive tackle Matt McChesney (Niwot) and tailback Bobby Purify (Colorado Springs) earned the distinction.
"They were voted on by the players, and I think they made excellent choices for who the leaders of the team will be this year. There's no finer honor that having that kind of respect from your peers."
Cefalo given a scholarship
In addition to announcing CU's captains, Embree also said that senior wide receiver Kyle Cefalo has been placed on scholarship.
Cefalo transferred to Colorado in the spring of 2009 from Wenatchee Community College, where he attended one semester after originally signing out of high school with Oregon State on a baseball scholarship. But his career there was cut short due to an arm injury, so he turned to his next love, football. A teammate of Cody Hawkins at Bishop Kelly High School in Boise, he then decided to follow his friend to Boulder. He caught six passes for 35 yards as junior in 2010, playing in 11 games which included a start in the season opener against Colorado State.
"Since I've been here from day one, Kyle has done it both on and off the field," Embree told cubuffs.com. "He works hard and he is a great teammate. He'll be a great contributor for us and I'm happy for him and his family."
"When coach Embree told me, I was speechless at first, but I'm just really excited and happy," Cefalo said. "It's nice when four years of hard work can pay off and the coaches recognize that.
"It was totally out of the blue, coach called me up on stage in front of the whole team. I had no idea what he was going to do. Everybody was really excited, it was really cool to see all my teammates react like they did and give me hugs. It was a great moment."
August 15th
Texas A&M to SEC still in the works
As Marc Isenberg, an author who follows college sports put it this weekend – "Another day in college sports. Another victory for billable hours" …
What do we know today?
1) The SEC Presidents on Sunday decided not to extend an invitation to Texas A&M "at this particular time" (see August 14th update, below). Some have speculated that the SEC doesn't want to be sued by the remnants of the Big 12 for tampering with one of the Big 12's ten members, and prefers to wait for Texas A&M to make the first move (if such is the case, why did the SEC Presidents meet to discuss the matter at all? Would it not have been prudent to wait until after the Texas A&M Board of Regents met?).
Arkansas chancellor Dave Gearhart was at the meeting Sunday and said A&M was among a number of topics discussed. "It was really an open discussion, not just about A&M but about the future of the conference and the future of other conferences," Gearhart told ESPN. "We did talk about Texas A&M. It's a great university, a great place. But I think the decision was to make no decision at this particular time."
"(Texas A&M) did approach the SEC, not the other way around," Gearhart said. "I'm not really sure of all the reasons for that. I'm sure that there's a lot of speculation on behalf of a lot of people that what caused them to do that.
"The bottom line is they did approach the SEC."
It seems as if liability was also on the agenda at Sunday's meeting …
2) The Texas A&M Board of Regents met on Monday, giving A&M President R. Bowen Loftin to take any action he deems necessary in terms of realignment. While moving to the SEC remains an option, staying with the Big 12 is also an option. Loftin said that any realignment by Texas A&M will take place after a "lengthy" process.
Loftin stressed that no decision had been made yet, but the regents' decision on Monday allows the possibility of one occurring in the future. There is no timeline for a decision, and there is no set end for Loftin's possession of negotiating and decision-making power.
"It's not so much what's wrong with the Big 12, it's what's right for Texas A&M," he said of the decision.
Loftin said there are too many variables that must be settled before he could say whether or not he would accept a bid to the SEC, but said there has never been a bid to the SEC issued to Texas A&M.
He also added that the SEC's decision to make no action toward Texas A&M on Sunday was expected.
So, now what?
3) The hearing before a committee for the Texas state legislature, scheduled for Tuesday, has been post-poned. Texas Rep. Dan Branch, the chairman of the Higher Education committee that was to have hosted the hearing, had said it was in the best interest of the students of the state of Texas, including at Texas, Texas Tech and Baylor, to address the matter in a public forum.
"While events may continue to evolve in the coming weeks, at this time, there is no immediate need to evaluate the merits of an athletic conference reconfiguration involving Texas A&M University and, potentially, other Texas public universities," Branch said in a statement released Monday afternoon. "If the current situation changes, our committee is prepared to convene."
 Of course, all the Buff Nation really cares about is how this latest round of conference roulette will affect the Buffs.
Again, it comes down to Texas, not Texas A&M.
The buffer against Texas joining the Pac-16 has been the Longhorns' unwillingness to accept parity. What would become of the Texas Longhorn Network if Texas were to be invited to join the Pac-16?
Not a problem, according to Kirk Bohls, of the Austin American-Statesman: "I expect the six BCS conferences to fold into three: Pac 16, Big Ten and the SEC. And I still think if A&M leaves and the Big 12 chooses not to expand, a nine-team league won't work, Texas and others will join the Pac-12, and the Longhorn Network will be allowed under the current Pac-12 television package that already includes six regional networks: Arizona, Southern California, Northern California, Oregon, Washington and Mountain network with Colorado and Utah."
This seems like an overly simplistic view – Everything is split equally in the Pac-16, but the Longhorn Network (all $300 million of it) remains the property of Texas? Just folding it into the Pac-16 Network doesn't change the math. Either Texas decides to share (which would be a change from last season, when the Longhorns were presented with largely the same concept – if not the same huge dollars – but balked), or the Pac-12 members take their ball and go home.
Everything Pac-12 commissioner Larry Scott has touched to date has turned to gold.
I am just hopeful that his grand plan for a nation of super-conferences does not cloud his judgment with respect to the treatment of Texas.
—
But we're getting ahead of ourselves. First, Texas A&M has to leave (no sure bet), then the Big 12 has to collapse, rather than just replace Texas A&M (no sure bet), then Texas would have to be invited to join a Pac-16 super-conference (certainly not a sure bet).
Stay tuned …
While this may not be the final word on what happens with Texas A&M and the SEC, I couldn't resist posting this  ….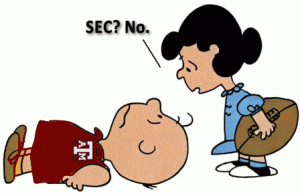 August 14th
ESPN giveth; ESPN taketh away
The same network which declared that Texas A&M to the Southeastern Conference was a done deal is now reporting that the SEC hasn't extended any such invitation.
The Southeastern Conference is not extending an invitation to Texas A&M to become its 13th member, according to ESPN, but isn't ruling out adding the Aggies in the future. University of Florida president Dr. Bernie Machen said the conference's presidents and chancellors met on Sunday and "reaffirmed our satisfaction with the present 12 institutional alignment.
"We recognize, however, that future conditions may make it advantageous to expand the number of institutions in the league," Machen said. "We discussed criteria and process associated with expansion. No action was taken with respect to any institution including Texas A&M."
Arkansas chancellor Dave Gearhart was at the meeting Sunday and said A&M was among a number of topics discussed. "It was really an open discussion, not just about A&M but about the future of the conference and the future of other conferences," Gearhart said. "We did talk about Texas A&M. It's a great university, a great place. But I think the decision was to make no decision at this particular time."
The Texas A&M Board of Directors will still meet on Monday to discuss the possibility of joining the SEC.
Now, at least, it appears that such a vote, if it occurs, will be to accept an offer … if it is tendered.
August 13th
More on the Texas A&M move …
The reported move of Texas A&M to the SEC continues to grow momentum.
While there should not be any "official" news of the Texas A&M move to the Southeastern Conference until after Monday's meeting of the Texas A&M Board of Regents (see August 12th update, below), speculation has gone from the purview of internet posters to a major story for mainstream outlets.
The Houston Chronicle is reporting that the move will be announced on Monday – if not before. According to the Chronicle, Texas A&M intends to bolt the Big 12 for the Southeastern Conference, abruptly ending its nearly century-old league affiliation with rival Texas, and 15-year union with the Big 12, which includes longtime in-state rivals Baylor and Texas Tech. A&M has called for a telephonic regents meeting for 3 p.m. Monday to discuss "conference alignment."
Agenda item 15 reads in part, "Authorization for the President to Take All Actions Relating to Texas A&M University's Athletic Conference Alignment." An A&M official said Friday night that the Aggies hope to begin play in the SEC in 2012, but it's too early in the complex process to determine if that will happen.
A&M pushed up its regularly scheduled regents meeting from Aug. 22 apparently to stay in front of a hastily called Tuesday hearing by the Texas House Committee on Higher Education on potential league realignment. SEC school leaders also intend to meet this weekend to essentially rubber stamp A&M's admittance, according to a Big 12 school official.
ESPN is reporting that in addition to Texas A&M, the SEC is also looking into inviting Clemson, Missouri, and Florida State to join the league. Reportedly, SEC presidents will meet on Sunday to discuss the Texas A&M option, along with the issue of whether to invited one or three other schools.  An SEC official told ESPN that there was still a 30 percent to 40 percent chance the Aggies would not get enough votes for an invitation to the league. And the issue of needing to add a 14th team along with A&M remained, according to the New York Times.
"We realize if we do this, we have to have the 14th," the SEC official said. "No name has been thrown out. This thing is much slower out of the chute than the media and blogs have made it."
While ESPN is reporting that Missouri, Clemson and Florida State are potential partners to join the SEC, other outlets say that there is no chance that the two eastern schools are on the SEC's short list. The rationale for denying the Clemson and Florida State (and Georgia Tech, for that matter) is that, while South Carolina, Florida, and Georgia are willing to play their natural rivals on an annual basis, they have no desire to bring their chief in-state rivals into the SEC. Why not? Simple. To keep their competitive, finanical, and recruiting advantages (the same reason Colorado would never have any interest in elevating Colorado State to the Pac-12).
Once the Texas A&M move is resolved, the eyes of Texas – and the rest of the nation – will turn to Austin, to see what Texas will do. If only Texas A&M leaves, the Longhorns would likely be content to play in a nine-team Big 12, where they can dominate – and keep their $300 million ESPN television contract to themselves.
If however, Missouri and/or Oklahoma also decides to leave, all bets are off.
Big 12 Response
After meeting on Saturday, the Big 12 Conference Board of Directors issued the following statement:
"The Big 12 Conference Board of Directors conducted a teleconference meeting today to discuss the future of the Conference given recent developments regarding Texas A&M University.
The Board strongly conveyed to Texas A&M its unanimous desire that it remain a Big 12 member, and acknowledged its value to the Conference. The Board noted that Texas A&M expressed concerns about institutional networks and that the athletics directors worked together and took actions, which the Board has approved, to adequately address those concerns.
The other nine members reaffirmed their long term, unconditional and unequivocal commitments made to each other and the Conference last summer. Although the Board hopes Texas A&M remains in the Conference, the Board is prepared to aggressively move forward to explore expansion opportunities. In doing so, the Board recognizes the strength of the Big 12 Conference national brand and the opportunity to capitalize on it."
Stay tuned …
August 12th
Texas A&M Board of Regents to meet in a special meeting Monday
Haven't we been down this road before?
The Texas A&M System board of regents has called a special meeting Monday that includes an agenda item about conference alignment, according to ESPN. The session comes amid speculation that Texas A&M is leaving the Big 12 for the Southeastern Conference.
The item, part of the executive session agenda, is called: "Authorization for the President to Take All Actions Relating to Texas A&M University's Athletic Conference Alignment, The Texas A&M University System."
Speculation as to what might occur if Texas A&M leaves for the Southeastern Conference is just as much fun – and just as scary – as the conference realignment debates of last spring. Will Florida State join the SEC? Will the SEC stay at 14 schools, or go to 16, and, if so, who are the other two schools to be invited? What if Missouri and Oklahoma are the two other schools?
And what of the Big 12? Can it continue as a nine-team league if only Texas A&M leaves? Will Houston be invited to join? What about bringing TCU back from the Big East? What about inviting Louisville? Or BYU?
Most importantly, how would such a move ultimately affect Colorado?
Of course, if Texas A&M leaves, the future of the Big 12 as a conference will be dependent upon what Texas does, if anything. If the Longhorns are content to dominate a watered down Big 12, what teams will be invited in? Can Dan Beebe say with a straight face that a Big 12 with Houston, Louisville and BYU is better – or even as good – as a Big 12 with Nebraska, Colorado, and Texas A&M?
If Texas stays with the Big 12 – or goes independent – it is unlikely that the Pac-12 will become the Pac-16 anytime soon. There are just not enough quality schools within a three-hour plane ride of the west coast, and there are just not enough additional television sets in Missouri, Kansas, and Oklahoma to rationalize dividing the Pac-12's future booty with another four teams.
If, however, Texas is willing to listen to another pitch to join the Pac-16, which teams come along? Oklahoma would be the first choice, with Kansas and Missouri offering some benefits. Texas Tech? No. Baylor? No chance. Oklahoma State? Only if that was the only way to get Oklahoma.
None – repeat NONE – of these options are beneficial to Colorado. If you want to argue that the Buffs need to play in Texas to recruit in Texas, I would like to introduce you to Bobby Kennedy and four of Colorado's ten recruits for the Class of 2012. What's more, Colorado would again be in the shadow of Texas, and once again competing on an unlevel playing field in terms of revenues and recruits. Finally, playing in a Pac-16 would only reduce the number of games Colorado could play in the recruiting fields of California (and wasn't that one of the main reasons for insisting on being a member of the Pac-12 South in the first place?).
If Texas A&M wants to thumb its nose at the Longhorns and leave the sinking ship which is the Big 12, I will stand back and applaud. If Big 12 commissioner wants to again make a silk purse out of a sow's ear in preserving the Big 12, I'll just sit back with a smile – or is it a smirk? – on my face.
Just leave Colorado and the Pac-12 out of it …
Punting a two man race – but two different men
Different day, different punters.
A day after Jon Embree announced that the three man race for punter had been reduced to two, on Friday it was revealed that it is a two man race … … with two different men.
Sophomore Zach Grossnickle, the Buffs' starting punter last season, was the odd-man out on Thursday. "We had a punt off to get it down to two," said Jon Embree after Thursday afternoon's practice. "(Freshman) Darragh O'Neill is definitely in it. I'll see who the other will turn out to be, but it will probably be (senior transfer Mark) Brundage going at it. We'll see when I see the stats, but that's what it looked like here on the field".
It is now being reported that it is Brundage who is out of the competition, with Zach Grossnickle back in.
(A tip of the cap to CU at the Gamer Ric, who was on top of this issue well before it broke, noting that Adam from BuffStampede.com and Kyle from the Camera were both singing the praises of Grossnickle throughout the first week of practice, and were surprised that Grossnickle was excluded from the competition after Thursday's practice).
August 11th
Chidera Uzo-Diribe anxious to get back to practice
Sophomore Chidera Uzo-Diribe is feeling better.
Much better.
"I am trying to practice either the second practice today (Thursday) or tomorrow so I can scrimmage on Saturday," the sophomore defensive end told BuffStampede.com following Colorado's practice on Thursday morning. "But I don't know if the coaches are going to let that happen."
Head coach Jon Embree, though, does not want to rush the sophomore, currently listed on the depth chart as the starter at right defensive end. "He wants to practice," Embree said after the Thursday morning practice. "I'll talk to [head athletic trainer] Miguel [Rueda] and see on that. I know what he can do. I am comfortable in what he can do in his abilities so I am more concerned with having him for Hawaii. So we'll see how he feels, how sore he is and all those things."
So, what exactly happened in Wednesday's practice? "It happened during team play action pass period," recalled Uzo-Diribe. "I was coming up field and 'Speedy' (Rodney Stewart) was coming to block off the edge and cut me so as I jumped to get over the cut. I just kind of fell awkwardly on my head. It caused stiffness, like a numbness and tingling feeling down my right arm.
"I was on the ground and they told me to cool it and wait, let the training staff come and figure out what was going on. Probably right when the ambulance came and they were asking me to roll on the board, I figured out it was probably not that bad."
The Colorado defensive line is perhaps the deepest on the team, but it is certainly good news that a potential starter will be back to practice sooner rather than later.
August 10th
Chidera Uzo-Diribe "going to be sore", but going to be fine
Sophomore Chidera Uzo-Diribe — listed first on the depth chart at right defensive end entering fall camp — was taken off the field in an ambulance after laying motionless for some time as he and CU training staff waited for paramedics to arrive. The injury came while the offense and defense worked on plays near midfield. Uzo-Diribe landed awkwardly on his head and neck after a collision, according to the Daily Camera.
While Uzo-Diribe was taken to the hospital, it all proved precautionary. Here's what head coach Jon Embree had to say after the morning practice:  "Chidera's going to be fine. I think it's similar to what happened to DaVaughn (Thornton), so I'm sure he's going to be sore. He's just a little bit of tingling I guess. So (what the trainers did) was just precautionary. You never want to take a risk on something like that. I guess he just landed kind of funny on his neck/shoulder, so what was done was precautionary … He was conscious; talking. He had feeling and everything.
The school reported later in the afternoon that Uzo-Diribe had been released from the hospital, and that all of his tests were negative. According to Dave Plati, the 6'3", 240-pound defensive end would be sore, but would "return to practice as soon as possible".
Good news, indeed …
August 9th
Freshman Sherrard Harrington likely to red-shirt
True freshman cornerback Sherrard Harrington has a hip injury which will keep him from practice for the next four to six weeks. As Harrington will lose precious practice time in his freshma season, it is likely that Harrington will red-shirt this fall.
A member of the recruiting Class of 2011, Harrington, came to Boulder from Washington D.C. Harrington reportedly had issues with his hip all summer, but the decision to keep him out of further practice was not made until today.
Colorado had twenty defensive backs on the roster to open fall camp, and remains in search of two starters at cornerback. Harrington becomes the second cornerback to be sidelined in the first week of practice. Last weekend, sophomore cornerback Jered Bell was lost for the season with a torn ACL.
Will Oliver: "I've got to be the starter every day"
A week before Signing Day, kicker Will Oliver didn't have a college team to play for.
Six months later, Oliver is the starting kicker for the University of Colorado.
"I'm just taking it one day at a time here," Oliver told cubuffs.com. "You have to do it every single day. I've got to be the starter every day, otherwise it means nothing."
In January, Oliver, considered by West Coast kicking guru Chris Sailer to be the No. 12 placekickers in the nation, was mulling offers from Maryland and Fresno State. Instead, Oliver chose to go with Colorado. Fortunately for the Buffs, Oliver's family has a vacation home in Aspen, and the 18-year old high school senior loved the state. "It gets no better than this," he said. "Just look around, you've got mountains, clean air . . . it's all just wonderful."
Now Oliver has the task of eliminating all of the bad memories Buff fans have of the kicking game the past few seasons. Oliver has – obviously – fared well in his first week of camp.
On Day 1 of camp, Oliver hit 27 of his 29 field goal attempts. Day 2 brought a drop-off, but in a weird kicking sort of way, he said that might have been beneficial: "As a kicker, it sounds a little weird to say, but it's probably good to have at the beginning of camp. You kind of feel the pressure, you feel what it's like hit the ground and that you need to bounce back.
"The biggest thing with kicking is forgetting – having a short memory so you can get back on the field and feel you're as good as you always were. Most kickers have done this a long time, especially when you get to the college level. It's got to be the same thing every time. You won't be here if you're not good; you have to just go back to your normal self and find your own rhythm."
Now, Oliver will be the kicker at Colorado for the next four years … if he can keep up the good work.
August 8th
Up for a little light reading?
Although the Colorado football program is looking up at the rest of the Pac-12 South division in the preseason polls, projected to finish last – for the first time since 1915 – there is still much to be thankful for.
Colorado could still be a part of the Big 12.
If you are up for a little light reading, here is a link to the 50-page agreement between Texas and ESPN for the Texas Longhorn Network contract
Some highlights (or lowlights, as pointed out by fans of the schools left behind in the blog "Outkick the Coverage" …
 1. If Texas leaves the Big 12 ESPN receives an exclusive sixty day window to negotiate for all of Texas's athletic rights.
"In the event that UT determines not to participate in any athletics conference in one or more sports, UT agrees to provide ESPN a right of first negotiation of 60 days with respect to its television telecast rights..". What's more Texas also grants ESPN 48 hours to match the offer of any other entity. Significantly the language allows this negotiation window to open "in one or more sports."
So could Texas football go independent and cash in while the rest of the sports remained in a conference?
Yep.
2. Woe unto you if you are unfairly critical of Texas on the Longhorn Network.
While ESPN agrees to spend $13 million on a studio and expects to hire 75 employees to work on the network, those employees better be Longhorns through and through.  
Here's what I'll call the "Don't Mess With Texas" provision of the agreement:  "In the event that UT reasonably determines that any on-air talent does not reflect the quality and reputation desired by UT for the network based upon inappropriate statements made or actions taken by such talent and so notifies ESPN, ESPN will cause such talent to be replaced (and will in any event no longer allow them on air following such notice)."
Yep, Texas controls who works on the network and what they say, not ESPN.
3. There's a broad contractual provision that appears to prohibit Texas from being affiliated with any other network.
So those dreams of a Big 12 network? They seem pretty stifled by this language. "Neither IMG nor UT will during the Term and within the Territory, … i) participate in or permit the development of another "Longhorns Network" or similar network enterprise (regardless of name) related to UT".
The term is twenty years and the territory is defined as Texas. Again, there are other provisions in here, but that language seems to spell out that Texas doesn't have any desire to be a part of any Big 12 network.  In fact, more alarmingly for the Big 12, Texas may not even have the contractual right to be a part of a Big 12 Network.
4. Under the television portion of the contract: "the parties acknowledge their mutual desire that the Network telecast no less than two (2) such regular season games per college football season"
So far there is just one football game to be aired on the Longhorn Network. Anyone else think that's going to grow? Well, the parties are mutually agreeing to "no less than two."
—
Now, the commentary is from a Texas A&M fan, so it has to be taken with at least a grain of salt. That being said, it is amazing how the other members of the fading Big 12, in a desperate attempt to remain a league, gave Texas the opportunity to make its own rules. Texas can hardly be blamed for taking advantage of the opportunity, though it may prove, in the long run, to be detrimental to the Longhorns' self interest.
I've said it before, and I still believe it – Texas will not go independent … at least not until it can figure out a way to have the remainder of its athletic programs affiliated with a conference. The Longhorns can certainly go independent for football: Texas has an almost inexhaustible resource base, fanatical (and wealthy) alumni, and all the five-star in-state recruits it can sign. That being said, the women's golf team needs someone to play, and that means Texas has to have a conference affilation.
The SEC? No chance. Why would the SEC want Texas for baseball and not football?
The Pac-12 or the Big Ten? Same answer.
The Missouri Valley Conference or Conference USA? Doubtful. Why would Texas want to "lower" itself to a mid-major league.
Which leaves the Big East.
While it sounds ridiculous, it is no more ridiculous than the Big East taking TCU. The Horned Frogs will have the same travel issues as would the Longhorns, but is signed on nonetheless despite having fewer resources.
Plus, the precedent has already been set. Notre Dame is independent in football, but plays all of its other sports as a member of the Big East.
Such a move could be a win/win for Texas and the Big East. The Longhorns could make up its own rules with respect to football scheduling (again, see Notre Dame), yet still have a home for its other sports. The question would be: Is the Big East willing to prostitute itself in order to get Texas for basketball and other sports, with perhaps some agreements to play a certain number of games against Big East teams each season?
If Texas A&M does bolt and join the SEC … I wouldn't  bet against that happening …
August 7th
Colorado players each given a brick of their own
The tunnel for the players to run through before the start of the game at Folsom Field is gone. Also nixed is the smoke.
Perhaps they can be replaced with a little Pink Floyd …
This summer, Jon Embree noted that one of the traditions he wanted to bring back at Colorado was the brick wall. A symbolic wall of bricks at the Dal Ward Center, each brick represented a memorable victory for the Colorado football program. The first brick of the Embree era which the 2011 team can earn comes in the opener, as the Buffs seek to end an 18-game road losing streak.
Now, the Buffs' head coach has taken the brick concept a step further.
At the team's opening meeting, according to a story at cubuffs.com, Embree handed out a brick to each player, starting with the seniors. The head coach then handed out a brick to each assistant coach. The players are keeping their bricks in their lockers; the coaches, on their desks.
"I want them to understand when it gets hard – and it's going to get hard in camp, when the coaches are wearing you out and I'm riding you like Seabiscuit – the reason why is that you're getting those things, that tradition, back," said Embree.
"That overrides everything else. It's not about you. It's not about how tired you are, how you feel … It ain't about you. It's about getting it all back."
While most teams would not relish the idea of starting the season on the road – especially against a team which has a history of picking off distracted BCS teams on his home turf – Embree is embracing the difficulty of the first game of his tenure as head coach.
"(Players) need to know, need to understand the importance of it. You want to start fast every year", said Embree. "If you just sit there and think 'we'll start in game four,' you're out of it. The nature of the program here at the University of Colorado, you're going to play good teams out of the gate. We can't afford to wait for a quote 'easy' game; we don't have any easy games. It goes from hard to real hard and the players have to understand that."
The concept isn't being lost on the players. "It's all about tradition," said junior inside linebacker Doug Rippy. "It's something you can't argue against or fight against. It's something you've got to do. Honestly, we need to bring it back here. Receiving that brick from him means a lot to me because it comes from a former player here who has done it."
Less than four weeks to kickoff of the 2011 season, and the chance to earn the first brick.
If the players are successful, "The Wall" by Pink Floyd may be soon heard at Folsom.
On the other hand, hearing, "We don't need no education" blaring as the team warms up might not be such a great idea …
August 6th
Colorado loses Jered Bell
The Buffs have 20 defensive backs on the roster, but will now have to make due with nineteen.
During Saturday's practice, sophomore cornerback Jered Bell tore his ACL, and will likely be lost for the 2011 season.
Last year, Bell played as a true freshman, so he has a red-shirt year remaining. In 2010, Bell was in on 54 plays on defense, accumulating 11 tackles. Bell also played on special teams, where he contributed an additional four tackles.
On the pre-fall depth chart, Bell was listed as the third right cornerback, behind seniors Arthur Jaffee and Jonathan Hawkins.
August 5th
Colorado opens as an 11-point underdog
Reality check. 
Just when Colorado fans were beginning to feel good about their team (see videos, below, as well as pretty much any quote from a CU player or coach), Las Vegas brings the Buff Nation down to earth.
The VegasInsider.com opened its betting line for the September 3rd season opener on Friday, listing the Hawai'i Warriors, 10-4 in 2010, as an 11-point favorite at home over Colorado, 5-7 in 2010.
Okay, so Colorado hasn't won on the road since 2007. True, Hawai'i plays well at home. But 11 points? When Colorado defeated the same Hawai'i team, 31-10 last season in Boulder?
Apparently, those that are interested in betting lines were not sure about the line, either.
Four hours after the line was posted, the line was down to seven …
August 4th
A cool video, one which was shown to the players at the start of fall camp …
Introduction to Fall Camp, 2011
The second video is equally inspiring …
Colorado sells as many season tickets as Colorado State and Air Force combined
Think Colorado fans were starved for a change of leadership in the coaching staff.
The Buffs were 5-7, the fifth consecutive losing season in program history. Only in the six year drought from 1979-1984 witnessed a longer run without a winning season. Still, the Buff Nation is responding to new head coach Jon Embree and his coaching staff in record numbers.
The Denver Post is reporting that Colorado has sold 23,650 season tickets, up over 4,000 from last season. The increase is the largest since the 1989 team went 11-1 and played for the national championship, inspiring a rush of new season ticket sales.
Earlier this year, Colorado athletic director Mike Bohn boldly predicted 25,000 season tickets would be sold. At the time, that seemed like bravado, as Colorado offered only five home games – plus a mandatory trip to Denver for the CSU game – but it appears likely now that the ticket office will reach the 25,000 ticket goal.
Air Force has sold a healthy number of season tickets, 17,000, while Colorado State has managed to sell only 6,456. The Rams are down 6% from last season, when the total season ticket sales were 6,860 to this date (remind me again how it is that Colorado ever loses to Colorado State?!?!).
Congratulations to the ticket office on a job well done (it should go without saying that the record for away games will obliterate all previous records. This year the Buffs will travel to Seattle instead of Ames; San Francisco instead of Manhattan; Los Angeles instead of Lubbock; and Tempe instead of Waco … yeah, I think the Buffs will sell a few more tickets this year!).
August 3rd
Buffs get a little love from, of all places, the Denver Post
It's a new season. Colorado has a new coaching staff, a new enthusiasm, a renewed sense of pride.
Everything is new. Anything is possible …
… including positive press from the Denver Post?
Hard to believe, but both Mark Kizla and Woody Paige had good things to say about the University of Colorado football program (if John Henderson had chimed in, I would have dismissed the stories as an elaborate ruse).
Okay, an article in which Kizla writes "There would be no shame in this Colorado team losing 10 times" is hardly a puff piece. However, Kizla does allow Embree to make his points, and there are some great quotes from the Buffs' new head coach …
"I think we've kept our success and a tradition a secret. I don't think we talk about it enough. How many schools have a Heisman Trophy winner and a national title?"** Embree said. "We should thump our chests about what this university has accomplished, from Rhodes Scholars to the engineering program and the business school. CU is a heck of a place. We need to let people across the country know about us, and we need to be proud of what we've accomplished at this school. You know, back when I was a coach at UCLA, they had the fifth or sixth 10-win season in the history of the football program. Well, in my 11 years at Colorado (as an assistant coach), we did that four times. So what's the big deal? But people don't know that. It's time we change the reality out there in the public, so it changes the public's perception. Our reality is way better than the perception of this place."
**(Just thought I would answer that one for you. There are 24 schools which have won the national championship and have produced a Heisman trophy winner. From the Pac-12, only Colorado, USC, and UCLA can claim that distinction).
– Kizla was not alone in giving Colorado some positive ink. In his latest Mailbag, Woody Paige was asked about whether Colorado could be a national championship contender in a few seasons.
Paige's response:
"Haven't quite considered that one yet. I just took a break, walked outside on the deck, and it started to rain, but I thought about it. Yes. Here's why: The Pac-12 will be two divisions, and CU can have one of those fortunate seasons in which everything goes right — good home schedule, down year in the league, lucky breaks (fifth down?), get to the conference championship with one loss, and play in the BCS championship."
Going on to conclude:
"Colorado never will be an annual national powerhouse. There's not the support, not the attention, not the easy admissions, not the student interest, not the atmosphere. But this is not a pause point for Embree. I can believe he will want to be in Boulder until he retires, and if he can continue to get commitment from the university administration and the income from donated funds and full houses for, at least, the conference games, and build himself a solid program, without streaks of two and three victories a year, he'll construct a winning program, and, on occasion, a Pac-12 champion and, once every 10 years, a BCS title contender.
Not exactly unconditional praise, but for a team with five straight losing seasons, coming from a publication which has been comfortable taking its shots at the program, its a start.
And a fresh start is what everyone is looking forward to this fall.
August 2nd
How far west will the Big East go?
This summer, it was the Pac-12's turn to make the best television deal in college football history.
Come next summer, it will be the Big East's turn.
The Big East was close to signing an extension with ESPN earlier this year, but decided to wait and test the market. With the Pac-12 basking in the glow of its new 12-year, $3 billion television deal, the Big East is glad that it waited.
The question now for the Big East: How many teams will be party to the new television deal?
The conference is an unwieldy association of 16 schools, with TCU joining in 2012 to make the number 17 – with nine for football. While the league has teams in major markets like New York, Chicago, and Philadephia, it is still largely a basketball league.
Expansion seems to be a reasonable possibility for the league, if only to get the number off of 17.
But how – and where?
"There is no magic number for us," said Big East commissioner John Marinatto with regard to the number of teams the league will have when the new television contracts are negotiated. "We want quality. We're a nontraditional conference. We find ways to make things work. We keep defying the odds."
Marinatto is enjoying being in a position similar to what the Pac-12 recently enjoyed – the only league without a long term contract. "Having last bat, last dance, provides us an opportunity to evaluate what everybody else has done," Marinatto said. "Our agreements four years ago were negotiated in a very different marketplace and during a difficult time for our conference.
"We now have a golden opportunity to secure our long-term security," he said. "We can again achieve equity with the other major conferences. … We can't make a mistake this time."
The football members of the conference would like to add at least one more member – perhaps as many as three – but the choice has to appease the basketball members as well.
Is it just me, or does Kansas sound like the perfect fit?
Remember, this is a league which just signed up TCU, so apparently geography is not a deal breaker. Kansas could bring to the league a BCS-caliber school, with a fair to middling football program, and a nationally followed basketball program.
If the league wants three football schools, why not go with Kansas, Missouri, and Kansas State? The league could then have a 12-team football conference (read: lucrative championship game), and a basketball league which could send a dozen teams to the NCAA's every season.
So, if Texas A&M is serious about bolting to the SEC, and the rejects from the old Big 12 are looking for a new home …
… who knows?