—
Colorado Daily – Oregon Week
—
September 23rd – Game Day!
… CU in a few minutes … 
"Every week is the biggest battle because we try to win every game"
From the Daily Camera … After two consecutive weeks of making it personal in rivalry games against Nebraska and Colorado State, there's not much bulletin board material for the Buffaloes in this one. And no need to hand out a new pair of sunglasses to all the players. But, there's also no lack of motivation because the opportunity is now there for CU to affect the conference like it hasn't done in years.
"It's the first game in the Pac-12," safety Trevor Woods said. "It's a good team in the Pac-12, too, so if we can we can go out there, put on a good show and set ourselves up for the rest of the year, that's exactly what we plan to do."
CU has been impressive in its 3-0 start to the season. The Buffs have been a national story as they've blown away expectations under Sanders' direction. But, conference play has more weight than the nonconference schedule and Saturday's game in Eugene offers the Buffs a tremendous opportunity to make a statement nationally. Get a win and the Buffs will be considered a legitimate contender for the conference title.
Oregon is one of the favorites for the conference title, as usual, and the Ducks certainly have Sanders' attention.
"I respect the heck out of this man," Sanders said of Lanning, in his second year as Oregon's head coach. "What he's accomplished, stepping in taking over a program and keeping it not only rockin' steady but accelerating it – I'm not a fan of anybody, except for some of the celebrities that got a tremendous gift but not in sports – but I respect the heck out of him. I love what he's accomplishing. I love who he is, the way he runs his team. I love the way he operates. So I've got a lot of respect for him."
Lanning expressed mutual respect this week, not only for Sanders, but also for CU offensive coordinator Sean Lewis, defensive coordinator Charles Kelly and several CU players.
For Lanning and Oregon, the stage won't be new. The Ducks were 10-3 a year ago and they're used to playing big games against ranked teams.
Colorado, on the other hand, is a new team experiencing something new. This is the first time CU has been involved in a matchup of ranked teams since the 2016 Alamo Bowl.
… Continue reading story here …
–
—–
September 22nd 
… CU in a few minutes … 
Neill Woelk's Keys to the Oregon game
From CUBuffs.com … Now it gets serious.
After an outstanding 3-0 start to the season in non-conference play, Deion "Coach Prime" Sanders' 19th-ranked Colorado Buffaloes head to Oregon on Saturday for a meeting with the No. 10 Ducks. The Pac-12 opener will be Colorado's fourth straight game on national network television (ABC, 1:30 p.m.) as the nation continues to be entranced by the turnaround Sanders has orchestrated in Boulder.
Oregon will almost certainly provide the Buffs with their biggest test yet. Dan Lanning's 3-0 Ducks have a potent offense, one that is averaging 58 points per game under the direction of quarterback Bo Nix, and a defense that leads the Pac-12 in passing yards allowed (158.7 per game).
But the Buffs have their own gaudy statistics. Led by quarterback Shedeur Sanders, CU has the nation's second-ranked pass offense (418 yards per game) and a defense tied for first in the nation in takeaways (10), with Trevor Woods and Cam'Ron Silmon-Craig both owning a pair of interceptions.
Colorado is a substantial underdog — the Ducks are three-touchdown favorites — but the Buffs are no strangers to being in that position. CU opened the season as a three-score underdog to TCU, then proceeded to beat the Horned Frogs' on their home field, 45-42.
So what must the Buffs do to replicate that effort?
Glad you asked. Our weekly Fast Five:
1. Turnovers, turnovers, turnovers. As we mentioned earlier, the Buffs are among the best in the nation at creating turnovers. Even more impressive is their timing in that department — of those 10 takeaways, six have come with the opponent inside the Colorado 25-yard line, ending potential scoring drives each time.
The Ducks, though, have yet to give the ball away this season.
The Buffs need to end that streak and create one of those momentum-changing moments that will quiet the Autzen Stadium crowd. While the Ducks haven't lost a fumble this year, they have put the ball on the ground three times and Nix is by no means impervious to interceptions.
If the Buffs can come up with a couple of those game-changing plays Saturday, they can put themselves in the driver's seat heading down the stretch.
2. Quick start by the offense. The Buffs have managed to overcome slow starts in each of their last two games, including last weekend's win over CSU. Colorado managed just one offensive touchdown in the first three quarters against the Rams before finally catching fire in the fourth quarter.
 Colorado can't afford to tempt fate in the same way against the Ducks. The Buffs need to get on the board early and ensure if the game turns into a shootout, they are in position to have a chance to win it in crunch time.
… Continue reading story here …
–
—–
September 21st
… CU in a few minutes … 
Mr. Clutch: Shedeur's impressive fourth quarter numbers
From CUBuffs.com … Most people who follow the Buffs know Sanders is among the national leaders in passing yards. He is averaging 417 per game, good for second in the nation right now. He is putting up numbers never before recorded by a quarterback in a Colorado uniform.
But the numbers behind the numbers reveal what kind of season he is having when the game is on the line.
In other words, when the pressure is on, Sanders has been money.
— He leads the nation in second half and overtime passing yards with 871.
— He leads the nation in passing yards on third down, having completed 23 of 32 attempts for 310 yards, three touchdowns, one interception and 15 first downs. The completions, yards and first downs all lead the nation.
— On third-and-10 or more, he is even more deadly. He has completed 12 of 14 attempts in those situations with a touchdown and interception while accounting for eight first downs. Again, his completions, completion percentage, yards and first downs lead the nation.
— In the fourth quarter, with the game on the line in two of three Colorado games, he is 22-for-26 (.846 percentage) for 404 yards and three touchdowns for a 253.2 QB rating. Add in his overtime numbers and he is 26-for-31 (.837) for 450 yards, five touchdowns and a QB rating of 259.0.
But perhaps most impressive is Sanders' performance when the Buffs have trailed.
At TCU, Colorado trailed three times down the stretch — and each time, he delivered. Against CSU, the Buffs trailed by 11 in the fourth quarter, and he delivered again with a performance that has already gained legendary status.
The pure numbers speak volumes:
— When the Buffaloes have trailed by seven points or less, Sanders is 30-for-34 (88.2 percentage) for 378 yards, three touchdowns and no interceptions. Those numbers lead the nation.
— When the Buffs have trailed by 8 to 14 points, he is 8-for-11 for 129 yards and one touchdown.
Thus, when the Buffs have been behind this year, Sanders has been almost unstoppable: 38-for-45 for 507 yards and four touchdowns.
–
–—
Buff defense hoping to keep gaining turnovers while limiting explosion plays
From the Daily Camera … While the Colorado offense has been lighting up the scoreboard behind quarterback Shedeur Sanders, the Buffaloes' defense has struggled to get stops while simultaneously collecting a number of game-changing plays.
It has been enough to get the job done. Yet while the takeaways certainly have provided a spark in each win during the 19th-ranked Buffs' 3-0 start, the CU defense is seeking more consistency as the schedule toughens, beginning with Saturday's showdown at No. 10 Oregon (1:30 p.m. MT, ABC).
"I think the biggest thing is the explosive plays. We've got to eliminate that," CU defensive coordinator Charles Kelly said during a media session following Wednesday's practice. "Some of those are just caused by missed tackles on the perimeter. Some of those balls (against Colorado State) weren't completed very far but turned into bigger gains. We've got to do a better job.
"I was proud of the guys. Our number one thing is get the ball. It's all about the ball. There's nothing more important you can do for your team than get turnovers. Our guys are buying into that. We've got to keep that up."
The Buffs are allowing 30.3 points per game and a gaudy 460.3 points per game. The comparatively modest points per game total can be attributed to CU's 10 takeaways through three games.
CU's lowest game total so far this season was two takeaways in the opener at TCU, but both doused scoring chances. An end zone interception by Trevor Woods thwarted TCU in the first quarter, and in the third quarter Travis Hunter recorded another red zone pick.
… Continue reading story here …
–
—–
September 20th
… CU in a few minutes … 
Stewart Mandel: "Clearly, Sanders is a heck of a college football coach"
From The Athletic …
More than nine million people watched a late-night game between Colorado and Colorado State. Is Deion Sanders a short-term novelty, or has he officially changed the list of requirements that ADs are searching for in a head coach? If so, who else might fit the bill? — Kris F., Ocala, Fla.
That ESPN press release was one of the first things I saw when I woke up Tuesday morning, and I about did a triple take. I knew the game would do better than a typical late-night Pac-12 game. I did not anticipate it would do nine times as well. Consider this: More people (9.3 million) watched a Week 3 Colorado-Colorado State game in the middle of the night than last year's late-October clash between No. 4 Ohio State and No. 7 Penn State in the middle of the afternoon (8.3 million) by a considerable margin.
That. Is. Silly.
What it goes to show, more than anything, is that Deion Sanders is famous famous. Not "college football famous." Kirby Smart is college football famous, but he probably could walk through the middle of Times Square and go completely unnoticed. But anyone with even a modicum of interest in sports knows who Sanders is. He's so popular that other famous people like The Rock, Lil Wayne, Master P and Offset flew to Boulder for a football game just to be near him.
Imagine if Brad Pitt retired from acting and decided to become a director … in Colorado's theater department. We're living the football version of that.
That is to say, no, I don't think athletic directors will consider it a requirement to hire celebrity head coaches, because Sanders is one of a kind. Most notably, he had coached college football before. This isn't like Tennessee State hiring Eddie George (currently 9-11) or UAB hiring Trent Dilfer just to make a splash. Between winning big at an HBCU and completely flipping a Pac-12 program overnight, clearly, Sanders is a heck of a college football coach. He's just doing it with a completely different style than anyone to come before him.
… Continue reading story here …
–
—
CU Secondary looking for the "next man up" against Oregon
From CUBuffs.com … With the non-conference portion of the schedule in the rearview mirror and Pac-12 play now directly ahead, the price of poker just went up significantly for the 19th-ranked Colorado Buffaloes.
The stakes are definitely getting higher.
Deion "Coach Prime" Sanders' 3-0 Buffs open league play Saturday at No. 10 Oregon (1:30 p.m., ABC), then return home the following week for a matchup with No. 5 Southern California.
The stretch is one that will no doubt be the biggest test yet for the Buffaloes — and one that becomes even more daunting without the services of star cornerback/wide receiver Travis Hunter.
Hunter suffered an injury in last weekend's double-overtime victory over Colorado State and will not be available for at least the next couple of weeks. That is tough news for a CU defense that will face the nation's No. 2 scoring offense this weekend, with the Ducks averaging 58 points per game.
"We're looking for the next man up," Coach Prime said Tuesday at his weekly press conference. "We're looking for someone else to step up and take control."
After Hunter went out against Colorado State, sophomore corner Kyndrich Breedlove stepped in. But Sanders said there are a variety of possibilities against the Ducks, including transfer Travis Jay, who has been coming back from an injury.
"We have talent," he said. "We just have to get the talent to be talented and to do what they're capable of doing. But no one in the country can fill Travis Hunter's shoes. He's one of a kind. He's the best player on offense, the best player on defense. That's just who he is in the country, not just on his team. So having guys step up — they just have to step up and do the job we're asking them to do."
Oregon's offense has been firing on all cylinders as the Ducks have rolled to a 3-0 record. UO has the nation's fifth-ranked passing attack (363 yards per game) and the 17th-ranked rushing attack (216.3 yards per game).
Colorado's defense, meanwhile, is 122nd in the nation in yards per game (460.3) and 102nd in scoring defense (30.33).
… Continue reading story here …
–
—
*DC Charles Kelly: Injury updates/history with Bo Nix*
From BuffStampede.com …
–
—
*Highlights from CSU Game (a/k/a: The Best Seven Minutes of Your Day Today)*
From Colorado Buffaloes Football …
The Battle in Boulder 🎥#GoBuffs pic.twitter.com/Apda1QYMop

— Colorado Buffaloes Football (@CUBuffsFootball) September 20, 2023
–
—–
September 19th
… CU in a few minutes … 
*Video: Coach Prime's Weekly Press Conference*
… Note … To read Coach Prime's full quote on Travis Hunter and the player who hit him, scroll down to the tweet posted below … 
From WFAA … Travis out of the hospital, back home and doing school work … Cormani McClain is not ready. Buffs going to play "cornerback by committee" … "What's holding Cormani back at this point?" – "He is" … Buffs were resilient against CU, "but we want to get to the point where we don't have to be resilient" … "We haven't played a complete game. We haven't had a game where the offense, defense and special teams have all showed up in the same manner" … "We've got to put it all together in one game if we are going to play a team like Oregon" …
–
—
From Brian Howell … Colorado has had 3 of the 5 most-watched college football games of the season so far:
9.30M – Colorado State at CU, Sept. 16

9.17M – Florida State at LSU, Sept. 3

8.76M – Texas at Alabama, Sept. 9

8.73M – Nebraska at CU, Sept. 9

7.26M – CU at TCU, Sept. 2nd
—
From Stewart Mandel … Most watched CFB games, Week 3:
Colorado-CSU (ESPN): 9.3M
UGA-S Carolina (CBS): 5.4M
Tenn-Florida (ESPN): 5.3M
Bama-USF (ABC): 4.8M
FSU-BC (ABC): 3.5M
PSU-Illinois (FOX): 3.2M
WKU-Ohio St (FOX): 2.82M
LSU-Miss St (ESPN): 2.8M
Pitt-WVU (ABC): 2.4M
—
Prime Effect continues: All six home games sold out (first time in history); CU viewership setting records
Press release from CUBuffs.com … With the announcement of the Arizona game on November 11 selling out, the Colorado Buffaloes have officially sold out the entire season for the first time in history, school officials announced Tuesday. 
The Arizona game is the final home game of the 2023 season and will be Senior Day and Military Appreciate Day as Folsom Field will conclude its 100th season that day. 
Fans still seeking ticket options for tickets are encouraged to visit SeatGeek, the official secondary marketplace of Colorado Athletics, please visit: https://seatgeek.com/colorado-buffaloes-football-tickets.
The 100th season of Folsom Field saw sell out wins with CU's 36-14 win over Nebraska on Sept. 9 and Saturday's thrilling 45-42 double OT win over Colorado State to open the season.  CU also previously announced sell outs for the USC (Sept. 30), Stanford (Oct. 13) and Oregon State (Nov. 4) games. 
In 1993, CU completely sold out of five of six home games, a standard that stood for 30 years.  CU has also sold out of four of six home games a total of five times, all coming between 1990-96. 
Colorado has been the focus of the sporting world to start the 2023 season, as the Deion "Coach Prime" Sanders era gets underway.  The Prime Effect was seen immediately as Colorado was the first team nationally to sell out of season tickets on April 17 and sold out its Spring Game for the first time, while also being the only team in the country with its spring game on the main ESPN.
Earlier Tuesday ESPN announced the viewership for the Colorado-Colorado State game with 9.3 million viewers, the fifth-most watched game in ESPN history and shattering the ESPN Late Prime window, while College Game Day had its highest September ratings in 13 years.  Through three games, the Buffs are the most-watched team in the nation with 25.3 million viewers. 
The Buffs have opened the 2023 season with a 3-0 record, becoming just the fourth team in FBS history to open 3-0 after losing 11 games the previous season.  Colorado has already appeared in FOX's premiere television spot of Noon ET twice and will again hold that spot for the USC game on Sept. 30.  This week at Oregon, the Buffs will appear on ABC's premiere television spot of 1:30 p.m. MT. 
CU played host to FOX's pregame show Big Noon Kickoff before both the Nebraska and CSU games the last two weeks and also hosted College GameDay for the first time since 1996 as both shows made Boulder the center of the sporting world last week.   CU also played at the site of Big Noon Kickoff to open the season at TCU. 
CU's first known sellout was in 1952 and the USC game will mark the 79th game in Folsom Field history that will be a sellout. 
–
—
Coach Prime: "I forgive him. CU, our team forgives him. Travis has forgiven him. Let's move on"
From Coach Prime's press conference …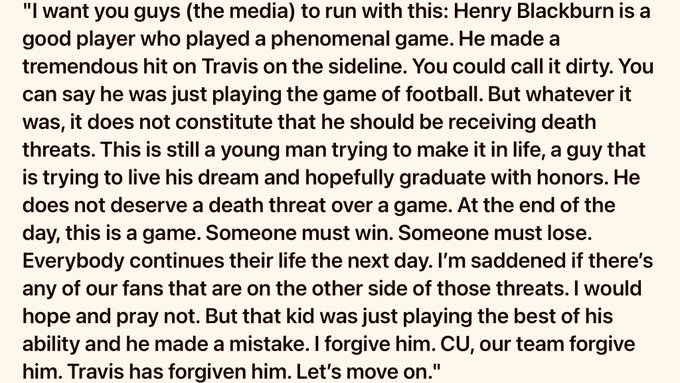 –
—–
September 18th
… CU in a few minutes … 
Breakfast with the men of Troy: CU v. USC next Saturday, 10:00 a.m., MT, Fox
Press release from CUBuffs.com … The Colorado Buffaloes football game against Southern California on Saturday, Sept. 30, 2023, will kickoff at 10:00 a.m. MT and be televised nationally by FOX, the Pac-12 Conference announced Monday morning.
The full schedule of Pac-12 games is below:
Friday, September 29, 2023
6:00pm PT / 7:00pm MT – Utah at Oregon State (FS1) – previously announced
Saturday, September 30, 2023
9:00am PT / 10:00am MT – USC at Colorado (FOX)
12:00pm PT – Arizona State at Cal (Pac-12 Network)
3:30pm PT – Oregon at Stanford (Pac-12 Network)
7:00pm PT – Washington at Arizona (Pac-12 Network)
–
—
Travis Hunter injury updates
From the Daily Camera … Colorado football star Travis Hunter could miss up to four weeks after a late hit against Colorado State sent him to the hospital on Saturday night.
CU has not released details on Hunter's injury, but Fox's Skip Bayless, the host of Undisputed, reported Monday on his show that Hunter suffered a lacerated liver and would be out three or four weeks. Carl Reed of 247Sports reported that CU head coach Deion Sanders told him Hunter would be out for three weeks.
A BuffZone source confirmed Bayless' report on Monday morning.
Bayless said the injury is "not considered terribly serious," but it does appear to be serious enough to take the best player off the field for the 19th-ranked Buffaloes for two of their most important games of the season. CU (3-0) visits No. 10 Oregon in the Pac-12  opener on Saturday (1:30 p.m. MT, ABC) and will host No. 5 USC on Sept. 30 at Folsom Field (10 a.m. MT, Fox).
… Continue reading story here …
–
From Carl Reed, Jr. … Coach Deion Sanders tells me that Travis Hunter will be out for 3 weeks.
–
From Jake Schwanitz at DNVR (from Sunday afternoon) … Travis Hunter is being discharged from the hospital and will be home later today, according to sources.
–
From ESPN … Colorado two-way star Travis Hunter left Saturday night's 43-35, double-overtime victory over Colorado State after taking a hard sideline hit in the first half.
Coach Deion Sanders had no update after the game other than to say, the "first thing I heard is he's going to be out a few weeks." Hunter was taken to the hospital during the third quarter for an evaluation.
Sanders did not offer specifics about Hunter's injury.
"The bad thing about losing Travis," said defensive back Shilo Sanders, "it's like you're losing two players at once."
Hunter absorbed an illegal hit to his midsection in the second quarter on an incompletion at the Colorado sideline. Colorado State was whistled for two fouls on the play: Nickelback Ayden Hector was flagged for pass interference, and safety Henry Blackburn was assessed a foul for unsportsmanlike conduct after a late hit out of bounds.
Hunter, who earlier coughed up a fumble that was returned for a touchdown, returned to the game, playing on both offense and defense through the second quarter.
The Buffaloes trailed the Rams 21-14 when Hunter was transported to the hospital but rallied for their third straight win.
–
—–
September 17th
… CU in a few minutes … 
Neill Woelk Takeaways from CSU game
From the Daily Camera …  Whew.
If you stayed up late Saturday night (and early Sunday morning) to watch the fireworks at Folsom Field, congratulations.
You saw a game for the ages, a performance that overnight became permanently etched in Colorado football lore as a Buffaloes instant classic.
Deion "Coach Prime" Sanders' Buffs rallied from an 11-point deficit in the fourth quarter with an already-legendary 98-yard touchdown march in the final minutes to force overtime, then scored two more touchdowns in the extra periods to collect a 43-35 victory over rival Colorado State.
The game had everything. Big plays, huge momentum swings, emotional moments, critical mistakes from both sides — and finally, an almost mythical performance from CU quarterback Shedeur Sanders when the situation demanded it.
Sanders was brilliant when anything less would not have been enough. After a game in which CU's offense had struggled to find anything resembling consistency, he produced the game-tying touchdown pass and two-point conversion in the final minutes, then tacked on two more touchdown passes in the extra periods to secure the win.
His name will no doubt continue to be a part of the Heisman Trophy conversation in a year in which great quarterback play is a dominant theme in the Pac-12.
But there were many more storylines wrapped up in this one, moments that set the stage for the dramatic finish while adding to the improbable arc of Coach Prime's overnight turnaround.
(Inexplicably, Colorado dropped a notch Sunday in the AP poll to No. 19. Go figure.)
Our weekly takeaways:
1. The offense was great when necessary, but the defense made it possible. Coordinator Charles Kelly's defense is showing a great aptitude for making big plays at the most critical of moments.
Shilo Sanders had an 80-yard pick six to give CU an early 7-0 lead. The Buffs forced and recovered a fumble deep in their own territory early in the third quarter, then recorded a Cam'Ron Silmon-Craig interception late in the period.
And finally, when CU absolutely had to have a defensive stop to give its offense one more chance, the Buffs delivered. Colorado held CSU's offense at midfield, leading to a punt and CU's game-saving drive in the final minutes.
Yes, CSU racked up nearly 500 yards in total offense, including 397 in the air. Yes, Colorado gave up 10 of 20 third-down conversion tries.
But CU's defense also gave up just three touchdowns, scored one of its own and for the third week in a row, produced game-changing turnovers.
2. Shedeur Sanders thrives on pressure. In Colorado's opening 45-42 win over TCU, Sanders directed three touchdown drives in the final 16 minutes of the game to overcome a Buffs deficit each time.
Saturday night — actually Sunday morning — he took it up a notch with the 98-yard scoring drive and ensuing two-point conversion, then two more touchdowns in OT. The long drive had special meaning for fans in the state, reminiscent of John Elway and the Broncos marching 98 yards for a game-tying score in Cleveland in the 1986 AFC Championship game, which the Broncos won in overtime.
What Sanders accomplished against the Rams was even more special than his TCU effort because the offense hadn't played particularly well up to that point. But he shrugged off the struggles, put the offense on his back and made play after play.
"I knew even if we got the ball on the two, three, or four-yard line, as long as the ball is in Shedeur's hands, we're going to get down this field," Coach Prime said. "I knew that without a shadow of a doubt."
… Continue reading story here …
–
—
ESPN: CU and the CFP? "The fact that we're even asking that question speaks volumes about what's already been done"
From ESPN … Spoiler alert: Alabama isn't passing the test in what are arguably the two most important factors that will impress the College Football Playoff selection committee: résumé and eye test. In fact, the entire SEC through three weeks of the season is right where it left off last fall — banking on Georgia, which has yet to do anything truly remarkable.
It just means more variety.
The two contenders that currently rank in the top 10 in both offensive and defensive efficiency, a common trait in past playoff participants, are Florida State and Michigan. The No. 1 team in the country in defensive efficiency? Texas. The best offensive team? USC.
The blue bloods are back — just not the ones you're used to seeing in the CFP.
The beauty of the sport is that it can and will change, which is why the selection committee doesn't release its first of six rankings until Halloween. That doesn't mean they're not paying attention. Here's a look at how the group would likely consider the results so far, along with other playoff analysis moving forward.
Teams with the best wins
4. Colorado (3-0). While it's still too early to tell how good TCU is (or isn't), the committee would reward the Buffaloes at this point for beating a Power 5 nonconference opponent on the road. The committee doesn't care that TCU played Georgia for the national title last season. It's a different team, and a different group selecting the weekly Top 25. Everyone in that room, though, knows coach Deion Sanders has transformed the roster through the transfer portal and put it on display in the first game.
Three things we got wrong
1. Colorado will be entertaining but won't contend. The Buffaloes won one game last year. One. And now they're undefeated heading into Saturday's game at Oregon, and everyone will watch because they might win. Coaches throughout the Pac-12 are taking Colorado seriously, which means the selection committee will, too — as long as they keep winning. The Buffaloes have multiple Heisman contenders in quarterback Shedeur Sanders and two-way player Travis Hunter — a trait of past playoff participants. It's still far too early to legitimize Colorado as a playoff team, but any team that can contend for a Power 5 conference title has a shot.
Three things we still don't know
2. How good Colorado really is. The next two weeks will reveal the answer, as Colorado is at Oregon in Week 4, followed by a home game against USC. Colorado is better than it was a year ago, it's far more talented, and has hit a home run with its coaching staff hires. The program has already won. Can it win the Pac-12, too? The fact that we're even asking that question speaks volumes about what's already been done.
… Continue reading story here …
–
—
Dan Rooney: Plenty went wrong – not that it mattered
From the Daily Camera … Plenty went wrong. Not that it mattered.
The mistakes, of which there were many, can wait until Monday. After the party finally winds down and the glow of victory begins to dim with a huge top-20 battle awaiting on the road next week.
A win is a win. And in special seasons, which is exactly what first-year head coach Deion Sanders and the Buffaloes are trying to put together, there's almost always one game that goes a team's way when all logic says otherwise.
No. 18 CU survived an all-time entry in the history of the Rocky Mountain Showdown, securing a 43-35 victory in double overtime against Colorado State in the wee hours of Sunday morning roughly four hours after the Buffs kicked off against the Rams on Saturday night.
Outside of the early fireworks provided by Shilo Sanders' 80-yard interception return that opened the scoring, little went right for the Buffs through the first three quarters.
Shedeur Sanders, the Colorado quarterback among the way-too-early leaders for the Heisman trophy, had 13 completions for a scant 64 yards at halftime. Take his lone first half highlight, a 24-yard touchdown pass to Xavier Weaver, out of the equation and Sanders' other 12 completions in the first half covered just 40 yards.
… Continue reading story here …
–
—–