—
Colorado Daily – Minnesota Week
—
September 17th – Game Day
… CU in a few minutes … 
"Gut check" time for the four-touchdown underdog Buffs: "We're going to play better. I know that"
From the Daily Camera … After an 0-2 start that has been uglier than even the Buffs' critics imagined, CU's toughest challenge this week might be internal.
This is, without question, a gut-check game for a CU team whose season is barely underway but already unraveling.
"It's been a hard two weeks, but we need to find that groove," senior receiver Daniel Arias said. "We have to find that rhythm within our offense and all three phases. It's not just offense; it's all of us just finding that point where we're just settled in and we can just play."
While the Buffs have been competitive through three quarters of both games this season, their defense has been worn out and demoralized late in games and the offense has been non-existent more often than not. It has led to the ugliest start to a season since 1974 – the only other time a CU team has opened with back-to-back losses by 25-plus points.
Following a 41-10 loss to Air Force last Saturday, guard Casey Roddick, one of the team's captains, was defiant when he said, "Point blank and simple: this cannot happen again. From myself, from this offensive line, from this defensive line, and everybody else on that field, the taste in your mouth that's left after that, that's unacceptable."
How the Buffs respond on game day remains to be seen, but Dorrell was pleased with how the players responded in practice this week.
"I like where this team's mind is at," Dorrell said Wednesday. "They responded to the challenges that we put in front of them. They obviously know that the first two games didn't come out to the outcomes that we wanted and they're trying to work themselves back into … forcing themselves to win, which is what was the attitude needs to be.
"I think they're at that point where they know that they can play much better. They know that they haven't performed to their capabilities and it's showing these last two days in practice."
In addition to players performing better, Dorrell has acknowledged that he and his staff have to be much better, as well.
Based on what he saw this week in practice, Dorrell said, "We're going to play better, I know that."
… Continue reading story here …
–
—–
September 16th
… CU in a few minutes … 
Former Buff great John Stearns passes away at 71
Press release from CUBuffs.com … John Stearns, a legend on the baseball diamond and football gridiron for the University of Colorado in the early 1970s, passed away Thursday in Denver after a courageous fight against stage IV cancer.  He was 71.
         Born August 21, 1951 in Denver, he starred as a prep at Thomas Jefferson High School in football, baseball and basketball and was recruited to CU by assistant football coach Steve Sidwell.
         Inducted into the Colorado Sports Hall of Fame in 1997 and CU's Athletic Hall of Fame in 2008, on the diamond he played in 140 games for the Buffaloes, mostly at catcher, with a career average of .366 with 28 home runs and 101 runs batted in.  He had one of the best single seasons in CU history as a senior in 1973, when he batted .413 with 15 homers and 48 RBI's; he led the NCAA in home runs and slugging percentage (.819) while leading CU to a 32-11 record under the late Irv Brown, the school's best-ever once the schedule expanded to 25 or more games in the mid-1950's.  Those numbers helped him become CU's first All-American in the sport.
         On the gridiron, he remains CU's all-time record holder in interceptions (16) and return yards for both a season (158) and career (339).  He also 194 tackles and 18 pass deflections at the safety position.  Stearns pulled off perhaps the "gutsiest" play in school history, when he ran for a 12-yard game out of the punt formation, from the Buff 10-yard line no less, on a 4th-and-9 play with CU nursing a 23-17 lead over Houston early in the fourth quarter in the '71 Astro-Bluebonnet Bowl.  The Buffs went on to win, 29-17, and finished No. 3 in the national rankings.  He earned first-team All-Big Eight honors in 1972 and was drafted by the Buffalo Bills in the '73 NFL Draft.
         He was initially drafted out of Thomas Jefferson High School by the Oakland A's in the 13th round of the 1969 Major League Baseball Draft, but chose to enroll at CU.  Following a stellar career in both football and baseball, the Philadelphia Phillies made him the second overall selection in the '73 Draft.
         After the better part of two seasons in the Phillies' minor league system, he was called up to the majors in September 1974, getting a single in two at bats.  He was then part of a six-player trade that sent him to the New York Mets and Tug McGraw to the Phillies; Queens would become his home as he went on to spend 10 seasons with the Mets.  A four-time All-Star with the Mets (1977, 1979, 1980 and 1982), he owned a career batting average of .260 with 46 home runs and 312 runs batted in; displaying the speed he had as a safety in football, he also stole 91 bases (including 25 in 1978, a record for catchers at the time).  Known for his defensive abilities, he caught 699 games in the majors, owned a .985 fielding percentage and threw out over 37 percent of runners attempting to steal.
         Following his playing days, he went into both scouting and coaching on both the major and minor league levels, including for the Mets, the New York Yankees and the Seattle Mariners.  He was the Mets' bench coach in 2000 when the Yankees beat them in the Subway Series.
         Stearns recently had attended the Mets' Old Timers Day last month and CU's on-field celebration of teammate Cliff Branch's induction into the Pro Football Hall of Fame on Sept. 2.
–
—
Neill Woelk's Five Keys to the Minnesota Game
From CUBuffs.com … Karl Dorrell's Colorado Buffaloes need a boost of confidence.
They aren't headed to the easiest place in the nation to find that jump start. The 0-2 Buffs face 2-0 Minnesota on Saturday in a 1:30 p.m. game at  Huntington Bank Stadium and the Golden Gophers are off to as hot a start as anyone in the nation.
While their opponents haven't been high-level FBS teams — New Mexico State and FCS program Western Illinois — the Gophers have nevertheless racked up some impressive numbers. They lead the nation in both total offense (582 yards per game) and total defense (allowing just 142.5 per game).
The Buffaloes, meanwhile, have yet to manufacture anything resembling consistency on offense, averaging just 255 yards and 11.5 points per game, near the bottom of the national rankings.
Defensively, CU has managed to keep games close into the third quarter, but in the end, has yielded 428 yards and 39.5 points per game.
There's also this — Minnesota visited Boulder last season and walked away with a 30-0 victory, and the Gophers have a long list of returning players who participated in that win.
But Dorrell and his players believe they are ready to put together a much-improved performance. Question is, will it be enough for the Buffs to collect their first win and gain some momentum heading into the Pac-12 portion of the schedule?
Our keys to this week's game:
1. Don't let opportunities slip away. While the Buffs ultimately came out on the short end of some lopsided scores in their first two games, they did have their chances.
In their opener, they drove into the TCU red zone on their first drive of the night — and came up empty, then collected only a field goal on another trip deep into Horned Frogs territory. Thus, what could have been a comfortable halftime lead ended up as a 7-6 deficit — and TCU caught fire in the second half and pulled away.
Last week, after falling behind 20-0, the Buffs had two solid chances to cut the deficit to 20-17 in the third quarter — and again came up empty both times. One drive ended on a fumble at the goal line; another on a failed fourth down conversion.
CU's margin for error is razor thin. Colorado can't let opportunity's knock go unanswered again.
… Continue reading story here …
–
—–
September 15th
… CU in a few minutes … 
Defensive line looking to give CU's offense a chance (again)
From the Daily Camera … Statistically, Colorado's defense hasn't performed any better than the Buffaloes' beleaguered offense during the team's 0-2 start.
Yet a closer examination of those lopsided losses shows a defense that has at least given a struggling team a chance to compete before wearing down after halftime.
If there was a position group perhaps considered a team strength coming into the season, it was the Buffs' defensive front. That group has been unable to consistently maintain its glimmers of promise, and many of those players were on the field last year when Minnesota gashed the Buffs for 278 rushing yards while handing CU a shutout loss in Boulder.
Getting even in the rematch on Saturday at Minnesota (1:30 p.m., ESPN2) will almost certainly require a better start-to-finish performance from CU's run defense.
"We've just got to stay detailed with our technique until the clock hits zero," CU defensive lineman Na'im Rodman said. "Just stress the focus on the little things. I wouldn't say it's (getting) worn out. It's complementary football. Turnovers, offense scores. Offense scores, then a three-and-out.
"Sometimes it just might not be enough. At the end of the day, everybody wants more. You've just got to give more."
Dorrell spoke at length this week about playing better complementary football. Despite heading to Minnesota with a defense ranked last in the Football Bowl Subdivision against the run (355 yards per game), the group nonetheless has done its part in at least keeping the team in each fight early.
In the opener against TCU, the CU defense began the season with a three-and-out and forced punts on each of TCU's first three possessions. The Buffs trailed 7-6 at halftime due to a struggling offense and a special teams breakdown, and after halftime CU's defense went from stout to sieve. TCU managed just 14 rushing yards on five attempts in the first half, but rolled through the Buffs for 261 rushing yards after the break.
… Continue reading story here …
–
—
Transfers Tommy Brown and R.J. Sneed give updates on offensive preparation for Minnesota
… Related … CUATG Podcast Interview with Wide Receiver R.J. Sneed …
… Related … CUATG Podcast Interview with Offensive Lineman Tommy Brown …
From YouTube, courtesy of CUSportsNation …
–
—–
Dorrell: "We've had really good practices" 
From the Daily Camera … The quarterbacks are battling. The receivers are working extra hard. The offensive line is putting its work in, too.
After two dismal performances on offense to open the season, the Colorado Buffaloes are doing all they can fix their issues. The true test will come when the Buffs get on the field at Huntington Bank Stadium in Minneapolis on Saturday against Minnesota (1:30 p.m., ESPN2). But, three days into the work week, there are encouraging signs, according to coaches.
"We've had really good practices," CU head coach Karl Dorrell said Wednesday. "The details are heightened, the execution has been heightened."
Defensively, the Buffs have allowed 79 points and they rank last in the country against the run. But, that group has also put CU in position to win games and the numbers on defense might not look so bad if the offense was on track.
Using two different quarterbacks, the Buffs (0-2) have managed just 23 points, including a late touchdown that didn't do anything but make the score look a little more respectable in a 38-13 loss to TCU in the opener.
–
—
September 14th
… CU in a few minutes … 
*Video: Karl Dorrell talks with media after Wednesday's practice* – "I like where this team's mind is at"
From YouTube, courtesy of CUSportsNation …
Opening statement: I like where this team's mind is at. They responded to the challenges that we put in front of them. They obviously know that the first two games didn't come out to the outcomes that we wanted. They're trying to work themselves back into forcing themselves to win, which is where the attitude needs to be. I think they're at that point where they know that they can play much better. They know that they haven't performed to their capabilities, and it's showing on these these last two days in practice. We've had really good practices. The detail's heightened, the execution has been heightened. Everything we're doing, we're trying to scrutinize. Usually, that's what happens when you're struggling. You have to find details in your game to kind of create the foundation or recreate it again. Their attitudes have been tremendous. I'm very happy with where we are to midpoint of the week. We're going to play better. I know that we're gonna play better on Saturday. I know that we're excited about that, getting a chance to show that that's not what we normally would do in these first couple of games. Hopefully, we'll get something that's a breakthrough for us.
On the ongoing quarterback competition: "Much as it has been since camp. They're both sharing first-team reps. They're trudging through it, trying to work on their skills, too. They both had a really good week. I think they're both feeling like they in a lot of ways have underperformed. They're eager to get back out there."
On challenging the quarterbacks: "They're both trying to make their point right now, which is what you need. You need those guys who continue to press the envelope which is in front of them so that the offense can get better when they get better."
–
—
CU Depth Chart for Minnesota (from 1972) 
From CUBuffs.com …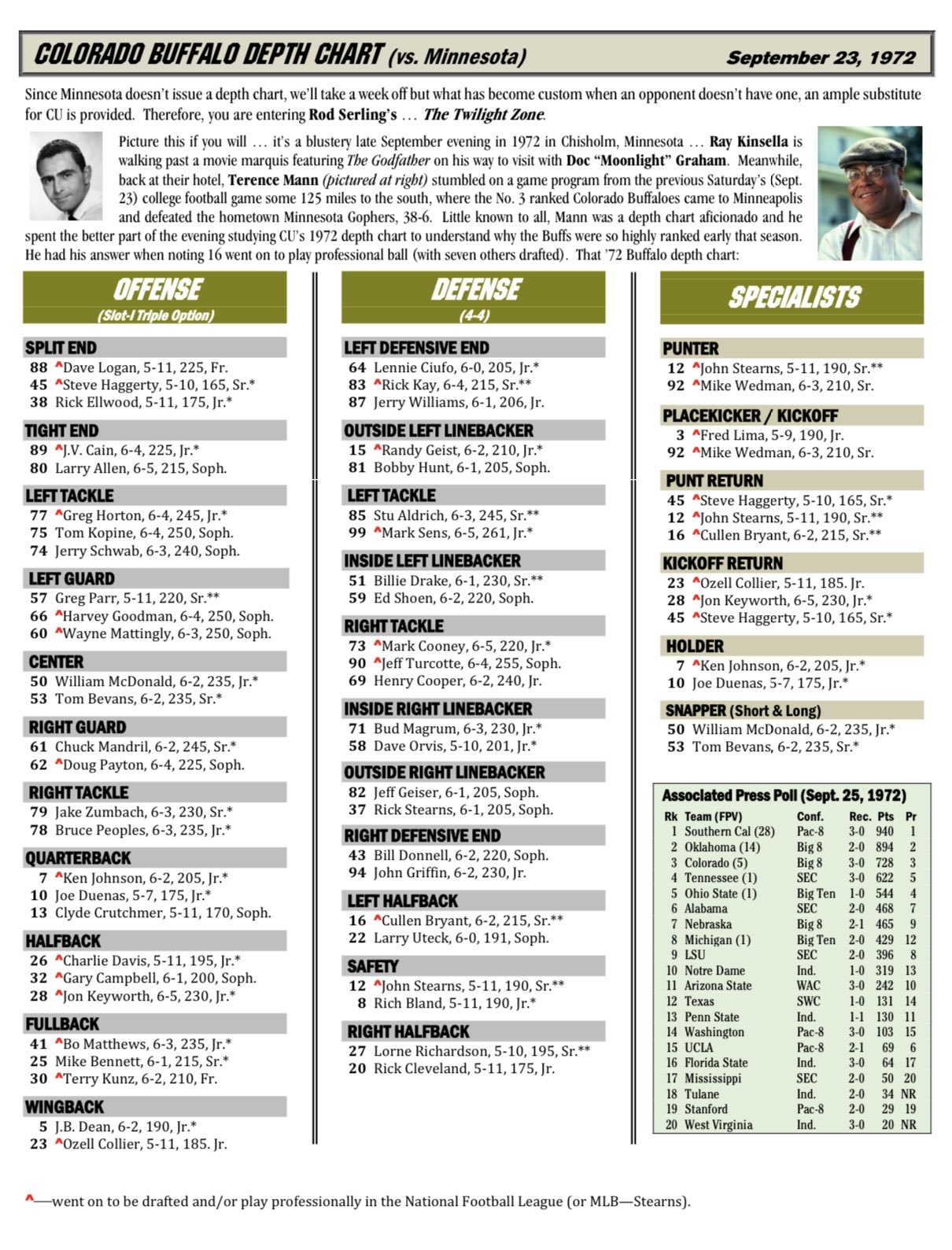 –
—
ESPN: Lessons for six former CFB powers (including Colorado)
From ESPN … On Sunday, Nebraska athletic director Trev Alberts, the former Cornhuskers All-American linebacker, stepped to the podium and lamented a moment he "hoped would never come."
Scott Frost was out as Nebraska's football coach, hours after falling to 16-31 overall and 5-22 in one-score games. The genuine, justified optimism that accompanied Frost's return to Nebraska in 2017 was long gone, leaving a proud program further away from its championship past and figuring out what's next.
"We'll stop talking about championships, stop talking about things we used to do," Alberts said.
His words resonated around college football on Sunday, but those in South Florida should have paid particular attention.
For nearly 20 years, Nebraska and Miami lived in college football's penthouse. (Nebraska had a much longer lease.) Beginning with the 1984 Orange Bowl, when the Hurricanes and Cornhuskers played in a game that would decide the national champion, the teams were fixtures in the title chase. From that Orange Bowl to the 2002 Rose Bowl there were five meetings, and only once did Miami or Nebraska come in rated lower than No. 6 in the AP poll. (Nebraska was No. 11 at the 1992 Orange Bowl.)
The Huskers and Hurricanes aren't the only former powers to have fallen, though. Here's a closer look at Nebraska, Miami and four other programs that surged in the 1980s and 1990s — Florida State, Tennessee, Virginia Tech and Colorado. What has held them back? And what can be done to get things on track again?
Colorado …
Glory days: After seven mostly unremarkable seasons, coach Bill McCartney propelled Colorado into the national spotlight. In 1989, the program went 11-1 and finished No. 4; the following year, Colorado replicated its record to win a national title. The Buffaloes recorded eight consecutive AP top-20 finishes from 1989 and 1996 and reached the top eight five times. The team won or shared three consecutive Big Eight titles from 1989 to 1991. Colorado had a No. 9 finish in 2001 and a nice run in the 1970s, including a No. 3 finish in 1971. But nothing came close to what McCartney put together before his retirement at age 54.
What came next: Colorado had some success after McCartney, as Rick Neuheisel won 10 games in each of his first two seasons and Gary Barnett's teams consistently competed for the Big 12 North Division title. But declining results and off-field issues led to Barnett's departure in 2005, and Colorado has since recorded only two winning seasons and three bowl appearances. The Buffs have had only one AP Top 25 finish since 2002, and that was in 2016, which also marked the team's only season with more than six wins since 2005.
What held back the program: A mix of instability, unsuccessful coaching hires and financial issues. Colorado has struggled to keep pace financially over the years, although facilities upgrades beginning in 2013 have helped ease the challenge. The team also hasn't found a coach who has generated any consistency. Dan Hawkins arrived from Boise State with great credentials but never won more than six games. Jon Embree lasted only two years and won four games before being ousted. Mike MacIntyre couldn't build on a 10-win season in 2016, and Mel Tucker bolted for Michigan State after only one year in Boulder. Current Buffs coach Karl Dorrell is 4-10 since a promising debut in 2020, and he has an offense ranked 126th nationally in scoring. Before Hawkins, five of the previous six Colorado coaches generated some level of success. The resource issues can't be ignored, but Colorado also hasn't gotten it done on the field.
Biggest lesson for the future: Dorrell's future is in doubt because of Colorado's poor start and an unrelenting schedule. The program ultimately has to find an edge and a clear identity. McCartney focused on recruiting California during his tenure and brought in Eric Bieniemy, Darian Hagan, Sal Aunese and other stars for his best teams. Whether it's California, Texas or another fertile region, Colorado needs to find a recruiting niche again. The tricky part is that while another leadership transition might be needed, the program also needs stability after going through significant roster turnover in 2021 and 2022.
Colorado has several advantages, such as its campus, beautiful stadium, football tradition and solid fan base. But until the program stabilizes with the right person at the top, it likely will continue to sputter.
–
—–
September 13th
… CU in a few minutes … 
*Videos – Linebacker Quinn Perry and safety Isaiah Lewis*
From YouTube, courtesy of CUSportsNation …
–
—
Dorrell rules out (for now) going to a third-string quarterback
From the Daily Camera … An offseason of work and a month of preseason camp didn't settle the quarterback competition at Colorado.
The first two games of the season haven't provided the answer, either. So, as the Buffaloes (0-2) prepare for a visit to Minnesota (2-0) on Saturday (1:30 p.m., ESPN2), head coach Karl Dorrell still isn't sure who will steer the ship on offense.
"We just don't feel that there's any separation," Dorrell said Monday. "We feel like this is a really important week to really press them both about who wants this job? I think that's more of our attitude. They've both had a chance to lead the offense. They both had some inconsistencies. Now it's, 'OK, let's go on to this week and it's a competition.' We've got to get better. They both have some things to shore up, so we really want to get back on the grass and get going and then make some type of determination later in the week."
… Following the Air Force game, Dorrell mentioned sophomore Drew Carter and freshman Owen McCown could possibly be sparks for the offense, but on Monday, Dorrell said the competition to start is still between Lewis and Shrout.
"We still think that B-Lew and JT are very, very capable; we think that they are starter types for us," Dorrell said. "We know that both Owen and Drew have flashed, too, in the work that they've done through training camp and even right now. We're going to be prepared for anything and everything, but really, it's still down just to those two that we're really dealing with right now. And we're going to continue to bring those other ones along as well."
–
—
Dorrell: "They understand we're in a hole, but we can get ourselves out of it"
From CUBuffs.com … Karl Dorrell's Colorado Buffaloes went back to work Monday knowing full well that the task ahead is a challenging one.
The Buffs, 0-2 after Saturday's 41-10 loss at Air Force, head to Minnesota on Saturday for a 1:30 p.m matchup with the 2-0 Golden Gophers (ESPN2). The Gophers have been receiving votes in the Associated Press top 25 and have the nation's No. 1 offense (582 yards per game) and No. 1 defense in yards allowed (142.5 per game).
"We've got a lot of work to do," Dorrell allowed at his regular Monday press conference. "We had that discussion with our team. They understand we're in a hole, but we can get ourselves out of it. We can if we play better football. We've got to make sure what we're practicing actually is how we play … I know we have it in us."
One of the Buffs' biggest priorities this week will be figuring out how to take advantage of opportunities when they arise. CU allowed two potential scoring chances to slip away last week when a touchdown would have cut AFA's lead to 20-17. The week before, Colorado came up empty in a red zone trip on the first series of the game and ended up trailing by one, 7-6, at the half.
In the end, both losses became lopsided affairs. The Buffs must figure out how to convert those chances when presented.
"Defensively, we did show some life (at AFA)," Dorrell said. "We had some really good stops. We had some turnovers. … I felt like our defense gave us chances in that game. Now, offensively, we have to take advantage of those opportunities."
While CU's defense did force three turnovers, the Buffs reaped just three points from those chances. Air Force, meanwhile, converted three Colorado turnovers into 14 points.
… Continue reading story here …
–
—–
September 12th
… CU in a few minutes … 
*Video – Karl Dorrell's Weekly Press Conference*
From YouTube, courtesy of BuffStampede.com …. The audio isn't great … Some of the highlights … "Messy game against AFA … Our play wasn't up to par from what we were expecting … A pretty tough start to a game (being behind 7-0 after 33 seconds) … We were down 20-0 early in the second quarter, and we were able to respond to make it 20-10 at halftime … Two opportunities in the third quarter to get the differential down to three points, and we didn't come through. We had our chance to swing the momentum and change the momentum … We've got a lot of work to do. They understand where we are … We've had good practices. We have to have that translate to the games. We're a young team … I know we have it in us … There's still a lot of football to be played, which I'm excited about … It wasn't all about J.T. Shrout's effort – there were six drops by his receivers … We have to play with more continuity … The leaders have been very upset. They are on the same page as the coaches … They know they have potential (Dorrell: I had that word, by the way) … Mike Sanford can give us some insight on personnel, but it still comes down to execution … This is an important week for both J.T. Shrout and Brendon Lewis to push the competition. They both have things to shore up, and make a determination later in the week. We're still in competition … Other teams have a philosophy about scheduling wins. For our program, tough games gives us feedback on what we need to do to grow the program … But … It's a 'win now' world. We're doing our very best. We shot ourselves in the foot a couple of time, but there is a lot of football left. There is time to emerge, but there needs to be a sense of continuity … Our defense gave us chances against Air Force, but the offense didn't take advantage … They scored 14 points off of our three turnovers (CU scored three points off of AFA's three turnovers) … The fun part of this game is when both sides of the ball feed off of each other. Right now, we're not being complimentary … I feel deeply that we'll get this thing going … The young players are the young players … I am excited about their attitude … Minnesota is a veteran team, with a mature quarterback … Two excellent runners (Mohamed Ibrahim and Trey Potts ) … They have a big offensive line … Last week will help us prepare for this week, with the physicality we can expect … CU has put in a request for a review of the Trevor Woods targeting call, but it is a remote possibility that it will be overturned (which would mean CU's starting safety will miss the first half of the Minnesota game) … Safety Isaiah Lewis will be back. He had a lacerated in the game, and got it stitched up … Alex Fontenot and Deion Smith will continue to share carries … Linebacker Alvin Williams has not dressed for the first two games. He is under a campus suspension. He is currently not with football. No idea as to when he might be back …
–
—
Kickoff time set for CU Pac-12 home opener v. UCLA
From CUBuffs.com … The UCLA at Colorado football game on Saturday, Sept. 24, will kickoff at 12:00 p.m. (Noon) and will be televised nationally by the Pac-12 Networks.
–
—
Buffs: Worst two-game start since 1974
From the Daily Camera … For the first time since 1974, the Buffs have been beaten by at least 25 points in each of the first two games of the season. The 1974 squad, coached by Bill Mallory, then won three in a row and five of its last eight to finish 5-6.
If this year's team is to duplicate that turnaround, it's going to take a monumental effort.
"A lot of the guys, we've dealt with so much adversity greater than football to when something happens on the field, you've already been through it," guard Casey Roddick said. "Might as well keep going. That's the thing about it. Yeah, it's deflating, but so what, now what?"
Now in his third season with the Buffs, Dorrell is 4-12 in his last 16 games, making that 4-0 start in 2020 a distant memory.
With a fairly young roster and six new assistant coaches, Dorrell insists the pieces are in place to get the program fixed, but recognizes it won't be quick.
"We're really at the bottom and we're trying to work our way back up right now," he said. "It hasn't hit home yet (with the players) and sometimes with younger players, it takes a little bit of time, but I don't like to use that excuse. I really don't. They played football in high school. They're playing in college. It's the same game. Sure, the talent is a little higher, it's a bigger level, but we've got to play better.
"Bottom line, we're not playing well. We've had good practices, but that hasn't translated to what it should look like on Saturdays. We'll get better."
That schedule won't make it easy, though. Following the visit to Minnesota, the Buffs begin the nine-game Pac-12 schedule.
"The season is still early; it's week two," defensive lineman Jalen Sami said. "We've just got to keep our head on the right path, move on to the next game. As we understand and see our mistakes, we can look forward to Minnesota next week. But we've definitely got to look deeper inside ourselves individually, and just see what we can do to change and become better."
–
—
Neill Woelk's Takeaways from Air Force loss
From CUBuffs.com … After two games and two losses by an average of 28 points, Colorado Buffaloes coach Karl Dorrell didn't mince words.
In his postgame press conference following Saturday's 41-10 loss at Air Force, Dorrell said, "We have a tremendous amount of work to do … the coaches and myself, we all take responsibility for it."
Saturday's defeat at Falcon Stadium bore some similarity to Colorado's season-opening 38-13 loss to TCU. Despite some early mistakes, the Buffs were in the game in the third quarter — and then they weren't. CU failed to take advantage when opportunity knocked, and the Falcons were more than happy to slam the door.
Our takeaways from Week 2:
1. Inability to convert crucial short-yardage situations. Despite two early turnovers that put the Buffs in a 20-0 hole, Colorado had a chance to close the gap to 20-17 early in the third quarter and make it anyone's ballgame.
But a first-and-goal at the Air Force 2-yard line produced a fumble on second down, an AFA recovery and an empty trip to the red zone. Colorado then failed to convert a fourth-and-2 in Air Force territory on its next possession — with the score still 20-10 — and later in the game came up short on fourth-and-3 when quarterback J.T. Shrout slid too early with the first down marker well within his reach.
Saturday was not a one-time aberration. The Buffs were 0-for-3 on fourth-down tries the previous week, including a try deep in TCU territory early in the game that would have given CU some terrific early momentum.
Granted, had the Buffs been able to convert at the goal line Saturday, there's no guarantee the game would have turned out differently. But it no doubt would have been at least interesting to see how Colorado would have responded had the Buffs been able to narrow the deficit to three and apply a little more pressure to the Falcons.
2. Still no answer at quarterback. The Buffs went with Shrout the entire game Saturday, ending a streak of 13 consecutive starts for Brendon Lewis.
But the change didn't inject much life into the CU offense. The Buffs had just one drive that went for longer than 26 yards, a 71-yard touchdown march in the second quarter when Colorado's running game suddenly found life. After that, however, the Buffs never really established anything resembling a rhythm again.
By no means was the limited production all on the shoulders of Shrout. CU didn't handle the wet conditions particularly well. Colorado receivers had their hands on a half-dozen passes that fell incomplete — with one tip leading to an interception. It also appeared that Shrout, who hadn't had any extended playing time in roughly two years, is also still finding his touch in the short game.
"We're going to have to find someone that can give us a spark," Dorrell said. "We have to continue to develop that position. Maybe we need to look at some of these younger guys, too."
… Continue reading story here …
–
—–
September 11th 
… CU in a few minutes … 
Buffs open as a 27.5-point underdog to Minnesota
From VegasInsider.com …
Pac-12 lines …
South Alabama at UCLA … 12:00 p.m., MT, Pac-12 Networks … UCLA an 11.5 point favorite
Cal at Notre Dame … 12:30 p.m., MT, NBC … Cal a 17.5-point underdog 
BYU at Oregon … 1:30 p.m., MT, Fox … Oregon a 6.5-point favorite
Colorado at Minnesota … 1:30 p.m., MT, ESPN2 … Colorado a 27.5-point underdog
Colorado State at Washington State … 3:00 p.m., MT, Pac-12 Networks … Washington State a 17.0-point favorite
Michigan State at Washington … 5:30 p.m., MT, ABC … Washington a 3.0-point favorite
Montana State at Oregon State … 6:00 p.m., MT, Pac-12 Networks … no line
San Diego State at Utah … 8:00 p.m., MT, ESPN2 … Utah a 16.5-point favorite
Fresno State at USC … 8:30 p.m., MT, Fox … USC a 16.0-point favorite
Eastern Michigan at Arizona State … 9:00 p.m., MT, Pac-12 Networks … Arizona State a 20.0-point favorite
North Dakota State at Arizona … 9:00 p.m., MT, FS1 … no line
–
—
Quotable Karl Dorrell: "Are the right people here to get (this) fixed? Yeah, absolutely. It just hasn't hit home yet"
From CUBuffs.com …
Opening statement 
"Tough day for us. Obviously, it was a disappointing performance. We didn't play well, we didn't play to our capabilities. I felt that at times the defense did some really positive things. They got us some turnovers. Offensively we didn't capitalize on a lot of those plays. We didn't keep ourselves in the game. In the second half, we had a chance again. We give up the ball deep into the red zone on the two-yard line. We also don't convert on a couple of fourth downs that we need to convert on. Obviously, they did and we didn't. They played better than we did today and were obviously deserving of the wins. We have a tremendous amount of work to do. We've got to find some rhythm offensively at some point, we've got to get going there. We went with a quarterback change and I think that there were some good things and not-so-good things. We've got to continue this work and develop this football team. It's unfortunate though that we had a performance like that but the coaches and myself, we all take responsibility for it when we keep coaching these guys."
On his Team Being Discouraged
"They are discouraged right now. They are. I just had a great talk with them though and they're willing to fight. They want to fight and they want to get better. It's almost like the same story I keep talking about right now. I'm tired of really talking about it. We need to put it out front and play. We need to coach better, we need to play better so there's no easy way to say it other than you've got to work harder to get better. That's really where we're at. I say that in terms of the same story about our inefficiencies. It's been two weeks in a row now. You're saying are the right people here to get that fixed? Yeah, absolutely. It just hasn't hit home yet. Sometimes with younger players, it takes a little bit of time, but I don't like to use that excuse. They play football in high school, they're playing in college. It's the same game, the talents are a little higher, bigger level, but we've got to play better. The bottom line is we were not playing well. We've had good practices, but that hasn't translated to what it should look like on Saturdays so we'll get better."
On the Competition Between the Quarterbacks
"He (Shrout) hasn't proven anything to think that he's the guy. We have to continue to develop that position. Maybe we need to look at some of these younger guys too. Younger than our younger guys. It is what it is, but it's a challenge right now that I think we need a spark."
On Not Being Able to Score
"It's a challenge. Those are always challenging every time you do that. It's always a disappointment on any level when you don't convert, but we'll just keep working at it. We're gonna keep trying. We're going to keep working, there's gonna be fourth downs and we're going to continue to go for it. At some point, we need to convert."
–
—
Safety Trevor Woods ejected – Pac-12 can appeal for reinstatement
From the Daily Camera … CU safety Trevor Woods was flagged for targeting on the second play of the second half and ejected from the game.
"It hurt a lot as you saw," Dorrell said. "When he came out, he's one of our oldest safeties as a sophomore. Then we played a couple other guys after him, but he had a really good game up to that point."
Per the rule book, Woods would have to sit out the first half of next week's game at Minnesota, as well. However, new to 2022 is a rule that could allow CU to appeal. The Pac-12 could submit a request to the NCAA national coordinator of officials to review the play. If it's deemed that Woods should not have been penalized, he could be cleared to play the first half at Minnesota.
CU lost its other starting safety, Isaiah Lewis, to injury, but Dorrell said Lewis would be OK and that there weren't any major injuries for the Buffs.
–
—–