—
CU v. Texas A&M Preview: "T.I.P.S." for Denver Showdown v. Aggies
—
… Related … If you prefer your predictions verbally, "CU at the Game Podcast: UNC recap and A&M preview" can be found at Apple Podcasts, Google Podcasts, or pretty much wherever you download your favorites. Or, if you would prefer, you can find the podcast here or here.
—
This was never going to be easy.
The game against Texas A&M this Saturday in Denver was supposed to be the back half of a "home-and-home" against the Aggies, with the first game scheduled for September 19, 2020, in College Station.
If the game had been played, it would likely have been a loss for Colorado … perhaps even an ugly loss.
Now the resumption of the old Big 12 rivalry has been reduced to one game, with the contest to be played at "neutral" Mile High Stadium in Denver (we'll see how many maroon-clad fans there will be in the stands. As of last week, the ticket sales were in the 52,000-53,000 range, which means there could be a good number of empty seats for the game).
Both teams are coming off of season-opening wins against lesser opponents, with the fan bases for both teams not as pleased as they had hoped they would be after Week One. Colorado had more penalties than passing yards against Northern Colorado, and led only 14-0 at halftime before pulling away for a 35-7 win. Texas A&M, meanwhile, struggled offensively to start against Kent State, leading only 10-3 at the break, before cruising to a 41-10 victory.
Texas A&M has been installed as a 17-point favorite.
Truth be told, there are a number of Buff fans would be satisfied if the final score is at least that close …
So, without further adieu, here are the "T.I.P.S." for the Buffs' tilt against the Aggies …
—
This Week's "T.I.P.S" for CU v. Texas A&M – Saturday, 1:30 p.m., MT, Fox
—
T – Talent
When the Buffs faced Northern Colorado, CU's opponent was a laundry list of unknowns. The Bears hadn't played in almost two years, had a new coach, and 65 new players on the roster.
When the Buffs face Texas A&M in Denver, the opponent will be well known to CU and its coaching staff, even though the teams haven't played one another since 2009.
All things considered, the Buffs were better off facing the unknown.
–
Getting named as a first-team All-SEC player is quite an honor. While it's not a guarantee of a future in the NFL, it's a pretty nice line to have on your draft resume.
Whereas UNC couldn't place a single player on the Big Sky Conference preseason first-team, Texas A&M sports no fewer than four first-team All-SEC players.
Three Aggies on the offensive side of the ball are first-teamers: running back Isaiah Spiller; tight end Jalen Wydermyer; and offensive lineman Kenyon Green. Joining the elite group is defensive lineman DeMarvin Leal. (Also on the list: Ainias Smith, listed as a second special-team specialist and a third-team wide receiver; and third-team defensive lineman Jayden Peevy).
Stars from the 41-10 win over Kent State include freshman quarterback Haynes King (21-33 for 292 and two touchdowns – but three interceptions), running back Devone Achane (12 carries for 124 yards and two touchdowns), together with the aforementioned Isaiah Spiller 17 carries for 113 yards) and Ainias Smith (eight catches for 100 yards and two scores).
–
Overall, looking at the 85-man roster, Texas A&M has five five-star players, 43 four-star players, and 36 three-star players. So, yes, the Aggies are, pretty much, two-deep in four-star players at every position on the roster. According to the 247 Sports composite, Texas A&M has the 8th-most-talented roster in the country.
The Buffs? Zero five-star players; seven four-star players; and 75 three-star players … good enough for 48th place nationally on the 247 Sports list.
This just in … Texas A&M is loaded with talent on both sides of the ball.
It's going to take some smoke, some mirrors, and a little luck, for the Buffs to defeat the Aggies.
—
I – Intangibles
The last time these teams squared off, most of the players on the current rosters were in elementary school.
The year was 2009, and the victor was the University of Colorado, coming away with a 35-34 win over Texas A&M in the infamous "Blue Out" game in Boulder.
Overall, Colorado owns a 6-3 overall advantage in games played against Texas A&M (4-1 in games played in Boulder, this will be the first neutral site game in the series), with all nine games coming after Colorado and Texas A&M became Big 12 rivals.
Seems like a long time ago, with CU entrenched in the Pac-12, and A&M in the SEC.
Those nine Big 12 contests are all ancient history to the players on the field this weekend.
What isn't ancient history to these players is the memory of their recruitment. A quarter of the CU roster – 23 players in all – hail from the state of Texas. While many of that number may not have even considered playing in College Station, there's a pretty fair wager to be won that some of these players wanted to play for Texas A&M, but didn't receive an offer.
Enough of a chip on their shoulders to want this game all the more?
Probably not (if you can't get amped for a game against the No. 5 team in the nation, when would you be? Plus, I'm sure there were plenty of players on the Northern Colorado sideline last weekend who felt they were snubbed by CU … and look how much that helped their cause).
What might, in fact, help the 23 CU players from Texas – including quarterback Brendon Lewis, running back Jarek Broussard, safety Chris Miller, cornerback Christian Gonzalez, wide receiver La'Vontae Shenault, running back Alex Fontenot, offensive lineman Chance Lytle, and linebacker Robert Barnes – is that they will be pitted against four-star Aggies that they grew up playing with and against.
Upsets are made by teams which have players filled with "want to" … and wanting to beat an old rival (or even an old friend) can be a great motivator.
—
P – Preparation/Schedule
Colorado and Texas A&M opened their seasons against opponents which were similar in their pecking order status relative to their opponents. The fair-to-middling Buffs faced an FCS team from the Big Sky Conference, while the Top Ten Aggies faced the Golden Flashes of Kent State.
While Kent State is an FBS program, hailing from the Mid-American Conference, little is expected from the Golden Flashes this season. Kent State was ranked as the No. 104 team in the CBS Preseason 1-130 rankings, coming in just behind the No. 102 team in the nation … Colorado State.
Both CU and Texas A&M struggled early against their lesser foes (CU up 14-0 at halftime v. UNC; A&M up 10-3 at halftime v. Kent State) before taking care of business in the second half.
While the Buffs may be accused of potentially looking ahead to their next opponent, that probably would not be the case for the Aggies. In fact, the fans of A&M could be forgiven if they take the month of September off.
For all practical purposes, A&M's season is all about October 9th. The Aggies' schedule calls for one road trip in the month of September, and that's to Denver. Otherwise, the season opens with home games against Kent State, New Mexico, Arkansas and Mississippi State.
Then, on October 9th … it's Alabama (also at home. A&M's first true road game doesn't come until October 16th at Missouri).
So, there's no reason for A&M to be looking past CU (to New Mexico??), but there's no reason for the Aggies to be particularly focused on the Buffs, either.
–
Looking for a few straws to grasp?
Well, CU played UNC on Friday night, while A&M didn't play until Saturday, allowing the CU players and coaches to sit back and scout the Aggies as they played Kent State.
So … CU has that going for it, which is nice.
—
S – Statistics 
What's not to like?
The Buffs are 24th in the nation in total defense, having given up 256 total yards in the opener.
Scoring defense? 7.0 points/game, tied for 11th nationally.
Rushing defense (20 yards v. Northern Colorado)? Tied for 7th nationally.
Yeah, but …
The reality is that Texas A&M's first-team All-SEC running back Isaiah Spiller might best the 20 rushing yards the UNC Bears posted … in the first series of the game. The Buffs' 7.0 points/game scoring defense? Buff fans will be ecstatic if the Buffs make it out of the first quarter surrendering only seven points.
So, what I'm trying to say here is that stats after one game, for either the Buffs or the Aggies, is going to be skewed and largely irrelevant … except for one:
Penalty yards per game.
Let's put it this way. There are 130 teams playing FBS football. Kansas State is 100th in the nation in penalty yards per game after Week One, with 78 yards of penalties walked off against them in their win over Stanford.
The Buffs had 118 yards in penalties in their game against UNC, 40 more than K-State … putting CU at 120th in the nation (if you like irony: the nation's leader in fewest penalty yards? Kent State had only 10 yards of penalties against Texas A&M)
So, rather than leave you with bad news, here are some fun stats (with credit to Brian Howell of the Daily Camera) …
— Pac-12 team records in their last 10 games:
8-2: USC
7-3: Colorado, Oregon
6-4: Arizona State, Utah, Washington
5-5: Cal, UCLA
4-6: Stanford
3-7: Washington State
2-8: Oregon State
0-10: Arizona
— Colorado freshman quarterbacks to start to the season opener since 1959: 2007 – Cody Hawkins, beat CSU 31-28 2021 – Brendon Lewis, beat UNC 35-7 (Brendon Lewis also became the third straight CU quarterback to win his first start, joining Steven Montez and Sam Noyer);
— The race to 1,000 career rushing yards for a pair of Colorado running backs: After the UNC game, Alex Fontenot stands at 957 yards, while Jarek Broussard is up to 907;
— Let's hear it for Chris Wilson … Fewest points allowed by a Colorado defensive coordinator in his debut game (since the late 1960s): 3 – Mike Hankwitz (1988) & DJ Eliot (2017) 7 – Don James (1968), AJ Christoff (1995), Chris Wilson (2021);
— And, finally, Colorado is now 5-1 when debuting a new Ralphie. Largest margin of victory in those: 28: Ralphie IV (1998) 28: Ralphie VI (2021) 21: Ralphie V (2008) 20: Ralphie I (1967) 17: Ralphie III (1987) Only loss: Ralphie II (1978).
—
Prediction … 
If you had asked me for a CU/A&M prediction at halftime of the CU game last Friday night, when the scoreboard read: Colorado 14, Northern Colorado 0*, I would have put the score of the A&M game somewhere in the 49-3 range, Aggies.
Conversely, if you had asked me for a CU/A&M prediction at halftime of the Texas A&M game on Saturday, when the Kyle Field scoreboard read: Texas A&M 10, Kent State 0, I would have said: "Hmmm, perhaps there is a chance at a CU upset".
The reality is probably somewhere in between.
Top 5 teams, as a general rule, don't lose that many games, especially to unranked teams.
Now, in 2007, unranked CU, coming off of a 2-10 season, upset No. 3 Oklahoma, 27-24. (A big win for second-year head coach Dan Hawkins and his freshman quarterback, Cody Hawkins. If you are looking for a sign, you can note that CU will take the field against Texas A&M with a second-year head coach and a freshman quarterback … just sayin').
The last time CU played a Top 5 team, however, the results weren't as pretty, when the Buffs fell to No. 4 Washington in the Pac-12 championship game, 41-10.
I don't think it will be as bad as the Washington result, but I also find it hard to see a path to a CU victory. Brendon Lewis, in his third game and second start, will have to show us some magic we have yet to see, the offensive line will have to produce a solid rushing attack in order to take the pressure off of Lewis, the CU defensive line and linebackers will have to dominate the line of scrimmage and force A&M's inexperienced quarterback into three more interceptions (as Haynes King threw against Kent State), and … some magic from the special teams (paging Dimitri Stanley, Brenden Rice on returns and Cole Becker and Josh Watts on kicks).
That's a big ask.
Last week, I predicted a score of 38-17, which wasn't far off.
This week, same score, but with CU on the other end of the result …
Prediction … No. 5 Texas A&M 38, Colorado 17. 
—
Previous predictions …
— Colorado 38, Northern Colorado 17 … Actual: Colorado 35, Northern Colorado 7
–
*With my ever-lasting thanks to CU at the Gamer Michelle G., in addition to the 14-0 score, the scoreboard just after halftime last Friday night also read, for a few fleeting seconds: "Happy Birthday, Stuart! Class of '84, A&S; '87 Law" … It was super cool to see my name up lights at Folsom! Thanks, Michelle!!
Hard to catch with the camera in the moment …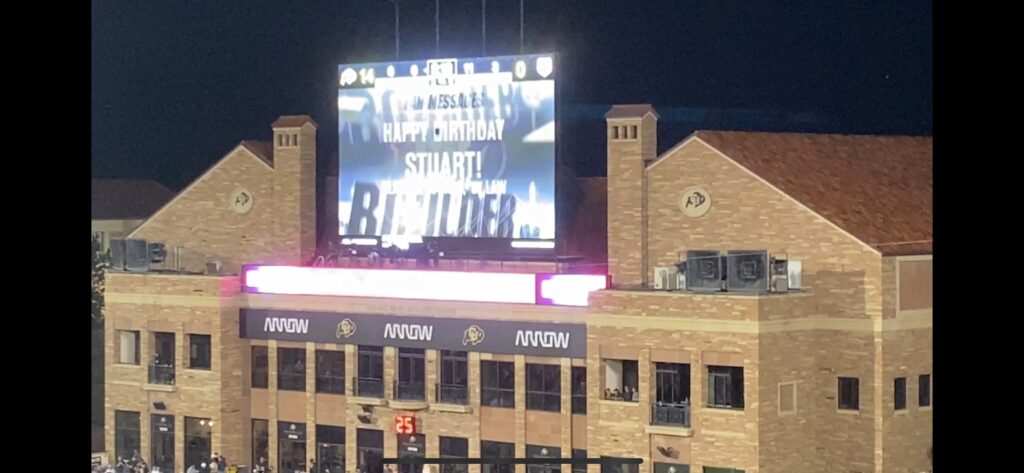 But here is what it looked like …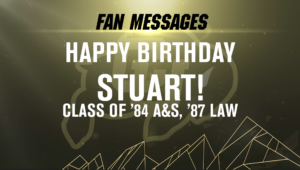 –
—–