—
Top 40 of the Past 40 – No. 22
—
Previously posted:
–
As always, I look forward to your comments and suggestions as we count down my favorite 40 games and favorite 40 players of my 40 years as a Buff …
—
Top 40 Favorite Games … No. 22
October 8, 2005 – Colorado 41, Texas A&M 20 – Watching Buffs trash the Aggies … from the press box
From the Game Story in the CU at the Game Archives …
Quarterback Joel Klatt completed 28-of-36 passes for 398 yards and three touchdowns, leading Colorado to a 41-20 rout of Texas A&M.
The Buffs raced to a 21-0 first quarter lead, never looking back, sending the Homecoming crowd of 50,686 into the cool fall Boulder evening with much to be excited about.
While the final score and statistics painted a picture of complete dominance by the Buffs, the issue was still very much in question … in the first minute of play. On the second play from scrimmage, Aggie quarterback Reggie McNeal hit receiver DeQawn Mobley for 60 yards. It appeared that Mobley might score on the play, but instead the ball was fumbled, recovered by Buff safety J.J. Billingsley on the Buff 20-yard line. Colorado then marched 80 yards in five plays, culminated in a 51-yard touchdown pass from Klatt to running back Hugh Charles.
After a three-and-out by the Aggies, the Buffs again struck quickly. A 65-yard drive resulted in a four yard Charles touchdown run to up the Colorado advantage to 14-0. Another short Texas A&M possession resulted in another Aggie punt, followed by another long Buff touchdown drive. This time, the 80-yard drive was completed when Lawrence Vickers scored from three yards out. With 3:57 still left to play in the first quarter, the Buffs were up 21-0.
In the second quarter, Colorado continued to dominate. Two A&M field goals were offset by a one-yard touchdown pass from Klatt to Vickers, to go with a 20-yard field goal by Mason Crosby just before the half to put the Buffs on top, 31-6, at halftime.
… Continue reading game story here …
—
From the Essay for the Game … "Beyond Cool"
The email came during the summer, when thoughts of Colorado football were not in the forefront in the minds of most fans.
It came as part of a group email to those registered on the CU website. A Denver police officer had been shot in the line of duty, and there was a local radio station putting on a fund-raiser for the family. Many local businesses had donated items to an online auction. Alongside auctions for Bronco tickets, dinners with local celebrities, and sports memorabilia, was a donation from the University of Colorado: two press passes to a CU football game. Included in the package was premium parking, access to the field before the game, and access to the press conference after the game.
Intrigued? Of course! In my 26th year as a Buff fan, I had never been in the press box, never been on the field before a game, and never at a press conference after a game.
Did I want the tickets?
What do you think?
Now, could I get the tickets? The bidding was already into the hundreds of dollars when I logged on. As the deadline approached, it appeared that it was coming down to myself and one other bidder. With my wife Lee rooting me on, we made our final bid with just a few minutes to go before the auction would be closed.
As the final moments clicked off, we kept pecking away at the computer. Refresh, refresh, refresh …. and there it was! Auction closed! Scroll down … last bid … the tickets were mine!
The Texas A&M game became the best choice, because it meant that I could take my longtime best friend Brad Geiger with me to the game. I know that Brad would appreciate all of the trappings as much as I would. We had traveled to locales such as Lincoln, Miami, Los Angeles, Phoenix, and Houston together for games. Who better to share the moment? Serendipity came to mind when we found out that Brad's aunt and uncle from Galveston would be honored as "Donors of the Game". We would be able to be on the sidelines for their moment of recognition.
… Continue reading story here …
—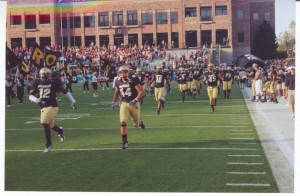 —
Top 40 Favorite Players … No. 22
Quarterback Koy Detmer – 1992-96
From Detmer's CUBuffs.com bio … An honorable mention All-American as a senior in 1996 by the Football News, as he was the unanimous first-team All-Big 12 quarterback in the conference's inaugural season … That same year, he was a finalist for the Johnny Unitas Award and a semifinalist for the Davey O'Brien Award … Set numerous passing records as a senior, when he passed for 3,156 yards and 22 touchdowns … Was off to a terrific start in 1995 until he was sidelined with a torn ACL (he was such a gamer that after missing a game, he tried to comeback but a specially fitted brace couldn't supply enough support) … At the time of the injury, he was the nation's leading passer with a 189.4 rating … Redshirted in 1993…
Started his career as a true freshman in 1992, playing in seven games including two starts (Oklahoma, Nebraska); he threw for 418 yards and five touchdowns against the Sooners, both highs in a debut for a CU starting quarterback; he also threw a 92-yard touchdown pass to Charles Johnson, which stood for 10 years as the longest pass play in school history …
In 18 career starts, including bowls, he led CU to a 14-3-1 record… Second all-time at Colorado with 14 games of 200-plus yards passing; his five of 400 or more and seven 300-plus are school bests … Ended his career by being named the MVP of the 1996 Holiday Bowl, when he completed 25 of 45 passes for 371 yards and three touchdowns in Colorado's 33-21 win over Washington … Older brother, Ty, won the Heisman Trophy as a junior at Brigham Young in 1990 …
A seventh round selection by Philadelphia in the 1997 NFL Draft, he spent his 10 years with the Eagles (1997-2006) and finished up at Minnesota. Though basically the back-up signal caller, he spot-started on occasion.
–
—–