—
Top 40 of the Past 40 – No. 21
—
Previously posted:
–
As always, I look forward to your comments and suggestions as we count down my favorite 40 games and favorite 40 players of my 40 years as a Buff …
—
Top 40 Favorite Games … No. 21
September 11, 2004 – Colorado 20, Washington State 12 … Late fumble recovery saves Buffs
From the Game Story in the CU at the Game Archives …
For the second time in as many weeks, the Colorado defense preserved a Buff win in the game's waning moments.  Against Washington State, senior defensive tackle Matt McChesney recovered a fumble by Cougar quarterback Alex Brink at the Colorado two-yard line with just seconds remaining, sealing a 20-12 victory.  "I was getting the ball," said McChesney of his recovery.  "I think somebody might have had it (first), but I got the ball."
On a sunny afternoon at Seattle's Qwest Field, the Buff defense stepped up when the Colorado offense sputtered.  Colorado's defense had eight sacks, an interception return for a touchdown, and two fumble recoveries.  "Our defense just picked it up," said Gary Barnett.  "They told us in the locker room that they had our back at halftime, and they did it."
What the defense did was mask an awful showing by the Colorado offense.  The Buffs had only 125 yards of total offense on the day, and only seven first downs.  Joel Klatt produced only 78 yards through the air, and the Colorado rushing attack was held to a net of 47 yards.  Conversely, Washington State had 402 yards of total offense.
How then, did the Buffs manage to emerge 2-0 on the season?
The game was tied, 3-3, at halftime, thanks to Mason Crosby's second 50+ yard field goal in as many weeks.  In the third quarter, Colorado free safety Tyrone Henderson blocked his second punt of the day.  The first blocked punt managed to get past the line of scrimmage, but this punt rolled back into the Cougar end zone, where it was recovered by Colorado V-Back Lawrence Vickers and a 10-3 Colorado lead.  After a WSU field goal late in the third quarter cut the Buff lead to 10-6, red-shirt freshman linebacker Joe Sanders, substituting for injured starter Brian Iwuh, intercepted an Alex Brink pass and raced 51 yards for a 17-6 Colorado advantage with 9:13 remaining.
Just had been the case against CSU, however, the Buffs could not stand the prosperity of a double-digit lead.  After holding the Cougars out of the end zone for three quarters, the Buffs' defense surrendered a score in just over a minute, as Brink hit wide receiver James Hill for a 60-yard touchdown. The lead remained at five points, 17-12, a few moments later, when the Cougars' two-point conversion attempt failed.
With momentum on the side of the home team, the Buffs needed a lift.  They got one from Terrence Wheatley, who returned the ensuing kickoff 59 yards, setting up a 41-yard field goal by Mason Crosby, giving the Buffs a 20-12 lead.  Washington State then drove 54 yards in eight plays before McChesney's fumble recovery saved the day.
"Maybe that's who we are this year," Barnett said.  "We're just going to find some way to win and not worry about who's on the field and how good individually we are. We're going to be good as a team."
… Continue reading story here …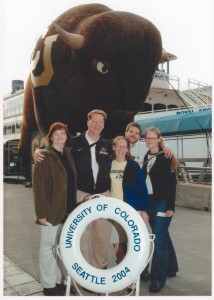 –
Top 40 Favorite Players … No. 21
Defensive back Chris Hudson … 1991-94
From his CUBuffs.com bio … A consensus first-team All-American as a senior in 1994, including from the Associated Press and United Press International… He was a Playboy Preseason All-American prior to his senior year… He was the winner of the Jim Thorpe Award in 1994, presented to the nation's top defensive back; he was the second Buff to win the Thorpe and the fourth CU player to win a postseason trophy… A threetime first-team All-Big Eight performer his sophomore through senior seasons, the fifth Buff to accomplish the feat of becoming a three-time all-league selection …
Hudson won the team's Hang Tough Award, presented to the player who overcame the most adversity his senior year; his adversity? He played the final 10 games of the regular season with a nagging turf toe injury and still played to an All-American level and won the Thorpe hardware… His 15 career interceptions still rank as the second most in Colorado history, while his 20 pass deflections tied for the seventh most by a Buff at the time of his graduation… Had two interceptions in three different games, and returned two for touchdowns (a 40-yard sprint at Stanford as a freshman in '91 and a 21-yard effort against Texas in the '93 season opener)… He was in on 141 career tackles (104 solo, seven for losses), and also registered 27 third down stops along with two forced fumbles, two recoveries and a blocked kick… He had a career-high 13 tackles (11 solo) in a 21-16 win at Iowa State as a junior ('93)… A third round selection by
Jacksonville in the 1995 NFL Draft (71st overall) …
Hudson played in 77 career NFL games with Jacksonville (1995-98), Chicago (1999) and Atlanta (2001) and had 11 career interceptions… He was inducted into CU's Athletic Hall of Fame in its 2016 class… Now in private business in Memphis.
–
—–