—
Pac-12 Notes – San Diego State Week
—
November 27th
… Foe Pause … 
Oregon State scores late to shock No. 9 Oregon, 41-38
From CBS Sports … No. 15 Oregon and Oregon State wrote a dramatic new chapter in their football rivalry on Friday night as the Beavers escaped with a 41-38 victory on a foggy night at Reser Stadium on the Oregon State campus. Backup quarterback Chance Nolan put the Beavers ahead on a quarterback sneak with 33 seconds left on the first snap of his Oregon State career after entering for injured starter Tristan Gebbia.
Oregon State held on and improved to 2-2 when No. 15 Oregon's last-ditch effort failed in the final seconds. Oregon State players then stormed the field in celebration of their first win in the rivalry since 2016.
Oregon led 24-13 at halftime and 31-19 entering the fourth quarter, but had no answer for the Beavers late as Gebbia and running back Jermar Jefferson propelled an offense that produced 28 points in the second half. Jefferson ran for a pair of touchdowns, and his 226 rushing yards were the most ever by a player in the series. Ultimately, the Ducks defense had no answer and made the College Football Playoff committee look wise for ranking Oregon so low in the debut CFP Rankings released earlier this week.
Oregon's defensive woes 
The Ducks have not been good at defending the run this season and have struggled with tackling at times. Those issues were exposed to a backbreaking degree on Friday as Jefferson torched the Ducks for a huge game. The 5-foot-10 junior ran averaged just 3.0 yards per carry on 21 attempts against Oregon in 2018 and averaged 4.1 yards per carry on 20 attempts vs. the Ducks last year.
But on Friday he exploded for 7.8 yards per carry, an average that was buoyed significantly by an 82-yard touchdown run in the first quarter that set the tone for the game.
–
—
Iowa defeats Nebraska for sixth straight season; Kirk Ferentz has a hilarious response to Scott Frost's whining
From ESPN … Iowa football coach Kirk Ferentz took issue with Nebraska attributing center Cameron Jurgens' snapping issues during Friday's game to clapping from the Hawkeyes' sideline.
After the Cornhuskers' 26-20 road loss Friday, Nebraska coach Scott Frost was asked about Jurgens, who had five snaps go awry in the first half. Frost told media members he believed clapping from Iowa's sideline was confusing his center and causing mishandled snaps.
"The issue with snaps today, I don't think had anything to do with [Jurgens'] technique," Frost said. "There was clapping going on on their sideline and Cam heard that clap and thought it was the quarterback clapping. We discussed it with the officials, and it didn't happen in the second half."
Ferentz was made aware of Frost's comments during his postgame news conference.
"Never heard of that," Ferentz said. "If a player was on the field doing it, I get that. But what are we talking about? The next thing you know, we're going to be treating this like golf. I was going to say tennis, but they do that at tennis. At golf, nobody is able to say anything, right?"
Ferentz said he believed the clapping Frost was referencing was from when he and his coaches were encouraging their players from the sideline. He said there was no malicious intent to deceive. The officials spoke to Ferentz about it at halftime, but he said he believes it was simply the coaches cheering on his team.
Ferentz went on to take a jab at Nebraska, saying he thought the Huskers had a "clap routine" for third downs on the other sideline.
There were no penalties or repercussions during the game for the clapping, but Ferentz continued asking why it was still an issue after the game.
"We should just go home right now. What are we talking about?" Ferentz said. "It's football, right? It's football. Are they OK with how I dressed today? Should I be changing my pants, different shirt? What are we talking about?"
–
—–
November 26th – Happy Thanksgiving!
… Foe Pause … 
Rivals rates the 65 Power Conference teams (CU just outside top 25)
From Rivals.com … As we head into Thanksgiving and the first College Football Playoff poll has been released, what better time to rank all the Power Five programs from 1 to 65 in this insane year? Keep in mind these are power rankings, so head-to-head doesn't always matter.
From the Pac-12 … 
7. OREGON
The Ducks have been recruiting very well, and it's showing with big-time players across the board in Oregon's three wins this season over Stanford, Washington State and UCLA. The schedule lines up – save for a battle against Washington and the Pac-12 title game – for Oregon to be undefeated. The question remains: Does a Pac-12 champ with no losses deserve a playoff spot with such a shortened schedule?
15. USC
The Trojans are 3-0 and they deserve credit for that, but it's also worth mentioning that the Trojans needed late-stage comebacks to beat Arizona State and Arizona before handling Utah this past weekend. USC has four outstanding receivers, and the ball is being spread around to Amon-Ra St. Brown, Drake London, Tyler Vaughns and Bru McCoy.
20. WASHINGTON
First-year coach Jimmy Lake is off to a 2-0 start in the shortened Pac-12 schedule with wins over Oregon State and Arizona, but the passing game is just OK so far. A big matchup against Oregon awaits.
26. COLORADO
First-year coach Karl Dorrell is off to a strong 2-0 start with victories over UCLA and Stanford, but a big test comes this weekend as the Buffaloes travel to USC. The running attack, with either Jarek Broussard or even quarterback Sam Noyer, has been especially impressive early on.
33. UCLA
After losing a 48-42 shootout to Colorado in the opener, the Bruins responded by soundly beating Cal. But the Bruins were without quarterback Dorian Thompson-Robinson when coach Chip Kelly returned to Oregon this past weekend, and they put up a fight in a 38-35 loss. Thompson-Robinson has had a strong start to the season as he spreads the ball out to numerous receivers.
40. ARIZONA STATE
It has also been a frustrating start-and-stop opening for Arizona State, which was on the losing end of a miracle comeback by USC in the season opener, a game the Sun Devils had in their hands late. Since then, games against Cal and Colorado have been canceled. Arizona State faces Utah this weekend. In the opener, quarterback Jayden Daniels had 134 passing yards and 111 rushing yards and gave USC trouble.
43. WASHINGTON STATE
First-year coach Nick Rolovich is off to a 1-1 start with a victory over Oregon State in the opener, but then Washington State fell to Oregon, although the Cougars battled. Freshman quarterback Jayden de Laura could be a future star in Pullman as Wazzu looks for more playmakers all over the field.
45. UTAH
COVID-19 protocols have hit Utah hard early in the season as the Utes' games against Arizona and UCLA were canceled. Utah opened the season Saturday night with a 33-17 loss to USC. The quarterback play from Jake Bentley and Cam Rising was uneven.
48. MICHIGAN STATE 
Michigan State has one win in four games, but it's against Michigan so that's enough for first-year coach Mel Tucker to hang his hat on, for now. But the Spartans lost to Rutgers in the opener, got blown out by Iowa and were held scoreless against Indiana.
52. OREGON STATE
A 1-2 start for Oregon State gets tougher this weekend as it plays its rivalry game against Oregon. It could also be a major opportunity for third-year coach Jonathan Smith as the Beavers offense try to find their footing on offense with running back Jermar Jefferson leading the way. The schedule does remain tough throughout.
56. NEBRASKA 
Third-year coach Scott Frost is now 10-18 at Nebraska and the start of this season has been another struggle with a quarterback change, a lone win over Penn State and three losses – blowouts to Ohio State and Illinois of all teams – and an 8-point decision at Northwestern. The Huskers visit Iowa this weekend. They have lost five in a row against the Hawkeyes and six of the last seven.
57. ARIZONA
The Wildcats looked formidable in the season opener against USC, a game that they were leading in the closing minutes but in which they were unable to keep the lead. Then Arizona went to Washington this past weekend, where it trailed 37-0 heading into the fourth quarter. Arizona closed out strong in a 44-27, loss but it is 0-2 heading into a matchup against UCLA this weekend.
61. STANFORD
Stanford has already lost to Oregon and Colorado this season and then had its game against Washington State canceled because of COVID-19 protocols. The rivalry game against Cal awaits. The offense has not found its footing yet, especially in the pass game as no receiver has a touchdown catch.
64. CAL
The season started off with a whimper as two games were canceled because of COVID-19, and since then the Golden Bears have lost to UCLA and Oregon State. Things could turn around this weekend in the rivalry game against Stanford, but the offense is averaging just 18.5 points per game and needs a kick-start.
–
—
With two more opt-outs, Arizona down to around 70 available scholarship players
… Buffs are scheduled to face off against the Wildcats next Saturday … 
From azdesertswarm.com … The Arizona Wildcats are getting even thinner on defense, while their overall scholarship numbers are pushing them closer to the danger zone.
On the same day that freshman cornerback Edric Whitley announced he was entering the transfer portal, junior safety Christian Young decided to opt out of the remainder of the 2020 season, according to Michael Lev of the Arizona Daily Star.
Young appeared briefly in Arizona's season-opening loss to USC but did not play at Washington. He was expected to factor heavily at the safety position this year after splitting time at corner and safety his first two seasons.
The loss of Young and Whitley is a further blow to an already depleted Arizona secondary. And when factoring in other UA players who have either opted out of the season, transferred, have been suspended or suffered season-ending injuries, the program is down to about 70 available scholarship players.
What makes that significant is that the Pac-12 is requiring teams have at least 53 available scholarship athletes to play games this season. If Arizona were to experience a Covid-19 outbreak it's very likely that could result in game cancellations.
–
—–
November 25th 
… Foe Pause … 
USC issues statement: Trojans cleared to resume practicing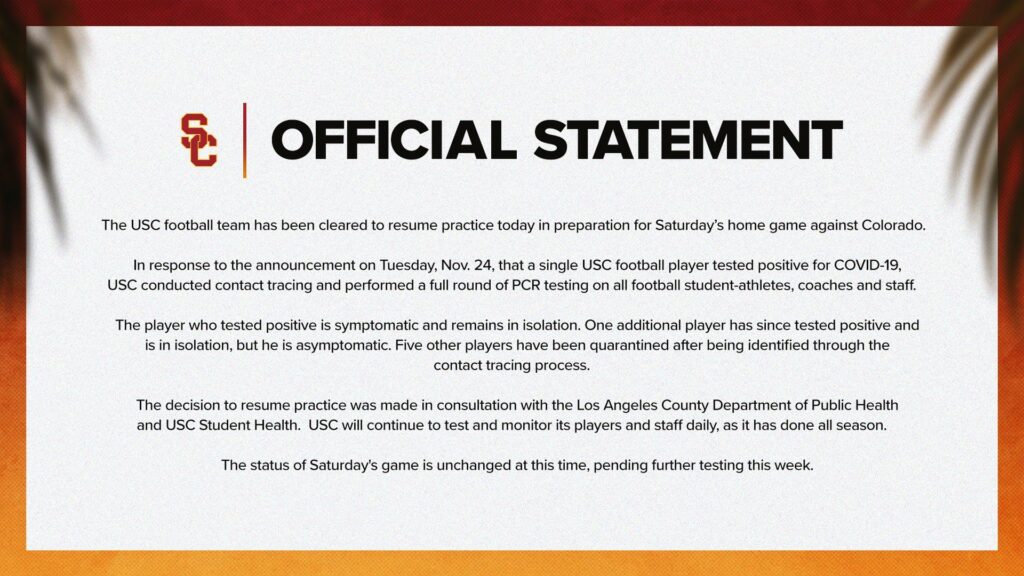 –
—
USC still looking to realize potential
From the Orange County Register … USC football is 3-0 halfway through the 2020 regular season. The Trojans put together their most convincing win, beating Utah 33-17 on Saturday night, never trailing after an initial 3-0 deficit.
But even with two steps forward, there was still a sense of another being taken back by a USC team that is still looking to put together a full, no-caveat performance that highlights this roster's full promise.
Even head coach Clay Helton, his team's greatest cheerleader, seemed less enthused than normal after the win over the Utes. Perhaps it was just the pure exhaustion of playing a road game at 8:30 p.m. local time. But while Helton still maintained his trademark optimism about the team, he was slightly more frank in his assessment of the team.
"We will hit on all cylinders and I'm looking forward to that here soon. And we're close," Helton said after the game. "Defensively, I thought we took a major, major step ahead. Offensively, we're doing the things to win but we haven't reached our full potential yet and I look forward to that day."
As Helton pointed out, the USC defense was very good on Saturday. Five turnovers, three sacks, and holding Utah to 335 yards of total offense. Everyone got in on the action, from Drake Jackson's interception to Marlon Tuipulotu's strip sack to Ralen Goforth's game-sealing, fourth-down pass breakup.
But for the third straight game, the USC offense left something to be desired. The Trojans still have zero third-quarter touchdowns this year, and on Saturday managed just three field goals in the second half.
And quarterback Kedon Slovis had two turnovers that Helton estimated cost USC 14 points. The first was a fumble that Utah picked up and returned for a touchdown. The second was an interception in the red zone in which Slovis thought tight end Erik Krommenhoek would break one direction, but the senior went another.
"Really, I thought it should have been a 31-10 ball game at halftime," Helton said. "We let them stay in it into the second half and then we started to separate ourselves, which I'm proud of the kids for doing."
… Continue reading story here …
–
—–
November 24th
… Foe Pause … 
Utah at ASU / WSU at Washington morphs into Utah at Washington
From the Pac-12 …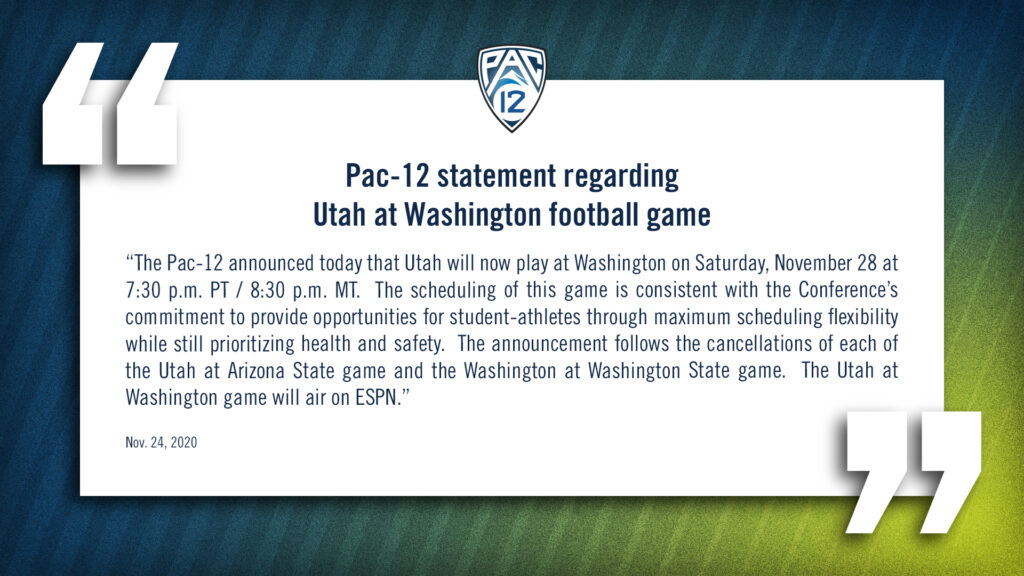 –
—
Pac-12 chances at Playoff: "So narrow that it doesn't reasonably exist"
From the San Jose Mercury News … A unsettling Tuesday afternoon for the Pac-12 that featured another canceled game (Utah at Arizona State) then turned ghastly when the first College Football Playoff rankings were unveiled.
The conference's path into the CFP is narrow — so narrow, in fact, that it doesn't reasonably exist.
The leading indicator of trouble in ESPN's reverse-order reveal came when Washington didn't appear near the bottom of the rankings after thrashing Arizona.
Then came an ominous position for USC, which was slotted 18th despite a 3-0 record and two road wins.
Finally, in the No. 15 position, was Oregon.
The Ducks are 3-0 after a narrow victory over UCLA — the latest in a string of uneven performances for the defending conference champs.
"They just haven't seemed dominant for four quarters week in and week out," ESPN analyst Jesse Palmer said.
The lack of data points was also problematic for the Pac-12 entries.
All but one team ranked above the Ducks has played at least five games, and many have played seven or eight.
(The exception is No. 4 Ohio State, which has played four games.)
"Oregon is playing at a high level," said Gary Barta, the selection committee chair and athletic director at Iowa.
"With three games, they haven't yet beaten or played a ranked team. Right now, we had three games to evaluate. We put them where we thought they should be for now.
"We have four more weeks (of rankings), and I'll look forward to having more games to add to that resume to see where they go from here."
But the Ducks have precious few chances to impress.
Next up is Oregon State (1-2), followed by Cal (0-2), Washington (2-0) and then, perhaps, the conference championship.
That's not exactly a lineup of top-10 opponents the Ducks can use for propulsion.
… Continue reading story here …
–
—
Utah at ASU canceled; Utah at Washington a possibility
From KSL.com … Coming off an opening weekend loss, Utah had its third game of the season canceled due to COVID-19.
This time, however, it wasn't because of the Utes.
The Pac-12 announced Tuesday night that Utah's game with Arizona State on Sunday has been canceled due to the influx of positive cases inside the Sun Devils' program. The game was already delayed a day to Sunday to help Arizona State in its hopes of playing this week.
"After consultation with Arizona State University, the Pac-12 Conference announced the game involving Utah at Arizona State scheduled for Sunday, November 29 will not be played," the conference announced in a statement.
"This decision was made under the Pac-12's football policy due to Arizona State University not having the minimum number of scholarship players available for the game as a result of return-to-play protocols involving local public health-prescribed quarantines for contact tracing as well as the time required for cardiac testing evaluation results to be completed.
The game will be declared a no contest and limits how many games Arizona State and Utah will actually play during the 2020 season.
"We are very disappointed for our student-athletes and our fans to be unable to play this game. While all of us want to see our football student-athletes on the field competing, our number one priority must continue to be the health and safety of all those connected to Pac-12 football programs."
Earlier this week, Washington State was forced to cancel its rivalry matchup against Washington due to the virus in the program. As such, there's a possibility that Utah and Washington will play this weekend to keep each program from sitting idle.
Utah head coach Kyle Whittingham said earlier Tuesday that the team had been preparing the "majority" of the time for the Sun Devils, but had some preparation in case they'd be called on to play Washington.
"Well, all the focus, right now, is on ASU until we're told differently; that's where we're going to put the majority of our attention — I say the majority because you still have got to pay attention to the other possibility — but that's what our primary focus is. And we hope to find out sooner rather than later. It would be ideal if we could find out today."
Whittingham's wish was granted, though no formal agreement to play the game has been made public. He did, however, say the game, if played, was expected to be played on the road and would be played on Saturday.
"I understand that we'll be on the road, regardless of who we play," Whittingham said. "It looks like the possibility of a home game doesn't exist for this week. And it will be either — Washington would be on Saturday, whereas ASU would game be on Sunday. That's my understanding."
Should Utah play this weekend, the team will be without starting quarterback Cameron Rising, who suffered a season-ending injury in Utah's loss to USC Saturday.
–
—
Pac-12 Playoff blues: Oregon ranked 15th in Playoff rankings; USC No. 18
From ESPN … Alabama is ranked No. 1 in the initial College Football Playoff rankings, followed by Notre Dame, Clemson and Ohio State, while BYU debuts at No. 14 despite a 9-0 start to its season.
Nick Saban's Crimson Tide are among four SEC teams appearing in the top-9 of the initial rankings, along with No. 5 Texas A&M, No. 6 Florida and No. 9 Georgia, the highest-rated two-loss team despite double-digit defeats to both Alabama and Florida. Clemson, which lost its only game to Notre Dame in two overtimes while playing without starting quarterback Trevor Lawrence, is the highest-rated one-loss team.
Although BYU appears behind three two-loss teams — Georgia, No. 11 Oklahoma and No. 13 Iowa State — Cincinnati received a more favorable initial ranking at No. 7, despite playing one less game than BYU. The Bearcats have league wins over SMU, Memphis, UCF, Houston, East Carolina and South Florida, and on Dec. 12 are scheduled to visit Tulsa, which debuts at No. 25 in the CFP rankings.
Ohio State (4-0) is the Big Ten's highest-ranked team in the CFP rankings, followed by No. 8 Northwestern, which is 5-0 and likely set to face the Buckeyes in the Big Ten championship game for the second time in three seasons. The Big Ten tied the SEC for most teams in the initial rankings with five, as No. 12 Indiana, No. 16 Wisconsin and No. 24 Iowa also appear.
The ACC placed three teams in the top-10 of the initial rankings, as Miami (7-1) debuts at No. 10 despite a 42-17 loss to Clemson. North Carolina, which hosts Notre Dame on Friday, appears at No. 19.
Oklahoma and Iowa State are the highest-rated in the Big 12, which also places Texas (No. 17) and Oklahoma State (No. 23) in the Top 25.
The Pac-12, the final FBS conference to kick off its 2020 season, has only two teams in the initial CFP Top 25 in No. 15 Oregon and No. 18 USC, both of which are 3-0. Two undefeated Pac-12 teams in Washington (2-0) and Colorado (2-0) are unranked.
The CFP selection committee, chaired by Iowa athletic director Gary Barta, is scheduled to release its rankings Dec. 1, Dec. 8 and Dec. 15, before announcing the final selections Dec. 20. Conference championship games and other contests are set for Dec. 18 and Dec. 19.
| RANK | TEAM | RECORD |
| --- | --- | --- |
| 1. | Alabama | 7-0 |
| 2. | Notre Dame | 8-0 |
| 3. | Clemson | 7-1 |
| 4. | Ohio State | 4-0 |
| 5. | Texas A&M | 5-1 |
| 6. | Florida | 6-1 |
| 7. | Cincinnati | 8-0 |
| 8. | Northwestern | 5-0 |
| 9. | Georgia | 5-2 |
| 10. | Miami | 7-1 |
| 11. | Oklahoma | 6-2 |
| 12. | Indiana | 4-1 |
| 13. | Iowa State | 6-2 |
| 14. | BYU | 9-0 |
| 15. | Oregon | 3-0 |
| 16. | Wisconsin | 2-1 |
| 17. | Texas | 5-2 |
| 18. | USC | 3-0 |
| 19. | UNC | 6-2 |
| 20. | Coastal Carolina | 8-0 |
| 21. | Marshall | 7-0 |
| 22. | Auburn | 5-2 |
| 23. | Oklahoma State | 5-2 |
| 24. | Iowa | 3-2 |
| 25. | Tulsa | 5-1 |
–
—
Nebraska & Michigan State in CBS Bottom 25 (along with four Pac-12 teams)
From CBS Sports … I'll give this to Nebraska fans: they're passionate. Like any fanbase, there's a certain portion of it that's unhinged. But whether they're thinking logically or illogically, they're doing so with feeling — feelings they aren't afraid to let you know about.
This is why when the Cornhuskers were 0-2 and had had a game canceled through the first few weeks of the season, I received a lot of angry emails and messages from fans because they were ranked in The Bottom 25. I can't repeat all of the words I was called, but rest assured that the general feeling amongst a portion of Nebraska fans was that I'm not intelligent and that these rankings are evil and cruel.
Then, when Nebraska beat Penn State, I received a couple of "I told you so, stupid" types of messages because beating a winless Penn State team that outgained you by 203 yards in the game was proof Nebraska was actually good. Well, we came full circle on Saturday. It was during the midst of Nebraska's 41-23 loss to Illinois — who was at No. 24 in last week's Bottom 25 — at home when I began to receive messages from Nebraska fans asking me to put them in The Bottom 25 this week.
Honestly, I considered leaving the Cornhuskers out just to spite them for the angry messages earlier this season, but I couldn't. I will never alter the process that leads to these rankings (for newcomers, these aren't based on opinion, but a rating system). So, congratulations, Nebraska fans. You're back in.
No. 25 – Nebraska … So maybe Luke McCaffery isn't the answer after all? The Huskers are back in action this weekend against an Iowa team that's beaten them five years in a row. (Last Week: Not Ranked)
No. 23 – Michigan State … Talk about insult to injury. Michigan State's game against Maryland was canceled due to COVID concerns at Maryland, and the Spartans drop into The Bottom 25 afterward. This week, Sparty gets Northwestern in East Lansing. (NR)
No. 18 – Arizona … Arizona lost to Washington 44-27, but that score is misleading. Washington held a 37-0 lead after three quarters before the Wildcats put up 27 in the final 15 minutes against Washington's reserves. The Wildcats look to get a win against UCLA this week. (NR)
No. 9 – Utah … Sample size is a killer, Utes. Overall, your play wasn't great against USC in a 33-17 loss, but it's not really Bottom 10 bad. Still, imagine being a BYU fan right now. The College Football Playoff rankings come out on Tuesday night, and you're waiting to see where you'll be ranked. Meanwhile, Utah and Utah State are hanging out in The Bottom 10. Anyway, the Utes are scheduled to play Arizona State this week, but as always, that's subject to change. (NR)
No. 8 – Stanford … Stanford's game against Washington State was canceled. This week, it's The Big Game against No. 7 Cal. (9)
No. 7 – California … Listen, not everything about 2020 sucks. For instance, with both Cal and Stanford sitting at 0-2 right now, it means that The Big Game is no longer The Big Game. It's The Bottom 25 Game of the Century of the Week! The Bottom 25 is on the field! (2)
–
—–
November 23rd
… Foe Pause … 
Can Arizona afford Kevin Sumlin's $7.5 million buyout?
From ESPN … When it comes to the 2020 college football coaching carousel, something is better than nothing.
South Carolina's dismissal of Will Muschamp eight days ago ensures at least one Power 5 program will be in the coaching market during this cycle. Although coaching changes shouldn't be celebrated, they make late November and December more interesting. Muschamp will be fine, by the way, after pocketing around $13.2 million from South Carolina not to coach (he already received around $6 million from Florida after being fired in 2014).
I'm raising my sons to become fired college football coaches. That's the American dream.
South Carolina likely won't be the last major-conference school to make a coaching change in this cycle. The Gamecocks' approach also could impact what other schools choose to do, especially in the SEC.
Here's the latest on what could be coming in the coaching carousel — from Tennessee to Michigan (and Hugh Freeze's role in all of it) — this year.
Seat heating up: Kevin Sumlin, Arizona
Even in a normal year, Sumlin might be safe because of his contract and Arizona's less-than-stellar financial situation. The third-year coach would be owed $7.5 million if Arizona dumps him this season, a guarantee that drops to $5 million in 2021.
That's a lot of money, especially during a pandemic and for a school dealing with other issues, like an NCAA investigation into the men's basketball program. Arizona looked like a much-improved team in the season opener, taking two fourth-quarter leads against USC before falling in the final minute.
But Saturday marked a setback, as Arizona fell behind Washington 37-0 before some garbage-time touchdowns made the final score more respectable (44-27). Arizona next faces improved UCLA, still-unbeaten Colorado and rival Arizona State.
Will five or six games be enough to make a true assessment of Sumlin? Probably not. But if Arizona wants to enter the market in which few teams are searching, it could cite a third consecutive losing season as the reason to make a change.
There are some good candidates in the area: BYU coach Kalani Sitake, whose team is 9-0; Nevada's Jay Norvell, whose team is 5-0; or first-year Fresno State coach Kalen DeBoer, off to a 3-1 start.
–
—–
November 22nd
… Foe Pause … 
Apple Cup called off as Washington State deals with COVID issues; UW/BYU an option?
From ESPN … This week's Apple Cup rivalry game between Washington and Washington State will not be played, the Pac-12 announced Sunday.
The decision comes two days after WSU had to cancel Saturday's game against Stanford because it did not meet the 53-scholarship player threshold needed to play as a result of players in quarantine and isolation protocols related to COVID-19.
"As we work through the remainder of our schedule, we will continue to communicate with the Pac-12 Conference and UW if any scenario would emerge that would allow us to reschedule the game at a later point in the season," WSU athletic director Pat Chun said in a statement.
"This is so disappointing for our players, coaches and staff, as well as Husky Nation as we were all looking forward to the Boeing Apple Cup this week," Washington athletic director Jennifer Cohen said in a statement. "This is one of the best rivalries in college sports and every year we circle this game at the start of the season. We will work with Pac-12 to prioritize this game and look into any opportunities to play it should there be an open date for both schools down the road. … We want to provide an opportunity for our football program to compete this weekend and are working to find another opponent."
Without an opponent this week, Washington, which had its season opener against Cal canceled, will attempt to find a replacement team to play. The Pac-12 announced this week it will allow nonconference games, reversing a policy set earlier in the year.
Washington has reached out to BYU about playing a replacement game this week, but the eighth-ranked Cougars have so far resisted, sources told ESPN.
If neither team qualifies for the conference championship game, it is expected that the Pac-12 will try to arrange the Apple Cup for the weekend of Dec. 18-19
–
—
Colorado to travel to Los Angeles as 11-point underdogs to No. 19 USC
From CircaSports.com … Pac-12 lines for Thanksgiving weekend
Stanford at Cal (-2) … Friday, 2:00 p.m., MT, Fox …
No. 9 Oregon (-14) at Oregon State … Friday, 5:00 p.m., MT … ESPN
Washington (-8) at Washington State … Friday, 8:30 p.m., MT … ESPN
Utah at Arizona State (-6½) … TBA
Arizona at UCLA (-9) … TBA
Colorado at USC (-11) … TBA
–
—
Oregon enters Top Ten in AP poll; USC up to No. 19
… Colorado, which had received three votes in the USA Today Coaches poll last week, received none this week … 
From CBS Sports … Heading into the first College Football Playoff Rankings of the season this week, there hasn't been any movement among the immediate contenders in either of the Sunday polls. However, two new teams have entered the top 10 in the latest Associated Press Top 25. Oregon has moved up to No. 9 after its narrow, turnover-filled win over UCLA, and Miami (FL) slides up to No. 10 after having an off week due to COVID-19.
The moves are a direct result of Indiana falling three spots to No. 12 after losing to Ohio State and Wisconsin falling eight spots after its loss to Northwestern. However, the Wildcats and Hoosiers are ranked in the top 15 of the AP Top 25 simultaneously for the first time in history. Northwestern also made the biggest jump of the weekend, moving up eight spots. Oklahoma State, conversely, fell seven spots after the 41-13 loss to Oklahoma in the Bedlam rivalry.
Liberty is the only team to drop out after its loss to NC State while North Carolina rejoined the rankings ahead of next weekend's showdown against Notre Dame. Below is the entire AP Top 25 below with first-place votes in parenthesis.
1. Alabama (62)
2. Notre Dame
3. Ohio State
4. Clemson
5. Texas A&M
6. Florida
7. Cincinnati
8. BYU
9. Oregon … up two spots from last week
10. Miami (FL)
11. Northwestern
12. Indiana
13. Georgia
14. Oklahoma
15. Iowa State
16. Coastal Carolina
17. Marshall
18. Wisconsin
19. USC … up one spot from last week
20. Texas
21. Oklahoma State
22. Auburn
23. Louisiana
24. Tulsa
25. North Carolina
Others receiving votes: Washington 35, Liberty 31, Nevada 23, SMU 17, Iowa 15, Boise State 6, Florida Atlantic 5, Buffalo 3, San Jose State 3
–
—–
November 21st
… Foe Pause … 
USC takes care of business against Utah, 33-17
From Sports Illustrated … The cold weather didn't seem to bother the USC Trojans as they put up quite the fight in Salt Lake City, UT tonight against the Utah Utes.
The Trojans had the lead throughout the whole game which set them up for their victory tonight. After two straight games of close call wins, USC proved that they are a team who can carry a game with confidence and strength.
In the first quarter, USC's run defense was aggressive. Drake Jackson had an interception towards the end of the quarter after a momentous Utah drive and held the Utes to a 3-3 score at the end of the first quarter.
The second quarter was eventful to say the least. A handful of turnovers, five cumulative touchdowns and Utah's starting quarterback, Cam Rising, leaving the game with an injury and being replaced by Jake Bentley, made for a fast-paced second quarter.
Three of the five touchdowns belonged to the Trojans: Vavae Malepeai with a 2 yard rush, a nice route by Tyler Vaughns resulting in a smooth pass from Kedon Slovis, and an end zone reception by Erik Krommenhoek. USC led Utah at half 24-17.
The Trojans dominated the second half. Parker Lewis kicked two early field goals to make the score 30-17 with a little more than five minutes left in the third. And that's when things got interesting.
ESPN brought a whole new meaning to "no fans allowed in attendance" when all of their cameras went out and we were left with a radio style programming. Luckily the issue was resolved rather quickly and we were back to watching the Trojans take home their third straight win.
Although the Utes put up a fight and held onto the game as long as they could, they were scoreless in the second half. The aggression and resilience of the Trojan defense held the Utes on a couple of strong drives and even forced a turnover on downs in the red zone. Parker Lewis nails a 47 yard field goal with less than a minute remaining and extends their lead to 33-17.
The ball went back and forth in the last quarter but USC proved that no matter how late (and how cold) a game can be played, the Trojans cannot be slept on.
For the first time in 12 years, the Utah Utes were defeated in their home opener.
–
—–
November 21st 
… Foe Pause … 
CU up to No. 4 in Sports Illustrated Pac-12 Power Rankings 
From Sports Illustrated … Oregon and USC have remained the class of the conference after come-from-behind victories over Washington State and Arizona, respectively.
Meanwhile, Colorado saw the biggest jump up the conference rankings with a victory over Stanford, going from No. 9 to No. 4 in our rankings. And UCLA, picked up a huge win over a Cal team that many expected to challenge the Ducks and Huskies for North division supremacy.
With that being said, here are the Week 2 Pac-12 Power Rankings
No. 1 – Oregon
No. 2 – USC
No. 3 – Washington
No. 4 – Colorado … Easily the most surprising team of the Pac-12 continues to surprise. After taking down UCLA in week one, the offense showed up on the road in winning against a Stanford team with its entire team back.
The game wasn't as close as the final score as Colorado led 35-16 midway through the fourth quarter. Jarek Broussard ran for 121 yards while Dimitri Stanley finished with 126 receiving yards.
Their game this week with Arizona State was canceled due to COVID-19 cases with the Sun Devils program. So Colorado will get two weeks to get healthy and prepare for a huge south division showdown in LA with USC.
No. 5 – Utah
No. 6 – UCLA
No. 7 – Arizona State
No. 8 – Washington State
No. 9 – Cal
No. 10 – Stanford
No. 11 – Arizona
No. 12 – Oregon State
–
—–