—
Colorado Daily – San Diego State Week
—
November 28th – GameDay!
… CU in a few minutes … 
**Kickoff delayed until 3:37**
From CUBuffs.com … Today's kickoff between Colorado and San Diego State in Boulder will be delayed until 3:37 p.m. MST (from 3:07); testing results for the Aztecs were delayed and their arrival at Folsom Field was delayed approximately 30 minutes.  Broadcasts on Pac-12 Networks (main and Mountain) and KOA-Radio will not be affected.
Otherwise, no other issues to report at this time.
–
—
**Video – Karl Dorrell Previews San Diego State**
From YouTube, courtesy of BuffStampede.com …
–
—
Dorrell: "We ended up putting together a really good plan, we think … Now we've got to go out there and execute"
From the Daily Camera … When USC announced Tuesday that two players had tested positive and five others were in quarantine, CU put a backup plan in place, coordinating a game with San Diego State.
"It was a possibility and I did a peek at a couple (SDSU) games earlier in the week, but honestly, after peeking at those games, we felt like USC was going to be fine from the information we heard," Dorrell said. "It did help for me to have a peek at them earlier in the week."
CU coaches met Thursday night and Friday morning and then held a walkthrough with players on Friday afternoon.
In studying the Aztecs, Dorrell sees a team that is tough on defense and that runs the ball well.
"They've always been very good defensively," he said. "They've always had really good offenses that ran the ball well and had really good backs. (In past years), they've played hard and done great jobs and all their phases and this team is definitely reminiscent of all the teams that I've seen recently, at least the last four or five years."
At quarterback, the Buffs have to prepare for two players. Carson Baker started the first four games, but SDSU turned to Lucas Johnson last week in a 26-21 loss to Nevada. Johnson is more of a dual threat than Baker, but he injured his hamstring in the game. He finished the game, however, and is expected to start at CU.
"(Johnson) is definitely a guy that we have to make sure we do a good job containing him because he has ability to run and he's thrown the ball well," Dorrell said. "(Baker) is just as productive. We might see both of them. … I'm not sure, but it's just a short period of time and we're just putting together a great plan to be able to defend, regardless of who the quarterback is. It's definitely a challenge for us and I know our players are working hard to be ready to go and play tomorrow."
Dorrell said the Buffs will try to use some of the game plan they worked on all week for USC. They will also focus on what they do well. In-game adjustments by coaches will be as important as ever.
"It's one of those games we're going to have to make some adjustments along the way, given the shortness of the matchup," Dorrell said. "We'll have to do some great in-game adjustments and move forward, but we have to go into this type of contest having a good foundation of what we want to do from a scheme standpoint, from a preparation and game planning standpoint, but I know that we'll probably have to do some adjustments with what we see."
CU has been making big adjustments all year. This is a different challenge, but the Buffs are happy to be playing and they're ready to face the Aztecs.
"We ended up putting together a really good plan, we think," Dorrell said. "Our players did a great job of staying focused and had a good practice today. So we're right where we need to be. Now we've got to go out there and execute."
… Continue reading story here …
–
—–
November 27th 
… CU in a few minutes … 
Aztec Scouting Report: CU Keys to beating San Diego State
From the Daily Camera …
CU keys to beating San Diego State                       
Stop the run: CU's done a good job against the run this year, but hasn't faced a team that commits to the run like the Aztecs. San Diego State ranks 11th nationally in rushing yards per game and is 47-3 the last 50 times it has rushed for 200 yards.
Red zone success: Getting to the red zone (inside the 20-yard line) will be the first priority, but when they are there, the Buffs have to capitalize. San Diego State doesn't give up many points, but the Buffs have been great in the red zone, going 10-for-10 with nine touchdowns.
Grab an early lead: CU can set a tone early in the game by putting points on the board in the first few drives. Put the Aztecs in a hole, and it could become easier to come away with a win. Shaking off rust after a week off will also be important for the Buffs early in the game.
5 Players to Watch
DE Keshawn Banks, Jr.: An all-conference caliber player, he has produced 3.5 tackles for loss and four quarterback hurries this season.
RB Greg Bell, Sr.: Former Nebraska Cornhusker leads the Aztecs with 565 rushing yards and six touchdowns this season. He's rushed for at least 100 yards four times this season.
QB Lucas Johnson, Jr.: He was named the starter before last week's game at Nevada and threw for 184 yards and a touchdown and ran for 29 yards and a score. He injured his hamstring in the second half, but is slated to start against the Buffs.
DE Cameron Thomas, So.: After a team-high 5.5 sacks last year as a freshman, Thomas has 1.6 sacks and a team-high nine hurries this season.
S Tariq Thompson, Sr.: One of the best safeties in the Mountain West, he leads the Aztecs with 30 tackles.
San Diego State offense: It all starts with the run game, as 66 percent of the Aztecs' offensive plays have been on the ground. They will use multiple players to get the job done. Greg Bell has been the leader of the backfield, but Chance Bell, Jordan Byrd and Kaegun Williams have also made an impact this season. All four of them have averaged at least 4.8 yards per carry for a team that ranks 11th nationally with 246.0 yards per game. At QB, the Aztecs have used two different different quarterbacks, with Carson Baker starting the first four games and Lucas Johnson getting his first start last week. It appears Johnson will get the nod again. Neither has been explosive as a passer, but Johnson, a graduate transfer from Georgia Tech, adds a running element that Baker doesn't have. Jesse Matthews and Kobe Smith have been productive as receivers.
San Diego State defense: Over the past decade, the Aztecs have been one of the best teams in the Mountain West Conference, and their defense is a big reason for that. Dating back to the 2018 season, the Aztecs have held 19 consecutive opponents to 28 points or less. During that stretch, only five opponents have scored more than 17 points. Although much of that came under former head coach Rocky Long, the Aztecs have kept it going this year. They are giving up just 4.25 yards per play – which ranks second nationally to Marshall (4.22). SDSU is also third nationally in total defense (269.4 yards per game), seventh against the run (90.0) and eighth in points allowed (15.4). The two teams to beat the Aztecs, San Jose State and Nevada, both found success through the air.
San Diego State special teams: Sophomore Matt Araiza is one of the best kickers in the Mountain West, hitting 28 of 34 field goals (82.4 percent) in his career, including 6-for-8 this year. Punter Tanner Kuljian ranks third in the country with an average of 48.4 yards per kick. Jesse Matthews and Jordan Byrd have been solid as returners. Since the start of 2015, SDSU is tied with Kansas State and Memphis for the most kickoff returns for touchdown in the country (11).
–
—
Increased testing by Mountain West schools allowed for non-conference matchup
From the Daily Camera … On Nov. 19, the Pac-12 announced that it would allow flexibility for its teams to try to find nonconference opponents if games were canceled. CU was unable to find an opponent last week because the Pac-12's decision came too late in the week.
The Pac-12 criteria for scheduling a nonconference game requires the out-of-conference opponent to follow Pac-12 testing protocols. The Pac-12 administers antigen tests to players and staff six days per week, in addition to at least one PCR test, which is more sensitive.
Mountain West Conference teams conduct three PCR tests per week. A BuffZone.com source at a MWC school said last week that on short notice, following Pac-12 testing would be "difficult but not impossible."
Pac-12 criteria also requires that nonconference games be played in Pac-12 stadiums and broadcast by Pac-12 television partners. Those partners, Fox, ESPN and ABC, apparently passed on the Buffs and Aztecs. Saturday's game will be the first this season broadcast on the Pac-12 Network.
When COVID-19 issues at USC surfaced earlier this week, there were reports that CU and San Diego State could meet up. Asked about that possibility on Wednesday, CU head coach Karl Dorrell said the Buffs had not prepared for San Diego State, as they were focused on USC.
"(If USC can't play), then we have to move forward with another opponent," Dorrell said. "We haven't had a chance to really look at anyone other than (USC). If that does change, we'll be hitting in overdrive, trying to pick up the pieces that we need to do to get ready to play a different team."
… Continue reading story here …
–
—–
Novemeber 26th – Happy Thanksgiving!
... CU in a few minutes …
** Colorado to take on San Diego State at 3:00 p.m. Saturday (Pac-12 Networks)**
Press Release from CUBuffs.com … The Pac-12 Conference announced Thursday afternoon that this Saturday's Colorado at Southern California football game has been cancelled due to COVID-19 issues within the Trojan program.
As a contingency, Colorado athletic director Rick George earlier this week coordinated with his counterpart at San Diego State, John David Wicker, for the Aztecs to visit Boulder as a contingency in case the issues that had arisen with USC did not improve or worsened.
San Diego State will now travel to Boulder to play the Buffaloes in a 3:00 p.m. kickoff at Folsom Field; the game will be televised by the Pac-12 Network.
"It is unfortunate that our game at Southern California had to be canceled, but as we all continue to maintain, the most important concern we all have is the health and safety of our student-athletes, coaches and staff," George said.  "After the Pac-12 CEO's created some requirements for possible non-conference opponents to fill any vacancies created by cancellations, we moved earlier this week to find a possible opponent to replace the Trojans.  When San Diego State's game at Fresno State was canceled for similar reasons, I spoke with John and we put an agreement in place if USC could not play."
This will be the second meeting between Colorado (2-0) and San Diego State (3-2); CU won the only previous game in 2002 by a 34-14 score in Boulder.  It will be CU's latest game against a non-conference opponent since Dec. 7, 1963, when the Buffaloes lost 17-14 at Air Force in a game delayed by JFK's assassination.
–
—
** Report: CU v. San Diego State at Folsom Field on Saturday**
From Brian Howell at the Boulder Daily Camera … I have been able to confirm through a source that Colorado will be hosting San Diego State on Saturday at Folsom Field. #cubuffs
–
—
** It's official – CU at No. 19 USC canceled **
Pac-12 issues its statement …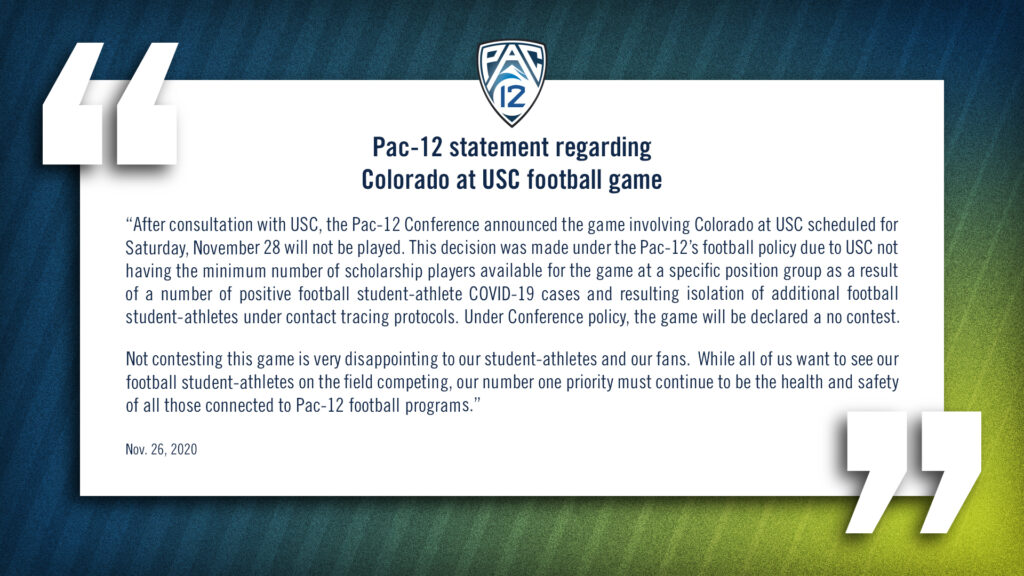 –
—
**Jon Wilner: CU at USC canceled – CU v. San Diego State an option**
From a tweet (6:34 p.m., MT) from Jon Wilner … #Pac12 source: USC-Colorado canceled … I expect the Buffs to play SDSU, and that news could come this evening.
From a tweet from Jon Wilner at the San Jose Mercury News … Source: Colorado will play SDSU on Saturday if USC game canceled. Buffs are healthy and don't want to be idle a second consecutive week. Aztecs have been prepping for days.
From a tweet from Brian Howell at the Boulder Daily Camera … I've been able to confirm from a source close to the Pac-12 that CU does have a contingency plan in place to host San Diego State on Saturday if the USC game gets canceled.
–
—
Buff defense faces a challenge against Kedon Slovis: "He's one of the best quarterbacks in the country"
From the Daily Camera … The Southern California football team is undefeated and ranked 19th in the country, yet there is concern about the Trojans' quarterback.
Fans and media have questioned why sophomore Kedon Slovis doesn't appear to have the same arm strength he displayed last year. If Slovis is hurt, USC isn't saying.
When Colorado coaches have watched the Trojans' star, however, they still see a dangerous player – one they'll have to stop Saturday when the Buffs (2-0) visit USC (3-0) in a battle for first place in the Pac-12 South division (1:36 p.m. MT, TV: ABC).
"I think he's one of the best quarterbacks in the country," CU defensive coordinator Tyson Summers said. "Anytime you're going two years in a row where you've got one of the highest completion percentages of anybody in the country means, one, he really understands the offense; two, he's got a lot of trust and faith from his teammates; and he looks to be a dynamic leader."
On Saturday at Los Angeles Memorial Coliseum, the spotlight will be on the quarterbacks, as is often the case. USC and its fans will be looking for more zip from Slovis, while Colorado hopes Sam Noyer can continue his hot start.
Containing Slovis might be the biggest challenge for CU. The Buffs' young, inexperienced secondary has had some growing pains this year and Slovis, despite the concerns about his arm, is the best quarterback the Buffs have faced.
Slovis ranked third nationally in completion percentage (71.9) last year as a true freshman and he's sixth this year (70.7). He's also eighth in passing yards per game (323.3).
"It is a great challenge," CU head coach Karl Dorrell said. "USC, they've got a great quarterback, they've got a skilled group. We're going to have to rise to the challenge and improve and be productive all in the same light."
… Continue reading story here …
–
—
College Football News prediction: USC pulls away late
From College Football News …
Why Colorado Will Win
The Colorado offense has been surprisingly strong so far.
This isn't one of the Pac-12's top teams, but the passing game has been solid, the running attack fine, and best of all, the team is doing all the key things right in the first two games.
The offense is taking advantage of every opportunity to score, the team is +4 in turnover margin – the O has only given it away once – and keeping the chains moving is leading to a dominant time of possession advantage.
USC isn't consistent enough, it's not converting on enough third downs, and turnovers have been a problem. Weirdest of all, though, the downfield passing game isn't working like it should be – this is supposed to be an explosive offense that's dinking and dunking.
Why USC Will Win
Considering it an ongoing positive that USC keeps winning even though it's not playing well.
It didn't have to rally in the final moments to get by Utah last week, and it was the team's strongest defensive performance so far, but this is a better team than it has shown. At some point, it's all going to come together, and then … look out.
For all of the good thing Colorado has done over its first two games, there's no pass rush, and that's leading to a whole lot of passing yards – UCLA and Stanford each came up with more than 300 yards.
Kedon Slovis has been good enough, but again, that light bulb will turn out for this offense soon.
What's Going To Happen
USC got the good fortune of getting three straight teams playing their opener. Colorado has two games under its belt, it's – for the most part – playing with house money after winning two games to kick off the Karl Dorrell era, and it's going to play loose.
That, combined with the concerns this week over a few positive tests within the program and missed practice time, should make this interesting.
The Trojans are going to be in for a bit of a shootout, but they'll pull away late with two fourth quarter scoring drives to start to breathe a whole lot easier.
USC vs Colorado Prediction, Line
USC 41, Colorado 27
USC -11.5, o/u: 64
ATS Confidence out of 5: 3
Must See Rating: 3.5
5: Thanksgiving beef tenderloin
1: Thanksgiving turkey
–
—
Pac-12's Yogi Roth breaks down CU at No. 19 USC
From Pac-12.com …
Colorado Buffaloes
South title on the line
When Karl Dorrell was hired, very few expected his 2020 team to compete for the Pac-12 South championship. But heading into Thanksgiving weekend, that is exactly where the Buffs find themselves. Coming off a bye/cancelled game, the Buffs should be near full strength coming into Los Angeles. It's a big stage for this program and one we should celebrate, as Coach Dorrell has his team playing complementary and extremely efficient football. Make no mistake about it: this is a championship game and I expect each snap to feel as such.
Rivalry?
While not traditional rivals, I do think USC and Colorado have become a rivalry of sorts (with USC being 14-0 all-time against the Buffs). With so many students enrolled at Colorado from Los Angeles, this game usually has an incredible crowd. Furthermore, three of the last five games (2015, 2016, 2019) were extremely close as all were decided by four points-or-less, with Colorado having one final possession to tie or go ahead but the Trojans stood firm. This one might come down to the end and while no fans will be in the stands, you may be able to hear the Colorado faithful in LA cheering from home.
All-Pac-12 QB?
Yes, Sam Noyer, as of right now, is playing like an All-Pac-12 QB. He has great command on film of this system, specifically in the RPO (Run/Pass Option) game. When he is asked to throw the ball downfield, his confidence is evident, as he is trusting his eyes in Offensive Coordinator Darrin Chiaverini's offense. He will have to let the game come to him while still remaining aggressive. That balance is not easy to strike, but Noyer has made it look as such through two games.
What to watch
How many possessions will each team have in this game? I'd imagine that Colorado will try to control the clock with Jarek Broussard running the football to limit USC's snap count. At the end of each quarter, take a look to see how many possessions each team has had. If it's a low number, that is a good thing for the Buffs.
Who to watch
If I was calling this one, my eyes would be on Mustafa Johnson against the USC interior offensive line. Johnson is an All-Pac-12 player who has looked the most explosive in 2020 as he has in his entire career. If he can cause havoc and disrupt Kedon Slovis' timing early, that will bode well for the Buffaloes in this championship-caliber game.
This game comes down to…
Turnovers. It's generic to say, but it's a fact in football and for Colorado, they have zero fumbles in 141 touches this season (161 offensive plays). After what USC did last week at Utah (five takeaways), ball security will be at a premium.
#18 USC Trojans
Second half adjustments
Every opponent that USC has faced in 2020 has either played their first game of the season (ASU, Arizona, Utah) or had an extra week to prepare (Colorado). It's notable because USC has  had zero 2020 film to prepare for their first three games. With that said, in-game adjustments have been key for USC, as they have won each game thus far and held opponents to 2-of-15 on third downs in the second half and 1-of-10 in the fourth quarter.
What to watch
The USC defense. They had one of their most complete performances against Utah, as the Trojans had five takeaways and shut out Utah in the second half to get their first win at Utah since 2012. With the loss of their starting linebacker Palaie Gaoteote, Kana'i Mauga elevated and was all over the field with 11 tackles, including 1.5 TFL and a sack. If I was calling this game, I'd have a camera isolated on safety Talanoa Hufanga, as Coroado will challenge him with their RPO (Run/Pass Option) game behind Sam Noyer and Jarek Broussard, and he is an All-Pac-12 and All-American safety in my eyes.
DL has elevated
The opt out of Jay Tufele earlier this year hurt the Trojans defensive line, as he is a premier player in the nation at that position, but the Troajns have found their groove on the defensive line. Leading the way is Marlon Tuipulotu and his younger brother, freshman Tuli. Combined, the Tuipulotu brothers had seven tackles and two sacks vs. Utah and will challenge the Colorado offensive line.
Championship run in LA
The Trojans took down the two-time defending South champion Utah this past weekend and have the chance to win the South, as their final three games are all in Los Angeles. It bodes well for them competitively on the field, as well as off it, as minimal travel may keep the Trojans healthy as COVID-19 continues to impact college football and the country at large. The players' focus and discipline will be critical for them to achieve what they had hoped for in the preseason, as each week is a championship game for them from here on out.
Keep an eye on
WR Tyler Vaughns, as he is currently tied for fifth on USC's career receptions list with 207. He is tied with his current position coach, Keary Colbert, an all-time great wideout and an incredible human being.
–
—–
November 25th
… CU in a few minutes … 
**Video – Karl Dorrell Press Conference** – "I'm as nervous as Hell, I'm telling you the truth"
From YouTube, courtesy of BuffStampede.com …
–
—
Karl Dorrell: Hearing that USC is "in good health"; Chris Miller/K.D. Nixon expected to play this weekend
Tweets from Brain Howell at the Daily Camera … #cubuffs head coach Karl Dorrell said CU is hearing USC is in good health overall and they are hopeful they'll play the Trojans. They haven't started preparing for any other teams, but Dorrell said today is a big day in determining whether they face USC or not.
With Thanksgiving tomorrow and COVID-19 cases on the rise, #cubuffs coach Karl Dorrell is worried about fielding a healthy team. So far the Buffs have been healthy, but Dorrell said, "I'm nervous as hell. I'm just telling you the truth."
Other injury news for Colorado this week: head coach Karl Dorrell said Star backer Chris Miller and WR KD Nixon are likely to play this week. Miller missed the Stanford game and Nixon hasn't played yet this year. C Colby Pursell is unlikely to play this week. #cubuffs
–
—
Wilner: San Diego State an option for the Buffs if USC can't play?
Tweet from Jon Wilner … Decision on #USC availability could come as early as this afternoon, or tomorrow – not expected to drag into Friday. Colorado's top option would be SDSU. Buffs are healthy and don't want to sit out 2nd consecutive week.
–
—
CU wide receivers can't "take plays off" like before
From the Daily Camera … Sophomore Dimitri Stanley has been a favorite target for senior quarterback Sam Noyer, but six different wide receivers have caught passes through the first two games for the Buffs (2-0), along with two tight ends and two running backs.
"I think this offense really kind of sets that up," said Noyer, who has completed 35-of-55 passes for 512 yards. "You go from one read to another and if one guy's not open then you've got the next guy. That's what's so great about our offense and so great about the talent that we have is it doesn't matter if the first read's not open; the second read is going to be just as good as the first read."
Offensive coordinator Darrin Chiaverini has recruited plenty of receiver talent during his five years on staff and the depth is showing up early in the season. Stanley has 12 catches, while Maurice Bell (five catches), La'Vontae Shenault (three), Brenden Rice (three), Daniel Arias (two) and Jaylon Jackson (one) have also been involved.
"I think we've done a good job recruiting, so I think we have more talent, more depth at that position," Chiaverini said. "They played well in camp and they've played well when they've gotten an opportunity, so I feel good putting those guys in the game."
The Buffs are hoping Nixon, who has 89 career catches, will return soon. Even with him back, Noyer said every receiver in the game has to be ready for the ball.
"I think it's really important for our guys to know that they have to run every single route 100%, every single time and they can't take routes off," Noyer said. "In years past, the system that we've had, there's really been a key read, so I think it gave guys the opportunity to take plays off . In our system, we can't have that and I think it shows.
"Having the depth that we have really is important and our guys do a great job of understanding situation, understanding what they have to do each and every play in order for it to be successful."
… Continue reading story here …
–
—–
Novmeber 24th 
… CU in a few minutes … 
**Video Interviews: OC Darrin Chiaverini; DC Tyson Summers**
From YouTube, courtesy of CUSportsNation:
Offensive Coordinator Darrin Chiaverini … 
Defensive coordinator Tyson Summers … 
–
—
USC canceled practice on Tuesday; closed facility
From ESPN … USC closed its facility Tuesday and canceled football practice in the wake of a positive case of COVID-19, according to a USC spokesperson.
The Trojans shifted meetings and game-plan installation to be conducted virtually in preparation for Saturday's game against Colorado.
USC announced the positive case Tuesday morning.
"That individual had traveled with us to Utah for Saturday's football game, and he had tested negative three times within 36 hours of travel and again on game day," the school said. "All other test results on Monday were negative, and the individual was not present in the facilities or at practice on Sunday or Monday. The individual is symptomatic and has quarantined."
It is unclear how long USC's facility will be closed or if the game is in jeopardy.
How the program proceeds this week will be determined by local health officials, according to the spokesperson.
–
—
**USC player tests positive for COVID**
From the Daily Camera … A USC football player tested positive Monday for COVID-19, coach Clay Helton said Tuesday, potentially jeopardizing the undefeated Trojans' next two games.
The unnamed player traveled with the team for Saturday's game against Utah, but did not participate in team activities Sunday or Monday.
As of Tuesday morning, no decision had been made about playing Saturday's game.
County health authorities must perform contact tracing first.
"We're going to seek guidance," Helton said during a Zoom call with reporters. "We lean on our medical professionals. This is not a coach decision. They do their contact tracing study and we'll lean on their guidance and see what they say. I really can't give you any other information right now."
… Continue reading story here …
—
Tweet from Jon Wilner … 
By my estimates, here are the current options for #Pac12 teams with uncertain schedules this week:
UW: Utah or SDSU

Utah: ASU, UW or CU

CU: USC or Utah

USC: CU

ASU: Utah
Statement issued by USC football …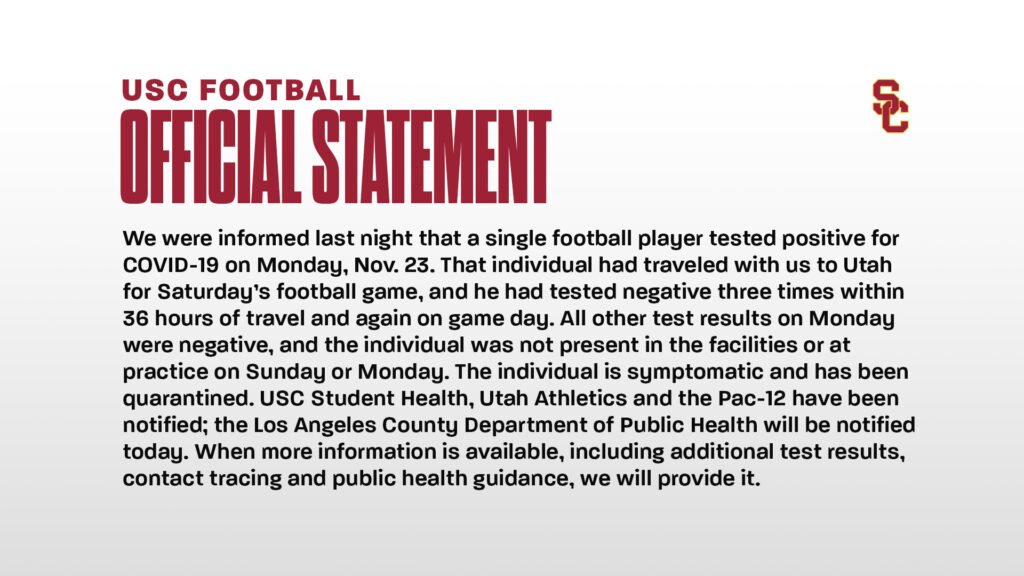 –
—–
November 23rd
… CU in a few minutes … 
R.I.P. Nebraska football – Died 19 Years Ago Today
… Related ... "Nebraska and Tennessee keep slipping further away from their glory days of the 1990s" … from CBS Sports
… Related … "Nebraska Players Announce Special Plan For The Iowa Game" … from TheSpun … Nebraska football players announced on Monday they're growing mustaches – yes, you read that right – for when they play the Hawkeyes … The real question is: are we expecting too much from the Huskers at this point? Nebraska hasn't met expectations in years – perhaps, it's time to readjust the expectations for the program … 
—
November 23, 2001 – Boulder      No. 14 Colorado 62, No. 2 Nebraska 36
The Colorado Buffaloes exorcised a decade's worth of demons in one afternoon as the Buffs demolished the Nebraska Cornhuskers, 62-36, before a raucous crowd of 53,790 and a national television audience. No. 14 Colorado scored early and often against the nation's No. 2 ranked team (No. 1 in the BCS standings), posting the highest point total ever allowed by a Nebraska team.
Chris Brown rushed for 198 yards and a school record six touchdowns to lead the long list of Buff heroes.  Bobby Pesavento completed only nine passes, but they went for 202 yards, including a 21-yard touchdown pass to tight end Daniel Graham.  To compliment Chris Brown, Bobby Purify rushed 20 times for 154 yards and a score.  In all, Colorado put up 582 yards of total offense, including 380 yards on the ground against a defense which had been allowing only 93 yards/game entering the contest.
… Read full Game Story here (including all of the school and Big 12 records set that night) …
–
—
**Video – Interviews of HC Karl Dorrell; QB Sam Noyer; LB Nate Landman**
Head coach Karl Dorrell … 
Quarterback Sam Noyer … 
Linebacker Nate Landman … 
–
—
Nate Landman: "I think as a unit and as a team we need to finish games and not let it come down to the wire"
From CUSportsNation.com … Nate Landman spoke with the media Monday, and had these comments about CU's allowing second half comebacks in their first two games:
"I think as a unit and as a team we need to finish games and not let it come down to the wire," Landman said. "Those games (vs. UCLA and Stanford) were fun but my nerves are a little bit shot."
Landman said he likes where the Buffs are at in terms of their strength against the run game. This past weekend was used to tighten things up on the coverage front and continue building up as many helping hands to buttress the starters as possible.
"I think we're a better defense than we were yesterday and that's kind of out mindset — to get better each and every day," he said. "Going through the bye week, we really went back to basics. (We wanted) to build our depth in some positions that we need to build depth in and really just got to the basics. We got back to playing strong coverage and I think our run defense right now is one of the best in the Pac-12, if not the best."
"We've just got to work on some things in our secondary — that's linebackers and everyone included."
–
—
ESPN Bowl Projections: CU to Sun Bowl or LA Bowl
From ESPN … As we inch closer to the first College Football Playoff rankings release on Tuesday, the debate over the final four teams is ramping up.
While a handful of Power 5 teams remain undefeated (albeit while playing a different amount of games among them because of the coronavirus pandemic), there are other programs looking to squeeze into a New Year's Six bowl.
Kyle Bonagura and Mark Schlabach weigh in with their latest bowl projections after Saturday's action.
PlayStation Fiesta Bowl
State Farm Stadium (Glendale, Arizona)
4 p.m. on ESPN and the ESPN App
Bonagura: BYU vs. Oregon
Schlabach: BYU vs. Oregon
Valero Alamo Bowl
Alamodome (San Antonio)
9 p.m. on ESPN and the ESPN App
Bonagura: Oklahoma vs. USC
Schlabach: Iowa State vs. USC
Las Vegas Bowl
Allegiant Stadium (Las Vegas, Nevada)
Bonagura: Washington vs. Missouri
Schlabach: California vs. Missouri
Tony the Tiger Sun Bowl
Sun Bowl (El Paso, Texas)
2 p.m. on CBS
Bonagura: Wake Forest vs. Colorado
Schlabach: NC State vs. Utah
Radiance Technologies Independence Bowl
Independence Stadium (Shreveport, Louisiana)
7 p.m. on ESPN and the ESPN App
Bonagura: Army vs. Washington State
Schlabach: Army vs. Washington
LA Bowl
SoFi Stadium (Inglewood, California)
10:45 p.m. on ESPN and the ESPN App
Bonagura: Boise State vs. UCLA
Schlabach: Boise State vs. Colorado
–
—
"Under the radar" safety Isaiah Lewis will have his hands full against USC's receivers
From the Daily Camera … Opportunities to play on defense didn't come often for Isaiah Lewis during his first three years with the Colorado Buffaloes.
Two games into his fourth season, Lewis is not only playing, but he's arguably been the best member of the secondary for the Buffaloes (2-0), who are slated to visit 19th-ranked Southern California (3-0) on Saturday.
"I follow the model to just trust the journey and stay true to the process," Lewis said. "I know that some guys get on the field immediately and some guys have to work their way in."
A 6-foot, 205-pound safety from Granite Bay, Calif., Lewis redshirted in 2017 and made just five appearances on defense from 2018-19, playing a total of 29 snaps. He also played every game in 2019 on special teams.
"I think just kind of staying loyal to special teams and making sure that I'm staying in the playbook and keying in on details, it was a difference maker," he said. "Continuing to follow details was what I stuck to and I think it worked out for the best."
Lewis didn't win a starting job in preseason camp, but played 41 snaps off the bench in the opener against UCLA. An injury to junior Chris Miller in that game opened the door even more. Lewis played all 79 defensive snaps against Stanford on Nov. 14.
He's recorded seven tackles and a team-high five pass breakups so far this season.
"Here's a guy that's been under the radar," head coach Karl Dorrell said. "He had a really good training camp for us and he plays a number of positions in our secondary, and particularly our safety position. Then when Chris went down, prior to the Stanford game, he had to show in that role that Chris was not able to do. He played well but I'm not surprised by that. He had a really good camp."
… Continue reading story here …
–
—–
November 22nd 
… CU in a few minutes … 
National showcase: CU at No. 19 USC set for 1:30 p.m., MT, to be televised nationally by ABC
From CUBuffs.com … The Pac-12 TV partners have announced kickoff times and television arrangements for the three games this Saturday, Nov. 28.  This includes the Colorado at Southern California game, which will kick off at 1:30 p.m. MST (12:30 p.m. PST), and it will be televised nationally by ABC.
Other games (Friday games were previously scheduled):
Stanford at Cal … Friday, 2:00 p.m., MT, Fox …
No. 9 Oregon at Oregon State … Friday, 5:00 p.m., MT … ESPN
Washington at Washington State … Friday, 8:30 p.m., MT … ESPN
Saturday … Arizona at UCLA, FOX, 6 p.m. MST
Utah at Arizona State – TBD (moving to Sunday)
–
—–
November 21st 
… CU in a few minutes … 
DC Tyson Summers: "We've got to find ways to make plays"
From the Daily Camera … Through two games, the CU defense has looked very good at times, especially early in games, but late-game breakdowns have contributed to the Buffs ranking last in the Pac-12 in points allowed, at 37.0 per game.
"I think the obvious part is we're playing well in the first half," Summers said. "I think that's really important. We were able to play with the lead two weeks in a row.
"We've got to play better in the second half. We've got to be better in coverage, we've got to be able to play with a better rush overall and we've got to find ways to make plays."
Summers and the CU staff are working to become a more complete defense as they look ahead to their next game, Nov. 28 at No. 20 Southern California (2-0).
In a 48-42 win against UCLA and a 35-32 win at Stanford, the Buffs' defense set the tone early.
CU caused four early turnovers to help the Buffs build a 35-7 lead against UCLA. Last week, CU built a 28-9 lead against Stanford, keeping the Cardinal out of the end zone during the first 40 minutes.
"I was really excited and impressed with what our defense did early in the game," head coach Karl Dorrell said. "Stanford had a couple of drives early in the first quarter that we kept them out of the end zone and at least they kicked field goals."
… Continue reading story here …
–
—
Neill Woelk: Dorrell has used unprecedented circumstances as a tool instead of an excuse
From CUBuffs.com … For those who pay attention to more than just the score, watching Colorado Buffaloes coach Karl Dorrell and his staff negotiate the circumstances presented by the coronavirus pandemic has been a lesson in preparation and planning that goes far beyond just the first two games.
Yes, the Buffaloes are 2-0 and awaiting a showdown with USC for control of the Pac-12 South. That is reason enough for celebration for Buffs fans.
But underneath that record and a season that will forever be preceded by an asterisk, Dorrell is doing something that will resonate far beyond 2020.
Colorado's new head coach — the coach who had been away from the college game for 11 of the last 12 seasons — has created a game plan that could put the Buffs on a solid foundation for years to come.
Understand, Dorrell — like every other coach in the country — had no blueprint to follow. There was no such thing as a "pandemic plan" when he took the job last February.
But instead of panicking, Dorrell prepared. He studied, he learned and adjusted as circumstances changed. While knowing that every hour can present a never-seen-before scenario that could alter the entire picture, he has nevertheless maintained a steady, intense focus that has kept his program always looking forward.
… Continue reading story here …
–
—–