—
Pac-12 Notes – Arizona State Week
—
November 21st 
… Foe Pause … 
CU up to No. 4 in Sports Illustrated Pac-12 Power Rankings 
From Sports Illustrated … Oregon and USC have remained the class of the conference after come-from-behind victories over Washington State and Arizona, respectively.
Meanwhile, Colorado saw the biggest jump up the conference rankings with a victory over Stanford, going from No. 9 to No. 4 in our rankings. And UCLA, picked up a huge win over a Cal team that many expected to challenge the Ducks and Huskies for North division supremacy.
With that being said, here are the Week 2 Pac-12 Power Rankings
No. 1 – Oregon
No. 2 – USC
No. 3 – Washington
No. 4 – Colorado … Easily the most surprising team of the Pac-12 continues to surprise. After taking down UCLA in week one, the offense showed up on the road in winning against a Stanford team with its entire team back.
The game wasn't as close as the final score as Colorado led 35-16 midway through the fourth quarter. Jarek Broussard ran for 121 yards while Dimitri Stanley finished with 126 receiving yards.
Their game this week with Arizona State was canceled due to COVID-19 cases with the Sun Devils program. So Colorado will get two weeks to get healthy and prepare for a huge south division showdown in LA with USC.
No. 5 – Utah
No. 6 – UCLA
No. 7 – Arizona State
No. 8 – Washington State
No. 9 – Cal
No. 10 – Stanford
No. 11 – Arizona
No. 12 – Oregon State
–
—–
November 20th
… Foe Pause … 
Washington State at Stanford canceled
Statement from the Pac-12 …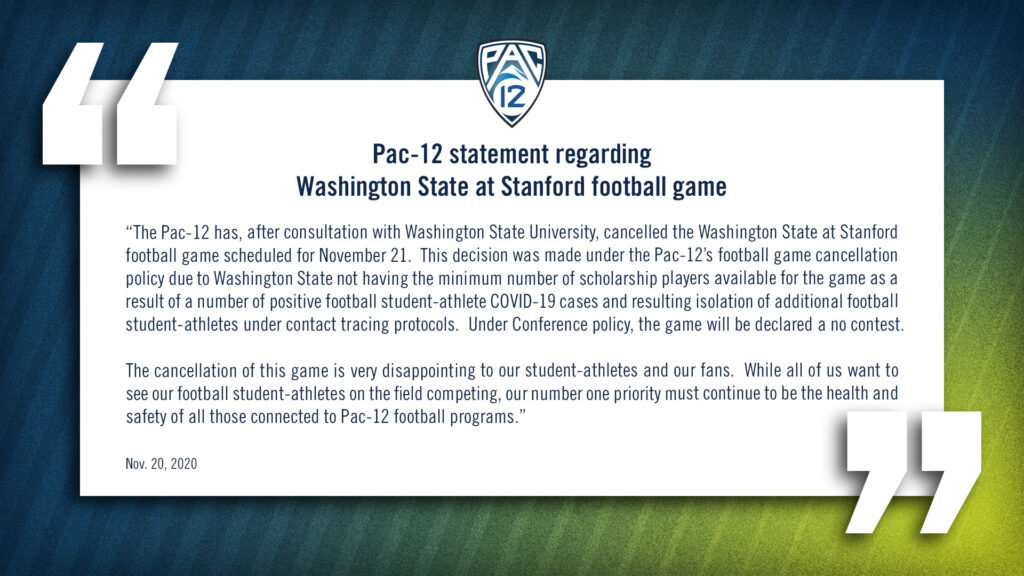 –
—
"Strong indication" that UCLA will be without QB Dorian Thompson-Robinson v. Oregon
From YahooSports.com … Days before the UCLA Bruins (1-1) kickoff vs. the No. 11 Oregon Ducks (2-0) in Eugene, Oregon, it is unclear whether starting quarterback Dorian Thompson-Robsinson will suit up for the Bruins.
There is 'strong indication' that head coach Chip Kelly won't have his two-year starting quarterback when Kelly returns to Autzen Stadium for the second time since his days as head coach for the Oregon Ducks.
According to Tracy Pierson of Bruin Report Online, "When asked if quarterback Dorian Thompson-Robinson was unavailable for this Saturday's game against Oregon, a UCLA spokesperson would neither confirm nor deny it, and would not 'comment on player availability at this time.'"
The exact reason why Thompson-Robinson may not be available to go is still unclear at this time. The 6'1", 200-pound QB could have been injured from Wednesday morning's practice, tested positive for COVID-19 sometime in the last few days (UCLA doesn't release its COVID reports until Fridays) or maybe the Bruins are just trying to keep the Ducks on their toes?
… Continue reading story here …
–
—–
November 19th
… Foe Pause … 
Pac-12 losing almost $5 million for every game canceled 
From Sportico.com … The Pac-12 Conference is losing almost $5 million in TV money for each football game it cancels due to COVID-19, according to multiple people familiar with the numbers.
It's a financial hit for the conference, which has already nixed five games in less than three weeks of play. This weekend's contest between Arizona State and Colorado is the latest, cancelled because of positive tests within the Sun Devils program.
The losses come from the Pac-12's main TV contracts with ESPN and Fox Sports, according to the people, who were granted anonymity because the conference's financials are private. The financial ramifications pale in comparison to what would have been lost had the conference not played at all this fall, as it originally planned back in August.
Representatives for the Pac-12, ESPN and FOX declined to comment.
Pac-12 schools appear willing to break from conventional norms to squeeze in games. Last week, when both UCLA and California lost opponents due to positive tests, the two schools agreed to play each other on 48 hours' notice. They kicked off at 9 a.m. local on Sunday morning in a game carried by Fox's FS1.
The losses will eventually trickle down to the 12 schools, which split the bulk of the conference's revenue. For the 2018-19 school year, the share for each team was around $33 million, the majority of which comes from media money for football games. That share will drop this year, one of the people said.
The Pac-12 was set to be paid roughly $300 million this year for its top-tier football and basketball media rights, part of long-term deals with Fox and ESPN that will expire in 2024. Under those deals, the two networks share 44 football games per year. The conference originally cancelled its fall football season in August, then reversed course in September.
–
—–
November 18th
… Foe Pause … 
Coaching Hot Seat Rankings: USC fans not happy despite Helton's 2-0 start
From CBS Sports … Just when you were thinking there were would be a bunch of mulligans handed out to college football coaches this season amid COVID-19, South Carolina athletic director Ray Tanner beat everyone to igniting the silly season. Never mind the season is shortened, athletic budgets have been set on fire and players themselves have gotten that mulligan (an extra year of eligibility). Tanner couldn't keep Will Muschamp, who was fired Monday.
Muschamp had his shortcomings, sure, but is anyone safe now?
It may be time to reevaluate what looked like it would be a slow offseason for coaching changes. South Carolina is a middling SEC program. It will take at least $30 million commitment to pay off Muschamp and hire a new staff. How's that for belt tightening?
All of this happened just as we were set to update our Hot Seat Rankings. This is where we started with our annual offseason edition. Now we are taking a second look more than midway through this unique 2020 season.
From the Pac-12 … 
USC – Clay Helton – 5 (Win or be fired) … To some USC fans, a 2-0 start has been the worst possible outcome. There is a portion the fanbase that has been openly rooting for short-term failure (yes, on dreaded social media) so USC can secure Urban Meyer long-term. As long as that shadow is cast (Meyer works a few miles away at Fox Sports), this will be uncomfortable union. Helton continues to produce in the clutch when it comes to job security. After an awful performance in the Holiday Bowl against Iowa, the Trojans have won the first two games of 2020, each in the final seconds. Helton has gotten votes of confidence at the end of the last two seasons from his ADs. This is one of the most complicated hot seat situations in the country. USC could win a Pac-12 title, but if Meyer snaps his fingers, could a coach who has a better winning percentage than Harbaugh and Florida's Dan Mullen be gone? Preseason rating: 5
Kevin Sumlin – Arizona 4 (Start improving now) … We didn't hear much from Sumlin or the Wildcats in the offseason. They seem to be a bit better, but blowing one game to USC in the final seconds won't help. The current losing streak stands at eight. The recruiting class was rated the worst in the Pac-12 by 247Sports. Financially, though, AD David Heeke is in a box. He's paying lawyers in the ongoing basketball scandal. Rich Rodriguez collected $6.3 million in his buyout. Arizona would owe Sumlin a $7.5 million buyout. The is in the definition of a hot seat holding pattern. Preseason rating: 4
UCLA – Chip Kelly – 4 (Start improving now) … A dominating win over Cal on Sunday was huge. For the first time in Kelly's three seasons, the Bruins are .500 (1-1). Kelly had been 7-17 in two seasons. The offense he had perfected had spread throughout the country. Scheme is no longer necessarily an advantage. Kelly just needs dudes at this point. He had them at Oregon. We'll see if he gets them at UCLA. Whatever happens in the future, it will be compared to what is going on across town at USC. New AD Martin Jarmond must choose his path wisely. Preseason rating: 5
–
—
**One step closer to CSU game? Pac-12 AD's agree to consider non-conference games**
From the San Jose Mercury News … The Pac-12 is hurtling toward a significant policy reversal after the athletic directors agreed this week to allow non-conference games if a league matchup is canceled because of COVID-19 issues, according to multiple sources with knowledge of the discussions.
However, the change requires approval from the presidents and chancellors, who had previously banned non-conference games for the 2020 season.
The presidents discussed the issue on Tuesday, sources said, but it is not known whether a vote was taken.
The ability to play non-conference games would help fill vacancies if an odd number of teams are healthy enough to compete in a given week.
The Pac-12 has already canceled five games, largely because of outbreaks at Utah and Arizona State.
"It doesn't mean we will play one,'' a source said of the non-conference option. "We just want that flexibility."
Currently, there is none.
Most teams were prepared to open the season on Oct. 31, but because several California schools needed more time, the presidents established Nov. 7 as the conference-wide restart date — two weeks later than the Big Ten and even the Mountain West.
The desire for unity resulted in a master schedule that featured six games in six weeks prior to the conference championship game on Dec. 18.
… Continue reading story here …
–
—–
November 17th
… Foe Pause … 
Pac-12 Power Rankings (plus: explaining Pac-12 tie-breaker policy)
From the San Jose Mercury News … In the middle of October, the Pac-12 unveiled its game cancellation policy and revised division tiebreaker process.
Because the former has been deployed five times in two weeks, we should make sure fans are clear on the latter:
How many games are required for a team to be eligible for the division title?
Here's the policy:
"In order for teams to be considered in a divisional tiebreak scenario, teams must play no less than one fewer conference game than the average number of conference games played by all conference teams (rounded up/down at .50).
"For example, if the average number of conference games played in the 2020 season is 5.25 (value of 5 when rounded down), a team would be eligible to win their Division if that team played 4 conference games." 
Let's use Utah as the example.
The Utes have canceled twice but are optimistic about playing USC this week.
If they stay healthy — and their opponents are healthy — the Utes would play four games prior to the naming of the division winner on the weekend of Dec. 12.
Let's say they finish 3-1.
If the "average number of conference games played by all conference teams" is six, the Utes would be ineligible for the South title.
If the average number is five — and that sure seems more likely — then they would be eligible.
But there's a second step: In addition to clearing the minimum-games requirement, Utah's record must be good enough to force the tiebreaker.
What constitutes a tie?
"In determining the divisional champions, the following will apply:
"If any team(s) has not played six (6) Conference games (due to not being able to reschedule a postponed Conference game) and any team(s) is within one Conference win from the team(s) with the highest conference winning percentage AND has an equal number of losses, those teams shall be declared tied."
So if the Utes are 3-1, and USC, for example, is 4-1, they would be considered tied.
And if Utah happens to win the head-to-head this week, the Utes would be crowned the South champion. At 3-1.
To the power ratings …
4. Colorado (2-0)
Last week: 8
Result: Won at Stanford 35-32
Next up: vs. ASU (canceled)
Comment: As of this writing, CU is a division co-leader with nobody to play. If Utah can't meet roster requirements this week against USC, look for the Buffaloes and Trojans to square off on Saturday, instead of Nov. 28 as scheduled.
… Continue reading story here …
–
—
Wilner: 2020 could be The Rise 2.0 for CU
From the San Jose Mercury News …
The Rise 2.0
We're one-third the way through the regular season … unless we're two-thirds the way through.
How many games remain, we cannot say.
How many games does Colorado need to win to become bowl-eligible? That we can say: One.
The Buffaloes are the biggest surprise of the first fortnight after the victory at Stanford pushed them to 2-0.
They're tied with USC atop the South, Karl Dorrell is the early frontrunner for Coach of the Year, tailback Jarek Broussard is the favorite for Newcomer of the Year, and quarterback Sam Noyer looks like he should have the been CU's starter last year.
We're not sold on the Buffaloes' defense, but they have playmakers, they have belief and, crucially, they have a lower statewide COVID-19 positivity rate than Arizona, Utah and Oregon — meaning they have a fighting chance to stay negative for the next five weeks.
All this despite the late coaching change and lack of spring practice.
Four years ago, the Buffaloes rose from the cellar to win the South.
They didn't finish last in 2019, but they were picked to finish there this season by some publications.
It would be very 2020 for them to replicate 2016.
–
—
Report: Utah situation improving; Utes preparing for USC this Saturday
From KSLSports.com … According to reports, Utah football's COVID-19 situation is improving as they hope to face USC this Saturday at Rice-Eccles Stadium.
Utah is the only FBS team that has a schedule in place that is yet to suit up and play in a college football game in 2020.
According to Pac-12 Insider Jon Wilner of the Bay Area News Group, Utah's situation is improving. Wilner reported that players are coming out of quarantine, the roster is more robust and the team is scheduled to practice on Monday.
Utah's season opener against Arizona on Saturday, Nov. 7 was canceled after the Utes had multiple players and staff members test positive for COVID-19. They went below the minimum amount of scholarship players – which according to the Pac-12 guidelines is 53 players – in order to participate in a game.
After a couple more positive tests early last week, the Utes had zero positive COVID-19 tests on Tuesday, Wednesday and Thursday. On Friday, the team had another positive case and fell below the threshold and had to cancel their road game against UCLA.
Head coach Kyle Whittingham did not hold his weekly press conference on his usual Monday morning. Whittingham is scheduled to hold his press conference on Tuesday morning. KSL Sports was told that Whittingham not addressing the media on Monday did not indicate any update with the team either way.
Utah is scheduled to face USC on Saturday, Nov. 21 at 8:30 p.m. on ESPN.
–
—–
November 16th
… Foe Pause … 
CU continues its climb up the CBS Sports rankings (No. 4 in the Pac-12) 
… up another 31 spots this week, after climbing 44 spots last week … 
From CBS Sports … Notre Dame has continued to check all the boxes you'd like to see from a national championship contender. The Fighting Irish's latest move is knocking Ohio State down a peg and jumping up to No. 2 in the CBS Sports 127 following their latest impressive win.
Beating Clemson in double-overtime is going to garner some attention from the CBS Sports 127 voters, a collection of CBS Sports and 247Sports experts tasked with ranking the entire FBS landscape, but following that up with a solid performance avoiding the letdown at Boston College was an affirming moment in Notre Dame's season. It's not just that the Irish won on the road in a tricky spot on the schedule but how they looked on the field, particularly on offense. Ian Book is playing the best football of his career at the perfect moment for Notre Dame's pursuit of an ACC championship and spot in the College Football Playoff, and it's gotten the attention of our voters.
Notre Dame had already gotten to that No. 2 spot in the AP Top 25, but our voters were still holding on to Ohio State as the second-best team in the land last week. The margins between those teams at the top behind Alabama are razor-thin, so it's possible that the Buckeyes could take that spot right back with another game under their belt.
Elsewhere in the rankings, we see Northwestern making a move up after remaining undefeated with a win at Purdue, and Colorado making a big jump after its win against Stanford. Meanwhile, the fall for Penn State continues after a loss at Nebraska, as the team we ranked in the top 10 at the beginning of the Big Ten season now barely cracks the top 100. For more on the biggest risers and fallers in this week's balloting, check out the Mover's Report below.
Biggest movers 
No. 35 Colorado (+31): The Buffaloes look pretty good! Karl Dorrell and his squad were the better team against Stanford and appear to be much more of a threat to the rest of the Pac-12 South than preseason projections suggested. That's great news for Colorado, on its third head coach in as many years, and not great news for programs like UCLA and Arizona that may have penciled in this game as a win.
From the Pac-12 … 
No. 10 … Oregon … down one spot from last week
No. 18 … USC … down one spot
No. 31 … Arizona State … down three spots
No. 35 … Colorado … up 31 spots
No. 37 … Washington … down four spots
No. 44 … Utah … down ten spots
No. 55 … Washington State … up five spots
No. 59 … UCLA … up 41 spots
No. 66 … Cal … down 17 spots
No. 67 … Michigan State … down five spots
No. 69 … Nebraska … up three spots 
No. 71 … Arizona … up 39 spots
No. 80 … Stanford … down 24 spots
No. 96 … Oregon State … up nine spots
No. 102 … Colorado State … down 22 spots
–
—
Mea Culpa from ESPN's Bill Connelly: "I was wrong about CU"
From Bill Connelly at ESPN … A good coaching staff engages in a high level of self-scout. What are your own tendencies? Where are your blind spots? The best teams tend to be pretty good at spotting those things at the same speed that their opponents do.
A particularly high amount of self-scout happens during bye weeks. Considering Week 11 of the college football season was mostly a bye week of sorts for the national title race — only two of the AP's top six teams played (Notre Dame and Florida), and they won by a combined 42 points — I figured I would take a page out of the coaching handbook and look inward.
While each season features its share of out-of-nowhere stories that virtually no one saw coming — in 2020, that would include the unprecedented dominance of Cincinnati and BYU, an 0-4 start for Penn State, etc. — I wanted to look at a few items I was personally wrong about in the preseason, for both learning and mea culpa reasons …
I didn't think Colorado had any hope
I was quite skeptical of both parties involved in the Mel Tucker trade. In February, Tucker left Colorado to become Michigan State's head coach after only one mediocre year in Boulder. CU responded by hiring former UCLA head coach Karl Dorrell, whose only college experience in the past 13 seasons was one disastrous year as Vanderbilt's offensive coordinator.
From a Pac-12 piece the week of the Buffaloes' season debut:
Sam Noyer completed 21 of 41 passes with two interceptions in two years as a Colorado backup, then moved to backup safety in 2019. New head coach Karl Dorrell and offensive coordinator Darrin Chiaverini decided he was the best option to lead the offense in 2020. Receiver K.D. Nixon is about the only proven entity around him. This is not a great recipe for success.
Nixon has yet to see the field this year, so the Buffaloes have even fewer proven entities than I expected. They're dreadful, then, right? Wrong!
Michigan State certainly hasn't thrived out of the gates with Tucker; the Spartans are 1-3 and have lost their past two games by a combined 73-7.
But Colorado is 2-0, in part because of a couple of holdovers. Chiaverini, originally brought to Boulder by then-head coach Mike MacIntyre in 2016 and finally given solo coordinator duties by Dorrell, has put together a couple of fantastic game plans. And Noyer, brought back to the quarterback position, has held his own. He has completed 64% of his passes at 14.6 yards per completion, while rushing 20 times for 108 yards, not including a single sack. Noyer is 17th in the nation in Total QBR, ahead of far more touted signal-callers such as USC's Kedon Slovis and UNC's Sam Howell.
Running back newcomer Jarek Broussard has 58 carries for 308 yards (5.3 per carry), which, combined with Noyer's own run prowess, has opened things up downfield. Sophomore wide receiver Dimitri Stanley has averaged 16 yards per catch on 12 receptions, and tight end Brady Russell has averaged 15.4 on five catches; they averaged 10.1 and 9.4 per catch, respectively, the past two seasons.
It's early, of course, and neither of the Buffaloes' two early-season victims, Stanford or UCLA, tops 70th in defensive SP+ or 59th in overall SP+. Colorado bolted to big midgame leads in both contests then had to fend off collapses late. This is not me proclaiming the Buffs a Pac-12 contender. But it is me acknowledging the Buffs have already found more offensive answers than I expected from them in 2020.
–
—–
November 15th
… Foe Pause … 
ESPN: CU now projected to go bowling in 2020
… Note … Two bowls with Pac-12 tie-ins, the Holiday Bowl and the RedBox Bowl, have already been canceled. It wouldn't be a surprise if the LA. Bowl follows suit. It's premature to talk about bowls at this point, anyway, but the fact remains that there will be fewer bowls choosing Pac-12 teams this fall … 
From ESPN … As we inch closer to the first College Football Playoff rankings release on Nov. 24, the debate over the final four teams is ramping up.
While a handful of Power 5 teams remain undefeated (albeit while playing a different amount of games among them because of the coronavirus pandemic), there are other programs looking to squeeze into a New Year's Six bowl.
Kyle Bonagura and Mark Schlabach weigh in with their latest bowl projections after Saturday's action.
From the Pac-12 … 
PlayStation Fiesta Bowl
State Farm Stadium (Glendale, Arizona)
4 p.m. on ESPN and the ESPN App
Bonagura: BYU vs. Oregon
Schlabach: BYU vs. Oregon
Valero Alamo Bowl
Alamodome (San Antonio)
9 p.m. on ESPN and the ESPN App
Bonagura: Iowa State vs. USC
Schlabach: Iowa State vs. USC
Las Vegas Bowl
Allegiant Stadium (Las Vegas, Nevada)
Bonagura: Colorado vs. Missouri
Schlabach: California vs. Missouri
LA Bowl
SoFi Stadium (Inglewood, California)
10:45 p.m. on ESPN and the ESPN App
Bonagura: Boise State vs. Utah
Schlabach: Boise State vs. Colorado
Tony the Tiger Sun Bowl
Sun Bowl (El Paso, Texas)
2 p.m. on CBS
Bonagura: Wake Forest vs. Washington
Schlabach: NC State vs. Utah
Radiance Technologies Independence Bowl
Independence Stadium (Shreveport, Louisiana)
7 p.m. on ESPN and the ESPN App
Bonagura: Army vs. Washington State
Schlabach: Army vs. Washington
–
—
UCLA not so bad? Bruins rout Cal, 34-10 in a rare Sunday game 
From the Los Angeles Times … The less game prep the better for UCLA under coach Chip Kelly.
The Bruins had fewer than 48 hours to get ready for California after pivoting from their originally scheduled game and unveiled one of their most complete performances of the Kelly era on Sunday in a 34-10 victory at an empty Rose Bowl.
UCLA's offense in the first half looked like a vintage Kelly variety … as in the 2012 Oregon Ducks. The Bruins were, well, a blur, increasing the tempo between many of their plays on the way to scoring 20 points in the second quarter.
UCLA quarterback Dorian Thompson-Robinson accounted for all four of his touchdowns — three passing, one rushing — before halftime and the Bruins' defense was equally impressive in limiting the Golden Bears to only one sustained scoring drive. Thompson-Robinson finished the game with 196 yards passing to go with 52 yards rushing.
Bruins running back Demetric Felton Jr. ran for 107 yards in 25 carries and Brittain Brown added 71 yards in 12 carries, including a 31-yard touchdown in the fourth quarter.
UCLA (1-1), which moved to .500 in a season for the first time under Kelly, held the Golden Bears (0-1) to 176 yards of offense.
The game was hastily arranged Friday afternoon after Utah had to back out of playing the Bruins on Saturday because of too many players being sidelined by COVID-19 issues.
After having its season opener wiped out because of the coronavirus, Cal had been scheduled to play Arizona State on Saturday in a game that was also canceled because of rampant COVID-19 cases on the Sun Devils' roster and coaching staff.
… Continue reading story here …
–
—
CU back among "others receiving votes" in Coaches Poll
From CBS Sports … The Week 12 edition of the AP Top 25 released Sunday afternoon was not that different than the Week 11 edition from a week ago. The biggest difference came with Wisconsin entering the top 10, climbing up from No. 13 after beating Michigan 49-11. The Badgers climbed over No. 11 Oregon, No. 12 Miami and No. 13 Georgia to get there, while the Hurricanes fell three spots despite picking up a win on the road against Virginia Tech.
The only other team in the top 10 to move this week was Indiana, which climbed a spot to No. 9 after a 24-0 win over Michigan State. The Hoosiers will take on No. 3 Ohio State this weekend in what will be a top-10 matchup that nobody could have seen coming a month ago.
Another Big Team team that found itself moving up was Northwestern. The Wildcats moved from No. 23 to No. 19 after a 27-20 win over Purdue. The only new team in this week's poll is No. 25 Tulsa, which replaced the SMU team it bet on Saturday night.
AP Top 25
1. Alabama (60 first-place votes)
2. Notre Dame (1)
3. Ohio State (1)
4. Clemson
5. Texas A&M
6. Florida
7. Cincinnati
8. BYU
9. Indiana
10. Wisconsin
11. Oregon … up one spot from last week
12. Miami
13. Georgia
14. Oklahoma State
15. Coastal Carolina
15. Marshall
17. Iowa State
18. Oklahoma
19. Northwestern
20. USC … same ranking as last week 
21. Liberty
22. Texas
23. Auburn
24. Louisiana
25. Tulsa
Others receiving votes: North Carolina 101, SMU 20, Utah 17, Washington 15, Arizona State 9, Boise State 6, San Jose State 5, Appalachian State 5, Nevada 3, Iowa 2, Buffalo 1, UCF 1
—
USA Today Coaches Poll … 
| Rank | Team | Record | PTS | 1st | Prev | Chg | Hi/Lo |
| --- | --- | --- | --- | --- | --- | --- | --- |
| 1 | Alabama | 6-0 | 1545 | 57 | 1 | — | 1/3 |
| 2 | Notre Dame | 8-0 | 1468 | 3 | 2 | — | 2/10 |
| 3 | Ohio State | 3-0 | 1430 | 2 | 3 | — | 2/10 |
| 4 | Clemson | 7-1 | 1349 | 0 | 4 | — | 1/4 |
| 5 | Florida | 5-1 | 1232 | 0 | 5 | — | 3/9 |
| 6 | Texas A&M | 5-1 | 1230 | 0 | 6 | — | 6/20 |
| 7 | Cincinnati | 7-0 | 1168 | 0 | 7 | — | 6/22 |
| 8 | Brigham Young | 8-0 | 1100 | 0 | 8 | — | 8/23 |
| 9 | Miami | 7-1 | 987 | 0 | 9 | — | 7/NR |
| 10 | Indiana | 4-0 | 983 | 0 | 10 | — | 10/NR |
| 11 | Georgia | 4-2 | 879 | 0 | 11 | — | 3/11 |
| 12 | Wisconsin | 2-0 | 853 | 0 | 14 | 2 | 11/18 |
| 13 | Oregon | 2-0 | 849 | 0 | 12 | -1 | 9/17 |
| 14 | Oklahoma State | 5-1 | 790 | 0 | 13 | -1 | 6/19 |
| 15 | Marshall | 7-0 | 572 | 0 | 15 | — | 15/NR |
| 16 | Iowa State | 5-2 | 543 | 0 | 16 | — | 16/NR |
| 17 | Oklahoma | 5-2 | 492 | 0 | 18 | 1 | 3/NR |
| 18 | Coastal Carolina | 7-0 | 485 | 0 | 17 | -1 | 16/NR |
| 19 | Southern California | 2-0 | 384 | 0 | 20 | 1 | 17/NR |
| 20 | Northwestern | 4-0 | 362 | 0 | 23 | 3 | 20/NR |
| 21 | Auburn | 4-2 | 317 | 0 | 21 | — | 7/NR |
| 22 | Liberty | 8-0 | 305 | 0 | 22 | — | 22/NR |
| 23 | Texas | 5-2 | 219 | 0 | 24 | 1 | 8/NR |
| 24 | North Carolina | 6-2 | 153 | 0 | NR | 2 | 6/NR |
| 25 | UL Lafayette | 7-1 | 137 | 0 | NR | 2 | 21/NR |
Tulsa 67; Utah 35; Southern Methodist 28; Appalachian State 24; Purdue 22; Missouri 19; Kentucky 19; Arkansas 13; Nevada 12; San Jose State 11; Boise State 11; Army 11; Memphis 10; Maryland 10; Boston College 10; Tennessee 6; Washington 4; Kansas State 3; Colorado 3.
—–