—
Colorado Daily – Arizona State Week
—
November 21st 
… CU in a few minutes … 
DC Tyson Summers: "We've got to find ways to make plays"
From the Daily Camera … Through two games, the CU defense has looked very good at times, especially early in games, but late-game breakdowns have contributed to the Buffs ranking last in the Pac-12 in points allowed, at 37.0 per game.
"I think the obvious part is we're playing well in the first half," Summers said. "I think that's really important. We were able to play with the lead two weeks in a row.
"We've got to play better in the second half. We've got to be better in coverage, we've got to be able to play with a better rush overall and we've got to find ways to make plays."
Summers and the CU staff are working to become a more complete defense as they look ahead to their next game, Nov. 28 at No. 20 Southern California (2-0).
In a 48-42 win against UCLA and a 35-32 win at Stanford, the Buffs' defense set the tone early.
CU caused four early turnovers to help the Buffs build a 35-7 lead against UCLA. Last week, CU built a 28-9 lead against Stanford, keeping the Cardinal out of the end zone during the first 40 minutes.
"I was really excited and impressed with what our defense did early in the game," head coach Karl Dorrell said. "Stanford had a couple of drives early in the first quarter that we kept them out of the end zone and at least they kicked field goals."
… Continue reading story here …
–
—
Neill Woelk: Dorrell has used unprecedented circumstances as a tool instead of an excuse
From CUBuffs.com … For those who pay attention to more than just the score, watching Colorado Buffaloes coach Karl Dorrell and his staff negotiate the circumstances presented by the coronavirus pandemic has been a lesson in preparation and planning that goes far beyond just the first two games.
Yes, the Buffaloes are 2-0 and awaiting a showdown with USC for control of the Pac-12 South. That is reason enough for celebration for Buffs fans.
But underneath that record and a season that will forever be preceded by an asterisk, Dorrell is doing something that will resonate far beyond 2020.
Colorado's new head coach — the coach who had been away from the college game for 11 of the last 12 seasons — has created a game plan that could put the Buffs on a solid foundation for years to come.
Understand, Dorrell — like every other coach in the country — had no blueprint to follow. There was no such thing as a "pandemic plan" when he took the job last February.
But instead of panicking, Dorrell prepared. He studied, he learned and adjusted as circumstances changed. While knowing that every hour can present a never-seen-before scenario that could alter the entire picture, he has nevertheless maintained a steady, intense focus that has kept his program always looking forward.
… Continue reading story here …
–
—–
November 20th
… CU in a few minutes … 
Brenden Rice trying to make his own way: "It's both a blessing and a curse" to be Jerry Rice's son
From the Daily Camera … Brenden Rice could have played running back or a position on defense.
Instead, the Colorado Buffaloes freshman chose receiver, where everything he does will be compared to the best to ever play the position: his father, Jerry Rice.
"It's extremely hard, honestly," he said of trying to make a name for himself. "But you've gotta look at it like a blessing and a curse at the same time.
The blessing: Rice caught two passes for 38 yards, including his first career touchdown, in Saturday's 35-32 win at Stanford.
The curse: ESPN's "College Football Final" led its highlights show with Rice catching the first touchdown pass of his career, including a graphic showing Brenden needing 49 more to match the 50 touchdowns his father scored at Mississippi Valley State from 1981-84.
… Continue reading story here …
–
—
Karl Dorrell named to Paul "Bear" Bryant Coach of the Year Watch List
… Three coaches from the Pac-12 … and, no, Mel Tucker, Scott Frost and Steve Addazio did not make the list …  
From BryantAwards.com … Through the Paul "Bear" Bryant Awards, a banquet in its 35th year going into the 2020 event, college football coaches are recognized for their contributions both on and off the field. Each year, one top performing coach is selected to take home the "Bear" bust trophy and claim the final title of the season: the Paul "Bear" Bryant Coach of the Year Award.
Behind the scenes, the award is much bigger than a college football game and a season's success. It is an opportunity to shine a spotlight on heart disease and stroke while raising valuable funds to support research of the American Heart Association. Through the work and efforts of our volunteers and sponsors, the campaign has raised millions towards the lifesaving mission of the American Heart Association.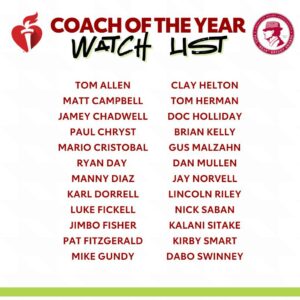 –
—–
November 19th
… CU in a few minutes … 
**Video Interviews: DC Tyson Summers; RB Jarek Broussard; S Derrion Rakestraw**
From YouTube, courtesy of BuffStampede.com …
Defensive coordinator Tyson Summers …
Running back Jarek Broussard … 
Safety Derrion Rakestraw … 
–
—
Rick George statement: "We will not play a non-conference opponent this weekend"
From CUBuffs.com … University of Colorado athletic director Rick George issued the following statement Thursday afternoon after the Pac-12 CEO Group approved non-conference games, with several parameters, to substitute for any canceled league contests:
"We are waiting out the day to make sure the other five Pac-12 games that are scheduled will go forth with no COVID issues, and that we would not be matched in a conference game.  That being said, even though the conference has approved non-conference opponents if one can be found that satisfies the testing protocols the Pac-12 has in place for its members, we will not play a non-conference opponent this weekend.
"However, in the future if a similar instance arises, it would give us more time to prepare, but for now, we want to concentrate on game preparations for the USC game next Saturday in Los Angeles."
CU was scheduled to play Arizona State this Saturday at Folsom Field, but the game was canceled last Sunday due to COVID-19 issues in the Sun Devil program.  The Pac-12 CEO group met to discuss the possibilities of non-conference opponents filling those vacancies.  The release issued by the league is below:
Pac-12 approves flexibility to schedule non-conference football games
SAN FRANCISCO (Nov. 19) – The Pac-12 announced today that its CEO Group has approved the flexibility for Pac-12 universities to schedule non-conference football game opponents subject to certain parameters.
"The Pac-12 is committed to maintaining maximum flexibility to provide our football student-athletes with an opportunity to compete, while continuing to ensure that health and safety remains our number one priority," said Pac-12 Commissioner Larry Scott.
The Pac-12 CEO Group decision requires that the following criteria be met in order for a non-conference football opponent to be scheduled by a Pac-12 football team:
All Pac-12 testing and related protocols must be adhered to by the non-conference opponent;
The non-conference game will in all cases be a home game for the Pac-12 team, broadcast by a Pac-12 television partner; and
If a Pac-12 opponent becomes available by the end of day Thursday in any given week, the Conference game must be played in lieu of any non-conference game.
–
—
Injuries at center and tight end positions will test CU's depth 
From the Daily Camera … After going down with an injury during the first quarter of Saturday's 35-32 win at Stanford, Colorado tight end Brady Russell spent several minutes trying to get back into the game.
Russell didn't return and likely won't see the field until after Thanksgiving.
On Wednesday, CU head coach Karl Dorrell said Russell "is going to miss some significant time – at least a couple of weeks, probably."
Dorrell doesn't give injury specifics, but said Russell has a "lower leg injury." Russell, who caught a career-high five passes for 77 yards and a touchdown in the opener against UCLA, was injured on CU's fourth offensive snap against Stanford.
CU has four other tight ends on scholarship, but junior Jared Poplawski, sophomore Luke Stillwell and freshman Caleb Fauria are also injured and freshman Louis Passarello hasn't dressed for either game.
That leaves the Buffs with four walk-ons, including senior Matt Lynch, a transfer from UCLA. Lynch has played roughly half of CU's offensive snaps this season, mostly as a blocker. He's also caught two passes for seven yards.
… In addition to tight end, the Buffs are dealing with depth issues at center.
Junior starter Colby Pursell, sophomore Josh Jynes, redshirt freshman Austin Johnson and true freshman Carson Lee all missed the Stanford game. Left guard Kary Kutsch moved to center, while walk-on John Deitchman practiced snaps in warm-ups.
Dorrell said it's possible they get some centers back next week.
"Colby still a question mark, but I would think Josh Jynes would probably be back in the fold next week so we end up having another center that we can use," Dorrell said.
Lee could also be back next week and several of the guards work on snaps a bit.
"We feel like we're going to be in better shape going into the next game than we were going into Stanford," Dorrell said.
… Continue reading story here …
–
—–
November 18th
… CU in a few minutes … 
**Video – Karl Dorrell Press Conference** – "There's some things we can definitely work on"
From YouTube, courtesy of CUSportsNation … While the Buffs are still preparing as if they might play a game this weekend — their originally scheduled game with Arizona State was canceled because of ASU's coronavirus outbreak — the chances of a game this weekend appear to be getting slimmer with each passing day.
Thus, Dorrell and his staff are taking advantage of the opportunity to work on some of the issues that need correcting.
"This week's a good week for us to kind of shore up some of the things that have been kind of plaguing us a little bit," Dorrell said after Wednesday morning's practice. "There's some things we can definitely work on on both sides of the ball that can help us be a little more efficient."
A weekend game is not out of the question. Last week, the Pac-12 matched up Cal and UCLA for a Sunday game on Friday, and such a scenario could ostensibly unfold again this week for Colorado. There is also the chance that CU could still find a non-conference opponent.
But if the Buffs don't get a game, the week will still offer them a chance to work on fundamentals and heal up some of the injuries that have occurred over the last couple of weeks.
–
—
CU sponsor PointsBet is up and running 
From the Daily Camera … The only sports book operator with major headquarters in Colorado is now taking bets.
PointsBet, which has recently entered into exclusive partnerships with the University of Colorado and Kroenke Sports & Entertainment (KSE), went live Wednesday with its online and mobile app platforms.
"Colorado people … are very proud of their state and I hope they view PointsBet as the true hometown sports book," PointsBet CEO Johnny Aitken said. "We're the only operator that's based here, that's investing in the sports community, creating jobs for people to stay and be based here in Colorado. We're hoping for great reception this week when we start taking bets in."
An Australian company, PointsBet recently opened headquarters in downtown Denver and is putting much of its focus on local teams now that sports gambling is legal in the state, as of May 1.
In August, a partnership with KSE was announced, making PointsBet the exclusive betting partner of the Colorado Avalanche, Denver Nuggets, Colorado Mammoth and Altitude TV.
In September, CU and PointBet announced a five-year sponsorship deal, which begins July 1, 2021. Over the course of the deal, which runs from 2021-26, CU will receive at least $1.625 million. In addition to that, CU can get a $30 referral fee for each PointsBet customer who signs up using a CU-specific promotional code.
As of Wednesday, those customers can now sign up and begin placing bets at www.PointsBet.com or on Apple and Android mobile apps, which have been "truly customized for the needs of a Colorado bettor," Aitken said.
… Continue reading story here …
–
—
Sam Noyer's skill set better suited for Chiaverini's offense
From the Daily Camera … Before Mel Tucker and offensive coordinator Brian Johnson bolted for Michigan State in February, Sam Noyer wasn't in their plans. Noyer entered the NCAA transfer portal, as did freshman Blake Stenstrom. Tucker and Johnson were ready to let junior Tyler Lytle and true freshman Brendon Lewis battle for the job.
Why didn't Tucker and Johnson bother to give Noyer a shot?
Chiaverini, who has been at CU throughout Noyer's career, believes the offense he's directing suits Noyer better than the scheme Johnson ran.
"There's no question it does," Chiaverini said. "I make the reads easy, I make the way we operate easy. I try to control the tempo of the game with how I call it. It's quarterback friendly."
Noyer struggled with Johnson's offense, but he wasn't alone. Despite having two full years of starting experience under his belt, Montez had a career-low passer rating of 130.1 in 2019 and the Buffs averaged just 23.5 points per game – their lowest average since 2012.
"Last year we had a lot of checks (at the line of scrimmage)," Chiaverini said. "I think that's probably why we had a lot of pre-snap penalties, because of that."
Quarterbacks had a lot of responsibility in Johnson's offense, but Chiaverini said he's made life easier on them – and Noyer has thrived.
"I try to make it easy on their eyes," Chiaverini said. "We don't have a ton of checks. We check some things, but we don't check everything. … I try to stay away from that. I try to play it a little more tempo, a little more rhythm and try to make it easy on the quarterback as far as what he's actually looking at.
"I always knew that Sam could throw it, I knew Sam could run it, and I knew Sam was a smart kid. I have a good feel for the personnel of this offense just because I've been here for five years and I've recruited a lot of these players and so that's a benefit for me."
… Continue reading story here …
–
—–
November 17th
… CU in a few minutes … 
Darrin Chiaverini – K.D. Nixon facing competition when he returns: "We have a really talented room"
From BuffStampede.com …
ON SENIOR RECEIVER K.D. NIXON'S STATUS
"If K.D. is healthy, he is going to play, it is just a matter of if he's healthy. He practiced today and he is looking better. He is a little rusty but he'll knock some of that rust off. He is starting to get himself back to full speed, and when he is full speed, he is going to play. He is a good football player.
"But there is competition in the room at all spots. It is showing up. Dimitri (Stanley) has kind of separated himself as one of the top guys now, not only on our team, but in the conference as a slot receiver. Brenden Rice is coming on. Maurice (Bell) had a good first game and had a drop in this game, but is a guy that is competing. La'Vontae Shenault has a high ceiling. Jaylon Jackson goes in the game and makes a play.
"Competition makes you better and we have a really talented room. They have to keep working and getting better. There are things they have to clean up on their fundamentals and technique. (Head) coach (Karl) Dorrell is a receiver coach, I am a receiver coach by trade, so we look at those things and we're going to keep coaching them hard. But I like where that group is."
ON BRENDEN RICE'S LINEAGE AS THE SON OF JERRY RICE
"Brenden and Jerry didn't grow up together, so Brenden wasn't raised by Jerry. Brenden is making a name for himself. We talked about it all the time, of having your own legacy, and he's doing that. He's got a great mom. Jackie is awesome. She did an unbelievable job raising him. He is a good young man. He's going to be a really good player for a long time. He's got a high ceiling. He works extremely hard. He is the first true freshman that I felt confident in playing, even when I had Laviska (Shenault), because Laviska struggled learning the system. But Brenden has really picked it up. He has a bright future at CU."
"Our recruiting is showing up. It is finally showing up. You have guys that are veteran guys. You have Kary (Kutsch) that has been here a long time. You have Will Sherman that has been here a long time. Casey Roddick and Frank Fillip have been here. And then you have a good football coach in Mitch Rodrigue. So you combine good players with good coaching, you're going to have good results. That's where we're at right now. I feel good. And even you look at Chance Lytle, who went in there and played well. Kanan Ray played well when he got a chance. This is what we're supposed to be doing in year five of recruiting."
… Continue reading story here …
–
—
CBS Bottom 25 includes three Pac-12 teams 
From CBS Sports … The Bottom 25 might finally be finding its level. While there's still volatility thanks to large gaps in sample sizes between different teams, we are approaching the point where The Bottom 25's gravity is getting stronger. It's harder to get away from than before.
We've typically seen five or more teams leave as new ones come in to replace them so far this season. This week we have only three new teams, and one of those teams played its first game.
Of course, we still have one FBS team in Utah that hasn't played yet. If the Utes play their opener (which, sadly, is not a guarantee these days) and lose, they'll be in here just like Cal, and every other 0-1 team has been. Other than that, I think we know who our candidates are for The Bottom 25 Playoff. Having said that, there are far more viable candidates at this time of year than in a typical season. We've never had so many winless and one-win teams this late in a year because nonconference scheduling has a way of making it easier to find wins for a lot of teams. Those wins don't exist, so nearly everybody in our rankings has a legitimate shot to finish in The Bottom Four at this point of the season. The only teams I'd say are eliminated are the ones who have reached two victories.
From the Pac-12 … 
| | | |
| --- | --- | --- |
| 17. Oregon State | 0-2 | I don't know if Oregon State would've beaten Washington if Pac-12 refs had any idea how to spot a football, but I know that Pac-12 refs have no idea how to spot a football. Just egregiously bad stuff on Saturday night. |
| | | |
| --- | --- | --- |
| 9. Stanford | 0-2 | Maybe Colorado is just outstanding and one of the country's best stories this year. Or maybe it's going to be a miserable season for Stanford. It's hard to say at this point, but we could get a better idea this weekend when the Cardinal host Washington State. |
| | | |
| --- | --- | --- |
| 2. Cal | 0-1 | Not only did Cal play UCLA on two days' notice, but it played them at 9 a.m. local time Sunday morning. Why the hell they had to play the game so early will mystify me forever. Oh, sure, they'll say for "ratings," but how many people are going to watch a game that was just scheduled two days earlier in the first place? It's going to be Cal and UCLA fans only no matter what time you start the game. The least you could do is give the teams as much time to prepare for the game as possible. Even if it's just another three hours. |
–
—
Kickoff time for CU at USC won't be known until Sunday
From Jon Wilner at the San Jose Mercury News … The three #Pac12 kickoffs for 11/28 are all six-day selections – we'll know by this Sunday:
Arizona at UCLA

Colorado at USC

Utah at Arizona State
Three rivalry games were previously set for next Friday (of Thanksgiving weekend):
Stanford at Cal … 2:30 p.m., MT, Fox
Oregon at Oregon State … 5:00 p.m., MT, ESPN
Washington at Washington State … 8:30 p.m., MT, ESPN
–
–—
**Video highlights: Landman and Noyer from Stanford game – Earning their POTW Honors**
—
–
—–
November 16th
… CU in a few minutes … 
Dorrell: "We're just going to be ready for anything that comes up and do our best when it does"
From the Daily Camera … BuffZone.com reached out to the Pac-12 on Monday to ask if the conference would allow CU to seek a nonconference opponent. A Pac-12 spokesperson said, via email, "Our Pac-12 CEO Group previously approved a Conference-only football schedule and that remains the case at this time."
On Sunday, ESPN's Kyle Bonagura reported that Pac-12 senior associate commissioner for football operations Merton Hanks told him, regarding nonconference games, "We'll certainly take a look, I'd imagine."
As of Monday, at least, it was clear that every option, including the Buffs being idle, is on the table, and Dorrell said CU will be prepared for anything.
"We knew that at some point in time it was going to happen through the course of the season where there's going to be a no contest, a postponement, a cancellation," he said. "We try to stay as healthy as (possible); I'm sure all of our conference members are trying to do that. We've done a really fabulous job with our health and we've got to continue to stay on that path."
At 2-0, the Buffs have exceeded outside expectations and Dorrell would like to keep the momentum going. Either way, it'll be a week to get better.
"We're going to treat this week as a week of really trying to clean up a lot of things that we can do for ourselves, both offensively, defensively and special teams," Dorrell said.
If the Buffs get the opportunity to play at Pac-12 opponent this week, Dorrell said it won't be too difficult to prepare because he's got preliminary scouting reports on all teams in the conference. He acknowledged it would be more difficult to prepare last minute for a nonconference opponent.
Dorrell and the Buffs have rolled with the punches all year, though, and go into this week ready to do it again.
"We're really taking this a day at a time with not creating a panic opportunity in anything we do," he said. "Anything and everything can happen and, literally, that's what our approach will be as we move forward. We're just going to be ready for anything that comes up and do our best when it does."
–
—
**Noyer and Landman each named Pac-12 Players of the Week**
Press Release from CUBuffs.com …
LANDMAN, NOYER EARN PAC-12 PLAYER OF THE WEEK HONORS
Eighth Time In School History CU Gets Both Offensive & Defensive Nods
BOULDER — Colorado's 35-32 win at Stanford last Saturday earned two Buffaloes Pac-12 Conference player of the week designations, and created a little bit of history in the process.
Quarterback Sam Noyer earned the offensive honor, while inside linebacker Nate Landman was awarded the defensive accolade, marking the eighth time in school history that CU had the offensive and defensive winners from the same game.  The first player of the week awards CU was eligible for came back in 1963 when the Buffaloes were a member of the Big Eight Conference.
Noyer completed 15-of-24 passes for 255 yards and two touchdowns, in addition to rushing eight times for 36 yards and another two scores; his passer rating for the game was 170.9.  He earned 15 first downs in all, five on the ground for the second straight game.  Noyer was the first Buff to run for two scores and pass for two since Sefo Liufau did so against Arizona in 2015, and also became the 12th quarterback out of the last 51 at Colorado to win his first two starts.
Landman recorded 17 tackles – 14 of the solo variety – to lead the Buff defense.  One of those was a tackle for a loss, and he added a fumble recovery, a third down stop and a touchdown save.  In the process, he cracked Colorado's Top 20 list in all-time tackles and became the 17th Buffalo with 300-or-more career stops (303, 203 solo and 100 assisted).  Landman also became the 11th player in Buffs history to top 200 unassisted tackles.
It's the second time in his career that he has been so honored; he earned it for the 2018 season opener against Colorado State in Denver, when he had 14 tackles, an interception, two third down stops and a tackle for loss in CU's 45-13 win.
CU had a nominee for all six conference player of the week awards; in addition to Noyer and Landman, the Buffaloes nominated inside linebacker Mister Williams for the special teams honor (four tackles and a caused penalty on kickoff coverage duty); end Terrance Lang for the defensive lineman (two tackles for loss, a third down stop and a quarterback hurry); tackle Frank Fillip for the offensive lineman (graded out to 85 percent, with three touchdown blocks); and receiver Brenden Rice for the freshman of the week (two receptions for 38 yards, including one for a 34-yard touchdown, the first of his young career).
Receiver Dimitri Stanley shared CU's coaches awards with Noyer and Fillip for the team's offensive player of the game, while outside linebacker Carson Wells earned the defensive honor with Landman and Lang; Williams was the special teams choice.  The coaching staff also recognized receiver Jake Groth and running back Jayle Stacks (offensive scouts), safety Kyle Scofield and tackle Jayden Simon (defensive scouts) and receiver Alex Smith (special teams scout).
Tailback Jarek Broussard earned the league's first offensive player nod for the Nov. 7 games, as he rushed for 187 yards and three touchdowns in the Buffs' 48-42 win over UCLA.   This marks the first time CU has had two players honored in succession for the offensive honor since November 2010, when quarterback Cody Hawkins and tailback Rodney Stewart were recognized by the Big 12 for their efforts against Iowa State and Kansas State, respectively.
Colorado's Conference Offensive and Defensive Players of the Week from the same game:
1971 (Big Eight) at Ohio State (TB Charlie Davis, LB Bud Magrum)
1977 (Big Eight) at Iowa State (TB Mike Kozlowski, DE Randy Westendorf)
1988 (Big Eight) at Iowa (HB Eric Bieniemy, FS Bruce Young)
1991 (Big Eight) vs. Minnesota (QB Darian Hagan, OLB Chad Brown)
1994 (Big Eight) at Michigan (WR Michael Westbrook, ILB Ted Johnson)
1995 (Big Eight) vs. Texas A&M (QB John Hessler, ILB Matt Russell)
2016 (Pac-12) vs. Washington State (QB Sefo Liufau, CB Nick Fisher)
2020 (Pac-12) at Stanford (QB Sam Noyer, ILB Nate Landman)
–
—
**Video – Karl Dorell Press Conference** – "We're on high alert for anything and everything"
From YouTube, courtesy of CUSportsNation … "We knew that at some point in time it was going to happen during the course of the season where there was going to be a no-contest, a postponement or a cancellation," he said. "We kind of knew that going into (this season)…It is unfortunate for us that we are coming off of two games playing well and winning games and now we have a pause in the season."
"I don't think it'll throw everything out of whack because from my standpoint, I've looked at all the teams and have kind of a pre-preliminary scouting plan for all of our conference members," he said. "So for (us to play USC this weekend), it wouldn't be a tremendously hard thing for us to shift gears to do, just because we've already put some work in for all of our conference members that we were playing so far for this season."
–
—
Neill Woelk Takeaways from the win over Stanford
From CUBuffs.com …  It would appear the Colorado Buffaloes are turning a few heads.
Sunday morning, on the heels of Saturday's 35-32 win at Stanford, the 2-0 Buffs received a handful of votes in the USA Today Coaches poll.
While it is a nice acknowledgement from his peers, by no means is it a concern — at least this point in the season — for CU head coach Karl Dorrell.
Rather, Dorrell has more pressing and immediate issues on his mind.
Asked after Saturday's game whether the Buffs deserved mention in the polls, Dorrell said, "My focus is on this team. I'm going to let the voters … that's their job. My job is to continue to try to produce winning games. That's my focus. I don't have any control of the other things. I hope our team does get the recognition it deserves at some point in time, but right now, we just want to get better and go on to the next challenge of the season."
That is the mantra Dorrell has stressed since the day he arrived — daily and weekly improvement. Get better. Improve on the things they do well and fix the areas that need correcting. It is just one more example of the steady, consistent hand Dorrell has brought to the program.
Certainly there are things Dorrell and his staff will be addressing this week as they prepare for their next game (whoever and whenever that might be). While the Buffs were no doubt happy with the end result against the Cardinal, the final few minutes were a little too close for comfort, as Stanford managed to shave a 35-16 lead down to just three before the Buffs sealed the deal.
Surviving those tense moments down the stretch — CU's second week of providing a little heartbeat increase near the end — is something Dorrell would probably rather not depend on every week.
Still, a win is a win — and in this pandemic-shortened season, every "W" is a little more important.
So what did we learn from the Buffs' latest outing?
1. Under the direction of Mitch Rodrigue, the offensive line is becoming a force. With three returning veteran starters, the general consensus was that the O-line would be an improved bunch. But so far — and despite a key injury — the big fellas up front have exceeded expectations.
Left tackle William Sherman has been steady and dependable, and Saturday had the highest Pro Football Focus grade of any of the starters. Senior Kary Kutsch, meanwhile, has taken a huge jump this year, and did a nice job of filling in at center in place of injured Colby Pursell against the Cardinal.
A key process has been the development of youngsters. Frank Fillip (right tackle) and Casey Roddick (right guard) have been consistent while junior guard Chance Lytle had a nice starting debut. Also getting 10 quality fourth quarter snaps at guard was sophomore Kanan Ray.
But most telling are the numbers being posted by the offense. The Buffs have yielded just one sack, and that was an intentional grounding penalty against UCLA, a sack under NCAA rules. Meanwhile, CU's run game is averaging a robust 220 yards per game.
No doubt, there will be stiffer tests ahead. But this group so far is giving new starting quarterback Sam Noyer a nice security blanket while also forcing opposing defenses to respect Colorado's run game — and a nod has to go to Rodrigue, who might have been the biggest "unknown" on the coaching staff when the season began.
… Continue reading Ten Takeaways here …
–
—–
November 15th
… CU in a few minutes … 
Sam Noyer: "We're building something special with coach Dorrell and this team"
From the Daily Camera … "I would have loved to have finished the game like we finished it last week, where we had the ball and we took the knee," Dorrell said. "But, we had the dramatics all the way to the end, unfortunately. The fortunate thing, we got the W, we get to learn from this and we'll go onto next week."
It's all part of the maturation process for a team that is still fairly young in a lot of spots. But, to this point, they've bonded together, regardless of age or experience. The age and experience on the field has even changed during the two games, as the Buffs have dealt with several injuries but kept rolling.
"We just play for each other," junior outside linebacker Carson Wells said. "That's all it is. We know it's a next man up mentality. So everybody prepares like they're the starter so when the starter does go down, you can step in and there's no slack."
In a year that hasn't been a lot of fun for many people, and a year that's been extremely challenging for college athletes, the Buffs have decided to roll with it and enjoy the moments they get.
"We've got something going here, something great going here," senior quarterback Sam Noyer said. "We're building something special with coach Dorrell and this team. Everybody's buying in.
"Guys are having fun out there playing. It's good to see that again. I haven't seen that in a couple years and guys are really enjoying being out there on the sideline. Obviously we want to win, but you see it from the fourth string all the way up to the first string, and that's a good feeling. That's something that we're going to continue to see going forward."
What the rest of the season looks like going forward is unknown. CU will not be playing Arizona State on Saturday due to a COVID-19 outbreak that caused the Sun Devils to cancel their game this past weekend. The Buffs are working to see if another opponent is possible.
"I'm just so pleased with what they've done in such a short period of time," Dorrell said. "They've worked really hard. I know you guys have heard me say that, but we haven't had a lot of time together, in terms of field time working with each other, and they really maximize every day.
"I just have so much admiration for what they want and what they can achieve. … It's interesting how in this stadium here, all we had was us. It's just us, and our players on the sideline were very behind each other or encouraging either side of the ball and looking for guys making plays. It was really just a fun team win where the team was really into it."
… Continue reading story here …
–
—
**CU home game against Arizona State canceled**
Press Release from CUBuffs.com …
SATURDAY's CU-ARIZONA STATE FOOTBALL GAME CANCELED
A Replacement For The Sun Devils Is Possible Though Complicated
BOULDER — This Saturday night's scheduled football game between the University of Colorado and Arizona State University has been canceled due to COVID-19 issues with the ASU football program, the Pac-12 Conference and both schools announced Sunday afternoon.
The Nov. 21 game was scheduled for an 8 p.m. kickoff at Folsom Field with broadcast on ESPN 2.  The Pac-12 released the following statement Sunday afternoon about the cancellation of the game:
"The Pac-12 has, after consultation with Arizona State University, cancelled the Arizona State at Colorado football game scheduled for November 21.  This decision was made under the Pac-12's football game cancellation policy due to Arizona State not having the minimum number of scholarship players available for the game as a result of a number of positive football student-athlete COVID-19 cases and resulting isolation of additional football student-athletes under contact tracing protocols.  Under Conference policy, the game will be declared a no contest.
"The cancellation of this game is very disappointing to our student-athletes and our fans.  While all of us want to see our football student-athletes on the field competing, our number one priority must continue to be the health and safety of all those connected to Pac-12 football programs."
The last regular season Colorado game to be canceled came in 2013, when torrential rains and flooding earlier in the week forced the cancellation of the Fresno State game on Sept. 14; otherwise you have to go back to Sept. 15, 2001, when a game at Washington State was canceled due to the terrorist attacks on 9/11.
"We've been real fortunate about keeping our players healthy through camp and so far during the first couple of weeks, CU head coach Karl Dorrell said.  "We have known all along that this has been a real possibility and it's something that is out of our control.  It's literally a week-by-week deal and we'll continue to move forward."
CU athletic director Rick George will work with the Pac-12 on any possible replacement for the Sun Devils.
"We will look at any and all options about us being able to play this weekend," George said.  "It's too early right now to gauge everything, the conference did pair UCLA and Cal today on very short notice, so we'll have to see what transpires day-to-day around the league."
There is also the possibility that any canceled intra-division games around the league due to COVID-19 could be made up on the last Saturday of the season (Dec. 19), if those teams are not participating in the league's championship game.
–
—
Don't Look Now: Pat Rooney on Board with Buffs
From Pat Rooney of the Daily Camera … The Karl Dorrell-led Buffs turned a few more heads on Saturday, sprinting to an impressive lead before holding off Stanford for a 35-32 victory. CU is now 2-0, defying the preseason expectations of pretty much everyone (including this guy) except my BuffZone colleague Brian Howell.
In a Pac-12 South that has looked largely underwhelming, why not the Buffs? With apologies to running back Jarek Broussard, there are two reasons, beyond the steady hand of Dorrell's leadership, why CU just might be for real: Sam Noyer, and the big men up front.
Noyer was perhaps the Buffs' biggest question mark going into the season, a fifth-year senior who had not started a game at quarterback since high school and who spent last season playing safety. When Dorrell announced Noyer as his team's starting quarterback, he said it had been a close enough race with backup Tyler Lytle that Lytle would get playing time at some point.
Other than a brief cameo by Lytle during the opening win against UCLA, Noyer's play has tossed that plan out the window. Through two games, Noyer has completed about 64 percent of his passes while playing with the poise of a four-year starter, not a guy who hasn't started in five years. His mobility has been a revelation, and while the high-flying "Air Noyer" finishes to some of his runs might give Dorrell heart palpitations, Noyer's grit clearly is endearing him to his teammates. This is Noyer's team.
… Continue reading story here …
–
—
** Video: CU vs. Stanford Post-Game Press Conferences**
From YouTube, courtesy of CUSportsNation …
Head coach Karl Dorrell … 
—
Linebacker Carson Wells … 
—
Quarterback Sam Noyer … 
–
—
CU defensive line plays well – David Shaw: "That's them out-scheming us and outperforming us"
From CUBuffs.com … Colorado held Stanford starting running back Austin Jones to just nine yards on nine carries, one week after he had 100 yards against Oregon.
"Colorado did a good job, a lot of movement, a lot of inside pressures and they made it tough for him to get through," Stanford coach David Shaw said. "He barely got back to the line most of the day. That's them out-scheming us and outperforming us. We believed we were prepared for what we saw, we didn't execute. We believe Austin's got a chance to be an outstanding running back, but we have to get him to the line of scrimmage. That just didn't happen with any regularity today."
The Buffs finished with five tackles for loss, including a sack by linebacker Carson Wells, who also had another stop behind the line. Terrance Lang also had a pair of tackles for loss, including a huge stop on third down, and Nate Landman had one TFL and 14 total tackles.
–
—–