—
Pac-12 Notes – UCLA Week
—
November 7th – GameDay!
… Foe Pause … 
No. 20 USC stuns Arizona State with late two-touchdown comeback
… ESPN's "win probability" index had Arizona State with a 98.1-99.9% chance of winning for the last six minutes of the game … 
From the Associated Press … Drake London caught a 21-yard touchdown pass with 1:20 to play, and No. 20 USC rallied from a late 13-point deficit for a 28-27 victory over Arizona State on Saturday in the Pac-12′s long-delayed season opener.
Bru McCoy caught a deflected 26-yard TD pass with 2:52 left for the Trojans (1-0), and Max Williams recovered the onside kick. On fourth and 9, Kedon Slovis fired a pass down the middle to London, and the two-sport athlete beat double coverage to haul it in for an electrifying score.
USC's defense then stopped Arizona State (0-1) on downs near midfield with 50 seconds left to preserve an astonishing comeback.
Until their rally, the Trojans were struggling through a game that began at 9 a.m. USC agreed to its earliest kickoff in at least 70 years for a national television audience.
Slovis passed for 381 yards for USC, while Stephen Carr and Markese Stepp made scoring runs in the first half. London also caught eight passes for 125 yards, but the Trojans seemed finished after they committed three turnovers and turned the ball over on downs two more times — all inside ASU territory.
Freshman DeaMonte Trayanum rushed for 87 yards and two touchdowns, while Rachaad White had a 55-yard TD reception in a similarly strong debut for the Sun Devils.
Jayden Daniels passed for 134 yards and ran for 111 more, but the Sun Devils' star quarterback threw four straight incompletions to end their last-ditch drive.
… Continue reading story here …
–
—
One UCLA football player tests positive; game still on
From ESPN … UCLA's athletic department has had three people test positive for the coronavirus, including a football player.
The Pac-12 Conference has already postponed two games, but the Bruins' season-opening matchup at Colorado is still on. Players will be tested before kickoff per conference policy.
UCLA, which is issuing testing updates every Friday, also reported a rowing team member and a support staff member within the athletic department have tested positive.
–
—–
November 6th
… Foe Pause … 
Arizona/Utah game canceled at Utah's request 
… Since the start of the 2020 season, 47 games have been canceled or postponed due to COVID-19, including 10 this past week … 
From the Pac-12 … The Pac-12 today issued the following statement regarding the Arizona at Utah football game, previously scheduled for Saturday, Nov. 7:
"The Pac-12 has approved a request from Utah to cancel the Arizona at Utah football game scheduled for November 7.  This decision was made under the Pac-12's football game cancellation policy due to Utah not having the minimum number of scholarship players available for the game as a result of a number of positive football student-athlete COVID-19 cases and resulting isolation of additional football student-athletes under contact tracing protocols.  Under Conference policy, the game will be declared a no contest.
The cancellation of this game, following yesterday's cancellation of the Washington at Cal football game, is of course incredibly disappointing to our student-athletes and our fans.  At the same time it is an indication that our health and safety protocols are working in identifying positive cases and contact tracing cases.  While all of us want to see our football student-athletes on the field competing, our number one priority must continue to be the health and safety of all those connected to Pac-12 football programs."
–
—
Duck Dive: CU a 3-3 team in Pac-12 play
From DuckDive.com … Colorado was the only Pac-12 school to avoid any serious opt-outs or transfers, but they still ended up with two of the least encouraging news items over the last week. First, they announced the starting quarterback will be a guy that neither Jack nor I saw coming, #4 QB Noyer, who had converted to safety and at one point hopped in the transfer portal after very limited and unimpressive playing time. I'm not sure what that says about the true freshman I was hoping would win the job, #12 QB Lewis who's now listed third on the depth chart, or new Coach Dorrell's boldness.
Second, apparently Fontenot is injured, and not only was he CU's leading rusher but I had projected an offense built around his hard-running style and lots of heavy 12-personnel sets. We also learned that Stillwell is injured and Peters seems to have never completed his transfer from Arizona, putting a damper on that prospect.
The rest of the team seems to have played out as Jack and I saw it way back in June – the offensive line appears stable, the wide receiver room has some promising returners, the front seven looks like a real strength, and the secondary a big question mark.
Prediction … Odd to say with two new head coaches in as many years, but there's a lot of continuity on this team. Most of the roster is filled with veterans or at least experienced players from last year, they've sorted out their o-line issues which have really been hurting them the last couple years, and their coordinators and several position coaches have been at Colorado for a while. It's not a high talent team but I like several of their pieces, especially on defense, and I think their continuity comes at a premium in a pandemic year. The QB and RB situations are troubling, but if they turn out to be at least manageable, I think the Buffs are better situated than most of the lower half of the league.
Projected record: 3-3, with wins against UCLA & Arizona, losses to USC & ASU, and splitting Stanford on the road & Utah at home.
The Pac-12 South:
USC … 5-1
Arizona State … 5-1
Utah 4-2
Colorado … 3-3
UCLA … 1-5
Arizona … 0-6
… Read the full Pac-12 South prediction thread here …
–
—–
November 5th
… Foe Pause … 
Pac-12 can't get through Week One: Washington at Cal canceled due to positive tests at Cal
From the Daily Camera … Cal football's season opener will have to wait. The Pac-12 approved Cal's request to cancel its game Saturday night against Washington as the Bears were left short-handed after a positive COVID-19 test and subsequent contact tracing.
The unnamed Cal player who tested positive remains asymptomatic. He tested positive on a daily antigen test and a follow-up PCR test earlier this week.
He was the first member of the football program to test positive since Cal began daily testing at the start of October. Because of school and Berkeley Public Health protocols for contact tracing, the athletics department said several players are in quarantine, which affected the team's ability to field a competitive roster.
Pac-12 protocol calls for athletes with confirmed positives to isolate for at least 10 days and until symptoms resolve. An athlete who has had high-risk contact with a confirmed positive must quarantine for 14 days, putting Cal's Nov. 14 game at Arizona State in jeopardy, as well.
Cal coach Justin Wilcox and athletic director Jim Knowlton both agreed that team would be missing too many players to be able to adequately compete against Washington on Saturday. They said the Bears would have been left with less than the Pac-12's mandated number of at least 53 scholarship players available for the game at Memorial Stadium.
The Pac-12 told teams that in addition to needing at least 53 scholarship players to play, that number has to include at least one quarterback, four defensive linemen and seven offensive linemen available or a game could be declared a no contest or be postponed.
Despite the minimum scholarship rules, though, the conference has a provision to still give the team affected the option to play the game.
… Continue reading story here …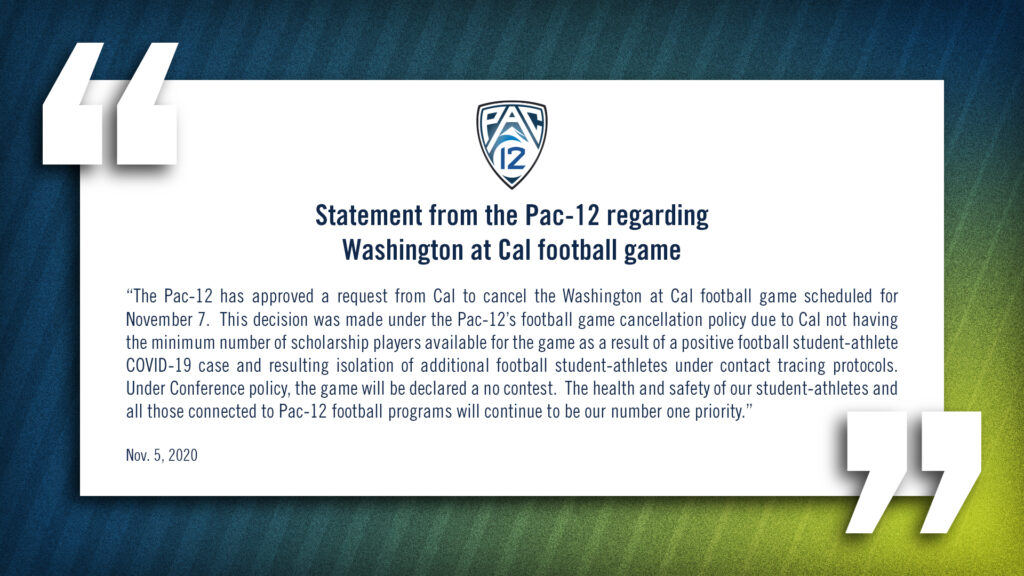 –
—
#Pac-12forBreakfast – USC wake up call Saturday morning: 5:45 a.m. 
From YardBarker.com … The Pac-12 returns to action on Saturday with its first games of the season, and their slate will begin extremely early in the morning. The USC Trojans will host the Arizona State Sun Devils at 9:00 a.m. local time, which is an unheard of early kickoff time on the West Coast.
USC coach Clay Helton was a guest on CBS' "Inside College Football" on Tuesday and talked about the early start time. He was asked what time the team will be waking up that morning in preparation of the game.
"Well, we started it last week at 5:45," Helton said. "We went exactly through the process of waking everybody up, making sure that everybody's tested, everybody's fed. Getting over to the stadium the sun was just rising out of the Coliseum, which I had not seen, and it's about as pretty as it gets. It's going to be a great, crisp fall day in Los Angeles, California, a beautiful day, and a great day to play a game."
Players are getting tested for COVID-19 the morning of the game, per Pac-12 regulations, which is part of the process Helton described. Then they will have to get ready for the game.
Helton is in his fifth full season as USC's head coach and sixth overall since taking over for Steve Sarkisian in 2015. There has been all kinds of talk and even a report about Helton losing his job, but he remains the team's head coach.
–
—–
November 4th
… Foe Pause … 
College Football News game prediction: "UCLA should be just a little bit sharper"
From College Football News …
Why UCLA Will Win
Is the UCLA defense any better?
Ten of the top 13 tacklers are back and the line should finally be a positive. The tackle rotation is good enough to hold down a Buff running game that hasn't been all that great for a few years.
The offensive side for the Bruins should finally work. QB Dorian Thompson-Robinson is now a seasoned veteran, but the receiving corps is loaded with experience and – FINALLY – the line might not be a total disaster.
Why Colorado Will Win
No, really, is the UCLA defense any better?
It was 113th in the nation in total D last year and now it loses a few of its key parts. It's more experienced overall, but  the linebacking corps is undergoing an overhaul and the secondary still has to prove it can stop someone after getting hit for over 300 yards per game last year.
The Colorado offensive line should be a positive right away for new head coach Karl Dorrell, and even though Laviska Shenault is in the NFL, the receiving corps is a plus for new starting quarterback Sam Noyer.
What's Going To Happen
UCLA looked like it turned a corner with three straight wins, and then it all went down the tubes after the early November win over Colorado last year. The program lost the last two trips to Boulder, but it has the experience and pieces in place that Colorado doesn't.
It's Dorrell vs. his old UCLA team – his coaching era really wasn't that bad, by the way – but the Bruins should be just a bit sharper and show off a little bit more consistency. It should be a good battle deep into the fourth quarter, but this will be where having the veteran quarterback matters.
Colorado vs UCLA Prediction, Line
UCLA 30, Colorado 27
Bet on Colorado vs UCLA with BetMGM
UCLA -6, o/u: 58.5
ATS Confidence out of 5: 2
–
—
CBS Bottom 25: Nebraska and CSU make the Top (Bottom) Five
… I'll try not to enjoy this too much, because the way the Bottom 25 is set up, the loser of the CU/UCLA game will likely be "ranked" here next week … 
From CBS Sports … If you're a Nebraska fan who is already angry about the Cornhuskers' game with Wisconsin being canceled last weekend, you should probably stop reading this now. As I wrote about here last week, and as was seen in the rankings, The Bottom 25 is very much out of whack with so many teams playing a different number of games.
When the Big Ten and Mountain West began play before last week's rankings, nearly every team that lost its opener joined us in The Bottom 25. Not because they were that bad necessarily, but because of such a small sample size not allowing them time to balance out the numbers. Well, everybody in the Big Ten and Mountain West (except Colorado State and New Mexico) added a second game to their sample last week. Win or lose, things evened out a bit for those teams.
Nebraska did not get that chance. So while Nebraska was forced to sit at home twiddling its thumbs, it also climbed higher in our rankings this week. How far? Well, it was at No. 6 last week, so it could only go so high.
To the rankings!
| | | |
| --- | --- | --- |
| 5.CSU | 0-1 | The Rams got their season started with a 38-17 loss to Fresno State and begin the season ranked in The Bottom Five. They return to action on Thursday night at home against Wyoming. (NR) |
| | | |
| --- | --- | --- |
| 2. Nebraska | 0-1 | Listen, I get it. It sucks. Everything about the situation surrounding college football sucks in 2020. But chill out. You aren't the only program affected by a pandemic that's affecting the entire planet, not just Nebraska football. I relate to your feelings, and I empathize with them, but nobody wants to hear it. Just suck it up and deal with it the best you can. (6) |
–
—
Arizona cuts 36 positions to reduce $30 million from the budget
From ESPN … Arizona athletics is eliminating 21 full-time positions and 15 previously frozen positions to help overcome financial difficulties caused by the coronavirus pandemic.
The cuts and reorganization planning will reduce the department's overall spending by $30 million this fiscal year and beyond. The department faces a projected $45 million revenue loss due to restrictions of fan attendance at athletic events, a reduced football schedule and uncertainty of other revenue streams.
The department also will save about $10 million in restructured debt for fiscal year 2020-21 and $8 million from a reduction in overall sport expenses.
–
—-
November 3rd
… Foe Pause … 
CBS Sports 1-127: CU opens its season ranked No. 110
From CBS Sports … As the season rolls in November, the debate for "best team in college football" will only get more intense. The College Football Playoff Selection Committee is still two weeks away from making its initial thoughts public, so until then, we have other rankings to use as the launching point for discussion. The major polls stuck with Clemson as their No. 1 after Week 9, but our voters in the CBS Sports 127 — a comprehensive ranking of every college football team playing in 2020 — have ushered a change at the top.
Alabama has jumped Clemson for the No. 1 spot after showing total domination in a 41-0 win against Mississippi State on Saturday. Clemson didn't fall far after its narrow comeback win against Boston College, checking in at No. 2 ahead of Ohio State at No. 3 and Notre Dame at No. 4. The rankings only heighten the excitement for the week ahead with Clemson traveling to Notre Dame along with Georgia and Florida, No. 5 and No. 6 in our rankings this week, set to square off in Jacksonville, Florida, on Saturday in the SEC on CBS Game of the Week.
One of the biggest results of Week 9 did lead to a shake up in the rankings with Oklahoma State dropping outside the top 10 following its first loss of the season. Texas, the winner in that Big 12 showdown, made one of the biggest jumps, moving up nearly two dozen spots after the road victory. For more on the biggest adjustments for this week, check out the Mover's Report below.
From the Pac-12 … 
No. 11 – Oregon
No. 16 – USC
No. 33 – Arizona State
No. 38 – Washington
No. 42 – Utah
No. 49 – California
No. 57 – Stanford
No. 77 – Oregon State
No. 89 – UCLA
No. 97 – Washington State
No. 107 – Arizona
No. 110 – Colorado
… Noteworthy … Only two Power Five teams are ranked lower than Colorado – No. 111 Vanderbilt (0-4, by a combined score of 153-47, or an average of 38-14) and No. 118 Kansas (0-6, by a score of 277-97, or an average of 46-16) … Colorado State (0-1, after a 38-17 loss to Fresno State) is ranked 101st … Nebraska (0-1, after a 52-17 loss to Ohio State), is ranked 68th …
–
—
Washington State to start a true freshman at quarterback this season
From ESPN … Washington State true freshman quarterback Jayden de Laura will start the Cougars' opener Saturday against Oregon State, first-year coach Nick Rolovich announced Monday.
De Laura beat out redshirt sophomore Cammon Cooper and redshirt freshman Gunner Cruz to earn the opportunity. He will be the first true freshman quarterback in school history to start an opener.
At St. Louis High in Honolulu, de Laura led the team to back-to-back state titles and undefeated seasons, throwing for 3,452 yards with 29 touchdown passes as a senior in 2019. He was the Hawaii state Gatorade Player of the Year, a three-star recruit and ESPN.com's No. 59-ranked quarterback in the country.
Before being named the head coach at WSU, Rolovich recruited de Laura to play at Hawaii.
The Cougars and Beavers kick off in Corvallis, Oregon, at 8:30 p.m. MT.
–
—–
November 2nd
… Foe Pause … 
Jon Wilner Pac-12 South predictions: Another vote for a one-win CU fall
From the San Jose Mercury News …
1. USC (5-1): Stocked with talent and experience on both sides of scrimmage, the Trojans are the clear favorite within the division and the conference. The lone break in their chain of continuity — a new defensive coordinator, Todd Orlando — should benefit a unit that has underperformed in recent years. (Full preview and game predictions.)
2. Arizona State (5-1): One of the top young quarterbacks in the conference, sophomore Jayden Daniels, will be asked to take on a greater playmaking role and requires help from an untested group of tailbacks. The defense is not only experienced but strongest where it counts most: in the secondary. (Full preview and game predictions.)
3. Utah (4-2): The two-time defending division champs will have a new quarterback (identity: not yet disclosed) and a rebuilt defense that lost six all-conference performers. The offensive line will be one of the league's best, but the Utes need a high-end tailback to replace the departed Zack Moss. (Full preview and game predictions.)
4. UCLA (3-3): Crucial third year for coach Chip Kelly, whose fate will track closely with the efficiency level reached by junior quarterback Dorian Thompson-Robinson. The depth chart has no major weaknesses but no obvious strengths, leading to another forgettable season in the middle of the division. (Full preview and game predictions.)
5. Colorado (1-5): How much tumult can a team take? The Buffaloes hired their coach (Karl Dorrell) in late February, held no spring practices and will have a new starting quarterback (Sam Noyer) for the first time since 2017. And it's not like the depth chart was oozing talent before all the 2020 chaos set in. (Full preview and game predictions.)
6. Arizona (0-6): There is more continuity in Tucson than the prediction suggests, but the defense is loaded with unknowns, the early-season schedule is unforgiving, and Kevin Sumlin's future looms over the program. If quarterback Grant Gunnell is better than we expect, the Wildcats could win two. (Full preview and game predictions.)
*** Pac-12 Championship Game
Matchup: USC vs. Cal
Winner: USC. The Trojans have the best combination of talent and experience and carry enough brand value to catch the eye of the playoff selection committee — but only if they are undefeated and dominant. Are they capable? Not in our minds. The likelihood of a wasted opportunity here or mystifying decision there is too great. They will stumble … and take the Pac-12's playoff hopes down with them.
–
—
Pac-12 Betting Lines: Three double-digit blowouts predicted 
From MadduxSports.com …
The Pac-12 … Games for Saturday, November 7th
— Arizona State at No. 20 USC … USC favored by 11.0 points … 10:00 a.m., MT, Fox
— Arizona at Utah … Utah favored by 14.0 points … 2:00 p.m., MT, ESPNU
— UCLA at Colorado … UCLA favored by 5.5 points … 5:00 p.m., MT, ESPN2
— Stanford at No. 12 Oregon … Oregon favored by 10.5 points … 5:30 p.m., MT, ABC
— Washington State at Oregon State … Washington State favored by 2.0 points … 8:30 p.m., MT, FS1
— Washington at California … California a 1.0-point favorite … 8:30 p.m., MT, ESPN
–
—–
November 1st
… Foe Pause … 
Pac-12 will open its season with two ranked teams; seven teams receiving votes
From CBS Sports … Alabama and Clemson once again appear to be on a collision course for the College Football Playoff, and perhaps another national championship. While the potential matchup is still two months away, the Crimson Tide are gaining ground on the Tigers in the latest Associated Press Top 25 poll.
Though Clemson remains the No. 1 team — as it has all season — Alabama is now just two points behind overall with 29 first-place votes (1513 points) while Clemson has 33 (1515 points). Alabama breezed past Mississippi State 41-0 on Saturday while Clemson, without Trevor Lawrence, needed a second-half shutout to get past Boston College 34-28.
Similar to the Coaches Poll, the top 10 here looks mostly similar after Week 9, with only Oklahoma State falling out after its overtime loss to Texas. The Cowboys fell eight spots to No. 14, allowing BYU to move up into the top 10 at No. 9. Cincinnati takes over at No. 6 after its blowout win over Memphis.
North Carolina, Penn State and Kansas State all fell out of the rankings this week after losses. No. 22 Texas, No. 24 Auburn and No. 25 Liberty enter the latest rankings.
Here's how the latest AP Top 25 poll looks: 
1. Clemson
2. Alabama
3. Ohio State
4. Notre Dame
5. Georgia
6. Cincinnati
7. Texas A&M
8. Florida
9. BYU
10. Wisconsin
11. MIami (FL)
12. Oregon … up two spots from last week 
13. Indiana
14. Oklahoma State
15. Coastal Carolina
16. Marshall
17. Iowa State
18. SMU
19. Oklahoma
20. USC … up one spot from last week 
21. Boise State
22. Texas
23. Michigan
24. Auburn
25. Liberty
Others receiving votes: Northwestern 106, Louisiana-Lafayette 101, North Carolina 92, Penn State 87, Tulsa 73, Army 57, Kansas State 51, West Virginia 44, Utah 44, Washington 21, Purdue 15, Virginia Tech 11, San Diego State 8, Arizona State 7, Appalachian State 6, Wake Forest 5, Michigan State 4, California 3
–
—
Bruin Report on UCLA Defense: "Bruins have been awful defensively"
From BruinReport.com … The lack of anything resembling the Oregon offense, or its production, has certainly been an eye-opener based on our expectations when Chip Kelly was hired, but if you had to pick a side of the ball that has more drastically led to the failures of the first two seasons of the Kelly era, it would be the defense.
The Bruins have been awful defensively, ranking in the bottom half of the Pac-12 and in the 80s and 90s in most advanced stats rating systems. In 2018, the issues could be explained away by youth up front and a lack of available bodies at linebacker, but 2019 was not so easily explained. UCLA was older up front, but still unable to generate much of a pass rush. Linebacker was healthier, but suddenly defensive back became a problem spot, with uniform regression among nearly every player.
In light of these facts, the Bruins made some changes defensively this offseason, with the key change being Paul Rhoads moving on to Arizona and Brian Norwood being brought in to coach the defensive backs and provide some guidance for the defense as a whole. Norwood, as we've talked about extensively this offseason, brings with him expertise in the 4-2-5 system that Navy runs, which prioritizes speed and an attacking style.
For this season, given how much UCLA has struggled on the defensive end, so much depends on the success the Bruins are able to find in their new, 4-2-5-infused system. Can UCLA suddenly morph into an attacking style defense with the same personnel who have struggled to find any defensive identity through two years? There are certainly historical comparisons — it doesn't require flipping too far into the history books to remember DeWayne Walker and the way he was able to turn Larry Kerr's terrible 2005 defense into a quite good 2006 one in a single offseason — but there are plenty of examples where it hasn't worked as well.
More than any personnel adjustments or emergences, that will be the story of this year's defense: how much will a coaching addition and a scheme change affect the overall trajectory of this defense? If something like a Walker impact can be made, pushing the Bruins into top 40 territory as a defense, that could be enough, alone, to make this a successful season, given the weakness of the Pac-12 South.
No pressure, Brian Norwood.
… Continue reading story here …
–
—–
October 31st
… Foe Pause … 
LA County: No fans in Rose Bowl/Coliseum – UCLA family members coming to Boulder 
From YahooSports.com … A joint proposal from UCLA athletic director Martin Jarmond and USC counterpart Mike Bohn to allow family members of their respective football teams to attend games at the Rose Bowl and Coliseum this season has been declined by California and Los Angeles County health officials, according to sources with knowledge of the situation who asked not to be identified because they are not allowed to speak publicly on the matter.
The officials cited rising community spread of COVID-19 as the primary factor in their decision, two people with knowledge of the situation said, even after Jarmond and Bohn laid out protocols that would have allowed them inside the massive stadiums as safely as possible. The Rose Bowl seats 80,000 and the renovated Coliseum seats 78,000.
Parents had started an online petition to be allowed to attend home games in Los Angeles County after the Pac-12 Conference had said it would not stand in the way of family members showing up amid the pandemic even as fans were barred. Now it appears those family members will be shut out, at least in Los Angeles and Pasadena.
Melva Thompson-Robinson, the mother of UCLA starting quarterback Dorian Thompson-Robinson, said she planned to attend the Bruins' opener against Colorado on Nov. 7 at Folsom Field in Boulder, Colo., where local health officials are permitting as many as 920 family members of players and staff to watch the game.
"This is huge!" Melva Thompson-Robinson said after learning she would be allowed to go to the game. "I'm so excited that I get to watch him in person. I have friends who are going to see their sons play. I just want to see him in person on the field doing his thing."
According to a person with knowledge of the protocols that will be enforced for the Colorado-UCLA game, players must provide the Boulder County health department with the names and contact information of family expected to attend in the event contact tracing becomes necessary.
Family cannot have contact with players before or after the game, only speaking with them from a distance at a designated time.
Should a UCLA player test positive on game day, a rapid PCR test would be given to confirm the positive antigen test. If the follow-up test is positive, that player as well as anyone who had been in close contact with him would be separated from the team.
–
—–