—
Colorado Daily – UCLA
—
November 7th – GameDay!
… CU in a few minutes … 
Daily Camera Keys to CU v. UCLA
From the Daily Camera …
CU keys to beating UCLA                          
Manufacture energy: Folsom Field, especially in the evening, is one of the best venues in college football. When it's full, it's tough to beat. With no fans, though, the Buffs lose that advantage and energy. There's also no pre-game run from Ralphie. The players have to take advantage of being at home and figure out a way to develop some energy.
Run the ball: CU has a stable of good running backs and an offensive line that has experience. Especially with a new starter at quarterbacks, the Buffs need their run game to lead the way in this one.
Keep DTR contained: UCLA quarterback Dorian Thompson-Robinson is a dual-threat who burned the Buffs a year ago. CU needs to get pressure on him and keep him from breaking loose in the run game.
Enjoy the moment: At one point it didn't appear this season would happen. Given the circumstances that change daily with the coronavirus, the Buffs don't know how many games they'll play. Enjoying the opportunity could allow them to play free.
–
—
Sneak Peak at Folsom: Advertising banners for CU sponsors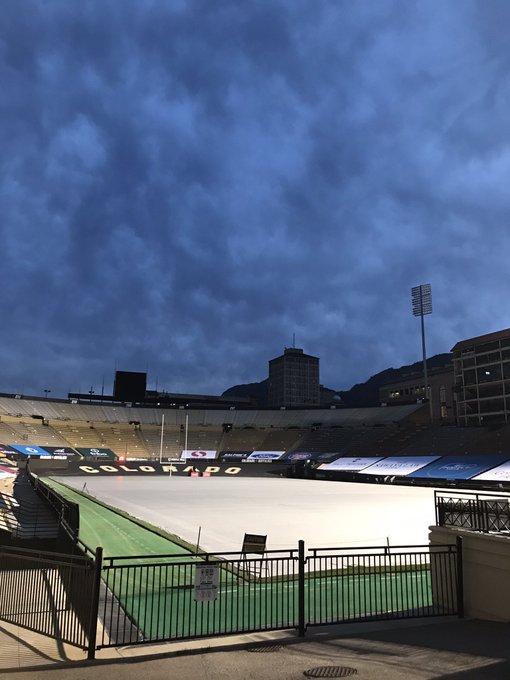 –
—–
November 6th
… CU in a few minutes … 
Athlon picks UCLA: "This one should be interesting for the fans"
From Athlon Sports …
As Pac-12 matchups go, this one should be interesting for the fans. Both squads have the potential to be explosive on offense with plenty of playmakers. How well the young lines hold up against the pressure, especially UCLA's, will be the difference. Colorado's defense has the chance to be a solid unit in 2020 if the offense can help by sustaining drives and putting points on the board.
Dorrell is an offensive sage, but will he push his agenda or set the offense up for simple success early without the benefit of spring practices? Colorado should have a chance to win this one, but UCLA has more continuity heading to Boulder.
Prediction: UCLA 31, Colorado 24
–
—
Neill Woelk's Five Keys to the UCLA game
From CUBuffs.com … Finally.
The longest offseason in Colorado football history will come to an end Saturday when Karl Dorrell's Buffaloes play host to UCLA in a 5 p.m. game at Folsom Field (ESPN2).
Not only has it been a long, long offseason — 343 days if you're counting — it has been a bizarre, unprecedented experience for everyone involved, thanks to the circumstances presented by the coronavirus pandemic.
But when Saturday's kickoff under the Flatirons finally comes, none of that will be on the minds of Dorrell or his players. Their only concern will be doing everything necessary to collect a season opening win over the Bruins and start the Dorrell Era off on the right foot.
"I'll be locked in," Dorrell promised — and you can bet his players will have the same approach.
As is always the case in a season opener, there will be plenty of unknowns for both coaching staffs. UCLA will see a Dorrell team that has two familiar coordinators, but no doubt different schemes and tendencies than the Buffs teams the Bruins have seen over the last two seasons under Chip Kelly.
The Buffs, meanwhile, must be prepared to adjust to whatever new offensive wrinkles Kelly has added — and with Kelly, that is virtually a given.
So what must the Buffs do on Saturday to get that first win under Dorrell?
Glad you asked, as we begin another season of our weekly Fast Five:
1. Get QB Sam Noyer comfortable early. Noyer may be a senior, but Saturday will be his first collegiate start, and he'll no doubt hit the field with more than a few butterflies in his belly.
Thus, offensive coordinator Darrin Chiaverini will need to get Noyer in a groove early. That could mean a short passing game, a healthy dose of a steady run game, some extra protection early — all the things that could move the sticks and give Noyer some confidence.
If the Buffs can do that and Noyer finds his comfort level early, it will be a great sign for the offense.
… Continue reading story here …
–
—–
November 5th
… CU in a few minutes …
**Video: Karl Dorrell's final press conference before the game: "I am locked in"**
Video courtesy of CUSportsNation.com …
From BuffStampede.com … It has been 17 years since Karl Dorrell began his first head coaching venture, and 13 years since his tenure at UCLA ended. Now, as Dorrell prepares to face off against his alma mater, he anticipates experience will trump emotion.
"A lot has transpired in that time," Dorrell said. "Ever since the first experience I had in the (head coaching) chair at UCLA, when I was an assistant at a number of places, I still always went about my training and development from a head coaching perspective. I still was preparing myself in game strategies, (thinking about) what decisions I would have made.
"Right now I don't have that feeling of (being) loosey goosey that you might have your first go-round. I am more locked in. I'm locked in about the process of the game and what I think we need to do for us to be successful. It is different when you are a player (compared to being) a coach. I need to focus on the keys to the game, seeing if we are executing from a schematic standpoint, paying attention to the clock, all those different things."
UCLA head coach Chip Kelly has commented that in-game adjustments will be key for the Bruins given the coaching change in Boulder. But Dorrell was not willing to concede that is an advantage for CU.
"That goes both ways," Dorrell said. "I am sure there will be what I call 'out-scouted looks' that any team would do in that first game, things that haven't been shown before, just like they don't completely know what we're all about. So, yes, there is going to be a lot of in-game adjustments being made on both sides.
"Chip Kelly is a very good offensive mind. He's one of the best in college football, so I know he'll have his plan of action and do things maybe a little bit differently than he has in the past, as well."
… Continue reading story here …
–
—
Nate Landman; Mustafa Johnson named first-team All-Pac-12; five Buffs honored
Press Release from the Pac-12 … The preseason All-Pac-12 team, as selected by the media who cover Pac-12 football, has been announced ahead of the 2020 season. Representation on the First Team was again nearly split evenly between the North Division (13) and South Division (12). USC led the way with six student-athletes among First Team selections, followed by Oregon with four and Washington State with three.
Other highlights among First Team Offense selections include:
Offensive skill positions were led by USC with QB Kedon Slovis earning First Team on 17-of-22 ballots and a pair of First Team WRs in Amon-Ra St. Brown and Tyler Vaughns.
Oregon RB CJ Verdell also appeared on First Team selections 17 times, while Utah TE Brant Kuithe led all offensive players with First Team on 19-of-22 ballots.
Washington State's Max Borghi was the only player to earn multiple nods by collecting First Team accolades at both RB and AP.
Defensive selections were anchored by Oregon DL Kayvon Thibodeaux and Washington DB Elijah Molden, who both led all honorees as First Team on 21-of-22 ballots, along with Oregon State LB Hamilcar Rashed Jr., a First Team choice on 20 ballots.
2020 PRESEASON ALL-PAC-12 CONFERENCE FOOTBALL TEAM
First Team Offense
Second Team Offense
QB
Kedon Slovis, USC
QB
Jayden Daniels, Arizona State
RB
CJ Verdell, Oregon
RB
Jermar Jefferson, Oregon State
RB
Max Borghi, Washington State
RB
Christopher Brown Jr., California
WR
Amon-Ra St. Brown, USC
WR
Frank Darby, Arizona State
WR
Tyler Vaughns, USC
WR
Johnny Johnson III, Oregon
TE
Brant Kuithe, Utah
TE
Cade Otton, Washington
C
Drew Dalman, Stanford
C
Orlando Umana, Utah
OL
Alijah Vera-Tucker, USC
OL
Jake Curhan, California
OL
Abraham Lucas, Washington State
OL
Dohnovan West, Arizona State
OL
Jaxson Kirkland, Washington
OL
Foster Sarell, Stanford
OL
Nick Ford, Utah
OL
Simi Moala, Utah
| | | | | |
| --- | --- | --- | --- | --- |
| | First Team Defense | | | Second Team Defense |
| DL | Kayvon Thibodeaux, Oregon | | DL | Mika Tafua, Utah |
| DL | Mustafa Johnson, Colorado | | DL | Thomas Booker, Stanford |
| DL | Jordon Scott, Oregon | | DL | Osa Odighizuwa, UCLA |
| DL | Jermayne Lole, Arizona State | | DL | Brett Johnson, California |
| LB | Hamilcar Rashed Jr., Oregon State | | LB | Kuony Deng, California |
| LB | Nate Landman, Colorado | | LB | Jahad Woods, Washington State |
| LB | Drake Jackson, USC | | LB | Ryan Bowman, Washington |
| DB | Elijah Molden, Washington | | DB | Jack Jones, Arizona State |
| DB | Camryn Bynum, California | | DB | Elijah Hicks, California |
| DB | Talanoa Hufanga, USC | | DB | Mykael Wright, Oregon |
| DB | Deommodore Lenoir, Oregon | | DB | Aashari Crosswell, Arizona State |
| | | | | |
| --- | --- | --- | --- | --- |
| | First Team Specialists | | | Second Team Specialists |
| PK | Blake Mazza, Washington State | | PK | Peyton Henry, Washington |
| P | Michael Turk, Arizona State | | P | Ben Griffiths, USC |
| AP | Max Borghi, Washington State | | AP | Demetric Felton, UCLA & Britain Covey, Utah (tie) |
ALL-PAC-12 HONORABLE MENTION (received votes from four or more members of the media)
RUNNING BACK: Alex Fontenot, Colorado
WIDE RECEIVER: K.D. Nixon, Colorado; Britain Covey, Utah
CENTER: Michael Saffell, California; Luke Wattenberg, Washington
OFFENSIVE LINE: Donovan Laie, Arizona; William Sherman, Colorado; Brandon Kipper, Oregon State; Sean Rhyan, UCLA; Josh Watson, Washington State
DEFENSIVE LINE: Zeandae Johnson, California; Brandon Pili, USC; Marlon Tuipulotu, USC; Viane Moala, Utah
LINEBACKER: Merlin Robertson, Arizona State; Cameron Goode, California; Isaac Slade-Matautia, Oregon; Devin Lloyd, Utah
DEFENSIVE BACK: Lorenzo Burns, Arizona; Chase Lucas, Arizona State; Olaijah Griffin, USC; Isaiah Pola-Mao, USC; Trent McDuffie, Washington
PLACE KICKER: Cristian Zendejas, Arizona State; Jet Toner, Stanford
PUNTER: Oscar Draguicevich III, Washington State
ALL-PURPOSE: Mykael Wright, Oregon; Travell Harris, Washington State
–
—–
LaVontae Shenault suspended for Game One
From the Daily Camera … CU receiver La'Vontae Shenault will not play against UCLA, as he will serve a one-game suspension after being arrested by Fort Collins police early on the morning of July 5 on charges of driving under the influence of alcohol or drugs, a license violation and driving without headlights at night.
Shenault, a redshirt freshman, has been practicing with the Buffs and will be allowed to play in the Buffs' next game, Nov. 14 at Stanford. Shenault is scheduled for a Dec. 14 disposition hearing on his case.
–
—
Despite fielding fewer stars, CU offense still looking to improve on last year's numbers
From the Daily Camera … Last year, even with Shenault and Montez leading the way, the Buffs sputtered to just 23.5 points per game – their worst average since 2012.
Offensive coordinator Darrin Chiaverini is hoping to change that this year, as the Buffs introduce new weapons at quarterback, running back and receiver.
"It comes down to execution," Chiaverini said. "You can be talented, but you've got to execute on Saturdays."
Shenault and Montez are now in the NFL and last year's leading rusher, Alex Fontenot, is out – at least for one game, if not more – with an injury, but the Buffs are hopeful they've got the talent to produce more points this season.
"I feel like we've gotten better up front," Chiaverini said. "I feel like we've got to be able to run the ball better this year, and run it on our terms, and if we can do that it's going to open up the passing game for us.
"We do have weapons I think we've done a good job recruiting. I think this year we'll start to see the kind of the fruits of our labor come to fruition on the football field. I'm excited about this group. I've recruited the majority of these offensive players and I feel like they're ready to take the next step."
So is Chiaverini. This is his fifth year in staff, but first in the sole coordinator role. He was co-coordinator from 2016-18, while calling plays in 2018. Last year, he focused on coaching receivers but was promoted when CU hired Karl Dorrell as head coach in February.
"This is the first year I feel like this is really my offense," he said. "I really feel like it's going to have a lot of my identity into it, and I'm excited about that. In the past, sharing duties or whatever it may be, I feel like I have full ownership of this thing (this year). Obviously Dorrell is an offensive guy and he's going to be watching what we're doing, but I feel good about where we're at."
… Continue reading story here …
–
—–
November 4th
… CU in a few minutes … 
DB Chris Miller; RB Jarek Broussard named to Comeback Player watch list
From CUBuffs.com … University of Colorado sophomore Jarek Broussard and junior Chris Miller have been named to the 2020 Mayo Clinic Comeback Player of the Year Award Watch List, CoSIDA announced on Wednesday in association with the Associated Press and the Fiesta Bowl Organization.
Broussard and Miller are two of 53 finalists with 44 different schools being represented.
As a redshirt freshman, Broussard injured his knee in September of 2019 and was forced to miss the entire season for the Buffs. After rehabbing his injury, Broussard has returned stronger than ever this fall and has impressed both coaches and teammates throughout camp. The Dallas, Texas native is listed on top of the depth chart at the running back position for the Buffs.
"Right now, I feel really good", said Broussard on how he feels psychically. "There wasn't much to it (rehab) except for grinding, staying focused, not getting discouraged, and having my teammates support me to help me through it."
The last time Broussard played in football game-action, he racked up 1,105 yards from scrimmage and 14 total touchdowns in his senior year of high school.
During his sophomore season, Miller played in the first four games of the season, starting two of them. His season ended against Arizona State when he suffered an injury to his knee. In the four games before being sidelined, Miller recorded 10 tackles, two pass break-ups, and his first career interception.
Miller comes back healthy for the Buffs with both a new position and number. Miller is on top of Colorado's depth chart at the STAR position (outside linebacker and safety hybrid), and will be donning the number zero.
"It feels great", said Miller on being able to play football again. "I can't wait to get back out there on game-day. Fans or no fans, I just can't wait to play."
Starting in 2018, the Mayo Clinic Comeback Player of the Year Award was given to three college football student-athletes on the field during the PlayStation® Fiesta Bowl. The distinction, recognized by sports information directors from CoSIDA, AP, and Touchdown Illustrated, is honored to student-athletes who have overcome an injury or illness in their collegiate football career.
–
—
Dorrell: "I'm excited for them. They're hungry to win"
From CUBuffs.com … Karl Dorrell's first game as CU's head coach comes against the school for which he starred as a wide receiver, then later became its head coach. In another twist, he will be on the same field where he made his head coaching debut — as UCLA's head coach in 2003, when the Bruins also kicked off their season in Boulder.
But, Dorrell said, this game is about the Buffs players, a group that has hung together throughout the obstacles presented by the pandemic.
"It all starts with the first one," he said. "We want to go out there and play well and make this a progressive season that we get better week after week after week."
When Dorrell took the job, he became CU's third head coach in as many seasons. But instead of a team worried about change and fretting over the unknown, Dorrell discovered a locker room full of players who simply wanted to become a high-level program after three consecutive 5-7 finishes.
They just needed someone they could trust who could help them get there.
"They are eager to show themselves they can compete and play well in this conference," he said. "I'm excited for them. They're hungry to win. They don't want to be mediocre anymore. They want to be successful. They want to be considered to be one of the better programs in this conference. There's plenty of motivation. These guys are eager to play and go out there and compete."
–
—–
November 3rd
… CU in a few minutes … 
**Video – Karl Dorrell's Game Week meeting with media**
From YouTube, courtesy of CUSportsNation.com …
–
—
Alex Fontenot injury update: vague (but not promising)
From Karl Dorrell's Zoom meeting with the media Tuesday morning … "(Alex Fontenot) got injured late last week and he's not going to be available to play. I'm not privy to talk about the circumstances of the level of the injury and things of that nature, but I know that he's not going to be able to play this week. He's obviously very disappointed. He was counting on himself coming back from a pretty good sophomore year and coming in and playing this year. It's unfortunate that he's dealing with an issue, but it's not surgical, which is a good thing. He's going to have to just heal up. This is a short season — no one's losing eligibility this year, so we're hoping to have him back at some point this year and if not, then we'll have him ready to go for next season."
… "back at some point this year"? With only a seven week season, it doesn't sound like we will be seeing much of Fontenot this fall …
–
—
Pac-12 in-season testing plan in place
From the Daily Camera … With the Pac-12 Conference finally ready to kick off its long-delayed 2020 football season, the league announced an updated series of testing plans ahead of this week's openers.
The Pac-12 released the in-season measures Monday afternoon,  announcing guidelines highlighted by the use of daily antigen testing, rapid PCR tests available on game days, and even an air ambulance service that will be standing by at every stadium in case of positive tests.
Per the release, the Pac-12's plan is as follows:
Daily point-of-care testing on each day of full practice, higher-risk of transmission activity, travel, and games;
Minimum once weekly PCR test (in addition to daily point-of-care testing). For football game weeks, the weekly PCR test will take place within 36 hours of game time for home team student-athletes and within 36 hours of travel departure for visiting team student-athletes;
Any positive daily point-of-care antigen test must be followed by a PCR test within 24 hours;
A third-party testing administrator will administer game day point-of-care antigen tests (and PCR tests as applicable) for each team and on-field officials;
Game day air ambulance service will be available in case any individual tests positive while traveling for competition; and
All testing protocols continue to be subject to state, local, and campus public health requirements.
The CU Buffs kick off the Karl Dorrell era on Saturday at Folsom Field (5 p.m., ESPN2). Per Boulder County Public Health guidelines, 920 fans comprised of players' family and friends will be allowed in the stadium. Four hundred of those seats are allotted for the road team, per Pac-12 guidelines.
–
—–
November 2nd 
... CU in a few minutes … 
One advantage for CU – Chip Kelly: "It's just the unknown"
From CUBuffs.com … Challenges facing a first-year head coach at just about any program are plentiful.
Colorado's Karl Dorrell no doubt fits into that category. Dorrell took over the Buffaloes in late February, then proceeded to see the coronavirus pandemic throw his first season with the Buffs into a blender. The pandemic led to the Buffs' spring session being canceled, a truncated summer schedule, and then a start-and-stop-and-start-again response from the Pac-12 when it came to the actual season.
That's not the perfect recipe for a new coach.
But new coaches to a program also have at least a little advantage in their corner. New coaches in the first game present an unknown to the opponent — and Dorrell will at least have that edge in his favor Saturday when the Buffs open their season with a 5 p.m. matchup against UCLA at Folsom Field.
"It's just the unknown," UCLA head coach Chip Kelly said Monday morning in a conference call with the media. "How much does their offense change? I know their coordinators have stayed the same, but how much does their offense and defense change and the impact schematically Karl will have in those areas. There's some unknown there."
Indeed, while Kelly is familiar with both of Colorado's coordinators — Tyson Summers on the defensive side and Darrin Chiaverini on offense — he has no idea how much Dorrell has changed the overall schemes. Kelly can go back and look at personnel from the last couple of seasons (he's 1-1 against the Buffs), but that can only reveal so much.
"You can't always rely on the film from last year," he said. "It's just one of the unknowns when you play a team that has a new coach in game one. You have to be prepared to make in-game adjustments."
There is also another unknown in the equation for Kelly, as the Buffs are also starting a new quarterback, senior Sam Noyer.
"We know he's a good athlete," Kelly said. "We have to be ready for that."
… Continue reading story here …
–
—
RB Alex Fontenot listed as injured; Jarek Broussard listed as starting running back
CU released its updated depth chart this afternoon as part of its Game Notes for the UCLA game.
The biggest surprise so far is that Alex Fontenot, the projected starter at running back, was listed on the list of injured players. On the depth chart, instead of Jaren Mangham being listed as the starter, it was sophomore Jarek Broussard, who didn't play last year.
From the Daily Camera … Now in his third year with the Buffs, Broussard has yet to play a game at CU, as he redshirted in 2018 and missed the 2019 season with a knee injury. The 5-foot-9, 185-pound sophomore from Dallas flashed skills in practice, however, that reminded running backs coach Darian Hagan of former CU star Rodney Stewart – the third-leading rusher in program history.
"Broussard has come a long way," Hagan said last week. "He's playing with a lot of confidence. He knows exactly what he's doing. And he brings a different element to the game. He's a real jitterbug. He's a guy that he can take it to the house, he can make guys miss in the open field. That's the guy that we've been missing. We've been missing a back like that."
Fontenot rushed for 874 yards and five touchdowns last season, while Jaren Mangham added 441 yards and three touchdowns. Now a sophomore, Mangham is listed second on the depth chart, with sophomore Joe Davis third and true freshmen Ashaad Clayton and Jayle Stacks fourth and fifth, respectively.
"I think I'm comfortable playing everybody and that's what everybody wants to hear," Hagan said. "They want an opportunity and I'm going to try to make sure that that happens."
—
Other noteworthy lineup notes …
— The offensive line is what has been discussed by the coaches, namely: Frank Fillip (RT), Casey Roddick (RG) Colby Pursell (C), Kary Kutsch (LG) and Will Sherman (LT);
— Daniel Arias, K.D. Nixon and Dimitri Stanley listed as the starting three wide receivers. True freshman Brendan Rice, Montana Lemonious-Craig, and Chris Carpenter all made the depth chart;
— Maurice Bell is tapped to return kicks while Stanley, with Chris Carpenter listed as No. 2, will handle punt return duties;
— The offense has three senior starters: wide receiver K.D. Nixon; left guard Kary Kutsch; and quarterback Sam Noyer … while the defense lists four senior starters: defensive tackle Mustafa Johnson; linebacker Nate Landman; linebacker Akil Jones; and safety Derrion Rakestraw;
— There is one freshman listed as starting, that being cornerback Christian Gonzalez.
–
—
CU at Stanford kickoff time set
From CUBuffs.com … The Colorado at Stanford football game on Saturday, Nov. 14, will kickoff at 1:30 p.m. MST (12:30 p.m. PST) and will be televised nationally on either ESPN2 or ESPNU (network designation to be made following this Saturday's games).
FS1 will televise Oregon State at Washington at 9:00 p.m. MST; the other three games that day are subject to a six-day selection by the Pac-12 television partners (Utah at UCLA is set for Friday, November 13th, 5:30 p.m., MT, FS1):
California at Arizona State
Oregon at Washington State
USC at Arizona
–
—
Daily Camera's Pat Rooney: CU heading for a 1-6 season 
From Pat Rooney the Daily Camera … Next week, when the Buffs finally kick off the delayed 2020 season against UCLA, Sam Noyer will be under center, given the first chance to lead an offense the Buffs hope will surprise folks during the truncated campaign.
Noyer hasn't started a game since his senior year of high school. If he struggles, it will be understandable. Yet whether he does or doesn't, Noyer will not be the reason the Buffs struggle this season. And it might be best for Buffs fans to consider 2020 as a sort of live, dress rehearsal for 2021.
Given the unique circumstances completely out of the Buffs' control, from Tucker's abrupt February departure to the coronavirus pandemic that cost the Buffs the entirety of their spring drills and made a mess of summer and fall workouts, it is difficult to see the Buffs topping the 1-6 mark this season.
For my two cents, I think CU's best opportunity to get ahead of that curve will be in the very first game, when a UCLA team that also has dealt with an abundance of local health restrictions, and which hasn't yet proven a thing under Chip Kelly, visits Folsom Field for what very well could be a win-it-ugly type battle.
Win or lose, however, and things get difficult for the Buffs from there. I'm chalking up at Stanford, home against Arizona State, and at USC into the loss column. Give the Buffs the edge at Arizona on Dec. 5, though CU's track record on the road is more than enough to give pause on that decision, before returning home to finish the scheduled portion of the slate against always-tough Utah.
… Continue reading story here …
–
—–
November 1st
… CU in a few minutes … 
Buff running backs show surprising depth – Hagan: "I'm comfortable with everyone playing"
From CUBuffs.com … Last season's Colorado Buffaloes' rushing attack consisted mainly of a steady dose of Alex Fontenot, an occasional shot of Jaren Mangham and a twist of Laviska Shenault Jr.
It won't be a surprise to see that equation change just a bit this year.
Yes, Fontenot is back. The 6-foot, 205-pound junior, who ran for 874 yards and five touchdowns last season, is a year older, wiser and more in tune with the ways of the Pac-12. Also returning is Mangham, who had 441 yards and three touchdowns last season as a true freshman.
But assistant coach Darian Hagan's running backs room also includes several other strong candidates for playing time, a group that gives the Buffs a diverse array of talents and strengths. It means that depending on the situation, Colorado could throw a mix of weapons at opponents in Karl Dorrell's first year at the Buffs' helm.
"I'm comfortable with everybody playing," Hagan said when asked about how he sees a rotation developing. "But some guy is going to be hot and you don't want to pull that guy out just to get a rotation. I would say at the max, I would say three (in a rotation) — but if we're rolling, I'm going to try to get them all in."
While Fontenot and Mangham are the most prominent returnees, another Buffs veteran, sophomore Jarek Broussard, has been a pleasant surprise in camp and will no doubt figure in the equation. Meanwhile, true freshmen Ashaad Clayton and Jayle Stacks have made their presence known, as has sophomore Joe Davis.
Broussard missed all of last season with a knee injury suffered in early September. But after a year of rehab and plenty of time in the weight room, he has inserted himself into the conversation of earning steady playing time — especially with the skill set the 5-9, 185-pounder brings to the table.
"He has come a long way," Hagan said. "He's playing with a lot of confidence, he knows exactly what he's doing and he brings a different element to the game. He's a jitterbug. He's a guy that can take it to the house, he can make guys miss in open field — that's the guy we've been missing. We've been missing a back like that. The last time we had a back like that, it was Rodney Stewart. He's comparable to Speedy. I like what he does."
… Continue reading story here …
–
—
Nate Landman: "The defense, in my opinion, has been pretty dominant this camp"
From the Daily Camera … Last season, CU's first with Tyson Summers as defensive coordinator, the inexperience on defense often showed as they gave up 31.8 points and 441.9 yards per game. Statistically, it was CU's worst year in defense since 2014.
During the final month of the 2019 season, however, CU's defense showed dramatic improvement and actually proved to be the difference in November wins against Stanford and Washington.
Although the Buffs have a new head coach in Karl Dorrell, Summers' return has provided some stability to the defense. Experience helps, too.
In addition to Landman, inside linebacker Akil Jones, outside linebacker Carson Wells, defensive linemen Mustafa Johnson, Terrance Lang and Jalen Sami, safety Derrion Rakestraw and cornerback KJ Trujillo all return as starters.
CU has high hopes for several others on defense, too, including defensive backs Chris Miller and Mark Perry.
"The defense, in my opinion, has been pretty dominant this camp," Landman said. "We come out every week and we make plays. We call them havoc plays and it's getting teams and our offense to third downs and I think we've improved that and that's our biggest thing this year.  We've gotten better since day one and keep getting better every day.
"We have a lot of young guys and a lot of old guys. I'm excited to see it all come together. I think we're gonna have a pretty good defense and keep carrying on from where we left off at the end of last year."
… Continue reading story here …
–
—–
October 30th
… CU in a few minutes … 
Noyer the starter, but Tyler Lytle will play: "I want Tyler to get some time in the games. He's deserving"
… Related … National story: "Sam Noyer named starting quarterback by CU football coach Karl Dorrell" … From ESPN
From the Daily Camera … Head coach Karl Dorrell, quarterbacks coach Danny Langsdorf and offensive coordinator Darrin Chiaverini chose Noyer over fourth-year junior Tyler Lytle.
"Very, very, very close competition, as you guys can imagine," Dorrell said after Friday's practice. "Sam got the nod, but we're really, really impressed with what Tyler has done this camp and we're going to continue to bring Tyler along. He's going to get a chance to play some."
When Noyer hits the field against UCLA, it will be his first start at quarterback since his senior year at Beaverton (Ore.) High School in 2015. He hasn't thrown a pass in a game since the 2018 finale against Utah.
"Obviously I'm excited," said Noyer, who is 21-for-41 for 179 yards and two interceptions in his career at CU. "My mindset kind of shifts towards UCLA now. We've been going in camp mode, going against our (starters) and now we're getting into scouts. My mind is shifting toward UCLA. Definitely high emotions. When I found out, I celebrated for a couple hours and then back to work."
Although the 6-foot-4, 220-pound Noyer has won the job for now, the competition appears to be going into the season. With no spring football and only three weeks of camp, coaches haven't had much time to evaluable the veteran quarterbacks and both are likely to see the field.
"That was the challenge was we had three weeks to make a decision without any spring practice … but  the season's upon us," Dorrell said. "We play in about a week's time and Sam, we felt that he just operationally is just a little bit better at this point in time, but just barely – just barely – better than what Tyler is.
"We want to get Tyler some time. We haven't determined how much that is yet. If the competition's that close then, yes, we will want to continue those guys developing and getting some game experience. I want Tyler to get some time in the games. He's deserving."
… Continue reading story here …
–
—–
October 29th
… CU in a few minutes … 
Boulder County approves CU's Game Day plans; "crowd" of 920 possible for opener
From CUBuffs.com … The University of Colorado athletic department on Thursday afternoon received approval from Boulder County Health for its football game day protocols related to COVID-19 mitigation, including a limited number of family members from both teams who will be allowed to attend CU's season opener next week.
The Buffaloes kickoff their revised 2020 schedule on Saturday, Nov. 7, against the UCLA Bruins, the game time set for 5:00 p.m. MST for a nationally televised game on ESPN2.  The protocols include a mandatory face covering requirement, physical spacing, no tailgating and the ability at Folsom Field to host up to 920 family members of CU's and UCLA's players and football staff.
In line with Pac-12 Conference guidelines, there will be no general public fan attendance.  Earlier this month, conference leaders approved the provision for guests of football players and staff provided each individual university could gain approvals from their local public health officials.  Players suiting up for both teams will each receive four complimentary tickets in line with NCAA guidelines.   The Pac-12 has mandated that 400 of the 920 seats are to be allotted to the visiting team.
The ability to host football player and staff family members for CU's remaining two home games (Nov. 21 versus Arizona State and Dec. 11 against Utah, with a possibility of a fourth on Dec. 19) will remain dependent on evolving public health conditions throughout the season, and CU will remain in close contact with local public health officials during the season.
"We are appreciative of county and state health officials for their diligence in protecting Colorado communities and for the thorough and thoughtful review of our game day plans," CU Athletic Director Rick George said.  "The health and safety of our players, coaches, staff and game attendees is our top priority, and we will take a number of precautions in our stadium to help ensure a safe game day experience."
Those allowed to attend this fall will be divided into pods of 175 or fewer once they enter the stadium.  Each pod will share designated restrooms and concessions facilities.  Face coverings will be required for all attendees at all times while in the stadium.   Tailgating either pre- or postgame will not be allowed, and game attendees will not be allowed to congregate in groups on campus before or after the game.
All game day staff will go through a health screening process prior to entering the stadium, including temperature checks and completion of a health questionnaire.
In addition, there are also several physical distancing requirements for media, both in the press box and on the sidelines, reducing the number of media who will be permitted to cover the game in-person.  All postgame press conferences will be conducted virtually for both CU and the visiting team.
With the vast majority of fans not being able to attend the games in person, they are encouraged to watch the games at home, as all will be televised either by the ESPN or FOX family of sports networks.  It is still advised to avoid gathering in groups and abide by all public health guidelines, including state of Colorado and Boulder County requirements related to size and household limits for gatherings.
Game day protocols for the men's and women's basketball seasons, which begin in late November, are still being established.
–
—–