—
Pac-12 Notes
—
September 23rd
… Foe Pause … 
Utah AD: "We've had to make some tough decisions because you can't wait for what might not happen"
From 247 Sports (Ute Zone) … It's been a week (can you believe that?) since the mayhem that ensued in the Pac-12 after the Big Ten announced that they were going to be playing football this fall. After a day of non-stop news, the Pac-12 CEO group met last Friday with the newfound hope and determination, at least for some, that a fall football season could happen. However, the group elected to give itself more time before coming to an official decision on competing this fall.
"The Pac-12 CEO Group had an informative and productive meeting earlier today," the Pac-12 said in a statement released on Twitter. "We plan to reconvene this coming Thursday, September 24 to make a decision regarding possible return to play prior to January 1. The health and safety of our student-athletes and all those connected to Pac-12 sports will continue to be our number one priority in all of our decision making."
Now, it appears the question might not be if there will be Utah and Pac-12 football this fall, but just exactly when.
As the Pac-12 CEO group prepares to meet on Thursday, rumors swirl around of a makeshift season being put together. It's widely been reported that despite the additional time the group felt it needed, the October 31 start date is still in play… As it should be… At least for those that are ready.
Sure, some schools haven't had players on campus, electing to send them home because of pandemic restrictions and that's a tough hand to be dealt. However, other schools should not have the opportunity to compete withheld from them when they aired on the side of preparation and had the fortune of providing players a safe environment to train within the program and take advantage of the 12 hour practice weeks they were allotted by the NCAA.
The pandemic has been crippling. The University of Utah decided to furlough each member of the entire athletic department at various times. The difficulty in making that kind of decision speaks to the leadership of Athletic Director Mark Harlan and everyone involved, but also the hardship the program faces. That decision came with the department facing a financial shortfall that Harlan previously estimated could range from $50-60 million, due to cancellations and postponements from the pandemic.
"We've had to make some tough decisions because you can't wait for what might not happen," Harlan previously told ESPN 700 host Bill Riley.
"Anyone who works in the department is going to be furloughed for some period of time, and that's hard," he said. "But we thought collectively as a group that if we all do this together, it would minimize. We've had to lay off some folks in terms of job eliminations and that's been really hard. It's not about the people's performance; it's just the time and the struggle that we're in. We've eliminated bonuses. We've done the things that make sense to what people would expect us to do."
… Continue reading story here …
–
—
Stewart Mandel: Are Larry Scott's days numbered?
From The Athletic … Since moving to the Bay Area in 2011, I've long been cognizant of just how unusual it is to be a college football writer in one of the most apathetic college football regions in the entire country. But it's never been more pronounced than right now, when there are no universities playing football in my entire time zone. And the way things are going, the Power 5 school in my own county (Stanford) may be one of the very last ones back.
But even though the Pac-12's dysfunction may prevent me from driving to a game before November, it leaves me with no shortage of content.
With the news that Pac-12 staff, including Larry Scott, were paid early performance bonuses ranging from thousands to millions (Larry again — stunner) of dollars shortly before layoffs and furloughs hit conference staff, coupled with a seemingly disjointed return to play, is the highest-paid Power 5 commissioner any closer to no longer being the head of the Pac-12? — Tyler A.
For all the fan frustration and "Fire Larry Scott" sentiment the past several years, his job was never really in jeopardy because he still enjoyed the support of the league's presidents. They weren't as fixated as the coaches and ADs on late kickoff times and officiating scandals. Most pertinently, in 2017, they gave him a contract extension through 2022, and they'd be on the hook for the full amount — more than $5 million a year — if terminated early. So that was never realistic.
But now, 2022 is fast approaching, the roster of Pac-12 presidents has turned over considerably in recent years, and the pandemic has everyone on heightened alert over optics. Of all the p.r. fiascos that conference has brought upon itself, this bonuses story is arguably the most galling. It's not for me to say whether Scott should have voluntarily forsaken his agreed-upon $2 million-plus bonus. But at a time when his own universities have had to lay off or furlough untold staffers (in Utah's case, the entire department), word getting out that the league paid its execs' bonuses sooner than planned, then turned around and furloughed nearly half the staff, is understandably fueling deep contempt. This one's not about football results, it's about peoples' livelihoods.
Ironically, up until recently Scott was garnering his most praise in years for his handling of the pandemic. In contrast to the Big Ten, the league had a smart, unified process. There was no uprising when the conference made the decision to postpone. And then, he announced the big "game-changing" testing deal with Quidel.
But it's since come out that the league didn't bother telling its schools that announcement was coming until hours beforehand. Coaches operating under the assumption they weren't playing until January hadn't structured workouts for an earlier return. Some might have avoided key players opting out and transferring if they knew it was a possibility.
Meanwhile, there was little-to-no proactive action by the conference to get the ball rolling on the government clearances they needed between that Sept. 3 testing news and the Big Ten's announcement last Wednesday. Now, the conference has quickly gone from unified to completely fractured over the Oct. 31/Nov. 7 start date debate, among other things.
And boy, if the Mountain West manages to lap them? … Goodness.
All of this is a long way of saying that, for the first time, I truly don't believe Scott will still be the league's commissioner come 2022. It's up to the presidents to decide whether to just ride it out until then or try to negotiate an early exit.
–
—
Opinion: College Football Playoff should expand to eight teams this season
From Arizona Sports … Sometimes, you need to make your own rules. Especially if you're a sporting empire chasing lost money inside a pandemic.
Like college football.
To combat the chaos and anarchy swallowing the sport, the College Football Playoff should announce an expanded playoff field. One-time only. While supplies last.
Eight playoff teams. One representative from each of the Power 5 conferences. One from the Independent schools and underdog conferences. Two at-large berths for teams that stay healthy enough to play eight or more games.
The monetary payout will easily double, guaranteeing a Pac-12 payday that will reach beyond its gravy-sucking pig of a commissioner. It will motivate and level the playing field for everyone. The format could grip the nation.
By trade, college football is a distinctly regional sport. It's full of differing dialects, diehards and contrasting worldviews. In 2020, the divisions are even more profound. Battle lines are drawn everywhere, from the political to the philosophical
I recently stumbled upon a viral video that spoofed the Power 5 by assigning human stereotypes to each of the conferences. The Big Ten was portrayed as a high-maintenance girlfriend who always shows up smug and late and a bit overweight. The Pac-12 was the dork boyfriend who barely knew how to grip the laces.
(Here is the YouTube "SEC Shorts" video being referenced … it's actually quite funny!) …
Imagine putting all of these biases and events spawned from a pandemic inside an eight-team playoff field.
To wit:
The SEC is often explained by its zealotry, by the parallels between football and religion, and the blade of grass that separates the two. The conference is built on communities without perspective or NFL franchises, relying on kid athletes and college teams for their self-esteem and identity. And yet the SEC has charted the strongest, smartest COVID-19 course to date.
… Continue reading story here …
–
—–
September 22nd
… Foe Pause … 
Could the Mountain West Conference be back on the field before the Pac-12?
From YahooSports.com … Mountain West Conference officials are optimistic the league will vote this week for its football programs to return to the field, sources told Yahoo Sports on Monday.
The league's athletic directors met on Monday and discussed with conference officials the final steps in returning, including a testing plan that involves frequent antigen testing. The final plan still needs to be approved by Mountain West Conference presidents, who have a scheduled meeting for Friday but could end up voting earlier, sources said.
The league is aiming to return to play on Oct. 24 and execute an eight-game league schedule that would culminate in a Mountain West Conference title game on Dec. 19.
That schedule would likely allow the Mountain West to compete for a New Year's Six Bowl, as its schedule would sync up with that of the Big Ten. It's impossible to imagine the College Football Playoff and New Year's Six bowls operating without the Big Ten, which would mean the Mountain West operating on the same timeline would enter them in the conversation.
… Continue reading story here …
–
—
Arizona loses fourth defensive starter to transfer portal
From AZDesertSwarm.com … Assuming the Pac-12 does bring back football this fall, the Arizona Wildcats are going to have yet another hole to fill in the middle of their defense.
Kylan Wilborn, a defensive end/linebacker who was heading into his senior season in 2020, announced on Twitter Monday that he is entering the NCAA transfer portal as a graduate transfer.
The 6-foot-2, 252-pound Wilborn started 26 games in three seasons with Arizona, including all 13 in 2017 when he earned Freshman All-America honors. Last season he started twice but had only seven tackles in 12 games, playing mostly on the edge. His best season came as a freshman when he tallied seven of his nine career sacks.
It was likely Wilborn would have competed for a starting job at linebacker this season, especially after fellow senior LBs Tony Fields II and Colin Schooler transferred to other schools. Fields, Schooler and safety Scottie Young Jr. all departed the program during the summer—Fields and Young ended up at West Virginia and Schooler went to Texas Tech—and in the process massively thinned out Arizona's defensive depth for an almost completely new defensive staff.
Wilborn's departure leaves Arizona with only seven scholarship linebackers, with senior Anthony Pandy, redshirt junior Jalen Harris and sophomore Derrion Clark the only ones who have appeared in more than one college game.
–
—–
September 21st 
… Foe Pause … 
Herm Edwards – Teams can be ready to go in six weeks: "We're on the same page"
From ArizonaSports.com … Arizona State football coach Herm Edwards expressed confidence in the Pac-12's fall football plan on Monday.
Edwards told Arizona Sports' Doug & Wolf on Monday that he believes the Sun Devils will be ready to go within six weeks.
"I think we're on the same page, it's just a matter of when do you want to turn it?" Edwards said. "We're on the same page, it's just that people turn it faster than others. It's all good."
Regardless of timing, Edwards is confident that ASU will be ready whenever the season kicks off.
"We're excited, the way it's moving right now, we just have to wait for the people that make those decisions to make the decisions," Edwards said. "So, I'm pretty confident eventually that we're going to play."
Edwards said the Sun Devils have been working out throughout the pandemic-related delay, but that the team needs time to install offensive and defensive schemes in addition to other, more minute aspects of pregame preparation.
"Here's the deal now. We've been working out, so it's not like we've been sitting around," Edwards said. "We've been working out for the last two months. Now we haven't worked out, as far as offense versus defense, that hasn't been a part of the picture. But we've run, we've done individual drills, we've installed things, as far as offensively and defensively.
"But we're just like everybody else. It's going to take at least five or six weeks and when they decide to do this, they know the parameters on what it's going to take, so we'll see where it's at."
–
—
Pac-12 moved up bonus payouts – a month before laying off half of its staff
From Jon Wilner at the San Jose Mercury News … The Pac-12 distributed performance bonuses to employees in its San Francisco headquarters, from commissioner Larry Scott to mid-level managers, approximately one month before half the staff was laid off or furloughed, the Hotline has learned.
Four employees from the Pac-12 Networks confirmed that their bonuses were paid this summer for performance in the 2020 fiscal year. Each requested anonymity because of the personal nature of the issue. One was willing to state the amount of the bonus: $10,000. Another indicated some bonuses covered a gamut in the four- and lower-five-figure range.
All four said they usually received bonuses in September or October for the prior fiscal year and were surprised by the expedited timeline.
Bonuses for employees on the conference side were also paid in July, which is the standard schedule for that division.
One month later, the Pac-12 laid off or furloughed 94 of its 196 employees.
"I have no idea why they changed the schedule, but I was surprised,'' one networks employee said. "I was just told, 'Heads up, bonuses will be paid at the end of the week.'''
A conference spokesperson said the payment timeline was accelerated to coincide with salary reductions for the highly-paid employees and because — with furloughs and layoffs possible if the football season was disrupted — the payments could be used to "support the retention of key employees."
The spokesperson added that salary reductions and bonuses for all employees have been designed to track with similar moves on the campuses, where the loss of athletic revenue due to the pandemic has caused a series of expense-reduction measures.
Pac-12 revenues have taken a hit across two fiscal years: In 2020, because of the cancellation of the NCAA tournament; and in 2021, because of the disrupted football season.
… Continue reading story here …
–
—
Nebraska slammed for whining over revised schedule: No pity party for Cornhuskers
From Pat Forde at  Sports Illustrated … You've really got to hand it to Nebraska for finally figuring out where it stands in the football hierarchy. The Cornhuskers are just a piece of background furniture, part of the scenery, another mediocre program out there trying to scrape its way to bowl eligibility for the first time in four years. They have been a subpar member of the Big Ten, and they've finally overcome their own institutional arrogance long enough to acknowledge it.
Athletic director Bill Moos said this to local reporters Saturday, after the conference released its third (and please, Lord, final) 2020 football schedule: "I've got a good football team with a great football coach that deserves a break here or there to start getting back on track to being a contender in the Big Ten West."
Nebraska coach Scott Frost said in August, while passive-aggressively ruminating on secession from the league for the season: "We want to play a Big Ten schedule." Now here is Moos in September, after a bloody but successful fight to have a fall season: Uh, not that Big Ten schedule.
Yep, Nebraska is looking for pity points. The lil' Cornhuskers need a break. "Deserve" a break, even. They want an easier schedule than they got because they just haven't been able to compete, and playing Ohio State and Penn State is just not fairrrrrrrr.
Never mind that Ohio State and Penn State were on Nebraska's original schedule, and the conference simply took one opponent off of each team's original nine-game league slate to come up with the current plan. The opponent the Huskers lost was Rutgers, which takes away a victory — but if Nebraska thought it was going to get that break it wants (deserves!) after five bellicose weeks that included eight players suing the league, they might be a wee bit delusional in Lincoln.
Commissioner Kevin Warren has heard enough out of Nebraska for this lifetime.
You know who else plays both Ohio State and Penn State this season? And Michigan? And in fact does it every season? Michigan State does. And Indiana. And Maryland. And Rutgers. Nebraska has spent the previous six seasons playing in the easier of the Big Ten's two divisions, the West, which has won a grand total of zero league championship games since the current alignment started in 2014.
Despite playing in the easier division, Nebraska's conference record in that time has been 23-29. Poor guys really do need — wait, deserve — a break.
… Continue reading story here …
–
—–
September 20th
… Foe Pause … 
Pac-12 could propose a staggered start to fall season
From DesertSwarm.com … If the Pac-12 votes to bring back football next week it may not include all 12 teams at the outset, or at all in 2020.
A report by Jon Wilner of the San Jose Mercury News says the league is efforting to restart on Oct. 31, but not every program may be ready at that time.
Reports Friday indicated either Halloween or Nov. 7 would be the league's start date, with the Pac-12 CEO Group set to meet again on Sept. 24 to possibly vote on a return to action. Ideally every school would start at the same time, allowing for the maximum amount of games, but that might not be possible.
Per Wilner, as few as only six teams could play that first week. That would most likely be the Arizona and Washington schools as well as Colorado and Utah, the six that haven't been restricted from practicing because of local COVID-19 health guidelines.
The Oregon schools have been given clearance by the state to get back on the field, as do the four California schools, though Wilner is reporting that "final approval" hasn't happened.
Ben Bolch of the Los Angeles Times has refuted Wilner's claim about UCLA, noting that many Bruins who were offered a two-week break from workouts after the Pac-12 initially canceled the 2020 football season in early August continued to work out.
Whether UCLA or any other school is unable to be ready to go the first week of play is just one issue that could throw a wrench into the Pac-12's return plans. The other could be Stanford's reported disinterest in playing this fall.
Per R.J. Abeytia of 247Sports, the Cardinal's issues aren't related to health and safety but instead whether it's right for football players to get preferential treatment when it comes to access to COVID-19 testing. The Pac-12 recently struck a deal with Quidel Corporation to provide rapid-testing equipment and antigen tests to all schools by the end of September, but those are only for student-athletes.
"The argument is that football players, as student-athletes, should not receive preferential treatment over other students – and in this case, very simply, be allowed on campus to participate in a university activity when other students are not," Abeytia wrote. "This was a major topic during the Pac-12 CEO Group meeting Friday, according to sources. The Pac-12 sent out a statement Friday after the meeting that they'll reconvene Thursday, Sept. 24th, 'to make a decision regarding possible return to play,' mostly because it needed to sort through the Stanford issue and others.
Abeytia's report also indicates Utah and USC have a desire to being their seasons earlier than even Oct. 31 and are exploring ways to make that possible.
… Continue reading story here …
–
—
October 31st start still in play for Pac-12: "We've got a plan, and it's a good plan"
From Jon Wilner at the San Jose Mercury News … Despite the frustration that engulfed the Pac-12 on Friday in the aftermath of the presidents delaying their vote on a return-to-play schedule, the conference is churning forward with a plan — and it includes an option for games on Oct. 31, according to a source.
Yes, the Halloween start remains very much on the table.
Even though some teams probably won't be ready.
Even though CEO approval isn't expected until Sept. 24.
"It was a tough day for some, but we're going to be fine,'' the source said of the Friday developments.
"We've got a plan, and it's a good plan."
The Hotline reported Thursday that Oct. 31 was the preferred start date for the athletic directors but that challenges existed on two fronts: Local health restrictions and the time needed for players to properly condition.
(The Pac-12's medical team believes six weeks is ideal, with two weeks of ramp-up time and four weeks of full-contact workouts.)
And the Oct. 31 start date, just one week after the Big Ten, remains in the crosshairs, according to the source.
… Continue reading story here …
–
—–
September 19th
… Foe Pause … 
The Oregonian: "Deep frustration" permeates the Pac-12 actions
From John Canzano at The Oregonian … The Pac-12 presidents and chancellors emerged from their conclave on Friday without a firm decision on the football season. The group will meet again next Thursday. And a lot of us wondered what the hold up might be.
Health restrictions?
Universities facing different landscapes?
Bad optics of appearing to follow the Big Ten?
Turns out there's another glaring cause for the delay that nobody is really talking about. It's this: Some Pac-12 Conference coaches are giving conference headquarters the middle finger.
Pac-12 coaches have watched players opt out of the season and hire agents. They've seen other players transfer. They're having to answer questions in recruiting about how serious the conference is about competing nationally. Jobs are at stake and they're watching the Pac-12 essentially act as a follower, suddenly motivated to play only after the Big Ten left them standing alone.
Jon Wilner of the San Jose Mercury News reported on social media that many in the Pac-12 wanted to start the season on Oct. 31. The conference hoped to make that splashy announcement today. But the CEO Group couldn't reach a consensus, sparking deep frustration.
Feels like Nov. 7 is the start date.
But why not sooner?
I'm left wondering which universities are pushing back the hardest. There's been a lot of discussion in the last week about how long it would take programs to be ready to play a game. Coaches, speaking without attribution, have floated a timeline of six weeks or even eight weeks in some cases. That's being met by puzzled looks from football coaches around the country who know a team can be ready much faster.
Six weeks? Two months?
That's a quasi strike, folks.
… Continue reading story here …
–
—
Pac-12 Delays decision on re-start until Thursday 
From the Daily Camera … Pac-12 commissioner Larry Scott is optimistic about the early return to football, but the conference CEO group is not quite ready to make that decision.
Scott met with the Pac-12 CEO group – school presidents and chancellors – on Friday afternoon, but there was no resolution on whether or not the conference will return to football earlier than the Jan. 1 plan announced last month.
On Friday evening, the group issued this statement:
"The Pac-12 CEO Group had an informative and productive meeting earlier today. We plan to reconvene this coming Thursday, September 24 to make a decision regarding possible return to play prior to January 1. The health and safety of our student-athletes and all those connected to Pac-12 sports will continue to be our number one priority in all of our decision making."
On Aug. 11, the Big Ten and Pac-12 both announced decisions to postpone their fall sports seasons because of the coronavirus pandemic, with the Pac-12 putting all sports competition on hold until at least Jan. 1.
Their Power 5 conference peers – ACC, Big 12 and SEC – have continued to practice and play. Teams in the ACC and Big 12 started playing last week and the SEC is set to kick off next week.
The Big Ten reversed course on Wednesday and announced a plan to open its season Oct. 23-24. At risk of being left on the sidelines alone, the Pac-12 is also considering the early return.
Scott was a guest on the Dan Patrick Show on Friday morning and said, "At this stage, it's promising" that the conference would bring football back this fall. Also part of the discussion is an earlier return for basketball after the NCAA announced teams can begin the season Nov. 25.
"We're going to take stock of where we are and see if we're comfortable with a path forward before Jan. 1, which was what our previous decision was," Scott said of Friday's meeting. "I'm not expecting a vote today; I'm not going to push for one today. We need to give folks that lead our campuses a chance to digest all of this and take into account everything going on on their campuses."
… Continue reading story here …
–
—–
September 18th
… Foe Pause … 
With late start, Pac-12 "champion" should not expect a CFP berth
From Jon Wilner at the San Jose Mercury News … Our attempt to address all angles of the Pac-12's seemingly imminent decision to play football this fall has, thus far, omitted one important piece: The College Football Playoff.
So let's dig in here and now, in advance of the presidents' meeting this afternoon. (More on that below.)
In terms of access, there is no games-played requirement. The Pac-12 champion could be selected with a 6-0 or 7-0 record.
It could, but most certainly won't.
If the conference winner plays three or four fewer games than the champions of the ACC, Big 12 and SEC — and perhaps even the best Group of Five team — it won't be selected.
In that instance, the committee could point to the lack of data points (i.e., an incomplete resume) for the Pac-12 champ. But the backdrop would be one of perceived fairness: The conferences that didn't postpone will have the advantage.
And were the Pac-12 and Big Ten winners to duel for the final berth, the latter conference's earlier restart — by at least one and perhaps two weeks — would undoubtedly sway the committee.
The Pac-12's best chance for a playoff berth is disruption elsewhere: The other Power Fives cancel or postpone enough games that the numbers come into alignment. That would balance the resumes and possibly force the CFP to push its calendar back into late January, allowing the Pac-12 to add games.
So from a competitive perspective, the CFP is extremely unlikely for the Pac-12. The presidents assuredly realized that when they voted in August and obviously didn't care.
(With health and safety as the priority, they shouldn't have cared.)
The financial situation appears more encouraging for the Pac-12.
The Hotline is aware of nothing in the contracts that would prevent the conference from collecting its full media-rights share from the CFP's agreement with ESPN.
This isn't a Rose Bowl year. The Granddaddy is scheduled to host a semifinal, so the Pac-12 champion, if not in the playoff, would be sent to the Fiesta or Peach bowls.
That changes the total postseason revenue for the conference, from $115 million to approximately $85 million.
We won't get into those weeds — here's some background, if you're interested — because there is another piece to this: Even the CFP doesn't know the size of the 2020-21 revenue pie.
Bill Hancock, executive director of the CFP, told ESPN's Heather Dinich last week that the situation, like everything else about the season, is fluid:
"The revenue distribution for this year's games has not been finalized. It will depend on several factors, including the stadium capacities. We don't know yet."
Bottom line on the end game: Pac-12 fans and athletic departments should presume 1) no playoff berth 2) a full share of the revenue pie and 3) a potentially smaller pie. — Jon Wilner
–
—
Wilner on what to expect from Friday's Pac-12 Presidents' meeting
… Related … "Amid 'stunning momentum' for Pac-12, here's what's left to solve" … from 247 Sports
… Related … "Larry Scott says late October Pac-12 start is best-case scenario" … from DuckTerritory.com
Tweet from Jon Wilner at the San Jose Mercury News … Were I a better man, and I am, here's my 3-item parlay for #Pac12 CEOs meeting Friday:
– suspension of competition lifted for fall & winter sports

– ramp-up to practice approved on team basis in conjunction w local health

– start dates and skeds coming within one week
… Stay tuned … 
–
—–
September 17th
… Foe Pause … 
Wilner: Pac-12 target date set – first games on October 31st
From the San Jose Mercury News … Pac-12 athletic directors are targeting Oct. 31 as the start of the football season, pending approval from the presidents and subject to the easing of local health restrictions, according to conference sources.
"It might be a challenge, but many of us would like to play then," said a source familiar with the decision-making.
"We think it's possible."
That date would place the conference one week behind the Big Ten but give the Pac-12 champion eight total games and possibly open a path to be considered for the College Football Playoff.
There are three obstacles to the season beginning on Halloween, sources said:
— Navigating the last batch of local health restrictions
— Gaining consensus on the training camp schedule
— Approval from the CEOs
The presidents and chancellors are gathering Friday for a meeting that was scheduled prior to the momentous developments Wednesday.
Basketball was the original focal point, but the football restart will be discussed in depth with a possible vote on a date to begin the season.
Once that date is set — if a date is set — the training camp calendar will be established.
"They have to designate that they're going to have a season and pick a start date before everything else can be formalized," a source said.
The conference medical advisors believe players need six weeks of preparation, with a two-week ramp period followed by four weeks of full-contact training camp and practice.
There is some discussion within the conference about shortening the period of preparation to five weeks.
However, several sources expect the presidents to lean on the medical advisors for guidance, pointing to a total of six weeks.
… Continue reading story here …
–
—
Oregonian: Pac-12 acting "with the urgency of a slug" is inexcusable
From The Oregonian … The Pac-12 acted with the urgency of a slug in the last couple of weeks.
Maybe because it's being led by one.
The Governors in California and Oregon took turns throwing pinches of salt on conference commissioner Larry Scott on Wednesday. Gov. Gavin Newsom in California shot down Scott and said he wasn't standing in the way of the resumption of Pac-12 football and called any claim otherwise, "a misrepresentation of the facts."
Later, Charles Boyle, a spokesperson in Oregon for Gov. Kate Brown let loose: "Let me stress that, up to this point, we have received no written operating procedures for approval from the Pac-12 for the upcoming season under the new guidance, and we have no details from the conference about their new rapid testing proposal. Until we have those details, we can't move forward in the process."
There apparently wasn't a pressing desire to play football until the Pac-12 realized it had been left alone by the Big Ten. But I'm left wondering why the Pac-12 made such a big splash about rapid-results testing a couple of weeks ago, then followed up by taking a nap.
Scott called the partnership with Quidel a "game changer" on Sept. 3. He indicated that the conference suddenly had the ability to conduct daily rapid testing. It was cost effective, too. Conference coaches immediately began speculating that they might test athletes prior to morning meetings, then have a result before the meeting broke. It was all exciting stuff.
The breakthrough should have logically been followed by immediate written requests in Oregon and California to clear the deck for a possible return to play. After all, the Pac-12 athletic departments have essentially spent the last six months in furlough and layoff hell. Anyone listening knew that without football the Pac-12 athletic departments were about to land $60 million short.
… Continue reading story here …
–
—
USC/UCLA receive county health official clearance to resume practicing
From the San Jose Mercury News … An unprecedented situation called for an unusual maneuver.
The athletic directors at USC and UCLA joined forces and held a joint Zoom call with Los Angeles County health officials Wednesday evening to clear a path for the football teams to begin practicing, according to sources familiar with the discussions.
And it worked.
"It was encouraging," one source said.
So encouraging that the teams are preparing to conduct full-squad practices once Pac-12 presidents approve that step, a move that could come as soon as Friday.
The development — in which USC's Mike Bohn and UCLA's Martin Jarmond banded together to gain clarity from health authorities — is the latest significant development in the Pac-12's collective push to return to play.
Earlier Wednesday, California Governor Gavin Newsom lifted the state health restrictions that had prevented the four California schools from conducting traditional practices. For instance: cohorts of no more than 12 players.
Newsom's move allows the schools to deal directly with local authorities on safety protocols.
(Oregon's Kate Brown did the same for Oregon and Oregon State.)
Sources said the L.A. County officials indicated they would not stand in the way of the Bruins and Trojans practicing in 11-on-11 fashion with full contact.
The Rams and Chargers, based just a few miles from USC's campus, have been practicing for weeks.
But freedom for the California Four isn't yet complete. Stanford and Cal still must work with their local officials — Santa Clara County and the City of Berkeley — to receive clearance.
The development in Los Angeles County could help facilitate the lifting of restrictions in the Bay Area, given that Covid-19 is more prevalent in Southern California.
The Pac-12 presidents will meet Friday and could approve a return-to-play process, either by formal vote or general consensus.
… Continue reading story here …
–
—
Jon Wilner: With exemptions, Pac-12 could restart in late October
From the San Jose Mercury News … Pac-12 football took a major step toward returning to play Wednesday as the governors of Oregon and California lifted the state restrictions preventing half the conference from conducting normal practices.
If all goes well, the conference could restart its football season in late October or early November, bringing it into general alignment with the Big Ten, ACC, SEC and Big 12 during the season's finishing stretch.
The next step for the Pac-12 teams in California and Oregon — and it's believed to be manageable — is coordinating with their local health officials on safety protocols for practice and competition.
Two counties in California (Santa Clara and Los Angeles) that are home to three of the Pac-12 teams have already signed off on allowing the NFL franchises within their jurisdictions to practice and play.
In addition, clearance from governors Gavin Newsom of California and Kate Brown of Oregon should facilitate the local-level process by allowing authorities to focus on protocols that would be specific to the football teams and not tied to broader guidelines for recreational and athletic activities within their counties.
Essentially, the six teams have been granted exemptions from on high.
"The Pac-12 welcomes today's statements … that state health officials will allow for contact practice and return to competition and that there are no state restrictions on our ability to play sports in light of our adherence to strict health and safety protocols and stringent testing requirements," the conference said Wednesday afternoon.
"Our California and Oregon universities will now each individually reach out to their relevant county public health officials to achieve clarification on what is required to receive the same clearance to resume contact practice and competition."
… Continue reading story here …
–
—–
September 16th
… Foe Pause … 
A summary of a wild Wednesday: "Punch line or not; Pac-12 made progress"
From The Athletic … Though it will be remembered primarily for a confounding public statement made by California's governor and another news cycle spent as college football's punch line, it appears Wednesday will end with the Pac-12 significantly closer to a return to football.
In a late-afternoon statement, conference commissioner Larry Scott said the Pac-12 welcomes the news that "state public health officials will allow for contact practice and return to competition and that there are no state restrictions on our ability to play sports" so long as they adhere to stringent safety and testing protocols related to COVID-19. The next step, he said, is for the California and Oregon schools — those were the two states in question — to "immediately" seek similar clearance at the county level.
In conjunction with the league's partnership with Quidel Corporation to conduct daily, rapid-result testing — with that technology due on campuses by the end of September — securing local clearances to practice and play games would seemingly clear the final remaining hurdle before the Pac-12 CEO Group could approve a return to play. The CEOs are scheduled to meet Friday to discuss the next steps for football and basketball, a source confirmed to The Athletic, though the meeting had been scheduled prior to Wednesday's developments. With a testing partnership in place and state restrictions apparently no longer a concern, it seems county clearance is all that stands in the way of the Pac-12 playing football games sooner than it likely fathomed on Wednesday morning.
When the day began — not long before the Big Ten announced its plan to return to competition by the weekend of Oct. 23-24 — the Pac-12 still believed state guidelines in Oregon and California prevented teams in those states from holding practices. Scott said as much in his first statement of the day, released shortly after the Big Ten's announcement.
But when a reporter asked California Gov. Gavin Newsom about it at his Wednesday press conference, Newsom insisted state guidelines did not prohibit the Pac-12 from returning to competition — an assertion at odds not only with Scott's messaging in recent weeks but with the language in California's own guidance for the return of college athletics.
The passage in question concerns cohorts and physical distancing. It's on page 31 of the California Department of Public Health's COVID-19 guidance for institutions of higher education and dictates that practices or workouts must happen only with cohorts of six to 12 people, which seemingly precludes any kind of meaningful or productive football practice. Newsom strangely acknowledged the cohort language while still maintaining "nothing in the state guidelines deny the ability for the Pac-12 to resume."
(In perhaps the most comical turn of the Pac-12's return-to-play saga, an unnamed California state health official actually made a now-moot suggestion to Jon Wilner of the Bay Area News Group that teams could practice 5-on-5, or 11-on-air, or use virtual reality. Seriously.)
Navigating around and through the contradictory nature of Newsom's statement, there was some encouraging news: The governor confirmed he had spoken with Scott earlier in the day and expressed a willingness to engage the Pac-12 in discussions about sorting out the cohort problem. The Pac-12's most recent statement suggests that issue has been resolved, at least to the degree that Scott now feels comfortable setting his sights on county ordinances. In Oregon, a spokesperson for Gov. Kate Brown told reporters earlier Wednesday the state would grant an exemption to Oregon and Oregon State from its guidance preventing college teams from practicing and competing, just as it has for professional teams in that state.
It's unclear if any kind of vote is expected from the Pac-12 presidents Friday, but the league is unquestionably closer to a return than it was even 12 hours ago, and, barring any hang-ups with new testing protocols or county clearances, there is now little reason to believe the conference won't be playing football come November.
Punch line or not, that's progress.
–
—
Pac-12 commissioner Larry Scott issues a statement: Pleased governors allowing for games
Statement from the Pac-12 … Our California and Oregon universities will now each individually and immediately reach out to their relevant county public health officials to seek clarification on what is required to achieve the same clearance to resume contact practice and competition …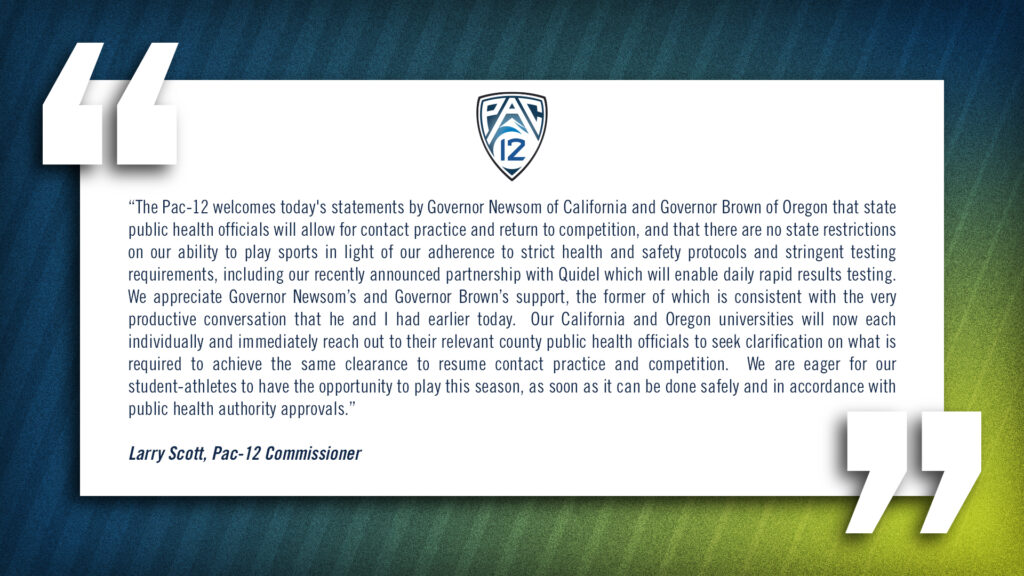 –
—
Mountain West releases a statement about return to play
From FootballScoop.com … Following the Big Ten's return to play announcement, Mountain West Commissioner Craig Thompson released a statement.
The conference is "working daily on solutions" to bring back football "at the earliest possible opportunity."
Full statement is below:
"Multiple subgroups within the Conference are working daily on solutions to the existing challenges in order to facilitate a return to play for Mountain West football, and other Conference sport programs, at the earliest possible opportunity," Thompson said in the statement. "This includes finalizing a plan for frequent, rapid response testing and continuing to monitor the status of public health directives in our MW states and communities."
Air Force has been granted an exception in order to compete against Navy for the Commander-in- Chief's trophy on October 3rd.
–
—
USC and Oregon players to governors: "We want to play"
From Trojan Sports … As the Big Ten moves closer to announcing a return to football, per national reports, which would leave the Pac-12 as the only Power 5 conference without a start plan for a fall football season, USC's players posted an open letter to California Gov. Gavin Newsom with the message: "Please let us play. We want a chance."
Junior wide receiver Amon-Ra St. Brown posted the open letter on Twitter at 3 p.m. PT Tuesday, and teammates and Trojans coaches joined in the chorus.
"We believe players in the Pac-12 want to play football as soon as possible," the letter reads. "The current reality is that there are too many restrictions imposed by state and local public health officials in California that prevent us from resuming practices and competitions. … From the onset of this pandemic, the Pac-12 has rightfully and responsibly maintained that their decisions would be based on science, and it now appears that science and technology have turned in favor of playing."
The letter cites the Pac-12's recent partnership with Quidel for rapid-results daily antigen testing that in theory should prevent any infected players from reaching the practice or game field, thus giving the conference a great degree of confidence in negating any potential spread of COVID-19 through practice or game contact. That partnership was announced on Sept. 8 with schools expected to receive the new testing equipment by the end of the month.
But half of the conference's schools — those in California and Oregon — still do not have clearance from state and local public health authorities to have athletes return to contact practices. The conference's teams are currently allowed 12 hours a week to be around the coaches, between strength training and individual field work.
… Continue reading story here …
–
From Duck Territory.com … Although the Big Ten isn't officially back on the schedule for this fall, the Pac-12 players would not like to be left out as the only Power Five conference not player and are using their voices to look for a path to playing in 2020.
During a press conference announcing rapid testing in the Pac-12 conference on September 3rd, Pac-12 conference commissioner Larry Scott told the media that the six conference programs in California and Oregon are not currently allowed to hold contact practices, a major hurdle from the state health authorities that would need to be cleared before resuming the season.
The push from Pac-12 players was started by the USC football team issuing a letter to California Governor Gavin Newsom earlier on Tuesday afternoon. California quarterback Chase Garbers then added his voice to the conversation.
Since then, a number of Oregon football players, coaches, and staff members have taken to twitter to issue their own statements on asking the Pac-12 resuming activities and open the dialogue to resuming practices in hopes for a fall 2020 season.
Oregon redshirt sophomore quarterback Tyler Shough posted a statement addressed to Oregon Governor Kate Brown. Shough is the expected starter for the Ducks in 2020.
"Dear Governor Kate Brown,
I ask for you to consider the many athletes and coaches who want and need to play. The PAC 12's partnership with the Quidel Corporation for rapid testing gives us the assurance that several players were asking for. With frustration, we have watched other conferences and teams play, knowing our medical standards are as good or better than theirs. I know we cannot operate in a bubble and nothing is guaranteed. We simply want answers, clarity, and the opportunity to OPT IN to play. We know our health and safety is your priority and respect your decisions thus far. However, with new rapid testing, your high standards for our safety, and Oregon's medical protocol; we believe it is safe to play. #LetUsPlay"
… Continue reading story here …
–
—
Statement from Pac-12 Commissioner Larry Scott 
… Still a no go for the Pac-12. Strange how professional teams in California can practice and play … 

–
**It's happening – Big Ten to return to play October 24th**
From CBS Sports … The Big Ten presidents and chancellors have voted to play football in 2020, sources told CBS Sports' Dennis Dodd. The conference will begin its season the weekend of Oct. 24 and feature daily, rapid testing as a focal point of the plan. Additionally, the Big Ten is expected to unveil new information on myocarditis screening and the league can safely test for myocarditis in the wake of any positive tests.
Both of those concerns were major points in the Big Ten's original decision to cancel football for the fall. An announcement from the league is "imminent" and could come as soon as Wednesday morning.
Sources told CBS Sports that the league will play eight games in eight weeks.
On Tuesday, Nebraska president Ted Carter was caught during a hot mic moment saying that a vote by the Big Ten was going to come during the evening. Cater later said his comments were taken out of context.
University of Wisconsin chancellor Rebecca Blank added on Tuesday that "we will try to plan a delayed season" once previous concerns have been addressed. The conference initially canceled football for 2020 due to questions about COVID-19 testing and tracing, along with other longer-term heart issues.
… The revote is a result of the considerable backlash for the Big Ten's initial decision, which went 11-3 with only Ohio State, Nebraska and Iowa electing to play football. Most notably, the conference and commissioner Kevin Warren received pushback for their muddled message and inability to get on the same page from the member presidents on down to the coaches and players. The Big Ten has since fought a multi-front PR battle as it received pressure from players, coaches, parents, and even President Donald Trump. In an open letter eight days after canceling football, Warren said that the Big Ten's decision would not be revisited.
That obviously changed. To reverse the vote, the league needs nine of 14 votes, meaning six presidents or chancellors who previously voted to cancel football have to change course. Still, there remain numerous roadblocks for an actual return to football. Wisconsin football and hockey, for example, paused for two weeks after a rash of COVID positives. Meanwhile, games across the country continue to be postponed left and right. Virginia-Virginia Tech, Houston-Memphis, Army-BYU and SMU-TCU are just some of the games that will have to either find a new date or be canceled altogether.
–
**Related** … Big Ten press release … 
From the Big Ten … The Big Ten Council of Presidents and Chancellors (COP/C) adopted significant medical protocols including daily antigen testing, enhanced cardiac screening and an enhanced data-driven approach when making decisions about practice/competition. The COP/C voted unanimously to resume the football season starting the weekend of October 23-24, 2020. The decision was based on information presented by the Big Ten Return to Competition Task Force, a working group that was established by the COP/C and Commissioner Kevin Warren to ensure a collaborative and transparent process.
The Big Ten will require student-athletes, coaches, trainers and other individuals that are on the field for all practices and games to undergo daily antigen testing. Test results must be completed and recorded prior to each practice or game. Student-athletes who test positive for the coronavirus through point of contact (POC) daily testing would require a polymerase chain reaction (PCR) test to confirm the result of the POC test.
"Everyone associated with the Big Ten should be very proud of the groundbreaking steps that are now being taken to better protect the health and safety of the student-athletes and surrounding communities," said Dr. Jim Borchers, Head Team Physician, The Ohio State University and co-chair of the Return to Competition Task Force medical subcommittee.
"The data we are going to collect from testing and the cardiac registry will provide major contributions for all 14 Big Ten institutions as they study COVID-19 and attempt to mitigate the spread of the disease among wider communities."
Each institution will designate a Chief Infection Officer (CInO) who will oversee the collection and reporting of data for the Big Ten Conference. Team test positivity rate and population positivity rate thresholds will be used to determine recommendations for continuing practice and competition.
All COVID-19 positive student-athletes will have to undergo comprehensive cardiac testing to include labs and biomarkers, ECG, Echocardiogram and a Cardiac MRI. Following cardiac evaluation, student-athletes must receive clearance from a cardiologist designated by the university for the primary purpose of cardiac clearance for COVID-19 positive student-athletes. The earliest a student-athlete can return to game competition is 21 days following a COVID-19 positive diagnosis.
In addition to the medical protocols approved, the 14 Big Ten institutions will establish a cardiac registry in an effort to examine the effects on COVID-19 positive student-athletes. The registry and associated data will attempt to answer many of the unknowns regarding the cardiac manifestations in COVID-19 positive elite athletes.
"From the onset of the pandemic, our highest priority has been the health and the safety of our students.  The new medical protocols and standards put into place by the Big Ten Return To Competition Task Force were pivotal in the decision to move forward with sports in the conference," said Morton Schapiro, Chair of the Big Ten Council of Presidents/Chancellors and Northwestern University President, and Chair of the Return to Competition Task Force Steering Committee. "We appreciate the conference's dedication to developing the necessary safety procedures for our students and the communities that embrace them."
"Our focus with the Task Force over the last six weeks was to ensure the health and safety of our student-athletes. Our goal has always been to return to competition so all student-athletes can realize their dream of competing in the sports they love," said Big Ten Commissioner Kevin Warren. "We are incredibly grateful for the collaborative work that our Return to Competition Task Force have accomplished to ensure the health, safety and wellness of student-athletes, coaches and administrators."
The Big Ten Conference will use data provided by each Chief Infection Officer (CInO) to make decisions about the continuation of practice and competition, as determined by team positivity rate and population positivity rate, based on a seven-day rolling average:
Team positivity rate (number of positive tests divided by total number of tests administered):

Green 0-2%
Orange 2-5%
Red >5%

Population positivity rate (number of positive individuals divided by total population at risk):

Green 0-3.5%
Orange 3.5-7.5%
Red >7.5%
Decisions to alter or halt practice and competition will be based on the following scenarios:
Green/Green and Green/Orange: Team continues with normal practice and competition.
Orange/Orange and Orange/Red: Team must proceed with caution and enhance COVID-19 prevention (alter practice and meeting schedule, consider viability of continuing with scheduled competition).
Red/Red: Team must stop regular practice and competition for a minimum of seven days and reassess metrics until improved.
The daily testing will begin by September 30, 2020.
Eventually all Big Ten sports will require testing protocols before they can resume competition. Updates regarding fall sports other than football, as well as winter sports that begin in the fall including men's and women's basketball, men's ice hockey, men's and women's swimming and diving, and wrestling, will be announced shortly.
—–
September 15th
… Foe Pause … 
Report: Big Ten schedule (Oct. 17th – Dec. 19th) in place – but not yet approved
From the Detroit News … They have a schedule.
Now, will they actually have a season?
The Big Ten has approved the framework for an eight-game, conference-only football schedule, ideally starting the weekend of Oct. 17 but possibly Oct. 24, even as one chancellor earlier Tuesday poured cold water on the idea of reinstating fall sports.
A source close to the situation, who asked to remain anonymous because they aren't authorized to speak publicly about the conference's plans, told The News about the eight-game plan, which, if started Oct. 17 or 24, would allow the Big Ten time to be eligible for the College Football Playoff.
The Big Ten Championship game would be Dec. 19; the College Football Playoff committee announces its four-team field the following day.
The scheduling revelation came the same day a pair of Big Ten executives gave wildly different perspectives of where the conference stands in its deliberations over whether to reverse its Aug. 11 decision to postpone fall sports.
Wisconsin chancellor Rebecca Blank, speaking in front of a U.S. Senate committee, said the Big Ten continues to wait on sufficient answers to medical concerns before making any announcement on a 2020 season — after Nebraska president Ted Carter, caught speaking on a hot mic, teased a Tuesday night announcement that never came.
Blank, specifically, cited two areas of concern when the conference initially postponed Aug. 11: Testing and contact tracing, and myocarditis or heart complications.
"Until we have answers to that, we will keep our season postponed," Blank told the committee of Health, Education, Labor and Pensions. "Once we have answers to that, and to some of those issues and things, that we have a way to deal with them effectively, we will try to plan a delayed season.
"When such a decision happens, your first question should be, 'What's changed?' And hopefully we will have answers to exactly the issues I just raised."
… Sen. Tim Kaine, a Democrat from Virginia, raised the Big Ten issues, in relation to the ACC, which is playing its season despite multiple early postponements because of COVID-19 outbreaks. More than a dozen games already have been postponed, including the biggest rivalry in Kaine's home state, Virginia-Virginia Tech.
He asked Blank if there would be a Big Ten vote this week, and while she wouldn't directly answer that question, in her response Blank did become the third Big Ten leader to suggest there was no vote the first time around, despite the conference saying in a Nebraska district court that there was an 11-3 vote to postpone.
"Decisions within the Big Ten are largely majority-based decisions," Blank said. "But I'll be honest, we almost always decide everything by consensus.
"We very rarely take votes."
Previously, presidents at Michigan State and Minnesota have suggested there was no technical vote the first time around, leading eight Nebraska football players to sue, seeking transparency from the conference in its decision-making process. Since, attorneys generals in Ohio and Nebraska have threatened litigation against the Big Ten.
–
—
Big Ten announcement on returning to football expected tonight 
From ESPN … Two days after Big Ten presidents and chancellors met to review information about a possible fall football season, University of Nebraska system president Ted Carter was caught on a hot microphone saying that an announcement will come later Tuesday.
Carter was speaking to Bob Hinson, director of the National Strategic Research Institute, before a news conference Tuesday in Lincoln, Nebraska.
"We're getting ready to announce the Huskers and Big Ten football tonight," Carter told Hinson, on a video posted by KETV television in Omaha.
"Oh, really?" Hinson replied. "I heard that that was happening. There's a lot of anticipation about that. Good for you. Maybe that will get off your plate."
Answered Carter: "Well, it never will, but it's a good move in the right direction."
The Big Ten could not immediately confirm an announcement would come later Tuesday.
The league's entire council of presidents and chancellors met for several hours Sunday afternoon with members of the return to competition task force, who reviewed the latest medical information about a safe resumption of play during the coronavirus pandemic, as well as plans for scheduling and television. The medical subcommittee of the task force also met Saturday with eight presidents or chancellors, including Ronnie Green, chancellor of the University of Nebraska-Lincoln.
Sunday's meeting did not result in a vote on whether to begin the fall football season.
… Continue reading story here …
–
—
Report: Clay Helton to be retained by USC until at least 2021 "unless it really gets ugly"
From USCFootball.com … ESPN college football insider Adam Rittenberg released a revised coaching hot seat on Monday and reported through sources that USC is expected to retain embattled head coach Clay Helton through 2021. Rittenberg's list took into account the fall out of the ongoing COVID-19 pandemic and coming budget issues.
"But the carousel will be limited, perhaps dramatically, by the coronavirus pandemic. College athletic departments are facing eight- and possibly nine-figure budget deficits. Some conferences with coaches on thin ice (hello, Pac-12) might not kick off their seasons until after the typical firing/hiring period in December," wrote Rittenbug. "Schedules have been modified and reduced, changing the normal criteria for evaluating embattled coaches."
The report, which is exclusive content, said things would only change if the season got incredibly dire under Helton.
"[Helton will be retained] unless he loses every game and it's ugly," Rittenberg reported via sources. 
The cancellation of the 2020 fall season is a favorable development for the embattled head coach, no longer facing annual national title contender Alabama and Notre Dame. Helton was set to be on one of the hottest coaching seats in the country going after a 5-7 campaign in 2018 and an 8-5 season and second place finish in the Pac-12 South last season.
USC's new athletic director Mike Bohn made the controversial decision in early December to retain Helton, but it came with changes. The Trojans parted ways with six coaches, including defensive coordinator Clancy Pendergast and special teams coordinator John Baxter. USC filled its staff with former Texas defensive coordinator Todd Orlando, safeties coach Craig Naivar (Texas), defensive line coach Vic So'oto (Virginia), special teams coordinator Sean Snyder (Kansas State), tight ends coach John David Baker and cornerbacks coach Donte Williams (Oregon). Williams was a significant addition as the Pac-12 Recruiter of the Year in 2019. Bohn and Co. have also poured more resources into the program with support staff hires.
–
—–
September 14th
… Foe Pause … 
ASU's Herm Edwards "I'm fine because we've got hope . We're going to play eventually"
From 247 Sports … Arizona State head coach Herm Edwards expressed hopefulness that Pac-12 football could begin sometime in the next several months, perhaps before the calendar flips to 2021, during his weekly radio appearance on Arizona Sports 98.7's Doug & Wolf Show on Monday morning.
"We had a meeting with the Pac-12 coaches last week and things sound a whole lot better for us as a conference," Edwards said. "Maybe it's time to get started, maybe late December or January to play a short schedule. It sounded pretty optimistic so that's a good thing."
The Pac-12 CEO group voted unanimously on Aug. 11 to delay all athletic competition until Jan. 1, 2021, citing concern for the long-term health effects of COVID-19 and myocarditis, an inflammation of the heart muscle usually caused by a viral infection.
While that remains a paramount concern, Edwards said a breakthrough in testing for COVID-19 could be the factor that brings Pac-12 football back in January or sooner. On Sept. 3, the Pac-12 officially announced a partnership with the Quidel Corporation that will allow the conference to get large quantities of rapid-result tests for the COVID-19 virus.
"We're going to restart when the doctors say we can restart," Edwards said. "I'm not a physician so I'm not even going to get into that argument. I'll leave that up to them. They made a decision along with our presidents and it was a 12-0 vote. We know as coaches in the conference that it's all going to depend on what the doctors say. I think with the new testing now that's available to us — 15-minute turnaround — that's going to help us tremendously."
… Barring something unforeseen, Edwards said his team will continue to prepare for the 2020 season. He looks forward to the chance to play it.
"I'm fine because we've got hope," Edwards said. "We're going to play eventually."
… Continue reading story here …
–
—
Report: Big Ten targeting October 17th for return date
From the USA Today … For the first time since the Big Ten shut down all fall sports on Aug. 11, people familiar with the decision have transitioned from hopeful to confident the league's football teams will play in 2020.
Those people told the Milwaukee Journal Sentinel they expect the Big Ten's Council of Presidents and Chancellors will vote to start the season, with the target date Oct. 17.
The Council of Presidents and Chancellors voted, 11-3, last month to shut down all Big Ten fall sports because of concerns over the coronavirus pandemic.
Ohio State, Nebraska and Iowa were the three schools that voted to play.
Nine votes will be needed to reverse the original decision, and Wisconsin is expected to vote yes this time.
The people who spoke on the condition of anonymity reiterated that reliable, rapid testing has played a critical role and helped turn the tide in the favor of trying to play this year.
Wisconsin athletic director Barry Alvarez has consistently talked about the importance of such tests, beginning with a Zoom session on Aug. 11.
The Big Ten's medical subcommittee on Saturday made a formal presentation to the league's presidential steering committee, which features presidents/chancellors from eight schools.
The 14-member Council of Presidents and Chancellors is scheduled to briefed Sunday on the medical updates.
The council could approve the plan Sunday or Monday.
An Oct. 17 start date would be critical for Wisonsin because Alvarez, the chairperson of the Big Ten's return to competition task force, announced Wednesday that the football and men's hockey workouts were being shut down for two weeks.
… Continue reading story here …
–
—–
September 13th 
… Foe Pause … 
Oregon athletics: Even with 8-game season and 25% attendance – $51 million in losses
From The Oregonian … Oregon athletics is budgeting for an 8-game spring football season, Pac-12 Championship Game and no bowl games and a conference-only basketball season among its four preliminary scenarios under which UO will lose $56-81 million in 2020-21.
UO vice president for finance and administration and CFO Jamie Moffitt and athletic director Rob Mullens went over the four budgeted scenarios during a meeting of Oregon's board of trustees on Thursday.
While reviewing the university's auxiliaries, Moffitt noted UO athletics was able to avoid an initially projected $2.3 million loss in the spring but that this year would be "much more challenging" due to the impact to football season.
Of the four scenarios budgeted by UO athletics, the best-case includes an 8-game football season, Pac-12 Championship Game but no bowl games — there is conference revenue distribution for the latter — and 25% fan attendance at football games and for a conference-only basketball season, NCAA Tournament revenue distribution and other sports resuming after Jan. 1 with some fan attendance. That would lead to a projected $51.6 million in revenues and $107.9 million in expenses for a net loss of $56.3 million, according to UO documents.
"There are still very, very significant losses," Moffitt said.
A second scenario includes all the same in terms of competition but without any fan attendance. That would lead to a projected $41.1 million in revenues and $105.8 million in expenses for a net loss of $64.7 million, with the lower revenues from lost donations and tickets sales and lower expenses from cuts to gameday operations.
The scenario with the greatest losses would be no football in the spring but other sports, including basketball, are played without fans. There would be $23.2 million in revenues and $104.3 million in expenses for a net loss of $81.1 million in projected losses, per UO documents.
… Continue reading story here …
–
—
Big Ten Presidents meet, but no vote to resume play taken
From ESPN … The Big Ten's presidents and chancellors did not vote Sunday on whether to start the fall football season after hearing updated medical information and other presentations on a potential return to play, sources told ESPN.
Sunday marked the second major meeting this weekend between the Big Ten's return to competition task force and university presidents and chancellors. While Saturday's meeting was smaller and included only eight of the presidents and chancellors, Sunday's videoconference was an opportunity for all three of the task force's subcommittees — medical, TV and football scheduling — to present their plans to all 14 presidents and chancellors.
The Detroit Free Press first reported that Sunday's meeting would not end in a vote.
A formal vote is expected in the next few days, sources said.
The Big Ten's medical subcommittee, which is co-chaired by Ohio State lead team physician Dr. Jim Borchers and Penn State athletic director Sandy Barbour, outlined plans that not only included new testing possibilities, but also the latest information about myocarditis, a viral inflammation of the heart muscle, and other conditions found in athletes who recovered from COVID-19. The medical subcommittee includes lead team physicians from Northwestern, Indiana and Maryland, as well as experts in sports medicine and infectious diseases.
Sunday's presentation also broadened beyond the medical component to include more specifics about how and when the Big Ten could start the season, along with possible dates and the medical thresholds that each team must meet in order to return. A potential start date of Oct. 17 is one option being discussed, according to sources, and likely would allow Big Ten teams to complete the regular season before the College Football Playoff selections are made. Six Big Ten teams appeared in the AP preseason poll, including No. 2 Ohio State and No. 7 Penn State.
The Big Ten on Aug. 11 initially postponed all the fall sports seasons, including football, because of concerns surrounding the coronavirus pandemic. The presidents and chancellors voted 11-3 to postpone, with only Nebraska, Ohio State and Iowa electing to go forward, sources said.
One of the main differences for the presidents to consider now is the new availability of at least four rapid- response antigen testing options that could allow Big Ten teams to test daily for COVID-19 and significantly decrease the amount of necessary contact tracing.
If the presidents decide to vote this week, Big Ten bylaws require at least 60% of member institutions — at least nine of 14 — to approve major actions. That means six presidents or chancellors would have to change their minds from the last time they voted.
–
—
Ragin' Cajun New World: Louisiana-Lafayette in AP Poll for the first time since 1943
From ESPN … Louisiana-Lafayette and Appalachian State were among 10 new teams ranked Sunday in the first regular-season Associated Press college football poll, which was stripped of the teams not scheduled to play a fall season.
There was no change at the very top: Preseason No. 1 Clemson received 60 of 61 first-place votes this week.
After all Division I teams were eligible to be voted on for the preseason Top 25, the panel of 61 voters was permitted to consider only teams playing in the fall now that the season has started.
That meant preseason No. 2 Ohio State, No. 7 Penn State and No. 9 Oregon, along with six other Big Ten and Pac-12 teams, dropped out of the rankings. The Big Ten, Pac-12, Mid-American Conference and Mountain West have delayed their seasons, but the Big Ten is taking some steps toward a possible mid-October start.
With those teams gone, Alabama moved up to No. 2. Oklahoma is No. 3, followed by No. 4 Georgia and No. 5 Florida. Defending champion LSU, with one first-place vote, is No. 6.
Among the new teams in the rankings were Sun Belt powerhouses Louisiana-Lafayette at No. 19 and Appalachian State at No. 24. The Ragin' Cajuns pulled off maybe the biggest upset of the weekend, winning at Iowa State 31-14 on Saturday. The Cyclones had been ranked No. 23 and are the one team currently scheduled to play to fall out of the rankings after being in the preseason Top 25.
Louisiana-Lafayette was last ranked in 1943.
POLL POINTS
The rest of the newcomers to the Top 25:
• No. 16 Memphis has the highest ranking of those teams entering the poll. Not surprising. The Tigers were first among the others receiving votes in the preseason poll and opened the season by beating Arkansas State last week. That same Arkansas State then turned around and upset Kansas State on the road Saturday.
• No. 17 Miami also garnered some support in the preseason. The Hurricanes join on the strength of a 31-14 victory Thursday against Conference USA contender UAB.
• No. 18 Louisville beat Western Kentucky 35-21 to open its season and is ranked for the first time since 2017.
• No. 20 Virginia Tech has already had two games postponed. The Hokies were supposed to open their season Saturday against North Carolina State, but the Wolfpack's preparation for the season was delayed by a COVID-19 outbreak. Now Virginia Tech is dealing with coronavirus issues of its own and its game next week against Virginia has been postponed.
• No. 21 BYU opened the season on Labor Day, beating Navy 55-3. But the Cougars' next game has been postponed because of positive COVID-19 cases among the players.
• No. 22 Army has opened the season with two victories by a combined score of 79-7.
• No. 23 Kentucky is scheduled to start the season Sept. 26, with the rest of the Southeastern Conference.
• No. 25 Pitt opened the season by beating Austin Peay 55-0 in a game that was shortened in the second half. With the Panthers up 42-0 at halftime, the teams agreed to play 10-minute quarters in the second half.
The AP poll (first place votes in parentheses):
1. Clemson (60)
2. Alabama
3. Oklahoma
4. Georgia
5. Florida
6. LSU (1)
7. Notre Dame
8. Auburn
9. Texas
10. Texas A&M
11. Oklahoma St.
12. North Carolina
13. Cincinnati
14. UCF
15. Tennessee
16. Memphis
17. Miami
18. Louisville
19. Louisiana-Lafayette
20. Virginia Tech
21. BYU
22. Army
23. Kentucky
24. Appalachian St.
25. Pittsburgh
Other receiving votes: Baylor 146, West Virginia 81, Georgia Tech 69, TCU 49, Virginia 39, Arkansas State 33, SMU 32, Iowa State 14, Mississippi State 14, Boise State 6, South Florida 6, Ole Miss 5, Texas Tech 5, UAB 4, Missouri 3, Air Force 2, Florida State 2, Marshall 2, Houston 1
–
—–