—
Colorado Daily
—
September 23rd
… CU in a few minutes … 
Sign of the times: Ohio State cuts 25 jobs, furloughs hundreds in facing $107 million budget deficit
… In case you were wondering, the Ohio State deficit is greater than CU's entire athletic department budget (around $95 million) …
From the Associated Press … Ohio State's athletic department will cut 25 jobs, furlough hundreds of other employees and ask coaches and others to take 5% pay cuts to help grapple with a projected $107 million budget deficit due to the COVID-19 pandemic, athletic director Gene Smith said Wednesday.
Some of that money will be made up by television revenue from football, but that amount is yet to be determined, Smith said. Ohio State is scheduled to play at least nine games beginning Oct. 24.
Firm numbers are elusive, Smith said, because all football games may not be played if there is a virus outbreak and the framework of the basketball season is yet to be determined. Among the other "moving parts" is whether other fall sports will play their seasons in the spring.
"Our budget is uncertain," Smith said. "You have the numbers, but I might just be quite frank with you — they mean nothing at this point relative to accuracy."
Unlike fellow Big Ten members Minnesota and Iowa, Ohio State will not cut any of its 36 intercollegiate sports. The proposed $180 million budget for the fiscal year that began July 1 includes $25 million for scholarships, $3.6 million for student-athlete academic support, $3 million for meals and nutrition, and $1.8 million for sports medicine and sports psychology services.
Schools around the country have cut more than 100 sports from their programs to help deal with budget shortfalls from the pandemic, including at least 84 at Division I programs.
Smith said 47 contracted employees at Ohio State, which includes coaches, will be asked to take 5% salary cuts, but it is not clear how many have agreed.
Football coach Ryan Day has a salary package that amounts to about $5.4 million this year, but the reduction would be against his base salary of $850,000, so it would amount to $42,500. Basketball coach Chris Holtmann, whose package is worth $3 million, would give up $27,500 of his $550,000 base.
"That will be their decision," Smith said. "It is certainly optional because they are contracted, and I anticipate they will. Ryan Day and Chris Holtmann and I had already had conversations."
Four assistants on Day's coaching staff make at least $1 million.
… Continue reading story here …
–
—
*Video – Mark Johnson interviews former CU AD Bill Marolt*
–
—–
September 22nd
… CU in a few minutes … 
Ten Buffs see action in Week Two of NFL action
From CUBuffs.com … Laviska Shenault touched the ball eight times, Chidobe Awuzie played in one of the craziest comebacks in recent memory and David Bakhtiari, Mason Crosby and the Green Bay Packer offense continues to roll as 10 Buffs saw action in week two of the NFL.
With Kabion Ento still on Green Bay's injured list and Delrick Abrams, Tony Brown, Steven Montez, Devin Ross on practice squads, there were 12 active Buffs on NFL rosters for week two.  Arlington Hambright was listed as inactive for the Bears for the second straight week and Phillip Lindsay missed the Broncos game and is expected to miss two more games with a toe injury.
Awuzie (Dallas)-Awuzie started for Cowboys in a wild 40-39 comeback victory over Atlanta (and Isaiah Oliver). Awuzie recorded one tackle, chasing down Atlanta QB Matt Ryan in the first quarter, and one pass defense, on second down on the next drive forcing Atlanta to kick a field goal.    Awuzie played 70 of a possible 75 defensive plays and was on the field as Dallas overcame a 39-24 deficit  in the game's final eight minutes to win, 40-39.  He was also in on 10 special teams plays.
Bakhtiari (Green Bay)-Bakhtiari started his 108th career game (out of 108 career games) at left tackle for the Packers, playing in 68 of 73 plays in the game in the team's 42-21 win over Detroit.  Hitting above 40 points for the second straight week, the Packers proved they can do it in all ways on offense.  In week 1, Aaron Rodgers threw for 364 yards and in week 2, the Packers ran for 259 yards while passing for 240, just a year short of hitting the 500 mark for the second straight week.
Crosby (Green Bay)-Crosby remained perfect through two weeks for the Packers, hitting both of his field-goal attempts from 43- and 35-yards, and hitting on all four of his PAT kicks for 10 points.  He is now 4-of-4 on field goals and 9-of-9 on PATs for 21 points on the season.  He now has 1,596 career points and needs just 12 more points to enter the top 20 on the NFL's all-time scoring chart.
… Continue reading story here …
–
—
CU joins other colleges in going online (for the next two weeks)
From KDVR.com … The University of Colorado Boulder has the third-highest amount of cumulative COVID-19 cases in the PAC-12. With the caseload spike, it joins many universities and colleges in calling a freeze on the very in-person classes they'd only just opened back up to students.
Last week's CU Boulder outbreak put hundreds of newly-arrived students into isolation units and prompted university officials to revert to online learning for another two weeks.
… Two-week hiatuses are less common than other management measures, but they are by no means uncommon. CU Boulder is far from the only university to put in-class learning on hold amid an outbreak.
Among others, the University of Arizona, the University of Notre Dame, Temple University, the University of Illinois at Urbana-Champaign, and the University of Wisconsin each stopped in-person classes for two weeks shortly after schools reopened and experienced rapid virus spreading.
… This has hit PAC-12 schools inland from the coast especially hard. At least three of the schools are implementing some kind of temporary closures, while others have not canceled classes but contributed to record-setting virus infection rates.
Last Friday, the University of Arizona asked students to shelter in place for two weeks after a virus spike brought the Tucson university's cases up to 2,030 – the highest case number in the PAC-12. The UArizona COVID-19 caseload made up 85% of the Pima County total.
The University of Utah will stop in-class learning for two weeks as well, though its reasons are slightly different. It will host a vice presidential candidate debate in October.
Washington State University's cases, though not updated as clearly, have contributed to Pullman, Washington being one of the nation's areas with the highest infection rates. The Washington National Guard was called in to administer tests.
–
—–
September 21st
… CU in a few minutes … 
Report: Stanford emerging as the lead dissenter on returning to play
From 247 Sports … The Pac-12's plan to mount a fall football season is being undercut by dissension among conference schools, according to sources.
Some programs have issues that are considered temporary and could be resolved.
However, sources from within the conference are saying the primary objector posing the most formidable impediment is Stanford.
And sources are indicating that, if Stanford remains uncompromising, the conference could be forced to consider proceeding with a fall football season without the Cardinal.
Details about Stanford's communication with both the league and its own players suggest that the Cardinal does have concerns about its athletes' health in playing a football season, but perhaps the main tenet of Stanford's objection is the matter of amateurism. The argument is that football players, as student-athletes, should not receive preferential treatment over other students – and in this case, very simply, be allowed on campus to participate in a university activity when other students are not.
This was a major topic during the Pac-12 CEO Group meeting Friday, according to sources. The Pac-12 sent out a statement Friday after the meeting that they'll reconvene Thursday, Sept. 24th, "to make a decision regarding possible return to play," mostly because it needed to sort through the Stanford issue and others.
Among the other issues: Utah wanting to start its season earlier than the proposed schedule and perhaps looking for an alternate plan to do that; USC also considering season plans outside of the Pac-12; and Cal and UCLA lukewarmly agreeing with Stanford since the two UC schools see themselves as similarly high-minded and Ivy League-adjacent.
There is hope that a few days and the initiation of the Quidel daily COVID-19 testing regimen starting next week could quell most of the discord. One source, though, thought that the Pac-12 adopting the Quidel test for athletes only further supports Stanford's opposition to football players receiving more professional-like benefits.
Other recent developments within the Stanford football program are consistent with the idea that Stanford firmly resists the blurring of the amateurism line. After the Pac-12 postponed its season in early August, the Stanford program sent home most of its players, since Stanford classes were mostly being conducted online. Information obtained by The Bootleg confirms that returning players will now be responsible for securing off-campus housing at their own expense when they return to Palo Alto next week. This is consistent with Stanford's effort to not provide preferential treatment to its athletes. This is unlike UCLA and Cal, for instance, which have put up their football players in university housing as they returned to campus for the last month.
… Continue reading story here …
–
—–
September 20th
… CU in a few minutes … 
"Time for the Pac-12 to get bold and get moving"
From Jon Wilner at the San Jose Mercury News … The Pac-12 is having its Big Ten moment.
The unified group of conference executives, presidents, athletic directors and coaches that had navigated the pandemic for six months has fractured, with deep frustration at multiple levels, sources told the Hotline.
The aggravation boiled over after the presidents declined Friday to set a start date for the season, likely delaying the season openers until Nov. 7.
Many teams had hoped to play Oct. 31.
They felt they could do it safely, thanks to the daily antigen tests available at the end of this month.
They felt the players could be ready, at least at many schools.
And some officials wanted to break the news to the public this morning, sources said, grabbing oxygen on the biggest day of the week in the sport.
And then, the presidents declined to move forward.
They did so because not every school can be ready for Halloween.
UCLA, in particular, believes it needs closer to eight weeks because players have not been working out regularly, sources said.
That's fine. Not everyone's ready. The California schools have been operating under different restrictions.
So USC can be ready on Oct. 31st, and UCLA can't be.
We get it.
Here's what we don't get:
Why didn't the conference collectively shift into a higher gear of urgency the day it signed the partnership with Quidel?
That was Sept. 3, the Thursday before Labor Day.
The deal to provide rapid-result, daily antigen tests was justifiably hailed as a "game-changer" by commissioner Larry Scott because it would solve the medical experts' primary concern — it would keep infected players off the field.
And yet, very little happened to reflect the change in the game, at least for a week.
… Continue reading story here …
–
—–
September 19th
… CU in a few minutes … 
Koy Detmer enjoyed playing for Karl Dorrell: "He's always been a real sharp offensive guy"
From CUBuffs.com … Koy Detmer played for the Colorado Buffaloes when winning was the norm, bowl games were a given and top 20 finishes were the expectation.
Detmer played for the Buffs from 1992 through 1996, spanning the end of the Bill McCartney era and covering the first two years of the Rick Neuheisel regime. In that time, the Buffs went 48-10-2, played in five bowl games and finished in the top 20 all five years (and the top 10 three times).
"That was a lot of fun," Detmer said in a recent interview. "We had a lot of really good players and a lot of really good coaches. We had some great times."
Detmer played a full season only once in his career in Boulder, thanks to a knee injury that sidelined him midway through the 1995 season.
But his name is still sprinkled liberally throughout the CU record book. He is seventh on the all-time passing yards chart, he owns four of the top 10 passing games in CU history, his five 400-yard passing games are more than twice as many as any other Buffs quarterback (Joel Klatt is next with two) and he is still the all-time Colorado leader in passing efficiency for a season (189.4) and completion percentage for a season (68.4).
Detmer was a seventh-round draft pick of the Philadelphia Eagles in 1997, and spent nine years in the NFL. He then returned to his home state of Texas and eventually got into coaching, first working for his dad, legendary Sonny Detmer, then taking over the reins of Mission High School in 2016, where he starred as a prep.
He has since added the title of Athletics Coordinator at Mission, and is entering his fifth season with the Eagles as their head coach.
But he still keeps a close eye on the Buffaloes — and believes they made the right choice in selecting Karl Dorrell to head the program.
Detmer is quite familiar with Dorrell's work. He remembers when Dorrell coached CU's wide receivers in 1992 and '93, and then worked closely with him in 1995 and '96, when Dorrell was the Buffs' offensive coordinator.
"I liked playing for him — he's always been a real sharp offensive guy," Detmer said. "He knows his stuff and he knows how to put the best guys in position to make plays and be effective."
… Continue reading story here …
–
—–
September 18th
… CU in a few minutes … 
Pac-12 commissioner Larry Scott: "It's promising"; Karl Dorrell: "Getting closer!"
From the Daily Camera … The Pac-12 Conference has not announced a return to football yet, but commissioner Larry Scott is optimistic and so are the Colorado Buffaloes.
On Friday morning, Scott was a guest on the Dan Patrick Show and said, "At this stage, it's promising," that the conference would bring football back this fall, despite continued challenges associated with the coronavirus pandemic.
Scott is set to meet with the Pac-12 school presidents and chancellors this afternoon, although there may not be a resolution Friday.
"We're going to take stock of where we are and see if we're comfortable with a path forward before Jan. 1, which was what our previous decision was," Scott said. "I'm not expecting a vote today; I'm not going to push for one today. We need to give folks that lead our campuses a chance to digest all of this and take into account everything going on on their campuses."
… Although unable to have full-contact workouts, CU practiced in helmets and shoulder pads Thursday. Afterward, head coach Karl Dorrell retweeted pictures of the practice and wrote, "Getting closer!"
On Friday, CU offensive coordinator Darrin Chiaverini tweeted, "The Buffaloes are coming!! Can feel it getting closer!! #LetsPlay".
… Continue reading story here …
–
—–
September 17th
… CU in a few minutes … 
Resistance to October 31st start from an unexpected source: Coaches – "You're going to have a shit-ton of injuries"
From Bruce Feldman at The Athletic … In the wake of the Big Ten's decision that it will kick off its football season starting the weekend of Oct. 24, a flurry of optimism seemed to rush through the Pac-12 as well. Months of stagnation in local and state government were alleviated.
That led to reports of a possible kickoff of Pac-12 games as soon as late October. But that timeline does not seem at all viable from a safety standpoint, several league coaches and administrators told The Athletic. "Ain't happening," one Pac-12 athletic director said Wednesday night when asked about a possible October start to the season.
Some Pac-12 coaches are skeptical of their teams being physically ready to play football before mid-November. Some California-based football programs in the conference have been relegated to moving kettlebells outside just to get some workouts in; others say they haven't been able to allow their guys to get in a squat rack since March. At UCLA, the coaching staff still isn't allowed back in its own offices due to local ordinances related to the COVID-19 pandemic. Players can enter the facility to use the bathrooms, but they can't shower there.
When the Pac-12 decided to postpone, Oregon gave its players the option of time off. The Ducks formally came back this week for school, but only after a quarantine. August was their last significant on-field work, which consisted mostly of walkthrough workouts of no pads and offense and defense on separate fields.
Cal only got back out on the field at the beginning of this week. UCLA and USC, like the Oregon schools, also are contending with unsafe air quality issues from the wildfires that have ravaged the West coast. UCLA had five opportunities to practice this week in groups of 12 running routes or doing individual drills, but it had to cancel three of those workouts because of poor air quality.
A large portion of the Stanford roster isn't on campus. And when the Cardinal gets the green light to practice, that will mean bringing back players back from all over the country and having them go through a five-day quarantine before they can begin.
"I don't wanna hear health and wellness out of anybody's mouth," one Pac-12 head coach said Thursday morning before adding that his team had at least six injuries in one day in the training camp run-up in the late summer. "The We Are United players, they have a fucking point. It's not fucking ping pong. You don't just open the garage door and go play.
"I don't think people know that when the seasons were postponed, the Big Ten and Pac-12 took completely different paths. They kept going like it was still training camp. They kept the same schedule like they were gonna play. We didn't. Half of our schools couldn't. Our nose is so fucking far up the Big Ten's ass. Let's just do what's best for the Pac-12. Why do we work out in the summer (usually) if we only need a few weeks?"
Another Pac-12 head coach echoed the point about sending mixed messages of concerns of health and safety for our student-athletes. "If you try and rush them back before they've had enough time to get in shape to actually play football, you're saying that health and safety actually doesn't matter," said the head coach. "You're gonna have a shit-ton of injuries. If the Pac-12 says health and safety is their No. 1 priority and they try to rush their teams back, then they're just full of shit. What really has changed here since last week? It's that the Big Ten came back.
"To play football, you actually have to practice football. Forget scheme, our guys are basically doing combine training. But that doesn't get you ready to play games."
… Read full story here (subscription required) …
–
—
CU's young defense getting ready to suit up: "You can see they are excited to be out there"
… Hey, if it looks like we could be playing next month, we'd better start talking about position battles! … 
From CUBuffs.com … The Buffs are currently working under NCAA rules that allow 12 hours of football-related activity per week. That includes classroom time, strength and conditioning and several hours of on-field activity in helmets and light pads if desired.
 "It's been great — it really has," Summers said. "Just being able to take some of these guys that we have and get some work in. You can see they are excited to be out there."
Summers' defense, which finished with two of its best games of the year in the final month last season, does have some solid returning veteran starters. That includes seniors Mustafa Johnson (defensive line), Nate Landman and Akil Jones (inside linebacker), and Derrion Rakestraw (safety). Other returnees with significant experience include juniors Terrance Lang (defensive line) and Carson Wells (outside linebacker).
Also returning is sophomore defensive lineman Jalen Sami, who is seen as a seasoned "veteran" despite having just one year on the field.
"That's kind of where we are," Summers said with a chuckle. "There are times when we're talking about our 'older guys' and we're talking about someone like Jalen Sami."
What it means is that the Buffs have plenty of work to do this fall in getting newcomers and younger players up to speed in a hurry.
"We signed a really good signing class to complement all the freshmen we had last year — K.J. Trujillo, Tarik Luckett, Marvin Ham II, Jamar Montgomery," Summers said. "Then we had all those young D-linemen that wound up having to play as freshmen. They're young guys, but they're our veterans."
There may be no place that description fits better than CU's secondary.
Last year, the Buffs had to come up with some patchwork fixes at nearly every spot in the defensive backfield as injuries took a toll. It meant some true freshmen, such as Luckett and Trujillo, saw substantial time at corner, as well as true freshman Mark Perry getting critical snaps at the star position.
Now, with an influx of talented youngsters from the 2020 recruiting class, the secondary has plenty of potential but not a ton of experience.
"The guys in the secondary have really stood out," Summers said of the early workouts. "Right now we're trying to get those guys a jump start on the season and get them ready to play."
… Continue reading story here …
–
—–
September 16th 
… CU in a few minutes … 
California & Oregon governors to Pac-12: You can play games if you want to
– California – 
… Related … Updated article from Wilner … Teams in California can play games – they just can't practice 11-on-11 … "Explaining the California restrictions governing practice for the Pac-12 teams: From a practical standpoint, it's impractical" … from the San Jose Mercury News …
… Well, I asked that very question (about not allowing 11-on-11 practices) of the official, who did not want to be quoted but was willing to explain the state's rules.
The answer was this:
Teams can find work-arounds to 11-on-11 practices.
They can have walk-throughs, he suggested. They can practice against air. They can use Virtual Reality and tackle dummies. They can use mental exercises.
Those are all means by which teams can conduct a practice and prepare for a game, he said.
I responded that at some point during the season, during a game week, a football team needed 22 players on the field, offense against defense, 11 against 11, with some degree of contact.
The official responded that teams could prepare by playing five against five.
… Continue reading story here …
… Related … Subsequent Wilner tweet … Sources: After speaking to #Pac12 commish Larry Scott, Newsom's office reached out to #USC officials. Plan is to fast track revision to controversial 12-person cohort max. That shifts focus to local health, an easier hurdle for the schools. This is big.
From the San Jose Mercury News … Governor Gavin Newsom on Wednesday said there is nothing in the California guidance to prevent Pac-12 teams from playing, a statement that seemingly contradicts his own rules.
"There is nothing in the state guidelines that denies the Pac-12 from having conference games," Newsom said in response to a question from the Bay Area News Group.
"There is nothing that denies the games from occurring."
Newsom said he spoke this morning with Pac-12 commissioner Larry Scott.
"I want to make this crystal clear," Newsom said. "Nothing in the state guidelines denies the ability for the Pac-12 to resume. That's been a misrepresentation of the facts."
However, state guidelines clearly prevent players from practicing in cohorts larger than 12, which makes football difficult. (See below.)
Crucially, Newsom said the state would be willing "to engage the Pac-12" on the rules governing cohorts — a development that could allow the teams to practice and compete.
"We're committed to working with the Pac-12," Newsom said. "Remember, these are student athletes."
The conference is unable to restart its football season because of safety concerns and state restrictions.
… Continue reading story here …
– Oregon – 
Statement from the Governor's office
... "The Universities have asked for an exemption to OHA's sports guidance, just as Oregon's professional sports teams have been given. We have granted that request … ".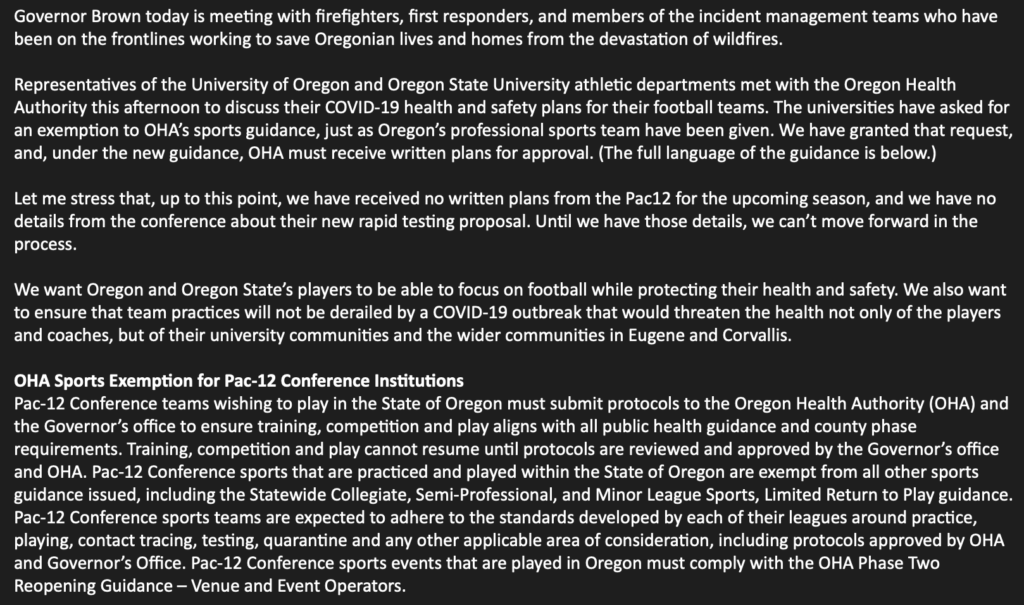 –
—
Jon Wilner: "Pac-12 football must return this fall. There is no choice"
From the San Jose Mercury News … It's official: The Big Ten is back, as of Oct. 23.
Your move, Pac-12.
The next few weeks are critical — no, they're beyond critical: they're everything.
The conference cannot force-feed the narrative that it cares less about football than its Power Five peers.
It cannot let the jokes about there being a 'Power Four' become reality.
It cannot get left behind.
Pac-12 football must return this fall.
There is no choice.
Forget a winter season. Playing in January would be difficult to pull off with a partner.
But all alone — with the other conferences having completed their seasons, with a national champion having been crowned — it makes zero sense.
Actually, it would make bad sense.
Imagine the Pac-12 taking the field for six or seven weekends in early 2021 as the only conference competing.
Imagine all those weeks of reminding the college football world that it didn't play with everyone else, that it's not like the others … that it's as much Group of Five as it is Power Five.
If the fall doesn't work, the Pac-12 should shut it down until next fall.
Far better to be out of sight and mind than to provide weekly reminders to players, fans, donors, talking heads and recruits that it's different — different in a bad way.
There are also practical obstacles to a winter season, like fielding a competitive roster after all the draft prospects have opted out.
Remember, the NCAA's Football Oversight Committee is not recommending that transfers and mid-year enrollees be granted immediate eligibility, so numbers would be limited.
Remember, too, that fans probably won't be allowed to attend in any meaningful way (prior to a widely-available vaccine) and that the conference's TV partners likely would pay dimes or nickels on the dollars for limited inventory on a stand-alone basis.
And finally, remember that players and coaches want something to play for.
… Continue reading story here …
–
—–
September 15th
… CU in a few minutes … 
Folsom Field ready to go – if and when: "I've got to stay prepared"
From the Daily Camera … Unfortunately, there are no game days, or even practices, on the horizon.
"There's nothing on the schedule I've seen through Thanksgiving," said Ryan Newman, the director of athletic grounds for the Buffaloes. "But, I've got to stay prepared for whatever they request."
The coronavirus pandemic has caused many aspects of life to be canceled this year and Pac-12 football is one of them. Unless the conference reverses course because of better testing, there is no football competition planned until at least January.
For the players and coaches, the game has left a major void, but they aren't alone. Newman and countless others work behind the scenes to help make the games special.
This would have been Newman's 19th season preparing the Folsom turf. Much of that work hasn't stopped, as his crew still keeps facilities maintained for practices, but there is no need to paint logos or yard lines on the Folsom Field grass and no long Saturdays.
"Game day, it's probably the longest day of a game week in terms of hours but it's the easiest and the most rewarding," said Newman, who added his crew is often exhausted after putting in 60 hours of work before Saturday.
On game days, Newman's eyes, he said, often focus below the knees of players.
"I want to see how the field plays, how the athletes are able to make their make their cuts, all that kind of stuff," he said. "I'm looking for the player safety."
… Continue reading story here …
–
—
Viska's touchdown and other Buff NFL highlights from Week One
From CUBuffs.com … –Laviska Shenault Jr. led the way for the #NFLBuffs in the opening week of the 2020 season, compiling 42 yards on five touches and scoring his first NFL Touchdown in Jacksonville's 27-20 win over Indianapolis.
Other highlights for Week 1 for the Buffs were David Bakhtiari and the Green Bay offense piling up over 500 yards, Mason Crosby scoring 11 points with two field goals and five PATs for the Packers.  Chidobe Awuzie started for the Dallas Cowboys and had his fourth career interception, this one against former No. 1 overall pick Jared Goff.  Isaiah Oliver also started for the Atlanta Falcons and had seven tackles, second-most on the team.
A look at all 13 Buffs on their respective team's 53-man rosters:
Chidobe Awuzie (Dallas)-Awuzie started at cornerback in the Cowboys Sunday night game and had an interception against Jared Goff.  He was also credited with two tackles and a pass break-up against the Rams.  His interception came with the Rams up 20-14 and looking to put the game away.  On 3rd-and-7 from the LA 30, Awuzie picked off the pass, and the Cowboys turned it into a field goal to cut the score to 20-17, which wound up being the final score. Awuzie played in 57 of a possible 73 plays on defense.  It was his fourth career interception and 33rd career pass break-up.
David Bakhtiari (Green Bay)-Bakhtiari started his 107th career game (out of 107 career games) at left tackle for the Packers, playing all 78 plays on offense in the team's 43-34 win over Minnesota.  The Packers racked up over 500 yards of offense as Aaron Rodgers threw for 364 yards and 4 touchdowns and the team ran for 158 yards and another score.
Mason Crosby (Green Bay)-Crosby was perfect in his first game for the Packers, hitting both of his field-goal attempts, from 31- and 43-yards, and all five of his point-after attempts.  Additionally, six of his eight kickoffs went for touchbacks.  For Crosby, it was his 209th career game and he has now hit on 331-of-408 career field goals and 593-of-605 career PATs for 1,586 career points, passing Al Del Greco for 22nd place on the NFL's all-time scoring chart.  He needs 22 more points to enter the top 20.
… Continue reading story here …
–
—–
September 14th
… CU in a few minutes … 
**Report: Pac-12 "most aggressive" return plan targeting mid- to late-November**
From ESPN … The Pac-12's "most aggressive" return plan is currently targeting mid-to-late November, according to a source familiar with the league's discussions.
Earlier this month, the Pac-12 announced its partnership with Quidel Corporation, a manufacturer of FDA-approved rapid tests that will allow the league to test its student-athletes daily for the coronavirus.
While the new testing systems will be on every campus by the end of the month, the league still expects to need a short time to train staff how to use them, and ensure the proper testing protocols are in place.
Schools in the states of California and Oregon still have not been cleared by public health officials to resume contact practices, let alone games. The league's presidents and chancellors wouldn't consider a vote to return until that status changes. Ideally, the Pac-12 would like its teams to have six weeks to practice and physically prepare for the season, the source said.
To get to a mid-November start between now and when the tests arrive, the Pac-12 would have to be cleared by public health experts, the source said. Late November could be more realistic considering the double crisis with the pandemic and wildfires that continue to singe the Pacific Northwest.
The conference announced in August that it was postponing all competitive sports through the calendar year, citing the need for "rapid point of care tests" as part of its decision.
Pac-12 commissioner Larry Scott called the purchase of the new tests a "game-changer" and said the availability of rapid testing will allow the conference to consider resuming competitive activities before Jan. 1, 2021.
–
—
Could Pac-12 testing ("better than the NFL") pave the way for the conference to return to play?
From the San Jose Mercury News … The Pac-12's return to competition depends on one unexpected development solving two momentous problems.
The late September arrival of rapid-response antigen tests — two months earlier than anticipated — will allow football teams to test players for Covid-19 immediately before practice and games, thereby preventing on-field transmission by pre-symptomatic or asymptomatic players.
Those same antigen tests, courtesy of a partnership with San Diego-based Quidel Corp., are central to clearing the other hurdle:
Convincing health officials in Oregon and California to lift state restrictions and allow the six teams to move forward with practice and competition.
The three NFL teams in California long ago received exemptions from the state, in large part because of their ability to test players on a daily basis.
The Pac-12's testing plan, however, isn't identical to the NFL model.
It's better.
"From a theoretical perspective, it's a very high bar, and you could argue that what we're doing is a higher bar" than the NFL, said Dr. Kimberly Harmon, a University of Washington football physician and key member of the Pac-12's  medical advisory team.
"The near-daily testing should keep the athletes safe."
The Pac-12 would be wise to make that very case to authorities in Oregon and California — the sooner the better — in order to avoid getting left behind in what could be a costly race.
The Big 12 and ACC are playing.
The SEC gets underway in two weeks.
The Big Ten is on the brink of restarting its season, possibly in the middle of October.
At that point, the Pac-12 would be the only member of the Power Five on the sideline.
The perception of the conference nationally, already poor, would deteriorate further.
"That's on top of everyone's minds,'' commissioner Larry Scott told KJR radio in Seattle last week. "But health and safety take precedence."
The rapid-response antigen tests are an escape hatch for the Pac-12— a means of keeping the players safe and salvaging the conference's reputation.
… Continue reading story here …
–
—–
September 13th
… CU in a few minutes … 
Darrin Chiaverini happy to be on the field practicing: "We needed it — all of us needed it"
From CUBuffs.com … Like every other coach in the Pac-12 (and every other conference that postponed its fall schedule), Colorado Buffaloes offensive coordinator/wide receivers coach Darrin Chiaverini is finding ways every day to negotiate these unprecedented times.
When the Buffs were finally allowed to return to the field last week for individual and group skill sessions, it proved to be a welcome relief. The on-field work provided at least a semblance of "normal" football activity, something Chiaverini said every coach and player was hungry to have.
"We needed it — all of us needed it," Chiaverini said recently. "None of us have ever gone through anything like this. It's the first fall I've had since I was 8 years old where I haven't been playing or coaching in games, and it's something we all have to deal with every day — especially when you see some of the other conferences playing games."
Indeed, the past weekend certainly couldn't have been easy on the Buffs. As they engage in a month of 12-hour work weeks that will include on-field individual and group skill sessions, there were a handful of other conferences that were playing games.
But the Buffs also know the current situation is temporary. Current plans for the Pac-12 call for competition to resume Jan. 1, and that date could be bumped up in light of a recent deal that saw the conference obtain rapid-result testing machines for every school in the league.
"I know why we're not playing, but that doesn't make it any easier," Chiaverini said. "It's the weirdest thing I've ever been through. You are conditioned to play and coach football in the fall. When that's not there, you learn how to deal with it every day."
Under current guidelines established by the NCAA, teams whose conferences are not playing this fall are allowed a total of 12 hours of work per week. That includes several hours on the field as well as in the weight room and classroom/film sessions.
"We've been able to get some good work in those skill development sessions," Chiaverini said. "We're doing some individual drills and work in some groups. You can tell the kids need it. They want it. They want to be on the grass, playing football."
… Continue reading story here …
–
—–