—
End of the (Short) Mel Tucker Era
—
February 16, 2020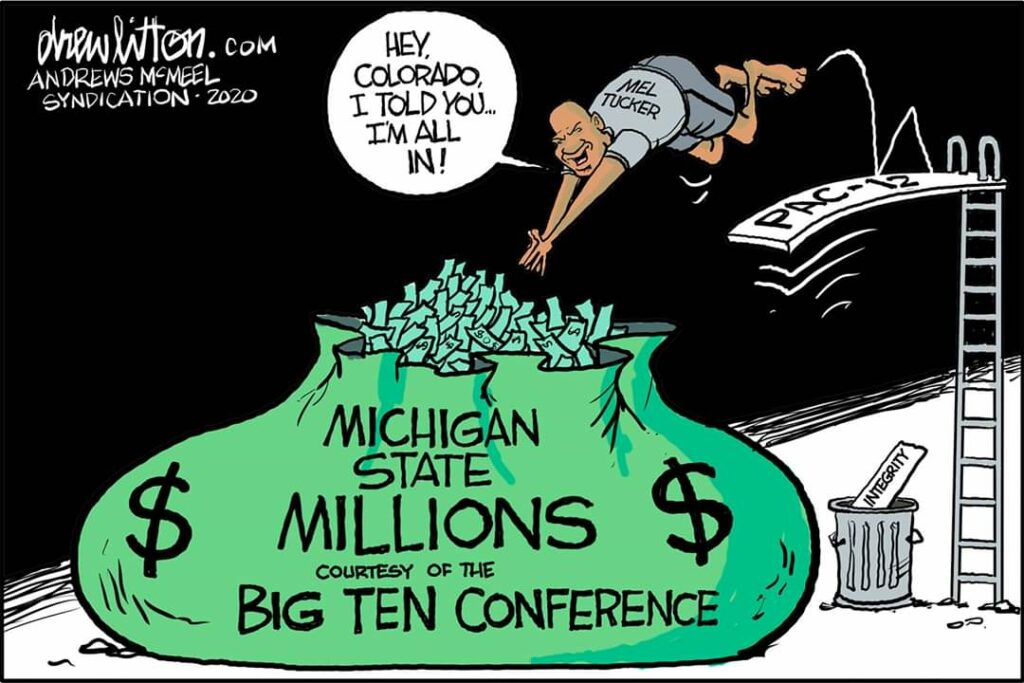 –
Inside Mel Tucker's Final CU Event: "We were hoodwinked"
From Sports Illustrated … At a Colorado donor event he organized Tuesday night, Tim Harrington expected the featured guest to be his normal self—fiery, intense, gregarious—but that wasn't necessarily the case. In fact, Mel Tucker spoke at such a low pitch that the hum of a nearby mini fridge almost drowned him out. "The whole thing was surreal," Harrington says during an interview with Sports Illustrated. "I know he knew exactly what he was doing the next day."
Tucker's final hours as Colorado's head coach are becoming clearer, and while it's not rare for college coaching transitions to have some bizarre elements, the situation that transpired this week in the Rocky Mountains is one of the strangest.
While working toward a deal Tuesday night to become Michigan State's head coach, Tucker spoke to more than two dozen Colorado boosters and fans at a fundraising event at the Denver Country Club, soliciting their donations while expressing his commitment to the program. Sipping on his trademark Scotch and water, Tucker paraded through a reception of big-money Buff Club members in a plush, window-lined room, eventually delivering a speech and taking questions. He spoke about his passion for Colorado, described his reasons for accepting the job 14 months before and expressed excitement in the future, built around the high school players he had signed a week ago.
Tucker conveyed to supporters his "full intentions to be at CU," says Bob Masten, a tight end for Colorado from 1969–71 and a Denver-based businessman who attended the event. In fact, when exiting the club, Masten told Tucker he was looking forward to seeing him again in a couple weeks at another donor gathering on Feb. 25. "Yeah," Masten said Tucker told him, "that'd be great."
Harrington, 62, spoke one-on-one with Tucker throughout the night. "The thing ended and I was talking to him and looking him in the eye," says Harrington, a 62-year-old Denver native and Colorado graduate. "I swear to God after the event I said, 'There is something going on.' His eyes were not … it was almost like he wasn't telling the truth. It was bizarre."
An hour later, Tucker struck a deal with Michigan State to be its new coach.
"We were hoodwinked," says Craig Poulter, 60, a longtime CU season ticketholder and Colorado native who was there Tuesday. "Mel misled us. I believed in him."
… Continue reading story here …
–
—–
February 15, 2020
Drew Litton sums it up for all of us …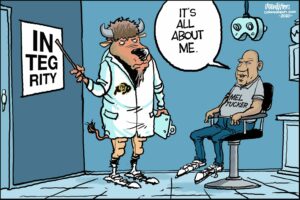 –
—–
February 14, 2020
Dennis Dodd: No winners from Tucker move (except Tucker and his agent)
From CBS Sports … There were few winners this week when Mel Tucker bolted Colorado for Michigan State after only one season. The move was simply hard to justify for most everyone … except for the coach and his agent.
A national discussion was started again on several levels. Meanwhile, the high road took a holiday. Almost no one looks good. Here's why:
Coaches can no longer question their players' loyalty. Especially not now after Tucker not only left Colorado after a season but did so four days after tweeting that he was "committed" to CU.
What makes the departure doubly insulting for Colorado: Tucker in October had, in fact, played the loyalty card.
"There is no transfer portal in the real world," he said.
Well, unless a coach transfers to Michigan State in order to double his salary.
In one sense, good for Tucker. We'd all take $5.4 million a year in a second. But please, coaches, stop lecturing us about the loyalty owed by players.
The Pac-12 is on the brink. Want to talk competitive imbalance? Michigan State basically bought out Tucker's promise to remain at Colorado. And it did so because it could. A Big Ten school flexed. A Pac-12 counterpart winced. It's as simple as that.
Colorado couldn't afford to keep Tucker the same way only a handful of Pac-12 schools — if even that many — could actually afford to hire Urban Meyer or a coach like him. That points up a larger issue for a conference that finds itself at a historic low point in its athletic history.
According to the latest figures, Pac-12 schools make at least $17 million less annually than their Big Ten counterparts in media revenue ($50 million vs. $33 million).
That matters. Big time. Jon Wilner of the San Jose Mercury News has already calculated that each Big Ten school will make $139 million more than its Pac-12 counterpart over the next five years.
So, of course Michigan State was able to make Tucker an offer he couldn't refuse. But it's not just Big Ten money. Tucker made $2.4 million at Colorado. Alabama's mere recruiting budget, according to a recent report, is $2.6 million.
The Pac-12's current competitive disadvantage with the rest of the Power Five is real, and the gap is growing wider.
… Continue reading story here …
–
—–
February 12, 2020
Rick George press conference quotes
Here is a link to the press conference to the press conference conducted this morning by CU athletic director Rick George.
Opening Statement
"As you know, Mel Tucker informed us that he is resigning as head football coach. We are obviously disappointed to see him leave; however, we are excited about the upward trajectory of our program. We are already at work identifying our next head coach to lead our program and our young men. I met with our players and coaching staff this morning. We reassured them that we will match their commitment and do everything in our power to hire a great, new head coach that they can all rally behind. We are confident the program is on the verge of competing at the highest level and has the resources and support in place to do so for a long time. I will be naming an interim head coach at some point this afternoon that will be able to keep track of our football team as we head into spring football."
On The Process Of The Last Few Days
"On Saturday there was a lot of media information out there. Coach Tucker and I both tweeted out a statement on where we thought we were and that he was committed to this program. I spoke to Mel late last night and then I spoke to his agent and I was informed he had taken the Michigan State job."
On If He Gave Permission For Michigan State To Speak With Tucker
"I was asked, formally, for permission to speak to coach. That is a courtesy that we extend to each other. You'd have to ask him if he spoke to them or not, but I am certain that he probably has."
On If Tucker Was Truthful Throughout The Process
"Coach and I have a really strong relationship. We had a conversation on Saturday about his commitment to Colorado. I was comfortable with that. What transpired in the last 24 hours is disappointing. A coach is going to do what is best for him and his family. I support that. He made that decision and my focus now is moving forward with this program and where we are headed."
On How He Got Word About Tucker Taking The MSU Job
"I got word through some different channels that were still conversation. I was out of the office the last two days. Immediately, I called one of my staff and asked to get a hold of Coach Tucker and when he was done that he and I would have a conversation and we had that."
On His Message To Recruits
"My message to the recruits is, 'This is an incredible football program and an incredible institution.' I said 15 months ago when we were going to hire a coach that I understand the importance of hiring the next head coach. I have every indication and belief that our program is in a better position today than it was 14 months ago. We are going to go out and hire somebody that shares the same expectations that I do, that we are going to win a championship and that we can do that at Colorado with the resources we have."
On Potential Candidates For Head Coach
"I am going to be open-minded to candidates that are out there. Certainly, I want somebody that shares my passion for this university. If that is somebody that has been here before that's great. I want somebody that shares that passion about Colorado that I do and knowing that we can win a championship at all levels. I think we can do that at Colorado. We have done that before. We are in a much better position today than we were back then."
On If He Feels Jolted
"I don't feel jolted at all. My biggest concern is our student athletes. This isn't about me at all. My job is to make sure that we hire somebody that has the same expectations that I do for our student athletes and for our program to be successful. Mel made a decision that was best for him and his family. I respect that. I am focused on what is ahead and what is ahead is us hiring a great head football coach that can be a great mentor and leader to our student athletes. That will be my focus over the next few days."
On Potential Constraints On Resources
"I don't see them as constraints. We know what resources we have. The coach that we bring in, just like Mel, knew what resources we had. Again, I am convinced that we can win a championship with the resources we have. Our donors have been incredible. Our alumni have been incredible in supporting our efforts of what we are doing for our student students in the areas of mental health, nutrition, this facility, and strength and conditioning.  We have five strength coaches just for football. We are doing a lot of really important things for that program because we know how important it is to CU.  We will keep investing in that to make sure that we get this program back to where it historically has been. We are committed to that and I know our chancellor is committed to that."
On Discussing A Counter Offer For Tucker
"We had discussions about that last night."
On The Process Of Finding A Head Coach
"It's tricky. We want to make sure that before we make a decision on an interim that the coach wants to be here, is going to be here and how that plays out in the future. Having an interim, I think, is great to have in the short term but we are going to go out and find the best coach. It could be on this staff and it could be on a variety of other staffs. This has transpired fairly quickly but we are prepared and ready. We will see where it goes."
On The Program
"I think the way we continue the trajectory that we have going is we have to bring good people in here. We have to give them the resources that they need to be successful.  I think we are doing that. I think we have a great program. We have incredible student athletes. This is a destination at Colorado. This is where we think people can lay down their roots. It is an incredible community. It is a great state. We play in a terrific conference. We just have to get the right person in here that is committed to the same things that I am and our staff is."
On If He Feels Pressure
"Any pressure is self-imposed. The only pressure that I feel is what I am putting on myself. I know how important this hire is, just like it was 14 months ago. I'm ready for it. I have a good staff around me that is going to help me in doing that. When you are selling something like we are at Colorado, it is an incredible job and opportunity. We will go out and get the best person. I don't have a timetable on it. I want to be efficient and effective but I also don't want to hurry. I want to take the right steps. We will do that."
On Tucker's Commitment To Colorado
"I believe what Mel told me. I think we had a shared vision of where we wanted this program to go. You'd have to ask him that that question. I am committed to this program. We are going to go out and hire an incredible coach."
On If Coaching Staff Will Follow Tucker To MSU
"This is happening so quickly I don't think they know. Over the course of the next 24-48 hours I think you will probably see more of that. That is not going to slow down our progress and where we are headed."
On If They Will Push Back Spring Ball
"I don't anticipate us pushing spring ball back at all."
On The Mood Of The Team
"I would probably say somber. They enjoyed playing for Coach Tucker. My message to them was, 'We have an incredible opportunity here to do some really significant things. We need them to stick together, have confidence that we know what we are doing and where we are going. We are going to hire someone that they will appreciate, respect and want to play for. We will do that as quickly as we possibly can.'"
On His Conversation With Tucker
"We had a conversation about where he was and what he was contemplating. Beyond that, that is all I want to share."
On His Thoughts On Tucker's Decision
"This isn't about me. It's about our student athletes. I certainly have a lot of respect for Mel. He is a good man. I don't have anything negative to say about our relationship. I think we had a strong relationship. He made a decision that I don't personally like, but I respect. It is time to move on."
On His Message To Parents Of Recruits
"What I would say to them is, 'Our program is in a better position than it was 14 months ago. We are going to hire an incredible coach to lead their sons and coach their sons. Have patience. We are going to move as quickly as we can and are going to get a great football coach at Colorado.'"
On The Potential Of Being Asked For Releases From Recruiting Class
"That is certainly possible. What I would say is, 'Have patience. We are going to move quickly and expeditiously. We are going to hire a great football coach.'"
On If They Can Compete Financially With Other Programs
"We will do what we need to do in that regard. Not everything is about money. I want somebody that wants to be here and shares the same commitment and passion that I do. We will work hard over the next few weeks to find that right person for the job."
On If Tucker Addressed The Colorado Team
"He did not."
On Help With The Coaching Search
"I won't have a committee of people. Lance Carl and I did the last search. He oversees the football program. It will probably be the two of us. I know what I want in a coach and we will go out there and find that coach."
(Here is a link to my "Committee of Two" interview with Lance Carl from last spring about the hiring of Mel Tucker) …
–
—
Chris Fowler weighs in as an analyst and as an alum
... Chris captures very well where many CU fans are today … 
–
—
Rick George issues statement
From CUBuffs.com … University of Colorado head football coach Mel Tucker has informed CU Athletic Director Rick George that he is resigning  his position, effective immediately. George issued this statement Wednesday morning:
"We are disappointed to see Coach Tucker leave," George said. "We are excited about the upward trajectory of our football program and we'll get to work immediately hiring the next head coach to build on our momentum and lead our young men. We're confident this program is on the verge of competing at the highest level and has the resources and support in place to do so for a long time."
The search process for a permanent replacement is already underway.
NOTE: Rick George will hold a press conference at 11:30 a.m. in the Champions Center (third floor, room 319).
–
Email from CUBuffs.com … As most of you are aware, Mel Tucker has informed Rick George that he is resigning. Rick met with the team and coaching staff promptly and efforts are underway to identify the next head football coach.
The support that our donors and season ticket holders have given over the last year has solidified the foundation for the future and we thank you for that.
Your continued support is critical as we stand Shoulder to Shoulder with our student-athletes at the University of Colorado, and continue to strive to compete at the highest levels.
–
—
Players were told nothing by Tucker: "We really don't deserve this (stuff)"
From the Daily Camera … During the past 14 months, Colorado players and recruits have bought into the vision Mel Tucker had for the future of the program.
Late Tuesday night, many of those players were left wondering about their own futures as Bruce Feldman of The Athletic reported that Tucker is leaving the Buffaloes after just one year to become the head coach at Michigan State.
Although the report had not been confirmed by CU, it still left players stunned.
"I'm shocked. I really am," safety Mark Perry, who will be a sophomore next season, said when reached by Buffzone.com. "A year ago, I trusted coach Tuck, thinking he'd be here for a while and I bought into the vision for not only me but the program."
Reports of Michigan State's interest in Tucker surfaced on Friday. While Tucker publicly stated multiple times that he was committed to CU, he remained on Michigan State's radar. Tucker was out of town for donor events last weekend, but has been in Boulder this week.
As of late Tuesday, Perry said the players had not heard from Tucker throughout the process.
"Nothing at all," he said. "It was suspect to me when he didn't say anything to us about the speculation."
… Continue reading story here …
–
—
Report: Michigan State upped the ante: Tucker's salary to double
From The Athletic … Colorado coach Mel Tucker and Michigan State have agreed in principle to make him the new head football coach at MSU, people with knowledge of the matter told The Athletic on Tuesday night. After the 48-year-old Cleveland native turned down initial interest late last week, MSU power brokers came back repeatedly to Tucker's reps with an offer that was impossible to ignore.
People with knowledge of Tucker's deal with the Spartans said it doubles his Colorado coaching salary pool (which was $3.15 million in 2019), includes a substantial increase to the Michigan State strength and conditioning staff budget and program resources and will more than double Tucker's Colorado salary, which is around $2.7 million.
On Feb. 7, while Tucker was on a Colorado donor tour, his name surfaced in a Detroit Free Press report that the Spartans planned to interview him for the Michigan State vacancy. Tucker discussed the initial MSU conversations with Colorado AD Rick George, according to people familiar with the matter.  Tucker's tour was about raising funds for the Buffs program, so on Saturday he tried to quell speculation by telling Buffs donors that he was committed to doing his job there. On Monday, after Cincinnati's Luke Fickell — a strong candidate for the MSU job — announced he was staying with the Bearcats, the Spartans circled back to Tucker's reps with an offer not just for the head coach but for his staff and for the program that he felt he needed to compete for national titles.
"My understanding is that Coach Tucker was completely transparent with CU's Rick George, from MSU's first contact until their last push today," a person with knowledge of the situation told The Athletic on Tuesday night.
The hiring of Tucker by Michigan State away from Colorado is another example that speaks to the widening gulf in resources between the SEC/Big Ten and the rest of college football thanks in large part to a growing revenue gap, a topic The Athletic addressed two weeks ago.
… Continue reading here (subscription required) …
–
—
Report: Mel Tucker Leaving Colorado for Michigan State
… Related … "Report: Mel Tucker leaving CU Buffs for Michigan State" … from the Daily Camera
From ESPN … Michigan State is set to hire Colorado's Mel Tucker as its next football coach, sources told ESPN.
Tucker, one of several candidates to seemingly turn down Michigan State's initial overtures, became the focus of the school's search late Sunday and throughout Monday, sources said. On Saturday, he tweeted that he remained committed to Colorado after speaking with MSU about its coaching vacancy.
A source said Tucker was hesitant to leave Colorado after only one season as the Buffaloes' coach and attended an event with Colorado donors on Monday in Denver. But Michigan State offered more resources, beyond just annual salary.
An official announcement could come later Wednesday. The Michigan State board of trustees has scheduled a special meeting for 3 p.m. ET Wednesday. Among the issues to discuss is "personnel action."
The Athletic first reported MSU's expected hire of Tucker.
The 48-year-old Tucker will replace Mark Dantonio, who announced his retirement last week after 13 seasons at Michigan State. Dantonio, 63, went 114-57 with the Spartans, winning or sharing three Big Ten championships and reaching the College Football Playoff in 2015. He left as Michigan State's all-time winningest coach but also facing a lawsuit from former recruiting director Curtis Blackwell, who alleges that Dantonio committed multiple NCAA violations.
Michigan State interviewed Cincinnati coach Luke Fickell on Sunday, but Fickell decided early Monday to remain with the Bearcats. Pitt coach Pat Narduzzi, a longtime Michigan State assistant under Dantonio, also opted to remain in his job. San Francisco 49ers defensive coordinator Robert Saleh, another former MSU assistant, and Iowa State coach Matt Campbell also declined to pursue the Spartans job.
Tucker, a Cleveland native who played defensive back at Wisconsin, began his coaching career at Michigan State as a graduate assistant for Nick Saban in 1997. He was a defensive coordinator for three NFL teams and served as the Jacksonville Jaguars' interim head coach in 2011, going 2-3. Tucker worked alongside Dantonio at Ohio State from 2001 to 2003 and held coordinator jobs at Ohio State and Georgia, before landing his first head-coaching opportunity at Colorado.
Tucker went 5-7 last season with the Buffaloes and last week finalized the nation's No. 34 recruiting class, according to ESPN.
–
—–