—
Colorado Daily
—
January 19th
… CU in a few minutes … 
Tucker shows his dedication to his players
… Stories on K.D. Nixon and Delrick Abrams make you proud to be a Buff … 
K.D. Nixon ... From the Daily Camera … Certainly there is potential for the 2020 class to be impactful in CU's future, but as far as the 2020 season goes, staff continuity and Nixon's presence are huge.
Nixon, who caught 35 passes for 465 yards and three touchdowns last season, initially announced his intention to declare for the NFL Draft, despite uncertainty that he'd even get selected. Tucker supported Nixon, but kept in contact with him. Nixon, who will be CU's only senior skill position player on offense next fall, changed his mind and decided to stay in school.
"It was important for me because I want these guys to graduate and I communicated that with him on multiple occasions," Tucker said, "but I'm all for guys going through the process, as well, and I think they should go through the process and try to figure out what's best for them.
"When he initially thought he would leave, he had my full support. I wanted to make sure that he knew that if he decided he would change his mind and he wanted to come back that he could do that. We had a spot for him and we wanted him to do that."
Although Nixon wasn't as productive as he had hoped to be this past season, his versatility could be a major boost to the offense next season. Most important to Tucker is that Nixon is nearing his degree.
"I anticipate him a year from now having his degree," Tucker said. "(Within the team), he's going to be a leader for us; it'll be the second year in this offense and there's going to be some really good opportunities for him to be featured in our offense with (coordinator Jay Johnson). We know what he can do. I think it's going to be really good for him, on the field and academically, and it's going to be good for us."
Delrick Abrams … from the Daily Camera … Tucker's eyes lit up when cornerback Delrick Abrams Jr., stopped by the office this week.
"I'm really happy that you're in town," Tucker said to Abrams. "When you get that degree, I'll be the happiest dude on the planet."
"I just have three classes left," Abrams said.
"Let's finish strong," Tucker responded.
"I always finish strong," Abrams said with a smile. "You saw what I did last semester."
Abrams has completed his college playing eligibility and is hoping for a chance at the NFL this spring. Around the country, a lot of players in that situation will withdraw from school to train for their NFL shot and then try to come back later. Tucker encouraged several players, including Abrams, Beau Bisharat, Davion Taylor and Alex Tchangam, to stay in school to finish, while training at CU or in Denver.
"You can do both," Tucker said. "That's part of the culture that I want to have here is that our guys, when they're done with their eligibility and they have the ability to stay in that spring semester or even into summer and finish, finish (school) and train here.
"The numbers show that it's hard to come back and finish. It doesn't matter what school you are."
–
—
Mel Tucker keeps coaching staff in tact: "It's sometimes hard to hang on to guys"
From the Daily Camera … With a class that ranks among the top 40 in the country, the Colorado football program is generating a good measure of excitement from its fan base on the recruiting trail.
Beating Pac-12 opponents and other Power 5 programs for Caleb Fauria, Christian Gonzalez, Jason Harris, Brenden Rice, Jake Wray and others has made this a good recruiting cycle for head coach Mel Tucker and his staff.
"Recruiting is the lifeblood of your organization," Tucker said this week, repeating what many coaches around the country have said in the past, while adding that recruiting is a daily task of his staff.
… Also good for CU is that the entire group of 10 assistant coaches has remained intact, and it wasn't easy to do that. The coaching carousel has been spinning around the country over the past 6-7 weeks and CU assistants have had opportunities to leave, including offensive line coach Chris Kapilovic, who reportedly drew interest from Auburn and Missouri.
"It's sometimes hard to hang on to guys," Tucker said. "I've had schools make runs at my guys, some of my coaches. I've had coaches turn down opportunities to go to other places – SEC schools – to stay here, which I feel good about, because they believe in the direction the program is going."
Just 12 months ago, CU's coaching staff was getting to know each other. Tucker had never worked with some of the coaches he hired and many of them had not worked with each other. It's a group that grew together, however, and accomplished a lot of what Tucker had hoped for in the first year.
… Continue reading story here …
–
—–
January 18th
… CU in a few minutes … 
A good day after all: Chip wins Mascot national championship for the third time
From CUBuffs.com … CU's beloved mascot Chip won his third ever Mascot National Championship at the 2020 College Cheerleading and Dance Team National Championships on Saturday afternoon in Orlando, Fla.
Chip has previously won the title in back-to-back years in 2009 and 2010 after earning three separate top-10 finishes in the years prior.
Chip (88.28) won the competition by just over a full point and was one of eleven different mascot finalists from a field that included the likes of second place winner "Aubie The Tiger" from Auburn University (87.22), third place winner "Harry The Husky" from Washington (83.12) and fourth place winner the "Nittany Lion" from Penn State (81.32).
Chip entered the final competition ranked as the No. 2 overall mascot thanks to an earlier video submission that accounted for half of his competition points. The other half of his points were earned during a 90-second floor routine that was judged on creativity, crowd appeal, prop usage, animation, enthusiasm, and overall impression.
"I am extremely proud of the hard work that Chip and the incredible athletes who support him have put in over the past season. Their long hours and dedication are a reflection of their passion to represent the University Of Colorado," said Michael Kussin, Spirit Squad Coordinator and Mascot Coach.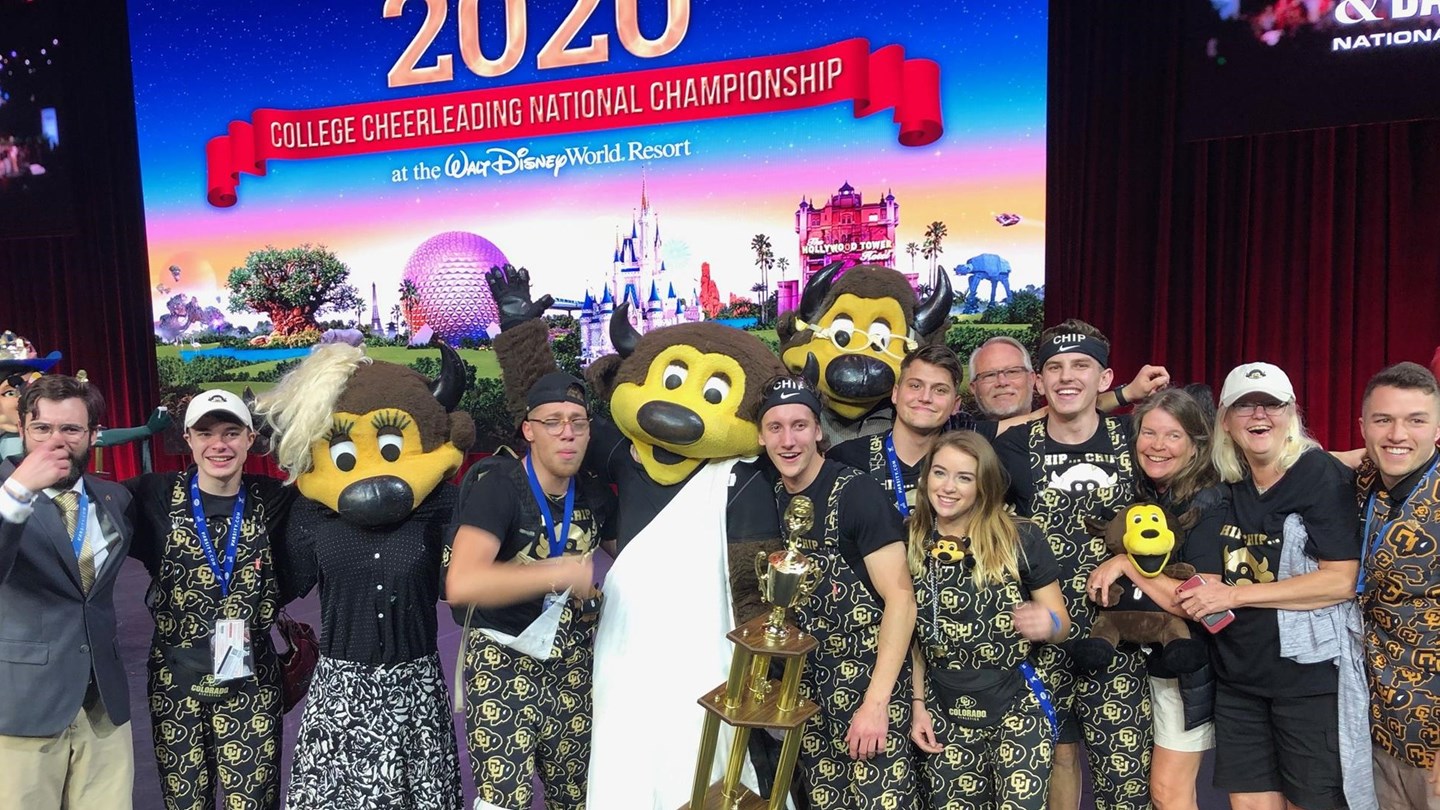 –
—
Mel Tucker happy to win recruiting battle for Jason Harris: "That was a tough one"
From the Daily Camera … In the final days – and hours – before the early signing period began on Dec. 18, the Colorado football staff had work to do to land some of their top recruits.
One of the toughest battles came in signing Jason Harris, a four-star outside linebacker/defensive end from Gilbert, Ariz. It wasn't until late in the day on Dec. 18 that Harris signed his letter of intent, and then he and CU kept it quiet until Harris could announce his choice on ESPNU during the Under Armour All-America Game on Jan. 2.
"We've been recruiting him for a long time and (outside linebackers coach Brian Michalowski) did a great job with him," Tucker said in an interview with BuffZone.com this week. "That was a tough one because he's one of the top players in the state of Arizona and obviously he has Arizona ties. I was really happy to get him."
… Continue reading story here …
–
—–
January 17th
… CU in a few minutes … 
When will Eric Bieniemy get his chance to be an NFL head coach?
From The Athletic … Eric Bieniemy will not be a head coach in 2020. That much became clear on Sunday when the Browns finalized their deal with Vikings offensive coordinator Kevin Stefanski. Bieniemy, one of only two African American offensive coordinators in 2019, interviewed for three of the five head coaching jobs: Cleveland, Carolina and the New York Giants. Those teams instead picked Stefanski, who has one full season as a play-caller; Matt Rhule, the head coach at Baylor; and Joe Judge, a 38-year-old special teams coach from New England, respectively.
It's not that those guys don't deserve their new jobs or that they won't become good head coaches. And it's not to say there's any guarantee Bieniemy will succeed as a head coach when, and if, his chance ever comes. But watching Bieniemy spit out plays during the second quarter of the divisional-round win — when Mahomes threw four touchdown passes and turned a 24-0 deficit into a 28-24 halftime lead — makes it reasonable to wonder: If Bieniemy won't get a head-coaching job now, will he ever?
Reid's previous two offensive coordinators, Matt Nagy and Doug Pederson, became head coaches after collaborating with Reid in similar ways as Bieniemy is doing now. He has arguably been at least as successful, if not more so, in that role than Nagy was when he was hired by the Bears two years ago, and this should have been his year to make the jump.
2019 was Bieniemy's second full season as an offensive coordinator after he was promoted in 2018 from running backs coach to replace Nagy. In the 2018 season, Bieniemy helped coordinate one of the most dynamic offenses, as Mahomes threw 50 touchdown passes and was the NFL MVP. That season launched Bieniemy into the head-coaching candidate pool, and he interviewed for four open jobs (Dolphins, Jets, Buccaneers and Bengals) but did not receive an offer.
The Chiefs' offense didn't put up the same bonkers numbers in 2019, but it also dealt with weeks-long injuries to Mahomes, wide receiver Tyreek Hill and several starting offensive linemen. But they surged in December, won the AFC West, secured the No. 2 seed in the AFC and scored 51 points in three quarters against the Texans.
In recent weeks, no one has been a more vocal proponent of Bieniemy than Reid, who publicly advocated for his longtime assistant before his trio of interviews. Now Reid seems exhausted by the narrative that Bieniemy's role is in any way limited, and on Thursday, he emphasized the collaborative nature of the Chiefs' offense.
"We just jump in and go," Reid said. "I've always been that way with it. I think it's important that everybody is on the same page and involved with it. I don't really care who's calling it or not calling it, I just want to make sure that it gets called and that we have good plays to call from. That's where I put my energy."
… Continue reading story here (subscription required) …
–
—–
January 16th
… CU in a few minutes … 
** CU's 2020 schedule (finally) announced**
From CUBuffs.com … The Pac-12 Conference released its schedule Thursday for conference football games for the 2020 season, with University of Colorado final slate having two home games in each month of the season and a non-Saturday contest for the 25th straight season.
The non-conference schedule has been set for years.  The Buffaloes will once again open the season against Colorado State, but the two will play their first Rocky Mountain Showdown in Fort Collins since 1996 when they collide on Saturday, Sept. 5.  It is the 22nd time the Rams will be CU's season opening opponent since the rivalry resumed after a 25-year dormancy in 1983.  The Buffs have won the last five games in the series to take a 67-22-2 edge in its 91-game history.
Colorado's home opener follows on Saturday, Sept. 12, when Fresno State visits Folsom Field for the first time since 2001; the game was originally scheduled in Boulder on Sept. 14, 2013, but was cancelled after the Boulder area experienced what many have termed the thousand-year flood.  The Bulldogs have won the last two games to cut CU's edge in series in half to 4-2.
Non-league play concludes the next Saturday (Sept. 19), when the Buffs will travel to College Station to face former Big 12 rival, Texas A & M (now a member of the Southeastern Conference).  The two last tangled in 2009 in Boulder, with CU winning a thriller, 35-34, to take a 6-3 series lead.
The Buffs will open Pac-12 league play at home for the fifth time in the last seven years in hosting defending conference champion Oregon on Saturday, Sept. 26.  CU then has a very favorable stretch, as that game will be followed by a bye week which occurs at the midway point between the start of the practice and the remaining eight regular season games.  That will be followed by a Friday night game (Oct. 9) at against Arizona in Tucson which will be televised nationally on either FOX or FS-1.
Colorado then has back-to-back home games on the docket, with UCLA visiting Folsom on Saturday, Oct. 17 which will be the centerpiece of Family Weekend.  The annual Homecoming affair follows the next Saturday (Oct. 24), with Arizona State providing the opposition.  The month of October will end with a game at Southern California on Halloween.
The Buffaloes open November at home against Washington State (Nov. 7), and then have the annual back-to-back raod game stretch with games at Stanford (Nov. 14) and Washington (Nov. 21); CU defeated both at home in 2019, also in the month of November.   Colorado will finish its 10th regular season as a member of the Pac-12 at home against Utah on the Saturday after Thanksgiving (Nov. 28), the ninth time the neighboring state rivals will play the season finale.
The opponent "misses" in conference play for the second straight year are California and Oregon State; they will return on the schedule for the 2021-22 seasons and replace Stanford and Washington State.
Colorado was 5-7 last year, with a 3-6 record in Pac-12 play, under first-year head coach Mel Tucker.  The Buffaloes are set to return 60 lettermen from that squad, including 15 starters.
Television game selections and start times for the first three weeks of the season will be known by June 1, with all remaining games from Sept. 26 through the final week of the regular season to be made 12- or six-days in advance per contractual agreements with the Pac-12's television partners, ESPN, FOX and the Pac-12 Networks.
2020 COLORADO FOOTBALL SCHEDULE
Date                      Opponent                          Site
Sept.     5      at Colorado State                     Fort Collins
SEPT. 12      FRESNO STATE                  BOULDER
Sept.  19      at Texas A & M                          College Station
SEPT. 26      *OREGON                              BOULDER
Oct.       3      —BYE—
Oct.       9      (Fri.) *at Arizona                   Tucson
OCT.   17      *UCLA (FW)                          BOULDER
OCT.   24      *ARIZONA STATE (HC)   BOULDER
Oct.    31      *at Southern California          Los Angeles
NOV.     7      *WASHINGTON STATE          BOULDER
Nov.   14      *at Stanford                               Palo Alto
Nov.   21      *at Washington                          Seattle
NOV.  28      *UTAH                                    BOULDER
Dec.      4      (Fri.) Pac-12 Championship Game    Las Vegas
(*—Pac-12 Conference game; FW—Family Weekend; HC—Homecoming)
–
—
Pro Football Focus rates 2019 quarterbacks: Steven Montez in at No. 58
From Pro Football Focus … All season long, we've taken a stab at ranking the college football starting quarterbacks at the FBS level. After debuting them with our preseason rankings, we reset the books with a look after six weeks of action and after 12 weeks of action. Now, with the season's worth of data from grading every player on every play of every game in the books, we take a look back at those rankings and give an even more accurate look at how every team's starting quarterback fared through the 2019 season.
This list is largely based upon the starting quarterback's success — or lack thereof — in 2019, but it is also affected by the situation around him with other quarterbacks on the roster who may have received snaps or sustained injuries. No list is ever 100% accurate, but with our wealth of data at our fingertips, we get as close as anyone can.
[Editor's note: These rankings are based heavily on the individual player's PFF grades for the season. The avoidance of negatively graded plays, the propensity for positively graded plays, the strength of competition and value towards a team victory are all heavily factored, as well. A player's effect on their team's offense, their expected points added per dropback (or rushing attempt) and overall accuracy from our advanced ball-charting data are also considered among other factors.]
From the Pac-12 (as well as Nebraska and Colorado State)  … 
113. ADRIAN MARTINEZ, NOAH VEDRAL – NEBRASKA
90. DAVIS MILLS, K.J. COSTELLO – STANFORD
86. DORIAN THOMPSON-ROBINSON, AUSTIN BURTON – UCLA
72. JAYDEN DANIELS – ARIZONA STATE
65. PATRICK O'BRIEN, COLLIN HILL – COLORADO STATE
61. CHASE GARBERS, DEVON MODSTER – CAL
58. STEVEN MONTEZ – COLORADO


Preseason Rank: 28; Week 6 Rank: 30; Week 12 Rank: 53

The Montez roller coaster is officially closed in Boulder after four years of rocky production. His highs were among some of the highest moments in the Pac-12 over the past four seasons, but some of his lows were ultimately some of the conference's lowest moments. His career sees him finish with five elite passing game grades but with also six single-game passing grades lower than 45.0. He capped his career with his third straight season of 2,800 yards through the air and third consecutive year with at least 17 touchdowns. Much like the rest of his career as well, he finishes with 14 big-time throws and another 15 turnover-worthy throws, nearly mirroring each of his previous career season totals. His longevity as the starting quarterback for the Buffaloes is certainly admirable, but a change of scenery may be welcomed by Colorado fans.

32. KEDON SLOVIS, JT DANIELS, MATT FINK – USC
25. GRANT GUNNELL, KHALIL TATE – ARIZONA
22. ANTHONY GORDON – WASHINGTON STATE
19. JAKE LUTON – OREGON STATE
18. JACOB EASON – WASHINGTON
9. TYLER HUNTLEY – UTAH
6. JUSTIN HERBERT – OREGON
–
—
In-state Buff commits Kaden Dudley and Anthony Constanzo making an impression
From the Daily Camera … Sitting in an office at SixZero Strength and Fitness last week, Anthony Costanzo and Kaden Dudley both smiled a bit as coach Matt McChesney raved about the duo.
"I have a feeling that at some point you're going to be looking at the two all-conference safeties in the Pac-12 playing in the same backfield," McChesney said as he walked out of the room. "I think it's going to be nasty."
… Dudley, a rising senior at Palmer Ridge, is currently the lone player verbally committed to CU for the class of 2021. Costanzo, a rising junior, is the Buffs' lone commit for 2022.
Last season, Dudley caught 35 passes for 794 yards and nine touchdowns, while adding 90 tackles and five interceptions on defense. Costanzo caught 16 passes for 433 yards and eight touchdowns and had 15 tackles and three interceptions on defense.
Costanzo and Dudley both said Buffs head coach Mel Tucker wants them to play defense at CU, while receivers coach Darrin Chiaverini wants them on offense.
There's plenty of time to figure out where they play, but in the meantime, they are making each other better on both sides of the ball.
… Continue reading story here …
–
—–
January 15th 
… CU in a few minutes … 
Broncos fire QB coach T.C. McCartney (Bill McCartney's grandson)
From the Daily Camera … The Broncos have fired quarterbacks coach T.C. McCartney, according to a source who confirmed the report by KOA Radio.
McCartney, a native of Boulder and the grandson of former Colorado coach Bill McCartney, was the only coach with ties to former offensive coordinator Rich Scangarello. Scangarello was fired Sunday by coach Vic Fangio, who hired Pat Shurmur on Tuesday.
McCartney previously worked for Cleveland and San Francisco (he worked with Scangarello on the 49ers) in the NFL and LSU and Colorado in college.
During the 2019 season, McCartney earned praise from Scangarello for his work with rookie quarterback Drew Lock during his stay on injured reserve. Lock went 4-1 as the Broncos' starter at season's end.
–
—
Pac-12 Networks going cheap: Only one spring game (Oregon) will have fully-staffed on-site broadcast
From the Oregonian … If you tune into the Pac-12 Networks this spring to watch a baseball or softball game or even one of the spring football games you may be viewing a bare-bones television production. In fact, the on-air talent broadcasting the event may even be sitting in an edit studio in the downtown-San Francisco headquarters calling the game off a monitor.
Insiders reveal that's the state of the conference's media company.
The spring production schedule for the Pac-12 Networks was distributed to staff last week and it created a buzz among long-time production staff. Particularly, because it comes with a jarring change. There is only one traditionally produced, fully-staffed, on-site broadcast event on the schedule — the Oregon Ducks' spring football game.
It's not that the Pac-12′s owned and operated media company won't broadcast as many live sporting events. It just won't utilize the usual number of experienced on-site broadcasters, producers, unit managers, technical directors, camera people, audio technicians and graphics editors.
The Pac-12 is going on the cheap.
… In 2019 the Pac-12 Networks sent full production and broadcast crews to 10 of the conference's 12 spring football games. Only Stanford and UCLA were produced remotely from San Francisco. This spring, per a Pac-12 source, 11 of the 12 spring football games will feature remote broadcasts with limited on-site staff and a reduced number of camera operators at the stadium.
The Pac-12 owns its own media company. Or it IS a media company, depending on who you ask. Whatever the case, Commissioner Larry Scott and his team spent the last 13 months seeking a $500-million private-equity investment in the media company. To date, the conference hasn't found a willing partner and it now appears the Pac-12 Networks is in full-blown, cost-cutting mode.
… Continue reading story here …
–
—–
January 14th
… CU in a few minutes … 
Report: Defensive lineman Va'atofu Sauvao enters Transfer Portal
247Sports writer Chris Hummer is reporting that senior defensive lineman Va'atofu Sauvao is entering the NCAA transfer portal. Sauvao transferred to CU from Modesto Junior College as an offensive lineman, was later moved over to the defensive line.
Sauvao did not see any action in 2019.
The 2019 Season (Jr.):
Dressed but did not play against Colorado State.
Twice named defensive scout of the week for the Oregon and UCLA games.
Came out of spring ball listed third at center, switched over to the defensive line the first week of fall camp.
… This is one of those addition by subtraction moves. Sauvao has been recruited over. Good for Sauvao, as he can seek a better opportunity for playing elsewhere, while the move is also good for CU, as it opens up another scholarship for use this fall … 
–
—-
CU given 100:1 odds of winning 2020 Pac-12 championship
From SportsBetting.com .. Odds of winning Pac-12 title in 2020:
Oregon – 5/2
Arizona State – 5/1 (kind of a surprise to see the Sun Devils at No. 2)
USC – 6/1
Utah – 8/1
Washington – 10/1
Cal – 14/1
Stanford 25/1
UCLA – 32/1
Arizona – 50/1
Oregon State – 75/1
Washington State – 90/1
Colorado – 100/1
… Having CU at long odds should come as no surprise, but Arizona being twice as likely to win the Pac-12? The Wildcats will enter the 2020 season on a seven-game losing streak, finished 4-8, 2-7, had a poor recruiting Class, and lose Kahlil Tate. I would say that, objectively, Arizona is no more likely, and perhaps less likely, to win the Pac-12 than is CU, but Buff fans are used to national pundits having little positive to say about the CU program … 
–
—–
January 13th
… CU in a few minutes … 
"Crucial" nine-week spring strength and conditioning session begins this week
From CUBuffs.com … On a day when the college football national championship was set to be decided, the Colorado Buffaloes returned to work, six weeks after their last game.
The confluence of the two events did not go unnoticed.
"We've been off for six weeks, we're just getting back into workouts — and they're still playing," said junior offensive lineman Colby Pursell after Monday's workout. "That's tough. You sit at home during break and all those bowl games are being played and there are still teams playing right now. We want to be one of those teams. We want to keep playing, we want to go to bowl games and have longer seasons.
"But that has to start here. Today."
This will be the second spring conditioning session of the Mel Tucker era, who brought with him to Boulder a "Fourth Quarter" mentality when it comes to offseason training.
That mentality showed up last season, as the Buffs made some solid strides under strength coach Drew Wilson. For the first time in several years, the Buffs improved down the stretch, picking up two wins in November (Stanford and Washington), the first time CU won two games in the final month of the season since 2016.
But it wasn't enough to become bowl eligible, never mind enough to compete for a Pac-12 title.
Now, the Buffs have a much better understanding of what Tucker expects from them. They know this nine-week strength and conditioning session will be critical before they head into spring ball (set to begin March 16) and they know Tucker and his staff will only increase the intensity in Year Two.
It means Wilson's time with the Buffs is crucial.
… Continue reading story here …
—
SPRING SCHEDULE: The Buffs will have a nine-week strength and conditioning schedule, with the opening of spring ball currently set for March 16. They will practice three times that week, take one week off for spring break, then resume workouts March 30. The schedule calls for three practices a week throughout April, with the spring game set for April 25.
–
—–
January 12th
… CU in a few minutes … 
Checking in: Early Enrollees on campus
With the spring semester at the University of Colorado beginning this week, those new Buffs who are enrolling early on moving into their new digs on the CU campus.
The list of the ten early enrollees (nine scholarship players from the Recruiting Class of 2020, one preferred walk-on):
Quarterback Brendon Lewis
Offensive lineman Carson Lee
Offensive lineman Jake Wray
Defensive lineman Alvin Williams
Defensive lineman Antonio Alfano
Defensive lineman Guy Thomas
Defensive lineman Justin Jackson
Linebacker Brendan Pyne (walk-on)
Defensive back Jaylen Stricker
Punter Josh Watts
–
—
Justin Jackson: "Coach Tucker, he's moving this program in the right direction and I'm just ready to start this journey with him" 
From the Daily Camera … As national signing day approached last month, Justin Jackson felt the pressure from different schools.
A defensive end from Northwest Mississippi Community College, Jackson had committed to Colorado in June, but picked up several other scholarship offers after that. Most notably, West Virginia tried to pry him away from the Buffaloes.
"Colorado, they've been my first decision since I went on my (official visit), and I just stuck with it," said Jackson, who signed his letter of intent on Dec. 18. "I know West Virginia came late in my recruitment and they wanted to change my mind, but my heart was always with Colorado. I'm glad to be a Buff."
The Buffs are glad, too, and Jackson will officially join the team when he enrolls in school this month.
"I'm super excited," he said. "I'm ready to start a new chapter in my book and get used to being away from my family. I'm just excited to start something new with coach Tucker."
… Continue reading story here …
–
—–
January 10th
… CU in a few minutes … 
Former Buff Jashon Sykes out after seven seasons with San Diego State
From FootballScoop.com … San Diego State: Source tells FootballScoop Brady Hoke is parting ways with Rocky Long's Assistant AD / Football Operations Jashon Sykes. Sykes spent 7 seasons with the Aztecs and had previously served as DFO at his alma mater the University of Colorado. Sykes is currently the Vice President of the Director of Football Operations National Committee and will take over as president after the AFCA Convention. The former NFL linebacker and long time DFO will be a great addition to someone's staff.
–
—
College Football Greatest Players list includes CU's Bryon "Whizzer" White
From ESPN … The National Football Foundation estimates that 5.33 million players have suited up for college football in 150 years, which places the odds of any one athlete appearing on this list of the 150 greatest players in the history of the game at 35,533-1.
Unless you're Deion Sanders (No. 26). Or Jim Plunkett (No. 43). Or Steve McNair (No. 110). Then you're pretty much a shoo-in. Not to mention that your chances doubled if you're Adrian Peterson (Nos. 45 and 84).
116. Byron "Whizzer" White (RB, Colorado, 1935-37)
Rushing yards: 1,864 | Total offense: 2,538 yards | Touchdowns: 24
White excelled on the field and in the classroom at Colorado. In 1937, the Heisman runner-up led the nation in four major statistical categories: scoring, rushing, total offense and all-purpose yards. White's record-setting 246 all-purpose yards per game stood until Barry Sanders broke the mark in 1988. White was a Phi Beta Kappa scholar and first in his class at Colorado. He became a Rhodes Scholar and was No. 1 in his class at Yale. White won two Bronze Stars in Pacific combat in World War II and in 1962 became the youngest man to be appointed to the U.S. Supreme Court.
–
—
DL Jason Harris glad to (officially) be a Buff: "I look forward to being just another piece to the puzzle"
From the Daily Camera … For two weeks, the Colorado football staff had to keep it quiet that one of the top high school players in the state of Arizona signed his national letter of intent.
When the news finally became public, last Thursday, CU assistant head coach Darrin Chiaverini posted a video of head coach Mel Tucker and staff celebrating Jason Harris' signing.
"That was awesome," Harris, from Gilbert, Ariz., said of the video. "You always want to feel wanted and needed in a program. I look forward to being just another piece to the puzzle. They have tons of great players they've brought in on offense and defense. I look forward to playing with all those guys."
Harris, a 6-foot-7, 230-pound defensive end/outside linebacker, made his decision official by signing with the Buffs on Dec. 18, but made it public last week when he announced his college choice on ESPNU during the Under Armour All-America Game in Orlando, Fla.
"It wasn't very tough at all," he said of keeping the secret. "Being able to announce it on ESPN along with the All-American game, I was able to do it with a pretty big audience. A lot of people were watching. Growing up, I watched that game since I was like maybe six or seven years old. I've always wanted to do it in an All-American game like the Under Armour.
"I thought it was a great way to try to build my brand and introduce myself to the sports world a little bit better."
… Continue reading story here …
–
—–
January 8th
… CU in a few minutes … 
Defensive lineman Na'im Rodman: "We're going to come back bigger, better, faster, stronger, smarter, more connected"
From the Daily Camera … Throughout this past season, Na'im Rodman never had a "freshman" moment, where he felt out of place in college football.
Instead, the Colorado defensive linemen had moments of inspiration as he thought about his future.
"It was just like, 'I'm going to get better in this aspect and they're not going to think I'm such a young guy anymore,'" Rodman said.
"I handled (the season) well. Mentally, I just know I have some stuff to work on, technique and everything, and just getting stronger, faster this (next) season. It was a great learning experience, a teaching experience."
… The competition will be ratcheted up a notch or two this next season. CU head coach Mel Tucker has put a premium on finding "big guys that are strong and powerful; they can move people," he said last month on national signing day.
Rodman was a part of that emphasis. While he originally committed to CU's previous head coach Mike MacIntyre, Rodman signed after Tucker was hired 13 months ago.
Tucker has revamped the defensive line, and it's a group that could be together for a while. All 10 scholarship defensive linemen from this past season are slated to return for 2020 and only two are seniors: starter Mustafa Johnson and backup Va'atofu Sauvao, who did not play in any games.
Rodman was one of four true freshmen in the group this season, along with Austin Williams, who played 190 snaps. Lloyd Murray Jr. and Jayden Simon redshirted.
… Continue reading story here …
–
—–
January 7th
… CU in a few minutes … 
*Video – Mel Tucker interviewed by KCNC-Denver*
Coach Tucker was on Channel 4 KCNC-Denver on "A Few Extra Minutes".
The four-minute interview, in which Coach Tucker discusses coaching in the SEC, the Early Signing period, and his take on the signing of Jason Harris, can be found here.
–
—–
January 6th
… CU in a few minutes … 
Pro Football Focus: CU offensive line grades out at No. 54 (7th in Pac-12)
From Pro Football Focus … The 2019 college football season is just two games away from its culmination, and as such, we take a look today at the best offensive line units from this season's action.
This year, offensive lines across college football were pivotal to some teams' triumphs, while other teams utilized strong play elsewhere to find their success. Taking into account the PFF grade for each player to play the majority of snaps at each position, along with each team's positional rotation, strength of schedule and percentage of positively graded plays against negatively graded plays, here are the offensive line rankings for all 130 FBS teams from the 2019 season.
54. COLORADO BUFFALOES
Highest-graded player: OT Arlington Hambright – 74.8 (63rd)
By all definitions, Colorado's offensive line was very middle-of-the-pack as a unit. They finished the season ranked 47th in pass-blocking grade and 52nd in run-blocking grade but were certainly strongest on the outside at the tackle position. Hambright led them all in grade, finishing with top-third grades in the pass and run game.
The Pac-12 … 
North
Oregon – 1st
Washington – 10th
Oregon State – 15th
Washington State – 24th
Cal – 58th
Stanford – 85th
South 
USC – 31st
Arizona – 46th
Colorado – 54th 
Utah – 70th
UCLA – 74th
Arizona State – 89th
–
—–
January 4th
… CU in a few minutes … 
Cleveland Browns interview Eric Bieniemy
From wkyc.com  … Kansas City Chiefs offensive coordinator Eric Bieniemy became the third man interviewed for the Cleveland Browns' head coaching vacancy when he spoke with members of the search committee Friday, joining the likes of Super Bowl winner Mike McCarthy and Baltimore Ravens offensive coordinator Greg Roman, who spoke with the team Thursday.
Bieniemy has been a long-time assistant of Chiefs coach Andy Reid and had a nine-year NFL playing career before that.
… Before Bieniemy became a coach, he spent nearly a decade as an NFL player.
Bieniemy began his NFL career with the San Diego Chargers (1991-1994) and continued with the Cincinnati Bengals (1995-1998) and Philadelphia Eagles (1999) before hanging up the cleats and turning his focus to coaching.
Following his career, Bieniemy started coaching in 2000 as an assistant at Thomas Jefferson High School in Denver before moving on to UCLA (2003-2005), and later, joining the professional ranks as running backs coach for the Minnesota Vikings (2006-2010).
After a two-year run as the offensive coordinator at his alma mater, the University of Colorado (2011-2012), Bieniemy joined the Chiefs' staff and mentored the running backs (2013-2017) before transitioning into the offensive coordinator role for the last two seasons.
–
—
Running back Jaren Mangham: "I feel like I'm going to do a lot better come next year"
… While some Buff fans are wringing their hands over hanging onto the commitment of four-star running back recruit Ashaad Clayton, they forget that CU signed a four-star running back last recruiting cycle, Jaren Mangham …
From the Daily Camera … When he got to Colorado last summer, Jaren Mangham didn't lack confidence in his ability to make an impact with the Buffaloes' football team.
What the freshman running back didn't have was experience.
Now he does, and Mangham said this past season was a good launching point for his college career.
"I felt like my freshman year went pretty good," Mangham said. "I felt like I learned a lot. I came far as a person."
… Mangham was the top backup, rushing for 441 yards and three touchdowns on 107 carries and hauling in 10 catches for 41 yards. Only seven freshmen in CU history have rushed for more yards.
"Whenever I watch the film, I can just see the improvement in myself," he said. "Little things like footwork, reading my blocks, staying in the gaps, don't bounce it out too late, stuff like that. So I felt like I came a long way."
… Continue reading story here …
–
—–
January 3rd
… CU in a few minutes … 
Jason Harris: "I plan on being the next great Buff"
From the Daily Camera … Colorado's best recruiting class in several years got even better on Thursday.
Jason Harris, a four-star defensive end from Higley High School in Gilbert, Ariz., announced that he will be a part of Colorado's 2020 class in football.
The highly touted Harris made his announcement during the second quarter of the Under Armour All-America Game on ESPNU, giving CU head coach Mel Tucker a high-profile addition to the defense. Harris signed his letter of intent during the early signing period, Dec. 18-20, but delayed his announcement until Thursday's game.
"Coach Mel has coached the greatest players and I plan on being the next great Buff," Harris said during the ESPNU broadcast.
… Continue reading story here …
–
—–
January 2nd
… CU in a few minutes … 
Jason Harris a Buff! 
Harris has already signed his Letter of Intent, but wanted to wait until the Under Armour All-Star game to make his announcement.  A big get for the CU Recruiting Class of 2020!
From CUBuffs.com … Jason Harris, a unanimous four-star prospect and top 300 player nationally by the recruiting services, has signed his national letter of intent to continue his education and play football at Colorado, he announced in the second quarter of the Under Armor All-America High School Thursday in Orlando.
Harris is a 6-foot-7, 230-pound outside linebacker from Gilbert, Ariz., and Higley High School.  He will become one of the tallest defensive players in program history, behind only Curt Koch, a 6-foot-8 defensive tackle who played from 1984-87 and joining current Buff Terrance Lang at 6-foot-7.
"Jason is a tremendous young man," CU coach Mel Tucker said. "Athletically, his ceiling is very high.  His ability to rush the passer is something that's very difficult to find in recruiting.  I'm excited about his future as a Buff."
The Harris bio … 
Jason Harris – DE
Just the facts … Harris is a 6'7″, 230-pound weakside defensive end from Gilbert, Arizona Rivals bio 247 Sports bio
What others have to say about Harris … Harris is rated as a four-star prospect by both Rivals and 247 Sports. At Rivals, Harris is rated as the No. 9 player end out of the state of Arizona, and the No. 13 overall weakside defensive end in the nation. At 247 Sports, Harris is the No. 8 player from Arizona, the No. 17 weakside defensive end in the country, and the No. 324 overall player in the nation.
Evaluation from Blair Angulo from 247 Sports … Tall, lanky frame with long limbs and narrow build. Plenty of room to add mass and strength. Very comfortable in stand-up role off the edge. Reach keeps blockers at arm's length. Shows good burst off the snap, but takes time to reach top-end speed. Awareness to get hands up when he doesn't reach the backfield. Athletic, but raw defender who needs to improve pass-rush moves. Lacks elite speed and explosiveness. Potential multi-year starter with upside as NFL Draft Day 2 selection.
Harris had other offers from … over two dozen schools. Harris has offers from two-thirds of the Pac-12, including both Arizona schools, both Oregon schools, and both Los Angeles schools. Other Power-Five offers came from schools like Alabama, Auburn, Florida, Indiana, Illinois, Nebraska, Oklahoma, Texas and Texas A&M.
Here is a link to his Hudl.com highlights.
–
—
Former Buff Eric Bieniemy a hot commodity in NFL head coaching searches
From USA Today … Kansas City Chiefs offensive coordinator Eric Bieniemy is set to have a very busy bye week.
Bieniemy is currently one of the hot ticket coaches in the NFL being considered by multiple teams with head coaching vacancies. In 2018, Bieniemy interviewed for multiple head coaching jobs and ultimately was passed over for other candidates. This season it seems like he's much more likely to find a home as an NFL head coach.
So far three teams that have already dismissed their head coaches from 2019 have formally submitted requests with the Chiefs to interview Bieniemy. Those teams include both the Carolina Panthers, New York Giants and now the Cleveland Browns.
The Panthers brass has a date set with Bieniemy to meet on Thursday as first reported by ESPN's Josina Anderson, but it's not yet clear if they'll meet in Kansas City or Charlotte.
As for the Giants, they'll meet with Bieniemy on Saturday, according to NFL Network's Ian Rapoport. The same question of location remains for this interview. It sure seems like there could be a whole lot of travel for Bieniemy right as the Chiefs are in the midst of playoff preparations for the divisional round.
–
—–
January 1st – Happy New Year!
… CU in a few minutes … 
Four-star in-state Class of 2021 quarterback chooses another school
Jake Rubley, a four-star quarterback recruit from Highlands Ranch, Colorado, announced that he has committed to Kansas State. Rivals bio 247 Sports bio
Rubley, considered to be the No. 1 prospect out of the state of Colorado by 247 Sports, the No. 2 prospect by Rivals. Rubley had offers from over a dozen Power Five schools, including Colorado, LSU, Michigan, Penn State, Texas A&M, Utah and Wisconsin.
Rubley is considered to be a pro-style quarterback, whereas CU signee Brendon Lewis is considered to be a dual-threat quarterback, so Rubley's decision may have been as much about coaching styles as coaching staffs.
But losing a four-star in-state prospect, especially a high-profile quarterback recruit, is never a good look …
–
—–
December 31st
… CU in a few minutes … 
Daily Camera posts CU All-Decade first- and second-teams
From the Daily Camera … Coming up a win short of a bowl game wasn't exactly what the Colorado football program had in mind for the first season of the Mel Tucker era.
Tucker, who recently wrapped up his first year as the Buffaloes' head coach, seems to have the program going into a positive direction as the 2020's begin, but it was perhaps fitting to see the decade end in yet another disappointment.
On Wednesday, the calendar flips to 2020 and begins a new decade, which should bring a measure of hope to CU fans. After all, the 2020's have got to be better than the 2010's, right?
From 2010-19, CU posted a dismal 44-80 record, a .355 winning percentage that is the worst for any decade in program history.
At a time when reaching a bowl game is easier than ever, the Buffs managed to get there just once in the 2010's. The last time the Buffs played in fewer than three bowls in a decade was in the 1950s – when there were never more than 18 bowl teams in a season (there were 80 this year). By today's standards of winning six games to become bowl eligible, the Buffs would have gone to the postseason eight times in the 1950's.
The 2010s saw the Buffs go through four head coaches (six counting interim coaches), two athletic directors, a conference shift – from the Big 12 to Pac-12 – and just one winning season.
Despite the struggles, the Buffs were represented by several exceptional players during the 2010's.
Three quarterbacks set the program's career passing record – including Steven Montez in the 2019 finale. Seven of the top nine receivers in CU history, in terms of career catches, played during the decade, as did two of the top three rushers. There were also an impressive bunch of defenders (mainly from the 2016 team).
When the decade began, Joel Klatt was the all-time leader passer in CU history, Michael Westbrook the all-time leader receiver and Rashaan Salaam was second in rushing. Now, all rank fourth. The career lists are sure to change in the next 10 years, as well.
With the door closing on the 2010's, Buffzone.com has selected an all-decade team for the Buffs, honoring some of those great players who wore the black and gold over the past 10 years.
… Read full list of first- and second-team selections here …
–
—
Time set for Jason Harris announcement at Under Armour game
From 247 Sports … There will be seven players making announcements about their college destinations at Thursday's Under Armour All-America Game, which kicks off at 4:00 p.m. (MT) and will be televised on ESPN2.
The highest rated player set to announce is Las Vegas Desert Pines five-star Darnell Washington. He is No. 1 athlete and No. 10 player in the industry-generated 247Sports Composite, and he is being recruited as a tight end.
Washington said he already signed his binding national letter of intent. He is listing Georgia, Alabama, Florida, Miami and Tennessee as his finalists, but the 247Sports Crystal Ball is heavily weighted toward the Bulldogs. Of the 18 Crystal Ball picks, 17 are in favor of Georgia.
–In the second quarter (so, around 5:00 p.m., MT), Gilbert (Ariz.) Higley four-star Jason Harris, who is the No. 11 weakside defensive end, will announce. He has Arizona and Colorado high on his list. His brother (Jalen) plays at Arizona, his father (Sean) played at Arizona and his mom (ChaRon) played basketball at Arizona.
All that said, the Crystal Ball is leaning heavily in Colorado's favor. Of the 13 selections, 12 are in favor of the Buffaloes.
–
—–
December 30th
… CU in a few minutes … 
Antonio Alfano: "I like having pressure on me …  I take everything that comes with (the expectations)"
From the Daily Camera … Although the Colorado football team came up a win short of a bowl game, Antonio Alfano watched the Buffaloes during the final month of the season and got excited.
"I felt like they came alive a little bit," Alfano said. "They were coming from all angles, hitting the quarterback all different ways. I do think (head coach Mel) Tucker will correct (errors). He's bringing that SEC mind frame to the Pac-12. I definitely think that we have a bright future."
Alfano is excited to be a part of Colorado's future, as the most highly anticipated addition in more than a decade.
This month, Alfano has been settling into his Boulder apartment and spending time visiting his girlfriend in Vail, but next month he will enroll at CU and begin the next chapter of his life – a chapter that nobody saw coming just a few months ago.
… Considering CU's lack of success – one bowl appearance in 12 years – and Alfano's enormous potential, he will carry a load of expectations with him to the field.
"Dude, honestly, the more (expectations) the better," Alfano said. "I like having pressure on me because you know that when you're waking up every day at five in the morning going to workouts and you really don't want to do it, you kind of just think about how many people are looking forward to watching you play on Saturdays. And not only that, I know I've got my parents back home and my whole family back home rooting for me now. That's a big motivator all in itself. I take everything that comes with (the expectations)."
At this point, Alfano doesn't even know if he'll be able to play in 2020. He has to request a waiver from the NCAA to become eligible next year.
"I'm mentally prepared for anything, honestly," he said. "If I'm able to play next year, that's fantastic, I would love that. If I'm not, that's a whole year for me to learn the whole system and get even stronger and faster than I already am right now, and right now I'm in the best shape of my life. If that's the case, then I pray for Pac-12 offenses the year after that."
… Continue reading story here …
–
—
Phillip Lindsay makes NFL history with second 1,000-yard season
From the USA Today … Last year, Denver Broncos running back Phillip Lindsay made NFL history by becoming the first undrafted rookie to earn a Pro Bowl berth. Lindsay earned the All-Star nod after totaling 1,278 yards from scrimmage and scoring 10 touchdowns.
Lindsay made more history against the Oakland Raiders on Sunday. Lindsay went into the game needing 42 yards for a second-consecutive 1,000-yard season. Lindsay surpassed 50 rushing yards in the fourth quarter, breaking the century mark for the second time in his career.
Lindsay became the first undrafted player in league history to rush for 1,000 yards in each of his first two seasons in the NFL. Lindsay is also Denver's first running back to rush for 1,000 yards in back-to-back seasons since Clinton Portis (2002-03).
The Broncos signed Lindsay as a college free agent out of Colorado following last year's draft. He quickly won the team's starting job and has been one of the team's best offensive players over the last two seasons.
–
—–
December 27th
… CU in a few minutes …
*Video – Mel Tucker Interview*
From You Tube, courtesy of the OLP Team
… Note … This video, which talks about recruiting, is from the day before Signing Day … 
–
—–
December 26th
… CU in a few minutes … 
(Forced into action) freshman cornerback K.J. Trujillo: "I'd give myself a B"
From the Daily Camera … Walking onto the field at Broncos Stadium at Mile High on Aug. 30, KJ Trujillo was in awe.
"I looked into the stands and I got little butterflies in my stomach," said Trujillo, a true freshman corner with the Colorado Buffaloes this past season. "I was like, 'Wow, I've never been in front of this many people before.' The fans, it's a lot different from high school."
Trujillo didn't play that night, but whatever butterflies he felt didn't last long, as he looked comfortable throughout much of his first season of college football.
"I feel like I played decent," said Trujillo, from Buena Park, Calif. "If I had to grade myself, A through F, I'd probably give myself a B. I don't think I did enough or made enough plays, but at the same time I think I did my job and I did make some plays."
Originally slated to redshirt – which Trujillo said in the spring he had hoped to do – he didn't play the first three games of the season, but was forced into action because of a rash of injuries at cornerback.
… Continue reading story here …
–
—
Phillip Lindsay can set an NFL record in the season finale against Oakland
From Sports Illustrated … Not only did Phillip Lindsay make the Broncos' 53-man roster (last season, as an undrafted free agent) out of training camp, he totaled more than 100 yards from scrimmage in the season-opener last year. By midseason, Lindsay was the Broncos' starting running back and he would go on a romp down the stretch that would not only see him eclipse the 1,000-yard rushing mark but also earn an unprecedented Pro Bowl selection as an undrafted rookie.
All in, Lindsay totaled 1,037 rushing yards in 2018 to represent the second-most yards by an undrafted rookie (since the 1970 NFL merger), to go along with double-digit touchdowns from scrimmage.
Lindsay's second year hasn't been quite as explosive or prolific. But as the heart and soul of the Broncos offense, he's still poised to achieve some new feats in the season-finale, if the big boys upfront can help pave the way.
As it stands, Lindsay is 42 yards away from another 1,000-yard rushing season. With the Oakland Raiders coming to town, 'the Colorado Kid' would become the first undrafted player in NFL history to begin his career with consecutive 1,000-yard seasons if he remains on his current pace of 63.8 rush yards per game. The last time Lindsay faced Oakland in Denver, he eclipsed 100 yards rushing for the first time in his career.
That was last year. Lindsay's second year has been just as historic. In Week 9 vs. Cleveland, he became the fifth Broncos running back to reach 2,000 scrimmage yards for his career by his 24th game. Lindsay has also recorded the fourth-most scrimmage yards (2,432) for a Broncos running back through the first 30 games of his career.
–
—–
December 25th – Merry Christmas!!
… CU in a few minutes … 
Tight end Brady Russell: "I definitely made a lot of strides this year"
From the Daily Camera … Time was running out in the first half when Colorado quarterback Steven Montez scrambled to his right, and then back to his left.
Running toward the line of scrimmage, Montez threw a bullet to tight end Brady Russell at the edge of the end zone for a touchdown.
"I was probably standing in that corner of the end zone for about 10 seconds wide open, just waiting because I didn't want to make myself too obvious to where the defense got attracted to me," Russell said of his touchdown against Arizona on Oct. 5. "But I wanted to make sure Steven could see me, too, so I was standing back there forever."
Similar plays where Russell had to freelance to get open led to a touchdown and two-point conversion for him in the season finale against Utah.
… Continue reading story here …
–
—–
December 24th
… CU in a few minutes … 
Brendon Lewis makes list of true freshmen quarterbacks who could start in 2020
From Bleacher Report … The majority of quarterback recruits are locked into their new programs now that the early signing period is over.
Most have been committed for a long time. Others—such as Ohio State's CJ Stroud and Oregon's Robby Ashford—made their decisions last Wednesday.
But who among them can step into the mix and be their team's new starter? Several Power Five programs have flashing Vacancy signs over that position, and the incoming youngsters will have the ability and opportunity to slide into the starting role.
Enrolling early always helps, of course. So does having immense talent.
Players such as Arizona State's Jayden Daniels, USC's Kedon Slovis, Boise State's Hank Bachmeier (before he injured his hip) and North Carolina's Sam Howell barely got their fall class schedules before they were thrust into leadership roles.
You can bet several more will follow suit in 2020, even though this wasn't a banner year for signal-callers in the recruiting cycle.
Factoring in the prospect's talent, ability and opportunity based on departures or inefficiency from the incumbents, let's look at a few signal-callers who could start right away as true freshmen in '20.
Brendon Lewis, Colorado … It seems like Steven Montez has been at Colorado forever, but he is out of eligibility, so the Buffaloes have to move in a different direction.
The next big thing in Boulder may be Brendon Lewis.
The dual-threat signal-caller from Melissa, Texas, is a 6'3″, 209-pound playmaker. The Buffaloes have done a good job of recruiting the Lone Star State recently, getting several quality players from there, including receiver Laviska Shenault Jr. Lewis may be the next.
He was offered by several schools, including Kansas, Mississippi State, Boston College, Washington State, North Texas and others, but he wants to play his college ball for coach Mel Tucker, as he told 247Sports' Adam Munsterteiger:
"I think (head) coach (Mel) Tucker is building a phenomenal program and I think it'll be a blessing for me to be part of that and help get the team where he wants it to be, to be competing for championships in the Pac-12. He is getting a bunch of good players. You see the recruits we have and how he is leading the program, we are building a great program. I feel like I can thrive and be successful in (offensive coordinator and quarterbacks) coach (Jay) Johnson's offense."
Lewis isn't the most polished passer, but he has a ton of athletic ability and could do a lot of things with the ball in his hands. He will compete for the starting job with Tyler Lytle and Blake Stenstrom after Sam Noyer entered the transfer portal.
After Montez's inconsistency, does Tucker want a more traditional dropback passer? If so, Stenstrom may be the guy. If they want to stay with an athletic player, Lewis has a chance.
–
—–
December 23rd 
… CU in a few minutes … 
ESPN: Steven Montez a Day Three draft pick "who could move up"
From ESPN … The quarterback class for the 2020 NFL draft has the potential to be loaded. There's still much to learn about the signal-callers, however, and questions remain about whether at least a few might still return to school for another season.
Heisman-winning LSU quarterback Joe Burrow leads the group and could be the No. 1 pick in April's draft, according to ESPN NFL draft analysts Mel Kiper Jr. and Todd McShay. Alabama's Tua Tagovailoa, recovering from a season-ending hip injury, is a special talent. Oregon's Justin Herbert has all the size and arm strength that you could ask for. NFL teams on the hunt for a quarterback will have plenty of options in Round 1.
Best of the rest
These quarterbacks are all thought to be likely Day 3 picks but could move up before the draft:
Steven Montez, Colorado: Montez piled on 2,808 yards, 17 touchdowns and 10 interceptions in his 2019 season, and he will also show his talents at the Senior Bowl in January. Montez's father, Alfred, played for one season with the Oakland Raiders in the 1990s.
–
—
Ashaad Clayton: "Coach Mel Tucker is a honest guy. He keeps it real"
… Though Clayton is still going to take three more official visits (he has been to CU and Kansas) before signing day in February …
From nola.com … As a 6-foot, 195-pound senior and full academic qualifier with 4.42-second speed in the 40, Clayton had ranked among the nation's running back darlings prior to the knee surgery in late May in which the meniscus was sewn back together rather than removed.
LSU, Alabama, Florida and the rest of the SEC were among the 60-something programs that already had extended official scholarship offers. But an extended rehabilitation coupled with rumors that the injury might be more severe and involve an ACL had reduced Clayton's suitors to two: Nicholls State and Northwestern State.
Clayton and his mom actually had attempted to verbally commit to LSU, his "No. 1 school,'' during an unofficial visit in late June only to be rebuffed by the Tigers coaching staff over concerns about the injury.
Clayton said he and his mom even went so far as to supply LSU with his medical records and an evaluation from his surgeon. All to no avail.
"That's what really put that chip on my shoulder,'' Clayton said. "When LSU didn't take my commitment, a lot of (other) schools told Coach Phillips that they're not going to take my commitment because they wanted to see why LSU didn't. I was furious. I was fired up. I couldn't wait to get back on the field.''
… Once fully rehabbed and healthy, Clayton returned with a vengeance to record pinball-like numbers that brought official offers from Colorado and Coach Mel Tucker along with that of Kansas where Phillips said Coach Les Miles "loves him.''
Clayton and his mom committed to the Buffaloes of the Pac 12 during an official visit to Boulder following the conclusion of the regular season in November.
… Clayton's return to form has produced renewed interest from LSU, Georgia, Mississippi State and others, Phillips said. But Clayton remains committed to Colorado with an understanding that he plans to take his final three official visits before national signing day on Feb. 5.
"If (LSU) came back in the picture, I would respectfully tell them that I wouldn't go there,'' Clayton said. "If you want a kid, you want him regardless if he's hurt or not. (What upset Clayton is) just the way that they did it, the way that they handled the situation.
"LSU is good where they're at. They're stacked at running back. They're stacked at receiver. Their whole team is stacked. So they don't need me. So I'm good.''
As for Colorado, Clayton said, "It's a beautiful place. I really liked the environment and the love they have for the kids. The athletic programs from the ski team to the swim team, everyone is taken care of. They don't play about their athletic programs. And they're big on academics. Coach Mel Tucker is a honest guy. He keeps it real. I'm a cat that I don't want to go to school just for football. I actually want to get a degree, too.''
… Continue reading story here …
–
—–
December 22nd
… CU in a few minutes … 
OC Jay Johnson sets sights on improving 10th-in-the-Pac-12 scoring offense
From the Daily Camera … Given the amount of veteran talent on the roster this past season, Colorado was expecting a lot more out of its offense.
This wasn't supposed to be the Buffs' lowest scoring team in seven years.
With season No. 1 of the Mel Tucker era now in the books and early signing day in the rearview mirror, the Buffs now begin the critical task of figuring out what went wrong and how to fix it.
"That's my big piece moving forward is that we will kind of get together as a staff and go back and reflect and look at everything and really try to be very critical of where we were at, where we're going and all those things," offensive coordinator Jay Johnson said this week.
CU finished 5-7 for a third year in a row, in part because of its lack of production on offense. Despite having a fifth-year, third-year starting quarterback in Steven Montez, one of the most explosive players in the country in receiver Laviska Shenault, and several other talented weapons, the Buffs finished 10th in the Pac-12 in scoring, at 23.5 points per game.
That's CU's lowest average since 17.8 points per game in 2012. It's also the lowest average by a Johnson-led offense in his 10 seasons as an FBS coordinator.
"I thought we made some turns for the better at certain times of the year, but then there's a lot of things that were left on the table that we didn't get completed," Johnson said. "I'm trying to look at the big picture things and what we're doing. Certainly there's frustration; you always want to score more points, but you've got to kind of look at what's happening and why is that happening? What's the issue? I don't have all those answers yet. I hope to find those out as we move forward."
… Continue reading story here …
–
—–
December 21st
… CU in a few minutes … 
Nine Buffs earn National Football Foundation All-Colorado Team honors
Press release from CUBuffs.com … Nine members of the University of Colorado Buffaloes football team this past fall have been selected to the Colorado Chapter of the National Football Foundation's All-Colorado Team, which was released Saturday.
Three players, graduate offensive tackle Arlington Hambright, junior linebacker Nate Landman and wide receiver Laviska Shenault, all earned first-team honors.  Sophomore tailback Alex Fontenot, senior punter Alex Kinney, senior center Tim Lynott, safety Mikial Onu, offensive tackle Will Sherman and outside linebacker Davion Taylor all garnered second-team recognition.
A first-team All-Pac-12 selection, Landman was selected as the co-defensive player of the year, the first Buff to earn the nod since linebacker Jordon Dizon in 2007.   Landman led the team in tackles for a second straight year with 137, the most by a Buffalo since Dizon recorded 160 in 2007.  Of those 137 tackles, 112 were credited as solo stops, the second-most in CU history.  He the team in third down stops (15), tallied one interception and caused two, recorded eight tackles for loss including two quarterback sacks, had five tackles for zero (giving him 13 tackles at or behind the line of scrimmage), and had five passes broken up.
Colorado State-Pueblo's Jackson Wibbels shared the honor with Landman; he was a first-team All-American and the defensive player of the year in the Rocky Mountain Athletic Conference.
Colorado Mines quarterback John Matocha, just a freshman, was selected as the offensive player of the year, as he completed 74 percent of his passes for 2,825 yards and 29 touchdowns with only five interceptions.  Air Force's Jake Koehnke was the special teams player of the year, a he tied for first in the nation in field goal percentage (1.000; 12-of-12 with a long of 57 yards) and scored 83 points overall.  Air Force's Troy Calhoun was named the coach of the year for guiding the Falcons to a 10-2 record; it is the fourth time he has been selected for the honor.
Players from CU, Adams State, Air Force, Colorado Mesa, Colorado Mines, Colorado State, CSU-Pueblo, Fort Lewis, Northern Colorado and Western Colorado are eligible for the All-Colorado team.  Air Force had the most selected with 10, followed by CU and Colorado Mines with nine; CSU-Pueblo had seven, all first-team members, the most selected to that unit.
The chapter has annually selected an All-Colorado team since 2003, the only chapter in the nation that does so.  It also selects an Academic All-Colorado team that is issued in the early spring.
–
—
Brendon Lewis on advice from Steven Montez: "He told me to break all the records he broke, and that's the plan"
From the Daily Camera … Going through the recruiting process, Brendon Lewis had a chance to get to know Colorado quarterback Steven Montez a little bit.
"He just told me to work hard," said Lewis, who signed his national letter of intent with the Buffaloes on Wednesday. "He was motivating and he told me to work hard and break all the records he broke, and that's the plan."
Whether Lewis is the plan for the Buffaloes in 2020 remains to be seen, but there's no question he'll get an opportunity.
Montez is graduating after setting 37 schools records and tying 14 more. He leaves as the program's all-time leader in passing yards (9,649), passing touchdowns (63), total offense (10,609 yards) and total touchdowns (74).
Montez's departure creates CU's first real quarterback competition since 2013. That year, the Buffs had a talented true freshman (Sefo Liufau) competing with veterans. Connor Wood won the job, but Liufau took over by midseason and held the job through 2016 before handing the reins of the offense to Montez.
This year, the Buffs again have a talented true freshman (Lewis) competing with veterans. Junior Tyler Lytle and sophomore Blake Stenstrom have been waiting for their turn.
"I think it's extremely wide open," offensive coordinator/QB coach Jay Johnson said. "It's going to be an exciting spring because, obviously, what we're trying to do overall program-wise is to create that competition.
"I think there's so much to like in all three of them that it will be very interesting to see how it unfolds."
… Continue reading story here …
–
—–
December 20th
… CU in a few minutes … 
CU adds a graduate transfer linebacker from Brown University
Press release from CUBuffs.com … Brendan Pyne, a graduate transfer from Brown University, will join the Colorado football team as a walk-on for the spring semester, head coach Mel Tucker announced Friday.
    Pyne, listed as a 6-0, 205-pound linebacker, graduated from Brown University this month with a degree in History and will join the Buffs on January 13 for the start of the spring semester.
    "He's a highly productive defensive player," CU coach Mel Tucker said. "He plays multiple positions; he could play inside linebacker or at our star position.  I've known about him all the way back to his days at IMG, where he was a team captain. He'll come in and compete for playing time. We're very excited about him."
Pyne played for Brown from 2016-19 and has one season of eligibility remaining.  He started the last three seasons and was the team's leading tackler as a senior.  In his last three seasons at Brown, he accumulated 178 tackles (103 solo) with 14.5 for a loss and a sack.  He added six pass breakups, three quarterback hurries and two forced fumbles.
    He led the Ivy League as a junior with 48 solo tackles and his eight tackles for loss that season ranked 10th in the Ivy League.  His career-best games were 14 tackles against Columbia as a junior and four tackles for loss against Penn that same season.
    "I'm excited to go Colorado and to play for Mel Tucker," Pyne said. "I always dreamed of playing in the Power 5, and I decided to take a chance on myself.  I'm looking forward to being the best teammate I can be and help win football games."
    He attended IMG Academy in Bradenton, Fla., and in two seasons under coach Kevin Wright, helped IMG to an 18-1 record and top 10 national ranking each season.  He was a team captain in 2015 when IMG went 9-0 and had 81 tackles, 10 for a loss, five pass breakups, two forced fumbles, and an interception. His junior season IMG was 10-1 and he had 75 tackles, six for a loss with 2.5 sacks and one pass breakup.
    Off the field, he served as a teaching assistant at Brown for two Business Entrepreneurial classes and was a Digital Media Intern at the NBC Sports Group.  He also interned for two years with the Sports Media Advisors Group where he constructed a marking overview on sports gambling and advised Duke Basketball on social media strategy.  He also interned for Learfield while at Brown and he has also volunteered for the Special Olympics.
    His family has a long tradition in the NFL and was the first family to have three generations play in the league.  His great-grandfather George Pyne II played for the Providence Steam Rollers in 1931 after playing college football at Holy Cross.  His grandfather George Pyne III played for the then Boston Patriots in 1965. His dad was in training camp for the New York Giants and is an influential businessman in the world of sports and in the National Football Foundation's Leadership Hall of Fame. His uncle, Jim Pyne, was an All-American at Virginia Tech and played for nine seasons with Tampa Bay, Detroit, Cleveland, and Philadelphia.
    His other grandfather, Paul Harney, is in the PGA Golf Hall of Fame with 11 professional wins, playing from 1955-73.  His younger brother, Drew, signed earlier this week with Notre Dame as a four-star prospect.
–
—
Buffs looking to lock down more in-state recruits: "We have to show progress on the field"
From the Daily Camera … Like most football coaches that have come through Colorado, Mel Tucker has declared that recruiting in-state talent is a top priority.
Like most recent CU football coaches, Tucker is finding it will take some time to make a dent within the state.
On Wednesday, Tucker and the Buffs announced 20 players that have signed national letters of intent, nearly completing his first full recruiting cycle at CU. Only one of those players – Cherry Creek offensive lineman Carson Lee – is from Colorado.
"It's disappointing in a way," said Lee, rated the No. 7 prospect in the state by 247Sports.com. "But I think it's something that, I hate to say it, but the state of Colorado was not recruited like they are by the staff that's up there now. We were not recruited as well (by the previous coaching staff)."
Tucker has recruited the state more aggressively than his predecessor, Mike MacIntyre. Lee said he heard from Tucker at least twice a week, compared to once every couple of months from the previous staff.
"Making sure that we know that we're a priority, I think it's just going to come with time," Lee said.
… Continue reading story here …
–
—–
December 19th
… CU in a few minutes … 
K.D. Nixon changes his mind – will return for senior season
From CUBuffs.com … Junior K.D. Nixon announced Thursday that he will return to play for the Colorado Buffaloes his senior season in 2020.   He previously announced that he would forego his senior season and enter the 2020 NFL Draft.
"After thoughtful evaluation and conversations with Coach Tucker and others about my future in football – and beyond, I have decided to continue my college football career at Colorado, earn my degree and declare for the NFL Draft in 2021," Nixon said. "I look forward to contributing to the Buffaloes next season and making a difference for our team."
Nixon was presented as a co-winner of CU's Eddie Crowder Award at the end of season banquet for outstanding team leadership and enters his senior season ranked 25th in CU history in receptions and 24th in receiving yards, mostly amassed his sophomore and junior seasons.
"Our goal is not only to build a championship-winning team and culture but also to prepare our players for life," CU coach Mel Tucker said. "Our entire team is excited that K.D. has decided to continue his education and play for the Buffaloes his senior year. We look forward to him being a difference maker on and off of the field."
Nixon has played in 35 career games and started 20 with 89 receptions for 1,118 yards and seven touchdowns.  He also has 16 rushes for 30 yards and one touchdown, 43 kickoff returns for 770 yards and three punt returns for nine yards.  In all he has amassed 1,148 yards from scrimmage, 1,927 all-purpose yards and eight touchdowns.   He also completed his only pass attempt, a 38-yard touchdown to Dimitri Stanley, and amassed 22 special teams points as a freshman.
–
—
Neill Woelk: Mel Tucker has championships on his mind
From Neill Woelk at CUBuffs.com … Want to know what was on Colorado coach Mel Tucker's mind Wednesday when he announced the signing of his second Buffaloes recruiting class?
Figure this: In his 30-minute press conference, Tucker mentioned "championship" or "champion" at least 17 times.
That's more than once every two minutes.
That's no accident.
"We're building our football team to win a championship," Tucker said, "and we're building it through recruiting. In order to win a championship here we know who we have to be. I have experience with those types of teams, and we're building our team to be like those teams."
Tucker firmly believes his 2020 class will be another solid step in that direction. The Buffs went toe-to-toe with some of the top programs in the nation and won some of those battles. Nearly every member of the class had at least one other offer from at least one Power Five team, with many having multiple offers.
In the end, those that believed in Tucker's vision and commitment cast their lot with the Buffs.
That's not something that has been commonplace in recent years in Boulder, and it's why this year's class is generally seen as a top-30 group.
… Continue reading story here …
–
—–
December 18th
… CU in a few minutes … 
Quotes from Mel Tucker's Signing Day press conference
From Tucker's opening statement: "Culture is not just words painted on a wall. It's about how we live every day, how we work, how we support one another — that's what this is all about."
Tucker on the quarterback battle between Brendon Lewis, Tyler Lytle and Blake Stenstrom this spring: "We'll just see how it goes. It's going to be fair, it's going to be intense and it's going to be a lot of fun. Competition brigs out the best i everyone. In order to go where we want to go as a football team, we have to create more competition on our roster."
Tucker on whether or not he and the Buffs will be 'tuned in to what the transfer portal is offering': "I'm not in the portal right now per se for the QB position. That's not a consideration for us right now."
Tucker on competing with Power Five conference schools to land recruit: "The first thing is about self-imposed limitations. I don't believe in self-imposed limitations. I'm not looking at a top player or any player in a state bring recruited by top programs in the country and thinking 'you know what, I don't think we can get that guy. Let's go to the next guy.' I'm not into that…I don't ask who else is recruiting (players)."
Tucker on his assistants ... "Our staff has worked around the clock for an entire year to put this class together. We're very proud of it. Our staff understands it has to recruit every day. If you want to be a great coach, you better have some great players."
—
Notes from Signing Day
— The following players are expected to enroll at CU in January: Quarterback Brendon Lewis, outside linebackers Guy Thomas and Mister Williams, cornerback Jaylen Striker, defensive linemen Justin Jackson and Antonio Alfano, Australian punter Josh Watts, and offensive linemen Jake Wray and Carson Lee;
— Of the 21 players who signed … 16 high school are seniors; three are junior college transfers: DL Justin Jackson; CB Jaylen Striker; and LB Guy Thomas; and two transfers: DE Antonio Alfano; and P Josh Watts (technically transferring in from Deakin University in Australia);
— At present, CU is at 88 (with K.D. Nixon returning) scholarships (66 on scholarship now; 21 signed today – 16 high school; three JC transfers; two other transfers). Attrition, gray-shirts and injuries will come into play before CU has to be at 85 in August;
— By state … Texas 6, California 5; Florida 2; Georgia 2; Arizona 1; Colorado 1; Massachusetts 1; Mississippi 1; New Jersey 1; TASMANIA 1 (a Tasmanian Devil!) … So yes, CU has as many recruits from Tasmania as Colorado … Do with that what you will;
— By position … Offense: 10; Defense 10; Specialists: 1
— By unit … Offense: three linemen; four wide receivers; two tight ends; one quarterback
— By unit … Defense: three linemen (ends/tackles); four linebackers; three defensive backs
— Still using the fax machine? … In the not too distant past, Letters of Intent weren't valid until they were faxed into the compliance office. Nowadays, signed letters are express mailed in, but can be confirmed digitally … or by fax;
–
—–
December 17th
… CU in a few minutes … 
Recruit Carson Lee: "I'm just ready to get the ball rolling and officially be official"
From the Daily Camera … With so many options to choose from, Cherry Creek High School's Carson Lee never envisioned he'd be one to pick a school early in the recruiting process.
The 6-foot-3, 320-pound center did, however, give his pledge to the Colorado Buffaloes on Feb. 2 and he hasn't looked back. More than 10 months since making that choice, Lee will finally have an opportunity make it official on Wednesday when he signs his national letter of intent.
"I'm just ready to get the ball rolling and officially be official," he said. "This is by far the biggest thing that's happened in my life so far, signing away a paper to have a full ride scholarship to a university like Colorado, being able to fulfill my dream of playing football at the collegiate level and especially at the Division I level. I think it's a day that I'll never forget and a day that my family will never forget either."
… Continue reading story here …
–
—
Mel Tucker: "I don't even want them on the (CU recruiting) board unless they have size"
From The Athletic … Mel Tucker had a plan.
The first-year Colorado head coach sat at a table surrounded by four reporters at the Pac-12's media day, detailing his vision for turning the Buffs into a powerhouse. It sounded really good if you're at Georgia or some SEC heavyweight, but in Boulder at a program that has had one winning season in the past 13 years and in a home state that rarely produces more than a handful of Power 5 prospects, it left one to think over the 45-minute conversation, was he being realistic?
When the 47-year-old Tucker arrived at Colorado after having been Georgia's defensive coordinator and the defensive backs coach at Alabama, he found a roster lacking the length and heft of what he believed was critical to compete for championships.
"I don't even want them on the (CU recruiting) board unless they have size; like we're not even gonna recruit 'em," Tucker said, "because if you make an exception, you gonna have a team full of exceptions. You just recruit to what you need. It's a little bit harder. There might be a kid that's 6-feet and 245 pounds at defensive end that wants to come, and he might be a good player but at the end of the day, you end up playing against Georgia or Alabama, that kid will have a hard time holding up."
Tucker explained that in 2016 when he got to Georgia with new head coach Kirby Smart (both had come from Nick Saban's program in Tuscaloosa), the Dawgs team was "woefully undersized" on the offensive line. Smart and his staff rectified that, and when the SEC East champion Dawgs played for the conference title, their O-line averaged 6-5, 330 pounds. That is about an inch taller and 27 pounds more per man than the group that started on an 8-5 squad in 2016.
"Through recruiting, you just you say 'Hey, listen, we're just going to recruit bigger guys, and we're not (gonna waver from that),' " Tucker said. "It's really so tempting, when you see a really good player on tape. It happens with defensive backs all the time. You see a super productive player on tape in high school. He's dominating the game. The guy's 5-8½. You look at him and say, 'Well maybe he's the next Honeybadger.' Well, you know what, he's not. But if you recruit that guy, you sign a guy like that every year and then you got four guys in your secondary like that and you can't match up."
Finding and reeling in enough big, long prospects to transform the Buffs program may seem a lot easier said than done.
… Continue reading story here (subscription required) …
–
—–
December 16th
… CU in a few minutes … 
S/QB Sam Noyer first Buff to enter Transfer Portal
From the Daily Camera … Colorado safety Sam Noyer has elected to put his name in the NCAA transfer portal, as he seeks an opportunity to play elsewhere next year.
Noyer, who graduates this year, will have one year to play and he will be eligible next fall at a new school.
The 6-foot-4, 220-pound Noyer came to CU from Beaverton (Ore.) High School in the 2016 class and he spent his first three years with the program playing quarterback.
Late in preseason camp in August, he accepted a move to safety, where the Buffs believed his athleticism would be asset for depth. Noyer played in four games on defense this season, seeing the field for 24 snaps, but did not record any statistics.
It's possible Noyer will seek a return to quarterback at a new school.
After redshirting in 2016, Noyer was a backup quarterback for the Buffs in 2017 and 2018. In his career, he completed 21 of 41 passes (51.2 percent) for 179 yards and two interceptions. All of his appearances came in relief of starter Steven Montez.
–
—
Laviska Shenault to NFL scouts: "I check every box"
From The Athletic … The NFL was always a vague dream for Laviska Shenault Jr., something from a memory of a Miami Dolphins hat shared with his dad. He didn't play football until high school, then only on the junior varsity team.
The NFL, though, has known about Shenault for years, since sometime after he raced 55 yards for a touchdown the first time he touched a football in a college game at Colorado. His rise was swift, from a special teams afterthought to a matchup nightmare. He quickly became one of the best receivers in the country, even on a Buffaloes team that struggled to keep pace in the Pac-12.
"I'm a lot older than him but I'm very familiar with his game and what he's able to do," Broncos linebacker Von Miller said.
Shenault will soon know the NFL as his own. Colorado's standout wideout on Tuesday declared his intention to leave college a year early for the NFL Draft next April. He is one of the first underclassmen to enter the draft.
He will almost certainly become a first-round pick. His unmatched blend of size, speed and skill should put Shenault into exclusive territory. The Athletic's Dane Brugler projects him to go at No. 26 to Buffalo in his first mock draft. Some say higher. Any pick in the last half of the first round seems a conservative bet.
At 6-foot-2 and 220 pounds, and one of the fastest players in the country, Shenault offers something for every NFL coach. He can play wide as a size problem for defensive backs in a traditional pro-style set, like what Colorado ran this season. He can run the ball from the backfield with direct snaps in a wildcat formation. He can line up in the slot for dink-and-dunk catches in a conservative offense or break long in an aggressive spread offense. His speed and strength can turn any of these possibilities into big gains after a catch.
"I want to show the scouts that I can do anything that you ask," Shenault said. "I can check every box. I can basically do anything that they ask. I don't have a lot to say about that, but I feel like I can do whatever the task is and I can get the job done in a great way."
… Continue reading story here (subscription required) …
–
—–
December 15th
… CU in a few minutes … 
Plati-Tudes – A Look Back at the Last Decade 
From Dave Plati at CUBuffs.com … Highlights Happenings Off The Fields, Courts and Courses
Welcome to a notes and comment column in its 19th year, penned by CU Associate Athletic Director David Plati, who is his 36th year as the Buffaloes' director of sports information.
Plati-'Tudes No. 111 … Tuesday (Dec. 10) was the 25th anniversary of Rashaan Salaam winning the Heisman; I've written several pieces in the past on that evening and the 1994 season in general, so no real reason to rehash (think I've told about every detail that I can, or that can share ;).  But if you haven't seen Chris Fowler's personal remembrance of that weekend in New York City, the link is here: https://www.instagram.com/tv/B5oPkSAgZip/ … Last Thursday (Dec. 5) was the day we lost Rashaan at the age of 42; it was also the day we lost Mark Simpson after he valiantly fought lung cancer for years at the age of 55 in 2005.  Fortunately, a good memory has emerged for that date, as in 2018, that was the day we announced the hiring of Mel Tucker as football coach.  There are two major stories out there at present; there are some things written in those that I doubt happened or might be framed correctly by third parties.  Do know that Rashaan was revered here, and welcomed at any and every opportunity he wanted to visit campus or come an event or games.  It often has come up how we brought the Heisman back to Colorado and that it had its own seat on that United flight.  We covered it with a blue blanket, and it always reminded me of that scene from the movie, E.T. 
Quick Hits
All our programs this year to date who play dual schedules opened up with multiple wins before suffering their first defeats: both basketballs, football, soccer and volleyball combined to go 
28-0
.  Puts a little pressure on the lacrosse and tennis teams this spring, eh?! … Did you know that 
Mel Tucker's 
first CU football team wound up facing five of the top 19 quarterbacks nationally in passing efficiency?  They hung in there as best as they could, considering the two starting cornerbacks missed 16 games … CBS play-by-play man 
Kevin Harlan
 (one of the best) has ties going back to the old Big Eight; it's always great to hear him refer to us as "CU" when he does Bronco games and is talking about Phillip Lindsay … It was good to see 
Taylor Kornieck
 become our all-time leading points scorer in women's soccer this fall (102 points); she took my class a couple of years ago so it was fun to see her set the mark.  Now if only the NCAA would quit sending us to the southeast against a top seed 
every single time
 we win a first round game (when you read "every single time," imagine it being said like this clip from 
Beetlejuice
: 
https://www.youtube.com/watch?v=N8x8xqZzD8w
).  Okay, I'm out there, but most of you knew that.
–
—–
December 14th
… CU in a few minutes … 
Larry Scott: 10:00 MT kickoffs in 2020 still on the table
From Dawgman.com … Early-morning kickoffs for Pac-12 football games as soon as next season are still within the realm of possibility, according to conference commissioner Larry Scott.
Scott said Thursday during a forum sponsored by the Sports Business Journal that the conference has not ruled out the potential for 9 a.m. PT kickoffs to occur in conference-play starting in 2020.
Our schools are very hungry (for exposure)," Scott said on Thursday. "We have got challenges being on the west coast, including time zone change. A lot of great windows for us where we can maximize revenue and exposure are late and we miss certain audiences. So our schools are hungry to be in the biggest, widest, most-viewed television windows. And this early window has emerged."
Scott reiterated that any decision for member institutions to have 9 a.m. PT kickoffs would be "completely voluntary."
"This will be completely voluntary," Scott said. "One of the things I've learned is that there is a very delicate balancing act of how you maximize revenue and exposure and what you do for television, and the impact on the fans that are paying for the ticket and might have to drive an hour to get to the stadium and want to bring a family."
The prospect of 9 a.m. PT kickoffs in the Pac-12 is something that has been discussed since at least this past Summer. According to an August report from CBS Sports' Dennis Dodd, "approximately half" of the schools in the Pac-12 would be in favor of the early-morning kickoffs starting next fall. There were some discussions about instituting some early starts this season, but those talks were tabled until next year's spring meetings.
The change is being considered in order to get the conference some more exposure on Saturdays in the fall. When ESPN's College GameDay goes off the air and gives way to the 12:00 p.m. ET games, the Pac-12 is nowhere to be found because 10 of its 12 teams play in the Pacific Time Zone for at least part of the season. The conference may try to fix that issue by instituting some early starts for the 2020 campaign. The conference previously stated that the programs just needed more time to make a decision on the issue.
… Continue reading story here …
–
—–
December 13th
… CU in a few minutes … 
Defensive coordinator Tyson Summers happy to grade on improvement
From the Daily Camera … Under the direction of first-year coordinator Tyson Summers, the Colorado defense was a work in progress this season.
What made Summers pleased at the end of the campaign was that the progress was evident.
CU (5-7, 3-6 Pac-12) wrapped up its season on Nov. 30 with a 45-15 loss to Utah. The final numbers paint a not-so-pretty picture for the defense, as the Buffs ranked eighth in the Pac-12 in yards allowed (441.9 per game) and ninth in points allowed (31.8 per game). It was the first time since 2014 that a CU defense gave up more than 28.2 points per game.
How the Buffs finished the season was more to Summers' liking.
"I do think that we stressed improvement in what we were trying to do," Summers said. "I think our staff did a really good job of being able to try to fit the things that we felt like we could do well."
The improvement showed up statistically.
First 8 games: 34.9 points and 486.9 yards per game; 6.93 yards per play
Last 4 games: 25.8 points and 352.0 yards per game; 5.57 yards per play
In November, the Buffs were fifth in the Pac-12 in points allowed.
… Continue reading story here …
–
—
Pac-12 coaching grades: Mel Tucker receives and A-
From Jon Wilner at the San Jose Mercury News … Before we get to the letter grades, here's the total number: $37.8 million
That was the combined salary for the Pac-12 head coaches in 2019.
… We don't begrudge the coaches from making what the market allows.
But for $37.8 million — the salaries were taken from the awesome USA Today database — you should expect the best product possible for each individual program.
You should expect the best teaching and the best tactics.
You should expect the best gameplans and the best game management.
… Now, it's time to evaluate the coaches.
Grades are for this season only — we're not judging careers — and are based on performance vs. Hotline expectations, which take into account personnel, schedule, injuries and whatever team-specific developments apply.
In other words: How did the team perform against a reasonable expectation of performance?
Head coaches are held responsible for the work of their coordinators and assistants.
Colorado
Record: 5-7/3-6
Coach: Mel Tucker
Grade: A-
Comment: As noted above, each team's performance relative to our expectations plays a central role in the overall grade, and we didn't expect much from CU, especially on defense. But nine quarters (out of 48) most influenced our grade: The wins over Stanford and Washington and the first quarter at Utah. That late-season stretch … coming when it did (after a five-game losing streak) … and how it did (physical play at scrimmage) … and powered by upperclassmen who were recruited by a different staff … that late-season stretch accounts for a chunk of the A-. Whether Tucker is able to elevate the program consistently remains very much unknown. But the start was impressive.
–
—–
December 12th
… CU in a few minutes … 
First way-too-early 2020 prediction: A 6-6 record for CU an "attainable goal"
From the Unafraid Show … The 2019 season was the third straight 5-7 season for Colorado Buffaloes Football. What can CU do to break the 5-7 "curse" of sorts? They can build upon the successes in the first year of the Mel Tucker era. No one outside of Boulder expected the Buffs to have November wins against Pac-12 stalwarts Stanford and Washington. Also, every Buffaloes home game was decided by one possession. The Buffs went 4-2 in these games. For 2020, the Buffs will need to build upon their valiant efforts at home against all opponents.
However, one area where the Buffaloes will absolutely have to improve in 2020 is their road play. Counting out the neutral-site win over Colorado State in College Football Week 1, the Buffs went 1-4 on the road this season. They won their first true road game of the season against then-ranked Arizona State. No one expected the Buffaloes to win this game. Unfortunately, the rest of the road slate for CU turned out as many expected it to. They were outscored 162-42 in their last four road games against Oregon, Washington State, UCLA, and Utah.
… The Buffaloes are losing arguably their top three players on offense: Quarterback Steven Montez and wide receivers Laviska Shenault, Jr., and K.D. Nixon. The latter two decided to forego their senior season and declared for the NFL Draft. They will also be without standout graduate transfer safety Mikial Onu on defense in 2020.
Finishing 6-6 is an attainable goal for the Buffs. Going 4-5 in-conference is an attainable goal for the Buffaloes, and Mel Tucker will have more of his recruits playing, including Brendan Rice, the son of San Francisco 49ers Hall of Famer Jerry Rice. Tucker may also be getting the services of Antonio Alfano, a transfer defensive end from Alabama who has been hyped up locally. Tucker will also be getting a dual-threat quarterback prospect in Brendon Lewis, who is from Melissa, Texas.
Fans will want to see improvement from year one to year two of the Mel Tucker era. It is vitally important for Tucker to make the 6-6 mark. It would bring more exposure to the team nationally and it would help the team's "relentless" mantra be broadcast to a wider audience, including possible recruits. No one is expecting the next few years of Colorado Buffaloes football to be Bill McCartney-esque, but it is important for Mel Tucker to get the program away from the "just another Pac-12 opponent" label.
–
—
Signing Day Press Conference set
… It's getting closer! … Next Wednesday could be a very big day for the CU football program! … 
Press release from CUBuffs.com … Next Wednesday, December 18, the University of Colorado will hold its annual press conference for the third annual December signing period in football, which starts that morning and runs through Friday, December 20.
Prospects can begin to sign national letters-of-intent beginning at 7 a.m. local time on Wednesday through 11:59 p.m. Friday night (also locally).
We will be in Champions Center Room 319, the location for our weekly presser during season.
Mel Tucker will begin his second signing day press session as CU's head coach at 3:00 p.m.; Tucker will give his review of this year's recruiting class and will take questions afterward.  He will also take questions at that time to review the 2019 season in general.
No other sport has signings during this period.
The sports information office will provide information and bios.  There is nothing else going on that afternoon, so media members can work in the room as long as necessary (or you can relocate to work in the SID office).
The press conference will also be streamed live on CUBuffs.com; there is no charge for access.
–
—
CU picks up a preferred walk-on defensive back from Broomfield
Broomfield senior defensive back Trey Ortega has announced on twitter that he will be a preferred walk-on at Colorado.
Ortega's tweet: "Super stoked to say I am committed to the University of Colorado. Thank you to all the coaches and family members who have helped me get to this point!"
Ortega was not rated by either Rivals or 247 Sports, but, according to MaxPreps, the 6'0″, 175-pound cornerback/slotback had a productive season for the 13-1 Broomfield Eagles. On offense, Ortega had 47 carries for 276 yards and four touchdowns, while contributing nine receptions for 92 yards. On defense, Ortega had 12 tackles and two interceptions.
Here is a link to Ortega's Hudl.com highlights
–
—–
December 11th
… CU in a few minutes … 
*Video – K.D. Nixon highlights*
From BuffsTV …
–
—
Another good story on Rashaan Salaam (from ESPN)
From ESPN … In an old 45-story redbrick building in lower Manhattan, six college students wait. Kerry Collins, perfectly coiffed and wearing a roomy off-the-rack suit, is nervous. Warren Sapp is working the room, waiting for the after-party. He knows he's not going to win the 1994 Heisman Trophy, but he's on a free trip to New York and plans to live it up. His unlikely sidekick for the weekend is Rashaan Salaam, a running back from Colorado whom he's gotten to know from the college banquet circuit. Salaam is his polar opposite — quiet and unassuming. He is the baby of the group, 20 years and 2 months old, and has a smile so bright it could melt snow off the Rockies.
Only Salaam isn't smiling as much on this trip.
He does not want to win the Heisman. He doesn't even have a speech prepared. He knows the pressure and attention that comes with the award and wants no part of it. His mother, Khalada, seems equally wary. She has prayed that the Heisman, if he wins it, will not be the pinnacle of his career.
"Dawg, don't even sweat this," Sapp told Salaam earlier in the week. "It's just a trophy."
Sapp knows Salaam is going to win — he has rushed for 2,055 yards in a single season — and makes a point to sit next to him at the ceremony so he can say "I told you so."
A man with slicked-back hair and an East Coast accent walks to the dais, turns an envelope sideways and opens it.
"Rashaan Salaam, University of Colorado," he says.
Salaam's teammates back in Boulder leap up and down, hug and light cigars in celebration.
He rises from his seat, then sinks back down for a moment. Everything is about to change.
… Continue reading story here …
–
—
CSU coaching search "clumsy … a bizarre mix of contradictions"
… Related … "The latest at Colorado State" … from FootballScoop.com
From teryfrei.com … With the early letter of intent signing period approaching, the reasonable assumption was that Colorado State would have named a successor to Mike Bobo by now.
Or at least be on the verge of doing so.
That still might happen today.
But the search, with former CSU assistant Urban Meyer serving as a consultant to athletic director Joe Parker and new CSU president Joyce McConnell, has been clumsy. It also has been a bizarre mix of contradictions, including a convenient leak of five candidates apparently interviewed that at least came off as if it was designed to run the names past the Ram constituency.
In contrast to the search five years ago, when DHR International's Glenn Sugiyama and Pat Richter were involved, there is no established search firm in the mix.
Here's Kelly Lyell's look in the Coloradoan at the search.
The five candidates, named by SB Nation's Tennessee-based Steven Godfrey, are:
— LSU defensive coordinator Dave Aranda. Problem is, he's the highest-paid assistant in college football and while he has said he wants to be a head coach, he can be picky and will land a Power 5 job soon.
— Steve Addazio, fired Dec. 1 at Boston College.
— Former Tennessee coach Butch Jones, now on the Alabama staff as an "analyst." Translation: He's living off his buyout from Tennessee. Around here, he's best known as the Cincinnati coach who seemingly was about to take the Colorado job when he symbolically was guided around some food carts at Folsom Field to avoid the media and soon was out of the picture to go to Tennessee instead.
— Former Indiana (2011-16) coach Kevin Wilson, now the offensive coordinator at Ohio State.
— Former CSU running back Tony Alford, now assistant head coach and running backs coach at Ohio State.
Man, that must be a bit awkward in the Ohio State offensive meeting room and offices, with both Alford and Wilson going after the CSU job.
… Continue reading story here …
–
—–
December 10th
… CU in a few minutes … 
On the 25th anniversary of his Heisman: The Troubled Life of Rashaan Salaam
From Sports Illustrated … Every year, the Heisman Trophy Trust invites past winners to return for the annual ceremony in New York City, so they can be trotted out for a series of dinners and glad-handing functions. It gives the players a chance to relive their glory days, while the trust uses their collective star-power to further mythologize the trophy. The past winners are stationed onstage every year, as a new member joins their fraternity.
Rashaan Salaam, the 1994 winner, a running back from the University of Colorado, did not particularly enjoy attending the annual gala. At these types of events, people tended to ask, What are you up to? How're you doing? Questions Salaam did not like answering.
Salaam did not have as much to talk about as the other Heisman winners. He'd often come across articles calling him one of the greatest Heisman busts of all-time. When he signed autographs with the other winners, he told a friend, "Nobody ever comes through my line." At the ceremony, he often palled around with Mike Rozier, the 1983 winner from Nebraska. After a few drinks, Salaam would open up. "A couple times he told me, he wished he never won the Heisman," Rozier says. "It was too much pressure for him."
The Heisman is the highest honor a college football player can receive; it bestows upon the winner great prestige, but also great expectations for their NFL career—and Salaam never lived up to those expectations. In fact, he flamed out of the league rather quickly. Afterward, he told those close to him that he felt like a failure, like he had let them down. He fell into a depression. Then, as he struggled finding his identity after football, the Heisman followed his name everywhere he went, in everything he did. Winning the award turned out to be the best and worst thing to ever happen to him.
… Continue reading story here …
–
—
Six Buffs earn All-Pac-12 honors
… Related … 2019 First- and Second-Team All Pac-12 Selections By Program (Includes Specialists): 1. Utah – 10 … 2. Washington – 9 … 3. USC – 8 … 4. Arizona State – 7 … 5. Oregon – 5 … 6. Washington State – 4 … 6. Stanford – 4 … 8. Cal – 3 … 8. Oregon State – 3  … 8. Colorado – 3 … 11. UCLA – 1 … 12. Arizona – 0
Press release from CUBuffs.com … Six University of Colorado football players earned All-Pac-12 Conference honors from the league coaches for this past season, as the team was released Tuesday.
Junior inside linebacker Nate Landman earned first-team honors, the only Buff to make the top tier.  He is the first Buffalo inside 'backer to earn first-team all-conference honors since CU joined the Pac-12 in 2011, and the first Since Jordan Dizon made the All-Big 12 first team in 2007.
Landman led the team in tackles for a second straight year with 137, the most by a Buffalo since Dizon recorded 160 in 2007.  Of those 137, 112 were credited as solo stops, second-most in CU history.  He played the most snaps on defense (785 out of 815), led the team in third down stops (15), had one interception and caused two, recorded eight tackles for loss including two quarterback sacks, had five tackles for zero (giving him 13 tackles at or behind the line of scrimmage), and had five passes broken up.
Two Buffaloes earned second-team honors, senior punter Alex Kinney and junior receiver Laviska Shenault.
Kinney averaged 44.4 yards for 59 punts, with 23 inside-the-50 (18 inside-the-15) and 14 that traveled 50 or more yards.  Most of his kicks were not returned (75 percent) and the punt team forced 27 fair catches; for the second straight year, CU did not have a punt blocked.
Despite missing one full game and the better part of four others due to injuries, Shenault tied for the team lead in receptions with 56, though led in yards with 764, averaging a team-high 13.6 yards per catch.  He scored six touchdowns, four receiving and two rushing, as he had 23 carries for 161 yards.  He earned 46 first downs, 26 on third for fourth down plays and was second on the Buffs in all-purpose yards with 979.
Three others garnered honorable mention honors, senior receiver Tony Brown, graduate offensive tackle Arlington Hambright and senior outside linebacker Davion Taylor.
Brown also had 56 receptions, which he gathered in for 707 yards (12.6 per), with a team-high five receiving touchdowns.  He also had a rushing score and matched Shenault's team bests of 11 catches for 20 or more yards and 28 for 10 or longer; he earned 34 first downs.
Hambright, who earned the league's offensive lineman of the week honor in CU's 16-13 win over Stanford, graded out to 83 percent for the season, with 75 knockdowns, 14 perfect blocks on touchdown passes and 12 touchdown blocks on running plays.  He was in for 831 snaps overall on offense.
Taylor finished second on the team in tackles with 69, of which 56 were solo stops.  He led the team in tackles for loss (nine) and in stops at or behind the line of scrimmage (15).  He also tied for the team-high in passes broken up with seven, had 14 third down stops and added three touchdown saves and two quarterback pressures.
The Associated Press All-Pac-12 teams are due for release on Thursday.
–
—
K.D. Nixon declares for the NFL Draft
Junior wide receiver K.D. Nixon announced via Twitter that he was declaring for the 2020 NFL Draft.
The video: "What's up, Buff Nation. KD Nixon here – superstar nation. Thanks to God, Colorado, Coach Tucker and all my fans. With that being said, I am declaring for the 2020 NFL Draft. Rock out".
From his Instragram account: "This University has molded me into a man & helped me mentally and physically. The relationships I came across here will always be cherished no matter what & very proud to be a part of this University.
"Since I was 3, I have been playing this sport & I knew from the jump one day this will help me glorify GOD's purpose and take care of my family one day. Football has opened many doors and blessings in my life! I want to give thanks to everybody who played a part in my journey!
"After much prayer & discussion with my family, I have decided to forego my senior season & enter the NFL Draft! I am looking forward to contributing at the next level! Rockout Buff nation".
–
… CU Press Release: Colorado junior wide receiver K.D. Nixon has announced that he will forego his final season of eligibility and declare for the 2020 NFL Draft.
Nixon was presented with CU's Eddie Crowder Award at Sunday's end of season banquet for outstanding team leadership and finishes his career in the top 25 in CU history in receptions and receiving yards, mostly amassed in his sophomore and junior seasons.
"K.D. Nixon has been a tremendous, productive and versatile Colorado Buffalo," CU coach Mel Tucker said. "He's a solid contributor that we'd love to have back for his final year, but I'm excited about his professional football future.  We're thankful for his hard-working attitude, his leadership on and off the field and how he's embraced our relentless culture. I look forward to seeing him excel as an NFL player.  Once a Buff, always a Buff."
Nixon played in 35 career games and started 20 and ends his CU career with 90 receptions for 1,118 yards and seven touchdowns.  He ranks 25th in CU history in both receptions and receiving yards.  He also had 16 rushes for 30 yards and one touchdown, 43 kickoff returns for 770 yards and three punt returns for nine yards.  In all, he amassed 1,148 yards from scrimmage, 1,927 all-purpose yards and nine touchdowns.  He completed his only career passing attempt, a 38-yard touchdown to Dimitri Stanley.  As a freshman, he also amassed 22 special teams points, second-most on the team and led the team with seven forced fair catches and seven times was first downfield.
He was a game captain for the UCLA game as a junior and named the NFF Colorado Chapter Player of the Week after the Nebraska game in which he caught six passes for 148 yards, including a 96-yard flea-flicker from Steven Montez.  That play is the longest play from scrimmage in CU history and believed to be the longest flea-flicker in college or pro football history.
"This University has molded me into a man and helped me both mentally and physically," Nixon said. "I will cherish the relationships I made here no matter what and always be very proud to be part of this family.  Football has opened many doors and blessings in my life.  I want to give thanks to everybody who played a part in my journey.  After much prayer and discussion with my family, I have decided to forego my senior year and enter the NFL Draft.  I'm looking forward to contributing on the next level.  Rock out Buff Nation!"
Nixon will finish the semester academically and begin combine training in January.  Some future dates of importance are the NFL Combine, which will be held Feb. 23-March 2 in Indianapolis, CU's pro day in mid-March and the NFL Draft, which will take place April 23-25 in Las Vegas.
Nixon joins Laviska Shenault Jr. as the 10th and 11th Colorado players to declare early for the NFL Draft; the nine previous Buffs were all juniors as well and were all selected, including two in the first round (defensive tackle Leonard Renfro by Philadelphia in the '93 draft and running back Rashaan Salaam by Chicago in '95).  Two others were second-round selections, the last two to declare: receiver Paul Richardson (by Seattle in 2014) and Isaiah Oliver (by Atlanta in '18).
This is just the second time more than one player has declared for the NFL draft early; in 1995, defensive tackle Shannon Clavelle joined Salaam in coming out early.  He was selected by Buffalo in the sixth round.
–
—
Dimitri Stanley: "I'm definitely ready to step in as a leader"
From the Daily Camera … Like a lot of the young players on the Colorado football team, Dimitri Stanley came away from this season believing he took another step forward as a player.
The redshirt freshman receiver also knows there's plenty more steps he can take.
Stanley finished this season fourth on the team in catches (29) and receiving yards (312), while scoring two touchdowns. He also rushed for 14 yards and gained 47 yards on eight punt returns.
"I think it went pretty well," he said of his first full season of college football. "I think I have a lot to work on over the offseason, but a lot of growth that can definitely be made for me and that I plan to make."
A four-star recruit coming out of Cherry Creek High School, where he caught 81 passes for 1,192 yards and 20 touchdowns as a senior, Stanley has steadily worked his way up the ladder at CU.
In 2018, he took advantage of a new NCAA rule that allows players to compete in up to four games and maintain a redshirt. He played in three games in 2018 and caught six passes for 43 yards.
This season, the 5-foot-11, 185-pound Stanley played in all 12 games and started eight as a slot receiver. He caught at least one pass in 11 games.
… Continue reading story here …
–
—–