—
Colorado Daily
—
February 21st 
… CU in a few minutes … 
Ross Els becomes the third CU assistant coach to join Tucker at Michigan State
From the Daily Camera … Mel Tucker is taking another coach from Colorado to Michigan State.
BuffZone sources have confirmed a BuffStampede.com report that inside linebackers coach Ross Els is leaving CU to join Tucker's staff.
Tucker spurned CU after one year as head coach to take over the program at Michigan State last week.
Els is now the third assistant coach to follow Tucker to East Lansing, Mich. Offensive coordinator/quarterbacks coach Jay Johnson and offensive line coach Chris Kapilovic officially joined MSU's staff earlier this week.
… Continue reading story here …
–
—–
February 19th
… CU in a few minutes … 
Quarterback Blake Stenstrom enters transfer portal
From the Daily Camera … Colorado quarterback Blake Stenstrom has entered the NCAA transfer portal.
Stenstrom, who will be a redshirt sophomore next year, was one of only three scholarship quarterbacks on the CU roster, but has decided to make a change during a period of transition for the football program.
"Each of our lives is defined by a series of choices," he posted on Twitter on Wednesday morning. "As a 16-year-old I made the verbal commitment to play football at the University of Colorado and I will forever be grateful for these past 2 years and the honor of being a part of the CU Football Family. That being said, due to recent events and circumstances beyond my control, I have made the difficult decision that it is time for a new chapter in my football journey.
"While I am saddened to find myself at this crossroads, I know that God has a great and perfect plan for my life and I will forever be grateful for my time spent here in Boulder."
Stenstrom was expected to compete with redshirt junior Tyler Lytle and true freshman Brendon Lewis for the starting job, which is wide open after three-year starter Steven Montez graduated.
The sudden departure of head coach Mel Tucker to Michigan State on Feb. 12, along with news that offensive coordinator/quarterbacks coach Jay Johnson is also going to MSU, has changed the dynamics of the program.
Stenstrom is the first transfer since Tucker left for Michigan State.
… Continue reading story here …
–
—–
February 18th
… CU in a few minutes … 
Terry Frei: Despite appearances, CU can be a national power – "It can be done"
From WoodyPaige.com … The single most startling development in college football – and there have been many of them – is the skyrocketing of coaching salaries and the buyouts. And the most eye-popping, head-shaking instance came up last week, when desperate Michigan State lured Mel Tucker away from Colorado after one 5-7 season in Boulder.
The Spartans will double his salary, from the $2.7 million he was due to make at Colorado this year, to $5.5 million, or $33 million over six years. And much of it effectively is guaranteed.
Using the unproven Tucker as a working example of the impact of the Pac-12 having fewer resources and lower conference revenue per school than especially other Power 5 leagues is ridiculous. Yet that's what I'm hearing. It's as if the Pac-12 should be kicked out of the Power 5 and relegated to an expanded Group of 6 … or, heck, dropped to the FCS, competing for national titles against Montana and North Dakota State.
The quirky, but proven Mike Leach moving from Washington State to Mississippi State, and going from $3.75 million to $5 million, is a better example. But this is his third Power 5 league head coaching job – in three leagues — and he also both gets restless and wears thin. He got a raise, but not a startling one. Hawaii's Nick Rolovich was hired to replace him, going from Honolulu to Pullman, and he will make about $2.9 million this year.
Seeking a "recharge," Chris Petersen surprisingly resigned at Washington, and Jimmy Lake was promoted to replace him and earn $3 million. Although Petersen's name was thrown against the wall for other jobs, including at CU, there are no indications his "recharge" won't last at least a season away from coaching. And even if he gets back in, he won't have been "lured" from a Pac-12 program.
You don't play football with a duel of ATM cards.
More pertinent is the on-the-field evidence.
… I believe the Buffs' move from the Big Eight to the Pac-12 produced a far better fit of school and league.
Conceded, the Pac-12's biggest problem is the widening disparity in television income. The Pac-12 networks have been disasters. Commissioner Larry Scott, paid as both commissioner and CEO of the network, has delivered suspect leadership. Or worse.
But if this is about whether Pac-12 coaches can be paid ridiculous amounts of money, that's not the predominant standard for me.
In the arms race, Pac-12 facilities have been upgraded, too. And Oregon, with Knight family and Nike money in evidence all across campus, not just in sports, is the showcase.
The other irony here is that the influential College Football Association was formed in 1977 to essentially attempt to give the college game's upper level programs more control of their fate in dealing with the NCAA. Two leagues didn't join – the Pac-12 and Big Ten. The CFA ultimately was based in Boulder under executive director Chuck Neinas, who had been an NCAA executive and then Big Eight commissioner.
… "I would say the Pac-12 is firmly entrenched in the Power 5," Neinas said Monday.
CU can be a Pac-12 power. CU can be a national power.
It can be done.
–
—
Tight end Jared Poplawski tears ACL
From the Daily Camera … Colorado tight end Jared Poplawski is dealing with another serious injury.
The junior recently suffered a torn ACL for the second time in his career at CU.
Poplawski, from Scottsdale, Ariz., appeared in nine games as a true freshman in 2017 before a torn ACL ended his season with one game to go.
In 2018, he had a season-ending shoulder injury during fall camp. He then missed most of spring drills in 2019 with a hip flexor. He did not appear in any games last season.
… Continue reading story here …
–
—–
February 17th
… CU in a few minutes … 
CU loses offensive coordinator Jay Johnson and offensive line coach Chris Kapilovic to Michigan State
From the Daily Camera … Colorado's search for a head football coach continues, while its former coach is taking a pair of assistants with him.
On Monday, Buffs offensive line coach Chris Kapilovic confirmed that he will join Mel Tucker's staff at Michigan State. Buffzone sources have confirmed that offensive coordinator Jay Johnson will be going to MSU, as well.
After one year as CU's head coach, going 5-7, Tucker bolted for Michigan State last Tuesday. Johnson and Kapilovic, both hired by Tucker in December of 2018, are the first CU assistants to join him in East Lansing, Mich.
Johnson spent this past season coaching the Buffs' quarterbacks, in addition to his role as offensive coordinator. He worked with Tucker at Georgia in 2017-18 before coming to CU. Kapilovic came to CU after seven seasons at North Carolina.
… Continue reading story here …
–
—
Davion Taylor: From JUCO longshot to NFL prospect – "I never gave up trying"
From The Athletic … Davion Taylor had one game and a prayer.
A recent high school graduate out of small-town Magnolia, Miss., Taylor wanted to play college football but faced impossibly long odds.
At 6-foot-2 and nearly 220 pounds, he had what couldn't be taught as a multisport athlete with the build of a linebacker and the speed of a running back. But he lacked what most other players his age had already learned through coaching and playing time.
Taylor's high school football career was limited to a game-and-a-half for a 4A school that had one winning season in seven years and ranked 8,809th nationally, per MaxPreps.com. After graduating, Taylor set out to find just one junior college coach bold enough to take a flier on a kid with almost no experience. His quest led him to Coahoma County, some 240 miles north of his hometown, and then to Boulder, Colo.
In only four years, Taylor has made the improbable leap from a JUCO longshot to one of the most intriguing prospects in the NFL's 2020 draft class. His journey appears to have no bounds and where it leads next even he couldn't guess.
"I always tell myself, 'If I were to go back and tell myself then the position I'm in now, I wouldn't believe it,'" he said.
… In a week, Taylor will head to Indianapolis for the NFL Scouting Combine with even more lofty goals. His hope is to top Shaquem Griffin's time 40 time of 4.38 seconds, the record for a linebacker. Griffin was listed at 6 feet, 227 pounds when he ran that in 2018. Taylor added muscle while training over the last couple of months, and is now 228 pounds, a weight he plans to maintain to be able to play outside linebacker in the pros.
For now, however, he's projected by many, including The Athletic's Dane Brugler, as a special teamer and defensive project — an rare athlete but still a very raw football player.
"If I can get to the 4.3 mark, it'll put my stock through the roof," Taylor said. "That's one thing that got me to where I am today."
Taylor's speed led him from Magnolia to Coahoma to Boulder and then Mobile. If he shows well in Indianapolis, it could lead him to his next football town and continue a story that still seems too unbelievable to be true.
Even for him.
… Continue reading story here (subscription required) …
–
—–
February 15th
… CU in a few minutes … 
One solution to prevent future Tucker scenarios: Adopt NFL no-poaching policy
From Mile High Sports … Put aside for the moment that Mel Tucker has suddenly become enemy No. 1 in Colorado.
Put aside his ethics and obligations. Forget that – whether you would've taken the money or not – there was probably a better way to handle things.
Put aside your feelings for Dear Old CU, whether they're good, bad or indifferent.
This situation isn't Mel Tucker's fault, Michigan State's fault or CU's fault.
This one belongs to the NCAA.
College sports is a professional entity using amateur athletes and making a lot of money. And hey, there's no problem with making money – but let's just call it what it is, bigtime business. If there wasn't a ton of money to go around, a guy like Tucker couldn't, or wouldn't, have the chance to go double his already lucrative $2.675 million salary.
And good for him – this is America, land of opportunity.
But the hypocrisy within the situation is so thick its sickening. On one day, a leader – an educator – can sit inside a young man's living room and promise mom and dad that he's going to do his best to raise their son the way they'd want him raised. That it's about more than winning. It's about life and values and….
Buffalo sh*t.
The next day, the coach does what practically any American would do if given the opportunity: Double his quality of life, promises and values and processes be damned.
Again though, this is isn't a debate about Mel Tucker and his values or lack thereof. This is about the fact that he can do what he just did.
Wouldn't a simple rule eliminate all of this from happening?
… Continue reading story here …
–
—–
February 14th
… CU in a few minutes … 
Darrin Chiaverini: "I was just hurt because I'm a Buff and this is our school"
From the Daily Camera … Like just about everybody else involved with the Colorado football program, Darrin Chiaverini was stunned earlier this week when he learned that head coach Mel Tucker was leaving for Michigan State.
"I was just hurt because I'm a Buff and this is our school," said Chiaverini, who served as Tucker's assistant head coach and receivers coach this past season. "That hurt in that sense, but obviously coach Tucker did what he thought was best for him and his family."
Chiaverini's shock was quickly replaced with a determination to keep the Buffs going. After Tucker's departure became official on Wednesday, Chiaverini was named the interim head coach and was asked to bring CU together through the transition.
"I'm a Buffalo and I love this institution, I bleed black and gold, and I'm here to support (the players) and support us and move us forward,'" Chiaverini said. "We can do that if we're all committed to one common goal and that's for us to be there for each other and be family."
… Continue reading story here …
–
—
Pat Rooney: Rick George tasked with hitting second home run in 14 months
From the Daily Camera … Even in a best-case scenario, this will not be a wound easy for the CU football program to recover from. George is in the ol' rock and a hard place when it comes to the next step. Naming Darrin Chiaverini as interim head coach was a good first step in stopping the bleeding, especially with spring practice now less than five weeks away. It's not ideal, but what is at this point?
Tucker's biggest impact, aside from the heritage he unraveled for the sake of a forward-thinking future by un-retiring three of CU's retired jersey numbers, was on the recruiting front. With the wound under the ripped-off bandage still so raw, it's anyone's guess how many will stay. Same with the returning players, now enduring their second coaching change in 14 months. Even prized Alabama transfer Antonio Alfanso, whose arrival in Boulder was widely applauded as a Tucker coup, can't be blamed if he takes his eligibility appeal elsewhere.
As for Tucker, certainly pursuing what's in the best interests of his own family, and his career, is his business. As always, money talks. Yet when your business comes with a responsibility to mold and lead young men — promising their families they will be cared for, and even promising your own nervous fan base you were in it for #TheBuild right up until the hour of your departure —it's impossible not to feel burned by the dumpster fire left behind.
Maybe more attention should have been paid to the fact that CU was Tucker's 10th home in the 23 years since he started that first coaching job at Michigan State, with none of those stops lasting more than four seasons. The man has always been a professional nomad. Tucker said on several occasions during his cameo at CU that his return to the college ranks in 2015 after a decade in the NFL was inspired by a desire to help mentor young men, a task far more suited to the collegiate game than the pros. But that just wasn't true. Tucker returned to the college game because his NFL track record was iffy at best, and because old friend Nick Saban simply wrote him the biggest check.
For the second time in 14 months, George is challenged with hitting a home run with the most important of coaching hires any Power 5 athletic director has to make. It was too early to describe Tucker as a home run, but George certainly made solid contact, and until a few days ago Tucker was almost roundly considered a good hire by Buff Nation.
… Continue reading story here …
–
—–
February 13th
… CU in a few minutes … 
Mel Tucker's last "Inside Zone" podcast was with … Eric Bieniemy
With a great deal of discussion concerning the possibility of Kansas City offensive coordinator Eric Bieniemy being a candidate to replace Mel Tucker as the head coach at Colorado, it may be worth your while to listen to Coach Tucker's last (at least at Colorado) "Inside Zone" podcast.
Posted on February 7th, the day the Detroit Free Press article was posted, first indicating that Tucker was a candidate for the Michigan State job, Tucker and Bieniemy talked about how Bieniemy was passed over for head coaching positions in the NFL.
I believe it is instructive that Bieniemy, when asked about becoming a head coach in the NFL, Bieniemy said the following, "Everybody wants to be a head coach at the highest pinnacle, at some point in their life. I've dreamed about that moment forever … am I still excited about that opportunity? Yes".
Would Bieniemy give up on his dream of becoming an NFL head coach – a dream which could become a reality as early as 2021 – to return the collegiate level? …
You can listen to the full podcast here
–
—
Drew Pearson calls Mel Tucker "a con man" for lying to recruits
From Yahoo.Sports … Former Dallas Cowboys wide receiver Drew Pearson is not happy that Mel Tucker left Colorado for Michigan State.
Tucker agreed to be Michigan State's next coach late Tuesday night after repeated proclamations that he was staying with the school that hired him ahead of the 2019 season. But after Michigan State struck out with Cincinnati coach Luke Fickell, it turned back to Tucker and doubled the coach's salary in addition to providing him with more money for his staff.
That didn't sit well with Pearson, who called Tucker a "con man" for taking the Michigan State job after telling him he was staying with the Buffaloes. Pearson's grandson Toren Pittman is a three-star recruit who signed with Colorado a week ago on National Signing Day.
MEL TUCKER IS A CON MAN! He recruited my grandson to go to CU said he wasn't going anywhere then ups and leaves. Sat there and lied to my face he wasn't going anywhere! So I want to beat him up today on social media. What else can I do?
While Pearson has every right to be unhappy that the coach who recruited his grandson to Colorado will never actually be Pittman's coach, who among us wouldn't take a 100 percent increase in salary after just one year in our current positions? Michigan State was clearly desperate enough to make a huge financial commitment for Tucker. And you can't blame him for taking the money.
You can, however, blame him for looking like a hypocrite after saying there was no transfer portal "in the real world" in October. Tucker made that comment in his first year with the Buffaloes after he was Georgia's defensive coordinator in 2018. As Tucker has shown in the last two years, it's much easier for college coaches to change jobs than it is for college players to transfer.
Hopefully the NCAA's new transfer rules will allow Pittman and all of the players who signed with Colorado in December and February the immediate opportunity to find new schools if they so choose. But with recruiting classes filled up at most other FBS programs, those players aren't going to have other lucrative options like Tucker did.
–
—–
February 12th
… CU in a few minutes … 
Neill Woelk: The trajectory of success at CU will continue 
From CUBuffs.com … One thing Colorado supporters of every stripe, shape and size need to understand is this:
The leadership at the University of Colorado who guided CU Athletics to this point, the leadership who made the Buffaloes relevant on a national scale and made Colorado a respected name again, is still in place.
That hasn't changed. From Chancellor Philip DiStefano to Athletic Director Rick George on down, the people who have steadily and steadfastly improved the university and its athletic department are ready to move forward and continue that trajectory.
And, yes, that means the people who hired an excellent football coach some 14 months ago are more than prepared to do it again.
No doubt, Wednesday's news that CU had lost a coach to a program willing to hurl money from every angle was disappointing. George made that clear at his Wednesday morning press conference.
But it is incumbent on everyone to remember that one man did not build CU football. One man did not create the tradition and pride of a program that has been a cornerstone of the state of Colorado's flagship institution for more than a century.
Leadership built that program, and leadership made it strong enough to withstand the occasional tempest.
That leadership is still in place and those leaders will make sure the momentum that CU Athletics has generated over the last six-plus years will not be stalled.
The trajectory of success will continue.
… Continue reading story here …
–
—
Darrin Chiaverini named interim head coach
Press release from CUBuffs.com … University of Colorado athletic director Rick George named Darrin Chiaverini as the school's interim head football coach Wednesday afternoon.
Head coach Mel Tucker resigned Tuesday night to accept a similar position at Michigan State.
"I have a lot of confidence in Darrin to lead us through this interim period," George said.  "He has been associated with the program beginning with his playing days 25 years ago and cares deeply about the Buffs."
Chiaverini, 42, just completed his fourth year as the wide receivers coach on the CU staff.  This past season, he also served as the program's assistant head coach.  Earlier this week he was once again named as one of the top 25 recruiters in the country by Rivals.com, the third straight year he has bestowed the honor.
"It's an honor to be named the interim head coach at the University of Colorado, and my focus will be to help make it a smooth transition for the student-athletes and the program overall," Chiaverini said.  "This campus and the city of Boulder is where I grew up as a young man, and there's no better place to be than CU.  The pride and tradition of the Colorado Buffaloes is something every student-athlete, like myself, in the country should experience."
He served as co-offensive coordinator and recruiting coordinator for his first three seasons (2016-18) on the staff under previous head coach Mike MacIntyre.  He returned to his alma mater where he lettered four times as a wide receiver under head coach Rick Neuheisel from 1995-98.  Chiaverini was the receivers coach at Texas Tech University for two seasons prior to joining the CU staff on January 1, 2016.
–
—–
February 11th
… CU in a few minutes … 
Mel Tucker on outside interest in staff: "We must be doing something right"
From the Daily Camera … Colorado head football coach Mel Tucker said on two Denver radio interviews Tuesday morning that Michigan State's interest in him reflects well on the Buffaloes program, while reaffirming his commitment to the school.
Tucker made appearances on KOA radio and Altitude Sports Radio and addressed last week's report that Michigan State was interested in interviewing him for its vacant head coaching position.
Tucker was not asked if he actually interviewed with the Spartans, but said it's positive for CU that he was viewed as a candidate.
"I'm not exactly sure how it got out," Tucker said of the report. "It's always flattering when a school reaches out to you and has interest. I feel like we must be doing something right here to garner that type of attention. I'm really excited about being here. These things happen in this business. I was able to release a statement to really express how I feel about CU and what we're doing here. I try not to speculate too much on rumors and innuendo and things like that."
… Continue reading story here …
–
—
Recruiting budgets sky-rocketing (CU 9th in the Pac-12)
From the Seattle Times … A buffet lunch for 70 guests began inside Husky Stadium's Touchdown Terrace, a 7,000-square-foot, field-level suite, at 11:55 a.m. Saturday, Dec. 15, 2018, smack in the middle of one of the most successful recruiting weekends the Washington football program had during the Chris Petersen era.
The lunch featured a taco bar with shredded beef barbacoa, pulled chicken tinga and shrimp Veracruz. Dessert was set on two 6-foot-long tables. On one table sat cinnamon churros warming under heating lamps; on the other sat two fountains, one flowing with chocolate and the other with caramel.
In the center of the suite, on a 60-inch round table, was a large ice carving made by a local artist at a cost of $1,175.
The final tab from Ravenna Catering for the two-hour lunch: $9,620.51.
… Those records from December 2018 offer a glimpse of what a 48-hour visit can look like for touted high school athletes being courted by major college football programs: a three-night stay in a downtown hotel; a lavish dinner at a five-star steakhouse; limo rides; bowling outings; a tour of Pike Place Market; and a seemingly bottomless budget for treats and snacks that would be the envy of every teenager.
The net cost for that weekend: $71,007.13.
The net result: Eight of the nine recruits on campus that weekend formally signed to play for the Huskies three days after their official visit ended.
Budgets rise nationwide
The pampering of recruits is standard operating procedure around college football. The NCAA allows recruits up to five "official" visits to college campuses, and each school is allowed to cover the costs of transportation and lodging for recruits and their parents, plus three meals per day and "reasonable" entertainment expenses.
Nationwide, recruiting budgets have swelled around college football.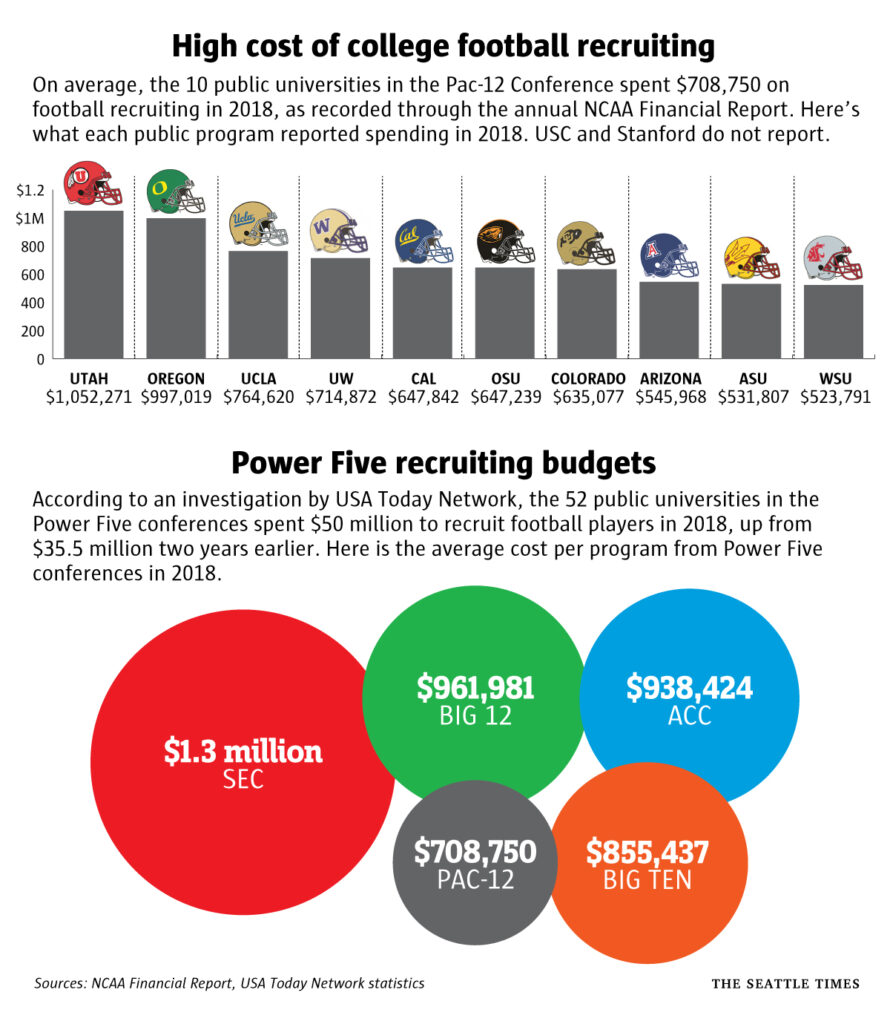 … Continue reading story here …
–
—
K.D. Nixon on decision to return: "You have to see the bigger picture always"
… "Once I get the opportunities, people will realize what they've been missing the whole time" …
From the Daily Camera … There was a brief time in December when Colorado's KD Nixon felt he was ready to move on to the next chapter of his life.
Upon more reflection, he decided he needed one more year in Boulder.
Now in the middle of offseason training, Nixon is focused on making the most of his final year at CU – both on and off the football field.
"The fact is, I want to graduate, I want to go first round and I want to set an example for my family, so that's the best thing for me," Nixon said.
A 5-foot-8, 185-pound receiver, Nixon announced on Dec. 10 that he would skip his senior year at CU and enter the NFL Draft. (One week earlier, teammate and long-time friend Laviska Shenault announced his early entry to the draft). Nine days after his announcement, Nixon changed his mind.
"It was just the fact that you have to see the bigger picture always," he said.
… Continue reading story here …
–
—–
February 10th
… CU in a few minutes … 
Report: CU losing defensive line coach Jimmy Brumbaugh to SEC money
From the Daily Camera … While head coach Mel Tucker appears to be staying in Boulder, Colorado is apparently going to need a new defensive line coach.
Bruce Feldman of The Athletic reported Monday morning that CU defensive line coach Jimmy Brumbaugh is leaving the Buffs to take a similar position at Tennessee.
Earlier on Monday, it was reported that Tennessee is losing its defensive line coach, Tracy Rocker, to South Carolina. Volunteers head coach Jeremy Pruitt apparently didn't take long to find a replacement.
CU has yet to confirm Brumbaugh's departure.
Brumbaugh, 43, was hired by Tucker in December of 2018. He signed a two-year contract with the Buffs, officially beginning Feb. 15, 2009.
Per the terms of his contract, Brumbaugh had a $175,000 salary last season, but that was set to jump to $450,000 for this next season. Year No. 2 of Brumbaugh's contract was to begin on Saturday.
According to his contract, if Brumbaugh terminates the agreement before this Friday, he would owe CU the sum of $100,000 in liquidated damages.
… Continue reading story here …
–
—
CU running backs room crowded with talent: "We want to have multiple guys who can get multiple carries"
From the Daily Camera … Last summer, with the early signing period still months away, the Colorado Buffaloes weren't sure if they'd add any running backs for the class of 2020.
After all, the Buffs had five running backs on scholarship and the oldest, Alex Fontenot, was just a sophomore.
Throughout the fall, however, the position became more of a priority. On Wednesday, CU signed two running backs to its 2020 class: Ashaad Clayton from New Orleans and Jayle Stacks from Cherry Creek High School.
With the two newcomers, the Buffs are now projected to have seven scholarship backs next season, putting them in better position to play the style of offense they desire.
"The way we play in our conference, you don't want to have just an every down back like we had with Phillip (Lindsay, in 2016-17)," CU running backs coach Darian Hagan said. "We want to have multiple guys who can get multiple carries."
Last season, the Buffs leaned on the duo of Fontenot (185 att., 874 yards) and freshman Jaren Mangham (107 att., 441 yards), while just 29 other carries went to running backs.
Meanwhile, redshirt freshman Jarek Broussard missed the season with a knee injury and Fontenot missed a game with a concussion, testing the Buffs' depth at times.
"We realized at that position, with the numbers that we had, it was fragile and we didn't want to get caught not having enough depth," Hagan said.
… Continue reading story here …
–
—–
February 9th
... CU in a few minutes … 
Pro Football Focus: Laviska Shenault a first-round talent (for a team with a plan for him)
From Pro Football Focus … One of the more polarizing prospects in the 2020 NFL Draft will be Colorado Buffaloes wide receiver Laviska Shenault. While he has first-round potential, his freak talent does come with some notable red flags.
Through three seasons of college, Shenault battled various injuries and would only appear in 27 games, missing time in each season. In his most recent junior year, he didn't come close to reaching his sophomore season production, despite appearing in two more games.
Some of the drops in production can be attributed to regression in quarterback performance, fellow wide receivers progressing into bigger roles, more attention from opposing defenses and the injury that essentially took him out of 2+ games. However, most first-round receiver options enter the NFL with more than 764 yards and 4 touchdowns in their final collegiate season.
With that said, it's hard to overlook what Shenault did during his 2018 true sophomore season. In just nine games, Shenault posted 86 receptions, 1,011 receiving yards and 6 receiving touchdowns. On top of those receiving numbers, Shenault posted 5 rushing touchdowns on just 17 carries.
… Continue reading story here …
–
—–
February 8th
… CU in a few minutes …
Mel Tucker: I'm not going anywhere
Mel Tucker tweet (12:43 p.m., Saturday) … While I am flattered to be considered for the HC job @MSU_football, I am committed to @CUBuffsFootball for #TheBuild of our program, its great athletes, coaches & supporters. #UnfinishedBusiness #GoBuffs
Press statement from Rick George … University of Colorado athletic director Rick George issued the following statement late Saturday morning in California where he and Coach Tucker are doing a series of donor engagements.  This statement is in response to Michigan State University's interest in Tucker for its vacant head coaching position:
CU Athletic Director Rick George:
"Mel has turned heads here with the culture he's quickly building and recruiting success he's had, so it's only natural that programs looking for a coach are going to be taking note. I know he's committed to the Buffs all the way and we're committed to supporting the vision he has for our program and winning championships. I've said plenty of times that we couldn't be more excited that Mel is our head coach."
–
—–
February 7th
… CU in a few minutes … 
Detroit Free Press: Mel Tucker a candidate for Michigan State head coach
… Related … "Report: Mel Tucker to interview for vacant Michigan State position" … From the Daily Camera
From the Detroit Free Press … Michigan State plans to interview two candidates for its open head football coaching job this weekend, multiple sources with knowledge of the search told the Free Press on Friday night.
The sources spoke on condition of anonymity because they were not authorized to speak publicly.
Cincinnati coach Luke Fickell, considered the front-runner, and Colorado coach Mel Tucker each will meet with MSU's search committee as they look to replace Mark Dantonio, who retired suddenly Tuesday after 13 seasons.
The university has hired Glenn Sugiyama, a managing partner and global sports practice leader for DHR International in Chicago, to help guide its search according to two sources with knowledge, according to multiple sources.
The 46-year-old Fickell is 32-20 overall in four seasons as a head coach, the last three with the Bearcats. He has led them to a 26-13 record, including back-to-back 11-win seasons and victories over Power 5 opponents Virginia Tech and Boston College in bowl games the past two years.
Fickell worked with Dantonio at Ohio State and was part of the Buckeyes' 2003 national championship coaching staff as the special teams assistant, with Dantonio as defensive coordinator. The Columbus native, who was the 2010 AFCA Assistant Coach of the Year, also took over at OSU in an interim capacity when Jim Tressel was fired in 2011 and led the Buckeyes to a 6-7 record.
… Tucker signed a five-year, nearly $15 million contract that includes a buyout that is now $3 million, according to The Denver Post.
–
—
Wide receiver Braedin Huffman-Dixon enters transfer portal
… Huffman-Dixon was one of the top recruits from the CU Class of 2019, being rated as a high three-star prospect by both Rivals and Scout (was actually a four-star recruit for much of his senior season, but then he signed with CU and … you know how that goes).
Huffman-Dixon sat out the 2019 season as a true freshman. He was named one of the offensive scouts of the week for the Colorado State, Nebraska and Washington games. Huffman-Dixon dressed but did not play in the Colorado State, Nebraska and USC games.
Huffman-Dixon tweet announcing his entry into the Transfer Portal: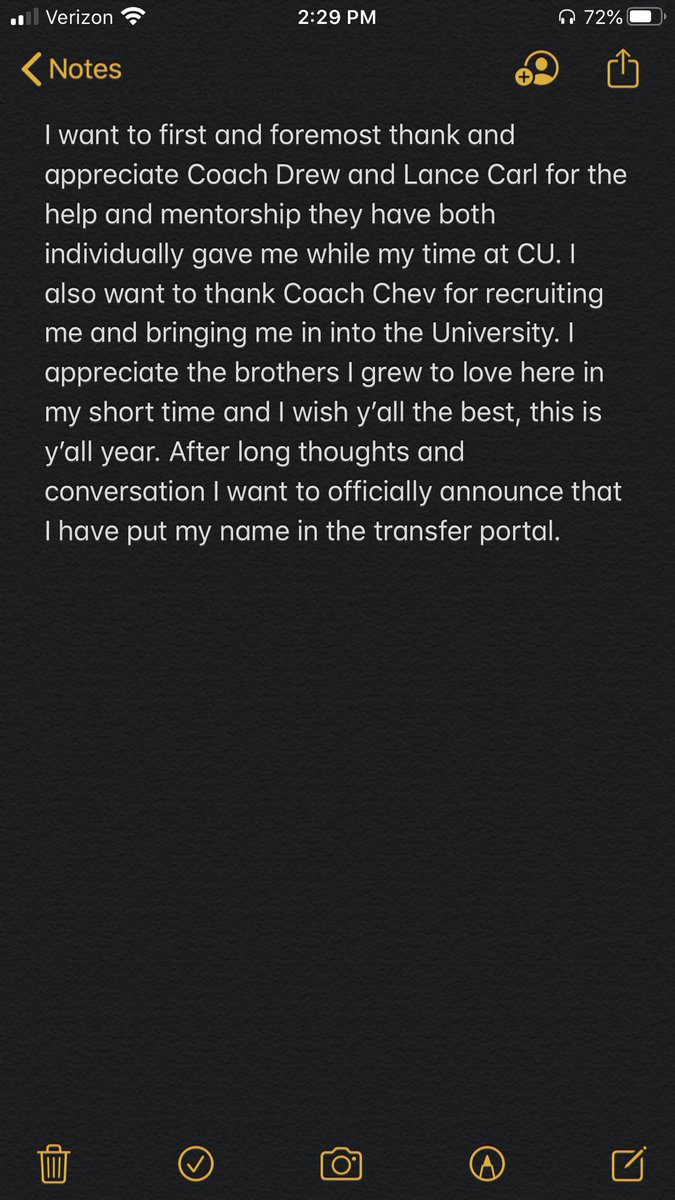 –
—
Mel Tucker's podcast guest: Buff legend and Kansas City OC Eric Bieniemy 
Eric Bieniemy – CU's all-time leading rusher, and former CU offensive coordinator – is Mel Tucker's guest on his Inside Zone Podcast.
Definitely worth a listen … The podcast can be found here …
–
—–
February 5th
… CU in a few minutes … 
Mel Tucker: "You're not going to get those caliber players if you don't go after them"
From CUBuffs.com … Colorado football coach Mel Tucker is a firm believer in winning the fourth quarter.
It is how you build elite programs.
That philosophy applies to recruiting as well, and Tucker delivered a big fourth quarter win Wednesday, closing out his second recruiting class at Colorado with three more standout players.
The newest Buffs are defensive back Will Anglen, running back Ashaad Clayton and running back Jayle Stacks — three players who also represent Tucker's philosophy of nationwide recruiting as well as protecting his home turf. Anglen comes from Cleveland, Ohio; Clayton hails from New Orleans; and Stacks from Colorado.
Tucker's 2020 recruiting class now includes players from 11 states — literally stretching from coast to coast — and one foreign country. In the process, Colorado's coaching staff also proved it can recruit against anyone and deliver.
"We identify guys early, guys we know can help our program and build this thing the right way, building towards a championship football team," Tucker said. "It doesn't really matter to me where he is or who else is recruiting him. You're not going to get those caliber players if you don't go after them. They're not just going to drop in your lap. You have to go out there and you have to recruit them. We have confidence in our program that we can."
… Continue reading story here …
–
—
CU retired numbers to return to circulation
From CUBuffs.com … Three University of Colorado football uniform numbers that have been retired for decades will circulate back into use, athletic director Rick George announced Wednesday.
However, all three will still be recognized in a unique way that a handful of other schools have been doing.  A special patch bearing the name and years they played for the Buffaloes will be displayed prominently on the front of the uniforms.
Byron White's number 24 was the first to be retired, shortly after his senior season in 1937 when he was named the school's first All-American in football and the most valuable player in the Cotton Bowl.  He led the nation that season in rushing (1,121 yards), total offense (1,596) and scoring (122 points) as well as leading the Buffaloes to an 8-0 record before falling to Rice in the bowl game.
Next was Joe Romig's number 67, taken out of service following his senior season in 1961, when he became the first two-time All-American Buffalo.  Both White and Romig also excelled in the classroom and were Rhodes Scholars; White was a halfback/quarterback/defensive back and Romig played offensive guard and linebacker, as both played the sport in the platoon era.
Bobby Anderson had his number 11 retired the spring after a stellar season in 1969, when he earned All-America accolades and Liberty Bowl MVP honors, rushing for a then-bowl record 254 yards and three touchdowns in CU's 47-33 win over Bear Bryant's Alabama Crimson Tide.  Anderson was a quarterback his sophomore and junior seasons and for the first two games in '69 before switching to tailback.
"Current players and recruits ask all the time for jersey numbers, and often the retired ones have come up," George said.  "We explored ways we could bring the numbers back into use and believe we have found a way to do so, along with bringing attention to those who previously had them retired by the uniform patch.  It should also bring a spotlight back to those three players every time a TV camera shows them head-on or a picture appears in a newspaper or on-line.  The names White, Romig and Anderson will be celebrated all over again."
The family of White, who passed away at the age of 84 in 2002, along with Romig and Anderson were consulted in advance of the decision being made to "unretire" their numbers.
White was appointed by President John F. Kennedy to the U.S. Supreme Court in 1962 and he went on to serve over three decades, retiring from the bench in 1993.  His family through his son Charles said, "It will be an honor to watch number 24 in action for Colorado again."
"It's absolutely fine that my number comes back into circulation, especially if it helps the program," Romig said.  "It's an honor to be remembered, and I have always appreciated the education I received at the University of Colorado.  I truly enjoyed playing for CU and building up the relationships and friendships starting with my own teammates and with many Buffs who played both before and after."
"Anything I can ever do to help the program, you can always count me in," Anderson said.  "My number's been retired for 50 years, so I've had my day in the sun, but I will appreciate and be very proud of how it will continue to be honored."
A fourth number – 19 – worn by the late Rashaan Salaam, CU's only Heisman Trophy winner, was just retired in 2017.  It will remain out of circulation for a total of 19 years to recognize the number and will come available again for use no earlier than the 2036 season.  The family has also approved it coming back into use at or after that time.
–
—
Ashaad Clayton on choosing CU over Florida: "When I was there, the energy was just different"
From Rivals.com … There have been plenty of bumps along the path for Ashaad Clayton, including one grueling decision before he could finally put a pin in his long-winding recruitment.
Even after committing to Colorado in November, the Rivals250 running back did not sign. He took visits to Kansas, and then Florida last month, before eventually staying true to his commitment and signing with the Buffs.
Clayton's first trip to Boulder set the bar, and after exploring his other options more closely over the past two months, he never wavered on his decision.
"I didn't sign in December because I wanted to take my official visits … I wanted to see if that's what I really wanted to do," Clayton told Rivals on Wednesday. "Florida was top two right behind Colorado, but when I was there, the energy was just different. Anyone who goes to Boulder would feel the same way. The energy is different. You feel wanted. There's no people with fake love and in Colorado, there's no fake love."
… Continue reading story here …
–
—
Mel Tucker: "I'm real excited about all three of these guys"
Coach Tucker conducted a conference call with media Wednesday. Opening comments …
"Really excited about all three of these guys. All three were guys we targeted, that we recruited really hard, and that we wanted. We were really excited to get them. William Anglen is from Cleveland Glenville. I have had a lot of success in that school in the past. A lot of great football players come out of there with Ted Ginn Sr. being the coach, and I believe (Anglen) is going to be one of those type of guys. He is already 6-foot-2 and some change, 195-pounds. Very athletic kid that we're planning to play in our secondary. He has position versatility. He can play corner or safety. Great kid, really good toughness, loves football, so I am really excited about him.
"Jayle Stacks, in-state kid. He is a kid that was originally committed to Air Force, I believe. We targeted him because we wanted a big back. We wanted a guy that could move the pile and get those tough yards, and we want to be able to hammer people in the run game. At 225-pounds, he is going to be one of the bigger backs in this conference. He is a really good athlete. I saw him play live and saw him catch a touchdown pass lined up in the slot. So he is versatile, has really good hands. He trimmed some weight this season and he became quicker and faster, and you can really see that on his tape. He is a guy that we're really excited about.
"Ashaad Clayton, obviously he was committed to us and he stuck with his commitment. We feel like he is a difference maker type of back. Very highly recruited player. I think he is the No. 1 back in the state of Louisiana. But it was a really good fit for CU and a really good fit for him. Academics are important to him, he wants to get a degree from here. He knows it is going to mean something, carry some weight. From a football standpoint, he knows that he has an opportunity to play right away. We're going to play the best players, and obviously play multiple backs. That is something that appealed to him. He really bought into our coaching staff and the culture that we're building here and the type of team that we want to have. He is real big on trust, and he trusts that we're moving in the right direction. All three of those guys are really good players for us."
–
—
Nate Landman: "I kind of feel like I have some unfinished business at CU"
From the Daily Camera … On third-and-goal from the 1-yard line, Utah running back Devin Brumfield took the handoff and ran to the gap between the center and left guard.
Colorado linebacker Nate Landman read the play and hit Brumfield at the 2-yard line, but bounced off as Brumfield dove into the end zone for a touchdown that helped the Utes to a 45-15 victory on Nov. 30 that ended CU's season.
Two months later, that and other missed plays still bother Landman.
"It's not even just that game; it's all the plays that you remember," the Buffs' senior leader said recently. "One more step or one inch away. Those eat at you, but you have to move on because that happens to every player and every team. We're going to work hard this year to get those inches in our favor."
One of the best inside linebackers in the Pac-12, Landman recorded 137 tackles last season – the most by any CU player in 12 years – but he's driven by the misses. He wants to be a better player and he wants to play for a winner after being a part of three consecutive 5-7 seasons.
"I kind of feel like I have some unfinished business at CU," he said.
… Continue reading story here …
–
—
Rick George: CU athletics department update
From CUBuffs.com … We are off and running into the spring semester, and barely a month into competition, things have started very well out of the chute.  For the year, we're over 75 percent in head-to-head competition against Division I schools (368-118-2, a 75.6 winning percentage).  A sport-by-sport look:
Men's Basketball.  After splitting the two games in Los Angeles over the weekend, the team stands at 17-5, tied for the second-best start after 22 games in our history (the '68-69 led by the late Cliff Meely was 18-4).  The team has been ranked by the Associated Press for last five polls (in at No. 24 this week), and 10 times this season—the most times we have appeared in the AP poll in a single season.  Through last Sunday, we were 17th in both the NET and Kenpom rankings, two important components the selection committee uses to select and seed the teams for the tournament.
Come out and support Tad Boyle's Buffs this week, with very family friendly tip-off times of 6 p.m. against California on Thursday (Feb. 6) and Stanford Saturday (4 p.m.).  And just this past Monday, junior McKinley Wright was named one of 10 finalists for the Bob Cousy Point Guard of the Year Award.
Women's Basketball. After going 11-0 in non-conference play, JR Payne's team had a run of six top 10 teams in the next 10 games.  Currently 14-7 on the year, six of our seven losses have come to those teams in the top 10.  As a result, we are ranked 49th in the RPI rankings and not out of the conversation for the NCAA tournament.  Two big road games are on the horizon this weekend (Washington State and Washington), and we've have some success away from home this year, with a 6-3 record.  It's a young yet exciting team.
Carol Callan, who has handled the analyst chores for over 35 years for our women's games on radio, is a finalist for the Women's Basketball Hall of Fame.  She has an extensive resume in and around amateur competition, and is the director of the Women's National Team.  Those selected for induction will be announced on Feb. 10 during the Connecticut at South Carolina game on ESPN.  Carol's husband, Dave, is our director of student-athlete leadership.
Indoor Track. There aren't many school records here, or anywhere for that matter, older than 20 or 25 years.  So when Dani Jones eclipsed Hall of Famer Mary Decker's school record in the 800-meter run, it was truly a special accomplishment.  Decker set the mark of 2 minutes, 5.29 seconds back in 1978; Jones bested that effort by nearly a minute in a time of 2:04.38 last Saturday in our own CU Invitational in our Indoor Practice Facility.   Jones has won four NCAA individual titles, tied with five others for the most in school history, and certainly has a chance to earn more with eligibility also remaining for the outdoor season.
The night before, another CU senior ran his way into the record books.  Joe Klecker ran the fastest mile – not only ever for the Buffs but on state of Colorado soil – timed exactly in 4 minutes and 1 second.  The old mark had been 4:01.27, and as far as the NCAA is concerned, it converts to 3:55.06 when allowing for the altitude, the fastest time in the nation thus far in this young season.  It capped a great week for Klecker, who was also named the 2019 NCAA Division I Men's Cross Country National Scholar Athlete of the Year.
Other Buffaloes have already posted some quality numbers in several meets, mostly along the Front Range, but the month of February brings many more competitions around the West.
Skiing. The team has opened the 30th season under coach Richard Rokos with two second place finishes.  Four different Buffaloes have won seven races between them to date, including three by sophomore alpine skier Mikaela Tommy.  The Utah Invitational and four individual qualifiers remain before the RMISA Championships at the end of the month in Bozeman, where the NCAA Championships will take place March 11-14.
Tennis.  We are off to a 5-1 start after sweeping Boise State and Northern Colorado in a doubleheader last Saturday.  Danielle Steinberg's second CU team has matched its best start after six matches over the last 12 seasons, and will be looking to extend its run this weekend in Texas against Houston and SMU.
Lacrosse.  Our season opener is this Saturday at No. 13 Florida at 10 a.m. mountain time.   Our home opener is set for Friday, Feb. 21 against Harvard at 4 p.m. on the Kittredge Fields, and we'll close the month with a road game at No. 8 Michigan two days later.  Anne Elliott-Whidden's team has been ranked 18th in the preseason and is picked to finish second in the Pac-12, just one point back in the poll behind USC.
Golf.  Both our golf teams will begin the spring portions of their seasons within a week.  The men begin play in Hawai'i on the Big Island in the Amer Ari Invitational, while the women will start things off in San Diego in the Lamkin Match Play.
Football.  Mel Tucker's recruiting class is currently ranked No. 32 (ESPN), No. 33 (247Sports) and No. 24 (Rivals) heading into the second signing day; we are expecting to sign either two or three players to complete the class on Wednesday (Feb. 5).  It's possible we will move up a couple of spots, but regardless, it is our best class in over a decade as far as ratings are concerned.  It really is his first class in a full recruiting cycle, since he was hired on Dec. 5, 2018, two weeks ahead of the December signing date for the 2019 class.  Mel and his staff filled several needs, particularly in the trenches, and I firmly believe is building toward a solid future.
Four players have been invited to the NFL Combine in Indianapolis: receivers Tony Brown and Laviska Shenault, quarterback Steven Montez and outside linebacker Davion Taylor.  The last time CU had two receivers drafted in the same year was way back in 1972: Cliff Branch and Larry Brunson.
If you haven't listened to any of Coach Tucker's podcasts, they are very entertaining. They all have some kind of CU connection, but aren't solely football.  One of his guests was Philip Bailey, co-founder of Earth, Wind & Fire; Philip was a drummer in our marching band in the early 1970s.  Over the Christmas holiday, he had Hale Irwin as a guest, and we're working on some very special ones coming up, including a scheduled one with Eric Bieniemy we are recording this week.  All are archived here: https://cubuffs.com/sports/2019/8/9/mel-tuckers-inside-zone-podcast.aspx.
Football season ticket renewals began this week, with the deadline to renew Feb. 28.  If you don't have season tickets, we are taking deposits at present as well as for new purchasers.  We have six home games in 2020: Fresno State in the non-conference play, with Oregon, UCLA, Arizona State, Washington State and Utah the Pac-12 opponents set to visit Folsom Field.
Super Bowl. We were going to have a former player turned coach earn Super Bowl regardless of who won.  Eric Bieniemy won as the offensive coordinator of the Kansas City Chiefs, edging out his long-time friend Jon Embree, who is the assistant head coach for the San Francisco 49ers.  The city of Miami has been very good for Bieniemy, who of course got his CU 1990 national championship ring with the Buffaloes after our Orange Bowl in over Notre Dame.  Two other CU alums will also get rings, both of whom worked in our sport information office: Cydney Ricker and Morgan Tholen Dannewitz.
Academic Update. The "grades are in" for the fall semester, and once again our student-athletes (352 in all) enjoyed an 11th consecutive semester where all combined for a semester grade point average over 2.9 – 2.945 for the Fall 2019 term.  The cumulative GPA for all came in at 3.006 and 11 of 15 programs (indoor and outdoor track count as one) sported team grade points above 3.0.  Over half (189, or 54 percent) of our athletes own a cumulative GPA of 3.00 or above, and nearly a fourth possess one of 3.50 or higher (85, or 24 percent).  In addition, 34 student-athletes made the Pac-12's Academic Honor Roll for the fall sports.
I think most of you know that I have been named to the 13-member selection committee for the College Football Playoff and will serve for the next three years. This is a tremendous privilege, and really to represent CU as much as it is for myself. The game of football has provided me with endless opportunities throughout my lifetime, and this opportunity gives me the chance to give back to this great game.
C ollaboration and U nity,
Rick George
Athletic Director
–
—–
February 4th
… CU in a few minutes … 
CBS updated mock draft: Laviska Shenault to Green Bay
From CBS Sports … The confetti just stopped falling on the Chiefs as they celebrated their Super Bowl victory on the 49ers when it became time to turn our attention toward NFL draft season. So, now, here I am a couple of days later, with my first NFL mock draft of 2020. There's a long way to go between now and the draft, and a lot of things can change, so don't think of this mock as a prediction of what's going to happen a couple of months from now.
It's more of a feeling-out process. We all have a good idea of what teams need and what areas they want to address. I'm combining that knowledge with what I know about the players available in the draft based upon watching them in college the last few years to make my best estimation of who will go where and why.
Of course, it wouldn't be a draft if somebody didn't trade up for a quarterback, so I have a couple of those in here as well. This mock draft is bound to look a lot different than my final version, but we have to start somewhere.
First round picks from the Pac-12 (yes, only two players from the Pac-12) … 
No. 6 – Los Angeles Chargers – Justin Herbert, QB, Oregon … Justin Herbert is this year's Josh Allen. Not from a talent or ability perspective, but from the "I watched him in college, and I get why NFL teams are going to talk themselves into him, but after watching him play there's a LOT more projection than reality right now" view. Still, the Chargers need a QB.
No. 30 – Green Bay Packers – Laviska Shenault, WR, Colorado … Shenault has been one of my favorite players to watch the last few years. He can lineup outside or in the slot, and he's always trying to make a big play happen. In other words, he's the kind of player that could excel with Aaron Rodgers. Or maybe help Rodgers excel a little longer himself.
–
—
CU Spring Banquet set for Friday, March 20th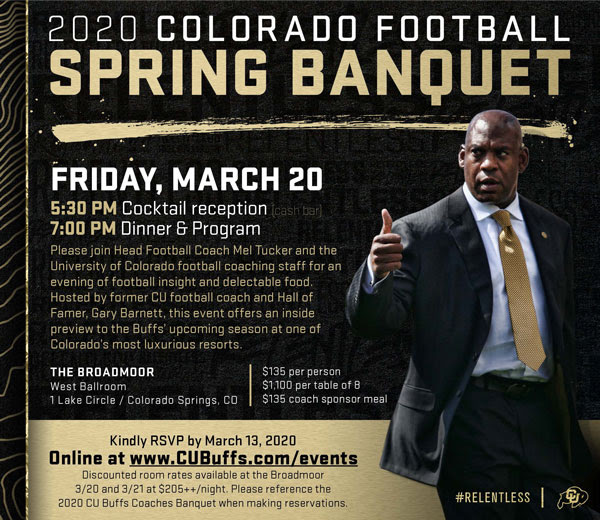 –
—–
February 3rd
… CU in a few minutes …
College Football News: Best-case scenario for CU in 2020 – 9-3
From College Football News …
Colorado Football Schedule 2020 Prediction, Best Case Scenario
9-3: The Buffs roll to a 2-0 start, and they split the next two games against Texas A&M on the road and Oregon at home. With a week off to rest up, they go on a nice run with home wins over UCLA and Arizona State along with a trip to Arizona, but then comes the problem.
With three road games in four weeks, they win the home date against Washington State, and sneak out of trips to USC, Stanford and Washington winning two of the three. Everything clicks in the home finale against Utah.
Colorado Football Schedule 2020 Prediction, Worst Case Scenario
4-8: New head coach Steve Addazio leads Colorado State to a stunning win at home over Colorado. Things don't get too much better over the rest of September with losses at Texas A&M and Oregon for a 1-3 start.
Even with a week off to rest up, the Buffs split one of the next two games at Arizona and UCLA, and they drop all three of the road games against USC, Stanford and Washington before closing out with a clunker against Utah.
Colorado Football Schedule 2020 Ranking Hardest To Easiest
2020 preseason ranking of the Colorado football schedule from the hardest-looking games to the easiest.
1. Sept. 19 at Texas A&M
2. Sept. 26 Oregon
3. Oct. 31 at USC
4. Nov. 21 at Washington
5. Nov. 28 Utah
6. Nov. 14 at Stanford
7. Oct. 9 at Arizona
8. Oct. 17 UCLA
9. Oct. 24 Arizona State
10. Nov. 7 Washington State
11. Sept. 5 at Colorado State
12. Sept. 12 Fresno State
–
—–
February 2nd 
… CU in a few minutes … 
Mel Tucker: "I certainly allow people to get to know me as much as they want to know me"
From the Daily Camera … As a football coach, Mel Tucker is known as tough, hard-nosed and a preacher of hard work and physicality.
Tucker built that reputation over several years as an assistant coach and during his first season as Colorado's head coach.
When he was hired in December of 2018, however, I was curious about Tucker off the field. I reached out to a writer who covers Georgia, where Tucker had been the defensive coordinator for three years, from 2016-18, and asked, "What is he like to work with?"
The response: "We only talked to him, really, twice a year at news conferences, so it was hard to get to know him."
… There's been a lot of media and public contact with Tucker since he got to CU, and he is enjoying it.
"I'm more of a people person," he said. "I like to get to know people. I don't have any reservations about communicating to people what I'm all about. I certainly allow people to get to know me as much as they want to know me."
… Continue reading story here …
–
—–
February 1st
… CU in a few minutes … 
Two Buffs to graduate (and not play their senior years); four Buffs invited to NFL Combine
From the Daily Camera … A pair of Colorado football players have elected to graduate in May and not play their final seasons with the Buffaloes.
CU confirmed Saturday that defensive back Trey Udoffia and offensive lineman Hunter Vaughn are no longer with the team.
Udoffia, from Loomis, Calif., played cornerback during his first three years at CU before switching to safety last year. He played in 27 games during his career, including 10 starts at corner in 2017 and 2018. This past season, he played in seven games, all on special teams.
Vaughn, from Legend High School in Parker, played in all 36 games over the past three years, primarily on special teams. He also played 10 snaps on offense, four against New Hampshire in 2018 and six against Washington State this past season.
Four CU football players have received invitations to the NFL Combine: quarterback Steven Montez, receivers Laviska Shenault and Tony Brown and outside linebacker Davion Taylor.
The combine will be held Feb. 23-March 2 at Lucas Oil Stadium in Indianapolis.
–
—
CU third in the Pac-12 in Super Bowl rings earned; 11th in the nation in players with rings
From Sports Pac-12 … Super Bowl Rings earned (see list of CU players who have earned Super Bowl rings below – January 29th stories) :
1. USC, 58
2. UCLA, 55
3. Colorado, 52
4. Oregon, 39
5. Cal, 36
6. Arizona State, 34
7. Stanford, 33
8. Washington, 32
9. Utah, 20
10. Washington State, 17
11. Arizona, 16
12. OSU, 11
–
Buffs in rare company – 11th in the nation in players with Super Bowl Rings
From The Sporting News …
1. USC, 47
6. UCLA, 37
11. Colorado, 33
15. Washington, 30
18. ASU, 28
20. Cal, 27
20. Oregon, 27
20. Stanford, 27
—-
January 31st
… CU in a few minutes … 
Bieniemy v. Embree: "A Buff is going to get a ring, we know that"
From the Daily Camera … Adding more emotion to Sunday's game for Jon Embree is the fact that Eric Bieniemy will be on the other sideline.
Although Bieniemy, who rushed for a CU-record 3,940 yards from 1987-90, came to CU just as Jon was leaving, the two have been close friends for years.
They were both assistants together at CU from 2001-02 and at UCLA from 2003-05. It was no surprise when Jon became CU's head coach in 2011 that he hired Bieniemy as offensive coordinator.
"Since EB was a player, I really believed in him a lot and helped him get into coaching," Jon said. "I think people have a big misconception about him because they see the passion and how fiery he is and how he was as a player and people don't really know how smart, how intelligent and, just from a football standpoint, how creative he can be. He is going to be a head coach one of these days and I'm sure he'll have a lot of success."
To this day, Jon and Bieniemy talk and text frequently.
Super Bowl reunion
Somewhere in Miami on Friday night, Jon, his sons and family and the Bieniemy family gathered for dinner.
"We'll get together and have some drinks and eat some dinner and everybody will laugh and have some fun," Jon said. "At least up until we throw the coin up (on Sunday), it'll be a memorable, enjoyable time."
On Sunday, it'll be more enjoyable for some of the group. Either Jon and Taylor are going to win a Super Bowl ring, or it'll be Connor and Bieniemy celebrating.
"A Buff is going to get a ring, we know that," Jon said. "And, an Embree is getting a ring."
–
—
Athletic director Rick George gives CU a presence on two national NCAA committees
From the Daily Camera … It's been a long time since the University of Colorado has had national relevance in terms of the most high-profile sports in college athletics, football and men's basketball.
Athletic director Rick George is giving the Buffaloes a voice in significant NCAA issues, however.
Last week, George was named to the 13-member College Football Playoff (CFP) selection committee, adding to the list of groups he has been a part of during his tenure at CU.
George also serves on the Division I Council, which handles the day-to-day decision making for Division I athletics; the Division I transfer working group; and on an 18-member committee that examines the ability of student-athletes to profit from their name, image and likeness.
"I think it's good for Colorado and certainly I'm honored to do it, and I'm glad to do it," said George, who will begin his three-year term with the CFP this spring. "Anytime we're on a national platform for something like this, I think it's positive. (Chancellor Phil DiStefano) has been incredibly supportive of doing this and I'm excited about it."
… Continue reading story here …
–
—–
January 30th
… CU in a few minutes … 
49ers assistant head coach Jon Embree maintains CU ties
From the Daily Camera … A lot has changed – especially the facilities – at Colorado since Jon Embree coached the Buffaloes.
Having held the job as CU's head football coach, however, Embree has made it a point to be a resource for those who have followed him.
This week, Embree is preparing to work in Sunday's Super Bowl LIV as the assistant head coach/tight ends coach for the San Francisco 49ers.
BuffZone.com will have more later in the week on Embree's opportunity to take part in the Super Bowl, but the former Buffs' tight end and head coach also took some time to talk about CU and its current head coach, Mel Tucker.
"I know him well," Embree said. "I had dinner with him right after he got hired. I text messaged him after the Nebraska game and (Colorado State) game, and he'll text right back. I'm excited for him."
… "It is a unique university and the inner workings of things or different issues, especially if you've been at other colleges, like Mel being at an SEC school," Embree said. "That's borderline like being in the NFL, as far as resources and all that stuff. If they ever have questions about that or anything like that, I just want to be available to help them and more just to kind of lend support when needed, and encouragement."
… Continue reading story here …
–
—
Rick George supports proposed Colorado NIL legislation
From the Daily Camera … A member of a key NCAA committee favors allowing Colorado's college athletes to profit off their names and images, he told The Denver Post on Wednesday — a development that promises to put the state legislature at the center of a national shift on the issue.
"We want our student athletes to be able to benefit, just like our regular students are able to benefit, from their name, image and likeness," University of Colorado Athletic Director Rick George said in an interview.
George's public backing of a new Colorado bill to let athletes profit off of themselves suggests it has a very strong chance of passing out of the state legislature, and could indicate the direction the National Collegiate Athletic Association as a whole is considering supporting. George sits on an NCAA working group looking at the issue of student athlete compensation.
More than two dozen state legislatures are having the same conversation Colorado is now, and Congress may also step in. California was the first to pass a law in September — despite strong opposition at that time from the NCAA and state universities — but the regulatory body for college sports made an abrupt about-face a month later.
The Colorado bill, which state Sen. Rhonda Fields, D-Aurora, and three other Democrats introduced last week, is similar to California's and others being considered around the country. It clarifies that a college athlete's earnings "may not affect the student's scholarship eligibility" or athletic eligibility. There are provisions written into the bill that are meant to limit conflicts of interest and require transparent disclosure by the athletes.
The bill is expected to debut in a Colorado Senate committee in early February, and George plans to testify for it.
… Continue reading story here …
–
—–
January 29th
… CU in a few minutes … 
Mel Tucker: Buffs to use more four-man defensive fronts in 2020
From the Daily Camera … After more than 20 years of coaching, both in the NFL and at the highest levels of college football, Mel Tucker has a pretty good idea of what he likes to do defensively.
Tucker has also been around long enough to know that tweaking the plan is essential at times.
During his first season as Colorado's head coach, Tucker and his staff adjusted the plan to fit their players. Now, going into their second year together, he's looking to do more.
"We did what we thought our players could do," Tucker of the Buffaloes' defense in 2019. "We didn't necessarily do everything that we initially wanted to do, but that's not important. You have to do what your players can execute."
With a solid core of players coming back and a strong group of newcomers being added, Tucker is hoping the Buffs (5-7, 3-6 Pac-12 in 2019) will be able to do more next season, including throwing some different looks at the opposition.
"I would anticipate us doing more four-down fronts," said Tucker, whose defense is a base 3-4. "At Georgia and Alabama, we did both. We did four-down and three-down and we were able to move in and out of them pretty efficiently, based upon … down and distance, type of game, type of offense."
… Continue reading story here …
–
—
53 Super Bowls – 52 CU Super Bowl Rings
A total of 35 Buffs have won 52 Super Bowl rings. The list:
Year
Team
Players
1966
Green Bay
Boyd Dowler, E
1967
Green Bay
Boyd Dowler, E
1972
Miami
Dick Anderson, QB
1973
Miami
Dick Anderson, QB
1976
Oakland
Cliff Branch, WR
Terry Kunz, RB
1980
Oakland
Cliff Branch, WR
Mike L. Davis, DB
Odis McKinney, DB
Greg Westbrooks, LB
1982
San Francisco
George Visger, DT
1983
L.A. Raiders
Cliff Branch, WR
Mike L. Davis, DB
Don Hasselbeck, TE
Odis McKinney, DB
1985
Chicago
Brian Cabral, LB
Emery Moorehead, WR
1986
N.Y. Giants
Lee Rouson, RB
1987
Washington
Eric Coyle, C
Richard Johnson, WR
1988
San Francisco
Barry Helton, P
1989
San Francisco
Barry Helton, P
1992
Dallas
Mickey Pruitt, LB
1996
Green Bay
Shannon Clavelle, DT
Darius Holland, DT
1997
Denver
Matt Lepsis, OT
Tom Rouen, P
Alfred Williams, DE
1998
Denver
Matt Lepsis, OT
Viliami Maumau, DT
Tom Rouen, P
Alfred Williams, DE
2001
New England
Tom Ashworth, OT
Charles E. Johnson,WR
Ted Johnson, ILB
Ben Kelly, CB/KR
2003
New England
Tom Ashworth, OT
Christian Fauria, TE
Daniel Graham, TE
Ted Johnson, ILB
2004
 New England
Tom Ashworth, OT
Christian Fauria, TE
Daniel Graham, TE
Ted Johnson, ILB
2008
Pittsburgh
Mitch Berger, P
2010
Green Bay
Mason Crosby, PK
Brad Jones, OLB
2012
Baltimore
Jimmy Smith, CB
2014
New England
Nate Solder, OT
2015
Denver
Nick Kasa, TE
Tyler Polumbus, OT
2016
New England
Nate Solder, OT
–
—–
January 28th
… CU in a few minutes … 
NFL Mock Drafts: Laviska Shenault an (almost) unanimous first-round selection
… A compilation of mock drafts to date. It appears that the Raiders, Eagles, and Packers may be the most interested in Shenault's talents … 
ESPN | Todd McShay | No. 16 to Raiders
"Coach Jon Gruden will love Shenault's versatility and after-the-catch skill set. After the Antonio Brown trade didn't work out, only two teams' receivers have tallied fewer receiving yards this season than the Raiders'."
CBS Sports | Chris Trapasso | No. 19 to Raiders
"The Raiders want more offensive weapons. Shenault is a horse in the open field."
Bleacher Report | Matt Miller | No. 21 to Eagles
"Whether he's compared to Percy Harvin or a college version of Sammy Watkins, Shenault is a proven playmaker who will finally give Carson Wentz a young receiver to grow alongside, as well as a player for opposing defenses to fear at wide receiver."
SBNation | Dan Kadar | No. 21 to Eagles
"Philadelphia's offense is light on playmakers, and Shenault showed with average quarterback play at Colorado that he can be a star."
USA Today | Luke Easterling | No. 22 to Bills
"The Eagles passing on a receiver here is a big win for the Bills, who are also in desperate need of a true No. 1 target for Josh Allen. … He's the complete player this offense needs to take their game to the next level in 2020 and beyond."
Sports Illustrated | Kevin Hanson | No. 30 to Packers
"Outside of Davante Adams, Green Bay has struggled to find consistent production from its wide receiver corps. Built more like a running back (6′ 2″, 225 pounds) than a wide receiver, Shenault's physical style and acceleration make him dangerous after the catch."
NFL.com | Daniel Jeremiah | No. 30 to Packers
"The Packers don't pick WRs in the first round, but Shenault is more than just a receiver. He can line up in the backfield and move around the formation to create mismatches in Green Bay's favor."
The Athletic | Dane Brugler | No. 38 (round two) to Panthers
There was nothing written up for players outside of the first round.
–
—-