—
"Trust the Process"
—
I had forgotten how much I hate Nebraska.
Now, don't get me wrong, my hate for Nebraska never actually went away. Every game of every season over the past decade since the Buffs and Cornhuskers went their separate ways, I always knew who the Cornhuskers were playing, and, consequently, which team I would be cheering for … their opponent (I do the same for Colorado State and the University of Montana). But without the Cornhuskers on the CU schedule, the blood-pressure raising hate for Nebraska subsided.
And since CU left for the Pac-12 and Nebraska left for the Big Ten, I haven't found a new opponent for which the dislike is as visceral. The Utah rivalry is contrived, and my dislike for USC and Oregon, while real, hasn't reached the gut-churning level of hate I have reserved for Nebraska since Bill McCartney scanned the Big Eight landscape in 1982, pronouncing Nebraska to be CU's rival.
The game last year in Lincoln helped restore the hatred to a degree, but I wasn't at the game in Lincoln. It was supposed to be a game which ushered in the next era of greatness for the Cornhuskers. It was the first game for their new savior, Scott Frost, and the Buffs were just window-dressing for the coronation – the designated sacrificial lamb. The outcome was a (very) pleasant surprise, but it was still a Mike MacIntyre team, so even the celebration for the Buff Nation was tempered.
This fall, however, the rivalry was brought back to a full boil. The Husker Nation had a more difficult time looking down their crooked noses at the Buffs, what with CU beating their team in Lincoln and all. That made the vitriol out of Lincoln louder and more emotional.
Head coach Scott Frost, while declaring that Nebraska should have won the 2018 game, called Colorado an "ex-rival". JoJo Domann, a Nebraska junior outside linebacker from Colorado Springs added: "I took (a visit to CU during my recruitment) and I came here. Thank God I came here."
The Buffs, under the leadership of their new head coach, Mel Tucker, refused to take the bait.
"Our focus is really on the preparation and what it's going to take to put ourselves in a position to perform the way we need to perform in the game," Tucker said. "I don't want our guys talking. This is not a time to talk, this is about preparation. … The game will take care of itself."
The media tried to get some bulletin board material from quarterback Steven Montez, but Montez wasn't having it: "They're talking enough for both of us".
Nebraska fans said that they were going to take over Folsom, and, well, they did. Colorado sold over 20,000 season tickets (to go with over 12,250 student tickets), but entering the stadium, it was obvious that many Buff season ticket holders had traded their black-and-gold for green. The ESPN game story estimated the crowd to be 40% red-clad, and it would be hard to argue with that figure.
(Side note … to those Buff fans who sold their tickets to Nebraska fans – a pox upon your houses).
For almost three full quarters, Buff fans were subjected to "Go Big Red" cheers, as Nebraska raced out to a 17-0 halftime lead, and nursed that advantage for the first 13 minutes of the second half.
Then, late in the third quarter, the Buffs put together a drive. The Colorado offense, which had all of 193 yards of total offense to that point, finally put some points on the board, with Jaren Mangham taking it in from 11 yards out, to make it a 17-7 game.
The significance of the score at that point was as much about the Buffs getting on the scoreboard as it was in Nebraska still being stuck on 17 points. After marching up and down Folsom Field in the first half, the Cornhuskers shifted into neutral, as the Buff defense found its second wind.
When asked after the game if he was worried about being down 17-0 to Nebraska, Mel Tucker was blunt. "No. These are long games now. They are 60-minute games, four quarter games", Tucker said. "You have to stay with it. I've been doing this a long time. There's no such thing as a safe lead in college football. We all know that. We just continue to play. We talked to our players at halftime and said, 'They gave us their best shot. Whatever the best that they could do, we saw it in the first half.' We were able to make our adjustments and come back out and exert our will on them play in and play out. Then as a football team, we were able to wear them down. There is no need to get nervous. You just want to play the next play."
When, in the first minute of the fourth quarter, Steven Montez turned a flea flicker to K.D. Nixon into the longest play from scrimmage in Colorado history – 96 yards – the hope for a miracle comeback was now a reality.
At least for a play.
Nebraska scored on the very next play from scrimmage, with Adrian Martinez connecting with running back Maurice Washington (yes, that Maurice Washington, who would have been booted from almost every other team in the nation months ago) for a 75-yard touchdown. Nebraska 24, Colorado 14.
But the Buffs were having none of it.
It took only five plays for the Buffs to respond. A 57-yard completion from Steven Montez to Jaylon Jackson set up a seven-yard touchdown run by Jaren Mangham. In less than two minutes of game clock, the Buffs were back in it at 24-21.
"I think that our conditioning played a role in this game, especially in the second half," said Montez, who finished with 375 yards passing after going an ugly 13-for-18 for 84 yards, with an interception and three sacks in the first half. "I think Nebraska was a little bit tired here at altitude which tends to happen. I think that we use that to our advantage we run into quick pace type offense and then slowing it down a little bit when we want it to really control the tempo. The second half was huge for us. We got them on their heels and kept them there."
After a forced fumble by Mustafa Johnson, the Buffs tied the game with a James Stefanou field goal with 8:30 to play. The Cornhuskers then mounted a touchdown drive to reclaim the lead, but a Montez-to-Tony Brown 26-yard touchdown pass with 46 seconds remaining sent the game into overtime.
There, the CU offense was able to post a field goal to give the Buffs their first lead of the game, with a Mustafa Johnson sack taking the Cornhuskers out of field goal range. The 48-yard attempt by the Nebraska punter had no chance, and CU had an improbable victory.
Colorado pushed its record to 2-0 under Mel Tucker, and did so against the Buffs' two main rivals, Colorado State and Nebraska.
It really doesn't get any better than that.
True enough, it wasn't like the 62-36 beat-down in 2001, when the game was basically just three-plus hours of joy. This game had three hours of suffering in an 88-degree sun (the one time the CU and Nebraska fans were together in a joint cheer came in the third quarter, when a cloud gave us in the east stands a brief respite from the heat), with only a shocking ending to celebrate.
And where do the Buffs go from here?
Well, considering how well the CU coaching staff was able to make halftime adjustments for the second week in a row, the future, which looked bright in the long term under Mel Tucker, may be brighter sooner than we thought.
One of the most impressive aspects of Mel Tucker is his approach to the game.
Here's what Tucker said after the Colorado State game, when asked if he was relieved to have his first game – and his first win – under his belt:
"I wouldn't categorize is as relief at all. I'm not a believer in relief because I've talked to players about relief syndrome. Relief syndrome is 'I got an A on my first test, I can get an F on the next one and still get a C in the class and I'm good' because you're so relieved that you won a game. That's not the emotion and feeling we want. It's a level of accomplishment—job done, what's next? 'So what, now what'. That's my mind set."
Considering how well the Buffs have played in the second half of their first two games (compared to their efforts in the first halves of those games), you have to believe Mel Tucker is onto something.
Tucker also had this to say after the CSU game, but he could have just as well said it after overcoming a 17-0 deficit to defeat Nebraska in overtime:
"We got the win but it's not the end all be all. There is things we have to improve upon and things we have to get straightened out. That's the message to the team. We are not going to get too high. We are not going to get too low. We're going to be steady and we're going to work and trust the process."
Buff players have certainly bought into the process, and the come-from-behind (waaay behind) win over Nebraska will help keep the Buff players focused and on task when they face adversity in future games this fall and beyond.
Meanwhile, the Buff Nation gets to enjoy a two-game winning streak over Nebraska, with two last minute victories to savor until 2023, when the Red Horde returns to Boulder.
Mel Tucker is 1-0 against Nebraska. Scott Frost is 0-2 against Colorado.
Mel Tucker won his first-ever home game as CU's head coach against Nebraska. Scott Frost lost his first-ever game as Nebraska's head coach to Colorado.
Those facts will be there for eternity.
So, to the woman four rows behind me at the game, who tried to start a "Go … Big … Red" cheer after about what seemed to be every third play of the game when the Cornhuskers were in the lead, I have this to say:
"Go … Back … Home!".
We'll see you again in 2023!
–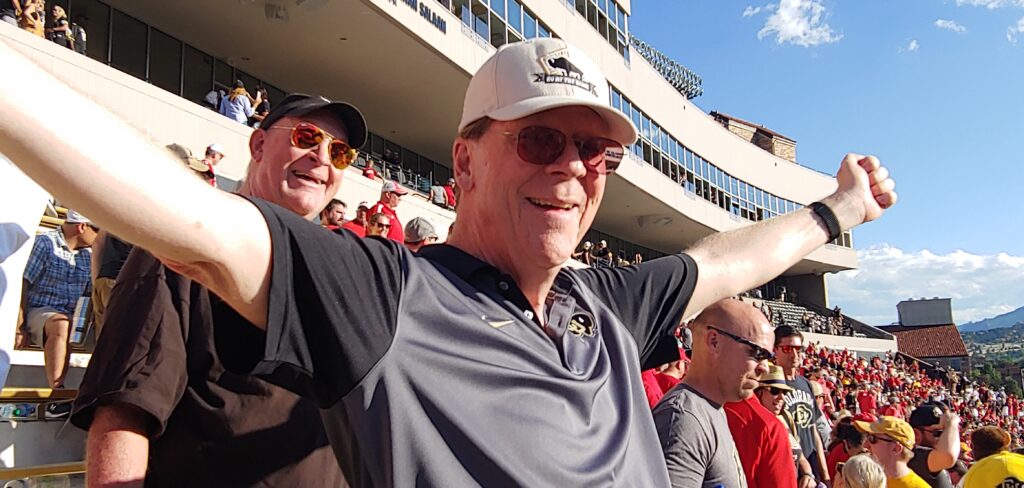 —–
—