—
Random Thoughts – Volume XVI – March 17, 2019
—
Buff Trivia Questions of the Week … Tad Boyle has coached Colorado to six of its ten 20-win seasons. What other seasons did the Buffs finish with more than 20 wins? What were the post-season results for those teams?
—
Mel Tucker in Las Vegas … 
Mel Tucker was spotted early and often during the Pac-12 tournament in Las Vegas (photo from Andrew G. Haubner):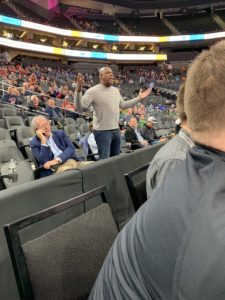 Tucker was also a fixture at CU home basketball games during the Pac-12 campaign, actually hanging out with the C-Unit for some of the UCLA game.  Tucker has also worn his Chauncey Billups jersey to a Denver Nuggets home game (we won't talk about his air ball attempt at a free throw).
You have to be excited about Mel Tucker's P.R. skills.
No, it doesn't take much for Tucker to wander across campus to watch the Buffs play at the Events Center.
But I can't remember Mike MacIntyre ever making it to a game.
What I am still working out is whether it was a good thing or a bad thing that Tucker was in Las Vegas on the eve of his very first set of spring practices as a head coach.
For now, I'm going with it being a good thing.
Tucker isn't tucked away in the Champions Center, mulling over every minute detail of the upcoming practices.
That to me indicates that he is confident that he is prepared for Monday, and ready to get it going with his players.
Thumbs up, coach!
—
Breaking the Dam … 
I was at work Thursday afternoon during the Colorado/Oregon State quarterfinal game. While I wasn't able to watch the game, I was able to check in from time to time on my computer.
It was great watching the score move in CU's favor … 7-0 Colorado to start … 18-8 at the ten minute mark … then 28-8 after a Shane Gatling three-pointer forced an Oregon State timeout with 6:50 to play.
Then … it was 31-10.
Uh-oh.
I immediately flashed back to last October, and another 31-10 scoreboard.
It was 31-10 last October 27th when another Colorado team lead another Oregon State team by that same score.
At the end of the third quarter, the score was: Colorado 31, Oregon State 10 … and the Buffs ended up losing in overtime, 41-34.
It couldn't happen again, could it?
It didn't look like the CU basketball team would fold the way the football team did, as the Buffs took a 37-18 lead at the half.
But then …
I was able to check on the score once early in the second half, at it was 43-24, Colorado. It appeared that the Buffs were going to be able to avoid the second half stumbles the football team endured.
Nope.
By the time I was able to get back to the game full time, it was 51-45, CU, with eight minutes still to play.
Fortunately, the basketball team was able to avoid the collapse against Oregon State that happened last October, pulling away late for a 73-58 win.
Perhaps 2019 will be kinder to CU athletics, after all.
—
USC – University of Spoiled Children at it again …
This week, Stewart Mandel at The Athletic posted a scathing article on admissions bribery scandal entitled, "USC confirms its country club status in the worst way".
The opening … If​ sports are considered​ the "front​ porch" to a university, USC's​ has broken glass​ in​ the windows, gaping​ holes where​ there​​ should be stairs … and a raging fire rapidly incinerating the whole thing.
On Tuesday, three Olympic-sport coaches and a senior administrator at USC were part of an explosive national college admissions scandal in which parents paid expensive bribes to get their kids admitted to prestigious universities. Many other coaches and schools were implicated, including crosstown rival UCLA, but none with the same scope of involvement as that of USC.
It's just the latest black eye for an athletic department that's been attempting to set a world record for them over the past decade or so. And they've got to stop. USC means too much to its loyal alumni, the Pac-12 and the city of Los Angeles to be such a chronic source of shame and embarrassment.
In the university's characteristically arrogant fashion, its interim president, Wanda M. Austin, had the temerity to write a letter Tuesday stating "USC is a victim" (underline theirs) in a scheme that happened to involve its second highest-ranking athletics employee and a 16-time national championship coach. The school has quite a bit of experience lately in this crisis management bit; less than 18 months ago, ex-basketball assistant Tony Bland got caught in his own bribery sting, this one the FBI's running investigation into college hoops pay-for-play schemes. (Bland pleaded guilty earlier this year.).
There has been much written about the decline of the Pac-12 in the most visible sports – football and men's basketball. Jon Wilner at the San Jose Mercury News posted an article in January, "The conference needs USC football to get its you-know-what together (UCLA basketball, too)", opining:
"I'm not suggesting that non-USC fans root for the Trojans in a specific game or against a specific team, or to win a certain number of games. But general competence at USC benefits the collective on matters of money, exposure and respect over the long haul."
I understand the economics. If USC is in the College Football Playoffs, CU gets more money. If UCLA is in the Final Four, CU gets more money.
I'd just rather CU be getting bigger paychecks by making the playoffs and the Final Four on their own.
Watching USC self-destruct?
That would just be an added bonus.
—
Frank Fillip very much a Buff … 
There were reports over the past few months that promising offensive lineman Frank Fillip had left the team.
Turns out that isn't the case.
Fillip, who started two games last fall at right tackle, is not only on campus, he is impressing strength and conditioning coach Drew Wilson.
From the Daily Camera … In a recent conversation with BuffZone.com, Colorado director of football strength and conditioning Drew Wilson talked about the offseason program in general, as the Buffaloes prepare for spring football next week.
Wilson also talked about some individual players that have stood out. As a whole, Wilson said, the team has had a great offseason and a lot of players are making strides in the weight room. But, here are a few specific individuals he talked about …
OL Frank Fillip, So.: "He's back and he's in the saddle and working again. He's been positive. He had to take care of some personal stuff. He's part of the family and he's been working hard. You have to give him credit." (Fillip missed the first few weeks of offseason training while undecided on whether or not to play, but Wilson said he's got both feet in at this point).
While Fillip may not be counted upon immediately to be a starter this fall, he does bring a 6'7″, 280-pound body to the offensive line.
An offensive line which is being counted on to improve this season … and lead the team to a bowl bid.
—
Buff Trivia Questions of the Week … Tad Boyle has coached Colorado to six of its ten 20-win seasons. What other seasons did the Buffs finish with more than 20 wins? What were the post-season results for those teams?
Here are CU's 20-win seasons (not including the 2018-19 season. The Buffs current record is 21-12, with, hopefully, some post-season action still to come):
1. 24 2011-12*
24 2010-11*
3. 23 2013-14*
4. 22 2015-16*
22 1996-97
6. 21 2012-13*
21 1968-69
8. 20 2005-06
20 2002-03
* Coached by Tad Boyle
The 1996-97 Buffs defeated Indiana in the first round of the NCAA tournament before falling to North Carolina in the second round;
The 1968-69 Buffs lost to Colorado State in the first round of the NCAA tournament, but won a consolation game against Texas A&M;
The 2005-06 Buffs lost to Old Dominion in the first round of the NIT Tournament;
The 2002-03 Buffs lost to Michigan State in the first round of the NCAA tournament.
–
—–