—
Colorado Daily
—
March 19th
… CU in a few minutes …
Quarterback corps dealing with third quarterback coach in three years
… Related … "Spring Practices … First Look: Quarterbacks"
From CUBuffs.com …  Experience is not in abundant supply when it comes to Colorado's quarterbacks — at least not after the incumbent starter.
Only one quarterback on CU's roster, senior Steven Montez, has ever started a college game. In fact, when you combine the total number of career passes attempted by all the other quarterbacks on the Colorado roster (46), Montez has attempted more passes in one game three different times in his career.
Montez will enter his senior season with 24 consecutive starts and 27 in his career. He is already fourth among CU's career leaders in passing yards (6,841), attempts (907) and completions (565); and is third in touchdown passes (46).
But after the Colorado senior, experience at the position is sorely limited. Junior Sam Noyer has appeared in nine games in his career and attempted 41 passes with 21 completions; sophomore Tyler Lytle has played in four games with five attempts to his ledger (four completions). Neither has thrown a touchdown pass in college.
Also on the roster are redshirt freshman Blake Stenstrom and junior walk-on Josh Goldin, who found himself thrust into action last year as the holder for field goals and PATs after regular Alex Kinney suffered a shoulder injury.
SPRING STORYLINES: Tucker has made it clear since the day he arrived that nobody has a guaranteed starting job. He brings a "clean slate" philosophy to spring ball and is expecting everyone to earn their job.
Still, Montez no doubt has a massive head start on the competition, and he has helped himself already this spring by spending plenty of time in the film room and studying CU's new offense. He looked steady in CU's first spring practice, and appeared relatively comfortable in the new offensive sets.
But this spring will also be an opportunity for Noyer and Lytle to make some headway, particularly with new offensive coordinator/quarterbacks coach Jay Johnson in place.
Johnson is the third quarterbacks coach for CU in three years, as well as the third coordinator/play caller. He will almost certainly give Noyer and Lytle plenty of repetitions and a chance to push Montez, as well as get themselves comfortable with the offense.
Learning that offense, of course, will be the top priority. New formations, new scheme and new terminology will all be at the forefront. Even lining up under center, something Buffs QBs seldom did over the last several years, will be part of the equation. How quickly the quarterbacks learn the offense and gain command of their duties will go a long way in determining where they enter fall camp on the depth chart.
Stenstrom has been limited by an injury this spring but coaches are hopeful he will be ready for fall camp.
… Continue reading story here …
–
—–
March 14th
… CU in a few minutes … 
Tight ends to be a part of the CU offense (promise!)
… Related … "Spring Practices … First Look: Wide Receivers/Tight Ends"
From CUBuffs.com … Folks looking for a position that could undergo the biggest change under the new Colorado coaching staff might want to start with tight end.
For the last several years, CU's tight ends have been used almost solely as blockers, either lining up tight on the tackle on the line of scrimmage or shifting into the backfield as a fullback or H-back.
But that will almost certainly change under new head coach Mel Tucker and offensive coordinator Jay Johnson. Tucker comes from SEC schools Georgia and Alabama that used the tight end as a legitimate offensive weapon; the position has also been a key receiver in Johnson's schemes.
Last year at Georgia, where Johnson was an offensive analyst, the Bulldogs' third-leading player in receiving yards was tight end Isaac Natua, who caught 30 passes for 430 yards and three touchdowns.
Since being hired, Tucker has made it clear he wants the Buffs' tight ends to play a similar role.
"We really need to use the tight end," Tucker said. "The tight end, when used properly, can give the defense fits."
SPRING STORYLINES: The story here will be how much the tight end duties are increased in CU's new offensive scheme. While the spring install will no doubt be basic, it should still provide a good indicator of what will be expected of the tight ends and how their contributions could increase in the fall.
The second part of that storyline will be to see who starts to emerge on the depth chart. Russell will no doubt compete for time, while Harris' aim will be to take advantage of his final year of eligibility in new surroundings.
–
—–
March 11th
… CU in a few minutes … 
Sophomore QB Tyler Lytle: Ready to compete for the starting job?
… Related … "Spring Practices … First Look: Quarterbacks"
From the Daily Camera … On a frigid, snowy November day in Boulder, the only thing melting was Colorado's bowl hopes.
CU trailed by 20 points in the fourth quarter and, after starting quarterback Steven Montez was knocked out of the game by an avalanche of Utah defenders, coaches picked that moment to give redshirt freshman Tyler Lytle his first opportunity to throw passes in a college game.
Talented, yet inexperienced, Lytle learned a few things that day.
"Humility, for one," Lytle said recently, with a smile. "It was a tough environment. It's how strong you are mentally. That's one thing (former quarterbacks coach Kurt) Roper always harped on and asked us, 'How strong are you mentally?' That was a tough situation to go in, but I felt like I went in there and did my best and stepped up. I made redshirt freshman mistakes, but nothing I'm worried about and I know I can go in there and make plays and take the good with the bad."
On March 18, the Buffs begin spring football and Lytle, now a sophomore, feels better prepared than ever to lead the team on the field if called upon.
Montez is returning for his senior year and, presumably, his third season as the starter. Lytle, however, is ready to compete. Entering his third spring with the Buffs, he has very little game experience, but plenty of education.
Highly recruited out of Servite High School in Anaheim, Calif., Lytle has had almost as many position coaches (three) as passes thrown (five, all against Utah) at CU, yet is grateful for each of them.
… Continue reading story here …
–
—
The Athletic interviews Mel Tucker: "Remember that Ralphie's a girl"
From The Athletic … Mel​ Tucker had only​ been on​ the job a few days​ when he donned​ an​ ugly sweater​ for a Colorado​ basketball​​ game promotion and took to half court. This step-outside-the-comfort-zone fashion statement coincided with his step outside of his own coaching footprint, too. The 47-year-old came to Boulder having coached successfully in both the SEC and Big Ten, as well as the NFL, but hadn't been this far West professionally.
The former Georgia defensive coordinator coached the Bulldogs in the SEC Championship game on Saturday, Dec. 1 before jumping on a flight to Denver the following Wednesday to begin his full-time duties as Colorado's head coach.
He recently spoke with The Athletic ahead of spring practice to discuss what the start at Colorado has been like for him, how he made certain staffing decisions, how he'll approach social issues with the team and more. This interview has been edited for length and clarity.
What did Day 1 look like for you?
The first thing we did was we came to the facilities and they gave me a tour. … That was my first time here (as a coach). I kind of took the job sight-unseen. I had seen stuff on the website, but I had never been here except when I played here in 1994. That's what I did the first night — it was me, (my wife) JoJo and the two boys and we just went on a tour. And then Thursday morning I had an 8 a.m. team meeting with the current squad. It was just me and the players, no one else and I just talked to those guys for maybe 15, 20 minutes. And that went really well.
Then I had the 10 a.m. press conference, which was the introductory press conference. It was funny because before my press conference I went into the board room and all the marketing people were there, and maybe 20 times they told me, "Ralphie (the mascot) is a girl. Remember that Ralphie is a girl. She is a girl." If I don't remember anything else, I will remember that.
It must have been an interesting feeling to take a job before really seeing the place, what was it about this opportunity that made you say yes?
I knew there was tradition because I remember when Colorado was really good. I remember coming here when I was playing for Wisconsin and getting blown out. I remember when they had a really good program, probably the best program — record-wise — for a stretch of seven or eight years.
I knew that (athletic director) Rick George was here as the recruiting coordinator during that time. I know he played at Illinois so I knew he was a football guy. Even though he had been in Major League Baseball and on the PGA TOUR, I knew his roots were major college football. And I knew (associate athletic director) Lance Carl played here. So those were the main guys I'd be dealing with. … I felt very comfortable being around football guys that knew what it used to be here and had a good idea of what it'd take to get back to that, and would know what my challenges would be and what type of support it'd take to get it done.
That first weekend on the job, you had recruits in town but had made no changes to the previous staff. Why?
I was just trying to evaluate what was going on, because I didn't know a soul out here. I didn't know anyone other than Rick George and Lance Carl from when they interviewed me. I didn't feel like I wanted to make any changes because I didn't know who was who. So, I kind of used those recruiting weekends to figure all that out. I did meet with all the coaches and I told them, 'I'm just trying to evaluate some things right now, let's just get through this first recruiting weekend and we can kind of go from there.' As the picture became clearer to me, I started to make changes and bring in some of my own guys. I retained three coaches.
… Continue reading story here …
–
—–
March 9th
… CU in a few minutes … 
Colorado one of five teams "most likely to get out of the cellar"
… back-handed compliment alert … 
From CBS Sports … In any sport or competition, if you're going to have winners, that means you're going to have losers, too. Nobody likes to lose, which is why teams try so damned hard not to, and in this week's Friday Five I'm looking for teams that lost a lot last year that have a good chance of losing a bit less this year.
The topic is inspired by a question I received for my weekly mailbag a few weeks ago. I was asked, "Which last-place Power Five team will improve its W-L record most in 2019?" It was a good question but one that demanded more time and attention than a simple 75-word answer. I felt it made a much better debate for a Friday Five, and thus, here we are.
I'm changing it up a bit, though. Instead of looking at the last place Power Five teams (there were nine if we use divisions) and trying to figure out which will improve its record by the most wins, I've decided I'm going to rank them based on the likelihood they get out of the cellar.
3. Colorado: The Buffs finished last in the Pac-12 South last season, but it may have been a little misleading. They went 5-7 overall, but all seven of those losses came in conference play. Still, of those seven losses, the only ones you can say Colorado wasn't competitive in were a 24-point loss to Washington State and a 23-point loss to Utah. It lost to Washington 27-13 on the road, but that game was only 17-13 after three quarters.
The problem Colorado faces is it needs somebody else to pass, and I'm not entirely sure who that is. UCLA is the most likely candidate, as it went 3-9 overall and 3-6 in the Pac-12 last season, but it was a younger team transitioning under a new coaching staff with a new style of play. It's also a team that may have only won one of its last five games, but its last two losses of the season against Arizona State and Stanford came by a combined 10 points.
–
—–
March 8th
… CU in a few minutes … 
CU inside linebackers: Who will fill in to play beside Nate Landman?
… Related … "First Look … Spring Practices: Linebackers" … 
From CUBuffs.com … There will be at least one very noticeable difference at linebacker this year for the Colorado Buffaloes. For the first time in four seasons, Rick Gamboa — 49 career starts, including 47 in a row — won't be in the lineup.
Still, there is some quality experience returning for the Buffaloes at linebacker, both inside and out. That includes junior inside 'backer Nate Landman, a second-team all-Pac-12 selection; and sophomores Jacob Callier and Carson Wells on the outside, both of whom have starting experience.
There will also be a familiar face coaching inside linebackers, as Ross Els — a holdover from the previous coaching staff — returns for his third season with the Buffs.
But 2019 will also see plenty of new faces, including outside linebackers coach Brian Michalowski, who followed new CU head coach Mel Tucker to Colorado from Georgia. And, there will be a host of new faces on the field, some of whom are on campus already and will be available for spring ball.
SPRING STORYLINES: The first order of business will be getting CU's players up to speed on the new defense. While it will still be a 3-4 alignment, the terminology, technique and position-specific priorities will all be new. CU's coaches have been using all the allotted time possible during spring conditioning to begin the install, including some walkthroughs, but it will be the learning time on the field that will be crucial this spring.
In terms of personnel, finding someone to play alongside Landman will be a high priority for Els. Van Diest, who has battled injuries over the last couple of years, did get a taste of action last year and has made the most of his time in the weight room. A talented, hard-nosed player, Van Diest should be healthy for the spring and will be expected to make a strong push for an inside spot.
On the outside, Michalowski will be searching for some pass rush consistency as well as someone who can play the run. Wells and Callier give the Buffs a solid starting point, while Tchangam and Falo should also work themselves into the mix. Pell and Gustav could also get looks in both spots.
–
—–
March 7th
… CU in a few minutes … 
Laviska Shenault attends Elite Student-Athlete Symposium for future high-round draft picks
From CUBuffs.com … Colorado wide receiver Laviska Shenault Jr. was one of 30 football players from around the nation who recently participated in a three-day Elite Student-Athlete Symposium, conducted by the NCAA.
The program, created in 2017 ago by the NCAA's national leadership development staff, is designed to help players who could be high-round picks in the 2020 NFL Draft. The focus of the event is to help student-athletes prepare to navigate the next 12 months of their lives.
The NCAA also conducts a similar symposium for basketball players.
"Basically, it just talked about the process of making sure I'm making the right decision if I want to declare (for the draft)," Shenault said. "We talked about the process of finding an agent, finding financial advisors, how to deal with the money involved, how to budget, and how to prepare for life after football. It was really good — a lot of stuff that you don't think about."
Shenault will be a junior next fall and has two years of eligibility remaining. But after a sophomore season in which he vaulted into the national spotlight as one of the nation's top receivers — he led the nation in receptions per game, averaging 9.6 — he will no doubt be a candidate for early entry into the 2020 draft.
Shenault was accompanied by CU associate director of compliance Kevin Prochaska.
"It was one of the best educational opportunities the NCAA presents for student-athletes and staff members," Prochaska said. "The amount of information they shared and the practical experiences from people who have been through that journey, been in their shoes and done what they will be doing, was outstanding."
… Continue reading story here …
–
—
Evan Worthington participates in CU Pro Timing Day after returning from NFL Combine
From the Daily Camera … The lone CU player invited to the NFL combine in Indianapolis, Worthington worked out for scouts there on Monday.
"I put up some good numbers (in Indianapolis), but I feel like I could have done better," he said. "It was a good experience being around all those athletes. It was great for me."
On Wednesday, he limited himself to just a few shuttle drills, as well as the 40-yard dash. After running the 40 in 4.63 seconds at the combine on Monday, he posted a 4.59 on Wednesday. He was unable to run a second time, however, because of a tight hamstring.
The 6-foot, 1.5-inch, 205-pound Worthington is considered CU's top NFL prospect this season. After starring at safety the past two years, Worthington said teams have talked to him about playing safety, cornerback or linebacker.
… Receiver Kabion Ento wowed those in attendance with his vertical leap of 41.5 inches. He also led the group with a broad jump of 11-1. … Running back Kyle Evans had impressive numbers, with a 4.5-second 40, 26 bench reps and a 36.5-inch vertical leap. … Other former Buffs to work out: Nick Fisher, Rick Gamboa, Donovan Lee and Chris Mulumba. … Former Stanford and Tennessee quarterback Keller Chryst threw passes to receivers and running backs. He's been working out in Denver in preparation for the draft. … Denver Broncos running back Phillip Lindsay was in attendance to watch some of his former CU teammates.
–
—–
March 6th
… CU in a few minutes …
Some numbers from CU's Pro Timing Day
WR – Kabion Ento – 41.5 Verticle … 11'1″ BJ … 4.55 40 … 11 x 225
WR – Juwann Winfree – 34 Verticle … 10'5″ BJ … 4.52 40 … 16 x 225
LB – Derek Lewis – 34 Verticle … 10'9″ BJ … 4.53 40 … 22 x 225
RB – Travon McMillan – 33 Verticle … 10'4″ BJ … 4.53 40 … 26 x 225
S- Nick Fisher – 4.60 40
LB – Rick Gamboa – 5.1 40
DL – Javier Edwards – 5.1 40 … 32 x 225
–
—–
March 5th
… CU in a few minutes … 
… Related … "Spring Practices … First Look: Wide Receivers/Tight Ends"
Spring question for wide receiver corps: Who will step up with Laviska Shenault on the mend?
From CUBuffs.com … If there is one position at which the Colorado Buffaloes have no lack of returning experience and talent, it is wide receiver.
The Buffs are loaded at wideout. Not only are the top three receivers from last year back for 2019, the list of returnees represents more than 70 percent of last season's receptions and yards (including those by running backs), and 13 of 19 receiving touchdowns.
What will be interesting to see is how all that talent, along with some newcomers, fits into the Buffs' new offensive scheme. While the Buffs aren't going to stop throwing the ball, new coach Mel Tucker and offensive coordinator Jay Johnson have made it clear they want to be more balanced.
That means while the number of overall receptions might drop, the number of big-play opportunities should remain the same.
SPRING STORYLINES: The biggest story of the spring for the entire offense will be exactly what kind of scheme Tucker and Johnson decide to run. They have been working on the install throughout the nine-week strength and conditioning session with hopes of being able to hit the ground running when practices begin.
If the new CU offense is anything like the coaching staff had at Georgia, it will be much more balanced than the spread attack Colorado ran the last several seasons. Last year, Georgia's offense averaged 227 yards per game in the air and 251 on the ground.
But it's not as if Georgia didn't throw the ball effectively. The Bulldogs had five wideouts with at least 300 yards receiving, and six with at least three touchdown catches.
With so much talent at wide receiver in Boulder — and running back somewhat of an unknown — it won't be a surprise to see Johnson put a little more emphasis on the passing game. The game-breaking ability of Shenault, Nixon and Brown has been proven, and it will be interesting to see how CU's new offensive staff makes use of that ability.
Shenault won't be available for spring ball, as he is recovering from offseason surgery (although he is still getting some work in). That won't, though, be much of a detriment — in fact, it should only give some of CU's youngsters more repetitions to develop their skills.
–
—–
March 4th
… CU in a few minutes … 
Evan Worthington's NFL Combine numbers
From CUBuffs.com …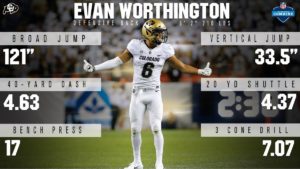 –
—
Cornerback Chris Miller out for spring practices (shoulder), but "I'll be ready for Day 1 of fall camp"
From the Daily Camera … When he's healthy, Chris Miller might be the best cornerback on the Colorado football roster.
The key for the sophomore is staying healthy.
A hamstring injury sidelined Miller for several weeks in fall camp last season and caused him to miss the opening game. After returning, he played in six games and earned his way into the starting lineup, but a fractured thumb ended his season five weeks early.
Now, he's dealing with a shoulder injury. During a recent workout, Miller's right shoulder dislocated. He had surgery and will miss spring practices, which begin March 18.
"I don't really see it at as a setback," he said. "I just see it as something to give me more adversity to make me better for the future. I'll be out for spring ball, but I'll be ready for Day 1 of fall camp."
In a secondary loaded with question marks and unproven talent, the Buffs could use a healthy Miller, who was starting to play exceptional football when he injured his thumb against Washington on Oct. 20. He's got the ability to be the Buffs' top corner next season.
… Continue reading story here …
–
—
CU Pro Timing Day set for this Wednesday
Press release from Dave Plati … Our annual pro day is set for this Wednesday, March 6; the testing will begin at 2 p.m. through approximately 4:00.
Media check-in will begin at 1:30 p.m.  Your name will be on a pass list, but you can also wear your 2018-19 CU media credential.
If you plan on attending, please RSVP with me by the end of business Tuesday; if we do not already have your license plate in our system, please send me that info.  Park as usual in the Folsom Street Garage on the first level, anywhere but at a metered spot.
All testing will take place in CU's IPF (Indoor Practice Facility, which is easily accessible from the garage, adjacent to the ticket office and team store).
Dave
–
—–
March 3rd
... CU in a few minutes … 
CU defensive line: One key piece to the puzzle will be nose tackle
… Related: "Spring Practices … First Look: Defensive Line"
From CUBuffs.com … When Mel Tucker took the job at Colorado, he quickly made it clear where he believed the Buffs needed to improve in a hurry.
Up front. In the trenches. The big fellas. Tucker took one look at Colorado's offensive and defensive lines and immediately expressed a desire to get bigger, faster and stronger up front on both sides of the ball.
Tucker and his new staff did their best to address those areas in recruiting, signing 11 linemen (six defense, five offense), with three of those players already on campus and taking part in strength and conditioning drills ahead of spring ball.
But there will be plenty of work to do between now and the Aug. 30 opener against Colorado State on the defensive line, as the Buffs lost a plethora of experience from last season. Still, there are some youngsters ready for their shot, as well as some incoming recruits who could contribute immediately — and they will all be working under new D-line coach Jimmy Brumbaugh.
… SPRING STORYLINES: The most important piece of the puzzle will be how fast Brumbaugh can instill his techniques and attitude. A high-energy coach, Brumbaugh has a big task in front of him as the Buffs must rebuild quickly after losing two of their regular three starters from 2018.
One key piece to the puzzle will be nose tackle. Johnson can play the inside in a pinch, but the Buffs would likely rather have him on the outside. It means Sami will no doubt get the opportunity to prove himself.
It will also be interesting to see where Doss fits into the equation, and CU coaches will also no doubt be keeping a close eye on Lang. If the sophomore can show he's improved his play against the run, he has the talent to become a Pac-12 force.
–
—–
March 1st
… CU in a few minutes … 
Tucker: "How many places are they the program in the state and you have a strong in-state recruiting base?"
From CBS Sports …Mel Tucker could have started his head coaching career almost anywhere. As a prime-of-his-career 47-year-old accomplished defensive coordinator, he has a resume stuffed with plenty of references.
A member of a national championship staff at Ohio State and Alabama. Ten years in the NFL. His former bosses — Jim Tressel, Nick Saban and Kirby Smart — can vouch for him.
Something you won't find on any resume: Tucker was one of the most valued assistants in the country. At least in college, wherever he went, teams prospered.
Ohio State in 2002 and Alabama in 2015 won championships with Tucker on the staff. In consecutive years, Georgia played for the College Football Playoff National Championship (2017) and won the SEC East (2017-18) with Tucker coordinating Smart's defense. As defensive coordinator the last four years with the Bulldogs and Crimson Tide, his units never finished out of the top 20 in total defense.
What then is Tucker doing at … Colorado?
"I had all these boxes, and Colorado just kept checking the boxes," Tucker said. "Yes. Yes. Yes. Yes. It was an easy decision."
Nothing specific and nothing against the Buffaloes, but the program seems below Tucker. Since 2002, there have been exactly three winning seasons at Colorado. Mike MacIntyre became national coach of the year in 2016 when he led the Buffs to the Pac-12 Championship Game.
Two years later, MacIntyre was fired.
Into that void jumped Tucker, a defensive back in Barry Alvarez's first recruiting class at Wisconsin and a Cleveland native who has no discernible ties to the West, the Pac-12 or Colorado.
… Continue reading story here …
–
—–
February 28th
… CU in a few minutes … 
Former Buff Alfred Williams leaves "The Drive" for KOA
From 9News … In a stunning development within the Denver radio sports talk landscape, Big Al has left The Fan.
Alfred Williams, the popular co-host with Darren McKee on The Drive, has left the all-sports station KKFN 104.3 The Fan that devotes the bulk of its day-long conversation to the Broncos. The Fan made the announcement Thursday afternoon on its Twitter account.
After honoring a non-compete clause in his contract, Williams – who is known for his booming laugh, outsized, enthusiastic personality and the occasional out-of-left field opinions – will eventually work for KOA (850 AM/94.1 FM).
Williams, 50, was a standout on the University of Colorado Buffalo teams that played in back-to-back national championship games following the 1989-90 seasons, and the Denver Broncos during their back-to-back Super Bowl title seasons of 1997-98.
He found a successful second career in broadcasting as he just finished up his 15th year with The Fan.
"I owe my whole career to Bob Call and he was the most important thing in this entire process," Williams said of Bonneville International's general manager. "He's the reason I stayed through all the other negotiations and by the end of these contract negotiations, I didn't have confidence that Bob would be the general manager anymore because he would retire.
"I've had runs from major companies in the past, but to stay with Bob and learn how to do radio the right way, and the way you treat people doing it, those were lessons learned from a great man. I'm getting emotional thinking of it because he's meant that much to me."
The past 10 years, Big Al teamed with 'D-Mac' in the 3 p.m. to 6 p.m. time slot that has consistently been the No. 1-rated sports show among men, aged 25 to 54. There were times when their shows were so entertaining, they sounded like they were having a party and their listeners were invited. There were other times when Big Al and D-Mac would engage in captivating verbal tussles.
… Continue reading story here …
–
—
Mel Tucker: "We're almost ready," for spring practices. "Not quite — but we're almost there"
Press release from CUBuffs.com … Colorado football coach Mel Tucker, a man of preparation and detail, is leaving no stone unturned this spring.
It's understandable. It would be difficult to overstate the importance of Tucker's first spring in Colorado.
Not only must Tucker and his CU football staff install new offensive and defensive schemes, they must also evaluate talent, teach players a new practice routine, begin the process of developing a depth chart and continue the process of instilling their "culture" into the program — all while also becoming familiar with each other as they develop their on-field coaching regimens.
What separates the coaching change at Colorado from many others around the nation is that this is Tucker's first college head coaching job. Thus, he did not bring with him a staff that has worked together on the field for several years. While five of Tucker's assistants did follow him to Boulder from Georgia and are thus well-acquainted with each other, they were not on-field, everyday coaches who worked closely together in daily practices.
Meanwhile, there are three holdovers from the last CU staff, along with one assistant from Maryland and one from North Carolina.
It means their learning curve will be steep, a process Tucker has tried to accelerate since the day he arrived — one of the myriad duties on his plate as he prepares for the Buffs to open spring ball March 18.
"You have to coach the coaches," Tucker said. "You have to lay out a framework on paper, exactly how you want the practices to go. How long you want to be on the field, how many segments you want to have during the practice, how long those segments will be, how many reps you want players to take in practice — all those things. You lay it out to them in a staff meeting format and you make sure everyone knows what to expect."
That attention to detail, Tucker said, is crucial.
"If I have examples I need to show about a particular drill I like, I will show them a video of that from Georgia or Alabama or the Chicago Bears — a team that runs that drill," Tucker said. "You tell them that's how you want that drill to look."
It's not that Tucker's staff is green in terms of experience. The vast majority have been assistants at the FBS level previously, with several having coordinator (or head coaching) experience. They know the business of coaching.
… Continue reading story here …
–
SPRING SCHEDULE: Tucker's first CU spring session is set to start Monday, March 18, with the spring game set for Saturday, April 27 (Noon, to be televised live by the Pac-12 Networks). The dates are as follows: March 18-20-22—(spring break)—April 1-3-5-8-10-12-15-17-19-22-24-27. The team is allowed 15 practices; how the practice sessions will break down, per NCAA rules: three in shorts (no contact), four in pads (no tackling), four in pads (tackling allowed 50 percent or less of the time), four in pads (tackling allowed throughout). Spring break (March 25-29) does not count against the 29 days should the schedule be dramatically revised for some reason. CU's annual Pro-Timing Day has been set for Wednesday, March 6 (1-4 p.m.).
–
—–
February 26th
… CU in a few minutes … 
CU Press release: offensive lineman Arlington Hambright added to the roster
From CUBuffs.com … Arlington Hambright, an offensive lineman from Ypsilanti, Mich., has been added to the football roster, Colorado coach Mel Tucker announced Tuesday.
Hambright is a graduate transfer who spent the last two seasons on the football team at Oklahoma State, and will be eligible for the 2019 football season.  He will plan to graduate from Oklahoma State this spring and join the Buffs over the summer.
"Arlington is a first class young man," Tucker said. "He started for Oklahoma State last year. He's got really good length, he's athletic, he's got good feet.  He's got good physicality in the run game and he's accomplished in pass protection."
At Oklahoma State last season, he started the first five games of the season before suffering an injury that kept him out until the Liberty Bowl.  The Cowboys were 5-1 in the six games in which he played and 2-5 in the seven games he missed.  In the six games he played, Oklahoma State averaged 43.3 points per game while gaining 537.8 yards per game of total offense, including 317.2 passing and 220.7 rushing yards per game.
He took a redshirt season in 2017 after transferring to Oklahoma State from Garden City Community College.  His Garden City team in 2016 was undefeated and won the NJCAA National Championship for coach Jeff Sims and he helped pave the way for a rushing attack that averaged 194.8 yards per game.  He was rated a three-star prospect by the scouting services and was the No. 34 JUCO prospect nationally in 2017.
On Sims' staff at Garden City CC was Brian Michalowski, who served as the defensive coordinator there in 2015 and was recently hired by Tucker to coach the outside linebackers for the Buffs.
Hambright was born Jan. 30, 1996, in Ypsilanti, Mich., and attended Belleville High School in Belleville, Mich., where he was coached by Matt Davenport and also played basketball.
Hambright is the 27th player as part of the 2019 recruiting class, which includes 19 high school and six junior college signees along with now two graduate transfers.  He is the sixth offensive lineman in the class, which includes four high school and one junior college signee.  He's the third player from Michigan in the class, joining high school signees Marvin Ham II and Jaren Mangham, and he hails from the same high school as Ham.
–
—–
February 25th
… CU in a few minutes … 
Plaudits roll in for CoSIDA Hall of Famer Dave Plati
From CUBuffs.com … Sports writers love to write about "coaching trees," those family trees in the sports world that trace the lineage of a long list of coaches back to a single source or mentor.
Similar connections exist in the world of sports information — and one of the most prolific "SID trees" in the nation over the last several decades has been the University of Colorado's Sports Information Department, where current SID David Plati has been the department director for 35 years.
That tree is just one of the many reasons Plati has been selected for induction into the College Sports Information Directors of America Hall of Fame on June 10 at the annual CoSIDA convention in Orlando, Fla. Plati is one of six SIDs from across the nation who will be inducted, according to a press release issued Monday.
Plati, a 1982 Colorado graduate, has worked in the CU Sports Information Department for 41 years, learning under some of the best in the business in his early years, including Fred Casotti, Mike Moran and Tim Simmons at CU and Jim Saccomano at the Denver Broncos.
But since being named CU's 13th full-time sports information director on July 24, 1984, Plati has been the driving force behind more than 100 aspiring students moving on to full-time careers in the business.
… Through the years, CU's sports information office has regularly been recognized as one of the nation's best under Plati's guidance. The FWAA has recognized CU's sports information office eight times during his tenure: three times for an outstanding press box operation (1987, 1992, 1997), and five times with the FWAA's Super 11 award (2010, 2013, 2014, 2016, 2017), for all-encompassing efforts with the nation's football media.
What others said about David Plati:
"There's three words that jump in my mind when I think of Dave Plati. Wholehearted, genuine and thorough. He's all-in. You know the expression, all-in or nothing at all — he's all-in. Every day he hits the ground running and gets the job done. He's very experienced and savvy in his job — and he's a Buff through and through. With me, he was always respectful, honoring, genuine and helpful. I trusted him, and that's important for a head coach. I'm proud to be his friend and glad to have had that experience with him.He's authentic. He's trustworthy, the kind of guy you knew that he was always trying to what was best for CU. That was always his primary concern." — Former CU head football coach Bill McCartney
"I knew from the first moment I met Dave that he was special. He loved what he was doing and he was good at it. It just came naturally for him. He was extremely loyal and remains that way today." — Former CU and CSU SID Tim Simmons
"Dave likes to run his press box by FWAA rules — to the letter. That obviously means no cheering in the box; it also means no snickering at an inappropriate time (if either team does anything snicker-worthy); no loud chatter after a TD, a flag, a long play, etc. Dave wants professionalism from his staff, his student assistants and press box patrons. Tight ship, in other words. All that said, don't get the idea it's a prison ship. Dave likes an enjoyable, cordial environment, but keeps it professional." — Former Rocky Mountain News writer B. G. Brooks
"In my years covering intercollegiate athletics I've leaned on guys like Dave Plati for my storytelling. My stories are always better when in Colorado. Dave's a true original." — Tim Brando, National Sports Commentator for Fox Sports
"The University of Colorado has a tradition of outstanding Sports Information Directors. Dave Plati has carried on that tradition, brilliantly, for the past 35 years. He is an institutional within an institution and the University has been fortunate to have him as a member of the family." — Bill Marolt, 1964 Winter Olympian, CU Athletic Director from 1984-96, President and CEO of the United States Ski and Snowboard Association 1996-2014
"Dave is truly one of a kind in his profession. Not only does he have a passion for college sports, he wants what's best for both the media and student athletes. He helps prepare student athletes for the professional life of dealing with an ever-expanding and demanding media, ad encourages them to share stories unique to who they are and how they arrived at CU. His is honest and he is genuine — traits we all should strive for." — National writer Matt Hayes
–
—
What is the role of a quality control coach?
From USA Today … The NCAA allows just ten coaches to directly instruct players on the field during practice and games. Four graduate assistant coaches are also permitted. Those spots are generally held by aspiring coaches and they must be working on a graduate degree. They are allowed to work with players at practice and be on the field during games, but the bulk of their work is in the film room.
At powerhouse schools such as Alabama and Clemson support staffs have grown in recent years to include coaches who don't carry whistles. Sarkisian, who was fired by USC during the 2015 season, was hired by Alabama coach Nick Saban as an analyst earlier this year.
Former New Mexico coach Mike Locksley, who was most recently the offensive coordinator at Maryland, is also an offensive analyst for Alabama. As is Charlie Weis Jr., the son of the former Notre Dame and Kansas coach, and former Crimson Tide offensive lineman William Vlachos. Dean Altobelli, a former Michigan attorney who played for Saban at Michigan State, has been a defensive analyst at Alabama since 2010.
They generally make about $45,000 per year, at least at the start. Clemson's senior analysts make up to $90,000.
"You want to talk about the lifeblood of the operational football part, the X and Os part?" Alabama offensive line coach Mario Cristobal said. "They are essential and critical."
Alabama has nine analysts on staff. Clemson coach Dabo Swinney has five analysts, including senior offensive analyst Mickey Conn and defensive analyst Kyle Richardson.
Derrick Ansley was a graduate assistant for Saban in 2010 and '11 and rejoined the staff this season as defensive backs coach. He said many of the duties of a graduate assistant are similar to what analysts do. The analysts just have more time to do them.
"When I was a GA I had to break down the entire offensive opponent," Ansley said. "The details that we put into it is kind of what separates us a little bit."
What does an opponent run on third-and-4 or more? Against a four-man front? Against a three-man front? How about on third-and-3 or less? In the red zone? In their own end? All that type of information is gathered and given to position coaches, coordinators and the head coach.
"He's watching it all, but you come in and give him a little something he may have missed because you're studying that," Ansley said.
… Continue reading story here …
–
—–
February 24th
… CU in a few minutes … 
Buff listed among "10 players who will benefit most from new coach"
From 247Sports.com … Hundreds of coaches move each offseason with programs across the country hoping to shift their fortunes. Plenty of attention is paid to these moves. But often the micro impact of the changes, how it affects the players, gets lost in the big-picture shuffle. Coaching changes have a profound impact on a players' development,and it's often a rapid change.
You could point to examples like Florida's Jachai Polite (Todd Grantham) and Alabama's entire offense (Mike Locksley) as players or units that greatly benefited from a coaching shift last season. And the list is longer than that.
In this week's Thursday 10 we explore 10 players or units that should benefit from an offseason coaching change.
Nate Landman – Linebacker – Colorado
New coach: Head coach Mel Tucker
You'd think a defensive back would pop up on this list with Tucker's background coaching defensive backs. But it's not as if Colorado's secondary suffered under Mike McIntyre's tutelage. McIntyre helped produce some of the best defensive back groups in the country. Instead, let's focus on the linebackers. Landman is already a star. He led Colorado with 104 tackles to go along with 15 tackles for loss in 2018. Under Tucker's direction (more importantly, in his defense), he could develop into a future NFL standout. Landman, a rising junior, fits the mold (6-foot-3, 215 pounds) of the middle linebackers Georgia and Alabama long had success with. Long, speedy and physical, Landman projects to become one of the nation's best linebacker's in Tucker's system, which places much responsibility on its middle linebackers.
–
—–