—
Colorado Daily
—
January 17th
… CU in a few minutes … 
Offensive lineman Aaron Haigler to retire rather than play his senior season
From the Daily Camera … One of Colorado's most experienced players has decided to hang up his cleats.
CU confirmed Thursday that senior offensive lineman Aaron Haigler, who graduated in December, has decided to give up the sport and not play his final year with the Buffaloes.
A 6-foot-7, 295-pound guard/tackle, Haigler played in 36 games over the past three years, with 27 starts. Going into the 2019 season, only senior offensive lineman Tim Lynott has more career starts, with 33.
Haigler, the only junior captain last season, had started several games at tackle and guard during his career. He was in the starting lineup for 20 of CU's 24 games over the last two seasons.
–
—–
January 16th
… CU in a few minutes …
CU schedules Denver Q & A with Mel Tucker same night as CU home basketball game
From CU Boulder Next … Experience an inspired future through the minds of CU's most innovative in a series of BuffTalks and interactive exhibits | Delight in alumni-produced beer and wine and making new connections |  Revel in the acclaimed CU short film, The Light Shines On
Thursday, Jan. 31, 2019
Event begins: 5:30 p.m.
Location: Sheraton Downtown Denver
Cost: $25 per person
Ticket includes unique food pairings with beer and wine crafted by CU Boulder alumni
Children (18 and under) and Students are free with valid ID
The future of CU Football is now and you can be among the first to hear from new Buffs football coach Mel Tucker at CU Boulder Next in Denver. Join us for a unique Q&A opportunity with Coach Tucker during the pre-reception on Thursday, Jan. 31 at the Sheraton Downtown Denver. Come experience what's next in CU football!
… Meanwhile … CU men's basketball v. Oregon State, CU Events Center … Thursday, January 31st, 7:00 p.m., MT, Pac-12 Networks … 
Tweet from CUBuffs.com … The event date had to be secured last summer, before the men's basketball schedule was set. We sympathize with our fans who would prefer these events were on different nights. Wherever you head on Jan. 31, we thank you for supporting our Buffs.
… But … Mel Tucker wasn't scheduled to appear until today. The conflict with the CU-Boulder Next event was not of their making, but the appearance by Mel Tucker is …
–
—
Joe Davis looking to become the next Phillip Lindsay – local running back who makes good at CU
From the Daily Camera … As far as Joe Davis was concerned, it didn't matter who was coaching the Colorado football team.
If the Buffaloes wanted Davis, he wanted the Buffaloes.
So, when CU went through a coaching change — firing Mike MacIntyre in November and hiring Mel Tucker in December — Davis never wavered in his commitment to the Buffs.
"Before I committed, I looked at the aspects of the school," he said. "I didn't want to commit to somewhere because of a coach, because there are always coaching changes throughout the system. It's a business and I understand that. With the new coaches stepping in, it didn't change my decision because I'm still in love with the University of Colorado."
CU is now Davis' home, as he was one of several players in the 2019 recruiting class to enroll this month. A running back from Valor Christian, he's eager to be a part of his hometown team and play in front of family and friends.
… Continue reading story here …
–
—–
January 15th
… CU in a few minutes … 
Your chance to wear the Black-and-Gold – Walk-on tryouts set
From CUBuffs.com … The University of Colorado football program will hold and informational meeting regarding walk-on tryouts in January, and they are open to any CU student currently enrolled full-time on the Boulder campus and in good academic standing.
The initial meeting will be held on Tuesday, January 22, at 4:00 p.m. in CU's Champions Center Conference Room (third floor, room 319).  Enter though the Northeast entrance of the Champions Center and proceed to level 3 on the elevator.
All candidates must be enrolled in at least 12 or more credit hours for the fall semester and are required to bring:
A copy of their current Spring 2019 class schedule; (Please keep in mind we are a morning practice team)
A copy of current cumulative grade point average at CU;
Paperwork from a physical exam by their doctor within the last 6 months;
H&H Blood Test result and Sickle Cell Blood Test result (NCAA requirement);
A copy of Medical Insurance Information.
At that point, those cleared will engage in a tryout on Sunday, January 27.
Those interested need to contact Cymone George, Director of Recruiting, to be placed on a list to go through the procedures to try out for the team.  Please Email Cymone at cymone.george@colorado.edu with the subject line: 2019 SPRING WALK-ON TRYOUT.  In your e-mail to Cymone, please be sure to include the following information:
Position trying out for (LIST JUST ONE)
Height
Weight
Date of Birth
Contact Number (cell preferred)
Your high school (and the year) from which you graduated (e.g., Boulder High School, 2018)
Term and year of first full-time semester in college – 12 or more credits in one semester; (e.g., Fall 2018)
Current GPA
CU Student ID # (Not Buff ID)
–
—
CU's Martin Luther King holiday events include "Welcome to Colorado Community Reception" for Mel Tucker
Press release from CUBuffs.com … The Colorado Black Round Table (CBRT) is once again hosting its annual Martin Luther King Jr. Gaining Ground in the Black Community Youth Leadership Intensive and Parent Information Summit on the holiday for Dr. King's birthday, Monday, January 21.
            The second annual event is becoming an integral part of the many Colorado recognition celebrations for Dr. King's birthday.  This youth-focused MLK Day community event will be held following the Denver "Marade" from Noon to 4 p.m. in the Manual High School Thunder Dome.
This year's event will conclude with a special "Welcome to Colorado Community Reception" for the University of Colorado's new head football coach, Mel Tucker.  Tucker was named CU's 26th full-time head coach on December 5, the second-ever African-American to take the reins of CU's football program.
This one day educational and informational experience has proven to strengthen area communities and schools by investing in our youth on a day when we are recognizing and celebrating the birthday and life of one of this nation's most visible, historic and respected Black American Leaders.
The theme of this year's MLK Day Youth Leadership Intensive and Parent Information Summit is "Leadership and Personal Responsibility in the Black Community: A Sense of Where You Are."  Presentation topics will include Black History, Leadership and Civic Responsibility, Career Options, Future Trends, Financial Literacy, What To Do When Stopped By The Police, Why Black Girls Rock, Sports & Rappin' Ain't All We Do, Parenting On Purpose, Trauma and more.
A" Who's Who" of Colorado community leaders and others have enthusiastically committed to attend and participate in this important event on Dr. King's Birthday, including former Colorado Governor and potential presidential hopeful John Hickenlooper, Denver Mayor Michael Hancock, Congressman Joe Neguse, City Councilman Albus Brooks, Denver Public School board members Happy Haynes and Jennifer Bacon, State Senator Rhonda Fields, DPS Equity Chief Allen Smith, CHSAA Commissioner Rhonda Blanford-Green, Bailey Report Author Dr. Sharon Bailey, CBRT Program Director John Bailey, for CU quarterback and media personality Charles Johnson, and CU's Tucker.
Organizers are expecting more than 400 metro area young people and parents to attend this historic Colorado community celebration.  Heads of community organizations, faith leaders, elected officials, educators, fraternities, sororities and business owners have been invited to support, attend, participate as well as encourage their family, friends and their networks to attend.
The event is free and is open to the public as all are welcome.  For more information on the event, those interested in attending can call 303-745-9649 or email the CBRT at cbrt2014@gmail.com.   Manual High School is located at 1700 E. 28th Avenue, but to access parking, enter the main lot off Williams Street and 27th Avenue.
Famous for his "I Have A Dream" speech, Dr. King would have turned 90 on January 15; he was just 39 when he was assassinated in Memphis on April 4, 1968.  The annual holiday in honor of King's birth was first celebrated in 1986, and always falls on the third Monday in January.
–
—–
January 14th
… CU in a few minutes … 
Buffs back in school – strength and conditioning program begins
From CUBuffs.com … The Colorado Buffaloes went back to work Monday morning.
While Monday marked the first day of spring semester classes on the CU campus, it also marked the first day of offseason strength and conditioning in the Mel Tucker era, and there will be some noticeable differences in Tucker's first year at the CU helm.
While the goal is still the same — make the Buffs bigger, faster and stronger — the timeline will be much different than the one the Buffs have followed in past years.
Tucker has moved Colorado's spring practice session back to a more traditional date. The Buffs are scheduled to open spring ball on March 18, with three practices scheduled the week before spring break. They will then resume practices on April 1, with the annual spring game set for April 27.
What it means is that CU strength and conditioning coach Drew Wilson now has almost twice as long — nine weeks as opposed to five in previous years — to get the Buffs ready for their spring practices.
"It gives us more time to get guys bigger, faster and stronger and develop them overall from a physical standpoint," Wilson said. "It also helps with the new coaching staff to teach the offense and defense in player meetings and coaching meetings and be able to get on the field and take what they learned in the classroom and apply it every day in their player development time."
… Continue reading story here …
–
—
Colorado picks up a commitment from a junior college middle linebacker
Quinn Perry – LB – Junior College
Just the facts … Committed January 14th … Perry is a 6'1″, 240-pound linebacker from Pacific Palisades, California, by way of El Camino Junior College  Rivals bio 247 Sports bio
What others say about Perry … Perry was not rated by either Rivals or 247 Sports at the time of his commitment. Perry did earn team MVP honors at El Camino College as a sophomore in 2018 after recording 71 tackles, six sacks and a pick six. Perry projects to be a middle linebacker for the Buffs.
A 2017 graduate of Pacific Palisades (Calif.) High School, Perry racked up 123 tackles, 24.5 tackles for loss, eight sacks and five fumble recoveries as a senior. He didn't meet the NCAA academic qualifications, however, so he had to go the junior college route.
Perry will sign with Colorado on the February 6th Signing Day. He will enroll this summer, and have three years to play two at Colorado.
Perry had other offers from … no Power Five conference schools, though he did have offers from a number of Group of Five conference schools, including Hawai'i, New Mexico, Akron and UTSA.
In his own words … "I walked in and they were all super ecstatic to see me, meet me and get to know me, show what they have to offer as a program and just buy into me as a player and a person," Perry told the Daily Camera. "That's big for me. If I get that connection with the coaches, they'll get the best out of me in every aspect and they did a great job in doing so."
Here is a link to Perry's 2018 Hudl.com highlights.
–
—
Drew Lewis a "Sleeper ready to emerge" at East-West Shrine game
From The Athletic … With​ most of the​ NFL turning​ the page to the​ offseason, one of​ the​ first steps of​ the NFL​ Draft​​ process is the all-star circuit. The Senior Bowl is the top exhibition game, but the East-West Shrine Game is second on the list and will be attended by 150-plus scouts and coaches from all 32 NFL teams.
The longest-running college all-star game, the Shrine Game is scheduled for Saturday, Jan. 19, at Tropicana Field in St. Petersburg, Fla., but most of the scouting will happen during the week at daily practices. Denver Broncos running back Phillip Lindsay was a standout during practices last season and gave NFL teams a preview of what was to come.
… There are key prospects to watch at each position …
Sleeper ready to emerge: Drew Lewis, Colorado (6-1, 225, 4.71)
The son of a longtime NFL personnel man, Lewis is a versatile "overhang" defender who can do a little bit of everything with his skill set. He can be controlled by blockers near the line of scrimmage, but he looks natural dropping in coverage and should shine on special teams.
… Continue reading story here …
–
—–
January 13th
… CU in a few minutes … 
CU's second commitment of the weekend comes from a Texas cornerback with 4.25 speed
Daniel (D.J.) Oats – CB
Just the facts ... Committed January 13th … Oats is a 6'0″, 190-athlete from Arlington, Texas who projects as a cornerback  Rivals bio  247 Sports
What others say about Oats … Despite playing in Texas, rushing for over 1,000 yards as a senior, and running a reported 4.25 in the 40, Oats was not rated by either Rivals or 247 Sports. As a senior, Oats rushed 127 times for 1,155 yards and 14 touchdowns with another 11 receptions for 130 yards and a score.
In his own words … Oats' tweet announcing his commitment: "After a great official visit and talk with the coaches, I am announcing my commitment to the University of Colorado! I want to thank my family and my coaches for helping me achieve my dreams to play college football at the next level. This has been a long and emotional process, but with that being said, I will now be a part of the tradition. Go Buffs!"
Oats had other offers from ... wait for it … Trinity International (that's in Illinois, folks).
Here is a link to the Hudl.com highlights from his senior year.
–
—
CU picks up a commitment from a senior transfer defensive linemen from Auburn
Jaunta'vius Johnson – DL
Just the facts … Committed January 13th … Johnson is a 6'2″, 326-pound defensive lineman from Lincoln, Alabama. Johnson is a senior transfer from Auburn, with one season to play.
What others say about Johnson … Johnson was rated as a three-star prospect by both Rivals and 247 Sports as a member of the Recruiting Class of 2015. Johnson was rated as the No. 32 defensive tackle in the nation by Rivals, and the No. 22 overall prospect out of the state of Alabama. At 247 Sports, Johnson was rated as the No. 31 defensive tackle in the country, and the No. 18 Alabama prospect.
Here is Johnson's history at Auburn:
2018: Backup defensive lineman … one tackle
2017: Backup defensive lineman … saw action against Mississippi State
2016: Missed season due to injury
2015: True freshman who adds depth at defensive tackle … redshirted; did not see action this season … Academic Top Tiger
Johnson had other offers from … at least five other schools, including Alabama, Louisville, and Mississippi State. Johnson was an early commit to Auburn, and did not take any other official visits after committing to the Tigers in the summer of 2014.
–
—–
January 12th
… CU in a few minutes … 
Defensive lineman Israel Antwine to transfer to Oklahoma State "for family reasons"
From Antwine tweet: "Huge thank you to the University Of Colorado and the amazing people that I met in Boulder … I can certainly say that my life has been enhanced by the experience. For family reasons I have decided to transfer to a University closer to home. I would really appreciate your support of my decision".
From CBS Sports … It appears that Oklahoma State has received the help they needed on the defensive line as former Millwood star and Colorado Buffaloe Israel Antwine has transferred to Oklahoma State according to Scott Wright of The Oklahoman. Wright also reported that Antwine's father Dwayne told The Oklahoman that Israel is already in Stillwater on campus.
Shortly after the news broke, I alerted Robert Allen, who was in the presence of Mike Gundy following Gunnar Gundy's performance in the International Bowl and Go Pokes has confirmed the information with Oklahoma State's Head Coach.
Oklahoma State has also told Antwine that it's possible he could be granted a hardship waiver from the NCAA and be eligible to play this upcoming season. If that doesn't happen, Antwine will have to sit the entirety of the 2019 season and will become eligible to play in 2020 with three years of eligibility remaining.
… Continue reading story here …
–
—–
January 11th 
… CU in a few minutes …
Freshman DB KJ Trujullo excited to be coming to Boulder next week (after de-committing in November)
From the Daily Camera … In the final days before national signing day on Dec. 19, cornerback KJ Trujillo was so stressed by his decision that he couldn't sleep and became physically ill.
"It was real stressful, to be honest," he said. "I feel like my recruitment was the craziest those last couple of days. I was getting 30 phone calls a day. It was crazy. There was a point where I just turned my phone off and just stopped answering calls."
Life is much calmer now for Trujillo, who signed with Colorado last month and will begin classes next week as an early enrollee.
"I've been anxious for so long," he said of getting started at CU. "I was really excited to get up here and get ahead in school."
A 6-foot, 165-pound corner from Orange (Calif.) Lutheran High School, Trujillo originally committed to CU on May 2, but was one of the first players to de-commit after previous head coach Mike MacIntyre was fired Nov. 18.
"I didn't know who the new head coach was going to be at the time, so I wanted to open my recruitment just in case something played out that I didn't really like," he said.
… Continue reading story here …
–
—
Defensive graduate assistant Chidera Uzo-Diribe leaving program
From a tweet from Uzo-Diribe … "As hard as it is for me to say but I have chosen to take a new opportunity and leave the University of Colorado. This University is dear to my heart and it always will be. I first want to thank coach MacIntyre for giving me the opportunity and getting me my start in this profession and helping me find a new passion. He gave me an opportunity to transition away from playing the game of football and I thank him for that. I also want to thank administration for the opportunity to get my start at my alma mater as well. I want to give a special thanks to the players! past and present I appreciate you guys welcoming me back with open arms and making it a pleasure to work with you guys day in and day out. You guys know I will always be here if you need anything. I'm excited for Coach Tucker and his staff and the future of this football program. I look forward to watching you guys! Thank you to everyone in the administration, academics, equipment, sports medicine, the kitchen and janitorial staff for making my time at CU remarkable! Good luck to you all and #GoBuffs!" 
–
Chidera Uzo-Diribe 2018 bio from CUBuffs.com … Chidera Uzo-Diribe is in is in his fourth year on the Colorado football staff, his third as a graduate assistant working with the defense.  He initially joined the staff as a recruiting intern, named to the position on July 13, 2015 and in the process, returned to his alma mater.
Uzo-Diribe, 26, participated in the Bill Walsh NFL Diversity Coaching Fellowship program in the summer of 2018 with the San Francisco 49ers.  The program was initially created by Walsh as a way to get minority coaches more opportunities to learn, coupled with greater exposure to job opportunities.
He was a four-year letterman at defensive end for the Buffaloes, and graduated from CU in December 2014 with a bachelor's degree in Communication.  He finished his career tied for sixth in quarterback sacks (20), tied for 17th in tackles for loss (31) and second in forced fumbles (10); his percentage of solo tackles (99) to overall tackles (118), or 83.9 percent, is the highest in CU history.
He signed with the New Orleans Saints as a free agent, and was one of the last to be waived during their training camp.
As a senior team captain, he earned first-team All-Colorado honors from the state's chapter of the National Football Foundation, was named CU's Defensive Trench Award winner and played in the East-West Shrine game.  For the season, he was in on 46 tackles (36 solo), with 11 for losses including four quarterback sacks; he had seven tackles for zero gain, meaning he had 18 total stops at or behind the line of scrimmage.  He was second in the nation in forced fumbles with five, and he also batted down four passes in 739 snaps of action.  He was one of 27 players on the final watch list for the Ted Hendricks Award (defensive end of the year), and was one of 76 players on the official preseason watch list for the Bednarik Award.
He was born May 30, 1992 in Long Beach, Calif., and graduated from Corona High School where he lettered in football, basketball and track and field.  A cousin is Osi Umenyiora, the second round choice of the New York Giants in the 2003 NFL Draft; in 10 seasons with the Giants, he appeared in two Pro Bowls and was a member of the 2008 Super Bowl champion team; he spent the last two seasons with the Atlanta Falcons.  Another cousin, Charles Saseun, was a sprinter at Cal-Berkeley.
–
—–
January 10th
… CU in a few minutes … 
Linebacker Alec Pell anxious to get to Boulder 
From the Daily Camera … Even as the Colorado football team changed coaches in November and went through two weeks without a leader, Alec Pell knew he wanted to be a Buffalo.
"Honestly, I wasn't looking at any others," said Pell, who signed with CU last month after playing at Cherry Creek High School. "I was pretty set on CU because of the ability to play for your home state."
When Pell, a 6-foot-4, 230-pound linebacker, met new head coach Mel Tucker, he had no doubts about his choice.
"We spent a lot of time together on my official visit and he's a great guy," Pell said. "You can really tell he cares about good people being in the program and he really is going to have a good plan to win. Losing isn't going to be an option under him. That passion and determination is really what got me, and I'm all for it. It's awesome."
Pell is one of 12 prep prospects to have signed with CU last month and one of three that will enroll early. He will be in Boulder later this week.
"I can't be more excited," he said. "I've been counting down the days and been working out and I've been preparing for this all my life. It's a dream come true."
… Continue reading story here …
–
—–
January 9th
… CU in a few minutes … 
Phillip Lindsay named Colorado Sports Hall of Fame Professional Athlete of the Year
Related … "Phillip Lindsay to serve as social media correspondent at 2019 Pro Bowl" … from the Denver Broncos
From Colorado Sports Hall of Fame Press release … Colorado natives Phillip Lindsay, a Denver Broncos rookie running back standout, and Jennifer Kupcho, the reigning women's NCAA golf individual national champion, will be among those honored at the 55th annual Colorado Sports Hall of Fame Induction & Awards Banquet on Wednesday, April 3 at the Hilton Denver City Center (1701 California St.).
At a meeting on Tuesday, the Selection Committee of the Colorado Sports Hall of Fame named Lindsay the Professional Athlete of the Year for 2018 and Kupcho the Amateur Athlete of the Year.
In his debut season in the NFL, Lindsay became the first undrafted offensive rookie in league history to be selected for the Pro Bowl. Lindsay, a product of South High School in Denver and the University of Colorado, set a Broncos franchise record for rushing yards by an undrafted rookie with 1,037. Lindsay, who averaged 5.4 yards per carry, finished third in the AFC in rushing and tallied nine touchdowns on the ground. He also racked up 241 yards and one TD receiving. He's one of five players nominated for the NFL Rookie of the Year honor.
… Continue reading story here …
–
—–
January 8th
… CU in a few minutes …
Cost of season tickets going up in 2019
Email from CUBuffs.com … Thank you for your support of Colorado Football with your purchase of season tickets in 2018.  We are very excited about our new head coach Mel Tucker, and look forward to welcoming you back for the 2019 season.
This upcoming season CU will play CSU in Denver for the last time, and the Buffs will host Nebraska, Air Force, USC, Arizona, Stanford and Washington in Folsom Field.  It will be one of the more exciting home schedules in recent years.
The renewal period for football season tickets will begin the week of January 14.  Ahead of that time, we wanted to make you aware of changes to season ticket prices for 2019.  Season ticket prices will increase throughout the stadium,  however new this season, as a loyal returning season ticket holder, the price you pay will be lower than what a brand new season ticket holder will pay.
Ticket prices for renewing season ticket holders will start at $225 in the bowl for seven games, or just over $32 per game. Total season ticket price increases range from $26 to $75, which is $3.71 to $10.71 per game, for the season depending on location.
>>CLICK HERE TO VIEW THE 2019 RENEWAL PRICING MAP
>>CLICK HERE FOR 2019 PARKING UPDATES
The renewal deadline will be February 15, 2019. The online seat improvement process will happen in March. You'll be able to login and upgrade or change your seats and your parking if applicable.
Thank you again for your support of Colorado Football.  If you have any questions, please call the season ticket holder hotline at 303-492-5858.
–
—
Mel Tucker makes guest appearance on ESPN GameDay
Press release from CUBuffs.com … New Colorado football coach Mel Tucker picked up some national television exposure Monday when he made a special appearance on ESPN's GameDay prior to the CFP national championship game between Alabama and Clemson.
Tucker, of course, has some special insight to the game, having coached both for and against Alabama head coach Nick Saban. That includes this year's SEC championship game, when Tucker was Georgia's defensive coordinator in a game Alabama rallied to win, 35-28.
Asked about Alabama's offense in general, Tucker said, "The most important thing is handling the RPO (run-pass option) game. Alabama does a great job with that. It starts with stopping the run and then the leverage you play on the slots (receivers). You saw last week against Oklahoma, how many times they hit the slant to the slot receiver. That's a huge key."
While Tucker was specifically addressing Monday's game, there were also moments when it wasn't hard to deduce his general philosophy, particularly when it comes to defense.
"Brent (Venables, Clemson defensive coordinator) does a great job defensively because he's a fearless play caller," Tucker said. "He's going to pressure early and often."
As for defending Alabama quarterback Tua Tagovailoa, Tucker said, "You have to mix the coverages. I think you have to keep him in the pocket and make him be an accurate passer in the pocket. And then a some point he's going to want to make plays. You tell the players to be in position and when your time comes, you're going to have a chance to make plays."
But in the end, Tucker wouldn't stray from his SEC background and the time he spent as a member of Saban's staff.
"I can't pick against Coach Saban," Tucker said. "I can't do it. At the end of the day, they're going to find a way to win the game."
–
—–
January 7th
… CU in a few minutes … 
CU head coach Mel Tucker checks in with some former Buffs
From a tweet from Rick George … from left to right: Chris Fowler; Joel Klatt; Mel Tucker; Steve Hatchell; and Rick George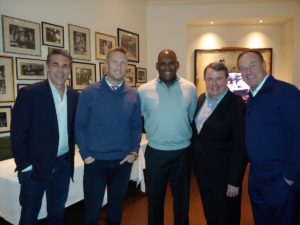 –
—–
January 6th
… CU in a few minutes …
Mel Tucker's path to Boulder a long and winding road
From the Daily Camera … Mel Tucker Sr. was at work one day in 1997 when he received a phone call from his oldest son.
"He said, 'Dad, Nick Saban called. He said if I want to coach defensive backs, I need to come there and come there now,'" Tucker said.
With that, Tucker drove his son, Mel II, to East Lansing, Mich. Not long after their arrival, the assistant coaches at Michigan State cornered Mel II.
"They said, 'Why would you want to get in this business?,'" Mel Sr., said.
The veteran coaches on Saban's staff at Michigan State knew all about the nature of the business. College coaching, especially for assistants, can lead to a lot of moving and a lot of stress, and it's not always easy on families.
Mel II, who was 25 years old at the time, told his father, "When we were pulling up and I heard the whistle blowing, I knew it was for me."
… Continue reading story here …
–
—–
January 5th
… CU in a few minutes … 
Early 2019 power rankings – CU in a familiar spot
From Pacific Takes … I hate to do power rankings/Top 25's before the final draft early declaration deadline, but I'll update these if anything drastic happens with declarations in the next 10 days.
Washington – A lot of people are going to see the experience Washington loses and peg them down to second or third in their power rankings, but it's a dated approach. Modern college football is much more about coaching, momentum, scheme, and overall talent (all of which the Huskies have in spades) than building up experience with the same personnel. The Huskies have a good thing going and have the talent to plug in to keep themselves at the top of the conference. They key will be Georgia transfer and former five-star QB recruit Jacob Eason who is expected to take over for Jake Browning. Eason has as much talent as any QB in the country and could improve Washington's offense overnight if he lives up to his billing.
Utah – The Utes are also getting snubbed for the Oregon offseason hype that is building. The Utes return an exciting chunk of their roster, including a number of defensive stars (as long as they don't head to the NFL early) and senior quarterback Tyler Huntley and hopefully a healthy Zack Moss at running back. A lot of the Utes' 2019 success will depend on Huntley as they tended to struggle when he struggled and take off when he took off in 2018 and how well Moss and WR Britain Covey bounce back from injuries.
11. Colorado – The Buffs are rebuilding again, but this time with a solid base left by Mike MacIntyre and not the disaster that Jon Embree left. It won't be easy to get back out from the South cellar, but senior QB Steven Montez and young stars WR Laviska Shenault, DT Mustafa Johnson and LB Nate Landman should be able to help.
–
—–
January 4th
… CU in a few minutes … 
Former Buff offensive lineman David Bakhtiari named first-team All-Pro
… Note … Below is a list of CU's 17 previous All-Pro team first-team selections … 
From NFL.com:
FIRST TEAM
OFFENSE
Quarterback: Patrick Mahomes, Kansas City Chiefs
Running Back: Todd Gurley, Los Angeles Rams
Flex: Tyreek Hill, Kansas City Chiefs
Tight End: Travis Kelce, Kansas City Chiefs
Wide Receivers: Michael Thomas, New Orleans Saints; DeAndre Hopkins, Houston Texans
Left Tackle: David Bakhtiari, Green Bay Packers
Right Tackle: Mitchell Schwartz, Kansas City Chiefs
Left Guard: Quenton Nelson, Indianapolis Colts
Right Guard: Zack Martin, Dallas Cowboys
Center: Jason Kelce, Philadelphia Eagles
DEFENSE
Edge Rushers: J.J. Watt, Houston Texans; Khalil Mack, Chicago Bears
Interior Linemen: Aaron Donald, Los Angeles Rams; Fletcher Cox, Philadelphia Eagles
Linebackers: Luke Kuechly, Carolina Panthers; Bobby Wagner, Seattle Seahawks; Darius Leonard, Indianapolis Colts
Cornerbacks: Kyle Fuller, Chicago Bears; Stephon Gilmore, New England Patriots
Safeties: Eddie Jackson, Chicago Bears; Derwin James, Los Angeles Chargers
Defensive Back: Desmond King, Los Angeles Chargers
SPECIAL TEAMS
Placekicker: Justin Tucker, Baltimore Ravens
Punter: Michael Dickson, Seattle Seahawks
Kick Returner: Andre Roberts, New York Jets
Punt Returner: Tarik Cohen, Chicago Bears
Special Teamer: Adrian Phillips, Los Angeles Chargers
–
—
CU's All-Pro first-team selections:
Dick Anderson, S, Miami (1972-73-74)
Mitch Berger, P, Minnesota (1999),New Orleans (2004).
Cliff Branch, WR, Oakland (1974-75-76-77)
Tom Brookshier, CB, Philadelphia (1959-60)
Chad Brown, OLB, Pittsburgh (1996),Seattle (1998-99)
Frank Clarke, E, Dallas (1964)
Eddie Dove, S, San Francisco (1961*)
Andre Gurode, C, Dallas (2007-09)
Mark Haynes, CB, N.Y. Giants (1981-82-83*-84)
Charlie Johnson, NT, Philadelphia (1979-80-81)
Michael Lewis, SS, Philadelphia (2004)
Walter Stanley, KR, Detroit (1989)
Joel Steed, NT, Pittsburgh (1997)
Kordell Stewart, QB, Pittsburgh (2001)
Byron White, B, Pittsburgh (1938),Detroit (1940-41)
Alfred Williams, DE, Denver (1996)
John Wooten, OG, Cleveland (1966)
–
—
Phil Steele's 2018 All-Conference teams includes six Buffs
From Phil Steele … Pac-12 first team offense (12 players, by team): Stanford: 3; Washington State: 2; Arizona State: 2; Colorado: 1 (Laviska Shenault, WR); Oregon: 1; Arizona: 1; Washington: 1; Utah: 1; Cal: 0; USC: 0; Oregon State: 0: UCLA: 0.
Pac-12 first-team defense (12 players, by team): Washington: 4; Utah: 3; Washington State: 1; Oregon: 1; USC: 1; Stanford: 1; Cal: 1; Colorado: 0; Arizona: 0; Arizona State: 0; UCLA: 0; Oregon State: 0.
Also …
2nd team defense: Colorado: 1 (Nate Landman, LB)
3rd team defense: Colorado: 2 (Mustafa Johnson; DL; Rick Gamboa, LB)
3rd team special teams: Colorado: 2 (Ronnie Blackmon, PR; J.T. Bale, LS)
—
Phil Steele Pac-12 All-Americans:
— 1st team defense: Ben Burr-Kirven, LB, Washington;
— 2nd team offense: Eno Benjamin, RB, Arizona State; JJ Arcega-Whiteside, WR, Stanford; Calvin Throckmorton; OL, Oregon;
— 2nd team defense: Chase Haneen, LB, Utah; Paulsen Adebo; DB, Stanford;
— 2nd team special teams: Matt Gay, P, Utah;
— 3rd team offense: Kaden Smith, TE, Stanford; Andre Dillard, OL, Washington State;
— 3rd team defense: Byron Murphy, DB, Washington; Tyler Rapp, DB, Washington;
— 3rd team special teams: Mitch Wishnowsky, PK, Utah; JJ Taylor, AP, Arizona;
— 4th team offense: Gardner Minshew, QB, Washington State; Laviska Shenault, WR, Colorado; N'Keal Harry, WR, Arizona State; Caleb Wilson, TE, UCLA;
— 4th team defense: Greg Gaines, DL, Washington; Jordan Kunaezyk; LB, Cal
–
—
Former Buff Donnell Leomiti named Division II Coordinator of the Year
From Football Scoop … FootballScoop is proud to announce that Donnell Leomiti is the 2018 FootballScoop Division II Coordinator of the Year presented by AstroTurf as selected by prior winners.
No matter how much time passes, how many new schemes and wrinkles their offensive counter parts come up with, how many permutations they find to arrange their running backs and wide receivers, the formula for great defense will always remain the same — stop the run, get in front of the pass and turn your opponent over.
Colorado State-Pueblo did all three in 2018.
The Thunderwolves were No. 6 in the country against the run, permitting just 1,081 yards and eight touchdowns on 507 attempts. Opponents averaged 2.13 yards per carry, the second-worst rate in Division II.
… Leomiti played wide receiver and safety at Colorado, then moved into coaching in the Colorado high school ranks. He returned to CU as a defensive intern in 2005-06. He has been with the CSU-Pueblo staff since the program re-started in 2008 and was promoted to defensive coordinator ahead of the 2018 campaign.
… Continue reading story here …
–
—–
January 3rd
… CU in a few minutes …
CU Hall of Famer Bill Brundige passes away
From CUBuffs.com … Bill Brundige, one of the best defensive players in the history of University of Colorado football, passed away last Saturday (Dec. 29) after a long battle with cancer.  He was 70.
Brundige had retired to Knoxville, Tenn., and was surrounded by family when he passed peacefully at his home.
A 2016 inductee into CU's Athletic Hall of Fame, Brundige was a first-team All-American by the Football Writers Association of America/Look Magazine as a senior in 1969, when both wire services (AP, United Press International) named him to their second teams.  A first-team All-Big Eight performer at defensive end that season, he was also the conference's Defensive Player of the Year.
An imposing 6-foot-5, 235-pound performer, he played both tackle and end on CU's defensive lines under the late Eddie Crowder, the Buffalo head coach who recruited him from the plains of eastern Colorado.  Brundige earned three letters from 1967-69.
He had a monster senior season, setting a CU record that still stood some 33 seasons later with 24 tackles for 123 yards in losses; that included 13 quarterback sacks, also a school record that would last almost a quarter-century.  He had 149 tackles in his career, 55 credited as solo, which means 37 of those were behind the line of scrimmage.  He also was a first-team Academic All-Big Eight team member as a junior.
Brundige was drafted in the second round by the Washington Redskins in the 1970 National Football League Draft, the 43rd selection overall.  He would go on to play in 107 NFL games, with 74 starts, all with the Redskins over eight seasons (1970-77).  He started every game as a rookie and played in Super Bowl VII following the '72 season.
He was born Nov. 13, 1948 in Holyoke, Colo, and graduated from Haxtun High School.  He is survived by wife of many years, Bonnie; his mother, Dorothy, a sister, Linda Batello; a brother James and his wife, Jody, along with several nieces and nephews.
Services are set for Friday, Jan. 4, in Knoxville at Bridges Funeral Home.
Brundige is the third player from the CU teams in the late 1960s to pass away in the last month, as linebacker Rocky Martin died on Dec. 11 and offensive tackle Mike Montler passed on Dec. 13.   In fact, all three were teammates on Colorado's 1967 and 1968 teams.
–
—
CU Advocates … Funding for Higher Education good for the state of Colorado
From an email from CU Advocates …
Dear Stuart,
As a CU Advocate you will appreciate the advocacy by CU President Bruce Benson and CSU President Tony Frank who are urging the state Legislature to support the proposed budget for public higher education.
The Denver Post recently ran a commentary piece by the two presidents outlining many reasons why Gov. John Hickenlooper's budget proposal for public higher education is wise for the state. They are urging the Legislature to support his proposed budget of $130 million for the state's colleges and universities.
Below is the full opinion piece, but here are a few takeaways you can share with your elected officials and in your community to advocate in support of the governor's budget proposal. You also can write a letter to the editor conveying these points. Let us know how we can help.
The legislative session begins tomorrow, so it's a good time to advocate. If you don't know who your elected officials are, please visit this site.
CU's portion of the $130 million will result in an increase of over $30 million in state funding for the four-campus system.
The governor's proposed funding increase makes it possible to mandates a zero percent resident undergraduate tuition increase for FY 2019-20.
While increases in funding have been critical to keeping tuition in check, we must acknowledge how much further we have to go. (see chart below)
You may not know this, but state support for each resident student has been cut by 40 percent since 2001 when adjusted for inflation.
The proposal includes $23 million – a 13 percent increase – for student financial aid throughout the state, helping more students persist through graduation.
93 percent of Colorado's top jobs require postsecondary education and training.
Addressing Colorado's teacher shortage, the proposal establishes a first-of-its-kind statewide teaching fellowship. Students willing to put their education to work in Colorado schools would receive funding toward their four-year degree and their first two years on the job.
Helpful video explaining CU's budget.
The Denver Post | Dec. 17 | 15A
Funding for higher ed good for state
By Bruce Benson and Tony Frank
Guest Commentary
The challenges related to Colorado higher education funding weren't created in a day and won't be solved in a single budget year, but Gov. John Hickenlooper's 2019-20 budget request is a definite step in the right direction. He requested a $130 million increase for Colorado colleges and universities, a significant move that would freeze tuition increases for Colorado students and families, particularly helping those in the middle class. It would be a wise investment in Colorado's homegrown talent and economic future.
Coloradans' hard work to generate a robust recovery from the great recession allows the governor and legislature to make higher education funding a priority. On behalf of our students, we say thank you. While increases in funding have been critical to keeping tuition in check, we must acknowledge how much further we have to go. Since 2001, state funding per resident undergraduate student has declined nearly 40 percent when adjusted for inflation. The cost to the state of getting back to where we were is hundreds of millions of dollars more than the state can afford. Yet we have to start somewhere.
We recognize our role in keeping costs in check, and have responded with efficiencies, better business practices and innovation in educational delivery. We're proud to be well below our national peers in administrative costs (in apples-to-apples measures) and efficiencies.
Even as much of the cost burden has shifted to students and families, Colorado tuition rates are still in the middle of the pack compared to national peers because of those efficiencies and belt-tightening. Colorado delivers a high-quality degree more efficiently than anywhere in the country. But the shift in cost over time from the state to students and their families is unsustainable for Colorado's long-term success. Families feel the strain of years of constrained state funding for colleges and universities. That's the main reason we are so grateful that the proposed higher education package in next year's state budget directs the dividends of our thriving economy back to Coloradans.
Here's what it entails:
• Holding tuition steady: The bulk of the higher education proposal freezes tuition increases for Colorado students and families in the next academic year. According to Colorado Department of Higher Education's analysis, institutions would need to increase tuition anywhere from 5 to 20 percent to raise the same amount of funding to cover increasing costs and enrollment.
• Stepping up financial aid: The request calls for an additional $23 million in scholarships, grant and work study opportunities, helping more students persist through graduation. Our goal is to see students graduate with a degree that gives them a leg up in the workforce and contributes to our state economy in the long term.
• Addressing our teacher shortage: The investment also establishes a first-of-its-kind statewide teaching fellowship. Students willing to put their education to work in Colorado schools would receive funding toward their four-year degree and their first two years on the job. This investment is particularly important for rural areas that have difficulty recruiting or retaining K-12 teachers.
We all benefit from opening educational opportunities to more Coloradans. Analyses show that 93 percent of Colorado's top jobs — those with high growth rates and good pay — require postsecondary education and training. We have the fifth-highest demand for educated adults in the nation. Yet our funding structure risks leaving too many Coloradans behind. Not addressing the gap between talent demanded and talent supplied makes it harder for businesses to thrive. Even worse, countless Coloradans will see their talents and dreams sidelined because we didn't have the foresight to invest in public education.
Legislators return to the State Capitol in January for their annual session. We urge them to support this higher education budget package. They can give Colorado students and families a well-deserved break by slowing the tide of rising tuition. They can recruit more talented teachers for parts of our state that desperately need them. And they can invest in our economic future by helping to prepare more Coloradans for the jobs of today and tomorrow. And that's an investment that will deliver a significant return to all of us.
Bruce D. Benson is president of the University of Colorado. Tony Frank is president of Colorado State University.
Should you have any questions, email us at cuadvocates@cu.edu. Below are two charts showing CU's state funding history and the funding shift from state support to resident tuition. You can use these charts if you write a letter to the editor or when you send a note to your legislators.
–
—–
January 2nd
… CU in a few minutes … 
How OL signee Valentin Senn got from Volders, Austria, to Boulder, Colorado
From SB Nation … Looking down the roster of the Under Armour All-America Game reveals hometowns familiar to anyone following college football or U.S. geography: Palm Beach, Houston, Atlanta, Birmingham, Cleveland, Los Angeles, Dallas, Detroit, etc.
But Volders, Austria? That's a new one.
That is where offensive tackle Valentin Senn hails from. Standing 6'7 and weighing 285 pounds, Senn is hard to miss.
Senn signed with Colorado, more than 5,000 miles from home, during the Early Signing Period. But the story of how he became a college football prospect is more interesting.
Senn did not start out as a football player. Like most kids in Austria, he played soccer.
"A friend of mine with whom I played soccer, he was starting to play football. He was always like, 'Come join me, play football.'" Senn said.
It worked.
At some point, any recruit has to commit to football. That might happen later in Europe. When he was 15, Senn took the plunge into the game.
"I came to one practice, and from that moment on, I just loved the game."
But Senn did not start out as an offensive lineman. He was actually a receiver.
"I started out as a receiver, but then moved to tight end because I grew bigger. And now I ended up as an offensive tackle."
… Continue reading story here …
–
—
Offensive coordinator Jay Johnson excited about his opportunity to lead Colorado offense
From the Daily Camera … When Jay Johnson hits the field with the Colorado football team during spring drills in March, he will be in charge of an offense for the first time in two-and-a-half years.
In that time, he's soaked up a lot of knowledge and believes he will be a better offensive coordinator than he's been in the past.
Hired last month by new CU head coach Mel Tucker, Johnson is excited for a new opportunity with the Buffs. Tucker and Johnson were both a part of Georgia's staff the last two years, with Johnson working as offensive quality control analyst.
"I think it helped me grow tremendously," Johnson said of his two years at Georgia, "and I think I'll be hopefully more versed as I move forward."
Johnson, 49, who grew up in Minnesota, has been in coaching for more than two decades, including 12 years as an offensive coordinator. He was the coordinator at Louisiana from 2011-15 before running the offense at Minnesota in 2016.
A coaching change at Minnesota following the 2016 season left Johnson looking for another opportunity, and he was hired by Georgia head coach Kirby Smart.
"You're always trying to learn, so that was a great environment and Kirby was kind enough to bring me on and allow me that opportunity to learn and grow," said Johnson, who will also coach CU's quarterbacks.
… Continue reading story here …
–
—–
January 1st
… CU in a few minutes … 
Former CU regent Steve Bosley speaks eloquently as to how intercollegiate athletics benefits CU's mission
A letter to the editor of the Daily Camera … When my former colleagues on the University of Colorado Board of Regents met recently to consider a contract for new Colorado Buffaloes head football coach Mel Tucker, the conversation veered off topic to a discussion, almost a lecture, by a couple of regents, questioning the value of intercollegiate athletics in general and the commitment to student-athlete safety (concussions, specifically).
Having spent a dozen years serving on the board (two as chair), my perspective is that athletics is a valuable part of the university that has a substantial number of positive outcomes.
First and foremost, there is no question that the most important thing a university does is meet its teaching and research missions and serve our state and nation. All its other activities should support those endeavors, either directly or indirectly. CU Boulder's intercollegiate athletics program does that.
A university that aspires to excellence in academics should aspire to excellence in all it does, including athletics. Success in each of those endeavors is neither mutually exclusive nor a zero-sum game.
A regent implied CU should not fund intercollegiate athletics at all because the money would be better spent elsewhere. It's important to understand that athletics at CU is largely a self-sustaining enterprise. Of its nearly $90 million annual budget (out of a campus budget of $1.8 billion), athletics generates some $80 million of that (the remainder the campus provides) through conference revenues, ticket sales, corporate partnerships, concessions and fundraising, among other sources.
Regarding fundraising, I know thousands of CU supporters in the Boulder community and have spoken with many donors whose initial interaction with the university, and often their first donation, was through athletics. Several of those people also fund academic endeavors or scholarships. Most have told me that were it not for the engagement though athletics they would not be engaged with the university at all.
CU athletics supports the academic mission by offering opportunities to student-athletes, some of whom would not have an opportunity at the university otherwise. The tuition they pay (even those on scholarship) is revenue returned to the campus that offsets the support administration provides. And student-athletes perform better academically than the general student population. They have higher grade point averages and graduate at higher rates. They are also ambassadors who represent the university in exemplary ways and perform community service that enriches Boulder.
The football program generates the revenue that supports most of the other sports CU offers, so if it went away, athletics at CU would go with it, and opportunities for young women and men would go with them.
Athletics is also a window into the university and a touch point for many alumni. When football or basketball games are televised, networks provide commercials (public service announcements) that not only shine the spotlight on CU Boulder's academic and research prowess but also provide hundreds of thousands of dollars in free advertising.
The university joined the Pac-12 conference during my tenure on the board, and it was a significant move beyond athletics. It offers CU the opportunity for closer academic and research ties with peers such as Stanford, UCLA, Cal-Berkeley and the University of Washington, among others. The opportunity for more academic partnerships is one of the primary reasons we moved to the Pac-12, and CU's academic reputation was a critical factor in the invitation to join. Additionally, more than 50,000 CU alumni reside in the Pac-12 footprint (excluding Colorado). In the previous conference, the Big 12, it was fewer than 15,000. California is CU's largest non-resident feeder state, so student recruitment benefits too. The Pac-12 extends CU's reach.
The issue of concussions in football is serious, and it's a fair discussion point. But one regent suggested CU is not doing enough about it. To the contrary, I have witnessed firsthand how the athletic department puts the safety of its student-athletes first and never compromises that. Additionally, the university is leading a Pac-12 study on concussions, engaging CU's superb researchers in studying the issue. CU's Denver campus is also leading an effort, funded by the NFL, to build a safer football helmet.
Intercollegiate athletics is by no means the most important thing CU does. Academics and research are the priorities. Some lament athletics' often-outsized share of the attention the university gets. But in my experience of serving the university for a dozen years and observing its athletics program for decades, I am convinced that CU has its priorities right and that its intercollegiate athletics program contributes to the university's success.
Steve Bosley served on the CU Board of Regents for from 2005-2017 and is founder of the BolderBOULDER.
–
—–