—
Random Thoughts –  Buffs4Life Edition – Volume XXXI
—
Buff Trivia Question of the Week … CU plays Washington State in Pullman on October 19th. In how many different locations have the Buffs defeated the Cougars? 2? 3? 4? 5? …
—
Giving Back …
While certain Colorado Regents use the fate of former athletes as a reason to argue for the elimination of the football program, others are actually taking steps to assist those athletes.
The Buffs4Life Foundation is not new to the cause of helping former Buffs. From the Buffs4Life website:
In 2005, a group of former Buffs, who were an integral part of the turnaround in CU's football fortunes in the mid 1980's, became aware that one of their teammates, Anthony Weatherspoon (Spoon), had been diagnosed with leukemia. His prognosis was bleak and the gravity of the illness hit his family hard in many aspects, including financially. As the burden of medical costs overwhelmed his family, his friends and teammates wanted to help.
The idea of establishing an organization predicated on Buffs helping CU student athletes and alumni was born. Buffs4Life helps with medical bills, provides mental health support resources and hosts events to raise money to ensure they can keep helping members of the Buffs family when they need it. Spoon's reputation as being a hardnosed and powerful fullback is synonymous with CU's return to greatness, but his influence off the field is his greatest legacy. Even though Spoon lost his battle to leukemia later that year, his spirit lives on in the CU Football family. The Buffs4Life Foundation is ready to help CU Boulder student athletes and alumni who have worn the Black in Gold in times of need, whether that means help with medical bills or access to mental health resources.
More recently, though, acting on the increased need for mental health assistance, the Buffs4Life Foundation has shifted some of its focus:
From CUBuffs.com … For the last 13 years, Buffs4Life has helped former University of Colorado athletes in a wide variety of ways. The group has raised approximately $800,000 and lent a helping hand to dozens of Buffs in their times of need.
Now, the group is taking another step, rechanneling and refocusing its efforts to help in the area of suicide prevention, a national crisis that affects people from all walks of life. (The U.S. Centers for Disease Control and Prevention announced earlier this week that over nearly two decades ending in 2016, the suicide rate in the United States increased by 25 percent.)
The death of former Buffs linebacker Drew Wahlroos last fall — which came just months after the death of CU Heisman Trophy winner Rashaan Salaam — provided the spark to implement the change.
"Enough's enough," said former CU head coach Gary Barnett, who has assumed the role of co-honorary chairman of Buffs4Life, along with longtime former linebackers coach Brian Cabral. "We've had nine (former Buffs) since 2004 who have taken their life. One is too many."
Barnett and Cabral — both of whom coached Wahlroos — and Sean Tufts, a teammate of Wahlroos, are helping Buffs4Life refocus its efforts. They have formulated an initiative that will see the organization institute a dedicated crisis line, produce a revamped website that will provide more resources and articles pertaining to mental health, and create a networking program of teammates that will help identify potential issues and lend assistance before it is too late.
Last weekend, the Buffs4Life Foundation conducted its main fundraising events for the year.
On Sunday, the 7th annual Kyle MacIntosh Memorial Fun Run took place on the CU campus, with the proceeds going towards a 529 College fund for the five daughters of T.J. Cunningham. Cunningham, a defensive back and wide receiver for the Buffs in the mid-1990's, was fatally shot by a neighbor in February.
Then, on Monday, the 13th annual golf tournament was conducted, with the proceeds going towards the care of former CU coach Doc Kreis. Coach Kreis is currently living at a Memory Care facility near his brother in Alabama. His memory started to fade ten years ago and now is a significant concern for his health and well-being.
CU at the Game was a hole sponsor for the golf tournament, and, with the able assistance of former CU running back O.C. Oliver, we were able to avoid finishing in last place!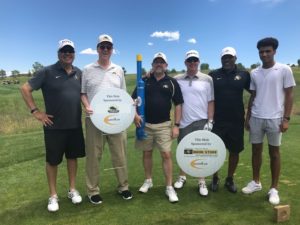 The fun run and the golf tournament may be over for this year, but the need remains.
If you are a former Buff, or know one in need, there is a crisis hotline: 1-833-303-BUFF. From the website: We all struggle, there is no need to go it alone. As a CU Boulder student athlete, you're never alone. If you are struggling and need mental health resources, your teammates are here.
If you would like to volunteer, or donate to the Buffs4Life Foundation, click here. Buffs4Life in Boulder is a 501(c)(3) nonprofit organization. All Financial contributions are tax-deductible (Tax ID #20-8580617).
—
Fundraising sets new standard … 
In case you missed it, the Daily Camera posted an article this week stating that CU is on the verge of a record-breaking year for fundraising. Official numbers won't be known until later this summer, but should land in the $25-30 million range.
"It'll be our best fundraising year that we've had in our history here in athletics," athletic director Rick George said.
That's no small statement.
Still, for those looking for immediate upgrades in facilities, there will still a delay … and that's not altogether bad.
From the article … "The athletics department has spent the past year emphasizing the student-athletes more. In particular, there has been a push to prioritize mental health, nutrition and career development.
"I went into it enthusiastically and positively," George said of the renewed focus, "because I think people want to invest in young people. I've been incredibly pleased with the support and the enthusiasm we have around these initiatives.
"Pushing out these three initiatives, our base has really been supportive of that. Our fan base has been great."
During the next year, George said, "We won't change our focus," adding that there is still a great need to raise money and support for those three initiatives.
For those who want to see upgrades to Folsom, you won't have to wait forever.
In the next few years, however, George would like to see more projects completed, especially at Folsom.
"The west side of the stadium we need to fix," he said. "There's a real opportunity and return on our investment doing something significant over there. I'd like to do that in the next three years."
An upgrade to the public address system and a larger video board at Folsom are also priorities, and George would like get an indoor tennis facility, lights at Prentup Field, and more.
Behind the scenes, things are going well in the Champions Center.
All we need now is some "W's" on the field of play …
—
Buff Trivia Question of the Week … CU plays Washington State in Pullman on October 19th (the CU/WSU preview can be found here). In how many different locations have the Buffs defeated the Cougars? 2? 3? 4? 5? …
Answer … Four. Colorado has a 6-5 record all-time against Washington State, with a 3-3 record in games played in Boulder. The Buffs also own victories against the Cougars in games played in:
Spokane (a 12-10 win in 1982, Bill McCartney's first victory as CU's head coach);
Seattle (a 20-12 win in 2004, in a makeup game for a matchup which was supposed to be played the week of September 11th in 2001); and
Pullman (a 35-34 win in 2012, in what proved to be Jon Embree's last win as CU's head coach, as the Buffs limped home to a 1-11 record in a nightmare of a season).
–
—–