—
Colorado Daily
—
May 25th
… CU in a few minutes … 
CU receives $200,000 Pac-12 grant to study 2,000 alumni
From the Daily Camera …The University of Colorado and its athletic department have made the health and well being of their students and student-athletes a higher priority than ever before. In particular, there has been an increased focus on mental health recently.
CU is now hoping to learn more about its alumni, and how that knowledge can benefit current and future Buffaloes.
Funded by a two-year, $200,000 grant from the Pac-12 Conference, the CU Boulder research faculty and the athletic department are beginning a study of 2,000 alumni who have graduated from the school in the past 25 years.
"There is a group of us that have been talking about this for a while," said Theresa Hernandez, a professor of psychology and neuroscience and associate dean for research at the College of Arts and Sciences, who will lead the study. "Really thinking about, we have a good idea of how we're doing for student-athletes here, but how are we – or how have we been doing – for our alums? We thought it would be good to do that, to ask them."
… Continue reading story here …
–
—
Laviska Shenault 2018 highlights – happy Saturday!
Only have a few minutes? Here is Shenault v. Nebraska
Want to know the story behind his dreadlocks?
Or, if you have the time, here is the full (which sadly, was only half) season's highlights:
–
—–
May 24th 
… CU in a few minutes … 
Making your 2019 CU Bowl plans
From FootballScoop.com … The college football postseason is inherently weird. The de facto playoff quarterfinals are on the first weekend of December, then all the key players in the national championship hunt take the better part of three weeks off to jet around the country to eat themselves out of shape while attending award shows and fancy dinners. Coaches shift their focus away from the end of their season to go sign their next recruiting class. More than 80 teams participate, but only four compete for the national championship.
We all accept it because we live in this sport, but imagine how weird it would seem if the NFL held its draft in the weekend between the conference championships and the Super Bowl.
And even within those standards, the 2019-20 college football offseason is going to be weird.
ESPN announced its bowl schedule on Thursday — which is really the bowl schedule, since the Worldwide Leader the broadcast rights for almost every bowl game — and revealed that Bowl Week is now basically Bowl Month.
The Pac-12 schedule … 
#1 Rose Bowl … Wednesday, January 1st, ESPN, 3:00 p.m., MT
#2 Alamo Bowl … Tuesday, December 31st, ESPN, 5:30 p.m., MT
#3 Holiday Bowl … TBA
#4 Redbox Bowl … TBA
#5 Sun Bowl … Tuesday, December 31st, CBS, noon, MT
#6 Las Vegas Bowl … Saturday, December 21st, ESPN, 5:30 p.m., MT
#7 Cheez-It Bowl … Friday, December 27th, ESPN, 8:15 p.m., MT
–
—–
May 22nd
… CU in a few minutes …
Matt Miller: Laviska Shenault the No. 6 2020 NFL Draft prospect
From Bleacher Report … One year ago, a stunningly high number of evaluators and analysts' projected top 10 picks of the 2019 draft became the actual top 10 picks.
Nick Bosa, Ed Oliver, Devin White, Josh Allen, Clelin Ferrell and Devin Bush were all considered among the top players at their position groups. Of course, Kyler Murray and Quinnen Williams surprised us en route to becoming dominant prospects and top-three selections, but for the most part, the good players are identifiable in advance. Which brings us to the top 10 players for the 2020 draft.
A few of the players on this list will change, especially if first-year starters rise up like Williams and Murray did last season, but largely it will remain the same barring injury. These are the names to start your own evaluation process with—if you're into that sort of thing—or at least be aware off once the college football season kicks off in late August.
No. 6 – Laviska Shenault, Colorado … The wide receiver talent in the 2020 class is ridiculous. Three receivers are in my top 10, with others like CeeDee Lamb (Oklahoma), Collin Johnson (Texas), Henry Ruggs III (Alabama) and Donovan Peoples-Jones (Michigan) all potential Round 1 players.
Leading off the receiver group is a player who in a "normal" class would be considered the top receiver. Laviska Shenault Jr. doesn't have Jake Fromm or Trevor Lawrence throwing him the ball, which makes what he's done at Colorado all the more impressive.
The 6'2″, 225-pounder is built like Alshon Jeffery and plays like JuJu Smith-Schuster. As long as he answers speed questions throughout the season and at the NFL Scouting Combine, Shenault could easily find himself drafted in the top 10.
… Read full list here (including Oregon's Justin Hebert at No. 9 …
–
—–
May 21st
… CU in a few minutes … 
CU BuffVision department wins first-ever "Silver Teddy" Award
Press release from CUBuffs.com … The University of Colorado's BuffVision department won its first Silver Telly Award for an episode of the popular show, The Buffalo Stampede, the award announced Tuesday.
It's the eighth Telly Award that the BuffVision department has won over the past dozen years, but the first Silver distinction.  It's also the third award for The Buffalo Stampede show and second in the last three seasons after first winning in 2008.
Submitted into the Online Sports category, the winning show was the season finale that was aired after the conclusion of the basketball seasons.  Voice of the Buffs Mark Johnson hosts the show and Scott Wilke broke down the Pac-12 tournament run for the men's basketball team and there was also a men's basketball segment with D'Shawn Schwartz going behind-the-scenes in Las Vegas.  Other segments included lacrosse senior Miranda Stinson and Athletic Director Rick George.
Deric Swanson, Executive Director of BuffVision, produced and edited the show.  He is finishing up his 20th year with the Buffs and is the only director BuffVision has ever had, establishing the department in 1999.  Associate Director of BuffVision Eric Pelloni has also been a part of multiple Telly Award-winning shows and features.
The Telly Awards are in its 40th Anniversary Season and annually showcases the best work created within television and across video for all screens.  Entries number in the thousands and come from all 50 states and five continents.  The Telly Awards Judging Council is a group for more than 200 working professionals who have previously won Telly Awards and have demonstrated expertise in the categories they review.  Telly Award winners include professionals from BET, CBS, Comcast, ESPN, HBO, MLB, NBC, the History Channel, Time Warner and countless others.
Telly Awards for BuffVision: (click on link to watch videos):
–
—–
May 20th
… CU in a few minutes … 
More on Kelli Brooks' endowment: "My football allegiance is 1,000,000% with the Buffs"
… Related … "Colorado football receives largest endowment in history" … From BuffStampede.com
From the Daily Camera … When she graduated from high school and was looking for a college destination, Kelli Brooks followed her friends.
"They were going to (Colorado State), so I wanted to go where my friends were going," Brooks said.
Despite attending and earning a degree from CSU, Brooks has never wavered in her love for the Colorado Buffaloes and last weekend made a significant move towards helping future Buffs.
Brooks, who lives in Southern California and is a partner with global consulting firm KPMG, finalized a seven-figure endowment that is the largest in CU football history. The previous largest endowment for the program was for roughly $3 million.
While Brooks' estate commitment will come to fruition in the future, it will go towards football scholarships.
"I've loved CU football since I was a little kid," said Brooks, who was born in Glenwood Springs. "I named my first dog after Ralphie. I've just really loved the program. There's a few things I'm passionate about and one of them is CU football and one of them is education. To me, I thought, what better way to leave a legacy than to be able to do it with a football program that I've loved my entire life and making an impact on the players that are going to come through the program."
… Continue reading story here …
–
—–
May 19th
… CU in a few minutes … 
Cornerback Dante Wigley will not be returning this fall
From the Daily Camera … Cornerback Dante Wigley will not return to the Colorado football team in the fall.
The senior, who graduated earlier this month, told BuffZone.com on Sunday that he has decided to move on from the Buffaloes. He did not indicate whether he plans to transfer to another school, but he has one year of eligibility remaining.
Wigley, who turned 22 on Sunday, was CU's most experienced cornerback, starting 15 games over the past two seasons, including eight last year. He was the only cornerback to play on defense in all 24 games over the past two seasons.
The 6-foot-1, 195-pound Wigley began his college career at Georgia Tech, where he redshirted in 2015. In 2016, he played at Holmes (Miss.) Community College.
Rated one of the top junior college prospects for the class of 2017, Wigley signed with CU.
During his two seasons with the Buffs, Wigley played 1,168 snaps on defense, recording 64 tackles, 10 pass breakups and one interception, which he returned 27 yards for a touchdown against Oregon State last season.
Wigley closed this spring second on the depth chart at cornerback.
… Continue reading story here …
–
—
"Largest endowment in CU History"
From a tweet from CU Athletic Director Rick George … "The Largest Endowment in CU History"
Followed by … "Meet @KelliBrooks627! #1 CU Buffs Football Fan! Educator. Difference maker. Philanthropist that just made a huge impact for CU Student-Athletes through the largest endowment in CU Football history…we are forever grateful! TY & GO"
Here is a bio of Ms. Brooks, from AmericanConference.com (and yes, she is a CSU grad!) …
KELLI J. BROOKS is a Principal in the Forensic practice of KPMG. Kelli focuses on Forensic Technology Services offered by KPMG's Cypress Technology Center (CTEC). Kelli provides corporate law departments and law firms with litigation consulting services, including electronic discovery strategies and discovery management services. Kelli has a wealth of experience in the areas of litigation and discovery management. Prior to joining KPMG, she was a Partner at the San Diego and Los Angeles based law firm of Chapin Shea McNitt & Carter. She was with the Chapin firm for ten years and worked in the firm's Litigation Practice Group, specializing in corporate and insurance litigation. Selected engagement experience include served as coordinating counsel for large corporate client in California; worked with several law firms in the southern California area, addressing discovery, document management, and litigation strategy issues; implemented and managed a litigation/discovery database utilized by several law firms in the handling of commercial litigation for large corporate client; assisted corporate client with technology conversion and assisted in the design of litigation management database; and consulted with large corporate client to manage paper and electronic discovery needs in large, multi-jurisdictional product liability litigation. Supervised implementation and management of large global litigation repositories accessed by geographically dispersed litigation team. Kelli received her Bachelor of Arts, Speech Communications with emphasis in Broadcasting from Colorado State University with Highest Honors in 1988 and her Juris Doctor from Boston College Law School in 1992.
From Rick George's tweet: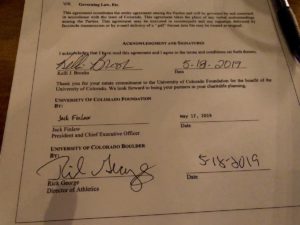 –
—–
May 18th
… CU in a few minutes … 
Steven Montez has "confounding swings in performance" 
From the San Jose Mercury News … For those unfamiliar (or formerly familiar) with the quarterback comfort quotient (QBQC), a quick explanation of what it is not:
It's not a ranking of the talent and long-term potential of the presumptive starting quarterbacks.
Rather, it's an assessment of the overall capability of each team's personnel at this point in the offseason cycle.
Ideally, the depth chart would feature both an elite starter and a backup who has proven himself capable of limiting the downside if the starter were lost for an extended period.
That's rarely the case, however, so we're left to use a highly-subjective sliding scale — a scale that calculates what we know of the starter and what we project from the backup.
We'll take another swing at the QBCQ at the close of training camp …
7. Colorado
Projected starter: Steven Montez
Key backup: Sam Noyer and Tyler Lytle
Don't forget about: Blake Stenstrom
Pre-spring ranking: 5
Why the Buffs are No. 7: Montez was erratic in the scrimmage but solid for much of the spring, and he enters training camp as the clear favorite. Few quarterbacks in the conference can match his experience and arm strength … or his confounding swings in performance. Lytle and Noyer have limited experience, which leaves the Buffs with not quite enough at either the starter or backup sports to warrant a higher placement. Then again, Laviska Shenault can mask mistakes like few others.
–
—–
May 17th
… CU in a few minutes … 
Mel Tucker: "This is the perfect job for me, and I never intend to leave"
From the Vail Daily … Mel Tucker and Rick George stopped in Vail on Thursday with university chancellor Phil DiStefano to meet with CU alumni on the first stop of a barnstorming tour across the Western Slope. The event was a pep rally of sorts for Eagle County alums and CU fans in the Vail Valley, and Tucker was the main draw.
In front of a captive audience of about 40, Tucker, 47, recounted how George wanted to meet with him just three days before last season's SEC title game. Tucker, then the defensive coordinator at the University of Georgia, tried to get the meeting moved until Sunday, after the game, but George was persistent.
It was at that Wednesday night meeting, which lasted past midnight, that Tucker knew that he'd found his dream job after 13 different jobs in 21 years as a coach, which included three stints working under Saban and stops with three NFL teams. Tucker's only previous head-coaching experience came when he went 2-3 as the interim coach of the Jacksonville Jaguars in 2011.
Tucker told the crowd at The Sebastian that he'd already done his research on Colorado, from its upgraded facilities to its academics and football tradition, and after coming so close on other jobs, he knew that this was "the one." He even had his wife go out and get some decorative buffaloes to put on the mantle of the couple's living room where he met with George and Lance Carl, a CU legend who's now an associate AD in Boulder.
"I ground them down to a nub," Tucker joked to the crowd when he explained how he won over the pair. "This is the perfect job for me, and I never intend to leave. This is a destination job, not a stepping-stone job. I want to be the winningest coach in Colorado history."
… Continue reading story here …
–
—–
May 16th
… CU in a few minutes … 
CU one of "Ten Football Programs Who Aren't Afraid to Schedule Big"
From 247 Sports.com … Future schedules are all the rage during the college football offseason.
Ever wonder what you're going to do in 2033? The Texas Longhorns have your answer with a Sept. 10 home game against Arizona State. Book your 6th Street-adjacent hotel now, folks. And while setting a game 14 years out sounds a bit ridiculous on the surface, it's the relative norm in college athletics.
With that in mind, it's a fun time of year to take a look at future schedules and parse which schools are scheduling up in the non-conference. Let's group these 10 teams together with the phrase: "They ain't scared."
If you can set aside the mindset your toddler might be in college for a few of these matchups, it's an interesting topic to discuss during the offseason.
These 10 teams are scheduling big in the future.
UCLA Bruins …
Notable home and homes: LSU, Michigan, Georgia, Auburn, Wisconsin
The Bruins, like many teams on this list, have scheduled some marquee non-conference games. It's cool to see the likes of LSU, Auburn and Georgia play in the Rose Bowl. And it's equally intriguing for one of the West Coast powers to travel East. But UCLA also deserves credit for avoiding FCS matchups and putting interesting complementary non-conference games on the docket. For example, UCLA will play both Cincinnati and San Diego State in addition to Oklahoma this coming year. While 2021 will see the Bruins host Hawaii and Fresno State in addition to LSU.
Colorado Buffaloes … 
Notable home and homes: Texas A&M, TCU, Nebraska, Houston, Georgia Tech, Florida, Northwestern
I love what Colorado's done with its future schedule. There's something for every type of fan. Colorado State is on the docket four between now and 2024, and a traditional rivalry with Nebraska is largely alive thanks to a spattering of future games. There are also at least two Power Five opponents most years: 2021 (Texas A&M, Minnesota), 2022 (TCU, Minnesota), 2023 (TCU, Nebraska), 2025 (Georgia Tech, Missouri). You get the picture. Even when the Buffaloes schedule and FCS team it's the best of the best (North Dakota State). I'm not sure how good Colorado will be in Mel Tucker's regime, but the Buffaloes will be tested.
–
—–
May 15th
… CU in a few minutes … 
Jonathan Van Diest: "I definitely feel I've made the strides to go back to the level that this program demands"
From the Daily Camera … Throughout his years at Cherry Creek High School, Jonathan Van Diest was a dominant force on defense.
It was Van Diest's talent and style of play that earned him a scholarship to Colorado.
Entering his third year with the Buffaloes, however, Van Diest is still trying to become an impactful player on defense. As he finished spring practices last month, however, he feels closer than he's been in a while.
"I feel like the last two weeks (of spring) was just a change in my mindset, a change in my game," said Van Diest, who closed the spring atop the depth chart at one of the two inside linebacker spots. "I still have a lot of growth to do, but I feel like I gained a lot of confidence back in the player I am, especially pre-surgery. That felt good."
From 2015-17, Van Diest had three consecutive Novembers that included a serious injury and surgery, including a torn ACL in his left knee during his true freshman season at CU.
Van Diest went through last season healthy, but played sparingly (23 snaps on defense) in a backup role. This was Van Diest's first healthy spring with the Buffs, and he made the most of it by putting himself in position to win a starting job in the fall.
… Continue reading story here …
–
—–
May 14th
… CU in a few minutes … 
Rick George named to NCAA's "Working Group on State and Federal Legislation"
… Related … "NCAA makes interesting decision to address moving target of name, image and likeness" … from CBS Sports
From CUBuffs.com … University of Colorado athletic director Rick George has been named to the NCAA's "Working Group on State and Federal Legislation," with the group's charge to assess recent bills introduced both federally and locally about a student-athlete's ability to license and benefit from name, image and likeness (NIL) during the period of NCAA eligibility.
George will serve on the 18-member committee, which is comprised of athletic and university officials from all three NCAA divisions.  He is one of four Division I athletic directors named to serve, along with Jill Bodensteiner (St. Joseph's), Gene Smith (Ohio State) and Carla Williams (Virginia).
"I am honored to serve on this committee," George said.  "This is an important conversation to be had and I look forward to getting to work on this with other members of the working group."
In announcing the committee on Tuesday, the NCAA release said, "Federal legislation threatens the non-profit status of the Association and its members and state legislation threatens to create local differences that would make it impossible to host fair national championships and to alter materially the principles of intercollegiate athletics. These initiatives necessitate conversations and agreements about how the membership should respond to the legislative proposals.
"To facilitate the dialogue, the NCAA Board of Governors and the President of the NCAA established the Board of Governors Federal and State Legislation Working Group to study whether the Association should maintain its position in opposition to the legislation and/or work to develop a process whereby a student-athlete's NIL could be monetized in a fashion that still would be consistent with the NCAA's core values, mission and principles."
… Continue reading story here …
–
—
CU Independent interview with CU athletic director Rick George
From Amanda Boyer at the CU Independent …
CUI: What are your goals for this upcoming year regarding athletics?
RG: You know, I think for us we want to continue to raise the bar on our performance and what we're doing in the classroom. We've had nine and hopefully 10 consecutive years of a 2.9 [grade point average] for athletes, and those are the bars we want to grow and raise. From an athletic standpoint, I'd like to win another championship. I think we have the right people to do this, and new leadership. I have high expectations, and we want to continue to provide more resources for our athletes in the areas of mental health, strength and nutrition, and career development. These are important for the structure for our athletes.
CUI: What drew you to hiring first-year football head coach Mel Tucker?
RG: He fit all of the things I thought we needed in a coach. As I look back in our success when we won the national championship, I felt we needed a coach who could bring discipline and accountability, and he's had great success in his career. I interviewed him three days before the SEC Championship, and I wanted somebody that had the background of success, that played the game, could bring discipline, accountability and toughness, and he checked all the boxes.
–
—–
Neill Woelk: Players who impressed this spring; newcomers coaches will be counting on this fall
From CUBuffs.com … With spring ball now in the rearview mirror and fall camp still a couple of months on the horizon, here are some odds and ends, observations and (un)educated guesses concerning the Buffaloes as we head into summer.
— Players who made consistently good impressions on coaches. In no particular order, some of the players who had solid, consistent camps from beginning to end included linebacker Nate Landman, defensive tackle Mustafa Johnson and nose tackle Jalen Sami on defense; and center/guard Tim Lynott Jr., guard/center Colby Pursell, tackle William Sherman, quarterback Steven Montez and tight end Jalen Harris on offense.
Not that there weren't plenty of other players who had head-turning days or even weeks in spring ball. But in terms of nose-to-the-grindstone work ethic, showing up every day to go to work and making it clear they understood Tucker's requirements for physical football, these guys left no doubt they knew what was expected of them.
— Newcomers will be critical. One guess here? There are at least a couple of players we haven't seen yet who will be in the starting lineup next fall, and several more who will figure prominently in the two-deep.
This much we do know: coaches are anxious to get a look at a number of players from the last signing class, including a handful of incoming freshmen who could find themselves in the mix right away. That includes defensive linemen Austin Williams, Lloyd Murray, Na'im Rodman and Jayden Simon; defensive back Mark Perry; linebacker Marvin Ham II; and defensive back Trustin Oliver.
Also arriving this summer will be several JC transfers, including linebackers Jash Allen, Quinn Perry and Jamar Montgomery, along with D-lineman Janaz Jordan. All could make a push immediately.
… Read full spring recap/summer look ahead here …
–
—–
May 13th
… CU in a few minutes … 
Boulder voted "Best College Town in America"
From BestCollegeReviews.org …There are a lot of things that have to click to make a truly great college town. Whether it's feeling the palpable vibe of an alma mater, having tons to do, or the fact that your college town is a great place to stay after you've graduated, we've worked to provide you with a quality list of the best college towns in the nation.
What we considered:
Livability
Student-to-resident ratio
Cultural Offerings
School Presence
Large Employers
The towns at the top of our list have all of the above, while towns featuring only a handful of our criteria are ranked lower. As an example, 50th ranked Tacoma has high livability and large employer scores, it lacks somewhat in the other three, particularly in student-to-resident ratio and school presence. We recognize that everyone values different things in their college towns, but in an effort to establish diversity of views in the ranking of college towns, we have decided on the above criteria as a valuable way to highlight the towns that truly are a great part of our college experience, before, during, and after school.
From the Pac-12 … 
46. Bozeman, Montana – Montana State University (just sayin …)
45. Tempe, Arizona – Arizona State
42. Eugene, Oregon – University of Oregon
27. Lincoln, Nebraska – University of Nebraska
14. Ft. Collins, Colorado – Colorado State University
10. Corvallis, Oregon – Oregon State University
6. Berkeley, California – University of California
1. Boulder, Colorado – University of Colorado …
Boulder is known as a hip and healthy town with a hippy past and great views of the Flatirons. Boulder is one of the nation's most celebrated towns – in rankings it regularly gets voted the best outdoor town, the brainiest city, one of the top cities for artists, and America's Foodiest Town. Though it's relatively small, the entire city is walkable, there are hundreds of miles of bicycle paths, and an outstanding public transit system. Nature abounds in Boulder with many central roads heading through downtown and ending at trail heads leading into the Rockies. A ring of Green Space surrounds the city, and buildings must remain below a certain height to preserve mountain views. Pearl Street Mall, an outdoor shopping area filled with fine food, book stores, art galleries, and coffee shops, is a central Boulder street.
The University of Colorado, and Naropa University (the nation's first Buddhist University) provide the central student base for Boulder. For those out of school, numerous science institutes, local artisanal movements, and tech companies call Boulder home. The most notable employers include the National Oceanic and Atmospheric Administrations, the Geological Society of America, and the Space Science Institute.
Boulder has the perfect mix of student life and post graduate livability, making it an easy selection as our best college town in America.
–
—
CU becomes the first school in the nation to commit to "United Nations Sports for Climate Action Framework"
From CUBuffs.com … The University of Colorado Boulder became the first university in the nation to commit to the United Nations Sports for Climate Action Framework, bolstering its status as a sustainability leader. The University of Colorado Boulder Athletic Department signed onto the agreement last week, joining the International Olympic Committee, the Tokyo 2020 Summer Olympics, FIFA, the New York Yankees, the NBA and the Green Sports Alliance and others in the effort to raise awareness and inspire climate action.
Several major sports bodies partnered with U.N. Climate Change in December to launch the framework as a way to drive emission reductions among sports operations and tap the popularity and passion of sport to engage millions of fans in the effort.
"We're thrilled to be an early adopter of the U.N. Sports for Climate Action Framework," said CU Athletic Director Rick George. "This is consistent with the leadership and excellence expected by CU Boulder students, faculty, staff, alumni and fans as we confront the critical issue of climate change."
The U.N. Sports for Climate Action Framework has two overarching objectives: to achieve a clear trajectory for the global sports community to combat climate change and to leverage sports as a unifying tool to drive climate awareness and action among global citizens.
Signatories of the framework commit to five core principles:
Undertaking systematic efforts to promote greater environmental responsibility
Reducing overall climate impact
Educating for climate action
Promoting sustainable and responsible consumption
Advocating for climate action through communication
CU Boulder's athletic department has long been a leader in college sports sustainability, having debuted the first NCAA Division-I athletics sustainability program in the nation in 2008, Ralphie's Green Stampede.
… Continue reading story here …
–
—–
May 12th
… CU in a few minutes … 
CU future non-conference scheduling "not for the timid and the weak"
... Related … This weekend's "Random Thoughts", which has the list of Pac-12 non-conference Power Five games 
From the Daily Camera … A long time ago, seemingly in a galaxy far, far away, the Colorado football team was one of the best in the land.
The Buffaloes competed for national championships – and even won one – while taking on many of the top challengers. CU's non-conference slate in its heyday included games – and wins – against nationally ranked foes such as Iowa, Illinois, Washington, Texas, Tennessee, Baylor, Wisconsin and Michigan.
In 1990, the year the Buffs won the national title, four of the five nonconference games were against top-25 opponents. All 13 games that season were played against Power 5 conference opponents or Notre Dame.
"That's not for the timid and the weak," CU athletic director Rick George said this week in looking back at that slate.
Neither is the schedule CU and George have crafted for the next decade.
CU recently announced future dates with Florida and Missouri, adding to what is already one of the most aggressive scheduling strategies in the country.
… Continue reading story here …
–
—–
May 11th
… CU in a few minutes … 
More notes and quotes on the Brandon Lewis commitment
... Full bio and links to videos can be found under "CU Recruiting Class of 2020"
From the Daily Camera … Colorado has its quarterback for the class of 2020.
On Friday afternoon, Brendon Lewis of Melissa (Texas) High School, announced that he has committed to the Buffaloes.
On Twitter, Lewis thanked his coaches, family and teammates and wrote: "I wouldn't be the quarterback I am today without all the love and support I've received. A big thanks to all of the schools and coaches who have recruited me this past year. With that being said, I am honored and proud to say I am verbally committing to play football at the University of Colorado."
Rated a three-star prospect by 247Sports.com and Rivals.com, Lewis is a 6-foot-2, 210-pound dual threat that was targeted early by CU head coach Mel Tucker and his staff. According to 247Sports.com, Lewis has 14 scholarship offers. He had CU and Missouri as his finalists.
"I really like their coaches," Lewis told BuffZone.com about his decision to play at CU. "Coach Tuck, he has a great staff with him. The reason I chose them over Mizzou is my opportunity to play early and just start early. I really like the coaches and players, and I love Boulder; it's beautiful and a nice campus. The education is nice, too. I just feel like it's the right fit and I can be successful there.
"I feel like it was the right place, so I didn't want to wait."
—
From BuffStampede.com (247 Sports) … Lewis tested well at The Opening Dallas regional camp in early March, when he measured 6-foot-2, 209 pounds and ran a verified 4.78-second 40-yard dash and 4.32-second pro agility. He also added a 35.8-inch vertical leap. His testing score of 100.59 was the sixth-highest rating of the 48 quarterbacks who competed at the event.
That athleticism manifests on the field in Lewis' ability to extend plays or gain yardage on designed runs. He owns good size and is built thickly, so he's a strong runner who can take on defensive backs 1-on-1 when he gets loose. His running ability also allows him to throw on the run, and he drives the ball well to the perimeter when rolling to his right and throwing with his body.
—
From CUSportsNation (Rivals) … Lewis is quietly one of the best quarterbacks in the Lone Star State. Currently ranked a three-star dual-threat, Lewis turned heads at RCS Dallas earlier this spring and he's a prospect who without question has seen his stock rise steadily in recent months.
At 6-foot-3 and a shade over 200 pounds, Lewis has the prototypical size and an athletic build for the position. He has a very strong arm and can tear apart a secondary through intermediate and deep passes with relative ease. Lewis thrives at balancing throws with zip and touch on them and is a very accurate passer both in the pocket and on the move.
Lewis plays with notable confidence. He calmly stands in the pocket and navigates the field, usually making the right reads and finding the open receiver. While he's listed as a dual-threat and certainly can make plays with his legs, he's a pass-first quarterback that exercises his mobility when plays break down or to extend his time outside of the pocket to make throws downfield.
–
—–
May 10th
... CU in a few minutes … 
Coach Tucker's impact: "Either get down with the program … or you're just going to be having to sit on the bench"
From the Daily Camera … Coming to Boulder as a graduate transfer in January, tight end Jalen Harris had a fresh perspective on the Colorado football program.
A senior who played the previous four years at Auburn, Harris doesn't know what the program was like under previous head coach Mike MacIntyre, but he does know that it's a much different program now than it was just a few months ago.
"It's a complete change (from January)," said Harris, who helped Auburn go 33-20 with four bowl appearances the past four seasons. "When I first got here, it was all over the place as far as winter workouts and training. We were starting things over."
First-year head coach Mel Tucker has been on the job for only five months, and around the players for only about four months, but there's little question that his no-nonsense, no excuses message has been driven into the players.
"I think it has been," Harris said, "and if hasn't yet, it will be before the season starts. Once everyone is locked in, we're going to be a hard team to beat."
Tucker's two decades in coaching has included several stops in college and the NFL. After a decade in the NFL, he returned to the college game as the defensive coordinator at Alabama in 2015. He then spent the past three years as the defensive coordinator at Georgia.
In the four years he's been back in college football, Tucker's teams have gone 46-11, won a national title (Alabama in 2015) and played for another (Georgia in 2017).
… Continue reading story here …
–
—–
May 9th
… CU in a few minutes … 
CU Sports Information Department receives FWAA "Super 11" designation (again!)
From CUBuffs.com … Colorado's Sports Information Department has once again earned designation as one of the nation's best, earning "Super 11" recognition by the Football Writers Association of America.
It is the sixth time since 2009 and the fifth time in the last six years CU has earned the honor.  The FWAA announced its annual awards for the 2018 season earlier this week. Only one other Pac-12 school, Arizona State, also made the list.
"These 11 sports information departments have done an outstanding job of not just fulfilling the needs of media members, but of understanding the importance of strong working relationships between programs and the reporters who cover them," 2019 FWAA President Matt Fortuna said.
With its sixth designation, Colorado continued to be in a select group as one of several consistent Super 11 designees.  Clemson and Nebraska also won for the sixth time, with Clemson picking up its fourth straight award. Pittsburgh earned its fourth award, Navy won for a third time and Iowa State and Mississippi State each claimed their second honors.
First-time recipients for the award, which began in 2009, were Arizona State, Miami (Fla.), UAB and Wisconsin.
Criteria employed in determining the winners not only included how press boxes and media operations were operated, but also the quality and timeliness of information provided.  Also judged was the amount of information presented and appropriately updated on websites, and personal responsiveness to media inquiries as well as the accessibility of a program's players, coaches and assistant coaches.  The ratings considered those departments that went the extra mile in servicing the media.
Colorado Associate AD/Sports Information Director David Plati, who was recognized earlier this year by the FWAA with its Lifetime Achievement honor, called the award a "total team effort."
"It's truly an honor to win this award again," Plati said.  "As I've said before, this is a total team effort beyond sports information.  Aside from everything we do, we need the cooperation of the coaches and their buy-in of the importance of access, and the support staff who help in a myriad of ways.  That includes having good media parking to our press conference set-up. Finally, the players – we educate them on the do's and don'ts of interviews, they listen and give good answers."
This year's winners were deemed by FWAA observers to have had good accessibility during the week of the game and after the game – with a program's players, coaches and assistant coaches – along with the other listed criteria.
… Continue reading story here …
–
—
CU reports "positive news" on Academic Progress Rate (APR)
From CUBuffs.com … The University of Colorado Academic Progress Rate (APR) report based on information for the four-year period from 2014-15 through 2017-18 released Wednesday by the NCAA, along with those of all other Division I schools, shows that CU once again has positive news for its intercollegiate athletic programs in that time frame.
The four-year APR average of CU athletic programs – 985 out of a possible 1000 – increased by a single point from last year's report and was just one shy of the school's best mark of 986 set two years ago, the highest score since the NCAA's Academic Performance Program was introduced in 2003.  The team average for the latest report came in at 976.
Here are the significant accomplishments that CU student-athletes recorded in the latest NCAA report:
Of CU's 15 programs (the NCAA combines indoor and outdoor track), for the second straight year 11 have averages that exceeded the multiyear national average for their sport;
Overall, 14 squads achieved multiyear scores over 970, including seven of 990 or higher, nine above 985 and all 965 or better (to compete in the 2019-20 postseason, teams must achieve a minimum four-year APR score of 930; that number was selected as the standard as it predicts, on average, a 50 percent graduation rate.  Additionally, teams must earn at least a 930 four-year APR to avoid penalties);
In the two sports most scrutinized, football and men's basketball, both CU squads compare well to their peers. Football's multiyear APR of 965 exceeds the national average for Division I schools for the sixth straight year (the national number this time was 964).  At a 971 multiyear APR, men's basketball exceeds the Division I national average by four points; it is the eighth straight year Tad Boyle's Buffaloes have exceeded the national figure (967 in this report).
"We are once again proud to have an excellent APR report, as it defines the hard work of so many, beginning with our student-athletes and their commitment to academics," CU athletic director Rick George said.  "Our coaches and academic staff members continue to wholly support our mission laid out in our strategic plan, the bottom line of which is creating the proper culture and atmosphere for them to succeed.  The support and dedication provided by our staff in the Herbst Academic Center never waivers – their leadership and counseling is tantamount to efforts by our student-athletes and the end results have been spectacular as evidenced by the first time our overall GPA has exceeded the 3.0 mark."
… Continue reading story here …
–
—–
May 8th
… CU in a few minutes …
Four Buff defenders enter the transfer portal with intention of transferring
From the Daily Camera … At least three Colorado football players have put their names in the NCAA transfer portal.
Cornerback Kevin George and safety L.J. Wallace both announced on Twitter on Wednesday that they are entering the transfer portal with the intention of finding a new program to play for in the future. Walk-on linebacker Jake Yurachek confirmed to BuffZone.com that he is also entering the transfer portal to seek a new opportunity.
247Sports.com reported that defensive lineman Melekiola "Tava" Finau has entered the transfer portal, as well.
Entering the transfer portal gives players the opportunity to explore options at other schools, but players can enter the portal and return to their current school.
George spent two seasons with the Buffaloes, but never appeared in a game on defense. A junior college transfer, George was recruited to CU before the 2017 season after playing one year at Georgia Military College. He redshirted in 2017 and played in 10 games last season, all on special teams. George finished the spring as a backup at cornerback.
Wallace redshirted as a true freshman last season, but did appear in one game, at Arizona, on special teams. He was listed as a backup safety throughout the spring.
Finau also redshirted last season as a true freshman and did not appear in any games. He was one of only five scholarship defensive linemen during the spring and played primarily with the second-team defense at end.
Yurachek came to CU as a preferred walk-on last season as a true freshman. He redshirted, but did appear in one game, against New Hampshire, and made one tackle in four snaps played.
… Continue reading story here …
–
—
CU adds Missouri and Florida to future schedules
Related … Here is a link to CU's future schedules …
From CUBuffs.com … The University of Colorado has added two Southeastern Conference teams, one an old rival dating back to its days in the Big Seven, and a brand new opponent to its future football schedules, CU athletic director Rick George announced Wednesday.
The Buffaloes will renew their rivalry with Missouri, as the two last played in 2010 when both were members of the Big 12 Conference.  The former links on either end of Interstate 70 in the old days have met 75 times in their histories, with Mizzou owning a 41-31-3 lead.  The series will resume in Boulder on Sept. 20, 2025 and again in Columbia on Sept. 7, 2030, the latter in the 40th anniversary year of the infamous "Fifth Down" game in 1990.  The Tigers become the third former conference rival to appear on CU's future schedules, joining Kansas State and Nebraska; the Buffs also faced Oklahoma State in the 2016 Valero Alamo Bowl.
CU and the University of Florida will initiate a home-and-home series for the first time on the gridiron, agreeing to meet in Gainesville on Sept. 9, 2028 and in Boulder on Sept. 8, 2029.  The Buffaloes last played in the state of Florida in 2009, facing off against Florida State in Jacksonville; at present, this would stand to be Florida's first true non-conference road game outside of its state's borders since a trip to Syracuse in 1991.
Colorado has played current SEC schools 97 times, but the bulk are against its two newest members, Missouri (75) and Texas A & M (nine).  The Buffs will travel to Texas A&M in 2020, and last played at an SEC school in 2006,  dropping a 14-13 decision at Georgia which was also the last regular season road trip for Ralphie, CU's live buffalo mascot.
The previous 2021 season opener against Massachusetts has also changed; due to UMass' desire to rearrange some of its non-conference schedules, it will now come to Boulder to open the 2028 season.  In its place will be Northern Colorado, which last visited Boulder in 2017 after the two had not played since 1934.
All contracts for the above have been executed, other than the UNC game; it is in the final stages of being signed and finalized.
In addition, CU officials are working with their counterparts at Colorado State to continue the Rocky Mountain Showdown and is holding dates in 2029 and beyond.
–
—
Video: Joel Klatt observations on CU in 2019
From YouTube, courtesy of RadioHauser:
–
—
Linebacker Jacob Callier ready to make up for "lost season"
From the Daily Camera … In one respect, Jacob Callier made an immediate impact when he joined the Colorado football team in 2017.
After a season spent partially playing in pain before being sent to the sideline, and then the surgical ward, Callier remains eager to show Buffaloes fans so much more.
It basically was a lost season last fall for Callier, who as a freshman a year earlier turned heads with his consistent ability to harass opposing quarterbacks from his outside linebacker position, which in CU's 3-4 defense often serves the function of a traditional defensive end. Callier entered his sophomore season hoping to prove he can play a bigger role than simply being a pass rush specialist, but an injury derailed those goals.
Now healthy, Callier remains focused on proving his all-around worth as a player who can do more than make opposing quarterbacks uncomfortable.
"For sure, this year you'll see me on the field more as an every-down guy," Callier said. "Last year I got hurt, so everybody wasn't really able to see what I could do like that. This year, there's a little saying I've got: 'I can show you guys better than I can tell you.' That's where I'm at."
… Continue reading story here …
–
—–
May 7th
… CU in a few minutes … 
Former Buff Terrance Wheatley working with Prevent Biometrics
From CUBuffs.com … Former Colorado standout Terrence Wheatley played the game at the highest level.
Now he's working to help make the game safer.
Wheatley was a star defensive back for the Buffaloes from 2003-07 before becoming a second-round draft pick of the New England Patriots. After five years in the NFL (including a stint with the Jacksonville Jaguars, where his defensive coordinator was current CU head coach Mel Tucker), he worked for the Dallas Cowboys' front office.
But Wheatley recently began working with Prevent Biometrics, a company that has produced what is considered to be a breakthrough in helping identify and reduce head trauma incidents — a mouthguard that produces real-time data on impacts to the head.
"When you talk about former players, it's very much a brotherhood, a fraternity," Wheatley said recently. "A lot of us do our best to give back to the community and give back to the game. For me, this is another way to help with that. Football has obviously taken a little toll on my body — but it also gave me the opportunity to do some pretty cool things in my life. I think it's only fair to me to help make the game safer for those who want to play the game in the future."
Wheatley earlier this spring stopped by the CU campus for some workouts, where  the Buffs were testing some of the Prevent Biometrics mouthguards.
… Continue reading story here …
–
—
San Jose Mercury News foresees a quarterback battle at CU this fall
Note … This is the kind of wrap-up you see when exposure to a program is largely limited to watching the Spring Game … 
From the San Jose Mercury News … Arizona State was the first Pac-12 team to conclude spring practice, on Feb. 28.
Washington and Colorado were the last Pac-12 teams to conclude spring practice, on April 27.
The two-month gap makes any conference-wide, post-spring assessment — such as what you're about to read — a bit difficult to time.
The Sun Devils are approaching the halfway mark of their five-month offseason, while most teams ended spring sometime in April and are in the early stages of their break.
Nonetheless, we carry on …
Here's the first part of the first installment of the Hotline's post-spring series …
*** Colorado
Spring game wrap: The Buffs had a solid crowd and fine weather for what might have been a rousing success for Mel Tucker, except senior quarterback Steven Montez occasionally looked like sophomore quarterback Steven Montez. He mixed a handful of solid passes with two ugly interceptions. Backup Sam Noyer was the most impressive quarterback on the field … CU needs a tailback, and freshman Jaren Mangham looked the part, plowing over and running past defenders … Laviska Shenault did not participate but should be ready for training camp.
What's next: Based on the spring game, we're now projecting a very real quarterback competition in training camp — unlike the faux versions for other South teams — with Noyer (and Tyler Lytle) pushing Montez in the Buffs' new offense … Progress made on the offensive line will be essential, as well … Colorado conducted more physical practices under Tucker, whose preference is for an SEC-style identity. That, too, should continue into training camp … The more CU can do to alleviate the workload on Shenault, the better chance he has of staying healthy for 12 games. The departure of Travon McMillan (1,000 yards) leaves a void in the backfield. What Jermar Jefferson was for Oregon State last season, Mangham could be for the Buffs next fall.
… Read other Pac-12 South post-spring assessments here …
–
—
Trey Udoffia happy with his move from cornerback to safety
From the Daily Camera … Call it a fortuitous union of opportunity and necessity for the Colorado football team.
Trey Udoffia, to the benefit of the entire defense, has built his body into a form more resembling a safety than a cornerback. While the Buffaloes will go into the fall with question marks dotting the entire defensive secondary, there remains a glaring need for depth at the safety spots.
Making the move from cornerback to safety, Udoffia is ready to shore up the back end of CU's defense. A fourth-year junior in the fall, Udoffia will be one of the most experienced players in the Buffs' defensive backfield when the 2019 season kicks off, but he is coming off his first spring as a full-time safety.
"I'm very happy with the move so far," Udoffia said. "I still have got work to put in, but I'm very happy with where I'm at and I like it a lot. I get to play more with my eyes and not with my back to the ball. And I like playing physical, and I get to make a lot more tackles in the run game. It's a great fit."
… Continue reading story here …
–
—–
May 6th
… CU in a few minutes … 
Introducing 2019 Spring Graduates: Nick Fisher
From CUBuffs.com … A college education consists of far more than the classroom, exams and grades. It includes life experiences, community involvement, leadership and personal growth.
Nick Fisher did his best to experience it all in his time at Colorado.
Fisher, of course, is known to Colorado football fans as a four-year member of the Buffs who played a key role in CU's run to the 2016 Pac-12 South championship, and was a two-year starter and a senior team captain.
But Fisher was also a member of the Boulder Faculty Assembly Intercollegiate Athletics Committee and an active member of the Bolder Buffs Peer Advocacy Program, a group that promotes mental health among student-athletes. He served as a counselor/mentor for a group of high school students in the Crowley Foundation boys2Men Leadership summit, a non-profit organization; was instrumental in helping guest lecturers present seminars on diversity to the CU Athletic Department; and worked closely with a number of other student groups on campus.
That is just a short list of his activities outside football, a sport that required countless hours of his time during his four years at Colorado.
Somehow, he found time for everything.
"Nick is passionate about people and he wants to build communities and help people understand each other," said CU's Medford Moorer, associate director for academics/development with the Athletic Department. "College helped him with that. He came to a realization that the relationships he has built matter and he can use them to better the community and himself. As his time as a student-athlete progressed, he developed and refined that understanding."
… Continue reading story here …
–
—–
May 5th
… CU in a few minutes … 
Brady Russell: "I'm always happy to do my job, but it is fun when your job includes catching the ball"
From the Daily Camera … There was a moment last fall, fleeting yet seemingly pivotal, when it looked as if Colorado actually was making an attempt to rediscover the benefits of having a sure-handed tight end making plays in the middle of the field. And Brady Russell was the reason why.
It's no secret the Buffs' offense under former coach Mike MacIntyre considered tight ends little more than an extension of the running game, an extra blocker whose pass-catching skills would only be considered a bonus if that bonus was actually cashed in once in a while.
Briefly last season, Russell was all too happy to cash in. With the Colorado Buffaloes playing their first of three games without star receiver Laviska Shenault at No. 15 Washington, Russell helped CU fill that void by collecting four receptions for 23 yards as the Buffs put an early scare into the Huskies.
Russell's time in the spotlight was didn't last. The Fort Collins native (and the nephew of former CU star and Denver Broncos director of player personnel Matt Russell) caught just one more pass the rest of the season in MacIntyre's tight end-starved offensive approach. Yet the Buffs' roster configuration at the end of spring practice had Russell as the most experienced among CU's tight end corps, and he isn't the only one in his position group riveted by the prospects of new coach Mel Tucker's vow to utilize tight ends in the passing game more frequently than once every few games.
… Continue reading story here …
–
—–
May 4th
… CU in a few minutes … 
Juwann Winfree: "My goals are not going to be set short just because I went the sixth round"
From the Daily Camera … Despite growing up in a home built on a foundation of faith, Juwann Winfree arrived at the University of Maryland in the fall of a 2014 without much faith of his own.
"I didn't really believe in God," Winfree said this week. "My mom has always been a big believer and my family has always been big believers. I wasn't a big believer."
One of his teammates at Maryland, receiver Stefon Diggs, who is now a star with the Minnesota Vikings, told Winfree, "That's because you haven't gone through anything yet."
Nearly five years later, Winfree's been through a myriad of trials that have changed his life, built his faith in God and taken him to the doorstep of his lifetime dream. On April 27, Winfree, who spent his final three years of college at Colorado, was selected in the sixth round of the NFL Draft – 187th overall – by the Denver Broncos.
"When I got that call, it was crazy," Winfree said. "I was expecting them to say, 'We don't know if we're going to draft you, but (we'll sign you in) free agency.' That's what I was kind of expecting and then they pulled the trigger and it felt real good."
Physically, Winfree has NFL tools, with a 6-foot-1, 210-pound frame, 4.5-second speed in the 40-yard dash and exceptional skills on the field.
He's also had the NFL in his sights for years.
… Continue reading story here …
–
—
Derrion Rakestraw settling in at safety: "I'm probably going to always miss receiver, but I definitely like (safety) better than corner"
From the Daily Camera … In a wide open competition for playing time at safety, Derrion Rakestraw is finally feeling comfortable in his role with the Colorado football team.
Having played receiver and then cornerback during his first two years with the Buffaloes, the Sequoyah (Ga.) High School product is starting to make his mark at safety.
"I'm getting real comfortable with it," Rakestraw said last month after one of the Buffs' final practices of spring drills. "I'm starting to step up as a leader and trying to get everybody lined up and knowing what to do. It's starting to feel natural."
Last season, seniors Nick Fisher and Evan Worthington combined for 21 of the 24 starts at safety. Another senior, Kyle Trego, was a top backup at the position. That trio combined to play more than 80 percent of the snaps at safety, and since all three have graduated, the Buffs have very little experience at the position.
… Continue reading story here …
–
—–
May 2nd
… CU in a few minutes … 
Mark Kennedy era as CU President off to a rocky start 
From WestWord … Yesterday, May 2, after a particularly ugly fight over matters ranging from ideology to fundraising ability, the University of Colorado regents named former hard-right Minnesota Congressman Mark Kennedy the new president of the CU system by a 5-4 margin, with all the board's Republicans supporting him and all the Democrats voting against him.
The CU communications staff responded with messaging, including a video from Kennedy on view below, that is clearly intended to put nastiness in the rear-view mirror. Meanwhile, those who opposed his appointment are promising vigilance, including Joanne Addison, who is both an English professor at the University of Colorado Denver and head of CU's Faculty Council, which issued a devastating report about Kennedy's candidacy.
Corresponding via email, Addison writes, "Kennedy made quite a few promises and we expect him to keep them."
Also weighing in is Julie Carr, an associate professor and director of graduate studies in CU Boulder's English department who was part of a team that wrote an "Open Letter to the Regents of the University of Colorado" critical of Kennedy. She shared her observations about the hire in an essay on view below.
Meanwhile, Deep Badhesha, a CU Boulder law student who was one of the driving forces behind the opposition campaign, argues that Democratic regents, knowing Republicans had the votes to win, did their best to mitigate the damage by insisting Kennedy be given a relatively short, three-year contract with a salary ($650,000 in year one, $850,000 for each of the next two) that's on the low end for presidents of universities CU's size, albeit considerably larger than the one his retiring predecessor, Bruce Benson, has been hauling in.
By the time the contract is ready for renewal, Badhesha expects that Democrats will hold a majority on the Board of Regents and send Kennedy packing. "By 2022," he says, "he'll hopefully be on his way out after basically looting us for $2 million."
… Continue reading story here …
–
—–