—
Colorado Basketball
—
April 20th
… CU in the Arena … 
Arizona coach Sean Miller won't testify in basketball corruption trial
From the Daily Camera …  Arizona coach Sean Miller and LSU coach Will Wade will not be required to testify in next week's federal basketball corruption trial.
U.S. District Court judge Edgardo Ramos ruled Friday that Miller and Wade were not relevant to the bribery trial that starts Monday.
The two coaches had been subpoenaed in the trial of aspiring agent Christian Dawkins and former amateur coach Merl Code.
The men face bribery and other charges after being accused of funneling money from Adidas to the families of prominent recruits to get them to attended colleges sponsored by the athletic company.
Wade was reinstated from a suspension on Sunday following a Yahoo report about leaked transcripts of an FBI wiretap capturing Wade talking with a person convicted of funneling payments to the families of recruits.
–
—–
April 18th
… CU in the Arena … 
CU hires Arizona State assistant coach to replace Kim English
From the Arizona Republic … Arizona State men's basketball coach Bobby Hurley has an opening on his staff as Anthony Coleman has departed to take a job on Tad Boyle's staff at Pac-12 foe Colorado.
Coleman, 36, had been with Hurley in Tempe the last three seasons, being hired in the spring of 2016. He arrived at ASU after working in marketing for Adidas and was instrumental in the recruiting of freshman Luguentz Dort, who recently declared for the NBA draft.
Coleman was also in the Pac-12 for the 2012-13 season as USC's director of basketball operations.
According to a story in the Los Angeles Times in March of 2018 Coleman was among a number of individuals whose communications were subpoenaed as part of a federal grand jury in New York investigating bribery and corruption in college basketball.
The subpoena requested communications between North Carolina State's athletic department and Coleman, who worked for Adidas at the time, although his link connection to that school is unclear.
Coleman played at Long Beach State from 2003 to 2005, with the two years before that spent at Xavier. Coleman played professionally in Europe for seven years.
… Continue reading story here …
–
—–
April 17th
… CU in the Arena … 
Maddox Daniels signs Letter of Intent – Boyle: "Maddox fits what we need"
From CUBuffs.com … Maddox Daniels has signed a National Letter of Intent to play basketball and continue his education at the University of Colorado, head coach Tad Boyle announced on Wednesday, the first day of the NCAA Regular Signing Period.
Daniels, a 6-foot, 6-inch, 200-pound guard/forward, played the last two seasons at Florida SouthWestern State College, where he helped the Buccaneers to a 60-6 overall record and two NJCAA Division I National Tournament quarterfinal appearances.
As a sophomore in 2018-19, Daniels earned All-Suncoast Conference First Team Honors averaging 13.9 points per game while shooting 43.1 percent from 3-point range. Daniels topped the Buccaneers in minutes played (26.3 mpg) and free throw shooting at 83.3 percent (75-90).
"(Maddox) fits what we need," Boyle said. "He's a big wing that can play multiple positions and guard multiple positions. He's a 3-point shooter, something we need. He has a good work ethic, good discipline and is a good student. He checks a lot of our boxes; we're really excited to have him here."
Daniels started all 33 games in 2018-19 as the Buccaneers finished 30-3, which included an undefeated season in Suncoast Conference play. Florida SouthWestern was ranked No. 1 in the final 2018-19 NJCAA Division I national rankings before ending its season in the national quarterfinals.
… Continue reading story here …
–
—
Pac-12 projections for 2019-20 – CU No. 2 team in the conference
From the San Jose Mercury News …We don't know everything about the makeup of Pac-12 rosters for the 2019-20 season — not even close to everything. But we know far more today than we did a week ago.
In fact, we know just about everything we can know until late May.
The top candidates to enter the NBA Draft have made their decisions. A few aren't returning; many kept their options open and must finalize plans by the end of May.
The projections below are based largely on our best guesses and will be updated in early June. There's a good chance the revisions will be significant.
And to clarify for readers: Under new rules, players can hire agents and still return to school.
1. Washington
Jaylen Nowell isn't currently projected as a first rounder, so we'll assume he returns for his junior season. Combine Nowell with 5-star big man Isaiah Stewart and incoming point guard Quade Green (a Kentucky transfer), and the Huskies would have a fabulous three-man core. Green isn't eligible until the start of conference play, so UW's performance in November and December could be lacking. But once the former 5-star settles in, watch out: UW will have the returning Pac-12 Player of the Year and two young mega-talents, plus complementary pieces like guard Nazhiah Carter. The Huskies should be the best team in the conference when it matters most.
2. Colorado
In contrast to the chaos elsewhere, the Buffaloes appear headed for a stable spring. All the key players are expected back for a program that was one of the hottest in the conference in the final month. McKinley Wright is one of the Pac-12's top points guards and Tyler Bey one of the best big men. (And we know players improve from November to March under Tad Boyle.) If you're looking for a comp for CU in 2020, consider Washington in '19: The Huskies used all their returning production and experience as a catapult to the regular-season title. The Buffs just might do the same.
–
—
Rick Barnes would have left Tennessee for UCLA if the buyout had been paid
From CBS Sports … If a college coach flirts with another job but ultimately stays put, a typical explanation for doing so usually toes the company line. Maybe it's because they've got roots in the town they're coaching in. Or, perhaps, they love the culture they've created at their program. Why would they leave such a good situation?
After all, college coaches not only have to deal with PR from such an instance from fans and boosters, but also from prospective recruits who see everything discussed on social media in 2019.
So when Tennessee coach Rick Barnes flirted with UCLA in a public way in recent weeks before the Bruins hired Cincinnati coach Mick Cronin, one would expect Barnes, as one does, to toe said company line. Coach-speak the flirtation, downplay it, talk up the Vols and his excitement for the future in Knoxville, Tennessee.
Nope!
One of the first mentions on the topic in a meeting with the media on Tuesday was about UCLA and Barnes said the biggest reason he remained at Tennessee was… his buyout.
… Continue reading story here …
–
—-
April 16th
… CU in the Arena …
Brian Bennett – Advice to Tyler Bey and McKinley Wright: Stay in School
From the San Jose Mercury News …Now that the college basketball season is officially over, we can start looking ahead to next year. But before we can make any decent forecasts on the Pac-12's fortunes for 2019-20, we have to know which players are coming back to campus.
Unlike the past few years, the league has no surefire top-five NBA Draft picks and possibly no high Lottery selections. Several players who may bolt would be fringe first-rounders at best and undrafted at worst.
Here at the Hotline, we harbor no ill will toward anyone who wants to chase their professional dreams.
Going back to school is not always the best choice for everyone. Sometimes, being able to work nonstop on your game, even if it means drawing a small paycheck and toiling in the G-League, is better for your development.
The deadline for underclassmen to declare for the draft is April 21, and they can withdraw up until May 29. A new rule this year allows players to hire agents and still return to school if they terminate the agent's contract by the May deadline or go undrafted.
Pac-12 players who have declared for the draft and appear intent on staying in include Oregon's Bol Bol, UCLA's Kris Wilkes and Jaylen Hands, and Arizona State's Luguentz Dort.
Several others will face some tough decisions on whether to stay, go or simply test the waters.
Luckily, the Hotline is here with some sage advice. Let's take a look at some of the top Pac-12 draft candidates in alphabetical order and offer our opinions:
***** Tyler Bey, Colorado
Assessment: Bey really came on strong down the stretch and was a  rebounding machine for the Buffaloes. He finished second nationally in defensive rebounding rate (32.8) while recording 23 games with double-digit boards. With a long wing span, the 6-foot-7 sophomore could be a perfect 3-and-D-type at the next level – if he can get the 3 part down. Bey shot just 22 three-pointers all season and only made five. He could be a strong NBA role player right now, but with a little more work on his shot, he could develop into a late first-rounder.
Verdict: Stay in school
***** McKinley Wright IV, Colorado
Assessment: No one can question Wright's toughness. He played most of his sophomore season with a torn ligament in his shoulder that will require offseason shoulder. That injury also meant that Wright couldn't show scouts what he's fully capable of, and it will limit his ability to work out for teams ahead of the draft. If he left now, he'd be doing so at the low ebb of his stock. On the other hand, he might not want to risk suffering another injury in college. If he and Bey do return to Boulder, the Buffs could have the makings of something special next season.
Verdict: Stay in school
… Read full list of players and assessments here …
–
—–
April 10th
… CU in the Arena … 
Assistant coach Kim English leaves for Tennessee
From the Daily Camera … The first offseason shakeup of the Colorado men's basketball team has officially gone down, and it wasn't the expected transfer of junior guard Deleon Brown.
On Wednesday, Buffaloes head coach Tad Boyle confirmed that assistant Kim English, a member of CU's staff the past two seasons, is leaving Boulder for a similar post on Rick Barnes' staff at the University of Tennessee.
In Knoxville, English will replace Rob Lanier, who left the Volunteers to become the head coach at Georgia State. Tennessee is coming off a 31-6 season in which it finished second in the SEC and reached the league title game before losing to Purdue in the Sweet 16 of the NCAA Tournament.
With a two-year old daughter and another baby on the way for English, Boyle described the move as more of a personal one than professional one, as English will be just a few hours from his wife's family and hometown.
"It was a very emotional meeting when he told the guys," Boyle said. "He loves our team and our team loves him. It's a four-hour and change drive for his wife and her family. They're getting ready to have their second baby. He has a lot of things tugging at him outside of basketball. I don't think this was a basketball decision for coach English. I think it was a family decision. The players understand that. I understand that. It doesn't make it any easier. We love him and he was great for our program."
… Continue reading story here …
–
—–
April 9th
… CU in the Arena … 
UCLA settles on Cincinnati head coach Mick Cronin
From CBS Sports … UCLA's coaching search has mercifully come to an end.
After a messy and bungled search that saw Kentucky's John Calipari, TCU's Jamie Dixon, and Tennessee's Rick Barnes draw interest but ultimately stay put, the school announced it has hired Cincinnati coach Mick Cronin. The news was first reported by CBS Sports' Jon Rothstein.
Cronin was a name constantly brought up in the search, and with buzz of Barnes leaving the Vols for Westwood dying on Sunday, the search shifted back to Cronin.
Cronin has won at a high level during his tenure at Cincinnati, and while his lack of NCAA Tournament success over the years may be a sticking point — he has never made an Elite Eight and only once made a Sweet 16 — he's highly regarded as a tough-nosed coach and brilliant basketball mind. At Cincy, he has also done more with less; he could do a whole lot more with the talent at his disposal in Westwood.
Cronin has a 296-147 overall record at Cincinnati since he took over the program in 2006 and has made nine consecutive NCAA Tournament appearances.
–
—–
April 7th
… CU in the Arena … 
CBS: "UCLA is conducting the dumbest coaching search it could possibly conduct"
From CBS Sports … Early last week, right after The Athletic reported that UCLA had offered Kentucky's John Calipari a six-year contract worth $48 million, a lot of us who write and talk about college basketball for a living spent a few minutes laughingbecause, well, because it was hilarious. I mean, how delusional do you have to be to think you could get a coach to leave his great job for your inferior job by offering less money than he currently makes to live in a market where the cost of living is drastically higher?
Such a weird pursuit. Such a waste of time.
So we all got our jokes off — mostly via Twitter. Meantime, a man named Michael Hanna, who writes for GoJoeBruin.com, was in those same Twitter streets challenging every national media member who dared mock UCLA and its nonsensical coaching search. From his perspective, this was a classic case of the national media just not understanding what the locals understood. We were all misguided, at best, biased or dumb, at worst. So you can imagine the smile on my face when I saw the following tweet this weekend.
In other words, the same diehards who were rationalizing UCLA's confusing search a week ago have now turned on the people running, or working on behalf of, the UCLA athletic department they love. And, honestly, who could blame them? UCLA fired Steve Alford on New Year's Eve and has spent the past three months doing little more than pursuing John Calipari and a bunch of other high-profile coaches who had no real interest in the job. Eventually, school officials figured out what everybody else already knew — i.e., that no great coach with a great job in a great league wants to work at UCLA, where expectations are way out of whack and the hot seat is always just around the corner — and began focusing on a second tier of candidates headlined by TCU's Jamie Dixon. And that's when things really got stupid.
… Continue reading story here …
–
—–
April 5th
USA Today: UCLA – "Everyone wants it to be Kentucky or Duke and it's just not"
From USA Today … There was a time not very long ago in UCLA basketball history that a coach who had been to three Final Fours was run out of town. It wasn't so much that Ben Howland hadn't done the job well — seven NCAA tournament appearances in 10 years and seven first-round NBA draft picks said otherwise — but he certainly didn't represent what UCLA romantics thought their basketball program should be.
Personally awkward and defense-focused, Howland was stylistically miscast in a town that has long preferred a plastic smile to the wrinkles and fine lines that come with fading beauty. When a few cracks in Howland's program started to form, firing him was easy.
But even Hollywood's best cosmetic surgeons wouldn't be able to erase the marks of stress that have formed over UCLA's last few decades.
It says a lot about where the program of John Wooden now stands in the college sports landscape that once UCLA's three-month-old coaching search finally got serious this week after a laughable attempt to lure John Calipari, it turned its focus away from superstar names that were never coming and instead moved on to coaches who would do well to produce a Howland-era encore.
Multiple reports have placed TCU's Jamie Dixon — a literal Howland disciple without as impressive a résumé — as UCLA's current preference, assuming a multi-million dollar buyout of his contract can be navigated. If UCLA can't nail down Dixon, the Los Angeles Times reported Cincinnati's Mick Cronin — another coach who lacks flash both stylistically and in his accomplishments — would likely be next in line.
In a rational environment, either Dixon or Cronin would be a reasonable hire and certainly an upgrade over the eternally mediocre Steve Alford. While Pittsburgh fans may have grown weary of Dixon's earlier-than-expected March exits, he significantly out-performed the program's history in a very tough Big East and needed just two seasons to lift TCU to its first NCAA tournament in 20 years. Likewise, Cronin hasn't often advanced deep in the tournament but has found a way to make it in for nine straight years at a school that doesn't attract many elite prospects.
… Continue reading story here …
–
—
Neill Woelk: What to Expect from 2019-2020 Buffs
From CUBuffs.com …  There is no doubt where Colorado coach Tad Boyle expects his team to be a year from now when the 2020 postseason rolls around.
Boyle has made it clear he believes his Buffaloes should be playing in the NCAA Tournament next March.
It's a legitimate expectation with which Colorado fans no doubt agree. Boyle's team went 23-13 this year, including a 10-8 Pac-12 record that was good enough for a tie for fourth in the final standings and a fifth-place seed in the conference tournament. The Buffs had two first-team all-conference selections, played well down the stretch — 12 wins in their last 16 games while advancing to the NIT quarterfinals — and perhaps most importantly, boast a team that is expected to have everyone who finished the year in uniform back for the 2019-20 season.
Overall it was a good season, but one that left Boyle and the Buffs wishing they had another chance at some of the opportunities that slipped away, especially early in the year.
Still, it set the table for what could be breakout year for the program. While Boyle has already led the Buffs to four NCAA Tournament appearances, this is a team that will enter next year toting the expectation of spending more than just one weekend at the NCAA's annual postseason party.
With that in mind, here are five things we learned last year — and five things to look for in 2019-20:
… Continue reading story here …
–
—–
April 3rd
"Is Panic Starting to Set in at UCLA over Hiring of a New Basketball Coach?"
From the BruinsNation … Ben Bolch of the LA Times is reporting that the UCLA Bruins' coaching search is now focusing on Cincinnati's Mick Cronin and TCU's Jamie Dixon "after striking out with a slew of top targets."
Bolch adds: Dixon and Cronin emerged as leading candidates after a bevy of more coveted coaches expressed no interest, were eliminated through the school's vetting process or declined to be interviewed until after the Final Four.
UCLA hopes to have a coach in place within the next week as the field of potential candidates continues to dwindle, a person with knowledge of the situation said.
This is ridiculous. This indicates that the UCLA Athletic Department learned ABSOLUTELY NOTHING from the hiring of Steve Alford.
Why is the athletic department imposing an arbitrary timeline, instead of waiting until after the Final Four to interview Tony Bennett? This is exactly the same thing which happened after the firing of Ben Howland.
Instead of waiting until Wichita State had exited the tournament, UCLA panicked an made an obvious mistake of hiring Steve Alford.
Well, it looks like that's about to happen again. There is absolutely no reason why UCLA cannot wait until Tony Bennett's Virginia Cavaliers to finish playing in the Final Four.
What difference does it make if UCLA doesn't hire a new coach for two or three weeks instead of a week, especially if the difference is hiring a coach who just made it to the Final Four instead of a list of guys who have never made the Final Four?
The answer is simple: It doesn't, and that's why this news is going to upset most Bruin fans.
… Continue reading story here …
–
—–
April 2nd
Report: Buffs add a 6'6″ junior college transfer guard
From the Daily Camera … Maddox Daniels is a southern guy through and through, but a few twists of fate left him playing his senior season of high school basketball in Santa Barbara while living in the Los Angeles area.
Daniels will not be able to make his commitment official until the start of the spring signing period on April 17. He will have two years of eligibility with the Buffs.
During that one-year sojourn, Daniels admits he became intrigued with the possibility of eventually playing basketball in the Pac-12 Conference. What once was a daydream became a reality this week as Daniels, a 6-foot-6 guard from Florida Southwestern junior college in Fort Myers, filled the lone open scholarship at the disposal of Colorado head coach Tad Boyle for the 2019-20 season by pledging a verbal commitment to the Buffaloes at the end of an official visit over the weekend.
"I've always had the Pac-12 on my mind," Daniels said. "When I played basketball my senior year in California, the Pac-12 was always something that was on my mind. I didn't get to go there right after high school, but it eventually happened and it's something that I'm really grateful for, the journey I've been on. I'm definitely looking forward to the challenge, no doubt."
… Continue reading story here …
Here is a link to his stats from the 2018-19 season.
Here is a YouTube video of Daniels in action:
–
—–
April 1st
McKinley Wright undergoes shoulder surgery
Wright's tweet with the picture below: "sko buffs! surgery went great! thanks to the man above"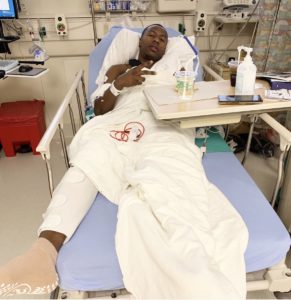 –
–
—–