—
Colorado Basketball
—
July 23rd
… CU in the Arena … 
Sports Illustrated Pac-12 Summer Power rankings: CU No. 1
From Sports Illustrated … As the midpoint of college basketball's offseason approaches, it's time to check in on every major conference. Every team in the country has questions at this point of the summer, some more pressing than others. So in addition to power ranking each league, we'll be asking some burning questions about the conference that won't be answered until tip-off.
Pac-12 Summer Power Rankings
1. Colorado: Surprised? You shouldn't be. While other schools that are expected to contend atop the conference have lots of incoming talent, the Buffs return every major player from a team that was among the Pac-12's hottest to end last season.
2. Arizona: After a catastrophic 2018-19 campaign, Sean Miller has reloaded the roster. Nico Mannion headlines a top-five recruiting class tasked with bringing the Wildcats back to their usual place among the Pac-12's best.
3. Oregon: The Ducks are primed to do damage once again in March. But when Dana Altman has to integrate several new pieces into his system, it often takes a while for them to all gel.
But seriously… why is Colorado in the top spot?
From February on, Colorado won 10 of its 13 games in the Pac-12, with two of those losses coming to first-place Washington. The young Buffs (320th in experience, per KenPom) had turned a corner, and quickly became one of the most frightening teams in the league. Juniors McKinley Wright and Tyler Bey are two of the three first-team All-Pac-12 players back for this campaign (with Oregon State's Tres Tinkle being the other), and each can take over a game by himself. Colorado also has plenty of size, whether it's stretch forward Lucas Siewert or more traditional bigs Evan Battey and Dallas Walton (who missed all of 2018-19 with a torn ACL). Shane Gatling and D'Shawn Schwartz combined for 18.9 ppg last season, and if either guard can emerge as a legitimate third scoring option game in and game out, this will be a tough team to beat.
While other Pac-12 teams have a higher ceiling than the Buffaloes, none can match their floor thanks to a huge advantage in returning production. Arizona or Oregon could be more popular picks to advance further in brackets when March rolls around, but I think Colorado is the safest pick to win the regular season title. Having KenPom's second-highest home-court advantage in all of college basketball certainly helps.
… Continue reading story here …
–
—–
July 22nd
… CU in the Arena … 
Will Wonders Never Cease? CU opens Pac-12 play with three home games in 2019-20
… In case you were wondering, CU has opened conference play on the road the past four seasons … 
From the Pac-12 … The Pac-12 Conference has released the weekly matchups and site designations for the league's 2019-20 men's basketball season.
The announcement reflects the games being played and the home/away designations each week of the Pac-12 regular season. Specific dates and times for each game within a week will be announced later this summer after selections by the league's television partners are finalized. All 108 Conference games will be televised by either Pac-12 Network, ESPN/2/U, FOX/FS1 or CBS.
The weekly matchups and site designations for the 2019-20 regular season have been determined based on the league's current annual 18-game rotation model. The Conference announced this past May that it will transition to a 20-game league schedule beginning with the 2020-21 season.
Week of Jan. 1-5
Arizona State at Arizona
California at Stanford
Oregon/Oregon State at Colorado/Utah
UCLA/USC at Washington/Washington State
Week of Jan. 8-12
Arizona/Arizona State at Oregon/Oregon State
USC at UCLA
Utah at Colorado
Washington/Washington State at California/Stanford
Week of Jan. 15-19
California/Stanford at UCLA/USC
Colorado/Utah at Arizona/Arizona State
Oregon/Oregon State at Washington/Washington State
Week of Jan. 22-26
Arizona at Arizona State
Stanford at California
UCLA/USC at Oregon/Oregon State
Washington/Washington State at Colorado/Utah
Week of Jan. 29-Feb. 2
Arizona/Arizona State at Washington/Washington State
Colorado/Utah at UCLA/USC
Oregon/Oregon State at California/Stanford
Week of Feb. 5-9
California/Stanford at Colorado/Utah
Oregon at Oregon State
UCLA/USC at Arizona/Arizona State
Washington at Washington State
Week of Feb. 12-16
Arizona/Arizona State at California/Stanford
Colorado/Utah at Oregon/Oregon State
Washington/Washington State at UCLA/USC
Week of Feb. 19-23
California/Stanford at Washington/Washington State
Oregon/Oregon State at Arizona/Arizona State
UCLA/USC at Colorado/Utah
Week of Feb. 26-March 1
Arizona/Arizona State at UCLA/USC
Colorado/Utah at California/Stanford
Oregon State at Oregon
Washington State at Washington
Week of March 4-7
(Regular season ends Saturday, March 7)
California/Stanford at Oregon/Oregon State
Colorado at Utah
UCLA at USC
Washington/Washington State at Arizona/Arizona State
–
—–
July 11th
… CU in the Arena … 
Former Buff point guard Nate Tomlinson named CU Director of Player Development
Press release from CUBuffs.com … Former University of Colorado point guard and Pac-12 Conference champion Nate Tomlinson has been named the Buffaloes' Director of Player Development, head coach Tad Boyle announced Thursday.
Tomlinson replaces Sean Kearney who became an associate commissioner with the Atlantic 10 Conference earlier this summer.
"This was a win-win situation," Boyle said. "Sean had a great opportunity to advance his career and move onward and upward, and it created an opening for Nate, who is one of the most passionate and loyal Buffs that I know of. His energy and enthusiasm will help our program get better."
Tomlinson's duties will be similar to those of Kearney, including scheduling of games and serving as a liaison with several constituents including academics and community service. Additionally, his ability to relate to and mentor current and future Buffaloes will be invaluable.
"He will have the opportunity to connect with the players off the court and be a great mentor for them," Boyle said. "As a former player, he can relate to the challenges our players face today; he just went through those relatively recently.
"He was born to coach, and this is the first step in that process. He helped us as a player and now he'll help us in a different capacity."
Tomlinson was a four-year letter winner for the Buffaloes from 2008-12, averaging 5.2 points, 3.1 assists and just under one steal in 129 career games. He helped the Buffaloes claim the inaugural Pac-12 Tournament title in 2012, leading to the program's first NCAA Tournament in nine years.
… Continue reading story here …
–
—–
June 30th
… CU in the Arena … 
CU could go into season with two spots available for 2020 class
From the Daily Camera … Until last fall, Colorado men's basketball coach Tad Boyle had never gone into a season without his full allotment of scholarships filling the Buffaloes' roster.
Chances are it will happen two years in a row, as it appears Boyle will go into his 10th season at CU with 12 scholarship players on the roster and an open spot for 2020 to be determined later.
Matters certainly can change, of course. But with the summer transfer market beginning to wane and the calendar soon changing from June to July, the 2019-20 academic year is just around the corner. Even in the immediate aftermath of a season that ended in the NIT quarterfinals at Texas on March 27, Boyle said that any open scholarships (the Buffs had one then that was filled by junior college guard Maddox Daniels, but had another open with the departure of Deleon Brown) would be utilized with an eye on the 2020-21 season, even if that meant bringing in a traditional transfer during the spring who would have to sit a season.
With the advent of the first annual NCAA evaluation camps later in July, Boyle and his staff, like their counterparts across the country, have been adjusting to a slightly altered summer recruiting routine with several evaluation periods looming in mid-to-late July. For the Buffs, it has been advantageous to do so with a roster and rotation that essentially is set. And it is equally advantageous for Boyle to keep that scholarship in his back pocket for what likely will be a much busier and more intense spring recruiting period for CU's staff in 2020.
… Continue reading story here …
–
—–
June 29th
… CU in the Arena … 
McKinley Wright: "We have to block out the noise and keep focusing on getting better every day"
From CUBuffs.com … Colorado guard McKinley Wright and his teammates are in the midst of what Wright calls "the most important summer we've had since we got here."
The CU junior, who is almost fully recovered from shoulder surgery, isn't exaggerating. After a strong finish last season — and with virtually every contributor back for another year — Colorado is suddenly on everyone's radar. The Buffs will likely be picked to finish in the top three in the Pac-12, and are being mentioned in the conversation when it comes to potential top 25 teams.
That is no surprise. Tad Boyle's Buffs will have two first-team All-Pac-12 players in their lineup in Wright and forward Tyler Bey, as well as seniors Lucas Siewert and Shane Gatling, junior D'Shawn Schwartz and sophomore Evan Battey, all starters who played key roles in Colorado's stretch run last year. Also returning after a year out with an ACL injury is 7-foot sophomore Dallas Walton, along with sophomores Eli Parquet and Daylen Kountz and junior Alex Strating, reserves who also had key contributions last year.
Now, those players are a year older and there is no better teacher than experience. They have been through the battles and that experience should pay off.
But the one thing none of the current Buffs have experienced? The role of the favorite. Nobody will be casting Colorado in the role of the underdog this year. Instead, the Buffs will likely be one of the teams everyone is aiming for, something the Buffs will have to deal with from the very beginning.
"We've talked about that," said Wright, whose role as a team leader has been unquestioned almost since the day he first stepped foot on campus. "We're not going to feed into all the noise. We have all our guys back that played last year. That's good. We know what we're capable of, but we have to block out the noise and keep focusing on getting better every day."
… Continue reading story here …
–
—–
June 26th
… CU in the Arena … 
Andy Katz moves CU up to No. 26 nationally
From NCAA.com … Here's Andy Katz's latest Power 36 rankings post NBA draft. The reason for any movement is listed below.
From the Pac-12 …
22. Washington (24): The Huskies have one of the best freshmen classes in the country. Experience matters, and that's what is holding Washington back from being 15-20 now.
26. Colorado (27): McKinley Wright IV is just cutting down some turnovers away from being a Pac-12 player of the year favorite. He should lead the Buffaloes to the NCAA tournament.
29. Arizona (25): The Wildcats have one of the top recruiting classes in the country and added UC Irvine transfer Max Hazzard, but they are losing incoming freshman Terry Armstrong to professional basketball. The Wildcats have to prove they belong in the top 20 after a disappointing season last season.
In the mix: Creighton, LSU, Florida State, South Carolina, Iowa, Michigan, Minnesota, Cincinnati, Oregon, Arizona State, New Mexico State, Kansas State, Oklahoma, TCU, Syracuse, Vermont, USC, Notre Dame, UConn, Butler, Harvard, Mississippi State, Alabama, Pepperdine.
–
—–
June 19th
… CU in the Arena … 
Dallas Walton back on the court for the Buffs
From CUBuffs.com … Dallas Walton is back on the court.
That in itself is enough to make the Colorado 7-footer smile. The thought of rejoining his Buffs teammates only makes his grin grow larger.
It has been a long journey for Walton, but also a road with which he is very, very familiar.  Now on the way back from his third ACL tear, Walton is expected to be cleared for contact by the end of June. That means he will be able to practice and work out at full speed with his teammates this summer as they prepare for what they hope will be a very memorable 2019-20 season.
Walton is already getting in plenty of work. He is running, jumping and shooting, and can cut and pivot in individual drills. To the casual eye, he showed absolutely no effects of the injury during a Tuesday afternoon workout at the CU Events Center.
But while Walton is eager to take the next step and be cleared to participate in scrimmage situations, he is by no means over-anxious to get there. If history has taught him anything, it is that patience has its rewards.
"If there's one thing I've learned through this whole process with my injuries is that you can't rush anything," Walton said Tuesday in between sessions of CU's summer youth camp. "Things take time. Even though you think you may be ready, sometimes that extra time is really what you need, whether you realize it or not. Me embracing the process has helped immensely this go-round."
Just a year ago, Walton and his teammates were looking forward to what they hoped would be a breakout season. A roster loaded with young but talented players had an eye on springing a surprise on the Pac-12 and proving the preseason prognostications wrong (CU was picked seventh).
… Continue reading story here …
–
—–
June 17th
… CU in the Arena … 
CU adds 31-6 UC-Irvine to non-conference schedule
From the Daily Camera … A nonconference schedule already shaping up to be an interesting one for the Colorado men's basketball team just grew even more challenging. This time, Buffaloes fans will get to see this latest foe firsthand at the CU Events Center.
The latest addition to the 2019-20 nonconference schedule is UC Irvine, which will visit Boulder as part of CU's early home slate. The Anteaters went 31-6 this past season and reached the second round of the NCAA Tournament, upsetting Kansas State in the opening round before losing to Oregon.
The matchup arrives two weeks after the announcement of the Buffs' home-and-home series against Kansas, a likely preseason top-five team CU will visit on Dec. 7 before hosting the Jayhawks in 2020-21. The Buffs' first contest against UC Irvine since Dec. 17, 2005 will be one of CU's two home games as part of the MGM Grand Resorts Main Event, which also will include two games against a pool of three teams — Clemson, TCU, and Wyoming — in Las Vegas.
The UC Irvine date also increases the Buffs' confirmed nonconference opponents to nine out of 12, with the other Main Event home game still to be released and two other dates still pending.
… Continue reading story here …
–
—
NCAA.com – Most Important Players in the Pac-12 (McKinley Wright No. 1)
From NCAA.com … Here are the five players Andy Katz expects to make a lasting impact on their teams in the Pac-12 this season.
1. McKinley Wright IV, 6-0, Jr., Colorado: Wright has been one of the hidden gems for two seasons. The word is out. He's the real deal and should lead the Buffaloes to the NCAA tournament. He averages 13 points a game, nearly five boards and five assists a game. He needs to cut down on turnovers (3.1 a game). But he's a big shot maker and has matured enough to handle the responsibility of delivering a bid.
Others: 
Isaiah Stewart, Washington
Remy Martin, Arizona State
Josh Green, Arizona
Payton Pritchard, Oregon
–
—–
June 15th
… CU in the Arena … 
Team Colorado ready to make one more run at The Basketball Tournament
From the Daily Camera … Last year was supposed to be the final run together for the core group from Team Colorado, the Buffaloes' alumni basketball team that annually takes aim at the $2 million jackpot in The Basketball Tournament.
But after an unexpectedly early exit from last year's tourney, these former Buffaloes decided they didn't want to go out that way. Earlier this week, Team Colorado announced its preliminary roster for this year's competition. And while a number of familiar faces remain, the club boasts a new general manager (Josh Repine), a new head coach (Nate Tomlinson), and a fresh approach in hopes of recapturing the magic that led the former Buffs to the cusp of winning the robust winner-take-all payoff as the tournament runner-up in 2016.
Repine is a former CU walk-on who graduated in 2018 but remains a graduate assistant within the athletic department as he begins classes at the Leeds School of Business. He served as a sort of unofficial intern with Team Colorado last year under former GM (and fellow former CU walk-on) Beau Gamble, but this year Repine has assumed the bulk of the administrative duties.
"After how things kind of ended last year, these guys really wanted to come back and make one more run," Repine said. "So we're kind of in the transition period. We lost some great guys, like Austin Dufault, but that's kind of our transition into the younger (roster). This is the one more year before they hand the baton off or pass the torch."
… Continue reading story here …
–
—–
June 14th
… CU in the Arena … 
Sports Ilustrated: "Five Offseason Sleeper Teams That Could Make Noise in 2019–20"
From Sports Illustrated … With the NBA draft pool set and a slate of transfer decisions made, we now enter the summer with a largely settled crop of rosters throughout the NCAA. The title favorites have been identified with the usual stalwarts at the top, as Michigan State, Kentucky and Duke headline the early list of contenders for the national championship in April 2020.
The clearing picture allowed for SI's updated prospective Top 25 last week, but there are still other teams that deserve an extra look five months before the season opener. Below are the top sleeper teams for 2019–20, including a few potential conference champions.
Not only are Tad Boyle and the Buffaloes capable of winning their first NCAA tournament game since 2012 this season, they could very well claim their first conference title since the Big 8 days in 1969. The Pac-12 remains in flux and Colorado is likely the conference's most stable squad. Entering his 10th season in Boulder, Boyle may have his best team yet.
The Buffs return a pair of First-Team Pac-12 members in 2019–20, swingman Tyler Bey and point guard McKinley Wright IV. Bey is Colorado's premier interior force and could emerge as a potential pro prospect. Wright remains the heart of the Buffaloes offense. The diminutive guard earned All-Freshman honors in 2017–18 and grew his jumper last season, hitting a respectable 36.5% of threes after a 30% mark as a freshman. Wright is an adept shotmaker and a maestro late in the shot clock. Expect continued improvement under Boyle in 2019–20. As the Pac-12 roster churn continues, Colorado's steady nature could lead to the Pac-12 title.
–
—–
June 13th
… CU in the Arena … 
Jon Wilner: Arizona should brace for the worst from the NCAA
From the San Jose Mercury News … The NCAA hammer was officially raised this week when Stan Wilcox, the VP for regulatory affairs, told CBS Sports that six programs are expected to receive notices of allegations this summer for major rules violations stemming from the corruption scandal.
That hit list could very well feature Arizona and USC — both employed assistant coaches who pleaded guilty to federal bribery charges — but almost certainly will include at least one.
Arizona is our betting favorite.
And if you're wondering exactly which NCAA rule former assistants Book Richardson (Arizona) and Tony Bland (USC) might have violated, Bylaw 10.1 is a good place to start.
It defines unethical conduct as including, but not limited to:
"(d) Receipt of benefits by an institutional staff member for facilitating or arranging a meeting between a student athlete and an agent, financial advisor or a representative of an agent or advisor (e.g., "runner")"
Yes, Arizona: The bribes accepted by Richardson constitute grounds for punishment even though there's no evidence the players received a dime and no definitive proof coach Sean Miller paid players or was attempting to pay players or knew anything about Richardson's actions.
That punishment is likely to be severe given the NCAA's practical and political needs at the moment.
After so much talk of reform and the moral high ground staked out by the Rice Commission, NCAA president Mark Emmert cannot let programs go unpunished when there is irrefutable proof of violations.
If Arizona and USC (and others) aren't sanctioned for assistant coaches committing federal bribery, why bother with a rulebook in the first place.
Emmert might as well dismount from the high horse, hand in his sheriff's badge and enter the transfer portal to irrelevance.
… Continue reading story here …
–
—
At least six teams to receive Level I violation notices (including Arizona and USC?)
… Related (?) … "Arizona Basketball: Sean Miller hasn't received a contract extension" … from FanSided …
From CBS Sports … At least six Division I men's basketball programs will receive notices of allegations for Level I violations from the NCAA by the summer, stemming from the federal government's recently completed investigation of the sport, a top NCAA official told CBS Sports.
Stan Wilcox, NCAA vice president for regulatory affairs, said two high-profile programs would receive notices of allegations by early July.
The remaining four would be rolled out later in the summer in what was described as a wave of NCAA investigations meant to clean up major-college basketball.
"There's even another group of cases that we're still working on," Wilcox said. "The main thing is that we're up and ready. We're moving forward and you'll see consequences."
Level I violations are considered the most serious by the NCAA. They carry the strongest punishments that can include scholarship reductions, postseason bans and show-cause orders against coaches. According to the NCAA, a notice of allegations is sent after an investigation has closed.
It has previously been reported that at least Kansas, Arizona and Louisville had been under NCAA investigation.
At least 20 schools were mentioned during the course of the FBI's investigation. Among others were Oklahoma State, USC, Auburn and LSU.
… Continue reading story here …
–
—–
June 11th
… CU in the Arena … 
Team Colorado set for Year Five of The Basketball Tournament
Press release from CUBuffs.com … Team Colorado, a University of Colorado alumni team, will once again participate in The Basketball Tournament (TBT), beginning with the Wichita Regional, July 25-28.
Team Colorado will be the fourth seed in the Wichita Regional and will face fifth-seed Purple & Black, a group of Kansas State alumni, on Friday, July 26 at Koch Arena at 7 p.m. MDT.
The winner of that game will play either Golden Eagles (Marquette alumni) or Fort Hood Wounded Warriors at noon on Saturday, July 27. The championship game of the Wichita Regional will be held on Sunday, July 28 at 1 p.m.
All The Basketball Tournament games are scheduled to be available on ESPN's family of networks including WatchESPN online.
Team Colorado will be coached by former Buffalo and Pac-12 Conference champion point guard Nate Tomlinson (2008-12). Former Buff Josh Repine (2014-18) will serve as general manager.
Nine alumni are currently on Team Colorado's roster with the possibility of more to come. The current roster is:
Chris Copeland (2002-06)
Marcus Hall (2003-08)
Richard Roby (2004-08)
Dominique Coleman (2005-07)
Xavier Silas (2006-08)
Marcus Relphorde (2009-11)
Shannon Sharpe (2010-12)
Carlon Brown (2011-12)
Xavier Talton 2012-16
This will be Team Colorado's fifth appearance in The Tournament, highlighted by a second place finish in 2016. As in years past, Team Colorado will come back to Boulder for a training camp the week before the Wichita Regional in mid July.
Other teams in TBT's Wichita Regional include host AfterShocks (Wichita State alumni), Self Made (Kansas alumni), Iowa United and Sideline Cancer.
The eight regional champions move on to Championship Week in Chicago, Aug. 1-6.
For tickets or more information on Team Colorado and TBT, visit TheTournament.com.
–
—
Sophomores Daylen Kountz and Eli Parquet to take on increased roles in 2019-20
From the Daily Camera …For one, it will be about building on the momentum gathered during an encouraging stretch run. For the other, the hope is a mechanical adjustment will add a little more offense to some steady defense.
As the Colorado men's basketball team goes through summer workouts, Daylen Kountz and Eli Parquet remain youngsters on a Buffaloes roster that expects big success in the 2019-20 season. Yet they are in the midst of the transition from freshmen to sophomores, a year that often reveals the potential locked within a given player. Kountz and Parquet can look to teammate Tyler Bey as a prime example.
Barring injury, Kountz is certain to fill a role for the Buffs next season. Last season, the mid-year loss of guards Namon Wright (foot injury) and Deleon Brown (academics) gave Kountz an expanded opportunity he took advantage of. Parquet was a different story. In more limited minutes than Kountz, Parquet was able to at least take shifts on the floor due to his dogged devotion to defense even while he never got on track offensively.
… Continue reading story here …
–
—–
June 10th
… CU in the Arena … 
Buffs' lone newcomer, SG Maddox Daniels: "I want to make a seamless transition and slide right in"
From the Daily Camera … It never is easy being the new guy on any college basketball team.
There is new terminology to learn. Fresh concepts to absorb. It can be a challenge just to learn the way around campus.
More often than not, these types of newcomers at least have a fellow newbie to share the growing pains with. Not so with new Colorado Buffaloes shooting guard Maddox Daniels.
The newest addition to coach Tad Boyle's program finds himself in a curious situation. Barring the unexpected acquisition of a graduate transfer with the open scholarship still at Boyle's disposal, Daniels will be the only new Buffs player in uniform when the 2019-20 season tips off. Daniels began his first classes at CU this past week, and already he knows will not be easing himself into some low-pressure situation.
The Buffs are harboring lofty goals of an NCAA Tournament berth and a Pac-12 Conference championship — be it during the regular season, the league tournament, or both. More likely than not, the Buffs will require solid contributions from their only newcomer to get there.
… Continue reading story here …
–
—–
June 8th
… CU in the Arena … 
McKinley Wright on the mend two months after surgery
From the Daily Camera … The player who often attacks the basket fearlessly and never is shy about taking a big shot at crunch time was experiencing a rare moment of hesitation.
Colorado point guard McKinley Wright was resigned to his inevitable shoulder surgery when the Buffaloes' season ended March 27 at Texas in the NIT quarterfinals. Still, Wright had never previously experienced a major injury, let alone surgery. And with his pain level having become manageable, it was natural for Wright to wonder if going under the knife was absolutely necessary.
Despite battling the effects of a torn labrum throughout Pac-12 Conference play, by the time Wright hit the finish line his ailing left shoulder was feeling much better. In fact, other than the occasional twinge while rolling over in his sleep, the pain that sidelined Wright for the Buffs' Jan. 20 game at Utah and forced him to the sideline to regroup in several other contests had largely receded.
And so Wright sought fresh advice. From his family and mentors back home in Minnesota. From new CU assistant coach Anthony Coleman. And even from Josh Perkins, the Colorado native and star point guard at Gonzaga who endured a similar procedure a year ago. The feedback was nearly universal: Get the surgery.
On April 1, just five days after recording 11 points and six rebounds in the season-ending loss at Texas, Wright underwent surgery.
… Continue reading story here …
–
—–
June 6th
… CU in the Arena … 
ESPN updated Preseason Top 25 – CU in at No. 22
From ESPN … The big picture of the 2019-20 college basketball season has become much clearer as we head into summer, with the NBA draft early-entry withdrawal deadline and the late signing period both in the rearview mirror. Since we last updated, eight of the 10 remaining ESPN 100 prospects committed to a school, as did a large number of graduate transfers — meaning there were some big changes in the top 10 and toward the back-end of the rankings.
There are still some decisions remaining that will impact potential rankings, of course, and there's always a couple of wild-card reclassifications to watch in July and August. So no, it's not a finished product just yet.
With the landscape far more settled than it was in early May, here's the updated Way-Too-Early Preseason Top 25 (and it might be not be too early anymore):
15. Arizona Wildcats
Previous: 13
After an uncharacteristic year in which the Wildcats missed the NCAA tournament, there should be no issue getting back to the dance for Sean Miller's club next season. Much of the reason for optimism centers around a top-five recruiting class led by top-10 guards Josh Green and Nico Mannion, who played together on the AAU circuit and will both start immediately next season in Tucson. UC Irvine grad transfer Max Hazzard brings shooting, and Brandon Williams returns as a starter in the backcourt. Chase Jeter and top-50 recruit Zeke Nnaji will anchor the interior. This is your Pac-12 favorite.
21. Washington Huskies
Previous: 17
Washington is going to be an interesting team to watch next season. There are plenty of expectations for the Huskies, with the additions of Kentucky transfer Quade Green and top-10 recruits Jaden McDaniels and Isaiah Stewart. But Mike Hopkins' team does lose four starters from last season, including Pac-12 Player of the Year Jaylen Nowell and the best defender in the country in Matisse Thybulle. Hopkins has won 48 games in two seasons at Washington and he probably has his most talent on next season's roster; will that translate to another Pac-12 title for the Huskies?
22. Colorado Buffaloes 
Previous: next in line
Arizona and Washington both have more high-end talent than Colorado, but the Buffaloes finished last season winning eight of their final 10 regular-season games — and now they bring back all five starters and everyone who played a key role in Pac-12 play. There's a good chance they're the best team in the league for the first couple months of the season, if not longer. McKinley Wright is one of the best guards in the league, while Tyler Bey is vastly underrated on a national level. Tad Boyle hasn't been to the NCAA tournament since 2016, but that drought should end next season.
25. USC Trojans 
Previous: next in line
There was some roster attrition for the Trojans after a subpar season, but they're optimistic thanks to a deep incoming class. It's led by five-star frontcourt prospects Isaiah Mobley and Onyeka Okongwu, and four-star Max Agbonkpolo might have the highest ceiling of them all. Then there's grad transfers Quinton Adlesh (Columbia) and Daniel Utomi (Akron), both of whom can really shoot it. Jonah Mathews and double-double machine Nick Rakocevic are also returning starters. Talent hasn't been an issue the last couple seasons for the Trojans, so Andy Enfield will have to make sure this team lives up to expectations.
Dropped out:
Michigan (previous: No. 5)
Oregon (previous No. 15)
Houston (previous: No. 19)
Tennessee (previous: No. 25)
–
—–
June 5th
… CU in the Arena … 
NCAA approves moving three-point line to international distance of 22 feet
… Related … "CU Buffs' Tad Boyle feels new 3-point line could create more space" … from the Daily Camera
From the NCAA … The NCAA Playing Rules Oversight Panel approved moving the 3-point line to the international basketball distance of 22 feet, 1¾ inches in men's basketball.
The rule will be effective for the 2019-20 season in Division I. Due to the potential financial impact of placing a new line on courts, the new 3-point line will go into effect for the 2020-21 season in Divisions II and III.
Men's Basketball Rules Committee members recommended the change after receiving positive feedback from the annual rules survey from coaches whose teams competed in the 2018 and 2019 National Invitation Tournament, where the international 3-point distance was used on an experimental basis.
The committee cited the following rationale for extending the line:
Making the lane more available for dribble/drive plays from the perimeter.
Slowing the trend of the 3-point shot becoming too prevalent in men's college basketball by making the shot a bit more    challenging, while at the same time keeping the shot an integral part of the game.
Assisting in offensive spacing by requiring the defense to cover more of the court.
Teams in the 2019 NIT averaged 23.1 field goal attempts in the tournament from behind the arc, compared with 22.8 3-point attempts in the 2018-19 regular season. The 3-point shooting percentage of teams in the 2019 NIT was 33%, compared with their regular season average of 35.2%.
… Continue reading story here …
–
—–
June 4th
… CU in the Arena … 
Jon Wilner revised Pac-12 picks: CU moves into No. 1 spot
From the San Jose Mercury News … Before we go team-by-team, let's take it bucket-by-bucket:
Broadly speaking, should the Pac-12 expect an uptick in performance?
Will the number of teams showing year-over-year improvement in 2019-20 exceed the number of teams showing year-over-year decline?
Will the conference send more than three teams to the NCAAs? And will it produce a team seeded higher than, ahem, ninth?
Our buckets of better and worse for the regular season:
* Indisputably better: Colorado and Arizona
* Uptick likely: USC
* More of the same: Cal, Stanford, Washington State, UCLA
* Regression likely: Arizona State, Utah, Oregon State, Washington.
 Decidedly worse: Oregon.
The scale, it seems, tilts in the wrong direction.
Here we go (with the Hotline's mid-April projections) …
1. Colorado (previous: 2): The Buffaloes were one of the hottest teams in the Pac-12 at the close of 2018-19 and have more experience — and fewer unknowns — than any team entering 2019-20. All the rotation players are back, including the best lead guard in the conference (McKinley Wright), one of the best frontcourt players (Tyler Bey) and a proven cast of contributors. And don't forget, 7-footer Dallas Walton returns from injury. CU might not ooze 4- and 5-star recruits or be the last Pac-12 team standing in the NCAAs, but the Buffs are best equipped to survive the regular-season grind.
2. Washington
3. Arizona
4. USC
–
—
McKinley Wright on list of contenders for Bob Cousy Award (nation's best point guard)
From NCAA.com … Since the 2003-04 season — when Jameer Nelson won the inaugural honor — the Bob Cousy Award has been handed out annually to the best point guard in college basketball. Cousy played at Holy Cross, where he had his number retired and was an All-American, before going on to win six NBA titles with the Boston Celtics.
Ja Morant of Murray State won last year's Cousy Award, making him the first ever player from the Ohio Valley Conference to take the trophy.
But Morant won't be back to defend the award, as he's headed off to the NBA Draft.
Here's a list of 25 players that could be the sport's top point guard in 2019-20.
From the Pac-12 … 
6. Nico Mannion, Fr., Arizona
11. Payton Pritchard, Sr. Oregon
12. McKinley Wright IV, Jr., Colorado
–
—–
June 3rd
CU to play Kansas in a home-and-home the next two seasons
The Daily Camera … Another date has been filled for Colorado basketball's 2019-20 nonconference schedule, and it's one that will test a Buffaloes team with high expectations in the short term while also providing long-term benefits within the Pac-12 Conference's new scheduling guidelines.
Though CU has yet to announce its full, official nonconference schedule, the University of Kansas announced its nonconference schedule on Monday with a date between the Jayhawks and CU set for Dec. 7 at Kansas' Allen Fieldhouse.
It will be the first match of a home-and-home series against KU, with the Jayhawks visiting the CU Events Center in the 2020-21 season.
Once again Kansas is expected to be a unanimous preseason top-10 choice, despite a relatively down year that saw the Jayhawks lose in the second round of the NCAA Tournament while also watching the program's run of 14 consecutive regular-season conference titles come to an end. KU received a couple of bits of good news in recent weeks, with point guard Devon Dotson withdrawing from the NBA draft pool to return for his sophomore season and the NCAA reinstating the eligibility of Silvio De Sousa.
… Continue reading story here …
–
—–
June 2nd
CU makes another list of top teams for 2019-20 season
From Seth Davis at The Athletic … When I published a preseason top 25 the day after the NCAA championship game, we called it my "way too early" ranking. That is an especially apropos title these days, given the chaos that sweeps through the sport in the spring. More than 200 underclassmen submitted their name into the NBA Draft. Nearly 1,000 players entered the transfer portal, either as undergraduates who have to sit out a season or those who have earned their degrees and are thus able to play immediately. Teams and fans love to celebrate March Madness, but nothing compares to the sheer insanity of April and May.
Now, however, most of the dust has settled. Most transfers has selected their next destinations. The remaining top uncommitted high school players have revealed their choices. And at 11:59 p.m. Wednesday, we reached the deadline for players to withdraw from the NBA Draft.
And so your favorite fearless forecaster has once again alighted into your mind space to serve up his precious prescience. The season won't tip off for another 5½ months, but it's never too early to set things in order. Here's how I see things stacking up as we head into the summer.
From the Pac-12 … 
12. Arizona
Previous rank: 15
Departures: Justin Coleman, 5-10 Sr.; Ryan Luther, 6-9 Sr.; Brandon Randolph, 6-6 Soph.
Top returnees: Brandon Williams, 6-2 Soph.; Chase Jeter, 6-10 Sr.
Incoming: Nico Mannion, 6-3 Fr.; Josh Green, 6-6 Fr.; Terry Armstrong, 6-6 Fr.; Zeke Nnaji, 6-11 Fr.; Max Hazzard, 5-10, Sr.; Terry Armstrong, 6-6 Fr.; Christian Koloko, 7-0 Fr.
Here's another program that has had to withstand all sorts of drama over the last year, including having two assistant coaches forced out. Then came the blizzard of headlines about Sean Miller because of revelations during the trial that was part of the federal government's investigation into college basketball. And yet personnel-wise Miller had a fabulous spring. He also added two players in Nnaji and Hazzard (a grad transfer from UC Irvine) who will have an immediate impact. That comes on the heels of a consensus top-five recruiting class. Miller also signed a pretty good undergraduate transfer in Jemarl Baker, a 6-4 guard who came from Kentucky and will be eligible to play in 2020-21.
13. Washington
Previous rank: 22
Departures: Jaylen Nowell, 6-4 Soph.; Noah Dickerson, 6-8 Sr.; David Crisp, 6-0 Sr.; Matisse Thybulle, 6-5 Sr.
Top returnees: Nahziah Carter, 6-6 Jr.; Hameir Wright, 6-9 Jr.
Incoming: Isaiah Stewart, 6-9 Fr.; Quade Green, 6-1 Jr.; RaeQuan Battle, 6-4 Fr.; Jaden McDaniels, 6-9 Fr.; Marcus Tsohonis, 6-3 Fr.
McDaniels' announcement last week that he was committing to Washington gave Mike Hopkins his second top-10 recruit. (Stewart is the other.) That comes on top of landing Green midseason after he transferred from Kentucky. If Nowell had come back, that would have made the Huskies a top-10 team, but even so, this is going to be one loaded (albeit young) roster.
And …
42. Colorado
–
—–
June 1st
Full list of Pac-12 underclassmen who are leaving for the NBA Draft (and who are returning)
From 247 Sports … The underclassman deadline is in the rearview and the NBA has released its official list of early entrants for the 2019 NBA Draft.
The deadline for underclassmen to declare for the draft was April 21 and 233 players submitted their names as early entry candidates, including 175 college players and 58 international players.
Players who did elect to declare early had until the NCAA deadline of May 29 to withdraw from the draft and retain their college eligibility.
Below is a full list of the players who filed for early entry into the 2019 NBA Draft, along with their respective 247Sports Composite recruiting rankings, with college prospects listed first followed by the international players
Players from the Pac-12 who are leaving … 
Bol Bol | C | Fr. | Oregon
247Sports Composite: 4-star | 0.9989 | No. 1 C in 2018
Moses Brown | C | Fr. | UCLA
247Sports Composite: 5-star | 0.9910 | No. 4 C in 2018
Luguentz Dort | SG | Fr. | Arizona State
247Sports Composite: 4-star | 0.9895 | No. 5 SG in 2018
Jaylen Hands | PG | Soph. | UCLA
247Sports Composite: 5-star | 0.9918 | No. 3 PG in 2017
Louis King | SF | Fr. | Oregon
247Sports Composite: 5-star | 0.9929 | No. 5 SF in 2018
Jaylen Nowell | PG | Soph. | Washington
247Sports Composite: 4-star | 0.9717 | No. 13 SG in 2017
KZ Okpala | SF | Soph. | Stanford
247Sports Composite: 4-star | 0.9845 | No. 8 SF in 2017
Kevin Porter Jr. | SG | Fr. | USC
247Sports Composite: 5-star | 0.9907 | No. 4 SG in 201
Brandon Randolph | SG | Soph. | Arizona
247Sports Composite: 4-star | 0.9860 | No. 8 SG in 2017
Kris Wilkes | SF | Soph. | UCLA
247Sports Composite: 5-star | 0.9924 | No. 6 SF in 2017
Kenny Wooten | PF | Soph. | Oregon
247Sports Composite: 4-star | 0.9227 | No. 30 PF in 2017
–
Players from the Pac-12 who are returning … 
CJ Elleby | SF | Fr. | Washington State
247Sports Composite: 3-star | 0.8600 | No. 84 SF in 2018
Jayce Johnson | C | R-Jr. | Utah
247Sports Composite: 4-star | 0.9559 | No. 12 C in 2016
Payton Pritchard | PG | Jr. | Oregon
247Sports Composite: 4-star | 0.9788 | No. 9 PG in 2016
Ethan Thompson | SG | Soph. | Oregon State
247Sports Composite: 4-star | 0.9862 | No. 7 SG in 2017
Donnie Tillman | SF | Soph. | Utah
247Sports Composite: 3-star | 0.8726 | No. 56 PF in 2017
Tres Tinkle | SF | R-Jr. | Oregon State
247Sports Composite: 4-star | 0.9661 | No. 15 SF in 2015
–
—–
May 30th
Andy Katz rates CU men's basketball the No. 27 team in the nation
From NCAA.com … The early-entry deadline is over. Rosters can now be set. And so, too, can a new preseason Power 36. This is a projection of teams that have the goods to be in the field in 2020. Of course, it's not the 36 at-large pool since there will be automatic qualifiers. But this is our list of the Power 36 teams that could potentially be in the next NCAA tournament:
24. Washington: The Huskies took a hit when Jaylen Nowell decided to stay in the NBA draft. But that was the only unknown. Washington has plenty of good news with the eligibility of Quade Green, the transfer from Kentucky, to lead the offense. Nahziah Carter is ready to be a star. And the recruiting class led by Jaden McDaniels and Isaiah Stewart gives the Huskies stars. Washington is my pick to win the Pac-12.
25. Arizona: The Wildcats have a highly-touted recruiting class led by Nico Mannion. The addition of UC Irvine transfer Max Hazzard is a huge add since they desperately needed experience on the wing. If this season is not disrupted by any results of an NCAA investigation then the Wildcats should be in a thick of a race for the Pac-12 title.
27. Colorado: The Buffaloes are my sleeper team to make a break through and get into the NCAA tournament. Colorado has an excellent guard in McKinley Wright IV and a Tyler Bey as a lead scorer. The Buffaloes just need to find consistency and not drop games they shouldn't early in the season.
In the mix: LSU, Florida State, South Carolina, Iowa, Michigan, Minnesota, Cincinnati, South Florida, Oregon, Arizona State, New Mexico State, Kansas State, TCU, Syracuse, Vermont.
–
—–
May 20th
... CU in the Arena … 
Pac-12 raises requirements for non-conference scheduling in order to reduce "cupcake" games
… New rules are central to a larger strategic plan designed to improve the basketball product and send more teams to the NCAA Tournament … 
Press release from the Pac-12 … Following support from the Pac-12 Council and Pac-12 Athletic Directors at their meetings earlier this month, the CEO Group voted to introduce non-Conference scheduling standards to enhance Pac-12 men's basketball non-conference schedules.  This follows approval by the Pac-12 Council of a move to a 20-game Conference men's basketball schedule starting with the 2020-2021 season.
The approved new non-conference scheduling standards include the following elements: (i) a non-Conference five-year trailing average of opponents' NET ranking must be 175 or less, (ii) no participation in road buy games, (iii) no regular season games against non-Division I opponents and (iv) no road games versus a non-conference opponent with a five-year trailing average of 200 NET.
"The Pac-12 is committed to supporting our student-athletes on and off the field of play, and today's decisions support this core mission," said Philip DiStefano, Chair of the Pac-12 CEO Group and Chancellor of the University of Colorado Boulder.  "We are particularly proud of the leadership role that our Conference has played through our Student-Athlete Health and Well-Being Initiative to bolster the existing programs we have on our campuses.  The extension of this initiative and future support of the mental health will benefit student-athletes for many years to come."
"Initiatives focused on enhancing the student-athlete experience and student-athlete well-being have been at the forefront of the Pac-12 mission," said Pac-12 Commissioner Larry Scott.  "Today's decisions reaffirm our commitment to the student-athlete and our efforts to play a leadership role in important areas such as health and well-being."
–
—–
Tad Boyle hoping NCAA oversight committee will approve moving back the three-point line
From the Daily Camera … Colorado men's basketball coach Tad Boyle experienced an interesting viewpoint earlier this spring.
As the head of the NCAA men's basketball rules committee, Boyle enjoyed a front-row seat to some exploratory rules that were in play during the NIT, a competition that saw the Buffaloes reach the quarterfinals before their season ended with a loss at Texas.
Among the experimental rules in play was a longer 3-point line and resetting the shot clock to just 20 seconds following an offensive rebound. Last week, the committee recommended implementing those changes for the 2019-20 season, and on June 5 the Playing Rules Oversight Committee will vote on those proposed changes.
"I think the 3-point line had a lot of different support from a lot of different constituents," Boyle said. "Not only coaches, but administrators and different people that were on the committee. And there's been a lot of data that supported it. The big thing the committee talked about was trying to create more spacing in our game. The bodies are getting bigger and longer and more athletic. A lot of people are packing in the defenses."
… Continue reading story here …
–
—–
May 17th
… CU in the Arena … 
Pac-12 moving to 20-game conference schedule suits Tad Boyle just fine
From the Daily Camera … As the Colorado men's basketball program struggled to put together a competitive nonconference schedule for the 2018-19 season, head coach Tad Boyle started reconsidering the notion of a longer Pac-12 Conference schedule.
Previously, Boyle was satisfied with the way the schedule was pieced together, with 12 nonconference games spread out over November and December allowing his Buffaloes an opportunity to prepare for the 18-game league slate that always tipped off after the holidays.
Soon that format will change. Earlier this month, the Pac-12 announced it will move to a 20-game league schedule for the 2020-21 season. And it is a change Boyle is embracing.
"I'm even more convinced now. At least for Colorado, and I think it's a good thing for our league as well," Boyle said. "I don't think it was a unanimous feeling that it was good for everybody, because I think there's some schools that don't have the difficulty getting the quality games that others do. And we're one of them. A 20-game schedule will be good for Colorado, in my opinion."
… Continue reading story here …
–
—–
May 16th
… CU in the Arena … 
CU and Deleon Brown officially part ways
From the Daily Camera … The writing was on the wall as far back as Nov. 3, when Deleon Brown sat out Colorado's basketball exhibition game against Colorado Mines for what coach Tad Boyle described only as a coach's decision.
It turned out Brown was battling academic woes that eventually cost him his eligibility and put his standing with the program on thin ice. The tenuous partnership finally was dissolved on Thursday, as Boyle announced that Brown will not return to CU for his senior season in 2019-20.
Brown previously had entered the NCAA transfer portal, but Boyle indicated Brown might still have academic work to catch up with before being qualified to transfer. The departure, long rumored but finally official, gives Boyle an open scholarship going into the summer for a team that already has its rotation intact.
"Deleon is not going to be coming back to our program next year," Boyle said. "We wish him all the best in whatever his future holds."
… Continue reading story here …
–
—–
May 10th
… CU in the Arena … 
Buffs picked as No. 4 team in the Pac-12 for 2019-20
From The Athletic … In the best of times, with absolute roster clarity, predicting the order of finish in the Pac-12 is like trying to hit a bull's-eye with a dart. That is, the actual cornea of a wild bull that's bucking all over the place.
Consider that last season, the surprise runaway regular-season champion (Washington) lost in March to one of the worst high-major teams in recent history (Cal). The No. 6 seed in the Pac-12 tournament (Oregon) reached the Sweet 16. Only three teams made the NCAA Tournament; the rest of the league was a muddled mess of mediocrity, to put it kindly.
Now add in some pending NBA Draft decisions that could reshape the conference race, a major culture change at the league's most storied program and a certain federal investigation that could still impact the Pac-12's highest-profile coach.
The good news is that there's a strong influx of talent on the way, as recruiting didn't suffer despite the league's recent malaise. Of course, freshman-fronted teams often create even more volatility.
Are we just stalling now? Possibly. OK, hand us one of those darts, and we'll make our best guess at a way-too-early Pac-12 pecking order.
The early favorite with a major asterisk
1. Arizona
Likely contenders
2. Oregon
3. Washington
4. Colorado
No teams will be affected more by draft decisions than the Huskies and the Ducks.
Oregon is waiting on calls by point guard Payton Pritchard and shot-blocking specialist Kenny Wooten. Of the two, Pritchard seems more likely to return. Dana Altman has a good recruiting class on the way, including five-star forward C.J. Walker and junior college national player of the year Chris Duarte. But the roster looks a little thin and inexperienced right now, which makes Pritchard and Wooten even more important.
Washington holds out a slim hope that reigning Pac-12 player of the year Jaylen Nowell comes back for his junior season. Nowell's stock will probably never be higher, and he recently told the Seattle Times he is "all-in" on the draft. If Nowell does return, Mike Hopkins will have a strong corps with incoming freshman Isaiah Stewart, a physically imposing 6-9, 245-pounder, and Kentucky transfer Quade Green, who'll be eligible at midseason. Losing Nowell means the Huskies would be without five of their top six contributors from this season, including Naismith defensive player of the year Matisse Thybulle.
Colorado is in the opposite situation. The Buffaloes, who were as hot as any team in the league down the stretch, return basically everybody. That includes double-double machine Tyler Bey (who ranked No. 2 nationally in defensive rebounding rate) and point guard McKinley Wright IV, who played most of last season with a torn shoulder ligament. Look no further for your sleeper Pac-12 title pick.
… Continue reading story here …
–
—–
May 6th 
… CU in the Arena … 
Arizona basketball program confirms NCAA investigation is "underway"
… Related … "Rooney: FBI corruption trial provides drama, yet expect status quo for Pac-12 hoops" … from the Daily Camera
… Related (contrary view) … "What's next for Arizona and Sean Miller: In the age of reform, the NCAA hammer looms" … from the San Jose Mercury News
From Tucson.com … An NCAA investigation into the University of Arizona men's basketball program is underway, school officials confirmed to the Star on Friday.
Arizona had not previously confirmed that the program was being investigated. However, Yahoo quoted unnamed sources on Feb. 4 saying that investigations had begun at the UA and other schools.
Less than a month after Book Richardson was arrested and the federal college basketball investigation became public in September 2017, the Star filed a public records request asking for any letter of inquiry or notice of investigation sent by the NCAA.
The UA responded on Feb. 6 of this year, saying there were no such records. It responded again Friday, saying it would not release communication records with the NCAA because "investigations into the University of Arizona men's basketball program are ongoing at this time."
When asked to clarify if the reference to "investigations" included one from the NCAA, university spokesman Chris Sigurdson later said in an email on Friday that "there is an NCAA investigation underway."
–
—–
May 3rd
… CU in the Arena … 
Buffs tabbed as the No. 20 team in the nation in one preseason poll
From NBC Sports …There is so much that is going to happen between now and the time that next season starts that it almost seems foolish to publish a preseason top 25 today.
But we're doing it anyway!
A couple of notes: Who is going to head to the NBA is very much in the air right now. There are still a number of freshmen that have yet to announce where they are playing their college ball. The transfer market has barely heated up. For decisions that are up in the air, you'll see an asterisk next to their name. We're making predictions on what certain players will do and ranking based off of them. 
So with all that said, here is the preseason top 25.
From the Pac-12 … 
No. 11 – Oregon
No. 14 – Arizona
No. 20 – Colorado
WHO'S GONE: Namon Wright
WHO'S BACK: McKinley Wright IV, Tyler Bey, D'shawn Schwartz, Lucas Siewert, Evan Battey, Shane Gatling, Daylen Kountz
WHO'S COMING IN: Maddox Daniels
PROJECTED STARTERS: McKinley Wright IV, Tyler Bey, D'shawn Schwartz, Lucas Siewert, Shane Gatling
–
—–
May 2nd
… CU in the Arena … 
Pac-12 approves a 20-game (up from 18) conference schedule for 2020-21 season
From the Pac-12 … The Pac-12 Conference Council and Athletics Directors Committee, on recommendation from the league's head coaches, approved a change to the format of the men's basketball schedule at its annual spring meetings on Thursday. The men's league schedule will increase to 20 games beginning with the 2020-21 season.
"We continually work with our membership to identify strategic initiatives which can lead to future success in Pac-12 Men's Basketball. We believe moving to a 20-game schedule will lead to more competitive schedules and help our programs and league achieve our goals of enhancing the Pac-12 basketball brand and preparation for postseason play," said Pac-12 Deputy Commissioner and Chief Operating Officer Jamie Zaninovich.
The Council and ADC also voted to approve the head coaches' recommendation to place the two additional Conference contests in the months of November and December with strong preference for weekend dates when students are on campus.
"Strategic scheduling – both conference and non-conference – are critical to the strength and well-being of any league," said Oregon State Vice President and Director of Athletics Scott Barnes, who currently serves as ADC liaison to the Pac-12 Men's Basketball head coaches and was chair of the NCAA Division I Men's Basketball Selection Committee in 2015. "Our Athletics Directors, head coaches and league administrators are all in alignment that an increase to 20 Conference games is the best course of action for our league moving forward."
"Changing to a 20-game Conference schedule will improve the strength of schedule for all 12 teams and that's very important for the overall success of the league," said Oregon head coach Dana Altman, the active Conference leader and 29th in NCAA Division I history with 645 career victories. "It will also be really positive for the fans because each team will get to play 10 Pac-12 games at home."
Further details regarding the transition to the 20-game schedule will be announced at a later date. As part of the Pac-12's new basketball strategic plan, the Conference will be discussing non-conference scheduling standards at its upcoming CEO meeting.
The Conference's current annual rotation model will remain in place for the 2019-20 campaign and feature the following home and road matchups:
Colorado/Utah
Home: CAL, ORE, OSU, STAN, UCLA, USC, COLO/UTAH, WASH, WSU
Road: CAL, ORE, OSU, STAN, UCLA, USC, COLO/UTAH, ARIZ, ASU
–
—–
April 26th
… CU in the Arena … 
CU announces the hiring of Anthony Coleman: "We did our due diligence and we got glowing feedback"
… Related … "Amid Adidas background questions, former ASU assistant Anthony Coleman joins CU basketball" … from the Daily Camera
From the CUBuffs.com … he University of Colorado has added Anthony Coleman as an assistant men's basketball coach, head coach Tad Boyle announced on Friday.
Coleman spent the last three seasons as an assistant coach at Pac-12 Conference rival Arizona State under Bobby Hurley. The Sun Devils advanced to the NCAA Tournament the last two seasons, making back-to-back appearances for the first time since 1980-81.
He helped ASU to a 23-11 overall record in 2018-19, capturing its first NCAA Tournament win since 2009. The Sun Devils placed second in the Pac-12, their best conference finish since placing second in 2009-10. He played a key role in bringing Top 25 prospect Luguentz Dort, the 2018-19 Pac-12 Freshman of the Year, and All-Pac-12 forward and league-leading rebounder Zylan Cheatham to Tempe and had a hand in the development of solid front court players in Romello White and De'Quon Lake.
Coleman replaces Kim English, who left for a similar position at Tennessee earlier this month. He joins a Colorado program that is expected to return its entire roster from the meat of the Pac-12 season while adding several key pieces including 7-foot sophomore Dallas Walton, who sat out 2018-19 with an injury, and junior college wing Maddox Daniels.
"These guys were a tough scout for us (at Arizona State)," Coleman said. "But the more I've gotten to know these guys, they're great young men, well rounded young men. I see why they've had success on the court and I think this year's going to be even better for them."
"We feel very fortunate to get somebody like Anthony Coleman on our staff," Boyle said. "One of the great things about coaching at Colorado is when you lose a good coach like Kim English, we're in a position we can replace him with a good coach like Anthony Coleman. He's going to bring a lot of good things to the table. He knows our league, being at Arizona State the past three years. He has great relationships with the players he coaches. We did our due diligence and we got glowing feedback about Anthony from everyone we talked to."
The addition of Coleman gives the Buffaloes recruiting contact with strong roots in Southern California. A native of Carson, Calif., Coleman starred at West Torrance and Centennial High Schools, graduating from the latter in 2000. He also began his professional coaching career at USC, serving as the player development coordinator and director of basketball operations during the 2012-13 season.
"I've admired coach Boyle from afar," Coleman said. "I've had some pretty good people in my life – basketball mentors, that have said nothing but great things about him. To have the opportunity to come learn from him – I think we have a more similar style. Just trying to get better – I think he's one of the best in the business."
Coleman spent three years as an assistant manager of sports marketing at adidas before returning to the court as a coach with the Sun Devils in the summer of 2016.
"He knows and has recruited the Pac-12 the last three years," Boyle said. "He has relationships all over the country. When it comes to recruiting, he's well thought of. Those he has dealt with have a great respect for him. He played professionally so he can speak to what that lifestyle is like. A lot of our players have those aspirations, and he knows what it takes. He can help educate our players as they look to achieve that level themselves."
… Continue reading story here …
–
—–
April 25th
… CU in the Arena … 
A total of 17 players from the Pac-12 are early-entry NBA candidates – CU one of two schools to come through unscathed 
… Related … " 'Unfinished business' keeping CU basketball's Tyler Bey out of draft pool"… from the Daily Camera
From the San Jose Mercury News … On Tuesday afternoon, two days after the deadline, UCLA announced that center Moses Brown had made himself available for the draft and, according to the L.A. Times, is not expected to return to school.
Then came the reveal of the official list of early-entry candidates, sent from the NBA to its franchises. It included two names that had not been previously reported as draft candidates: Utah big men Jayce Johnson, who had been expected to transfer, and Donnie Tillman.
As with all early-entry candidates, including those that have hired agents, Johnson and Tillman have until May 29 to withdraw.
The Utah duo brings to 17 the total of Pac-12 early-entry declarations. Only two teams, Cal and Colorado, were unscathed, although the Bears' roster has been gutted by transfers.
Arizona
G Brandon Randolph
Arizona State
G Luguentz Dort
Oregon
G Payton Pritchard
F Louis King
F Kenny Wooten
C Bol Bol
Oregon State
G Ethan Thompson
F Tres Tinkle
Stanford
F KZ Okpala
UCLA
G Jaylen Hands
F Kris Wilkes
C Moses Brown
USC
G Kevin Porter
Utah
F Donnie Tillman
C Jayce Johnson
Washington
G Jaylen Nowell
Washington State
F CJ Elleby
–
—–
April 20th
… CU in the Arena … 
Arizona coach Sean Miller won't testify in basketball corruption trial
From the Daily Camera …  Arizona coach Sean Miller and LSU coach Will Wade will not be required to testify in next week's federal basketball corruption trial.
U.S. District Court judge Edgardo Ramos ruled Friday that Miller and Wade were not relevant to the bribery trial that starts Monday.
The two coaches had been subpoenaed in the trial of aspiring agent Christian Dawkins and former amateur coach Merl Code.
The men face bribery and other charges after being accused of funneling money from Adidas to the families of prominent recruits to get them to attended colleges sponsored by the athletic company.
Wade was reinstated from a suspension on Sunday following a Yahoo report about leaked transcripts of an FBI wiretap capturing Wade talking with a person convicted of funneling payments to the families of recruits.
–
—–
April 18th
… CU in the Arena … 
CU hires Arizona State assistant coach to replace Kim English
From the Arizona Republic … Arizona State men's basketball coach Bobby Hurley has an opening on his staff as Anthony Coleman has departed to take a job on Tad Boyle's staff at Pac-12 foe Colorado.
Coleman, 36, had been with Hurley in Tempe the last three seasons, being hired in the spring of 2016. He arrived at ASU after working in marketing for Adidas and was instrumental in the recruiting of freshman Luguentz Dort, who recently declared for the NBA draft.
Coleman was also in the Pac-12 for the 2012-13 season as USC's director of basketball operations.
According to a story in the Los Angeles Times in March of 2018 Coleman was among a number of individuals whose communications were subpoenaed as part of a federal grand jury in New York investigating bribery and corruption in college basketball.
The subpoena requested communications between North Carolina State's athletic department and Coleman, who worked for Adidas at the time, although his link connection to that school is unclear.
Coleman played at Long Beach State from 2003 to 2005, with the two years before that spent at Xavier. Coleman played professionally in Europe for seven years.
… Continue reading story here …
–
—–
April 17th
… CU in the Arena … 
Maddox Daniels signs Letter of Intent – Boyle: "Maddox fits what we need"
From CUBuffs.com … Maddox Daniels has signed a National Letter of Intent to play basketball and continue his education at the University of Colorado, head coach Tad Boyle announced on Wednesday, the first day of the NCAA Regular Signing Period.
Daniels, a 6-foot, 6-inch, 200-pound guard/forward, played the last two seasons at Florida SouthWestern State College, where he helped the Buccaneers to a 60-6 overall record and two NJCAA Division I National Tournament quarterfinal appearances.
As a sophomore in 2018-19, Daniels earned All-Suncoast Conference First Team Honors averaging 13.9 points per game while shooting 43.1 percent from 3-point range. Daniels topped the Buccaneers in minutes played (26.3 mpg) and free throw shooting at 83.3 percent (75-90).
"(Maddox) fits what we need," Boyle said. "He's a big wing that can play multiple positions and guard multiple positions. He's a 3-point shooter, something we need. He has a good work ethic, good discipline and is a good student. He checks a lot of our boxes; we're really excited to have him here."
Daniels started all 33 games in 2018-19 as the Buccaneers finished 30-3, which included an undefeated season in Suncoast Conference play. Florida SouthWestern was ranked No. 1 in the final 2018-19 NJCAA Division I national rankings before ending its season in the national quarterfinals.
… Continue reading story here …
–
—
Pac-12 projections for 2019-20 – CU No. 2 team in the conference
From the San Jose Mercury News …We don't know everything about the makeup of Pac-12 rosters for the 2019-20 season — not even close to everything. But we know far more today than we did a week ago.
In fact, we know just about everything we can know until late May.
The top candidates to enter the NBA Draft have made their decisions. A few aren't returning; many kept their options open and must finalize plans by the end of May.
The projections below are based largely on our best guesses and will be updated in early June. There's a good chance the revisions will be significant.
And to clarify for readers: Under new rules, players can hire agents and still return to school.
1. Washington
Jaylen Nowell isn't currently projected as a first rounder, so we'll assume he returns for his junior season. Combine Nowell with 5-star big man Isaiah Stewart and incoming point guard Quade Green (a Kentucky transfer), and the Huskies would have a fabulous three-man core. Green isn't eligible until the start of conference play, so UW's performance in November and December could be lacking. But once the former 5-star settles in, watch out: UW will have the returning Pac-12 Player of the Year and two young mega-talents, plus complementary pieces like guard Nazhiah Carter. The Huskies should be the best team in the conference when it matters most.
2. Colorado
In contrast to the chaos elsewhere, the Buffaloes appear headed for a stable spring. All the key players are expected back for a program that was one of the hottest in the conference in the final month. McKinley Wright is one of the Pac-12's top points guards and Tyler Bey one of the best big men. (And we know players improve from November to March under Tad Boyle.) If you're looking for a comp for CU in 2020, consider Washington in '19: The Huskies used all their returning production and experience as a catapult to the regular-season title. The Buffs just might do the same.
–
—
Rick Barnes would have left Tennessee for UCLA if the buyout had been paid
From CBS Sports … If a college coach flirts with another job but ultimately stays put, a typical explanation for doing so usually toes the company line. Maybe it's because they've got roots in the town they're coaching in. Or, perhaps, they love the culture they've created at their program. Why would they leave such a good situation?
After all, college coaches not only have to deal with PR from such an instance from fans and boosters, but also from prospective recruits who see everything discussed on social media in 2019.
So when Tennessee coach Rick Barnes flirted with UCLA in a public way in recent weeks before the Bruins hired Cincinnati coach Mick Cronin, one would expect Barnes, as one does, to toe said company line. Coach-speak the flirtation, downplay it, talk up the Vols and his excitement for the future in Knoxville, Tennessee.
Nope!
One of the first mentions on the topic in a meeting with the media on Tuesday was about UCLA and Barnes said the biggest reason he remained at Tennessee was… his buyout.
… Continue reading story here …
–
—-
April 16th
… CU in the Arena …
Brian Bennett – Advice to Tyler Bey and McKinley Wright: Stay in School
From the San Jose Mercury News …Now that the college basketball season is officially over, we can start looking ahead to next year. But before we can make any decent forecasts on the Pac-12's fortunes for 2019-20, we have to know which players are coming back to campus.
Unlike the past few years, the league has no surefire top-five NBA Draft picks and possibly no high Lottery selections. Several players who may bolt would be fringe first-rounders at best and undrafted at worst.
Here at the Hotline, we harbor no ill will toward anyone who wants to chase their professional dreams.
Going back to school is not always the best choice for everyone. Sometimes, being able to work nonstop on your game, even if it means drawing a small paycheck and toiling in the G-League, is better for your development.
The deadline for underclassmen to declare for the draft is April 21, and they can withdraw up until May 29. A new rule this year allows players to hire agents and still return to school if they terminate the agent's contract by the May deadline or go undrafted.
Pac-12 players who have declared for the draft and appear intent on staying in include Oregon's Bol Bol, UCLA's Kris Wilkes and Jaylen Hands, and Arizona State's Luguentz Dort.
Several others will face some tough decisions on whether to stay, go or simply test the waters.
Luckily, the Hotline is here with some sage advice. Let's take a look at some of the top Pac-12 draft candidates in alphabetical order and offer our opinions:
***** Tyler Bey, Colorado
Assessment: Bey really came on strong down the stretch and was a  rebounding machine for the Buffaloes. He finished second nationally in defensive rebounding rate (32.8) while recording 23 games with double-digit boards. With a long wing span, the 6-foot-7 sophomore could be a perfect 3-and-D-type at the next level – if he can get the 3 part down. Bey shot just 22 three-pointers all season and only made five. He could be a strong NBA role player right now, but with a little more work on his shot, he could develop into a late first-rounder.
Verdict: Stay in school
***** McKinley Wright IV, Colorado
Assessment: No one can question Wright's toughness. He played most of his sophomore season with a torn ligament in his shoulder that will require offseason shoulder. That injury also meant that Wright couldn't show scouts what he's fully capable of, and it will limit his ability to work out for teams ahead of the draft. If he left now, he'd be doing so at the low ebb of his stock. On the other hand, he might not want to risk suffering another injury in college. If he and Bey do return to Boulder, the Buffs could have the makings of something special next season.
Verdict: Stay in school
… Read full list of players and assessments here …
–
—–
April 10th
… CU in the Arena … 
Assistant coach Kim English leaves for Tennessee
From the Daily Camera … The first offseason shakeup of the Colorado men's basketball team has officially gone down, and it wasn't the expected transfer of junior guard Deleon Brown.
On Wednesday, Buffaloes head coach Tad Boyle confirmed that assistant Kim English, a member of CU's staff the past two seasons, is leaving Boulder for a similar post on Rick Barnes' staff at the University of Tennessee.
In Knoxville, English will replace Rob Lanier, who left the Volunteers to become the head coach at Georgia State. Tennessee is coming off a 31-6 season in which it finished second in the SEC and reached the league title game before losing to Purdue in the Sweet 16 of the NCAA Tournament.
With a two-year old daughter and another baby on the way for English, Boyle described the move as more of a personal one than professional one, as English will be just a few hours from his wife's family and hometown.
"It was a very emotional meeting when he told the guys," Boyle said. "He loves our team and our team loves him. It's a four-hour and change drive for his wife and her family. They're getting ready to have their second baby. He has a lot of things tugging at him outside of basketball. I don't think this was a basketball decision for coach English. I think it was a family decision. The players understand that. I understand that. It doesn't make it any easier. We love him and he was great for our program."
… Continue reading story here …
–
—–
April 9th
… CU in the Arena … 
UCLA settles on Cincinnati head coach Mick Cronin
From CBS Sports … UCLA's coaching search has mercifully come to an end.
After a messy and bungled search that saw Kentucky's John Calipari, TCU's Jamie Dixon, and Tennessee's Rick Barnes draw interest but ultimately stay put, the school announced it has hired Cincinnati coach Mick Cronin. The news was first reported by CBS Sports' Jon Rothstein.
Cronin was a name constantly brought up in the search, and with buzz of Barnes leaving the Vols for Westwood dying on Sunday, the search shifted back to Cronin.
Cronin has won at a high level during his tenure at Cincinnati, and while his lack of NCAA Tournament success over the years may be a sticking point — he has never made an Elite Eight and only once made a Sweet 16 — he's highly regarded as a tough-nosed coach and brilliant basketball mind. At Cincy, he has also done more with less; he could do a whole lot more with the talent at his disposal in Westwood.
Cronin has a 296-147 overall record at Cincinnati since he took over the program in 2006 and has made nine consecutive NCAA Tournament appearances.
–
—–
April 7th
… CU in the Arena … 
CBS: "UCLA is conducting the dumbest coaching search it could possibly conduct"
From CBS Sports … Early last week, right after The Athletic reported that UCLA had offered Kentucky's John Calipari a six-year contract worth $48 million, a lot of us who write and talk about college basketball for a living spent a few minutes laughingbecause, well, because it was hilarious. I mean, how delusional do you have to be to think you could get a coach to leave his great job for your inferior job by offering less money than he currently makes to live in a market where the cost of living is drastically higher?
Such a weird pursuit. Such a waste of time.
So we all got our jokes off — mostly via Twitter. Meantime, a man named Michael Hanna, who writes for GoJoeBruin.com, was in those same Twitter streets challenging every national media member who dared mock UCLA and its nonsensical coaching search. From his perspective, this was a classic case of the national media just not understanding what the locals understood. We were all misguided, at best, biased or dumb, at worst. So you can imagine the smile on my face when I saw the following tweet this weekend.
In other words, the same diehards who were rationalizing UCLA's confusing search a week ago have now turned on the people running, or working on behalf of, the UCLA athletic department they love. And, honestly, who could blame them? UCLA fired Steve Alford on New Year's Eve and has spent the past three months doing little more than pursuing John Calipari and a bunch of other high-profile coaches who had no real interest in the job. Eventually, school officials figured out what everybody else already knew — i.e., that no great coach with a great job in a great league wants to work at UCLA, where expectations are way out of whack and the hot seat is always just around the corner — and began focusing on a second tier of candidates headlined by TCU's Jamie Dixon. And that's when things really got stupid.
… Continue reading story here …
–
—–
April 5th
USA Today: UCLA – "Everyone wants it to be Kentucky or Duke and it's just not"
From USA Today … There was a time not very long ago in UCLA basketball history that a coach who had been to three Final Fours was run out of town. It wasn't so much that Ben Howland hadn't done the job well — seven NCAA tournament appearances in 10 years and seven first-round NBA draft picks said otherwise — but he certainly didn't represent what UCLA romantics thought their basketball program should be.
Personally awkward and defense-focused, Howland was stylistically miscast in a town that has long preferred a plastic smile to the wrinkles and fine lines that come with fading beauty. When a few cracks in Howland's program started to form, firing him was easy.
But even Hollywood's best cosmetic surgeons wouldn't be able to erase the marks of stress that have formed over UCLA's last few decades.
It says a lot about where the program of John Wooden now stands in the college sports landscape that once UCLA's three-month-old coaching search finally got serious this week after a laughable attempt to lure John Calipari, it turned its focus away from superstar names that were never coming and instead moved on to coaches who would do well to produce a Howland-era encore.
Multiple reports have placed TCU's Jamie Dixon — a literal Howland disciple without as impressive a résumé — as UCLA's current preference, assuming a multi-million dollar buyout of his contract can be navigated. If UCLA can't nail down Dixon, the Los Angeles Times reported Cincinnati's Mick Cronin — another coach who lacks flash both stylistically and in his accomplishments — would likely be next in line.
In a rational environment, either Dixon or Cronin would be a reasonable hire and certainly an upgrade over the eternally mediocre Steve Alford. While Pittsburgh fans may have grown weary of Dixon's earlier-than-expected March exits, he significantly out-performed the program's history in a very tough Big East and needed just two seasons to lift TCU to its first NCAA tournament in 20 years. Likewise, Cronin hasn't often advanced deep in the tournament but has found a way to make it in for nine straight years at a school that doesn't attract many elite prospects.
… Continue reading story here …
–
—
Neill Woelk: What to Expect from 2019-2020 Buffs
From CUBuffs.com …  There is no doubt where Colorado coach Tad Boyle expects his team to be a year from now when the 2020 postseason rolls around.
Boyle has made it clear he believes his Buffaloes should be playing in the NCAA Tournament next March.
It's a legitimate expectation with which Colorado fans no doubt agree. Boyle's team went 23-13 this year, including a 10-8 Pac-12 record that was good enough for a tie for fourth in the final standings and a fifth-place seed in the conference tournament. The Buffs had two first-team all-conference selections, played well down the stretch — 12 wins in their last 16 games while advancing to the NIT quarterfinals — and perhaps most importantly, boast a team that is expected to have everyone who finished the year in uniform back for the 2019-20 season.
Overall it was a good season, but one that left Boyle and the Buffs wishing they had another chance at some of the opportunities that slipped away, especially early in the year.
Still, it set the table for what could be breakout year for the program. While Boyle has already led the Buffs to four NCAA Tournament appearances, this is a team that will enter next year toting the expectation of spending more than just one weekend at the NCAA's annual postseason party.
With that in mind, here are five things we learned last year — and five things to look for in 2019-20:
… Continue reading story here …
–
—–
April 3rd
"Is Panic Starting to Set in at UCLA over Hiring of a New Basketball Coach?"
From the BruinsNation … Ben Bolch of the LA Times is reporting that the UCLA Bruins' coaching search is now focusing on Cincinnati's Mick Cronin and TCU's Jamie Dixon "after striking out with a slew of top targets."
Bolch adds: Dixon and Cronin emerged as leading candidates after a bevy of more coveted coaches expressed no interest, were eliminated through the school's vetting process or declined to be interviewed until after the Final Four.
UCLA hopes to have a coach in place within the next week as the field of potential candidates continues to dwindle, a person with knowledge of the situation said.
This is ridiculous. This indicates that the UCLA Athletic Department learned ABSOLUTELY NOTHING from the hiring of Steve Alford.
Why is the athletic department imposing an arbitrary timeline, instead of waiting until after the Final Four to interview Tony Bennett? This is exactly the same thing which happened after the firing of Ben Howland.
Instead of waiting until Wichita State had exited the tournament, UCLA panicked an made an obvious mistake of hiring Steve Alford.
Well, it looks like that's about to happen again. There is absolutely no reason why UCLA cannot wait until Tony Bennett's Virginia Cavaliers to finish playing in the Final Four.
What difference does it make if UCLA doesn't hire a new coach for two or three weeks instead of a week, especially if the difference is hiring a coach who just made it to the Final Four instead of a list of guys who have never made the Final Four?
The answer is simple: It doesn't, and that's why this news is going to upset most Bruin fans.
… Continue reading story here …
–
—–
April 2nd
Report: Buffs add a 6'6″ junior college transfer guard
From the Daily Camera … Maddox Daniels is a southern guy through and through, but a few twists of fate left him playing his senior season of high school basketball in Santa Barbara while living in the Los Angeles area.
Daniels will not be able to make his commitment official until the start of the spring signing period on April 17. He will have two years of eligibility with the Buffs.
During that one-year sojourn, Daniels admits he became intrigued with the possibility of eventually playing basketball in the Pac-12 Conference. What once was a daydream became a reality this week as Daniels, a 6-foot-6 guard from Florida Southwestern junior college in Fort Myers, filled the lone open scholarship at the disposal of Colorado head coach Tad Boyle for the 2019-20 season by pledging a verbal commitment to the Buffaloes at the end of an official visit over the weekend.
"I've always had the Pac-12 on my mind," Daniels said. "When I played basketball my senior year in California, the Pac-12 was always something that was on my mind. I didn't get to go there right after high school, but it eventually happened and it's something that I'm really grateful for, the journey I've been on. I'm definitely looking forward to the challenge, no doubt."
… Continue reading story here …
Here is a link to his stats from the 2018-19 season.
Here is a YouTube video of Daniels in action:
–
—–
April 1st
McKinley Wright undergoes shoulder surgery
Wright's tweet with the picture below: "sko buffs! surgery went great! thanks to the man above"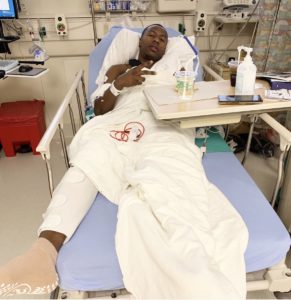 –
–
—–