—
Pac-12 Notes – USC Week
—
October 13th
… Foe Pause … 
Oregon takes control of the Pac-12 North division race with 30-27 overtime win over Washington
From ESPN … Mario Cristobal sprinted down the sideline beginning for a timeout. If Oregon was going to announce it was back among the elite of the Pac-12 Conference after a couple of down years, the coach wasn't about to risk a pass when it was obvious for the Ducks to do just that.
The Ducks were going to run. And they were going to give it to their young star running back seeking a bit of redemption for the mistake he made the last time Oregon was in a big game.
"It was a matter if C.J. could run through an arm tackle and beat the safety," Cristobal said.
C.J. Verdell did exactly as Cristobal hoped, scoring on a 6-yard run in overtime, and No. 17 Oregon knocked off No. 7 Washington 30-27 on Saturday.
The Ducks potentially ended the Pac-12's hopes of landing a team in the College Football Playoff by getting the best of their rivals to the north after two straight years of receiving beatings by the Huskies.
And it was Oregon running it right through the middle of the Washington defense for the final winning score. Verdell finished with 111 yards but none were sweeter for the Ducks than the final 6, when he sprinted nearly untouched on third-and-goal and set off a wild celebration in the east end zone of Autzen Stadium.
… Continue reading story here …
–
—
UCLA wins first game under Chip Kelly with 37-7 rout of California
From ESPN … Joshua Kelley ran for 157 yards and three touchdowns to give coach Chip Kelly his first win at UCLA, 37-7 over California on Saturday.
The Bruins (1-5, 1-2 Pac-12) entered the day one of four winless teams in the FBS as part of their worst start since 1943. But UCLA dominated the trenches against the Golden Bears (3-3, 0-3) to give Kelly his first win as a college coach since leaving Oregon for the NFL following the 2012 season.
Kelley scored on a 5-yard run to cap a 59-yard drive set up by a fumble by Patrick Laird in the first quarter. Then, after Cal finally got on the board with Laird's 1-yard run on the opening drive of the second half, Kelley and the Bruins answered with two straight scoring drives capped by Kelley's 1-yard runs that made it 27-7.
He has been a bright spot in a down season for UCLA, becoming the first Bruins player with three straight 100-yard games since Jordon James in 2013.
Keisean Lucier-South put the capper on the rout with a 38-yard fumble return for a score after one of Cal's five turnovers.
The Bears dropped their third straight conference game after starting the season 3-0 and getting into the AP rankings for the first time since 2015. The offense struggled for any consistency outside of the 75-yard drive to open the third quarter. Cal was stopped twice on fourth-and-short in the second half, dooming any hopes of a comeback.
… Continue reading story here …
–
—
Utah emerges as a Pac-12 South contender with rout of Arizona
… Related … "Khalil Tate pulled early in Arizona Wildcats' blowout loss at Utah" … from the Arizona Republic
From ESPN … Tyler Huntley is flashing his familiar gap-toothed smile a lot more often these days.
"Man, that was pretty tight," Huntley said with a wide grin after he threw for two touchdowns, ran for another and caught a 58-yard TD pass, leading Utah past Arizona 42-10 on Friday night.
In an effort to keep Huntley healthy, Utah coaches talked all fall camp about limiting his hits and making him more of a passer. After losses to Washington and Washington State where the Utah offense sputtered, the Utes committed to the running game and has let Huntley freelance again with his legs and arm.
On a play that typified the game, Huntley handed the ball to Zack Moss, who tossed it to Britain Covey coming the other direction. Covey, a title-winning high school quarterback who is now Utah's leading receiver, threw a perfect spiral to Huntley for 58-yard touchdown.
In postgame interviews, Huntley made sure everyone knew there was no quarterback controversy with Covey.
"I'm definitely quarterback and that isn't even a question," Huntley said after his triple-threat performance.
Utah (4-2, 2-2 Pac-12) led 35-0 less than two minutes into the second half.
… Continue reading story here …
–
—–
October 12th
… Foe Pause … 
No. 7 Washington at No. 17 Oregon: Unstoppable force v. unmovable object
From ESPN … Two years ago, in the middle of an already — and uncharacteristically — lost season, Oregon started looking toward the future.
The Ducks named Justin Herbert, then a scrawny and unpolished 6-foot-5 true freshman, as starting quarterback the week of their home game against No. 5-ranked Washington. Herbert had thrown only five passes in his fledgling college career, all in the fourth quarter of an 18-point loss at Washington State the previous week.
Herbert threw an interception on the first play of the game, an appropriately inauspicious start to a 70-21 defeat to the Huskies that snapped Oregon's 12-game winning streak in the rivalry and signaled a dramatic shift in power in the Pac-12 conference.
That miserable afternoon at Autzen Stadium triggered a cascade of changes at Oregon, many that have fueled the surprisingly quick rebuild of the Ducks with Herbert at the helm. Now Washington returns to Autzen on Saturday in a showdown of ranked teams still nursing playoff hopes and looking for some clarity on the hierarchy in the league's North division.
"That was definitely a tough experience, but we learned a lot from it," Herbert told reporters this week, recalling that 2016 loss to the Huskies. "I think over the years we've really gotten close. This team has shown how tough it is."
In this rematch, Herbert and the 17th-ranked Ducks are much better suited for the challenge posed by the No. 7 Huskies: Herbert is the Pac 12's most-efficient quarterback, leading the league's highest-scoring (45.6 points per game) and most-productive offense (503.6 yards) midway through the season.
They'll find themselves up against Washington's league-best defense (304.5 yards per game) in the latest update of the classic "unstoppable force vs. immovable object" paradox.
… Continue reading story here …
–
—–
October 11th 
… Foe Pause … 
Nebraska accuses Oregon State of tampering with players
From ESPN … Nebraska coach Scott Frost said Thursday that potential tampering by Oregon State led the Cornhuskers to list the Pac-12 school among institutions not permitted to contact running back Greg Bell about a potential transfer.
Bell, a top-rated junior college prospect signed by Frost last December, started the first three games for the Cornhuskers this season. He then requested a scholarship release in the week after he lost the top position on Sept. 29 against Purdue.
Nebraska granted his release but restricted Bell from talking with fellow Big Ten members, non-conference opponents of Nebraska over the next three years and Oregon State.
Three Nebraska players recently transferred to OSU, including former four-star prospects Tristan Gebbia, a quarterback, and receiver Tyjon Lindsey. Both players were recruited to Nebraska by former coach Mike Riley, who now works as an analyst at Oregon State under Jonathan Smith.
Ex-Nebraska assistant Trent Bray is also on staff at OSU, as are three former members of Nebraska football administrative staff.
"There's no doubt in my mind that those kids were probably in touch with some people that they formerly knew that were here," Frost said of Gebbia, Lindsey and linebacker Avery Roberts.
Through a spokesperson, Oregon State said the school would have no comment.
This isn't the first time Oregon State has been accused of tampering. In May, Hawaii football coach Nick Rolovich called out Oregon State on social media for sending recruiting materials to his current players. Oregon State said the mailings were unintentional and that it was committed to following NCAA rules. Three Oregon State assistants had worked at Hawaii in recent years.
… Continue reading story here …
–
—
Pac-12 officiating snafu just the latest in the long line of officiating gaffes 
… Related … Original story from Yahoo.com … "Document shows untrained 'third party' overruled controversial targeting call in Pac-12 game"
From CBS Sports … Officially, USC quarterback J.T. Daniels was not ear-holed by a Washington State linebacker on Sept. 21. That means the Pac-12 does not owe a public apology to Daniels or the Trojans because that alleged violation may or may not have occurred.
"I did not mean to be commenting whether that call was right or not," Pac-12 commissioner Larry Scott told CBS Sports following the conference's latest officiating scandal.
You see, to the Pac-12, the issue is not whether Daniels was ding-donged back to the Stone Age by Logan Tago, it was about closing administrative loopholes.
The first time Scott read about the Pac-12 general counsel overruling both replay officials and the officiating command center on a targeting call against Tago was when he opened his web browser Thursday morning.
Responding to that explosive Yahoo Sports report, the conference quickly closed those administrative loopholes.
That general counsel, Woodie Dixon, shouldn't have been in the replay command center that night influencing officiating decisions. And he won't be again, Scott said at a press conference on Thursday.
Never mind Dixon having no formal officiating training. The conference won't say officially there was even a targeting call to be made on the field. This latest snafu emerged in a conference that prides itself on player safety.
You shouldn't have to be told the Pac-12 long ago lost our confidence when it comes to football officiating.
"I am concerned because this raises questions about our commitment to player safety and to the integrity of officiating," Scott said.
… Continue reading story here …
–
—
Laviska Shenault making national headlines 
… Related … "How Laviska Shenault Jr.'s Life of Competition and Perseverance Have Led Him to the Spotlight" … from Sports Illustrated
From Athlon Sports … "The do-everything Buffaloes receiver is making superhuman plays for undefeated Colorado"
Out-of-this-world might be a fair way to describe Colorado wide receiver Laviska Shenault Jr.'s play through five games in the 2018 season. Take it from Buffaloes radio play-by-play broadcaster Mark Johnson, who said following Shenault's second touchdown on Oct. 6 against Arizona State: "I don't know what planet he's from, but it's not this one."
No, Shenault's not a product of a new Krypton recruiting pipeline — unless DeSoto, Texas, recently relocated beyond the stars. What's more, if Shenault was a larger-than-life comic book character, he'd be one of two with earthly origins.
"Either Incredible Hulk or Dr. Strange," said Shenault. "Incredible Hulk's extra strong, can barely be stopped, and Dr. Strange can pretty much do anything."
Two unintentionally fitting descriptions for Shenault's play, to be sure. His strength at 6-foot-2, 220 pounds overwhelms opposing defenses.
"We could not tackle him," Arizona State head coach Herm Edwards said in his postgame press conference. "We had him a couple of times — even in the first series they threw him a little screen and we had him but all of a sudden we didn't have him. He broke the tackle and kept running."
… Continue reading story here …
–
—
California judge rules NCAA's scarlet letter, the show-cause penalty, illegal in state
From CBS Sports … One of the NCAA's most significant penalties is now illegal in California. A Los Angeles County judge ruled Tuesday that the NCAA's show-cause penalty is against the law. The ruling came as part of the ongoing court battle regarding former USC football assistant coach Todd McNair.
McNair was given a one-year show-cause penalty in 2010 as part of the major penalties handed down to the USC football program in the Reggie Bush case. McNair has not worked a college job since then. Earlier this year, McNair lost a defamation suit against the NCAA.
The show-cause is basically the NCAA's scarlet letter. If any school hires that coach during the penalty window, it must appear before the NCAA and explain why penalties shouldn't be carried over to the hiring school.
The court ruling means the NCAA cannot use one of its biggest deterrents in the state of California. The Commission on College Basketball in April recommended to the NCAA the possibility of lifetime bans for coaches hit with show-cause penalties.
Pac-12 commissioner Larry Scott said in a statement last month it would be hard for the conference's schools to remain NCAA members if they follow the state law.
"If California law prevents institutions in the state from honoring such commitments, it is hard to see how the Pac-12's member universities in California could continue to meet the requirements of NCAA membership."
… Continue reading story here …
–
—–
October 10th
… Foe Pause … 
ESPN: UCLA Bruins on road to irrelevance in Chip Kelly's first season
From ESPN … Watching from the Rose Bowl as the sun disappears behind the San Gabriel Mountains is one of the great viewing experiences in American sports. It's awe-inspiring and during a football game has the rare ability to elevate a moment's sense of importance. Usually, that's a good thing.
On Saturday, though, all it did was magnify the disappointment in the beginning of the Chip Kelly era at UCLA. Even with No. 10 Washington in town, the stadium never appeared to reach half its capacity and when UCLA scored on the first play of the fourth quarter to cut the deficit to 24-17, the student section had already mostly cleared out. The optics were bad; the game felt unimportant. This Bruins team, the students decided, wasn't worth burning an entire Saturday night on.
It was the type of scenario an athletic director expects to avoid by landing the most coveted coach on the market and handing him a five-year, $23.3 million contract.
Those who stuck around saw UCLA play some of its best football of the season, but that didn't mean much when the 31-24 loss signified the program's worst start (0-5) since 1943.
"We didn't high-five in the locker room and say, 'Hey we got close against a really good team,' and they are a really good team," Kelly said. "I'm not a guy that gets solace in, 'We were close.' That's not us. Close isn't good. Close is bad."
If close is bad, then the first five games of Kelly's tenure have been a disaster. The Bruins have already lost more conference games this year (two) than Kelly did in any of his four seasons as the head coach at Oregon, where he compiled a 46-7 record from 2009-12 and lost only four games during his final three seasons.
… Continue reading story here …
–
—
Laviska Shenault No. 5 in Heisman trophy straw poll
From The Athletic … It's​ unanimous: Tua Tagovailoa received all​ 34 first-place​ votes this week in​ The Athletic's Heisman​ Trophy​ straw poll.
The Alabama quarterback,​ who received​ 29​​ first-place votes in each of the past two polls, won over the five skeptics this week with yet another outstanding performance: 10 of 13 for 343 yards with four touchdowns in a 65-31 win at Arkansas. He attempted only one pass in the second half.
Our 34-person poll follows protocol of the actual Heisman voting: 3 points for a first-place vote, 2 points for second and 1 for third.
Tagovailoa's 102 points give him a massive lead over Ohio State quarterback Dwayne Haskins (37 points) and Oklahoma quarterback Kyler Murray (32 points). Haskins moved from fourth to second after throwing for 455 yards and six touchdowns against Indiana, and Murray and West Virginia QB Will Grier both fell one spot. Haskins' share of the total points rose from 13.2 percent to 18.1 percent even though he lost his first-place vote.
There were a few new faces in this week's poll, as nine players received votes, up from eight last week. Newcomers include FAU RB Devin Singletary, Wisconsin RB Jonathan Taylor, Clemson RB Travis Etienne and Arizona LB Colin Schooler. Schooler is the only defensive player to receive a vote this week, and he is the first since our first straw poll after Week 3, when Ed Oliver and Nick Bosa both received votes.
Three running backs received votes, but quarterbacks still accounted for 91.7 percent of possible points. Colorado receiver Laviska Shenault flipped some second- and third-place votes, going from two points to 11 after catching 13 passes for 127 yards and scoring all four of the Buffaloes' touchdowns in a win against Arizona State.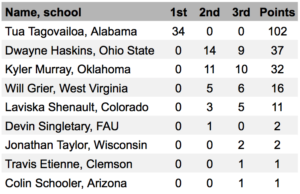 … Continue reading story here …
–
—
Stewart Mandel: Pac-12 down due to transition period
From The Athletic …
In your opinion, what are several reasons why the Pac-12 has fallen so far behind the other Power 5 conferences?
I know many Pac-12 fans place the blame primarily on commissioner Larry Scott and his often-maligned TV network, but gaps in TV revenue don't explain Stanford's inability to run the football or UCLA's inability to win a football game.
In any conference, the strength of the league starts with the head coaching lineup. When the Pac-12's TV deal initially kicked in back in 2012 (at that point a trendsetter at 12 years, $3 billion), a bunch of schools went out and hired high-profile coaches like Washington State's Mike Leach, Arizona's Rich Rodriguez, Arizona State's Todd Graham and UCLA's Jim Mora. Chip Kelly was still at Oregon, Stanford's David Shaw was a rising star and USC's Lane Kiffin hadn't yet dive-bombed. Things were looking up.
But today, only Leach, Shaw and Utah's Kyle Whittingham remain at the same schools as they did then. Kelly left for the NFL, and Oregon imploded a few years later. The others had promising starts, then swift downfalls. In the interim, only two schools indisputably upgraded at the top: Washington with Chris Petersen and Colorado with Mike MacIntyre. Not coincidentally, those schools met in the conference championship game two years ago and are currently in first place in their divisions.
That being said, six league schools have made seven coaching changes over the past two offseasons (with Oregon making two), and UCLA landed the esteemed Kelly. So we're seeing the effects of a conference going through a major transition period. The SEC experienced much the same thing in recent years and saw a dip because of it; the difference is it still had Nick Saban winning national titles.
That's not to say there aren't other underlying issues at play. The late start times on ESPN and FS1 and limited distribution for the Pac-12 Network certainly don't help with recruiting. The growing revenue gap between the Pac-12 ($30.9 million per school) and the Big Ten and SEC ($40-$50 million) may be felt a bit in the ability to hire and retain quality assistant coaches. It's possible the Pac-12 has just two assistants, Oregon's Jim Leavitt and UW's Jimmy Lake, making north of $1 million. (USC's and Stanford's numbers are private, so I can't say that definitively.) Michigan alone had three last season.
But USC won a lot of games under Pete Carroll when the Trojans weren't likely paying SEC money. Ditto Oregon under Kelly and Stanford under Shaw. I don't think there's a huge correlation between the Pac-12's TV deals and its on-field struggles. A great set of head coaches is far more important.
–
—–
October 9th
… Foe Pause … 
First half "winners and losers" includes Colorado, UCLA, and Nebraska
From YardBarker … Now that a majority of college football programs have reached the six-game mark, the outlook of every team is starting to become clear.
While traditional powers Alabama and Ohio State remain thriving programs, a few brand-name schools are steadily recapturing a place in the nation's consciousness. However, plenty of expectations have gone unmet, too.
Three of the biggest coach hires are searching for positive results, and several respected teams from this offseason keep falling short on game day.
December is merely a blip on the horizon, and plenty will change by then. But the midpoint of the regular season has brought an apparent group of winners and losers.
Winner: Colorado Buffaloes
The final analysis of Colorado is far from finished. Consecutive trips to USC and Washington will provide further insight into the Buffs. Still, there's no reason to not applaud a 5-0 start from the program. Mike MacIntyre — whose name can be scratched off any potential hot-seat list — has uncovered a gem on offense. Laviska Shenault Jr. already has 51 catches for 708 yards with six touchdowns, and his presence has turned quarterback Steven Montez into an efficient monster. Again, the road is about to get tougher. But there's plenty to like about Colorado.
Loser: UCLA Bruins
Through six weeks, no program has faced a tougher slate than UCLA. Four previous opponents are ranked, and a strong Mountain West program in Fresno State is 4-1. Even outside of games against the Bruins, those teams are a combined 20-3. Still, that's simply one factor to a horrible situation. UCLA ranks 125th nationally in scoring and 110th in yards per play. Chip Kelly's expertise hasn't translated right away, and the result is a frustrating 0-5 start for the Bruins. We're not close to bailing on Kelly, but the road back to relevancy will require a bunch of patience.
Loser: Nebraska Cornhuskers
As the season has progressed, some encouraging signs have emerged from the Nebraska offense. True freshman Adrian Martinez is looking like the quarterback of the future Scott Frost expects him to be. However, the first-year coach hasn't enjoyed a magical year in the return to his alma mater. The Cornhuskers are 0-5 with losses of 14-plus points to all three Big Ten opponents. They're not even close to competing within the conference. Barring a surprise, Nebraska is headed to at least nine losses — which would tie the record for most in program history.
–
—–
October 8th
… Foe Pause …
Laviska Shenault named Pac-12 Offensive Player-of-the-Week
From the Pac-12 … OFFENSIVE: Laviska Shenault Jr., So., WR, Colorado (DeSoto, Texas)
• In Colorado's 28-21 win over Arizona State, Shenault caught 13 passes for 127 yards and 2 TDs, while rushing 5 times for 13 yards and two more scores.
• This was his fourth 100-yard receiving game of the year; the only other two players in CU history to have four 100-yard games in the first five games in a season were Michael Westbrook in 1992 and Nelson Spruce in 2014.
• He has caught at least one TD pass in all five games this season; that ties the second-longest streak of consecutive games with a TD reception in school history.
• He is the first player in Colorado history to score multiple touchdowns rushing and receiving in the same game (the 15th four-plus TD game at CU); it was his first multiple receiving TD game of his career, and he is now the third player to have four or more of each in the same season.
• He now has 51 receptions for 708 yards (five games); he has one receiving TD in all four games.
• Shenault is the fifth receiver to earn the Pac-12 Offensive Player of the Week honor twice in the same season.
Also nominated: Eno Benjamin, RB, ASU; Jermar Jefferson, RB, OSU; KJ Costello, QB, STAN; Joshua Kelley, RB, UCLA; Zack Moss, RB, UTAH; Gardner Minshew II, QB, WSU
–
—–
October 6th
… Foe Pause … 
Pac-12 parity … Conference games raise more questions about the hierarchy in the conference
… Related … "Saturday Night Five: Reassessing the division races, Colorado's rise, Utah's path and Stanford's missing identity" … from Jon Wilner at the San Jose Mercury News
—
"
Utah beats No. 14 Stanford 40-21 as injured Love sits out
" … Game recap from
ESPN
… Related … "Stanford's Bryce Love sits out loss to Utah" … from the San Jose Mercury News
—
"Arizona Wildcats take advantage of turnovers to beat Cal 24-17" … Game recap from ESPN
… Related … "Cal loses in the desert, remains winless in Pac-12" … from the San Jose Mercury News
—
"
Gaskin runs for two touchdowns, No. 10 Washington beats UCLA 31-24
" … Game recap from
ESPN
… Related … "UCLA looks better but loses to Washington 31-24 to fall to 0-5 for the first time since 1943" … from the Los Angeles Times
—
"Minshew II, Washington St. beats Oregon State 56-37" … Game recap from ESPN
… Related … "Oregon State Beavers lost, but were entertaining and went down swinging" … from the Oregonian
–
—–