—
Colorado Basketball – Fall, 2018 (including November non-conference games)
—
November 28th
… CU in the Arena … 
Buffs pull away in the second half to defeat Portland, 93-69
… Related … "Lucas Siewert's first career double-double leads CU men's basketball past Portland" … from the Daily Camera
From CUBuffs.com …  Lucas Siewert scored 18 points and grabbed 10 rebounds for his first career double-double and McKinley Wright IV added 22 points and seven rebounds to lead Colorado to a 93-69 win over Portland on Wednesday at the CU Events Center.
The Buffs improved to 4-1 while Portland fell to 5-4.
Colorado finished with five players in double figures, with Evan Battey (10 points, five rebounds), Tyler Bey (12 points, six rebounds) and Shane Gatling (11 points) joining Siewert and Wright. It was Wright's seventh career 20-point game.
Josh McSwiggan led Portland with 22 points.
HOW IT HAPPENED: The Buffs broke open a 51-51 game early in the second half with a 16-1 run to take a 67-51 lead. McKinley Wright started the surge with a 3-pointer and a pair of free throws, Bey scored six points and Namon Wright had a steal and dunk in the run.
The Pilots ended a four-minute field goal drought with a McSwiggan 3-pointer, but Colorado continued to build the lead, stretching the cushion into the 20s over the final minutes.
Colorado shot 48.4 percent from the field (31-for-64) and held a commanding 44-27 edge on the boards.
… Continue reading story here …
–
—
Lucas Siewert hitting 71% from three-point range – "I'm shooting with confidence"
From CUBuffs.com … Anyone surprised by the red-hot shooting thus far from Colorado's Lucas Siewert didn't pay close attention a year ago.
The 6-foot-10 junior not only led the Buffs last season in 3-point percentage, he was second in the Pac-12, connecting on 44.8 percent of his shots from beyond the arc (30-for-67). He also finished second on the team in overall shooting percentage (48.5).
This year, he has simply picked up where he left off last season. After four games, Siewert is hitting 65.5 percent of his field goal attempts (19-for-29), which includes a blistering 10-for-14 from 3-point range (71.4 percent). That 3-point accuracy is currently the best in the Pac-12 and second-best in the nation, and his overall shooting percentage is sixth-best in the conference.
Siewert will try to keep that trend going Wednesday, when he and his Buffs teammates host Portland in a 7 p.m. game at the CU Events Center (Pac-12 Networks).
"I'm shooting with confidence," said Siewert, who is coming off of a perfect 6-for-6, 17-point effort in Colorado's 93-56 win over Air Force last Saturday. "I'm just letting it go and it's going my way right now. I've been putting a lot of work into my shot every day, and I'm just trying to make sure it stays that way."
Siewert's 6-foot-10, 230-pound frame presents a matchup problem for defenses. Big defenders are hesitant to leave the lane and follow him outside, while smaller defenders are no match for him in the paint.
… Continue reading story here …
–
—–
November 27th
… CU in the Arena … 
McKinley Wright still looking for consistency 
… Related … "McKinley Wright looking to shake early frustrations for CU Buffs basketball" … from the Daily Camera
From CUBuffs.com … Maybe one of the bigger surprises early in the Colorado men's basketball season has been the relative up-and-down play of point guard McKinley Wright.
"Relative" because fact is, Wright's numbers thus far this year are solid. In leading Colorado to a 3-1 start, Wright is averaging 12.3 points and 4.3 rebounds per game, has a team-leading seven steals, and is shooting a respectable 45.5 percent from the floor (15-for-33). If there are any numbers with which to quibble, it would be his assist-to-turnover ratio, an area in which he currently has 22 assists and 15 turnovers.
But for a player who entered the season shouldering the largest expectations of anyone on CU's roster — and a player who has taken on the responsibility of being the team's leader — it's not enough.
"It all starts with me," Wright said. "I'm the leader of this team. I take full responsibility when things go wrong. The San Diego loss, I take full responsibility. I don't think it's too much on my shoulders. I'm ready to be the leader of this team and have that role. Coach challenged me to be the leader of this team and I don't think it's too much."
… Continue reading story here …
BUFFS BITS: Boyle said sophomore forward Tyler Bey will be ready to go this week. Bey missed the second half of the Air Force game after taking a tumble on his shoulder following an alley-oop dunk. … Three Buffs are averaging double-figure scoring after four games, led by Namon Wright (13.3 ppg). He is followed by Siewert (12.8) and McKinley Wright (12.3). … As a team, the Buffs are shooting 51.8 percent from the field this year. … Bey, by the way, hit his first career 3-pointer against Air Force. After going 0-for-6 last year from long distance and missing his first four this season, he drained his first and only try against the Falcons. …
Portland, which has already played in two tournaments this year, will bring a 5-3 record to Boulder on Wednesday. … CSU, under the direction of first-year head coach Niko Medved, is 4-2 thus far, with a Tuesday night game at home vs. Southern Illinois before heading to Boulder on Saturday.
–
—–
November 24th
… CU in the Arena … 
Buffs have no trouble with Air Force, taking out the Falcons, 93-56
From CUBuffs.com …  Tad Boyle implored his Colorado Buffaloes to put the foot down on the gas pedal, and keep it there.
The Buffaloes did just that in sprinting to a 93-56 road win over Air Force Saturday afternoon at Clune Arena.
Junior forward Lucas Siewert tied a career-high with 17 points to lead four double-digit scorers as Colorado emphatically put an end to a six-game losing streak in true road contests that dated back to last season.
Colorado shot 59 percent from the field and drilled a season-high 14 3-pointers. Namon Wright had 13 points while D'Shawn Schwartz and Daylen Kountz each had 11.
–
—–
November 23rd
… CU in the Arena …  
Buffs travel down I-25 to take on Air Force (Sat., 4:00 p.m., AT & T Sports Net)
From CUBuffs.com … Colorado is 2-1 after dropping its first road contest of the season, a 70-64 decision at San Diego on Nov. 20. The Buffaloes will be looking to snap a six-game skid in true road games Saturday at Air Force. The loss also ended an eight-game overall winning streak in the month of November for Colorado.
On offense, the Buffaloes have shot just under 50 percent over the first two games, including 40 percent from 3-point range. Colorado's 81.0 points per game currently ranks fourth on the early season Pac-12 charts. Defensively, Colorado is allowing 72 points per game while opponents are shooting 41 percent from the field. The Buffaloes rank second in the Pac-12 in both field goal and 3-point percentage.
… Air Force is 2-3 overall, coming off a 1-2 trip to the Bimini Jam in the Bahamas. Saturday will mark just the second home game for the Falcons. Air Force's lone home contest was a 90-65 win over Johnson & Wales on Nov. 6.  The Falcons are averaging 69.2 points on 47.7 shooting. Defensively, Air Force has allowed opponents 68.0 points per game while shooting 42 percent.
Junior guard Sid Tomes leads Air Force at 12.0 points and 2.8 assists per game. Junior forward Ryan Swan tops the Falcons in rebounding at 7.6 per game while ranking second in scoring at 11.6 points an outing. Swan, whose sister Jamee was a four-year letterwinner for the Colorado's women's basketball team, from 2012-16, has made 54 percent of his shots and leads Air Force with four steals. Junior forward Lavelle Scottie is Air Force's third double-figure scorer at 11.0 points per game and is second in rebounding at 5.2 boards per contest.
… Continue reading story here …
–
—–
November 21st
… CU in the Arena …
Buffs falter in final minutes, fall to San Diego, 70-64
From CUBuffs.com … Freshman Evan Battey scored a career-high 18 points and the Colorado Buffaloes had their chances to collect an important road win Tuesday night, but the Buffs fell short in the final minutes, dropping a 70-64 decision to San Diego.
Colorado fell to 2-1 with the loss while San Diego improved to 4-1.
The Buffs led at several junctures of the game, including 61-60 with just 1:56 to go after a pair of free throws from McKinley Wright IV.
But Colorado couldn't get a stop on the other end and the Toreros scored six straight points to regain control. A Shane Gatling 3-pointer with 22 seconds left pulled Colorado back to within two, 66-64, but USD hit four free throws in the final 20 seconds to put the game away.
Wright added 14 points to go with Battey's 18, but they were the only Colorado players in double figures. The Buffs hurt themselves by hitting just nine of their 15 free throw attempts, with two misses on the front end of one-and-one situations proving costly in the final four minutes. USD, meanwhile, hit 18 of 21 free throw tries, including eight straight in the final minute.
The biggest difference came in second-chance points. The Toreros outrebounded Colorado 41-35, including a 15-10 edge on the offensive boards. San Diego converted those offensive rebounds into 18 points.
CU was also slowed all night by foul trouble, with Tyler Bey missing most of the first half with two fouls and finally fouling out with his fifth in the final minute of the game.
Isaiah Pineiro led USD with 27 points.
"We lost this game in two areas," head coach Tad Boyle said. "One I have to get better at as a coach, and that's our execution offensively. We have to execute better than we executed down the stretch. The area the players have to get better in is second shots. They shoot 36 percent, we shoot 42 percent, but they get 15 offensive rebounds. … It was a game we could have won, I feel like we should have won, and our players feel like that. But the bottom line is we didn't win and we all have to take responsibility for that."
… Continue reading story here …
–
—–
November 20th
… CU in the Arena … 
Buffs looking to avenge home loss to San Diego (8:00 p.m., MT, ESPNU)
… Related … San Diego is 3-1 on the season … The Buffs lost to San Diego at home last season, 69-59 … ESPN's matchup predictor gives CU a 32.1% chance of winning …
From the Daily Camera … It will be only the third game of the season, with plenty of marquee matchups still awaiting Colorado in Pac-12 Conference play.
However, Tuesday night's battle at the University of San Diego will offer the Buffaloes an interesting opportunity to gauge just how far they have progressed over the past year.
Last December, the Toreros came to the CU Events Center and handed coach Tad Boyle's club one of its most frustrating losses of the season while harassing the Buffs into a historically poor shooting performance. With those lineups largely still intact for both teams, CU will get another shot at the Toreros in its first road game of the season.
"The bulk of their team and the bulk of our team is returning," Boyle said. "Hopefully our players are dialed in and understand this is not going to be an easy game. Anybody who knows college basketball knows this is going to be a heck of a game. They have a good team, I think we have a good team. It's going to come down to who can execute their offense."
… Continue reading story here …
–
—–
November 16th
… CU in the Arena … 
Buffs hang on to defeat Omaha
… Related … "CU men sneak past Nebraska-Omaha" ... from the Daily Camera
From CUBuffs.com … Colorado's Tyler Bey recorded a steal, layup and free throw with 29.9 seconds to go Friday night and McKinley Wright IV added two free throws with 7 seconds remaining to lift the Buffs to a 79-75 win over Omaha at the Coors Events Center.
Colorado improved to 2-0 with the win while the Mavericks dropped to 1-3.
Bey's three-point play gave Colorado a 77-72 lead. Omaha answered with a Zach Jackson 3-pointer to close the gap to two with 17 seconds to go, but Colorado held on down the stretch, with Wright's two free throws clinching the win.
The Buffs finished with five players in double-figure scoring, led by Bey and Lucas Siewert with 16 apiece. D'Shawn Schwartz added a career-high 15 points to go with a career-best 7 rebounds, McKinley Wright added 13 points and Namon Wright chipped in 11.
The Buffs hurt themselves with 16 turnovers, which Omaha converted into 19 points. But the Buffs had a 36-27 edge on the boards and hit 19 of 23 free throw attempts while Omaha was 8-for-12 from the line.
… Continue reading story here …
–
—
Buffs welcome back D'Shawn Schwartz and Deleon Brown for Omaha (7:00 p.m., MT, Pac-12 Mountain)
From CUBuffs.com … Even with two expected contributors sitting the bench in Tuesday's  season opener, the Colorado Buffaloes still had nine players see at least 16 minutes of playing time in a 100-71 win over Drake.
The next test for CU coach Tad Boyle will be to see how he adjusts his player rotation Friday when the Buffs play host to Omaha in a 7 p.m. game at the CU Events Center (Pac-12 Mountain).
"We'll see," Boyle said Thursday about his rotation plans. "That's going to be a work in progress. … You just have to understand that you have to make the time that you're on the floor count, and practice time count."
Boyle said sophomore D'Shawn Schwartz and junior Deleon Brown, who both missed the opener, will be available Friday. That could mean less time for some of the Buffs' younger players as CU's coaches continue the task of testing different combinations and lineups.
"It's easier when they're consistent," Boyle said. "It's really difficult when they're not consistent. The other night against Drake, it was easy because everybody played with great energy, everybody played with great effort, everybody was trying to do the right thing. I thought that was as easy a game to coach. We didn't all shoot the ball well, we took maybe some ill-advised shots — but when everybody plays with the energy and effort and trying to do the right things, it's a fun game to coach, a fun game to play."
… Continue reading story here …
–
—–
November 15th
… CU in the Arena …
Namon Wright looks to continue fast start
… Related … "Solid debut balanced by need to improve for CU Buffs basketball" … From the Daily Camera
From CUBuffs.com … When the Colorado Buffaloes scored 100 points in their 100-71 season-opening win over Drake on Tuesday, a fourth of those points came from Namon Wright.
The CU senior came off the bench to score 25 points on 8-for-12 shooting from the field, including 5-for-8 from 3-point range, to produce CU career highs in both categories. (He had 28 points and six 3-pointers as a freshman at Missouri against Florida.)
Wright logged 29 minutes of playing time against the Bulldogs.
"I told Namon, 'The better you play, the more you're going to play,'" head coach Tad Boyle said after the game. "Tonight was a testament to that."
Wright finished the first half with 10 points on 3-of-5 shooting from the floor. Near the end of the first half sophomore guard McKinley Wright IV found Wright on a backdoor cut and Wright slammed it on home. After that dunk, both CU and Wright found their mojo. The Buffs went on a 10-2 run to close the first half and Wright went on to conclude his stellar night with 15 points on 5-of-7 shooting in the second half.
… Continue reading story here …
–
—–
November 13th
… CU in the Arena … 
Buffs open season with a 100-71 win over Drake
Related … "Big surge before halftime pushes CU basketball past Drake in season opener" … from the Daily Camera
From CUBuffs.com … Tad Boyle's Colorado Buffaloes put together a hot-shooting night with some solid defense Tuesday to carve out a 100-71 win over Drake in their season opener.
It was Colorado's most points in a season opener since defeating Cal State-Northridge, 113-89, to open the 1990-91 season.
The Buffs had four players in double figures, led by 25 points from senior Namon Wright, who had five 3-pointers. Sophomore McKinley Wright added 17 points and six assists, Shane Gatling scored 12 points and Lucas Siewert chipped in 11. CU's Tyler Bey just missed a double-double, finishing with a career-high 14 rebounds and nine points. CU shot 58.9 percent from the field (33 for 56) in the game.
Nick Norton led Drake with 18 points.
HOW IT HAPPENED: Colorado closed the first half with a 15-2 run for a 45-34 lead, then put the game away in the first few minutes of the second period.
It took the Buffs less than two minutes to bump the margin to 52-35 with a 7-0 run, and two minutes later, Colorado had a 20-point cushion, 57-37. Namon Wright had six points in the early surge and the Bulldogs never came closer than 17 again.
After a see-saw first half that included eight lead changes and a 12-0 Colorado run, the Buffs finally took the lead for good with a 15-2 run over the last four minutes of the half.
Namon Wright's 25 points were a career high for him in a CU uniform (he had 28 in a game as a freshman for Missouri).
After a Nick Norton 3-pointer gave the Bulldogs a 32-30 lead with 3:59 to go in the period, Namon Wright answered with a Colorado 3-pointer. Wright then added a dunk off a nice assist from McKinley Wright, followed a pair of free throws from each Wright for a 39-34 CU lead.
Drake momentarily halted the run with a Tremell Murphy bucket, but Colorado quickly reeled off six more points, capped by a McKinley Wright layup at the buzzer that gave the Buffs a 45-34 lead at intermission.
… Continue reading story here …
–
—–
November 12th
… CU in a the Arena … 
Buffs preparing for season opener against Drake … (Tuesday, 6:00 p.m., Pac-12 Networks) 
Related … "CU basketball to keep it simple in season opener against Drake" … from the Daily Camera …
From CUBuffs.com … In the world of college basketball, it's easy to forget the non-conference portion of a team's schedule, particularly when conference play rolls around.
But as the Colorado Buffaloes prepare to open their season Tuesday with a 6 p.m. home game against Drake at the CU Events Center (Pac-12 Networks), head coach Tad Boyle has made sure to remind his players of one important fact as he enters his ninth season in Boulder:
These early games in November and December carry plenty of weight in March, especially when it comes time for the NCAA Selection Committee to begin making its decisions.
"Every game in college basketball counts," Boyle said Monday morning. "It does. November games are just as important as February games. You don't get the attention maybe from the national media. People are still talking about college football, and I understand that. But that doesn't mean these games are any less important."
Boyle's Buffs have learned that lesson the hard way the last couple of years.
Two years ago, non-conference losses to Notre Dame, Colorado State and BYU may have spelled the difference between an NCAA bid and Colorado's NIT appearance. Last year, losses to Colorado State, San Diego and Iowa were no doubt a deciding factor in the Buffs staying home for the postseason.
… Continue reading story here …
–
—–
November 9th
… CU in the Arena … 
Evan Battey taking nothing for granted: "I'm thankful just to be alive"
From NBC Sports … Just the other day, the 6-foot-8 redshirt freshman quietly slipped on his Colorado basketball jersey for a photo shoot.
Instant tears. A simple task he doesn't take for granted .
Last December, Evan Battey was playing hoops with his buddies when his right leg went numb. Then, his right arm. He tried to speak but couldn't. Battey suffered a stroke that day along with two seizures.
Nearly 11 months later, the 20-year-old forward from California will make his Buffaloes debut — with feeling back and his speech constantly improving.
"I'm thankful to be out here," said Battey, whose team opens the season next Tuesday against Drake. "I'm thankful just to be alive today."
Looking back, there were signs for Battey, who redshirted last season due to NCAA eligibility requirements. Like how two months before his stroke he was unable to pronounce words following a weightlifting session. He texted his mom, Rosalind Lewis, that he felt funny.
But his speech soon returned. He pushed the episode from his mind, because "I was in the best shape of my life at the time," Battey explained .
The day after Christmas, Battey and his buddies were playing basketball at a Los Angeles gym when he experienced numbness from head-to-toe. His friends called his mom, who happened to be a few minutes away and quickly drove over. By the time she arrived, he was walking on his own but his speech appeared weakened. She took him to the emergency room where doctors performed a scan and discovered a blood clot. He was given a drug to break up the clot and transported to another facility specializing in strokes. While in the ambulance, Battey suffered a seizure. At the facility, he had another.
After four days in the hospital going through a battery of neurological and cardiology exams, the doctors had no explanation for what caused his stroke. It remains unknown.
"The good news was the tests came back as, 'Hey, we don't feel like there's going to be long-term effects,'" Colorado coach Tad Boyle said.
… Continue reading story here …
–
—
Tyler Bey – CU's best bet to have first double-double player since Andre Roberson
From CUBuffs.com … Not since Andre Roberson performed the feat in back-to-back years have the Colorado Buffaloes had a player average a double-double for a season.
Roberson, who now plays for the NBA's Oklahoma City Thunder, averaged 11.6 points and 11.1 rebounds in 2011-12, then followed that with a 10.9/11.2 season a year later.
Since then, some other Buffs have come close. CU big man Josh Scott averaged more than 14 points and eight rebounds in three straight seasons (2013-16), and George King was in the neighborhood last year, when he averaged 12.9 points and 7.8 rebounds.
But since Roberson, no Buff has managed the feat.
The latest best chance to hit the season double-double standard? Try sophomore Tyler Bey, who had a 16-point, 11-rebound effort last week in CU's 66-57 exhibition win over Colorado Mines.
On the surface, Bey might not appear to be the best candidates. After all, he averaged just 6.1 points and 5.1 rebounds last year as a true freshman — barely halfway to a double-double. He also had just two double-doubles all year, a 14-point, 11-rebound game against Washington and a 14-10 effort against Arizona State.
But the 6-foot-7, 218-pound Bey also averaged just 20 minutes per game last season. He didn't hit the starting lineup until December, and his numbers improved markedly after that.
… Continue reading story here …
–
—–
November 3rd
… CU in the Arena … 
Buffs trail at halftime in exhibition game against Colorado Mines before pulling out 66-57 win
From CUBuffs.com … Colorado coach Tad Boyle knew what he would see from Colorado Mines when he scheduled the Orediggers for an exhibition game with the Buffs.
Mines didn't disappoint. The Orediggers brought a disciplined offense, solid defense and some good outside shooting to the CU Events Center on Saturday, pushing the Buffs to the brink before Colorado finally walked away with a 66-57 win.
"Perfect," Boyle said of the matchup. "If we can play from the neck up like those guys, with our athleticism, and play with their discipline, we have a chance to be really, really good. It's an opportunity to learn, that's what these games are all about."
The Buffs got double-digit scoring from three players, led by a 16-point, 11-rebound effort from sophomore forward Tyler Bey. Sophomore point guard McKinley Wright, meanwhile, had 14 points and eight assists while junior big man Luca Siewert chipped in 12 points.
… Continue reading story here …
–
—–
November 2nd
… CU in the Arena … 
CU to open season with exhibition game against Colorado Mines on Saturday afternoon
From CUBuffs.com … After a closed scrimmage against SMU and an open intrasquad scrimmage last weekend, Colorado coach Tad Boyle will get one more preseason look at his Buffaloes on Saturday when they host Colorado Mines in a 4 p.m. exhibition game.
Boyle, entering his ninth season at CU, knows exactly what he wants to see from his young Buffs in their final dress rehearsal at the CU Events Center. Whether he gets his wish, of course, is an entirely different matter.
First on the list of priorities?
"I want to see consistent effort with our team," Boyle said earlier this week. "One of the things with our intrasquad, I was really disappointed with our level of effort. Guys knew they were going to play extended minutes and they kind of paced themselves. I told them if we as coaches have to coach effort, it's going to be a long year."
Part II, Boyle said, is a simple matter of solid, consistent execution on both ends of the floor.
"I want to see us execute the things we've been working on from the summer through the fall and in the first few weeks of practice," Boyle said. "I want to see some execution at a high level. We're not going to be great at everything, but the things we've worked on — half-court offense, our transition defense — I want to see a level of consistency. It doesn't matter who we're playing."
… Continue reading story here …
–
—–
October 31st
... CU in the Arena … 
Tad Boyle unhappy with the effort of the Buffs as season opener approaches
From the Daily Camera … Any Colorado fans believing the onset of a promising men's basketball season might dull the ache of the stunning football loss Saturday against Oregon State will be disheartened to hear coach Tad Boyle's assessment of his team's Black-and-Gold intra-squad scrimmage.
The Buffaloes don't play a game until the Nov. 13 opener at home against Drake. Yet according to Boyle's analysis, one might think it was his squad that suffered a potential season-crippling defeat last weekend.
"We're not very good. Transition defense. Taking care of the basketball. Sprinting the floor on offense. Playing with a sense of urgency. Boxing out. We weren't very good," Boyle said. "That's the thing when you have a Black-and-Gold scrimmage and you're looking at two ends. You may think the offense did something really good, but in reality the defense was just awful. And vise versa. You think, oh the defense got a steal. Well, the offense can't pass and catch. After watching the film, not very good."
… Continue reading story here …
–
—
Sports Illustrated ranks teams from 1-to-353
From Sports Illustrated … The great joy and the ultimate frustration of each college basketball season lies in the information overload. With hundreds of games every weekend setting the tone for 32 different conference races and building toward the selection of 68 teams to play for a national championship, it is impossible to process every significant event that happens on the hardcourt between mid-November and early April. That has led to the rise of several statistical databases, ratings systems and performance metrics designed to distill the lessons of each game into a digestible format. Those tools may be finely tuned and authoritative, but no one number tells the story of an entire season. That's why we set out on an ambitious project this year.
Like we do every year, SI's editors set out to project the top 25 teams in the nation entering the 2018–19 season. Then we expanded the projections out—way, way out—to include the other 328 teams in Division I, from bluebloods like Indiana and Arizona to the two new arrivals to D-I, North Alabama and Cal Baptist. Without the benefit of a comprehensive projections model, we looked at each team's returning production, multi-season trajectory and notable newcomers to assemble a full-field ranking of every team that might play a role, however small, in determining the 2018–19 national champion. Below are the results, with insights and information on the SI preseason Top 25 and dozens of notable teams on the outside looking in.
From the Pac-12 … 
16. Oregon (1st in Pac-12): Bol Bol—Manute's 7' 2″ son, with a capable jumper—is the most intriguing of three top 50 freshmen joining the Ducks, who will look to senior PG Payton Pritchard (4.8 apg, 41.3% 3FG) for a steadying hand.
21. UCLA (2nd in Pac-12): Despite the team's spate of preseason injuries, 6' 8″ wing Kris Wilkes and 6' 3″ playmaker Jaylen Hands—both sophomores—should help the Bruins make their third straight trip to the NCAA tournament.
28. Washington (3rd in Pac-12) ran hot and cold in its first year under Mike Hopkins, but the Huskies got encouraging returns from their immediate buy-in to Hopkins's zone defense, and both forward Noah Dickerson and guard Jaylen Nowell have a chance to finish among the Pac-12's top five scorers.
48. USC (4th in Pac-12)
49. Arizona (5th in Pac-12) … It'll be an interesting season for Arizona after the Wildcats lost their entire starting five, but Sean Miller has something to work with in freshman Brandon Williams, ex-Duke transfer Chase Jeter and a group of role-playing returners
60. Colorado (6th in Pac-12)
62. Arizona State (7th in Pac-12)
76. Utah (8th in Pac-12)
82. Oregon State (9th in Pac-12)
106. Stanford (10th in Pac-12)
229. California (11th in Pac-12)
247. Washington State (12th in Pac-12)
–
—–
October 22nd
… CU in the Arena … 
Pac-12 has three teams in preseason Associated Press Top 25
… Related … "Nine NCAA Tournament teams from last season that won't make it back to the Big Dance in 2019" … from CBS Sports
From CBS Sports …
1. Kansas
2. Kentucky
3. Gonzaga
4. Duke
5. Virginia
6. Tennessee
7. Nevada
8. North Carolina
9. Villanova
10. Michigan State
11. Auburn
12. Kansas State
13. West Virginia
14. Oregon
15. Virginia Tech
16. Syracuse
17. Florida State
18. Mississippi State
19. Michigan
20. TCU
21. UCLA
22. Clemson
23. LSU
24. Purdue
25. Washington
Others Receiving Votes: Loyola-Chicago (0-0) 162; Marquette (0-0) 124; Indiana (0-0) 98; Florida (0-0) 71; Nebraska (0-0) 35; Maryland (0-0) 28; Wisconsin (0-0) 24; Notre Dame (0-0) 22; Cincinnati (0-0) 21; UCF (0-0) 15; Alabama (0-0) 15; Arizona (0-0) 14; Buffalo (0-0) 14; Louisville (0-0) 11; Miami (Fla.) (0-0) 10; San Diego State (0-0) 9; Texas Tech (0-0) 6; Southern California (0-0) 6; Butler (0-0) 6; Texas (0-0) 5; St. John's (0-0) 3; Arizona State (0-0) 3; Providence (0-0) 2; Xavier (0-0) 2; Davidson (0-0) 1; Missouri (0-0) 1; Marshall (0-0) 1; NC State (0-0) 1
–
—–
October 17th
… CU in the Arena … 
Tad Boyle optimistic about season despite the loss of Dallas Walton
From CUBuffs.com … It's certainly not the way Colorado men's basketball coach Tad Boyle wanted to start his annual media day press conference.
After a brief opening statement Wednesday, Boyle announced that sophomore big man Dallas Walton suffered a season-ending knee injury in Tuesday's practice. It is a blow to Colorado's post play, as the 7-0 Walton had become a defensive presence in the middle in his first year.
"He had such a promising freshman year and we were expecting some great things," Boyle said. "I just want to let people know that this is not the end of the road for him by any means. He's going to come back stronger than he was before. …  I just feel sick to my stomach for him and for how hard he's worked and for what we had in front of him this year. We'll just delay it a year and everybody else will have to step up."
But if there there is any silver lining, it is that the Buffs do have the players to step up, which is why Boyle's overall level of optimism hasn't dimmed when it comes to his team's outlook this season.
"We still have enough bodies to be successful," said Boyle, who is entering his ninth year at CU. "It should be a great year to be a Colorado Buffalo."
Indeed, the Buffs appear to have talent and depth at every spot on the floor. Picked to to finish seventh in the Pac-12 in the preseason media poll, the Buffs have enough returning firepower — along with some talented newcomers who may still be under the radar — to perhaps be one of the league's surprise teams when conference play rolls around.
"I want to continue to push this program to new heights," Boyle said. "I think this year's team has a hunger and a chip on their shoulder that hopefully we can display as the season unfolds and we can do some special things."
… Continue reading story here …
–
—–
October 11th
… CU in the Arena … 
CU picked to finish 7th in Pac-12 preseason media poll
From the Pac-12 …  For the second time in the past three seasons, OREGON has been chosen the favorite to win the Pac-12 Conference men's basketball title in a vote of media members who cover the league.
The vote comes ahead of Pac-12 Men's Basketball Media Day on Thursday. Pac-12 Networks will air an "Inside Pac-12 Men's Basketball' Men's Media Day" special starting at 11 a.m. PT, followed by an hour-long ESPNU live studio show beginning at 3 p.m. PT. Additionally, all 12 head coach podium sessions will be available via live video streaming on Pac-12.com, the Pac-12 Now app and the Pac-12 Conference's Facebook and Twitter starting at 10 a.m. PT. For complete Pac-12 Media Day coverage, visit pac-12.com/mbbmediaday.
All Pac-12 Networks broadcasts are also available via the Pac-12 Now app (for iOS or Android). For more information and to see a list of the multiple options to access Pac-12 Networks anywhere across the United States, please visit GetPac12Networks.com.
Oregon, which was a first-time league favorite ahead of the 2016-17 campaign, received 16-of-25 first-place votes and 288 points to sit atop the 2018-19 preseason poll.
The Ducks return a pair of starters, highlighted by Second Team All-Pac-12 point guard Payton Pritchard, and add a top-5 recruiting class headlined by five-star freshmen Bol Bol and Louis King.
With the Ducks' women's program also tabbed the 2018-19 Pac-12 favorite, it marks the first time in Conference history that both basketball preseason polls have been topped by the same school.
Four different programs received first-place votes in the poll, the most since five teams collected at least one in advance of the 2015-16 campaign.
UCLA, which like Oregon returns two starters and adds a top-5 recruiting class, received six first-place votes en route to being picked second with 264 points. It's the highest preseason ranking for the Bruins since being picked runner-up ahead of 2013-14.
WASHINGTON garnered a pair of first-place votes and 249 points to come in third, its highest preseason prediction since being picked to win the league crown in 2010-11. The Huskies boast the most returning production of any major conference program in the country with all five starters back from last year's 21-win team.
ARIZONA secured the final first-place vote and 205 points to place fourth, its lowest Conference preseason ranking since 2009-10. The Wildcats lost their entire starting lineup from last season's Pac-12 regular-season and tournament title team, but have revamped their roster led by the addition of Duke transfer and former McDonald's All-American Chase Jeter.
USC and ARIZONA STATE completed the top half of the preseason poll in fifth and sixth, respectively. The Trojans are in the midst of the winningest stretch in program history with 71 victories over the past three seasons, including 24 in 2017-18, while the Sun Devils hit the 20-win plateau and reached the NCAA Tournament for the first time in four seasons last year.
COLORADO, UTAH, STANFORD, OREGON STATE, CALIFORNIA and WASHINGTON STATE completed the predicted order of finish. Media have correctly picked the Conference winner 16 times in 29 tries, while the winner has been accurately chosen in 20 of the 34 all-time preseason votes.
Four Pac-12 teams – Arizona, Oregon, UCLA and Washington – appear on several national media outlets' preseason top 25 rankings for the 2018-19 campaign.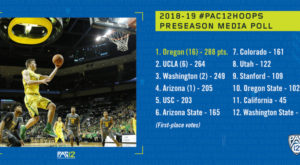 –
—–
October 2nd
… CU in the Arena …
Buffs open practice Tad Boyle: "As you look at this team, there's a lot of pieces"
… Related … "As only senior for CU Buffs men's basketball, Namon Wright ready to lead" … from the Daily Camera
From CUBuffs.com … After just one practice, it is easy to know this much about the 2018-19 Colorado Buffaloes: they are young, eager, energetic and talented.
Now, the question is how quickly CU coach Tad Boyle and his staff can take all the pieces of that Buffs puzzle and turn them into a competitive Pac-12 team.
Boyle opened his ninth year at the CU helm Tuesday morning with the first practice of the season. The Buffs will have roughly a month to prepare for their Nov. 3 exhibition contest with Colorado Mines, then another 10 days to get ready for the season opener, a Nov. 13 home affair against Drake.
That the Buffs are young is an understatement — nine of the 13 scholarship players on the roster are freshmen or sophomores, along with three juniors and just one senior.
But it is by no means an inexperienced group. The Buffs return three players with at least 21 starts last season, all sophomores: McKinley Wright IV (31), Dallas Walton (25) and Tyler Bey (21).  Meanwhile, other returnees who had significant roles last year include senior Namon Wright (13 starts, 22.9 minutes per game), juniors Lucas Siewert (18.4 minutes per game) and Deleon Brown (18.2 minutes), and sophomore D'Shawn Schwartz (13.1 minutes).
There will also be some new faces who will be expected to contribute immediately, a group that includes junior college transfer Shane Gatling and redshirt freshman Evan Battey; as well as sophomore returnee Alexander Strating and incoming freshmen Daylen Kountz, Jakub Dombek and Eli Parquet.
"As you look at this team, there's a lot of pieces," Boyle said. "It's just trying to figure out what their roles are going to be. We're going to figure that out as these 30 practices unfold."
… Continue reading story here …
–
—–
September 27th
… CU in the Arena …
CU announces men's basketball schedule, including Pac-12 conference games
Press Release from CUBuffs.com … The University of Colorado men's basketball team will once again appear on prime, national television slots as the full 2018-19 schedule was announced on Thursday.
All 30 regular season games will air on a national or regional basis, with 15 of those contests on the Pac-12 Networks. Eleven games will air on the ESPN family of networks; three will be on FS1 and one on AT&T Sports Network.
Colorado's schedule features 15 contests at the CU Events Center, 12 road dates and the three-game Diamond Head Classic in Honolulu at the end of December.
Colorado will open the 2018-19 campaign on Tuesday, Nov. 13, at home against Drake (6 p.m., Pac-12 Network). The Buffaloes will play their first two and six of their first eight at the CU Events Center. Following back-to-back trips to San Diego and Air Force Thanksgiving Week, Colorado returns home for its next four highlighted by a battle with Colorado State on Saturday, Dec. 1 (1 p.m., Pac-12).
After a nationally televised game at New Mexico on Tuesday, Dec. 11 (7 p.m., ESPN2), Colorado will take an 11-day break for finals before competing in the previously announced Diamond Head Classic. The Buffaloes open with Indiana State on Saturday, Dec. 22, play either UNLV or Hawai'i on Sunday, Dec. 23 and wrap up the classic on Christmas Day. All three games will be televised on one of the ESPN networks.
Colorado begins the Pac-12 season on the road for the fourth-straight year by visiting defending league champion Arizona on Thursday, Jan. 3 (7 p.m., FS1). The Buffaloes will be road heavy early with five of their first seven away from Boulder.
Colorado opens its home Pac-12 schedule the following week with Washington State on Thursday, Jan. 10 (7 p.m., Pac-12) and Washington on Saturday, Jan. 12 (8 p.m., ESPNU).
For the first time in five years, Colorado will see the trio of Arizona, Oregon and UCLA all at the CU Events Center. Seasons past have showcased one or two of the three at home, but all three travel to Boulder for the first time since 2013-14.
Oregon will visit the CU Events Center on Saturday, Feb. 2 (7:30 p.m., Pac-12). The Wildcats are on tap for Sunday, Feb. 17 (6 p.m., ESPNU). UCLA will the second contest in Colorado's three-game home stand to end the regular season on Thursday, March 7 (7 p.m., ESPN2/U).
Eight of the Buffaloes' final nine opponents advanced to postseason play last year, including all five coming to the CU Events Center.
Colorado men's basketball season tickets are on sale now and begin as low as $160. Visit CUBuffs.com/tickets or call 303-49BUFFS for more information.
2018-19 COLORADO MEN'S BASKETBALL SCHEDULE
DATE OPPONENT LOCATION TIME (MST) TV
Saturday, Nov. 3 COLORADO MINES (Exh.) BOULDER 4 p.m. 
Tuesday, Nov. 13 DRAKE BOULDER 6 p.m. PAC12
Friday, Nov. 16 OMAHA BOULDER 7 p.m. PAC12
Tuesday, Nov. 20 at San Diego San Diego, Calif. 8 p.m. ESPNU
Saturday, Nov. 24 at Air Force USAFA, Colo. 4 p.m. ATTSN
Wednesday, Nov. 28 PORTLAND BOULDER 7 p.m. PAC12 
Saturday, Dec. 1 COLORADO STATE BOULDER 1 p.m. PAC12
Tuesday, Dec. 4 SOUTH DAKOTA BOULDER 7 p.m. PAC12
Saturday, Dec. 8 UIC BOULDER 4 p.m. PAC12
Tuesday, Dec. 11 at New Mexico Albuquerque, N.M. 7 p.m. ESPN2
Diamond Head Classic 
Saturday, Dec. 22 ^-vs. Indiana State Honolulu, Hawai'i 1 p.m. ESPNU
Sunday, Dec. 23 ^-vs. UNLV/Hawai'i Honolulu, Hawai'i 2:30/5 p.m. ESPN2/U
Tuesday, Dec. 25 ^-vs. TBA Honolulu, Hawai'i TBA TBA
Thursday, Jan. 3 *at Arizona Tucson, Ariz. 7 p.m. FS1
Saturday, Jan. 5 *at Arizona State Tempe, Ariz. 4 p.m. PAC12
Thursday, Jan. 10 *WASHINGTON STATE BOULDER 7 p.m. PAC12
Saturday, Jan. 12 *WASHINGTON BOULDER 8 p.m. ESPNU
Sunday, Jan. 20 *at Utah Salt Lake City, Utah 4 p.m. ESPNU
Thursday, Jan. 24 *at California Berkeley, Calif. 9 p.m. PAC12
Saturday, Jan. 26 *at Stanford Stanford, Calif. 6 p.m. FS1
Thursday, Jan. 31 *OREGON STATE BOULDER 7 p.m. PAC12
Saturday, Feb. 2 *OREGON BOULDER 7:30 p.m. PAC12
Wednesday, Feb. 6 *at UCLA Los Angeles, Calif. 7 p.m. PAC12
Saturday, Feb. 9 *at USC Los Angeles, Calif. 8 p.m. ESPN/2/U
Wednesday, Feb. 13 *ARIZONA STATE BOULDER 8:30 p.m. FS1
Sunday, Feb. 17 *ARIZONA BOULDER 6 p.m. ESPNU
Wednesday, Feb. 20 *at Washington State Pullman, Wash. 8 p.m. PAC12
Saturday, Feb. 23 *at Washington Seattle, Wash. 8:30 p.m. PAC12
Saturday, Mar. 2 *UTAH BOULDER 4 p.m. ESPNU
Thursday, Mar. 7 *UCLA BOULDER 7 p.m. ESPN2/U
Saturday, Mar. 9 *USC BOULDER 3 p.m. PAC12 
March 13-16 Pac-12 Tournament Las Vegas, Nev. TBA TBA
March 19-20 NCAA First Four Dayton, Ohio TBA TBA
March 21-24 NCAA 1st & 2nd Rounds TBA TBA TBA
March 28-31 NCAA Regional TBA TBA TBA
April 6-8 NCAA Final Four Minneapolis, Minn. TBA TBA
–
—–