—
Colorado Basketball
—
October 17th
… CU in the Arena … 
Tad Boyle optimistic about season despite the loss of Dallas Walton
From CUBuffs.com … It's certainly not the way Colorado men's basketball coach Tad Boyle wanted to start his annual media day press conference.
After a brief opening statement Wednesday, Boyle announced that sophomore big man Dallas Walton suffered a season-ending knee injury in Tuesday's practice. It is a blow to Colorado's post play, as the 7-0 Walton had become a defensive presence in the middle in his first year.
"He had such a promising freshman year and we were expecting some great things," Boyle said. "I just want to let people know that this is not the end of the road for him by any means. He's going to come back stronger than he was before. …  I just feel sick to my stomach for him and for how hard he's worked and for what we had in front of him this year. We'll just delay it a year and everybody else will have to step up."
But if there there is any silver lining, it is that the Buffs do have the players to step up, which is why Boyle's overall level of optimism hasn't dimmed when it comes to his team's outlook this season.
"We still have enough bodies to be successful," said Boyle, who is entering his ninth year at CU. "It should be a great year to be a Colorado Buffalo."
Indeed, the Buffs appear to have talent and depth at every spot on the floor. Picked to to finish seventh in the Pac-12 in the preseason media poll, the Buffs have enough returning firepower — along with some talented newcomers who may still be under the radar — to perhaps be one of the league's surprise teams when conference play rolls around.
"I want to continue to push this program to new heights," Boyle said. "I think this year's team has a hunger and a chip on their shoulder that hopefully we can display as the season unfolds and we can do some special things."
… Continue reading story here …
–
—–
October 11th
… CU in the Arena … 
CU picked to finish 7th in Pac-12 preseason media poll
From the Pac-12 …  For the second time in the past three seasons, OREGON has been chosen the favorite to win the Pac-12 Conference men's basketball title in a vote of media members who cover the league.
The vote comes ahead of Pac-12 Men's Basketball Media Day on Thursday. Pac-12 Networks will air an "Inside Pac-12 Men's Basketball' Men's Media Day" special starting at 11 a.m. PT, followed by an hour-long ESPNU live studio show beginning at 3 p.m. PT. Additionally, all 12 head coach podium sessions will be available via live video streaming on Pac-12.com, the Pac-12 Now app and the Pac-12 Conference's Facebook and Twitter starting at 10 a.m. PT. For complete Pac-12 Media Day coverage, visit pac-12.com/mbbmediaday.
All Pac-12 Networks broadcasts are also available via the Pac-12 Now app (for iOS or Android). For more information and to see a list of the multiple options to access Pac-12 Networks anywhere across the United States, please visit GetPac12Networks.com.
Oregon, which was a first-time league favorite ahead of the 2016-17 campaign, received 16-of-25 first-place votes and 288 points to sit atop the 2018-19 preseason poll.
The Ducks return a pair of starters, highlighted by Second Team All-Pac-12 point guard Payton Pritchard, and add a top-5 recruiting class headlined by five-star freshmen Bol Bol and Louis King.
With the Ducks' women's program also tabbed the 2018-19 Pac-12 favorite, it marks the first time in Conference history that both basketball preseason polls have been topped by the same school.
Four different programs received first-place votes in the poll, the most since five teams collected at least one in advance of the 2015-16 campaign.
UCLA, which like Oregon returns two starters and adds a top-5 recruiting class, received six first-place votes en route to being picked second with 264 points. It's the highest preseason ranking for the Bruins since being picked runner-up ahead of 2013-14.
WASHINGTON garnered a pair of first-place votes and 249 points to come in third, its highest preseason prediction since being picked to win the league crown in 2010-11. The Huskies boast the most returning production of any major conference program in the country with all five starters back from last year's 21-win team.
ARIZONA secured the final first-place vote and 205 points to place fourth, its lowest Conference preseason ranking since 2009-10. The Wildcats lost their entire starting lineup from last season's Pac-12 regular-season and tournament title team, but have revamped their roster led by the addition of Duke transfer and former McDonald's All-American Chase Jeter.
USC and ARIZONA STATE completed the top half of the preseason poll in fifth and sixth, respectively. The Trojans are in the midst of the winningest stretch in program history with 71 victories over the past three seasons, including 24 in 2017-18, while the Sun Devils hit the 20-win plateau and reached the NCAA Tournament for the first time in four seasons last year.
COLORADO, UTAH, STANFORD, OREGON STATE, CALIFORNIA and WASHINGTON STATE completed the predicted order of finish. Media have correctly picked the Conference winner 16 times in 29 tries, while the winner has been accurately chosen in 20 of the 34 all-time preseason votes.
Four Pac-12 teams – Arizona, Oregon, UCLA and Washington – appear on several national media outlets' preseason top 25 rankings for the 2018-19 campaign.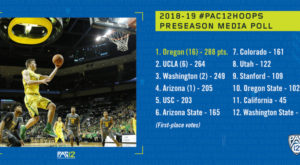 –
—–
October 2nd
… CU in the Arena …
Buffs open practice Tad Boyle: "As you look at this team, there's a lot of pieces"
… Related … "As only senior for CU Buffs men's basketball, Namon Wright ready to lead" … from the Daily Camera
From CUBuffs.com … After just one practice, it is easy to know this much about the 2018-19 Colorado Buffaloes: they are young, eager, energetic and talented.
Now, the question is how quickly CU coach Tad Boyle and his staff can take all the pieces of that Buffs puzzle and turn them into a competitive Pac-12 team.
Boyle opened his ninth year at the CU helm Tuesday morning with the first practice of the season. The Buffs will have roughly a month to prepare for their Nov. 3 exhibition contest with Colorado Mines, then another 10 days to get ready for the season opener, a Nov. 13 home affair against Drake.
That the Buffs are young is an understatement — nine of the 13 scholarship players on the roster are freshmen or sophomores, along with three juniors and just one senior.
But it is by no means an inexperienced group. The Buffs return three players with at least 21 starts last season, all sophomores: McKinley Wright IV (31), Dallas Walton (25) and Tyler Bey (21).  Meanwhile, other returnees who had significant roles last year include senior Namon Wright (13 starts, 22.9 minutes per game), juniors Lucas Siewert (18.4 minutes per game) and Deleon Brown (18.2 minutes), and sophomore D'Shawn Schwartz (13.1 minutes).
There will also be some new faces who will be expected to contribute immediately, a group that includes junior college transfer Shane Gatling and redshirt freshman Evan Battey; as well as sophomore returnee Alexander Strating and incoming freshmen Daylen Kountz, Jakub Dombek and Eli Parquet.
"As you look at this team, there's a lot of pieces," Boyle said. "It's just trying to figure out what their roles are going to be. We're going to figure that out as these 30 practices unfold."
… Continue reading story here …
–
—–
September 27th
… CU in the Arena …
CU announces men's basketball schedule, including Pac-12 conference games
Press Release from CUBuffs.com … The University of Colorado men's basketball team will once again appear on prime, national television slots as the full 2018-19 schedule was announced on Thursday.
All 30 regular season games will air on a national or regional basis, with 15 of those contests on the Pac-12 Networks. Eleven games will air on the ESPN family of networks; three will be on FS1 and one on AT&T Sports Network.
Colorado's schedule features 15 contests at the CU Events Center, 12 road dates and the three-game Diamond Head Classic in Honolulu at the end of December.
Colorado will open the 2018-19 campaign on Tuesday, Nov. 13, at home against Drake (6 p.m., Pac-12 Network). The Buffaloes will play their first two and six of their first eight at the CU Events Center. Following back-to-back trips to San Diego and Air Force Thanksgiving Week, Colorado returns home for its next four highlighted by a battle with Colorado State on Saturday, Dec. 1 (1 p.m., Pac-12).
After a nationally televised game at New Mexico on Tuesday, Dec. 11 (7 p.m., ESPN2), Colorado will take an 11-day break for finals before competing in the previously announced Diamond Head Classic. The Buffaloes open with Indiana State on Saturday, Dec. 22, play either UNLV or Hawai'i on Sunday, Dec. 23 and wrap up the classic on Christmas Day. All three games will be televised on one of the ESPN networks.
Colorado begins the Pac-12 season on the road for the fourth-straight year by visiting defending league champion Arizona on Thursday, Jan. 3 (7 p.m., FS1). The Buffaloes will be road heavy early with five of their first seven away from Boulder.
Colorado opens its home Pac-12 schedule the following week with Washington State on Thursday, Jan. 10 (7 p.m., Pac-12) and Washington on Saturday, Jan. 12 (8 p.m., ESPNU).
For the first time in five years, Colorado will see the trio of Arizona, Oregon and UCLA all at the CU Events Center. Seasons past have showcased one or two of the three at home, but all three travel to Boulder for the first time since 2013-14.
Oregon will visit the CU Events Center on Saturday, Feb. 2 (7:30 p.m., Pac-12). The Wildcats are on tap for Sunday, Feb. 17 (6 p.m., ESPNU). UCLA will the second contest in Colorado's three-game home stand to end the regular season on Thursday, March 7 (7 p.m., ESPN2/U).
Eight of the Buffaloes' final nine opponents advanced to postseason play last year, including all five coming to the CU Events Center.
Colorado men's basketball season tickets are on sale now and begin as low as $160. Visit CUBuffs.com/tickets or call 303-49BUFFS for more information.
2018-19 COLORADO MEN'S BASKETBALL SCHEDULE
DATE OPPONENT LOCATION TIME (MST) TV
Saturday, Nov. 3 COLORADO MINES (Exh.) BOULDER 4 p.m. 
Tuesday, Nov. 13 DRAKE BOULDER 6 p.m. PAC12
Friday, Nov. 16 OMAHA BOULDER 7 p.m. PAC12
Tuesday, Nov. 20 at San Diego San Diego, Calif. 8 p.m. ESPNU
Saturday, Nov. 24 at Air Force USAFA, Colo. 4 p.m. ATTSN
Wednesday, Nov. 28 PORTLAND BOULDER 7 p.m. PAC12 
Saturday, Dec. 1 COLORADO STATE BOULDER 1 p.m. PAC12
Tuesday, Dec. 4 SOUTH DAKOTA BOULDER 7 p.m. PAC12
Saturday, Dec. 8 UIC BOULDER 4 p.m. PAC12
Tuesday, Dec. 11 at New Mexico Albuquerque, N.M. 7 p.m. ESPN2
Diamond Head Classic 
Saturday, Dec. 22 ^-vs. Indiana State Honolulu, Hawai'i 1 p.m. ESPNU
Sunday, Dec. 23 ^-vs. UNLV/Hawai'i Honolulu, Hawai'i 2:30/5 p.m. ESPN2/U
Tuesday, Dec. 25 ^-vs. TBA Honolulu, Hawai'i TBA TBA
Thursday, Jan. 3 *at Arizona Tucson, Ariz. 7 p.m. FS1
Saturday, Jan. 5 *at Arizona State Tempe, Ariz. 4 p.m. PAC12
Thursday, Jan. 10 *WASHINGTON STATE BOULDER 7 p.m. PAC12
Saturday, Jan. 12 *WASHINGTON BOULDER 8 p.m. ESPNU
Sunday, Jan. 20 *at Utah Salt Lake City, Utah 4 p.m. ESPNU
Thursday, Jan. 24 *at California Berkeley, Calif. 9 p.m. PAC12
Saturday, Jan. 26 *at Stanford Stanford, Calif. 6 p.m. FS1
Thursday, Jan. 31 *OREGON STATE BOULDER 7 p.m. PAC12
Saturday, Feb. 2 *OREGON BOULDER 7:30 p.m. PAC12
Wednesday, Feb. 6 *at UCLA Los Angeles, Calif. 7 p.m. PAC12
Saturday, Feb. 9 *at USC Los Angeles, Calif. 8 p.m. ESPN/2/U
Wednesday, Feb. 13 *ARIZONA STATE BOULDER 8:30 p.m. FS1
Sunday, Feb. 17 *ARIZONA BOULDER 6 p.m. ESPNU
Wednesday, Feb. 20 *at Washington State Pullman, Wash. 8 p.m. PAC12
Saturday, Feb. 23 *at Washington Seattle, Wash. 8:30 p.m. PAC12
Saturday, Mar. 2 *UTAH BOULDER 4 p.m. ESPNU
Thursday, Mar. 7 *UCLA BOULDER 7 p.m. ESPN2/U
Saturday, Mar. 9 *USC BOULDER 3 p.m. PAC12 
March 13-16 Pac-12 Tournament Las Vegas, Nev. TBA TBA
March 19-20 NCAA First Four Dayton, Ohio TBA TBA
March 21-24 NCAA 1st & 2nd Rounds TBA TBA TBA
March 28-31 NCAA Regional TBA TBA TBA
April 6-8 NCAA Final Four Minneapolis, Minn. TBA TBA
–