—
Colorado at Arizona State: "T.I.P.S." as Buffs try for first road win over Sun Devils
—
For one game, the 2017 Buffs looked like the 2016 Buffs.
The Colorado offense had 553 total yards in a 44-28 romp over Cal. The Buffs were led by a rejuvenated/motivated Steven Montez, who threw for three touchdowns while completing 70% of his passes. The Buff defense held the Bears to 225 yards of total offense through three quarters (when the game was still in doubt). The special teams (three-for-three field goals; 49.3 yards per punt; kickoff and punt returns over over 20 yards) remained quietly effective.
Now, however, the $800,000 question (or whatever the payout would be for a minor bowl game involving CU) is whether the Buffs can maintain that excellence over their next three games.
"We're in a spot to be able to finish strong," MacIntyre said. "We probably don't have a shot at the Pac-12 Championship unless a bunch of people lose here, but we got a lot of other goals to be able to be able to reach, so that is what those (designated "gold games") mean.
"We want to try to keep improving each week and try to be the best team we can be when we hit November."
Well, it's now November.
Time to see if the Buffs are going to be the best team they can be …
—
This week's "T.I.P.S." for CU at Arizona State … Sat., 7:00 p.m. MT, Pac-12 Networks
—
T – Talent 
Arizona State is 4-4 on the season, with a 3-2 record in Pac-12 play.
If want to look at the upside of Sun Devil football, you look at the victory over then No. 24 Oregon, 37-35, the upset of then No. 4 Washington, 13-7, and the domination on the road of Utah, 30-10.
If you are a glass half-empty Sun Devil fan, you shake your head at the 52-45 loss to Texas Tech, and the gut-wrenching 48-17 humbling at the hands of No. 21 USC last weekend.
The Sun Devils are lead by quarterback Manny Wilkins (No. 5). The junior has thrown for 2,096 yards, with nine touchdowns and three interceptions (for comparison's sake, CU quarterback Steven Montez has very similar stats: 2,059 passing yards, with 15 touchdowns and six interceptions). Unlike Arizona's Kahlil Tate, though, Wilkins is not going to run for 300 yards against the Buffs. Wilkins has only 51 yards rushing on the season, largely due to the fact that he has been sacked 30 times (yes, 30 times … ASU is 127th in the nation in sacks allowed).
When given time to throw the ball, Wilkins' favorite target this season has been N'Keal Harry (No. 1), who has 54 receptions for 713 yards and three touchdowns (CU's best: Bryce Bobo: 45 catches for 485 yards and five touchdowns). "He's so big (6-4, 216 pounds) and he's athletic," MacIntyre said. "He's able to catch it and not take a hit. They even put him in the backfield and run him at wildcat. He's an excellent, excellent player."
Like Colorado, the Sun Devils have three receivers over 400 yards this fall. Unlike the Buffs, the Sun Devils are used to long completions. Arizona State has five different players with catches going for at least 50 yards … while CU had its first two of the season last week against Cal.
While the Buffs rely almost exclusively on Phillip Lindsay to carry the ball, the Sun Devils have a pair of running backs with almost identical numbers. Demario Richard (No. 4) has 100 carries for 379 yards and five touchdowns, while fellow senior Kallen Ballage (No. 7) has 93 carries for 378 yards and five touchdowns (at least this will be the last time the Buffs have to face Ballage. A Falcon, Colorado, product, Ballage was a four-star recruit who looked like he might be a Buff … right up until Signing Day, 2014, when Ballage opted to sign with ASU).
On the defensive side of the ball, look out for rush defensive end Alani Latu (No. 44). The senior had 4.5 sacks in his first five games, but has sat out the last two with a leg injury. Latu is expected to be back in the lineup against Colorado.
"I feel good about our football team; we're the same team that's beat two Top 25 teams, one Top 5 team," Graham said referring to wins over Oregon and Washington. "We got a good football team. We have great character. We're pretty healthy for this time of year, even though we've lost three starters. You got to be healthy going into November. You got to have the right frame of mind. And you got to bring it."
—
I – Intangibles
"The uniform makes the man" is an old saying … and we'll see if it has any meaning this Saturday.
The Buffs will be wearing their tradition home black-and-gold uniforms this weekend … in Tempe.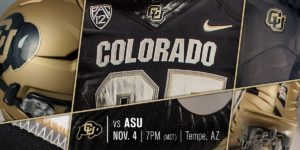 "How is that possible?", you ask.
Good question.
The reason is that, in honor of servicemen in general and fallen ASU hero Pat Tillman in particular, the home Sun Devils are wearing these uniforms: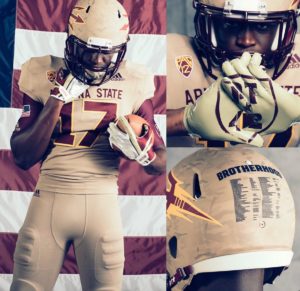 The relevance? Perhaps none.
But it won't hurt that Colorado is not wearing the normal visitor uniforms against Arizona State … if for no other reason than the Buffs have been awful when playing Arizona State in Tempe.
CU's 40-16 win over Arizona State in Boulder last fall was the Buffs' first-ever win in the series. Previously, the Buffs had gone 0-7 against the Sun Devils. In games played in Tempe, the results have been particularly brutal:
2007 … 33-14
2011 … 48-14
2013 … 54-13
2015 … 48-23
For those without a calculator at their fingertips, that's an 0-4 record for Colorado in games played in Tempe against Arizona State, with an average score of 46-16.
Now, Colorado has won a game at Sun Devil Stadium before. A convincing 41-24 win, in fact.
It's just that it wasn't over Arizona State, it was over … Notre Dame (in the 1995 Fiesta Bowl).
(Just for fun, here's the story of "Fiesta Bowl, McCartney, Stewart and Salaam go out as winners", along with the video of the game):
—
P – Preparation / Schedule
According to San Jose Mercury's Jon Wilner, Arizona State was guilty of the Pac-12's "Bellyflop of the Week" in falling to USC, 48-17: The Sun Devils' most significant game in four years (since the Pac-12 championship) took a turn for the dreadful early and stayed on that course. They looked like the Devils of old — and by that, I mean the Devils of a few weeks ago: 607 yards allowed.
Of course, this was a week after Arizona State dominated Utah on the road, 30-10, and two weeks after the Sun Devils handed Washington its only loss, 13-7.
Which is the real Arizona State team?
Who knows?
And it's not as if there is any logic when it comes to the rest of the Pac-12.
Colorado and California played Washington State in successive weeks before playing each other.
Cal defeated Washington State, 37-3.
Washington State then defeated Colorado, 28-0.
So, naturally, Colorado defeated Cal, 44-28.
—
Okay, since past performance isn't a great guide, what about motivation going forward?
We know Colorado is 5-4, needing at least one win to become bowl eligible, with three games to get it done.
We know Arizona State is 4-4, needing at least two wins to become bowl eligible, with four games to get it done.
The Buffs have the Sun Devils, with a home game with USC, a bye week, finishing with a road game against Utah.
The Sun Devils have the Buffs, followed by road games against UCLA and Oregon State before finishing at home in the Territorial Cup against No. 22 Arizona.
Which road would you rather have your team travel?
The Buffs' path, needing only one win … or the Sun Devils' path, needing two wins?
You can make an argument either way.
Like so much having to do with this game, it's a coin flip.
—
S – Statistics
— Phillip Lindsay leads the nation with 240 carries on the season, which is 31 more than any other player, and he is third in total rushing yards with 1,254, trailing only Stanford's Bryce Love (1,387) and San Diego State's Rashaad Penny (1,368).
— Both of the players ahead of Lindsay faced the Sun Devils this year … and had good days. On September 9th, in San Diego State's 30-20 win at Sun Devil Stadium, Rashaad Penny rushed 18 times for 216 yards and one touchdown. On September 30th, in a 34-24 Cardinal victory, Bryce Love went for 301 yards on 25 carries with three scores (and last week, USC went for 341 yards rushing).
— Arizona State is 24-of-25 (.960) in the red zone this season (includes 19 touchdowns), which ranks fourth in the FBS. Only time it did not score was last possession of game vs. Washington (ran out clock).
— Steven Montez has a streak of 134 pass attempts with out throwing an interception, the third best streak in CU annals. He trails Sefo Liufau (152, 2015-16) and Joel Klatt (139, 2005).
—
Bottom Line … When you think of CU playing Arizona State, you don't have very many favorable memories from which to choose. As noted above, the Buffs were 0-7 all-time against the Sun Devils until breaking through last fall. And it's not as if these were games played in leather helmets – all seven losses were recorded between 2006-15.
In picking this game, there are two simple questions which will decide the outcome:
– Which Buff team shows up – the one that played a complete game against Cal, or the one which laid an egg against Washington State?; and
– Which Sun Devil team shows up – the one that held Washington to seven points in a massive upset, or the one which laid an egg last weekend against USC?
If you can tell me the answer to those two simple questions, I'll tell you which team will win Saturday night.
The problem is, we don't know how the 5-4 Buffs or the 4-4 Sun Devils will play in any given week.
History in the series favors Arizona State.
Last weekend's results favor Colorado.
The Sun Devils are averaging 27.9 points per game; the Buffs 27.8.
Yes, it's that close.
Colorado has a slight edge offensively this fall (416.9 ypg. v. 390.1 ypg.) and a slight edge defensively (423.4 ypg. v. 440.0 ypg.).
If the Buffs don't let their past history against the Sun Devils turn this into a blowout, it will come down to which team can make a play in the final minutes.
Going with my heart over my head …
Colorado 31, Arizona State 30
–
—–