—
Colorado Daily – Texas State
—
September 10th
… CU in a few minutes … 
Leo Jackson emerging as CU's primary pass rush threat
From the Daily Camera … With three new starters on the defensive line this season, Colorado needed somebody to step up and be a leader.
Senior Leo Jackson III took that challenge seriously, and so far he's delivering.
In Saturday's 37-3 win against Texas State, Jackson registered a career-high three sacks. In fact, it matched the total he had in his entire 27-game CU career before Saturday. It was also the first three-sack game by a Buff since Josh Hartigan against Kansas State on Nov. 20, 2010.
"That's the main reason we come and play this game, to make plays out here," he said. "I'm thankful to have the teammates I have and the coaches I have to put me in position to make these plays."
… Continue reading story here …
–
—
Evan Worthington backs up eight-tackle CSU game with nine-tackle effort v. Texas State
From the Daily Camera … The comeback story being written by Evan Worthington keeps getting better.
A year ago, the Colorado safety was at home watching the Buffaloes. Dismissed from the team in January 2016, he had to work to earn his way back onto the team, which he did this past January.
While he was out, the former Cherokee Trail High School star, became a father.
Throughout spring and into preseason camp, Worthington vowed that he was more focused and mature than he was during his first two years at CU.
So far, he's backing that up.
During Saturday's 37-3 win against Texas State, Worthington had nine tackles, including two tackles for loss, and a pass breakup. He had eight tackles and an interception in the Buffs' season-opening 17-3 win against Colorado State on Sept. 1.
… Continue reading story here …
–
—–
September 9th
… CU in a few minutes … 
Drew Litton from the Daily Camera …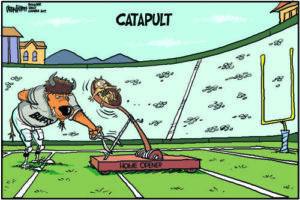 –
—
Buffs look to sustain defensive momentum v. Texas State
From the Daily Camera … This past offseason was filled with growing pains for the Colorado defense.
After all, it's nearly impossible to lose the defensive coordinator, two other assistant coaches, eight starters and two other significant contributors and experience a smooth transition.
There were some communication breakdowns at times. Several players were new to the team. Others were new to their expanded roles.
Yet, as everybody outside of the CU locker room kept focusing on what the Buffs lost, they kept working with what they had.
In their debut performance last week, the new look CU defense was prepared, in sync, physical and, at times, nasty in a 17-3 win against CSU.
"I was pleased," new defensive coordinator D.J. Eliot said. "I was pleased with their effort, their communication, their execution. We weren't perfect. There's some things we need to get better at, but for the first game I was pleased with those things."
… Continue reading story here …
–
—
"Born To Lead – The Sal Aunese Story" kicks off Academy Award campaign
From the Daily Camera … The creators of "Born to Lead: The Sal Aunese Story" are kicking off their Oscar campaign this weekend in Vail.
Producer George Antonopoulos and director/writer Lara Slife are hoping to receive an Oscar nomination for the documentary about the late Sal Aunese, who quarterbacked the Colorado football team in 1987 and 1988 before losing his battle with stomach cancer at the age of 21 in the fall of 1989.
The 100-day Oscar campaign will take the film to as many as 30 cities over the next few months in preparation for the short list of Oscar nominations, which are announced in December.
"Born to Lead" will be shown at 8:30 p.m. on Saturday at CineBistro at Solaris in Vail. For tickets, call or text 415-494-8082. Former CU players Jeff Campbell, J.J. Flannigan other VIPs are expected to attend.
The film received an award for best documentary feature film at the FICTS Sports Film Festival in Milan, Italy, last year. Slife also received an award for best first-time director.
–
—–
September 8th
… CU in a few minutes … 
Game Day information for Texas State
From CUBuffs.com … Fans attending the home opener between the Colorado Buffaloes and Texas State on Saturday at Folsom Field are encouraged to be in their seats by 11:45 a.m. for the 12:01 p.m. kickoff.  Below are game day policies and features that Buffs fans should know.
Buffs Fan Zone:  Come enjoy the Buffs Fan Zone inside the indoor practice facility starting pregame and throughout the game.  The Buffs Fan Zone will feature the Chip's Kids Club area featuring interactive games and activities for kids of all ages.  Concessions, including access to beer and wine, with plenty of seating is also available. The Buffs Fan Zone will open 2 hours before kickoff and can be accessed from inside of Folsom Field.
Buff Walk: Be a part of our team welcome tradition by joining the band, spirit, Chip and other Buffs fans at the Buff Walk to welcome the team busses as they arrive for the game.  The players will arrive approximately 2.5 hours before kickoff on Colorado Avenue at the southwest corner of the stadium and walk through the fans down the Buff Walk on their way to their locker room.  Come cheer them on and let them know you are behind them before every home game. For Texas State, the team is scheduled to arrive around 9:40 a.m.
Ralphie's Corral: The CU alumni tailgate tent is now located behind Duane Physics on the south side of Colorado Avenue. This event is free to the public, and features photo ops with Ralphie, performances by the CU Marching Band and Spirit Squad, fun games for kids, pictures with Chip, premium giveaways including CU Nike Gear, music and concession-style food and drink available for purchase.
CU in 60:  Don't wait until 11:45 a.m. to try and get in the game. You'll have to wait.  We continue to work with our security partners to expedite lines in a safe and secure manner, but there are limits as to how many people can get through our entrances in a short period of time.  Get to your seat early. A good rule of thumb: kickoff is at 12, so make your way to the gates starting at 11 a.m., that's 60 minutes before kickoff.
Clear Bag Policy: Continuing this season, fans may bring one clear bag no larger than 12 inches by 6 inches by 12 inches, or a one-gallon resealable clear plastic storage bag, into the stadium. Fans will also be allowed one small clutch purse, no larger than 4.5 inches by 6.5 inches.  Bags that will no longer be allowed into Folsom Field include backpacks, large purses, oversized tote bags, camera bags and binocular cases, diaper bags, fanny packs and printed plastic bags. Seat cushions and chair backs will still be allowed, but they must be 18 inches or less in width and cannot have pockets, zippers or covers. Please review the full clear bag policy at www.cubuffs.com/beclear.
Franklin Field Tailgate Zone: Franklin Field will be family-friendly, vehicle-free, and zero-waste, featuring infinitely recyclable aluminum containers, compostable foodware, full compost and recycling collections.  Fans can access their tent-tailgate space from parking located in the solar-powered Indoor Practice Facility underground garage adjacent to Franklin Field. There is no glass and no "red cups" allows this year, and the smoke-free campus policy is also in effect. The FFTZ does not allow glass and other hazards from being deposited on the field where kids play during tailgate times and student-athletes practice between games.
Need Assistance During The Game?: Any fan needing assistance during the game can text "CU" with their message to 69050.
–
—
CU freshmen already having an impact
From CUBuffs.com … The Buffs defense answered a lot of questions in last week's win over Colorado State, holding the Rams to only three points and forcing three turnovers. In particular, the win proved to be a coming out party for freshmen on the defense.
True freshmen outside linebackers Jacob Callier and Dante Sparaco, as well as redshirt freshman Trey Udoffia made the most of their first college snaps by putting their names in the CU record books.
Callier and Sparaco were each in on their first collegiate sacks, collecting a sack and half-sack respectively. Since 1984 when detailed game-by-game information is first available, this marks only the second and third time that a true freshman linebacker recorded a sack in their first career game, joining Addison Gillam in 2013.
… Continue reading story here …
–
—
Australian kicker James Stefanou: College life for 30-year old taking "a little getting used to"
From the Daily Camera … Every player on the Colorado football roster has weathered a unique journey, often overcoming adversity along the way, to realize their Division I dreams.
None of the 2017 Buffaloes, and perhaps few in the history of the program, have arrived in Boulder with quite the back story as kicker James Stefanou.
A 30-year old former soccer player from Australia, Stefanou described stepping on to Sports Authority Field last Friday in front of nearly 74,000 fans as "surreal." With his first-game jitters out of the way in a debut that showed promise, Stefanou is aiming for a little more consistency as the Buffs get set to host Texas State Saturday in their first game this season at Folsom Field.
"Our fans were louder (last week), which was great," Stefanou said. "That pushed us over the line, which is really good. It was a really good experience."
… Continue reading story here …
–
—–
September 7th
… CU in a few minutes … 
Death of former Buff Drew Wahlroos ruled a suicide
From the Daily Camera … Drew Wahlroos, a former University of Colorado linebacker who went on to play in the NFL, died over the weekend from a self-inflicted gunshot wound to the chest — the second well-known Buff to kill himself in the last year.
A representative of the San Diego Medical Examiner's Office said Wahlroos died on Saturday at the age of 37, and that his death has been ruled a suicide.
Originally from Poway, Calif., Wahlroos played for the Buffs from 1999 to 2002. After graduating, he briefly played in Europe before signing with the NFL's St. Louis Rams, appearing in 21 games over two seasons, primarily on special teams.
Former CU guard Matt McChesney was a couple of years younger than Wahlroos, but got to play with him both as a Buff and for a short time when they were both on the Rams.
"We spent every day together when we were the only two Buffs on the team," McChesney said. "He took me under his wing and treated me like a brother."
… Continue reading story here …
–
—
Joe Tumpkin accuser sues University of Colorado, administrators and coaches
… Editorial note … I'm not going to post on this story ad nauseum. Just updates as warranted …
From the Daily Camera … The woman whose accusation that a University of Colorado football coach extensively abused her led to an investigation of officials' failure to report the allegation sued CU President Bruce Benson, head coach Mike MacIntyre and two others campus leaders on Wednesday.
Pamela Fine, in a lawsuit filed in U.S. District Court in Denver, is alleging assault, battery, false imprisonment and intentional infliction of emotional distress against former assistant coach Joe Tumpkin.
Fine also is claiming negligence and civil conspiracy against Benson, MacIntyre, Athletic Director Rick George and Chancellor Phil DiStefano.
"This is no longer about protecting the man who abused me and the powerful men who decided not to do what they were morally, contractually and legally required to do," Fine said in a statement provided by her attorney.
"I am no longer protecting the men who silence victims in the name of winning football games."
CU denies the allegations made in the lawsuit.
"The claims in the lawsuit are not well-founded factually or legally, and we will defend our employees aggressively," CU spokesman Ken McConnellogue said.
… Continue reading story here …
–
—
Isaiah Oliver on pass interference: "Sometimes it's going to get called and sometimes not"
From the Daily Camera … Much has been made this week about the three offensive pass interference penalties called against Colorado State last Friday in Colorado's 17-3 victory against the Rams.
Were they legitimate penalties or not? That's been the debate between fans all week.
CU cornerback Isaiah Oliver, who benefitted from one of those calls against the Rams, said he believes the penalties were legit, but added that's the case for a lot of pass plays.
"(Pass interference) could be called 90 percent of the time, I would say," Oliver said. "There's a lot of hand fighting, always, on fade balls or comebacks from receivers and (defensive backs). It just comes down the ref's judgment at the end of the day.
"You could go back through probably every single fade ball of last year and you could say, 'That's offensive pass interference, or that's defensive pass interference.' Sometimes it doesn't get called."
… Continue reading story here …
–
—–
September 6th
… CU in a few minutes … 
Buffs looking to protect home turf
From the Daily Camera … There was a time when opposing teams simply couldn't come into Folsom Field and beat the Colorado Buffaloes.
When CU was a national power, the opposition suffered lopsided losses in Boulder.
For much of the past decade, Folsom hasn't been too intimidating, but two years ago, defensive lineman Leo Jackson III got a glimpse of what it could be.
"When I first came in my first year (in 2015), we had four wins and we had a taste of it that year of getting the stadium rocking and getting fans in there," Jackson said this week.
… Continue reading story here …
–
—
Defensive back Anthony Julmisse dismissed from team
From the Daily Camera … CU head coach Mike MacIntyre said Wednesday that cornerback Anthony Julmisse has been dismissed from the team.
Julmisse, a sophomore who would have competed for a starting role, was arrested on July 27 — just before the start of preseason camp — and accused of assault, harassment and domestic violence. He was immediately suspended from all team activities at that point.
He was then arrested last month and charged with first-degree trespassing of an automobile with the intent to commit a crime, leaving the scene of an accident and false reporting.
Julmisse has a hearing scheduled for Sept. 14. This week, he is still listed as suspended on the roster, but MacIntyre said Julmisse was dismissed when fall classes began last week.
In the past, MacIntyre has brought some dismissed players back to the team a year later. He did not rule out that possibility with Julmisse.
Julmisse is the second player dismissed from the team this summer, along with linebacker NJ Falo.
–
—
Mike MacIntyre post-practice talk with media (Wed.)
From YouTube, courtesy of BuffStampede.com
–
—
Injury report for Texas State game
From CUBuffs.com …
TB Kyle Evans – hip – suffered a hip dislocation in 3/10 scrimmage; surgery on March 12 (rehab was well ahead of schedule) QUESTIONABLE
S Nick Fisher – hamstring – strained early in fall camp – DOUBTFUL
OLB Shamar Hamilton – knee – surgery; out for the season-  OUT
WR Jaylon Jackson – ankle – suffered a fracture and ligament damage in the 8/05 scrimmage; had successful surgery to repair but it out for the season – OUT
TE Dylan Keeney – back spasms – endured all of spring drills but was able to practice most days; limited to non-practice rehab at present – OUT
OL Kolter Smith – heart – has had palpitations, underwent a cardiac procedure Aug. 8, easing back into things – OUT
–
—
Defensive lineman Javier Edwards: "There's always room for improvement"
From the Daily Camera … Although he's only been a part of the CU football program for about eight months, defensive lineman Javier Edwards has already become a popular figure in the locker room, and he's developing into an important player on the field.
A 6-foot-3, 350-pound nose tackle, Edwards is a junior who transferred to CU last winter from Blinn College. As the man in the middle of the CU defensive line, he got his feet wet with his Buffaloes debut in Friday's 17-3 win against Colorado State.
"I feel like it went OK," Edwards said. "There's always room for improvement. This was a good game to see where I was and how I reacted to certain things. I feel like the sky is the limit from here. I can't do nothing but get better."
… "He came here and got comfortable pretty fast," senior running back Phillip Lindsay said. "Javier, he's a big, loving teddy bear, pretty much. But he also handles his business and goes on about his business. I'm proud of him."
… Continue reading story here …
–
—–
September 5th
... CU in a few minutes …
Mike MacIntyre's Tuesday press conference 
—
Transcript of the press conference 
From CUBuffs.com …
Opening Statement
"We're excited about having our home opener in Folsom. It's always an awesome place to play. I was looking out my office before I came out here and they're painting on the field the 50's out there for Ralphie's 50th year. That was exciting to see that, it's always a blast. It's going to be a fun Saturday here. We kick off at noon, so we need all the students to get up before noon and that's hard for a student to do on a Saturday. That makes a big difference for our team for them to be there. They need to get there before noon, so wake up at 11:45 and come on over."
On Offense's Performance Against CSU
"We were clicking on all cylinders. We were rolling for 18 minutes and then there was that great interception by their guy. Steven [Montez] made a great throw and Devin [Ross] got down and kind of had it, but just bobbled out a little bit. He was trying to grab it, but their guy made a great play by pulling it out After that, that kind of stymied us. That would have been a first down and I think momentum to go up 24-0. After that, we just kind of shot ourselves in the foot here or there. They're a lot better on defense than they were last year. We knew that going in. We saw a lot of little things that ended up being big things for us if we would have done a few things better. We definitely could have gotten into the end zone a couple more times. I still think Marty [English] does an excellent job with their defense; they mix it up a bit better and they're much improved on defense. Going into the first game, those types of things pop up a bit more. When the other team's had their feet wet a bit, that always helps them. Hopefully we can correct some of those little things and we'll have a big week this week."
On How Kicker Freshman James Stefanou Fits Into The Team And The Kicking Situation As A Whole
"James is a great fit. He comes from a program over there (in Australia) that have sent 70 kids to Division 1, Division 2 and Division 1AA programs. They have multiple guys kicking and punting in the NFL. We felt really good about his talent and the coaching he was getting. We really liked who he is as a person. He's doing really well. He was nicked up a little bit before our game, that's why we were deciding if he could play or not. He didn't kick all week until the day of the game. He was able to kick pretty well in the game. Davis Price kicked off really well, we were glad to see that. He had been doing that all camp. He had been doing that last year, but he hurt his knee a little bit and that set him back. Then, he had mono, so I told him he couldn't go out with girls anymore or date anybody. Chris Graham came in and kicked the extra point. He backs up every position we have. He's very valuable to us. He'll have to kick sometimes this year and come through just like he did last year. James is our kicker right now and hopefully he stays healthy. As you can tell, he can really get the ball up quick."
On Play Of The Offensive Line And Junior Offensive Lineman Josh Kaiser Against CSU
"I thought Josh played well enough for us to win. They had a couple stunts that we miscommunicated on and they beat us a couple times. Their defensive line is good and have played a lot of football. We definitely have to keep getting better. We'll keep getting better from that game to this game. Overall, they gave us enough opportunities to make plays to win the football game. As a coach, you always see things that they need to keep improving on. I though Josh, in his first start, definitely played well enough for us to win the football game. He had a winning grade. I was excited about seeing that and how he competed. I told him after the game how proud I was of him to go out there and compete like he did. I thought he did a good job."
On Whether He's Coached A 30-year Old Like Freshman Kicker James StefanouBefore
"When I coached for the Cowboys and the Jets, but not in college. I haven't had any 30-year olds in college before. I've had 26 or 25-year olds before; guys that have gone on mission or were in the service and came back. He can keep kicking. I guess the Raiders are having that problem (with 39-year old Sebastian Janikowski) right now. I think I was 10 years old when he started kicking for the Raiders. They can kick forever as long as they stay flexible. Stefanou's in great shape. He played professional soccer for a long time."
On Matchup With Texas State's Front Seven
"Bryan London, #9, he's a big athletic linebacker for them. Frankie Griffin is another one, and Gabe Loyd, they're big. They're all close to 230. They're big and athletic and make a lot of plays for their defense. Last year, they made plays and this first game they made a lot of plays. They held Houston Baptist to 59 yards rushing. We can't be held to 59 yards rushing and expect to win the game. I think they're very stout in the linebacking area. We're going to have to get to the second level. Our offensive line has done a good job at getting to the second level. If they can get to the second level and at least get a piece of the guy, then he'll be off balance and Phillip [Lindsay] and Michael [Adkins] and those guys will make them miss when that happens or run through an arm tackle. That's what we'll have to be able to do."
On The First Weekend Of College Football
"I don't know if UCLA is typically an underdog in that game. To me, they are extremely talented. The thing you have to do once you get up is you've got to put a team away. That's something we didn't do last week. We had our chances to and we let them keep hanging around. Give credit to CSU to keep fighting. Sometimes you've got to out-will the opponent and if their will breaks, you'll blow them away. We didn't get that done last week. CSU kept fighting and we kept letting them stay in the game and they kept making plays to do that. This week, if we get up, we've got to be able to put them away. That's hard to do. As you saw in the UCLA, Texas A&M probably thought it was over, but UCLA kept believing and kept fighting. One of the great plays in that game was the blocked field goal when it was 44-31. If they don't block that field goal, UCLA probably doesn't win it. I thought that was a big play in the game. The energy they had, it showed a lot. I was extremely happy for Jim Mora and UCLA for what they did and for the Pac-12. My [Georgia Tech Yellow] Jackets got beat last night late. I was very disappointed. I was working late and somebody said the game was going to overtime. They were up 28-14 at one time, so I watched the last couple overtimes while I was still working. I always like to watch those situations. In the UCLA game, when I found out what the score was with six minutes to go, we took the offensive staff and sat down and took out our time management cards and figured out how we would have managed the game. We talked through the game as we were watching it; how would we manage it if we were A&M and how would we manage it if we were UCLA. We took it as a teaching experience for us and we learned a couple things in it. In overtime (in the Georgia Tech game), I was looking at what they were doing there. It was a heart-breaking loss for Tech, but a good win for Tennessee."
On Chance Of Getting Upset
"They know all of that, but we'll definitely mention different things. I thought the practice today was excellent, I didn't have to get on anybody or get them going, they were ready to roll. That's always a tell tale sign to me. They know you only get so many times to play, too. That's what I always preach, you're blessed to have the opportunity to play and you never know when your last play is going to be. Our game is such a physical game, so you better go give all you've got every time you have the chance."
On Tim Lynott's Development
"Timmy is very talented, works extremely hard, just a solid, solid young man. He has a great personality but he does kind of keep quiet and goes about his own business. Last year after making the Freshman All-American team, I kept telling him 'you're not going to be a one-hit wonder', so he's just kept working and working. He's doing an excellent job for us at guard and I think he'll be one of the top linemen in the conference as he keeps growing."
On His Most Memorable Ralphie Moment
"My first time I ran out on Folsom Field, Ralphie almost ran over me. We were playing Central Arkansas. When we came out of the old locker room they had a black plastic tunnel we'd go under, so when you're underneath there you can't see anything. There was a person standing by Ralphie [giving countdown with hand] so Parker Orms and I start going out. We get out there and Ralphie's gate is open but Ralphie won't move, so I'm literally looking Ralphie eye-to-eye, thinking to myself 'I'm going to get run over, I'm dead, this is the last time… it's over.' Luckily they've trained Ralphie not to run behind people, so she wouldn't go. This is all happening in a split second, here comes the team behind me so I said, 'Parker, run! We're going to get trampled!' We ran and got back to the sidelines, they shut the gate and Ralphie didn't run so we're out there for the first time in Folsom, the whole crowd starts booing. Sure enough, it rattled our team. We went out on the field without 11 players, jumped offsides on the first snap, went three-and-out. We kind of regained our composure and won the game, and she ran out at halftime. I asked Dave Plati after the game if that's ever happened before, and he said [it has happened] one other time, when CU beat Nebraska 62-36. I said, 'we ought to do that every game.' That's my Ralphie experience, all the rest of them have been phenomenal."
On Play Of Freshman Outside Linebacker Jacob Callier
"We really thought on high school film that he could rush the passer. He had that knack, that quick twitch, he can spin, get underneath and bend. That's what we saw. He has shown that all camp and he showed that in the game the other night. He had a sack. He could have had three sacks in his first game. He had one and he harassed the quarterback a lot. I know he'll be a really good pass rusher for us for the next four years. I'm excited about it. We've seen that in him. He played in such a tough league at St. John Bosco and played against a lot of really good offensive tackles. Coming here, he's done the same thing, so hopefully he'll keep doing that the rest of this year."
On Play Of Junior Inside Linebacker Drew Lewis
"Drew played really well. We knew Drew was really talented. Drew played a little bit at linebacker last year, but Kenneth [Olugbode] and Rick [Gamboa] and Addison [Gillam] were the guys that did the main playing in that spot, then Drew played on special teams and made a lot of plays on our special teams for us. In the spring and fall camp, he's done really well. We blitz him a lot up the middle in our defense. We did that quite a bit with Addison. He reminds me a lot of that. He was able to do that. He did a great job of playing his coverage correctly and playing on the punt team. He played really, really well. I was anxious to see how he played, with the lights coming on and the physicality of CSU's offensive line and running backs. I thought he played really well."
On How Junior Nose Tackle Javier Edwards Has Fit Into The Team
"Javier played really well in the game the other night. He's just got to keep pushing and keep getting better. He does a great job in the middle at nose tackle for us. His personality is incredible. He's so quick-witted. Every time I see him I'm going to start laughing. He's brought a great joy to our team with his expertise and how hard he plays. I'm excited about this year and next year with him. He's one of those guys that lights the room up. He always has that big smile. That's Javier. He won't be playing wildcat quarterback I don't think."
–
… Transcript of Phillip Lindsay and Leo Jackson III's media comments can be found here …
–
—–
Uniforms for Texas State game
#WearSilver this Saturday (kickoff at noon, Saturday, Pac-12 Networks)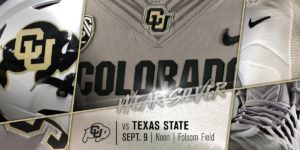 –
—
True freshmen linebackers have auspicious debut
… Related … "Buffs' Callier making early impact" … from the Daily Camera 
From CUBuffs.com … Colorado true freshman linebacker Jacob Callier made his debut as a Buffalo one to remember.
The 6-foot-2, 240-pounder from Downey, Calif., recorded his first quarterback sack as a Buff in Friday's 17-3 win over Colorado State, bringing down CSU's Nick Stevens near the end of the first half.
Callier, who turned coaches' heads throughout fall camp, finished with just the one tackle, but also had two quarterback hurries against the Rams. A defensive end in high school, he put those skills to good use from his outside linebacker spot.
"I do pride myself on pass rush abilities, so me being able to go out there and get some looks out there this past Friday, get a sack, get my name said, it felt good," he said. "Each and every rep I did, I learned."
Callier and fellow true freshman OLB Dante Sparaco both earned their stripes in the game, as Sparaco was credited with a half-sack on the play immediately following Callier's sack. Original press box statistics gave the second sack to Rick Gamboa, but CU coaches' reviews of game film and revised statistics gave a half-sack to Gamboa and Sparaco.
… Continue reading story here …
–
—–
September 4th
… CU in a few minutes … 
Buffs working on improving 
… Related … "CU hoping to make big leap forward for second game" … from the Daily Camera
From CUBuffs.com … Mike MacIntyre's message to the Colorado Buffaloes Monday morning was simple.
If the Buffs can fix the little things, big things will happen — on both sides of the ball.
Not that MacIntyre wasn't pleased with the overall result of the Buffs' season opener, a 17-3 win over in-state rival Colorado State on Friday. But after a weekend of reviewing film, MacIntyre and his assistants saw plenty of room for improvement.
"So many little things we can improve on from the game that could have been big things for us," MacIntyre said after Monday morning's practice, the Buffs' first in preparation for Saturday's home opener against Texas State (Noon, Pac-12 Networks). "And there's things that we did in the game if we don't correct now, the next team will exploit."
Many of those "little things" happened on the offensive side of the ball against the Rams. After scoring on three straight possessions early in the game, the Buffs then spent the rest of the evening suffering from a host of self-inflicted wounds that kept them from adding to their point total for much of the second quarter and the entire second half.
… Continue reading story here …
–
—
Mike MacIntyre post-practice talk with media (Mon.)
From YouTube, courtesy of BuffStampede.com
–
—
CU listed as a 36 1/2-point favorite over Texas State
The betting site, 5Dimes.com, has the Buffs as a five-touchdown favorite over the Bobcats this Saturday, posting the Buffs -36 1/2 points.
Other Pac-12 lines from 5Dimes:
— Oregon … a ten-point favorite at home against Nebraska
— California … a 27-point favorite at home over Weber State
— Washington … a 39-point favorite at home over Montana
— USC … a 6 1/2-point favorite at home over Stanford
— Oregon State … a one-point at home favorite over Minnesota
— Arizona State … a 3-point favorite at home over San Diego State
— Utah … a 1 1/2-point underdog on the road at BYU
— Arizona … a 1 1/2-point underdog at home against Houston
— Washington State … a nine-point favorite at home against Boise State
— UCLA … at home against Hawai'i … line not yet posted …
–
—
Neill Woelk's Ten Takeaways from the CSU game
From CUBuffs.com …  For openers? Not bad.
No one — at least no one inside the Colorado locker room — expected the Buffs to play perfect football in their season opener Friday night.
But in a game against a quality opponent that had the benefit of a game already under its belt, the Buffs played well enough to win and did more than enough in all three phases of the game to provide optimism for the future.
Again — not that the Buffs were anywhere close to perfect. If there was any one overriding theme in the postgame locker room, it was one of happiness with the win accompanied by an acknowledgement that there was plenty of room for improvement.
Still, the Buffs did lots of things well. Thus, in the wake of Colorado's 17-3 opening win over Colorado State, welcome to our first weekly installment of "10 Takeaways:"
… Continue reading story here  …
–
—–
September 3rd
… CU in a few minutes … 
Texas State wins opener over Houston Baptist
Related … Game recap of 20-11 win over Houston Baptist from ESPN …
–
From the San Marcos Daily Record … Texas State knew it needed to make a stand with Houston Baptist at the 2-yard line late in the fourth quarter.
The Bobcats, who held an appearingly comfortable 20-9 lead moments before, suddenly were in a tussle after a safety brought the Huskies to within 20-11 and their opponent driving deep into their territory.
HBU senior halfback Mev Ajdin took the fourth down carry but was met by Bobcat senior linebacker Gabe Loyd. Texas State kept the Huskies off the board and helped secure a 20-11 season-opening win Saturday inside Bobcat Stadium.
"(The fourth down stop) was huge," said Loyd, who finished the game with five tackles and two pass breakups. "The game is on the line. We had to help the offense out. I know we all talked to each other, 'Like, this is it. We've got show who has the big kahunas or whatever and go play ball.' I'm really glad we got those stops it meant a lot."
It was far from a perfect night for the Bobcats. Head coach Everett Withers called the performance a typical first night.
Texas State consistently got in its own way in the opening quarter. The Bobcats turned the ball over on downs inside HBU territory on their opening possession.
The Huskies took advantage of Texas State's misfortunes with an opening-drive touchdown. HBU marched down the field with ease on a seven-play 71 yard scoring drive capped off by a 1-yard rush by senior running back Terrance Peters. The Bobcats limited the damage when senior linebacker Easy Anyama blocked the ensuing extra point to keep the score at 6-0.
HBU added a 33-yard field goal in the first quarter from junior Alec Chadwick to push their advantage to 9-0.
But Texas State's defense tightened in the following quarter and kept the Huskies from scoring on it throughout the rest of the game.
… Continue reading story here …
–
—
Phillip Lindsay makes the most of his final Rocky Mountain Showdown
From Mile High Sports … The Rocky Mountain Showdown was just that — a showdown — as the Colorado State Rams battled it out with the Colorado Buffaloes at Sports Authority Field on Friday night.
Last year, it was the Buffaloes who stole the show as they beat the Rams by a score of 44-7, thanks in part to then-junior running back Phillip Lindsay's 95 yards rushing and two touchdowns. In his highly-anticipated senior season debut, Lindsay had another big outing in the Buffs' 17-3 victory in his final Rocky Mountain Showdown game.
At the half, Lindsay had only seven carries, but he had a whopping 102 yards, including this 45-yard TD run.
On the 45-yard scamper, Lindsay, like most times, gave credit to the big men up front.
"The offensive line handled their business," Lindsay said. "I was patient and followed it, and it hit like it always does in practice."
The all-purpose back from Denver South high school was the difference-maker, and Buffaloes head coach Mike MacIntyre made sure to show his appreciation for his star running back.
"Phil's a heck of a runner," said MacIntyre. "This year, he's a little faster, he's a little stronger."
… Continue reading story here …
–
—
Offense confident improvements can be made
From the Daily Camera … For a few moments, the Colorado offense produced as advertised.
The senior running back with some Heisman Trophy hype sprinted through the Colorado State defense for a 45-yard touchdown.
The sophomore quarterback with the strong arm threw a laser to one of the many talented receivers for an impressive 31-yard touchdown.
Outside of about a 10-minute stretch of the game Friday, however, the CU offense sputtered throughout the Buffaloes' 17-3 season-opening win against the Rams.
"We just made a few mistakes here and there," CU head coach Mike MacIntyre said. "Offensive line jumping offsides, those kinds of things. A missed block or a missed read, or something to that effect that would have made some big plays. We'll see that on film and correct it and we will move on."
… Continue reading story here …
–
—
Ryan Moeller happy with move to defense
From the Daily Camera … Ryan Moeller isn't a fan of what-ifs, but visions of what he could have been as a running back at Colorado bothered him during his first season in Boulder.
After all, as a senior at Rifle High School in 2012, Moeller rushed for 3,002 yards and 43 touchdowns. It was one of the greatest single-season performances in the history of Colorado high school football.
After walking on at CU in 2013, he had ideas of flashing those running back skills with the Buffs.
CU head coach Mike MacIntyre had other ideas.
"I was watching him and I said, 'Ryan, just trust me, I think you could be an unbelievable safety,'" MacIntyre said recently. "I thought he could be a really good running back, but I thought he could be a great safety."
Moeller reluctantly put his trust in MacIntyre.
"I started playing defense and the rest is history," he said.
… Continue reading story here …
—–