—
Colorado Daily – Washington State
—
October 21st – Game Day!
… CU in a few minutes … 
Drew Litton on CU at No. 15 Washington State
From the Daily Camera …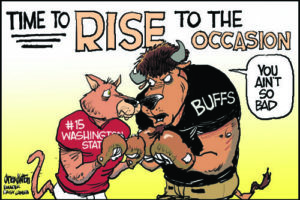 –
—
Buffs hope foul weather will help in upset bid
From CUBuffs.com …  In a conference in which road wins are difficult to come by, the Colorado Buffaloes will be chasing their second in a row Saturday night at No. 15 Washington State (8:45 p.m., ESPN).
If the 4-3 Buffs (1-3 Pac-12), who won at Oregon State last week, can pull off a win against the 6-1 Cougars (3-1 Pac-12), it will end a 27-game drought against ranked teams on the road, a stretch that covers 15 years. The last time the Buffs beat a ranked team on the road was 2002, when Gary Barnett's team went to UCLA and handed the No. 20 Bruins a 31-17 defeat.
The Buffs figure Saturday night is as good of a time as any to end the skid. The Cougars are coming off a surprising 37-3 loss to unranked Cal, a game in which just about everything that could have gone wrong did for WSU. That includes yielding nine sacks and seven turnovers, five of those interceptions of standout quarterback Luke Falk.
Falk, who is still among the nation's leaders in passing yards and touchdown throws, has been the center of the Buffs' attention all week. But Saturday night's weather at Martin Stadium could be a major factor. The forecast calls for temperatures in the low 40s, rain throughout the game and wind gusts as high as 40 mph.
… Continue reading story here ..
–
—–
October 20th
… CU in a few minutes … 
Buffs hoping to put together a complete game against Washington State
From the Daily Camera … We still haven't put a full game together with offense and defense and special teams," senior running back Phillip Lindsay said.
That's partly why the Buffaloes (4-3, 1-3 Pac-12) are swimming in mediocrity as they prepare for the final five games of the regular season, beginning Saturday with a visit to No. 15 Washington State (6-1, 3-1).
Although time is running out on the Buffs to find that complete game, they are confident it's still out there.
"We're excited (for this game)," senior outside linebacker Derek McCartney said. "We're here and getting better. Just ready to go."
…
"Every day we're trying to finish plays off and we need to come together as a defense. Everyone needs to be able to finish a play."
While the Buffs played good defense early in the season, they are feeling the effects that come from losing eight starters and 10 major contributors from last year.
"Like everybody thought, we've had some tough times and some really good games," MacIntyre said. "I knew it would be a little bit of a growing experience when you've had eight of those guys that went to NFL teams last year."
Those players aren't coming back, however, so it's up to the Buffs to figure out how to get their current defenders to produce more good moments than bad.
"The whole thing is you've got to just keep working with them and keep maturing," MacIntyre said.
Until then, the Buffs continue their search for the complete game.
… Continue reading story here …
–
—
Neill Woelk: Five Keys to the Washington State game
From CUBuffs.com … If "blueprints" were easy to follow in college football, the 4-3 Colorado Buffaloes (1-3 Pac-12) would have no problem stopping Washington State (6-1, 3-1) and quarterback Luke Falk on Saturday.
The Buffs would simply replicate what Cal did a week ago in a 37-3 win over the previously unbeaten Cougars. The Bears sacked WSU's Falk nine times, intercepted him five times and also forced two fumbles (one by Falk, which the Bears returned for a touchdown).
But that's not how the game works.
For starters, it's hard to imagine Falk, who is eighth in the nation in passing yards per game (326.6) and tied for third in touchdown passes (19), enduring another night like he had last week in terms of interceptions. The WSU senior had thrown just two interceptions in the first six games, and at least a couple of those miscues in last week's game were tipped balls or drops (not all Falk's fault).
Meanwhile, the majority of the sacks came as the Cougars were falling farther and farther behind, forcing Falk into obvious passing situations and allowing the Bears to simply tee off on the WSU quarterback.
Still, there's no doubt the Buffs' defense wants to make life as tough as possible on Falk in their Saturday meeting at Martin Stadium (8:45 p.m, ESPN).
Thus, our weekly Fast Five keys for a Buffs win:
… Continue reading story here …
–
—
50th anniversary for Ralphie … Ralphie II
… Related … Ralphie I
From CUBuffs.com … In 1978, when Ralphie I became ill, Steve Bosley organized a search for a new buffalo headed by Buddy Hays. Hays discovered a yearling buffalo named Moonshine, owned by Gregg C. Mackenzie. Bosley, The Bank of Boulder, and Bank Director Robert Confer bought Moonshine from Mackenzie for $1,000 and donated her to Colorado. Since "Ralphie" had become the well-known name of the buffalo, Athletic Director Eddie Crowder made it permanent. Mackenzie continued to train Ralphie II and run the program when Buddy Hayes left in 1979, until 1986. Ralphie II lived at Hidden Valley Ranch until 1981, when she moved to the McKenzie Ranch located in North Boulder. Ralphie II moved to several different ranches after living a few years at the McKenzie ranch, ending up at B-J Acres, north of Erie, Colorado in 1985. In 1987 Johnnie Parker took over the program and the training of Ralphie II as well as housed her at the Parker Ranch in Hudson, Colorado.
Ralphie II was originally named Moon as she was born during a lunar eclipse. Her mother unfortunately died during labor, and she was raised by ranch hands. In 1976 Mackenzie purchased Moon from the rancher and raised her for his FFA project at Smoky Hill High School in Aurora, Colorado. Her name changed to Moonshine as a more fitting name for a female buffalo.
Ralphie II made her debut on November 18, 1978, the final home game of the season. Standing on the sideline as Ralphie I made her final run around the field for the first half run, Ralphie II took over for the second half run. Colorado lost 16-20 to Iowa State, but the Ralphie Program and name became a tradition. In 1979, Ralphie took a trip to Steamboat Springs, Colorado for the NCAA Skiing Championships to support the school's ski team, which Colorado won. In 1985, Colorado selected the homecoming theme of "Ralphie goes to Hollywood." In 1986, Ralphie made the trip to Oklahoma State University (OSU) and ran at the Colorado vs. Oklahoma State game and stayed at OSU's veterinary clinic. Students from OSU broke into the clinic that night and spray painted "OSU" in orange letters on her side.
Ralphie II was transported around in the same modified steel, brown, 4-horse trailer that Ralphie I used. Initially Ralphie II used the same custom leather harness that Ralphie I used, but used a different headstall. The harness was modified to fit Ralphie II's bigger size than Ralphie I's. In 1986 a new harness and headstall was used by Ralphie, this one was built by Carl W. Pike Saddlery out of Boulder, Colorado, the same company who modified the original harness to fit Ralphie II. The new headstall featured the iconic brass "CU" emblem on the front. While always a part of the Athletic Department, it was not until 1987 when Ralphie Handlers first earned a Varsity Letter for their participation.
… Continue reading story here …
–
—–
October 19th
… CU in a few minutes … 
Bryce Bobo developing a rapport with quarterback Steven Montez
From the Daily Camera … While Jay MacIntyre and Devin Ross were shut out last week at OSU (with Ross going the past two games without a catch), Bryce Bobo has excelled. He made nine catches for a career-high 126 yards against the Beavers with a pair of critical fourth-quarter touchdowns. Not included in those numbers was a clutch reception on a two-point conversion where he held on to the ball despite being drilled at the back of the end zone.
The rapport that seemingly has emerged with Montez is no accident, according to co-offensive coordinator Darrin Chiaverini.
"You definitely see it in practice and now you see it in the games," Chiaverini said. "There's a trust factor I think when Steven throws the ball to Bryce. He trusts his throws to Bryce, and Bryce has excellent ball skills, gets open, and makes plays. I had that when I was here with (Koy) Detmer, I had it with (Mike) Moschetti. There's a trust factor between a quarterback and receiver, and they've developed that trust in practice."
Bobo's recent surge has vaulted him further up CU's all-time receptions list, as he now ranks 10th with 128. He also ranks 14th with 1,377 receiving yards.
… Continue reading story here …
–
—
Steven Montez confident Buffs can win a close game in the fourth quarter
From CUBuffs.com … Colorado quarterback Steven Montez has now engineered two fourth-quarter comeback victories in his 10 starts for the Buffaloes.
The first came at Oregon in 2016 in his first start as a Buff; the second came last week at Oregon State. In both games, he led fourth-quarter touchdown drives to give the Buffs the lead — and in both situations, he then had to watch from the sidelines as the defense provided a final stop to clinch the win.
If such a situation arises again Saturday at Washington State (8:45 p.m., ESPN), the Buffs sophomore isn't averse to having the ball in his hands once again with the game on the line.
"In high school, playing basketball, whenever the game was on the line, I took every last-second shot we had," Montez said. "It correlates in football. Whenever we're in one of those situations and we're down and we need a touchdown to win, the offense wants to put it on our back. Whenever we can get a chance to do that, you want it. We want the ball in our hands."
Of course, a fourth-quarter game-winning drive requires more than just one player taking one shot. It requires the coordinated effort of all 11 players — which is exactly what the Buffs had last week when they marched more than 80 yards twice in the final quarter, both times erasing OSU leads.
… Continue reading story here …
–
—
Pac-12 Networks preview of CU at No. 15 Washington State
From YouTube, courtesy of the Pac-12 Networks:
–
—
National Geographic … Boulder the happiest city in America
From National Geographic … Who are the happiest Americans? Ask this question anywhere from Montauk to Maui and you're bound to pique interest (you may even pick a fight). While fans of the film Moana might sing the lyrics "Happiness is where you are," for scientists studying the roots and fruits of happiness, location-specific qualities of place, community, and opportunity powerfully inform the way we feel about our lives.
National Geographic, bestselling author Dan Buettner, and Gallup's social scientists teamed up to develop an index that assesses measurable expressions of happiness and identifies where Americans are living their best lives. Designed by Gallup senior scientist Dan Witters, the study established 15 metrics—from eating healthy and learning something new every day to civic engagement, financial security, vacation time, and even dental checkups—that signal happiness. The National Geographic Gallup Special/Blue Zones Index draws on nearly 250,000 interviews conducted with adults from 2014 to 2015 in 190 metropolitan areas across the U.S.
The winner: Boulder, Colorado. Bolstered by a sense of community, access to nature, sustainable urban development and preservation policies, and perhaps even that clean mountain air, Boulderites overwhelmingly feel "active and productive every day," according to Buettner's research. Per capita, more people walk to work in Boulder than in any other city in the U.S. Low rates of smoking and obesity, and high rates of exercise, contribute to the satisfaction locals feel. Life is not always rosy in the Rockies—stress is on the rise; on average, 49 percent of locals surveyed reported feeling stress—but the qualities that keep Boulder on top make this city America's happiest.
Other college towns in the top 20 …
No. 3 Charlottesville, VA- Virginia
No. 4 Fort Collins, CO- Colorado State
No. 6 San Jose-Sunnyville-Santa Clara, CA- Stanford
No. 7 Provo-Orem, UT- BYU
No. 15- Honolulu, HI- Hawaii
No. 16 Ann Arbor, MI- Michigan
No. 18 Colorado Springs, CO- Air Force
–
—–
October 18th
… CU in a few minutes …
Injury update … Two Buffs who have been out of action the past few weeks are on the mend. Cornerback Trey Udoffia suffered a knee sprain in the UCLA game on September 30th. His status – just in time to face Luke Falk and the Washington State "Air Raid" offense – has been upgraded to "probable".
Less likely to get back on the field is nose tackle Javier Edwards. The junior college transfer who was supposed to be plugging up the middle of the line suffered a sprained ankle against Arizona on October 7th. Edwards is listed as "day-to-day", and is not likely to get back on the field this weekend.
–
—
Senior wide receiver Devin Ross trying to stay positive 
From the Daily Camera … Given the results he's produced over the last two seasons, it would be easy for Devin Ross to complain right now.
The Colorado senior is used to making catches and helping his team, but in the past two games, he's been shut out.
As the Buffaloes (4-3, 1-3 Pac-12) prepare to visit No. 15 Washington State (6-1, 3-1) on Saturday, however, Ross isn't griping.
"Especially after being the leading receiver last season, you just want to be able to make plays for your team," Ross said. "I still do my job. I still go out there and do my assignment, no matter what. I'm not going to get frustrated or let it affect me in any way. I just keep playing.
"Opportunities come a lot in this game and you just have to wait for your time."
It's been a while since Ross has waited this long between opportunities, however.
Ross, who led the Buffs with 66 catches a year ago, hasn't caught a pass since 11 minutes, 30 seconds remained in the third quarter of CU's 27-23 loss to UCLA on Sept. 30. It's the first time since his freshman year of 2013 that he's played two consecutive games without a catch.
… Continue reading story here …
–
—
Washington State leading receiver suspended for CU game 
From the Spokane Spokesman-Review … n Tuesday, The Spokesman-Review reported that Washington State's leading wide receiver, Tavares Martin Jr., would be suspended for Saturday's game against Colorado.
Cougars coach Mike Leach didn't specify a reason for Martin Jr.'s suspension, but the player's father, Tavares Martin Sr., told Stefanie Loh of the The Seattle Times on Wednesday his son was punished for displaying poor behavior following the team's 37-3 loss to Cal on Friday in Berkeley. Martin Jr. apparently also missed a practice.
"He was a little angry, saying things hadn't gone his way the last couple of games. He broke a team rule and needs to be punished for that," Martin Sr. told the Times. "He just made a mistake and he had to pay a price for it. It was a miscommunication between him and the coaches. He was upset. He said he felt like he should have been more involved in that game. There were a lot of things that took place in the Cal game. T.J. also understands that you lose as a team and you win as a team."
Following Tuesday's practice, Leach said the junior wideout – who leads the Cougars in receiving yards (502) and is third in the FBS with seven touchdown catches – was suspended for a violation of team rules.
He arrived at Rogers Field near the end of Tuesday's workout wearing street clothes and appeared to speak in front of the team as the Cougars were wrapping up.
Martin Jr. was reportedly asked to apologize to the team for his outburst.
"My son has to do better making sure to control his anger," Martin Sr. said. "He has to. He's passionate. He's a real passionate young man. He has to learn to control his emotions, and him and Luke (Falk) and the whole offense got together and talked about it. Him pulling the stunt he pulled, it didn't achieve nothing. We learn from our mistakes."
Martin Jr., averaging better than five receptions per game and 13.6 yards per reception, has been easily WSU's most productive "X" receiver this season. Redshirt senior C.J. Dimry (eight catches, 11 yards) and true freshman Davontavean "Tay" Martin (six catches, 40 yards) are his backups.
–
—
Mike Leach: "We played sorry (against Cal), and we got what we deserved"
From Lindy Sports … Colorado is coming off its first Pac-12 victory while No. 15 Washington State is trying to bounce back after suffering its first overall loss, a humbling 37-3 setback at California last week.
The teams play Saturday in Pullman, Wash., with the Cougars (6-1, 3-1 Pac-12) hoping to get back on track toward a league title and a big bowl game.
"We played sorry and got what we deserved," coach Mike Leach said of the loss to the Golden Bears. "The team is pretty determined to improve, pretty determined to focus in."
The loss to Cal included five interceptions from senior quarterback Luke Falk, who was sacked nine times.
NFLDraftScout.com senior analyst Dane Brugler noted: "When in a rhythm, Falk is one of the best touch passers I've ever scouted. But when defenses crowd his first read and put pressure on the pocket, he often wilts and makes mistakes. That was the case against the Bears as he was stubborn with his reads and forced throws instead of reading the coverage, coming off his preferred target and finding the open man."
Falk and the Air Raid offense, which ranks third nationally with 380.9 passing yards per game, will face a less-demanding challenge defensively against Colorado (4-3, 1-3).
Last week, Colorado allowed 33 points to Oregon State, which had only reached 30 points once before this season. The Beavers gained 569 yards in total offense.
"We're going to have to be all over him," Colorado coach Mike MacIntyre said of Falk. "He's going to make some plays. Hopefully, we can slow him down enough and cause enough turnovers to make a difference.
"That's really how you stop them — you cause a few turnovers and make them kick some field goals."
… Continue reading story here …
–
—–
October 17th
… CU in a few minutes … 
Buff defense needs to find a way to get to Luke Falk
From the Daily Camera … On Colorado's seventh defensive play on Saturday at Oregon State, linebacker Derek McCartney sprinted untouched and took quarterback Darell Garretson down from the blindside.
Just a sliver of a second before McCartney arrived, however, Garretson released the ball and completed a 6-yard pass for a first down. Three plays later, the Beavers scored their first touchdown of the day in CU's 36-33 victory.
"I don't know how the guy got the ball off," head coach Mike MacIntyre said Tuesday. "If we were that much closer, it's a sack, fumble and picking it up and running it in. It changes the whole game. Those are the things you're talking about. You're just so close, but you've got to make them."
CU (4-3, 1-3 Pac-12) has had plenty of those close calls of late, but the Buffs aren't quite making the plays with their pass rush. As they prepare to visit No. 15 Washington State (6-1, 3-1) on Saturday, the Buffs are putting an emphasis their pass rush.
Washington State is led by sensational Luke Falk, one of the best quarterbacks in the country. As good as Falk has been, however, the Cougars are prone to giving up sacks. In fact, they've given up a nation-worst 32 sacks this season, including nine in a stunning 37-3 loss to California last week.
… Continue reading story here …
–
—
Mike MacIntyre Tuesday press conference quotes
From CUBuffs.com …
Opening Statement
"First off, I don't know how Mike Leach does it, but when you get the son of Zeus to play D-line for you it really helps you. Hercules [Mata'afa] is an amazing player. He's so active. They do a great job with how they use him. Of course, Luke Falk can make every throw. It's amazing how much stuff he checks when you watch the tape over and over. He's checking every single play basically. He does a great job. They've got an excellent team. It's fun watching them on tape. I just hope it's not fun watching them on Saturday."
On Whether Washington State Quarterback Luke Falk Is An NFL QB
"I'm not in the NFL, but he can throw it and make all the throws. He reads it. He's not this guy, but he reminds me a little bit of Tom Brady the way he manages, the way he gets the ball out of his hands, the way he can see the blitzes coming and how he sits in there and moves and stays open and makes throws. He reminds me of him, but of course Tom Brady is unbelievable. The way he operates on his college game, he's like that on the field."
On How WSU Will Play After Their First Loss Last Week
"They always play hard. That was a weird game. They moved the ball; they did some things; they played pretty good on defense. It kind of got away from them. Any time you have seven turnovers – of course Cal caused a few of those, but Washington State caused quite a few of them themselves – it was weird with balls bouncing in the air. I definitely think they'll come out and play hard. I thought they tried to play hard in that game, but sometimes the bounces just happen. Maybe they'll have another week of bad bounces. That'd be good."
On The Matchup Between WSU's Offense And The Defense
"Our guys have got to know right where to be. They've got to understand if his first option's not open, he's able to go to his second and third option. It looks like to me sometimes he's holding the ball sometimes to get the ball downfield. I really don't think (WSU head coach) Mike Leach cares if he takes a few sacks, honestly. He knows if he keeps doing that he's going to his right reads. Eventually that big play is going to come open. They want him to sit in there and go through his keys and read it and see it. Of course they don't want to take sacks, but I do think sometimes he'll give up a sack to be able to know the next time they run the same play he'll hold it and get it to the guy. It's amazing. It's almost like he's got eyes on the back of his head sometimes."
On How WSU's Offense Is Consistently Good Every Year
"They get good receivers coming in. It took him a little while to build the offense. Now that he's got it set, all the backups know it, all the receivers know it, all the quarterbacks know it, all the running backs know it and all the linemen know it. It's a system that they have and he's done a good job with it. It's key on that quarterback; I mean he checks everything. It's pretty amazing what he does."
On How The WSU Defense Has Gotten Better
"They've got a lot of kids back from last year. They're playing hard and reckless. I think that their secondary is playing better this year than it did last year. I think they're a little more aggressive and able to contest more balls and contest more third downs. In the system they do a good job. They have some athletes. They've got guys up front that can make some plays that can harass the quarterback by themselves, which is always key."
On What He's Learned About Defensive Coordinator DJ Eliot
"Number one, DJ's an excellent coach. He knows the system well. He has a great attitude all the time. He's not a finger-pointer. He's a real team guy. I've been very impressed with that and how he's worked with the staff and how the kids have kept responding to him. Even Saturday, as we got going down there, all those kids believed in what we were doing and what he was doing. It showed at different times, especially on the last drive. We haven't been able to do that the last couple times. They had enough fortitude to do it again. They made plays; it wasn't like the other team didn't make plays. We made plays. Sometimes it falls in your lap. We made plays there to get it done. I thought that was good and I think it shows that they believe in him and that he believes in them."
On How Often He Gets Involved Coaching Different Position Groups
"I'm pretty much hands-on in every phase. I'm not a dictator in every phase, but I know what's going on in every phase. Some head coaches are on one side of the ball and they don't have a clue what's going on the other. I'm in every single phase and I meet with every single phase. I try to make sure that we're all trying to go in the right direction. I'm also trying to be a sounding board. They'll ask me. I'm involved in all those phases of it. They can ask a question and they can make a decision and it's an informative decision. It's not something they're doing on their own. I want us all to be on the same page. It creates continuity and trust, when everything is going good or when everything is going bad, so you're always together. You're going to have that throughout a season, a game and a week. I try to be there in all those areas."
On Pressuring WSU Quarterback Luke Falk
"It's important to create some hurries on him there's no doubt. It's important to be able to hit him a little bit too. They do an excellent job. Their offensive line is huge. He's able to get rid of it when he wants to and when he's trying to get something down field he'll hold on to it a little bit. We definitely need to be able to get to him a little bit, there's no doubt."
On How Close Inside Linebacker Drew Lewis Has Been To Getting A Sack
"He knows, but as you watch the film he's harassed a lot of throws and a lot of hurries. His play Saturday, I'm glad it wasn't a sack. I'm glad it was a barely-there and an interception. That was a huge play in the game."
On If WSU's Offense Is Simple
"In anything, it's all in the execution in what the guys on the field can do. I've never worked with him, but he must be an unbelievable teacher and his staff must be unbelievable teachers in how they execute what they do. The whole key is, he has a connection with that quarterback. He knows exactly what he wants to do. That's where I see the genius in it. He's able to be an extension of him and he knows where he wants to go with it and know what he wants to do. It's uncanny."
On How Former Quarterback Sefo Liufau Was Able To Read Defenses And Check Out Of Plays
"Sefo had the ability to do that a lot and was able to see things and do things. He grew into the system. With him, we did it a little bit different. He had different runs and different things to the strengths of what he did. It was similar in a lot of ways."
On How Outside Linebacker Jacob Callier Has Been Able To Rush The Passer
"Jacob has a knack to pass-rush. He's getting better and better every game. He's playing a little bit more every game. We're excited about Jacob throughout the rest of this year and the rest of his career. He's a very good pass-rusher, but I think he can end up being an excellent pass-rusher as he keeps getting better and better and keeps improving and understanding how to go against college tackles every day. He's starting to show that."
On How He Compares This Defense To Past Defenses
"Our D-line last year was really stout. Our D-line this year, a couple of them have been hurt and they've been having to play a little bit more. That's an area that if you're really good there, it shows up. All of a sudden you stop them on a third down or first down play, instead of it going for five it goes for two. Now it's second-and-eight instead of second-and-five. It's little things like that. The pile falls forward. If we were fitting some things up right in the secondary or knock down a pass here or there will make a big difference on it. Like everybody thought, we've had some tough times and some really good games. I knew it would be a little bit of a growing experience when you've had eight of those guys that went to NFL teams last year. They all played a lot of plays and they've seen things. Now our guys can see things. We've had some good moments and we've had some really tough moments. The whole thing is you've got to just keep working with him and keep maturing. All of a sudden they'll get a little bit better and a little bit better. Now it's second-and-eight instead of second-and-five. You make a play when it's third-and-six and you don't let them get passed the sticks. You knock it down. Hopefully we can make a few more of those."
On Keeping In Touch With Former Players Who Are In The NFL
"I do talk to those guys every once in a while. As a matter of fact, Sefo's coming to the game Saturday. His parents were at our game last week. I talked to them for a long time afterwards. I look forward to seeing him. I've talked to all those guys. It's been good. I think [former wide receiver Nelson] Spruce got picked up last night (by the Chicago Bears) I was told. He's been up to a couple games. We do stay in touch with those guys. It's not on a daily basis, but I would say once a month or every couple weeks. They show up. they know they can come around; they can come to my office; they can come to practice; they can come to games any time they want to come. We love having them around."
On The Importance Of Outside Linebacker Derek McCartney To The Pass-Rush
"He's key. He had one on the very first drive the other day. I don't know how the guy got the ball off. They caught it on that third down. If we were that much closer to getting a sack fumble and picking it up and running it in. It changes the whole game. Those are the things you're talking about. You're just so close, but you've got to make them. Close only counts in horseshoes and hand grenades, I was always told as a little kid. It doesn't count in football. He is getting better and better. He made a couple really big plays the other day. They ran a reverse and he came out of there. If he doesn't get the guys leg, he had great effort. They ran a wheel route on him with number 34 [running back Ryan Nall]. He ran right down the sidelines. It was run on us earlier in the year. They copied it. He sees it and runs. He is doing better and better. He's a phenomenal kid and he'll make some big plays here as we go."
On George Frazier Playing Both Offense And Defense
"He's extremely valuable. He played really well for us the other day in the game. He made some really big blocks on offense too. He's a big part of our football team. He's doing really well on the defensive line and he's getting more comfortable in there."
On If He Believes In Bigfoot
"Do I believe in Bigfoot? Wow. I guess if I saw Bigfoot I would."
On If He Believes In Aliens And Life On Other Planets
"Wow that's an interesting question. There's a lot of galaxies out there. I don't know."
On If He Believes Seinfeld Is The Best TV Show Ever
"That's a good one. Most of the kids these days don't even know who Seinfeld is. Seinfeld has his moments, there's no doubt. I enjoyed Seinfeld. The scenes were amazing. George was hilarious. As a matter of fact I ran into someone who has his job at the Yankees. So I said, 'Tell me a little bit about it!' He said, 'No I'd be shot if I did!' That's a great show. It's still one that you watch late at night when you get home. You turn it on just to get through the day. If you kind of have a rough day and laugh a little bit, so you can forget about things. It's an excellent show."
On Having Different Players Return Kicks
"We had KD [Nixon] back there, he's done pretty good. We put Kyle [Evans] back there. KD was covering punts and other kicks too. We have Ronnie Blackmon back there. We've just got to do a better job blocking for them. We've got to do a little bit better than that. When you play here, you never get any returns. Then you go on the road, get returns and they just haven't done it enough. Hopefully, we'll be better this week because I guarantee they'll kick it to us to return. We didn't get it out very far. We've got to do a better job of that and I believe we will."
On If Weather Will Be A Factor Against WSU
"No. It's football. It's one of the beauties of football. I just wish it was grass with mud. It'd be even more fun."
On CU SID Dave Plati's Football Game Streak Ending
"I talked to him about it after the game. As soon as the game was over I went in and called him. I was in the locker room and thanked him. I told him I was sorry he couldn't be there. I asked him what it was like watching at home and if it was as nerve racking. He said, 'It was nerve racking watching it from there.' I think he could yell a little bit more, because you can't yell in the press box. He could probably scream and yell a little bit. He could throw things at the television or yell at me. We did miss him on the trip and we definitely hope he gets well where he can go in the future. He had 410 in a row and missed one, that's pretty hard. He does a great job and we missed having him there. He was excited when I called him and excited we won. He's been a huge part of this program for years and years and years. I was just waiting for him to give me some 'Plati-ism'. I think I shocked him when I called him. He did tell me that Phillip [Lindsay] was only five yards away (from 1,000 rushing yards on the year). He already knew that so he was on top of it."
… Continue reading story here – with quotes from wide receiver Bryce Bobo and linebacker Drew Lewis …
–
—
"Never Stop Rising: Episode III"
From YouTube, courtesy of BuffsTV:
–
—–
October 16th
… CU in a few minutes … 
With CU passing game struggling, Buffs shifting focus to running game
From CUBuffs.com … It's a simple philosophy based on simple math.
Play to your strengths — and when your strength has been a ball-control offense fueled by a power running game and a short, pinpoint passing game, that's what you do.
It is, at least, what the Colorado Buffaloes have been doing over the last few weeks, and the results are hard to argue with.
In the last two games, the Buffs have produced 10 scoring drives of 70 yards or longer, averaging more than 10 plays per drive on those possessions (three have been 15 plays or longer). One of those drives consisted mainly of a 74-yard Phillip Lindsay touchdown run; the majority of the others have been steady, grind-it-out drives that produced scores.
"We're really trying to play to our strengths right now," Buffs co-offensive coordinator Darrin Chiaverini said. "We have a senior running back who's seasoned and gets the tough yards. At the end of the day it's about winning football games, so we're trying to put ourselves in the best situation to win games."
… Continue reading story here …
–
—
Mike MacIntyre post-practice talk with media (Mon.)
From YouTube, courtesy of BuffStampede.com ..
–
—
Kickoff set for CU v. California
From CUBuffs.com … The California at Colorado football game, CU's annual homecoming affair on October 28, will kick off at 12:00 p.m. (Noon) MDT and be televised nationally by the Pac-12 Network.
Other games on Oct. 28 and the TV selections:
1:30pm – UCLA at Washington, ABC or ESPN or ESPN2 (network designation after games of10.21.17)
2:45pm – Utah at Oregon, Pac-12 Networks
7:30pm –  Washington State at Arizona, Pac-12 Networks
8:45pm –  USC at Arizona State, ESPN
–
—
Neill Woelk: Ten Takeaways from Colorado v. Oregon State
From CUBuffs.com … How tough is playing on the road in the Pac-12?
Figure this: Of the six conference games played over the weekend, only one visiting team came away with a win.
That team, of course, was 4-3 Colorado, which slipped out of Corvallis with a harrowing 36-33 win over Oregon State, a game that wasn't decided until a 52-yard field goal try by OSU's Jordan Choukair fell short in the waning seconds of the game.
What the weekend proved is that no one is safe on the road. Unbeaten and eighth-ranked Washington State ran into a buzzsaw in Berkeley, falling 37-3 to Cal. Fourth-ranked Washington dropped a 13-7 decision to Arizona State in Tempe. Other losers on the Pac-12 road included Utah (at USC), Oregon (at Stanford) and UCLA (at Arizona).
The weekend also put on display just how balanced the Pac-12 is. Cal was 0-3 in conference play before administering the Washington State beatdown. ASU was 2-3 overall before stifling the Huskies.
It's been that kind of conference this year, where road teams are 8-15 this season — just one reason Colorado players were smiling after rallying to beat 1-6 Oregon State. The Buffs, who entered the weekend with a three-game losing streak, no doubt needed a win. But getting one on the road is always a little more satisfying.
Our weekly 10 Takeaways from the weekend:
… Continue reading story here …
–
—–
October 15th 
… CU in a few minutes … 
Washington State loses athletic director to Nebraska
From the Spokane Spokesman-Review … Bill Moos was responsible for turning around the football program at Washington State and making significant upgrades to the school's athletic facilities. Now, he'll try to do the same at the University of Nebraska.
In a surprising move, Moos was hired Sunday afternoon to become the athletic director at Nebraska. The school announced the hire in a news release. Moos leaves Pullman after more than seven years as the AD at WSU.
"Nebraska has secured a proven winner in Bill Moos to lead Husker Athletics into a new era of excellence," Nebraska Chancellor Ronnie Green said in a news release. "It was clear that Bill stood out in a very competitive, tremendously gifted pool of candidates, not only because of his proven ability to lead programs to greatness, but because of his reputation for integrity in building and leading those programs."
Washington State's associate athletic director for communications, Bill Stevens, hadn't heard from Moos as of 12:30 p.m. on Sunday.
According to the Lincoln Journal Star, Moos signed a five-year contract with a base annual salary of $1 million, and incentives. Moos takes over at Nebraska approximately three weeks after Nebraska fired Shawn Eichorst.
… Continue reading story here …
–
—
Washington and Washington State fall out of the top ten in national rankings
There are no Pac-12 teams in the Associated Press top ten this week, with Washington and Washington State both tumbling out. The closest team to a College Football Playoff berth this week is USC, in at No. 11 (the Trojans play No. 13 Notre Dame next weekend).
Washington, which lost to Arizona State, fell to No. 12, while Washington State, which was blasted by Cal, fell to No. 15. Utah, which failed on a two-point conversion in the final minute which would have upset USC, dropped out of the poll after suffering its second consecutive defeat.
Stanford, a 49-7 winner over Oregon, moved up one spot in the poll, to No. 22.
Associated Press poll:
1. Alabama
2. Penn State
3. Georgia
4. TCU
5. Wisconsin
6. Ohio State
7. Clemson
8. Miami (Fla.)
9. Oklahoma
10. Oklahoma State
11. Southern California … +2
12. Washington … -7
13. Notre Dame
14. Virginia Tech
15. Washington State … -7
16. NC State
16. South Florida
18. Michigan State
19. Michigan
20. UCF
21. Auburn
22. Stanford … +1
23. West Virginia
24. LSU
25. Memphis
Others Receiving Votes: San Diego State (6-1) 56; Texas A&M (5-2) 46; Iowa State (4-2) 16; Virginia (5-1) 10; Kentucky (5-1) 8; Utah (4-2) 4; Mississippi State (4-2) 3; Iowa (4-2) 2; South Carolina (5-2) 2; Texas Tech (4-2) 2; Navy (5-1) 2; Florida State (2-3) 1; Georgia Tech (3-2) 1; Marshall (5-1) 1
–
The USA Today coaches poll:
1. Alabama
2. Penn State
3. Georgia
4. TCU
5. Wisconsin
6. Ohio State
7. Miami (Fla.)
8. Clemson
9. Oklahoma
10. Southern California
11. Oklahoma State
12. Washington
13. South Florida
14. Virginia Tech
15. Michigan
16. Notre Dame
17. NC State
18. Washington State
19. Michigan State
20. UCF
21. Auburn
22. Stanford
23. West Virginia
24. Texas A&M
25. LSU
Others Receiving Votes: Kentucky (5-1) 64; Memphis (5-1) 50; Virginia (5-1) 42; San Diego State (6-1) 39; South Carolina (5-2) 19; Utah (4-2) 14; Navy (5-1) 9; Mississippi State (4-2) 6; Colorado State (5-2) 4; Boise State (4-2) 4; Marshall (5-1) 3; Georgia Tech (3-2) 2; Iowa State (4-2) 2; Florida (3-3) 2
–
—
Mike Leach reaction to 37-3 defeat by Cal actually somewhat muted
From the Spokane Spokesman-Review … The most remarkable thing about Washington State's not-ready-for-even-subprime-time play in getting beat 373-3, or something along those lines, on Friday night wasn't the 17 turnovers or the 29 sacks or the 12 Cal students who stuck around to, uh, storm the field.
It was the muted reaction.
Wait, not muted, exactly. More like impishly conspiratorial. Like Flounder gushing, "Oh, boy, is this great!" before realizing he's supposed to shoot the horse.
Because everyone knew what was coming.
"We were pathetic," growled Mike Leach in the post-game media wrangle. "We were a bunch of pathetic front-runners."
And Twitter America – even Cougar America – lit up.
Guy is always money … Never change, Mike Leach … Must-watch … Epic … Mike Leach is a national treasure …
And he didn't even have to come up with a Woodstock reference, though "This was just like Altamont, only without the Hells Angels stabbing a guy" would have fit, given the locale.
There was no doubt disappointment and even despair about such a disaster on the field among the Wazzu fan base, but as noted it was hardly over the top — and that's probably a healthy sign.
… Continue reading story here …
–
—–