—
Colorado at Stanford Preview: "T.I.P.S." for CU's attempt at first win at Palo Alto
—
Welcome to the latest episode of "Can CU make history with another 'never done it before' victory?".
Two weeks ago, it was the 0-10 all-time losing streak to USC … now at 0-11.
Last week, it was the 0-7 all-time losing streak to Arizona State … now 1-7.
This week, it's the 0-3 all-time losing streak against Stanford in games played in Palo Alto.
Granted, the three losses (28-21 in 1991; 41-37 in 1993; and 48-7 in 2011) represent a small sample size (CU is 3-6 all-time against Stanford, including a 33-0 loss in a game played in Denver … in 1904). Still, the 2016 version of the Colorado football program is determined to make some history of its own.
A first-ever win against Stanford on the road would be another significant step in that direction …
—
This week's "T.I.P.S." for CU at Stanford … Saturday, 1:00 p.m. MT, Pac-12 Networks
—
T – Talent 
This is also another week of "will he or won't he?".
Buff fans spent last week wondering whether Arizona State quarterback Manny Wilkins would return to the starting lineup for the Sun Devils (he did), and whether he would be effective (he was not).
Our attention now shifts to Stanford All-American tailback Christian McCaffrey. The 2015 Heisman trophy runner-up was to have a showcase junior season on his way to the NFL. Instead, McCaffrey has been hampered by (an undisclosed) injury, and missed Stanford's 17-10 win over Notre Dame last weekend.
McCaffrey still leads the team in rushing, with 99 carries for 520 yards and three touchdowns. In last season's 42-10 demolition of Colorado, McCaffrey had over 220 yards of total offense, adding insult to injury with a 28-yard touchdown pass on a trick play on the first play of the fourth quarter before sitting out the rest of the contest.
For their part, Buff defenders are hoping that McCaffrey will be able to play. "I hope he's back," defensive lineman Jordan Carrell said. "I want to get a second run at him. Last year he ran the ball quite well on us. I want to have a second shot at shutting him down."
If McCaffrey isn't available, the Cardinal will turn to Bryce Love, who had 23 carries for 129 yards in Stanford's 17-10 win over Notre Dame last weekend.
The quarterback for Stanford is Ryan Burns, who was supposed to be a caretaker for the offense, not a star (read: find ways to get the ball to McCaffrey). For the season, Burns is completing 64.2% of his passes for 888 yards, with five touchdowns and four interceptions (in case you were wondering , Sefo Liufau and Steven Montez have both thrown for more yardage this season than has Burns). Burns has also been sacked 16 times in Stanford's six games, giving an indication of how effective the offensive line for the Cardinal has been (108th in the nation in sacks allowed).
How ineffective has the Stanford offense been? The Cardinal has scored just one offensive touchdown in each of its past four games. Over CU's last four games, the Buffs, meanwhile, have scored 41, 47, 17 and 40 points.
Still, despite scoring only four touchdowns in four games, Stanford has posted a 2-2 record over that span … a credit to the Cardinal defense.
Stanford is 22nd in the nation in rushing defense, giving up 125.7 yards per game (of course, Arizona State was ranked 5th in the nation in rushing defense before being gashed for 315 yards by the Buffs). The Buffs were pushed around in the 42-10 loss to the Cardinal in Boulder last fall, and they know it.
"Yeah, from what I remember about Stanford is that they came in here, into our house, and out-muscled us, out-physicaled us," said senior center Alex Kelley, summarizing his O-line teammates' starkest recollection of the Cardinal's 42-10 rout.
Said Kelley: "Going into this (game) our goal is to be the more physical team. We know what they did to us last year."
—
I – Intangibles
Two months ago, had anyone looked at the CU at Stanford game on the schedule, the assumption would have been that it was going to be merely a speed bump for the 7th-ranked Cardinal, and an automatic "L" for the Buffs.
Times have changed.
Check out what Jon Wilner had to say this week about the upcoming game:
"As with last week, the aesthetics matter not at all for Stanford in what could be considered the last major challenge before the schedule takes a dramatic turn to the softer side.
"Beyond Colorado are five struggling teams (Arizona, Oregon State, Oregon, Cal and Rice) with a combined record of 9-22 — and a bunch of those wins are over FCS opponents, don't forget".
Colorado … "the last major challenge" for Stanford? More than Arizona? More than Oregon? More than "Big Game" rival Cal?
Oregon and Stanford have won all five of the title games played since the Pac-12 was formed, but that is all statistically impossible this fall for the Ducks and Cardinal, as both have losses against Pac-12 North leaders Washington and Washington State.
Meanwhile, Colorado is tied for the lead in the Pac-12 South, with designs beyond just an upset in Palo Alto. At 5-2, the Buffs are playing for a sixth win, and bowl eligibility for the first time since 2007.
But there's more at stake.
Tailback Phillip Lindsay said becoming bowl eligible is "going to be a great feeling and it's going to have a big impact on the university.  (But) our goal is Pac-12 Champs.  There's nothing less than that for us.  The bowl game will come as we continue to win games.  We just need to focus on ourselves and Colorado football."
Added MacIntyre: "We're talking about a Pac-12 Championship, so every game matters. If we do that, we'll get to a bowl game too. We control our own destiny in a way, which is good."
Stanford has no shot at a Pac-12 title, but is not in jeopardy of failing to qualify for a bowl game (see the list of remaining games, above). Colorado, meanwhile, remains hungry, and has a great deal at stake this weekend.
I'd say the intangibles favor the Buffs.
—
P – Preparation / Schedule
Colorado hasn't had a bye week in 23 weeks of play.
The Buffs have played without a break since November, 2014, but will have a Saturday off next weekend before facing UCLA in a Thursday night game on November 3rd.
This being the case, the "we are only looking to go 1-0 this week" Buffs really do not have a reason to be looking ahead. All of their focus and energy should be – and will be – on the Cardinal.
Meanwhile, Stanford had its big game last weekend. The Cardinal had their backs against the wall against Notre Dame. On the road, with their star player in street clothes, Stanford came back from a 10-0 deficit to defeat the Fighting Irish, 17-10. Had Stanford lost, the Cardinal would have come into the game against Colorado with a 3-3 record … and a three-game losing streak.
Instead, the victory gave Stanford a 4-2 overall record. The Cardinal still have home games against Oregon State and Rice, the only winless team remaining in FBS. A bowl bid is a virtual certainty … a Pac-12 title a virtual impossibility.
A strange place for Stanford to be in at the midway point of its season.
—
S – Statistics
It's a brave new world.
Three times in the past ten years, Colorado has finished 100th or worse nationally in total offense.
Four times in the past ten years, Colorado has finished 100th or worse in scoring offense (just missing last year, finishing 97th with 24.6 points per game, despite the fact that the Buffs ran over 1,000 offensive plays – 1,008 – for the first time in school history).
This year, Colorado is 14th in the nation in total offense, at 515.3 yards per game (which would be a school record, if it holds up).
This year, Colorado is 22nd in the nation in scoring offense, at 39.0 points per game (second only in school history to the 1989 team, which scored 41.1 points per game on its way to CU's first-ever No. 1 national ranking).
Heady stuff.
Oddly enough, it's the opposition, Stanford (the preseason No. 8 team in the nation), which has numerous national rankings in the triple digits.
On offense, Stanford is 116th in the country in passing offense, 125th in total offense, and 120th in scoring offense, posting an average of only 305.2 yards and 19.0 points per game.
The Cardinal, much to my surprise, is even failing in special teams. Bar bet special: Between Colorado and Stanford, which team is averaging 8.68 yards per punt return (53rd nationally) and which is averaging 3.00 yards per punt return (112th in the country)?
Yup. Stanford, with Christian McCaffrey on the field for five of its six games, is 112th in punt returns (and 121st in kickoff returns). Colorado, meanwhile, with Jay MacIntyre as the primary returner, is 53rd in punt returns.
Now, in Stanford's defense, the Cardinal has faced the toughest schedule in the nation (CU's strength-of-schedule is ranked 38th). Yes, Stanford got bombed by Washington and Washington State, but had to play without its top two cornerbacks. Last week, Quenton Meeks returned to the lineup, and it was his 50-yard interception return for a touchdown which sparked a Cardinal rally from a 10-0 deficit to a 17-10 victory over Notre Dame. Meeks' running mate, Alijah Holder, has missed the past three games, but has been raised from "doubtful" to "questionable" status for the game against Colorado.
And, lest we forget, the two teams have one common opponent this year.
Stanford took on USC, and came away with a 27-10 victory.
The Buffs, meanwhile, fell to the Trojans, 21-17.
We'll see how the numbers play out this Saturday …
—
Prediction … I've wrestled with this one.
On the one hand, Colorado has a sorry history against Stanford since joining the Pac-12, with scores of 48-7, 48-0, and 42-10.
The Buffs haven't won a game against anybody in the state of California since 2002, and have a 2-20-1 all-time record in the Golden State.
On the other hand, this is not the same Stanford team that has routinely mauled the Buffs.
And … more importantly … this is not the same Colorado team.
It's hard to put into words how impressive this Buff team was last Saturday night. Yes, there were some scary moments (especially when CU's special teams took the field), but, on the whole, it was dominant effort by both the offense and defense. The CU offensive line manhandled a defense which was giving up less than 90 yards rushing per game, running over, through and around the Sun Devils for 315. At the same time, the Colorado defense completely snuffed out the Arizona State offense, holding the Sun Devils to 199 total yards and a 3-for-18 on third down conversions.
If the Arizona State game was an anomaly, it would be one thing, but the Buffs have been consistent for what is now the majority of the 2016 season.
Stanford's offense, even with McCaffrey back in the lineup, is not as scary as the offenses of USC and Arizona State … and those teams scored 21 and 16 points, respectively, against the Colorado defense. The Cardinal offense is averaging only 19.0 points per game, so this game does not project as another 40-point onslaught by Stanford.
Low scoring games usually favor the home team, where a momentum shift from a turnover or special teams play can make the difference. That has to be the Stanford game plan: keep it low scoring; win it late.
While the Stanford defense is very good, I can't see it holding the Colorado offense the entire game.
Barring a number of special team gaffes (which is not outside the realm of possibility) or a number of turnovers, this is a game the Buffs should win.
It will be a nervous afternoon Saturday for the Buff Nation, but hopefully a very pleasant evening …
Colorado 24, Stanford 17
—–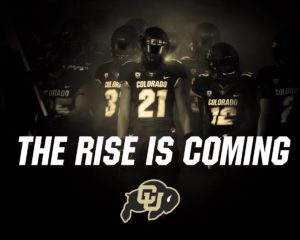 —–