—
Colorado Daily – Stanford
—
October 22nd – GameDay!
Tweet of the Day … From defensive coordinator Jim Leavitt: "Good meetings (Friday night). Get a good night sleep. Time to play! Go Buffs!"
—
Drew Litton on the CU/Stanford game
From the Daily Camera …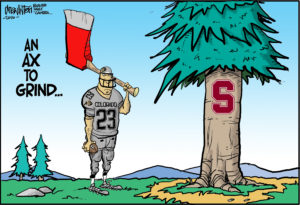 —
Buffs need to be "physical" to take out Cardinal
From CUBuffs.com … The upstart Buffs (5-2 overall, 3-1 Pac-12) will be aiming to maintain their spot atop the Pac-12 South standings, which they shared with Utah heading into Saturday's games. A win would send them into their bye week with a head of steam and their dreams of playing in the Pac-12 title game very much enhanced.
The Cardinal (4-2, 2-2) will be looking for its sixth straight win over Colorado — including the last three in Pac-12 play by a combined score of 138-17 — while also aiming to turn its Pac-12 fortunes back in the right direction after two losses in its last two conference games.
"We are a tougher, physical team than we have been," CU head coach Mike MacIntyre said. "That's been a process. It did not just happen this year. Every year we've gotten a little better at it. It all came into fruition this year with the maturity of the team and the guys that have played and understand it."
It's a process that has no doubt caught the eye of the rest of the Pac-12. Already with more conference wins than CU has compiled in any season since joining the league, the Buffs no doubt have the full attention of opposing coaches.
"They took multiple teams to the fourth quarter last year, but just couldn't seem to finish the game," said Stanford coach David Shaw, whose Cardinal took a 42-10 win in Boulder a year ago. "This year, they're playing confident, making plays and winning games."
… "They're a good football team," said defensive coordinator Jim Leavitt. "They can run the ball, pass the ball. They're well-coached. They line up and come right at you. We'll have to be at our best."
… This year, Sefo Liufau is much more confident about CU's ability to match up and statistics bear that out. While Stanford been solid against the run (yielding just 125.7 yards per game), the Cardinal have also been giving up more than 240 yards per game through the air.
"I think we'll go out there and test Stanford's physicality," Liufau said. "I don't think it's like it was in past year where we couldn't rely on our toughness up front. We've got a great front on offense and we've got a great front on defense and we feel that we match up well with these guys. And it just comes down to each play. … So we'll be ready to test their toughness and I'm sure they'll test our toughness as well."
… Continue reading story here …
—–
October 21st
… CU in a few minutes …
Tweet of the Day … From defensive backs coach Joe Tumpkin: "#1 in total defense in the PAC 12! So proud of our guys. Big shout out to the Money Gang. #bettereveryday #beateveryone"
—
Neill Woelk's Friday Fast Five Keys to the Stanford game
From CUBuffs.com … In what seems to be a never-ending "redemption tour" of sorts for Colorado, the Buffaloes head to Stanford on Saturday to face a team CU hasn't beaten in its last five tries.
That includes three Pac-12 games in which the Buffs have been outscored by a whopping 138-17.
But judging from what we've seen so far this year, much has changed since last year's 42-10 Stanford win in Boulder. The 5-2 Buffs (3-1 Pac-12) are coming off a 40-16 win over Arizona State and are tied for the lead in the Pac-12 South. The Cardinal (4-2, 2-2) have struggled in recent weeks, dropping two of their last three, including back-to-back Pac-12 defeats to Washington and Washington State.
Still, the Cardinal do have a solid defense, and they do have last year's Heisman Trophy runner-up, running back Christian McCaffrey.
What the Buffs must do to turn the tables on the Cardinal in Saturday's game at Stanford (1 p.m., Pac-12 Networks):
… Continue reading story here …
—
CU defensive coordinator Jim Leavitt on Stanford's demise: "I'm not buying it"
From CUBuffs.com … Jim Leavitt isn't buying the reports of the demise of the Stanford offense. All Leavitt sees is a big offensive line, a big blocking fullback, a pair of quality tight ends and — of course — last year's Heisman Trophy runner-up.
"They're good," Leavitt said earlier this week. "Don't let anybody tell you different. (Christian) McCaffrey can hurt you. Look at what he's done. No. 35 (fullback Daniel Marx) is a player. No. 20 (running back Bryce Love) can run the ball. They can block. They have good tight ends. We've got our hands full, I know that."
The storyline this week is that the Cardinal's offense is struggling. McCaffrey, recovering from an unspecified injury, sat out last weekend's game against Notre Dame and is still questionable for this week's game — although the Buffs expect him to play.
Meanwhile, the Cardinal offense has scored just one touchdown in each of Stanford's last four games, and the once-powerful rushing attack is currently just 96th in the nation, averaging just 146.7 yards per game on the ground.
But it's still Stanford — and while the Cardinal's recent struggles have been well-documented, the Buffs also know that Stanford dominated USC earlier this season, 27-10, holding the Trojans to just 117 yards on the ground while putting up 404 yards total offense.
"I've been impressed with what they're doing," head coach Mike MacIntyre said. "Coach (David) Shaw does an excellent job with them. They're big, powerful. Their best player didn't play last week and got beat up a little bit in the game before, but I imagine we'll see Christian (McCaffrey) or I expect we would. They went to Notre Dame and won there without their best player; I think that's pretty impressive."
… Continue reading story here …
—–
October 20th
… CU in a few minutes … 
Stories on Addison Gillam, Jimmie Gilbert and Alex Kelley
The Daily Camera is having a nice week, posting good stories on the Buffs …
"CU Buffs' Addison Gillam becoming a force again" … If Colorado head football coach Mike MacIntyre had his way, he'd hire a barber to trim the long locks of linebacker Addison Gillam.
MacIntyre admits, however, that he does love watching Gillam's hair flying through air as he tracks down ball carriers, because it signals Gillam's perseverance through a long, arduous journey to once again become a dominant force for the Buffaloes' defense.
… Continue reading story here …
—
"Competition helping Jimmie Gilbert reach historic heights as pass-rusher" … Jimmie Gilbert remembers quite vividly the situation when he arrived at the University of Colorado. As devoted as he was to the football program he'd just joined, they mostly are unpleasant memories.
Back then, there were the starters for the Buffaloes' football team, and then there was everyone else. The idea that multiple players might push for one starting job was delusional.
Four years later, the Buffs are a vastly different team. And despite sack totals that seem to grow a little more gaudy each week, Gilbert understands his time on the field is a privilege that must be earned.
… Continue reading story here …
—
"CU Buffs' Alex Kelley stepping up after challenging offseason" … Despite starting every game during the 2014 and 2015 seasons and being a leader on a roster full of veterans, Alex Kelley's job was hardly secure coming into the year.
Seven games into the season, Colorado's senior center is having his best season and solidifying a much improved offensive line for the Buffaloes (5-2, 3-1 Pac-12), who visit Stanford (4-2, 2-2) on Saturday.
"He's done an excellent job with us this year," CU head coach Mike MacIntyre said. "He and the quarterback are the key to us going fast. He is able to get us up there, get the calls out quick, see it and go with it. Alex has played really well for us."
… Continue reading story here …
—–
October 19th
... CU in a few minutes … 
CU individual leaders in the Pac-12
From CUBufffs.com … Four games into the nine-game Pac-12 season, the Buffs have a number of players among the conference leaders. The list includes:
— OLB Jimmie Gilbert leads the conference with 6.5 quarterback sacks. Gilbert is also third in tackles for loss, with 8.5, and he leads the nation with five forced fumbles this season.
— ILB Kenneth Olugbode is fifth in tackles, averaging 7.7 per game.
— RB Phillip Lindsay has moved up to fourth in rushing, with 614 yards this season (87.7 per game), is sixth in scoring (8.6 points per game) and seventh in all-purpose yards (122.3 per game).
— WR Devin Ross is fifth in receptions per game, averaging 5.4 per contest.
— The Buffs have three receivers in the top seven in yards per game: Shay Fields fourth at 73.1, Ross fifth at 65.4 and Bryce Bobo seventh at 63.0.
— CB Ahkello Witherspoon is tied for the league lead in passes defended with 10 (1.57 per game).
—
Mike MacIntyre post-practice comments to media
On "physical-ness", depth of the defensive line, kicking competition, Aaron Haigler still out (hopefully back for UCLA game);
From YouTube, courtesy of CUSportsNation:
—
A great write-up of the Homecoming festivities before the CU/Arizona State game
From a website called "13 Saturdays", the author takes you from the Sink to numerous tailgates, all the while singing the praises of all things CU.
The opening … "You've gotta be kidding me.  I come here every year, this place never gets that packed."
"You obviously haven't been here this year."
This was the exchange between a Buffs fan back in Boulder for homecoming and the bartender at The Sink, one of the Hill's classic establishments, a good 5 hours before kickoff of Colorado's homecoming game.  The patron was bitching about having to give up his bar stool to make room for more people, and in an "oh honey, things have changed" attitude, the bartender let him know that he could whine all he wanted, but nobody was going to care.  After all, it was Buffs gameday.
However, you can't really blame this guy for being aghast at The Sink's new policy.  He certainly wasn't alone in discovering that things seem a little different in Boulder this year.  It may have been homecoming, but you'll have to excuse the recent alums if they seemed a little lost back on their old stomping grounds.  While the brick-laden campus looks as stunning as ever, there are some things the recent alums might have trouble recognizing – new buildings surrounding the quad, an elite football facility built on the former tailgating grounds, and oh, that thing on the field young fans, that's called a football team.  A good one.  A grind it out, light you up, never stop type of football team that makes the trip to Folsom Field brutal for opponents and entertaining for its fans.
After a decade of trying to climb back up the mountain, it appears that Colorado football is indeed on "The Rise."
… Continue reading story here (it's well worth your time) …
—
ESPN's Kirk Herbstreit on CU: "I'm a believer"
From 104.3 the Fan …
—
After a decade of being away from the limelight of college football, the University of Colorado Buffaloes are rising back to prominence.
No, the Buffs didn't crack the Top 25 in either poll again, but CU did garner the most other votes in both the Coaches and Associated Press surveys.
But perhaps what should have Buffaloes fans buzzing, ESPN's longtime college football analyst Kirk Herbstreit told "Schlereth and Evans" Tuesday that he'd be "shocked" if CU didn't win the Pac-12­ South and earn a chance at a Pac-12 title.
"I'm a believer. I think the Buffs … I think they're going to win the South. I think they're going to get to the Pac-12 Championship game," Herbstreit said.
Herbstreit went back into his notes from earlier in the season on Tuesady, where he had written down that Mike MacIntyre's squad was the "best CU team in over 10 years" that he'd seen.
And Herbstreit credited the Buffs head coach with putting them into a position where they had developed players, returning more than a dozen starter, and pulling through some rough seasons doing so.
"He's been developing this and growing and growing and now they're peaking in his fourth year," Herbstreit said of MacIntyre.
In terms of why it's working in 2016 for the Buffs as opposed to previous years under MacIntyre, Herbstreit said:
"They have balance on offense. They're running. They're throwing. They're very, very effective on defense. They're getting people off the field on third down. I think they're No. 1 in the conference on third down defense. They're not giving up big plays on defense. So they're doing everything right now right."
—
Uniform combo for Stanford game … all silver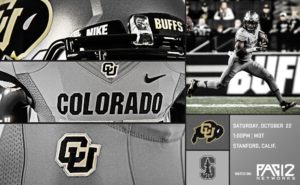 —
Tuesday press conference quotes
From CUBuffs.com …
Opening Statement
"It's good to see Phillip [Lindsay] get the offensive player of the week and, as I saw that my heart sunk, because the defensive player of the week was Solomon Thomas. The plays he made as a three-technique watching the tape was extremely impressive. For Stanford, he pretty much is a one man wrecking crew in that game. Stanford's a very good football team. They played a really tough schedule so far. I've been impressed with what they're doing. Coach Shaw does an excellent job with them. They're big, powerful. Their best player didn't play last week and got beat up a little bit in the game before, but I imagine we'll see Christian [McCaffrey] or I expect we would. They went to Notre Dame and won there without their best player; I think that's pretty impressive."
On The Team's Goals
"We're talking about a Pac-12 Championship, so every game matters. If we do that, we'll get to a bowl game too. We control our own destiny in a way, which is good."
On Team's 'One Game At A Time' Approach Becoming More Difficult To Preach
"It makes it easier to preach to be honest with you. When you're winning and you know the next game's bigger, they get up for it. It's harder to preach when you're losing, you got to get them up and find more motivation. I don't have to motivate them. They're going to play Stanford, they're in first place in the Pac-12 South and they're rolling. I do motivate them, but I don't have to do as much. When they come to practice and watch film and they realize there's something on the line that hasn't ever been there before for them, that's exciting."
On Impact Of Alex Kelley
"Alex is a legacy and that's extremely important. His dad loves this place, he loves this place, he's always wanted to be a Buff. You hear that all the time, but when you actually get to live it and do it – he's been here through a lot of rough things. He's very well respected by his teammates; he's respected by the offensive linemen, because he runs the show. He's done an excellent job with us this year. He and the quarterback are the key to us going fast. He is able to get us up there, get the calls out quick, see it and go with it. He's had excellent snaps. He keeps the flow going. Alex has played really well for us. Off the field it's the type of person he is, the type of charisma he has and he has that infectious love for CU. That's extremely important, especially as we've been trying to build this. As we keep building it, he's an important part of that."
On Play Of Sefo Liufau
"I've said a lot about Sefo over the years. I can say a million things about Sefo and I'm not going to compare him to other quarterbacks I've had, because I've loved them all and they all had different qualities. Sefo would be the toughest, I've said that a lot and I think you all have seen that. The other thing is he's also extremely mentally tough. Our team has caught up with Sefo and he just kept pushing, kept going and kept working. Yeah, he had some mistakes here and there, but now that we have a really good football team all around him, now you can really see how good he is. He never gave up, he always had confidence. He didn't have a cocky confidence, he had a humble confidence, which is the best to have. He's done that and the team's followed him."
On Making Offensive Adjustments In The Offseason With The Offensive Coordinators Darrin Chiaverini And Brian Lindgren
"I sat down with them and told them what I was looking for and understanding. I wanted to mesh a couple things; I wanted to tweak a couple things we were doing and utilize a lot. I didn't want it to be a whole terminology change, just a little bit of terminology change. I wanted it to be similar to what we were doing. I guess the best word is to make it more extraordinary; keep the ordinary things we had and then add a little extra to it without blowing the whole thing up. That way I thought our team would have experience, we would communicate better, we could function better. A couple things that really helped us is how we practice. I knew exactly how I wanted us to practice on defense. I had an idea for offense. Then, I started realizing we needed to be more efficient. I wanted to play a little bit faster than we were and execute better. Chev' brought in ideas that they did at Texas Tech with the efficiency part of practice and execution. We combined all of that. Those two guys have worked together. It's always evolving. Klayton Adams has done a good job, because the offensive line has got to be on the right page, it doesn't matter what everybody else does. He's done an excellent job of meshing all that together. Darian Haganhas done an excellent job with the running backs. Coach Bernardi has done a great job with our tight ends, because now we're moving them more and putting them in the backfield and that takes a lot of other expertise you got to work with. It was all those guys working together."
On Conditioning Players
"The spring practice helped them a little bit with some of the things we were doing and to help us play faster. Coach [Drew] Wilson did a great job with our conditioning for that as we practiced. When we got into summer camp, we were really able to implement that in the way we practice and the way we did our team and individual and group periods. The way we handled that was all predicated on tempo."
On Matching Stanford's Physicality
"They were physically tougher than we were out there last year. We played them hard for a while, then it got away from us right at the end of the half. We have to be more physical than we were last year. We are a more physical team now, we're mentally tough. We have to go in there and do that and go toe-to-toe with them. We have to surpass what they do to be able to win the football game. That's a big challenge for us. Our guys do remember last year playing hard against them, but them taking it to us. All week we have to have that mentality. We are a tougher, physical team than we have been. That's been a process, it did not just happen this year. Every year we've gotten a little better at it. It all came into fruition this year with the maturity of the team and the guys that have played and understand it."
On Player Development
"It's extremely critical. When you come to a program when we came here, you're going to have to develop it. We recruited extremely hard and we recruited good football players as you can see now, but when we signed them everybody was going, 'Who are those guys?' They had to get a little bit bigger and a little bit stronger and they had to play. How we were with them every day and in every facet is how you build a program. Now we're fortunate, we're signing some guys that are a little more developed down the road. You still have to do the same process, but the process should go a little quicker. Hopefully, you won't have to play as many young guys all at one time, you're just fitting them in there in different places. When you do that, you're reloading and not totally rebuilding a program. You shouldn't ever have to rebuild, you should only have to reload."
On Addison Gillam Getting Back To Playing Well
"He is right there. It's just been turmoil for him. To see him walk through it like he has has been pretty inspirational to say the least, the way he's played these last few games. Now he's 230-something and he can run like he could before and he has that smile on his face. I always tease him about his hair flowing, but I love see that hair flow when he runs. It's just been awesome. The kids have rallied around him, because they realize what he is. They've seen him fight through all those things. It's been a great life lesson not only for him, but for me and it's been a great life lesson for our team. I just hope and pray that he stays healthy and keeps playing, because it's a lot of fun to watch him play and he gets pure joy out of it, and so do I."
On How Addison Gillam Has Gotten Bigger
"He has gotten so much bigger. When you watch him take on linemen – before he could slip them, but if he ever had to face them up he would get driven back. When he hits the running back, the running back doesn't fall forward, he falls the other way. He's able to make his impression. He can make all the tackles and run by people, but run by them. Now he's hitting them. There's a difference. There's a little bit of an intimidation factor there. He's the same guy, but now he has more power. It should be a great game for him, I hope so. I think he'll play well. He should be very physical there."
On Competing In Recruiting
"There's a lot of different things you talk about to young people and their parents about our program and it boils down to what our value-system is. The football program and where it's headed, they see it and they feel it and they understand it. It's extremely important. If we weren't going in the right trajectory, a lot of these young men that have committed to us now, we would not have. I call the facilities the icing on top of the cake. The facilities are phenomenal; once they see everything, it really helps. Them believing and seeing that we're going to be a top program in the country and be able to compete year in and year out and have the opportunity to be a Pac-12 Champion and that's where we're headed, they see that. We're 5-2 right now, we have a lot of big games ahead of us and we need to finish a lot of those games. I believe we will. That will all help recruiting."
On Situation With Kickers Chris Graham And Davis Price
"It's fluid. That's the best thing I can tell you. Those young men are working hard. They're relatively young in kicking the field goals and the extra points and the pressure of that. So far, it really hasn't hurt us. It's not helped us all the time, it's helped us a few times. We'd like it to help us every game. They've got good legs, they're working at it. They had a really good day today. The good thing about both those young men is they're working extremely hard. Both of them want to be the kicker all the time, but if one of them is not doing good, then we'll put the other one in and the other one's always performed. That's a good thing."
On Going Back To The Bay Area
"We played Cal, but I don't really want to talk about that game. I always like going back to the Bay Area, but it's really not a time to see friends. We won't really have the time to do that. I've had a lot of texts and phone calls from a lot of my former players from San Jose State that will be in the stands and at the game. After the game, I'll probably get to see a few of those guys before we get on the bus to head back. That was a very special place in our family's lives for the three years we live there."
On Which Player Has The Best/Worst Hair On The Team
"I don't know who has the best hair on the team. Some of them need haircuts, I know that and tell them that all the time. I tease [Ryan] Moeller all the time, because his hair just bushes out. I don't know what it is about the hair hanging out at the back of the helmets, but I guess [Troy] Polamalu started all that. The best hair on the team – everybody on the team would say – is N.J. Falo's. He could do the commercials, there's no doubt."
… Click here for press conference quotes from quarterback Sefo Liufau, running back Phillip Lindsay, and linebacker Jimmie Gilbert …
—–
October 18th
… CU in a few minutes … 
Jeremy Bloom elected to the Colorado Sports Hall of Fame
From the Daily Camera … As an 11-year old, Jeremy Bloom sat on his couch in his Loveland home and made the declaration he was going to the Olympics.
Not any Olympics, but he specifically targeted the 2002 Games in Salt Lake City. It was a big goal for a young man from Loveland, but what he didn't realize at the time was he was selling himself short.
The key was, Bloom has never stopped dreaming.
"You never could have told me that then," Bloom said. "That was a big dream for me then.
"I've never stopped dreaming. I don't know what it would feel like to not have those Olympic-type dreams, those NFL-type dreams. I have them today, just in a different arena."
Already a member of the U.S. Ski and Snowboard Hall of Fame (he was inducted in 2012), Bloom was selected Tuesday along with five others to become the next class of the Colorado Sports Hall of Fame.
He will be joined by former Littleton swim coach Maurice "Stringy" Ervin, Denver Broncos cornerback Champ Bailey, Colorado Rockies outfielder Dante Bichette, world champion squash player Hashim Khan and old timer selection John Wooten, a football standout at CU, during a ceremony on April 27, 2017 at the Denver Marriott City Center.
… Continue reading story here …
—
Jordan Carrell wants McCaffrey to play: "I want a second shot at him"
From CUBuffs.com … Colorado's rush defense has been solid all season. CU currently sits fifth in the Pac-12 and 34th in the nation, yielding just 134.3 yards per game on the ground. If that numbers holds, it will be a huge improvement over last year, when CU gave up 198.7 per game.
It's exactly the kind of effort they'll need this weekend against the Cardinal. MacIntyre said he fully expects McCaffrey — who missed last weekend's game against Notre Dame — to play this weekend.
"No doubt," MacIntyre said. "We watched film on the other guy, No. 20 (Bryce Love), and he's an excellent runner, too. But Christian, they move everywhere and get him the ball in a lot of different places. We're definitely preparing for Christian to be there."
A year ago, McCaffrey ran for a 147 yards on 23 carries against the Buffs in a 42-10 Stanford win. But he's struggled somewhat this season behind a new offensive line and with a new quarterback at the helm. He still has 520 yards and three touchdowns on 99 carries in five games, but he hasn't been the force that made him a runner-up in the Heisman Trophy balloting a year ago. He left Stanford's game against Washington State two weeks ago in the third quarter with an unspecified injury, and watched last weekend's game in street clothes.
With or without McCaffrey, Stanford's offense has struggled this year. In the Cardinal's last four games — two wins and two losses — they have managed just one offensive touchdown per game.
But the Buffs are counting on getting the Cardinal's best — and they want that to include a healthy McCaffrey.
"I hope he's back," Carrell said earnestly. "I want to get a second run at him. Last year he ran the ball quite well on us. I want to have a second shot at shutting him down."
… Continue reading story here …
—–
October 17th
… CU in a few minutes … 
Panorama photo from Saturday night's game posted
Were you at the game Saturday? Do you remember when, at the end of the first quarter, they announced that they were doing a panoramic photo of Folsom, and to look for yourself when the photo came out?
Well … the photo has been posted … Check it out here …
—
Mike MacIntyre post-practice comments to media
Comments on Addison Gillam, Jay MacIntyre, preparing for Christian McCaffrey …
From YouTube, courtesy of CUSportsNation:
—
Phillip Lindsay took his offensive line to his post-game press conference
In case you were wondering what leadership looks like, check out Phillip Lindsay's press conference from Saturday night. Lindsay had just finished a career-high 219-yard, three touchdown night … and brought along his offensive line to let everyone know how much he appreciated his blockers.
From YouTube, courtesy of CUSportsNation:
—
Colorado a 2.5-point underdog to Stanford
From VegasInsider … Colorado opened as a 3.5-point underdog to Stanford this weekend (Saturday, 1:00 p.m., MT, Pac-12 Networks). The line moved to 2.5-points after the open. Considering that Vegas usually gives the home team a three-point advantage, this is basically a game between what Vegas inisders consider to be two fairly evenly matched teams. It will be interesting to see if the line moves if – or when – there is an announcement as to the status of Stanford star Christian McCaffery.
Pac-12:
— California is a 3.0-point favorite at home against Oregon (Friday night)
— Arizona State is a 7.0-point underdog at home against Washington State
— No. 5 Washington is a 33.0-point favorite at home against Oregon State
— No. 18 Utah at UCLA – no line yet
… Arizona and USC have bye weeks …
—
Jon Wilner's takeaways from Stanford's 17-10 win over Notre Dame
From the San Jose Mercury News …
*** The offense showed life.
It's all relative, right? After Stanford's comatose performances against the Washington schools, any combination of big plays and meaningful touchdowns would constitute improvement.
Bryce Love (129 yards) was effective in place of McCaffrey, the tight ends were involved, the offensive line allowed just three sacks, and Stanford was efficient on third down (7 of 12).
The 11-play, 67-yard drive that resulted in the winning touchdown (via a fumble recovery in the end zone, no less) was Stanford's best possession in weeks.
*** Quenton Meeks is the real deal.
The sophomore cornerback did not play against the Washington schools because of an undisclosed injury, and it showed: The Cardinal secondary was torched for big plays repeatedly.
Meeks returned Saturday and made an incalculable difference. Not only did his 50-yard interception return for a touchdown early in the third quarter change the game, but his mere presence on the outside took the pressure off everyone else on the back line.
If defensive lineman Solomon Thomas is Stanford's defensive MVP through the first half of the season, Meeks is a close second.
… Continue reading story here …
—
In case you missed it …
Game Notes from the Arizona State game …
— The Buffs moved to 5-2 (3-1), the best start to the season since the 2005 team opened 7-2;
— The attendance was 48,588, a new high in the Mike MacIntyre era, and the most since 50,083 were on hand for the 2011 USC game;
— The win was the first in eight tries for Colorado against Arizona State, with the Buffs not coming within two touchdowns of the Sun Devils in the previous seven contests;
— Colorado honored former Buff great Herb Orvis at halftime. Orvis had previously been named the eighth Buff to be named to the College Football Hall of Fame;
— The 59-yard field goal by ASU's Zane Gonzalez was the second-longest in Folsom Field history, second only to the 60-yarder hit by Mason Crosby against Iowa State in 2004;
— In the second half, Arizona State ran 14 plays inside Colorado territory … for a minus 14 yards. The four Arizona State scoring drives: five plays for 31 yards (touchdown, after a muffed punt); five plays for 52 yards (field goal); four plays for minus-two yards (field goal after a 20-yard punt return); and four plays for minus-nine yards (field goal after a second muffed punt)
— Phillip Lindsay's 219 yards rushing marked his first 200-yard game, and third 100-yard game of his career. His 75-yard touchdown run was the longest o his career. With his big night, Lindsay became the 13th player in CU history with over 3,000 all-purpose yards (3,204) and the 14th member of the 500/500 club (over 500 yards both rushing and receiving). His was the first 200-yard rushing effort by a Buff since Chris Brown went for 2011 against Missouri in 2002;
— Bryce Bobo had the first 100-yard receiving game of his career, with six catches for 110 yards;
— Chidobe Awuzie recorded his seventh career sack, moving him past Michael Lewis (6.5 – 1998-2001) for the most sacks by a CU defensive back;
— Afolabi Laguda's interception was the first of his career, and extended Colorado's streak with at least one turnover to 20 straight games, the longest current streak in the nation.
—–