—
Colorado v. Oregon State – A Preview … "T.I.P.S." for Parents' Weekend in Boulder
—
What a difference a month makes.
Four weeks ago, there was hand-wringing over whether the Buffs would be able … with memories of the season-opening debacle against Hawai'i the year before still fresh … to take down a mediocre Colorado State team
Four weeks ago, most Buff fans would have taken in a heartbeat a 2-2 September start, with wins over CSU and Idaho State, coupled with the inevitable road losses to Michigan and Oregon.
Four weeks ago, the Oregon State was seen as a pivotal game in the 2016 calendar, with a win over the Beavers seen as a must-win if the Buffs were going to hold any realistic hope of making a bowl appearance for the first time since 2007.
And now …
The Oregon State game is still seen as a "must-win", but now it's a must-win for purposes of keeping momentum going, not to try and find a way to get halfway to a bowl bid.
The Buffs are a 16.5-point favorite over the Beavers.
Let that one sink in for a moment.
Colorado … a team with a 6-40 all-time record in Pac-12 play … a monster favorite over a league rival.
How big a deal? Well, it's the first time CU has been a double-digit favorite over a Power-Five conference opponent since 2005 (ironically enough, that opponent was Nebraska).
We'll see how it goes this Saturday (it's a "White Out", by the way, so remember to wear white to the game).
—
Here are this week's "T.I.P.S." for CU v. Oregon State … Saturday, 12:30 p.m., Pac-12 Networks
—
T – Talent 
Last Saturday, the Oregon State game against Boise State kicked off two hours before the start of the Colorado/Oregon game.
The first half was in the books before the Buffs' game began, and any CU fan paying attention to the contest in Corvallis had to feel pretty comfortable about the Buffs' chances against the Beavers.
Halftime score: Boise State 31, Oregon State 7.
Bronco running back Jeremy McNichols ran over, around and through the Beaver defense, rushing for 146 yards and scoring four touchdowns in the first half alone. Total offense in the first half: Boise State, 435; Oregon State, 67.
But a funny thing happened on the way to the rout … the Beavers came out to play in the second half.
Not only did Oregon State play better, but the Beavers played better with a walk-on freshman behind center. OSU starting quarterback Darell Garretson was 11-of-16 for 53 yards in the first half, but was benched in favor of Conor Blount. The freshman walk-on gave the Beavers a spark, as Oregon State scored 10 third-quarter points to cut the deficit to 31-17, with both teams scoring non-offensive touchdowns in the fourth quarter for a 38-24 final.
Now, just as is the case in Boulder, there are questions as to who will be the quarterback come Saturday.
Oregon State head coach Gary Andersen says his usual starter will be the starter this weekend … if he is healthy.
"Conor can bring some things to the offense with his legs. He did some nice things. I'm not afraid to give freshmen an opportunity," Andersen said. "But when Darrel is healthy, he's the starting quarterback. There's no debate about that."
As will be the case with Sefo Liufau come Saturday afternoon … healthy will be in the eyes of the beholder (as the announcers for the Oregon State/Boise State game could not identify when it was that starting quarterback Darell Garretson actually got hurt in the first half. The sentiment was that Garretson was pulled for ineffective play, not due to injury).
Whoever quarterbacks the Beavers will have a modicum of talent to work with. Wide receiver Victor Bolden, who had a 99-yard kickoff return for a touchdown against Boise State, also has had a 92-yard touchdown run this season (Bolden just happens to be leading the nation in kickoff return average, at over 40 yards per).
Another receiver of note is Seth Collins, who had nine catches for 106 yards against Boise State. The Oregon State rushing "attack", ranked 94th in the nation (143.7 ypg.) is led by Ryan Nall, who has rushed for 176 yards and three of Oregon State's five rushing touchdowns so far this year.
The Beaver defense – the first half against Boise State notwithstanding – is decent. Oregon State is ranked 63rd in total defense (385.0 ypg.) and 56th in scoring defense (25.0 ppg., just behind Colorado, at 24.3 ppg.).
Bottom line … the Colorado offense should be able to score against the Oregon State defense, and the Buff defense should be able to contain the Beaver offense.
Emphasis, as always, in college football, is on the word "should".
—
I – Intangibles
Intangibles usually favor the underdog, and this week is no different.
Colorado is riding high after its defeat of Oregon, but Oregon State, despite its double-digit loss to Boise State, comes to Boulder with a dash of momentum.
The Beavers out-scored the Broncos, 17-7, in the final two quarters, with the only Boise State score coming by way of a fumble returned for a touchdown.
Heading into their first Pac-12 game, the Beavers believe they may now have it all figured out.
"There's going to be some dogfights," safety Devin Chappell said. "If we want to win, we have to come ready to play for 60 minutes every single game. As our leaders, we're going to get that message across to everybody. We're going to get it done and we're going to get it handled."
On the Buff sideline, one might be tempted to see the potential for a letdown game against Oregon State. The Buffs beat Oregon State last year, and now have the Beavers sandwiched between road games against hated rivals Oregon and USC.
"We just wanted to push things and step it up. We beat Oregon State last year, but this was beating Oregon," said wide receiver Bryce Bobo right after the win over the Ducks. "We wanted to make a statement."
Translation: Beating Oregon is a "statement" … beating Oregon State is not.
Fifteen, twenty, twenty-five years ago – this would have been considered a "trap" game for the Buffs.
A home game against a last place team sandwiched between road games against two national powers?
A game ripe for a let down.
I don't see there being any let up, however. Not this team.
These Buffs have lost too many games to just assume they are going to beat anybody.
They still have so much to prove.
—
P – Preparation/Schedule
Teams like Alabama,USC, Wisconsin and LSU get paid millions to open up their season in Jerry's World and Lambeau Field.
Teams like Colorado and Oregon State get to play when the networks decide they can squeeze them in.
For Colorado, the non-conference included a one-and-done, $1.4 million play-for-pay game in Ann Arbor.
For Oregon State, the non-conference slate was even more unusual.
The Beavers opened their season on Thursday, September 1st, on the road against Minnesota. The following weekend was a bye weekend for the Beavers, leaving a gap of 16 days before Oregon State played its home opener against Idaho State.
How odd was the Oregon State non-conference calendar? Well, let's put it this way. After Oregon State left Minneapolis upon falling to the Golden Gophers, the University of Colorado played three games before the Beavers took to the field again.
The Buffs played CSU on September 2nd, then home against Idaho State on September 10th, then on the road (in the eastern time zone) against Michigan on September 17th, hours before Oregon State took on Idaho State.
Now the Beavers are on an 11-week run without a bye, a tough task for a team still trying to find its way (ask the Buffs, who played 13 straight weeks last season).
The Colorado game is the Pac-12 opener for Oregon State. The Beavers haven't won a game against a Pac-12 opponent since beating Arizona State in November, 2014.
The last road win of any kind for the Beavers came almost two years ago.
It was a Pac-12 conference game …
… a 36-31 win over Colorado in Boulder.
—
S – Statistics
The last two games, the Buffs have given up 45 and 38 points, with Michigan and Oregon going for 397 and 508 total yards, respectively.
Still, one-third of the way through the 2016 regular season, Colorado continues to maintain positive numbers in the most important statistical categories:
— Total offense … 523.3 ypg. … 15th nationally
— Scoring offense … 42.3 ppg. … 23rd nationally
— Total defense … 306.5 ypg. … 18th nationally
— Scoring defense … 24.3 ppg. … 54th nationally
A few other numbers worth noting … 
— Colorado has been in the lead for 187:28 of game clock so far this season (behind 36:58; tied 15:34). In four games this fall , the Buffs have already spent more time in the lead than in the four of the five seasons Colorado has played in the Pac-12;
— Colorado has attempted 130 passes, almost identical to the 134 attempted by its opponents. The Buffs, though, have thrown for almost twice as many yards … 1247 yards to 652 for the opposition (9.59 yards per attempt, to 4.87 yards for the opponents);
— There was concern heading into the season about the Buffs' ability to convert in the red zone. In 2015, the Colorado offense had 39 scores in 53 attempts in the red zone (73.5%). So far this season, the Buffs have scored 21 of 23 trips into the red zone (91.3% … ranked 34th nationally).
—
Prediction … I almost wish I hadn't watched the first half of the Oregon State game against Boise State. The 31-7 romp gave me a false sense of security – a confidence which took a hit after the Beavers started playing better in the second half. I don't like the fact that the Beavers didn't quit … good for them, but a cause for nervousness for Buff fans.
I'm also not crazy about the fact that the last time Oregon State won a road game, it was in Boulder.
Still, the Oregon State lineup is the weakest Colorado will face the rest of the season. There are problems along the offensive line for the Beavers, leaving them with a weak running game and a quarterback (whichever one plays) running for their lives (13 sacks through three games). The Beaver defense was susceptible to Boise State's varied offense, and gave up big plays when the game was still in doubt.
This could be a game in which Phillip Lindsay (assuming he gets more than the 13 carries he's been averaging per game) gets over the 100-yard barrier. The Buffs could have one – or more – receivers go over the century mark as well.
I hate to say that I am confident about this game, as I don't want to jinx anything. But … this is a game the Buffs should win.
The Buffs are favored by 16.5 points.
The teams have one common opponent … Colorado beat Idaho State 56-7; Oregon State beat Idaho State 37-7.
A difference of 19 points.
Sounds about right.
… Colorado 40, Oregon State 21. 
—–
Program Note … If you can't get enough of your Buffs, remember to follow me on Twitter – @cuatthegame1. You can also get on my email update list (preview updates on Wednesday or Thursday; review email update on Sundays). It's free and I won't try and sell you anything or sell your email address to anyone else. Just drop me note at cuatthegame@gmail.com, and I'll put your name on the list! …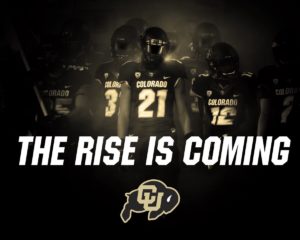 —–