—
"I Made it to Another Season …"
—
I received the following from Buff fan Chris Kildow. With Fall Camp opening this week, and the kickoff to the 2016 season just over a month away, I hope you find it as inspirational as I did …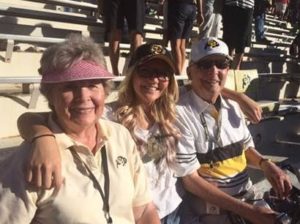 Dear CU fans,
About 2 years ago, my Mom and Dad were walking through the portal to the Rocky Mountain Showdown and my Dad stopped and took a really, really deep breath and let it out with a big sigh. My Mom turned to him and said "what is that all about?"   My Dad just smiled and said "I made it to another CU season".
Lee Kildow is no ordinary fan. He has been going to every game for 30+ years with my mom right there by his side. They would book their vacation plans around getting to at least 1 away game each year.  He attended so many bowl games from the Blue Bonnet, Orange, Fiesta, Big 12 Championships and many in between.  He was there for the Miracle in Michigan to witness 100K people go dead silent. He can attest they never changed the scoreboard to show the Buffs won.  Dad was ready with the camera if they did.
During the National Championship when we kicked to Rocket Ismail, I left the room in disbelief.  Then the words rang out…… "I think there is a flag".  There were never sweeter words to be heard from your Dad.
He was there in Washington when the team walked on the field holding hands and pointed to the heavens for Sal.
There wasn't a day that would go by without us talking Buffs football. And I do mean 365 days a year.  He couldn't get enough news about what recruit we were trying to get, any personal story about a player, game recaps and the list goes on.
When I told my Dad I was going to get married he was so happy for me.  Then when he found out she was a Husker, he sat back in his chair and said "I think that is a deal breaker".  He was completely serious.  The only thing that saved my marriage was us moving to the Pac 12.
Speaking of Nebraska, when CU beat the Huskers 62-36, he turned to me and his grandson, Corben, and said…. "Take in is this moment, savor it, enjoy it, it may never happen again."
The family legacy was carried on when his granddaughter, Kylie, attended CU.  He was very proud of her becoming a Buff.
As you know, the Buffs have struggled to get wins in the last decade but my Dad's loyalty has never wavered, he would say "I wish they would stop saying 'be patient', don't they know I am getting old?"
Last season, my dad attended the CU vs Stanford game and left at half time as he wasn't feeling well.  For a man that wouldn't ever leave a minute early from any game, I knew something must have been wrong.  33 days later Lee Kildow passed away at 84 years young.
Buff Nation lost their most loyal fan ever and going to game will never be the same but he would want us to carry on and most of all…. just win baby!!!
I promise you, my family will carry on the tradition of being at every home game and cheering every play for our beloved Buffs. I will also be at the Big House to watch Miracle in Michigan Part 2. When we do win….. You can thank Lee Kildow…. as you know he will be there in spirit.
I challenge Buff Nation as you walk into every home football game this fall to stop and take a BIG deep breath and say…… "I made it to another season".
GO BUFFS!!!
Thanks for the memories Papa
Chris Kildow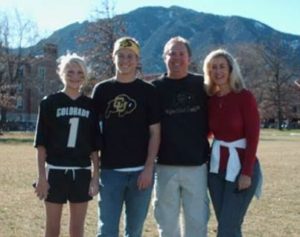 —–