—
Colorado Daily – Fall Camp
—
August 26th
… CU in a few minutes … 
The top-selling vanity plate in the Dallas-Fort Worth area? University of Colorado!
From the Ft. Worth Star-Telegram … The Colorado Buffaloes left the Big 12 athletic conference five years ago. And yet, the university located 800 miles from Dallas-Fort Worth was the region's top-selling specialty license plate this year, topping the Dallas Cowboys, the University of Texas and Texas A&M.
The black and gold University of Colorado plate was the top seller for the first six months of the year in the four largest Metroplex counties. Statewide, the Cowboys were the clear winner, outselling their intrastate rival in the National Football League, the Houston Texans, as well as the state's most popular pro basketball club, the San Antonio Spurs.
"The reason the University of Colorado is so high is that they only recently launched their plate in the Texas market, and prior to this launch they were at a preorder phase for six months going back into 2015," said Steve Farrar, president of My Plates, the private-sector company that manages Texas' vanity plate program.
Even so, the Buffaloes must have a heck of a loyal fan base in Tarrant, Denton, Dallas and Collin counties.
—–
August 25th
… CU in a few minutes … 
CU uniform combinations for the season revealed … sort of
A tweet from CU … This graphic accurately represents how many times we will wear these colors this @RunRalphieRun season. #GoBuffs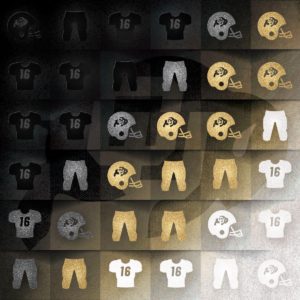 If you don't want to count it up for yourself, CU will wear black shirts seven times, white shirts four times and gray once. With seven home games (counting the game against CSU), it's likely that CU will wear a black shirt for each of those games and either white or gray on the road.
The Buffs will be in gold helmets six times, gray three times, white twice and black once. Their most common pants color will be gold (five), followed by gray (three) and black and white (two each).
—
Sefo Liufau: CU enjoying its best fall camp in his four years in Boulder
From Daily Camera … Colorado won't truly know how good it can be on offense this season until the games start, but with only days to go until the Sept. 2 opener, senior quarterback Sefo Liufau believes the Buffaloes are in great shape.
"I think for the most part we were trending upwards the whole time (during camp)," Liufau said. "It was real positive to see all of that from the guys, in terms of getting guys on and off the field, substitutes and knowing your assignments. There's definitely room for improvement, but definitely pleased with how we were working."
After setting a bunch of school records on offense in 2014, the Buffs took a step back last year. Injuries and ineffectiveness at times led them to sputter offensively.
… "A lot better in my opinion," said Liufau (about this year's fall camp), heading into his fourth year as the starter. "It'll be a lot different when bullets start flying and the real thing happens, but I'm definitely pleased with where we are as an offense. A lot of guys are doing a lot of great things right now on offense, in all positions. We're really consistent right now also, which is real good to see".
… Continue reading story here …
—–
August 24th
... CU in a few minutes … 
Safety Ryan Moeller back at practice
From the Daily Camera … With Colorado's season opener around the corner, Ryan Moeller is feeling healthy, getting antsy and eager to see how much better he is as a junior.
"I'm feeling great," Moeller said after practice on Tuesday. "I had a real good practice today and I'm feeling pretty good about getting back and doing everything we have to do."
Projected to start at free safety, the 6-foot-1, 210-pound Moeller hasn't played since Oct. 17 against Arizona. Shortly after that game, he and a friend were involved in a moped accident that left Moeller with several injuries. One of the Buffs' leading tacklers at the time, he missed the rest of the season.
"Seeing as how I missed a good portion of the season last year, I'm definitely ready to be back out there full swing of things," he said. "I'm definitely itching to be out there and I'm real excited and real amped about it."
Aside from an ankle injury that limited him in practice last week, Moeller has been mostly healthy and has spent his offseason trying to improve his craft.
… Continue reading story here …
—–
August 23rd
... CU in a few minutes … 
CU has three on Senior Bowl Watch list
From the Senior Bowl … The Senior Bowl's 2017 Watch List includes more than 400 student athletes from nearly every level of college football. These are the players who we are looking to fill the 110 roster spots that form the North and South squads for the nation's premier all-star game. A player not on the initial list can be added to the watch list during the season and be invited to the 2017 game. Here's a look at the top seniors to keep an eye on this season:
Colorado … Safety Tedric Thompson … Cornerback Chidobe Awuzie … Defensive tackle Josh Tupou …
There are a total of 43 Pac-12 players on the list, led by Utah with nine. USC is second, with seven. The full Pac-12 list of seniors on the Watch list can be found here.
—
CU season preview from ESPN's Chantel Jennings
… Sorry, but this is just another example of how ESPN – and even their Pac-12 "beat" writers – has little interest in the Buffs. Last week, an article touted the 2016 production expected from Patrick Carr … who left the team in July. This article touts the great new freshman wide receiver … Johnny Huntley (no disrespect to Huntley, but anyone who has read even one article about the Buffs this fall knows that the freshman who has been turning heads is Anthony Julmisse).
For what it's worth … From ESPN …
Impact newcomer: Freshman wide receiver Johnny Huntley III. Colorado will be running an offense that is going to utilize a lot of wide receivers. WithJuwann Winfree out of the mix, there are even more receptions to go around. Even with Shay Fields, Devin Ross and Bryce Bobo, the Buffs still need more guys to step up. Enter: the 6-foot-3, 210-pound Huntley, who's going to prove to be a matchup problem for defenses and a unique weapon for the Buffs.
Biggest remaining question mark: Will the increased offensive tempo pay off for the Buffs? Darrin Chiaverini joined Colorado as a co-offensive coordinator and wide receiver coach, bringing with him a faster approach to the offense. It's not a wholesale change, but it is going to be a bit different for Liufau and Co. moving forward. Could it be the key that cracks open the offense to making moves in the Pac-12? Or will it just be another (failed) attempt to move up in the Pac-12 that ultimately puts more roadblocks in the Buffs' way?
Upset watch: Colorado State. The Buffs are favored at home against the Rams, but Mike MacIntyre needs to be on upset watch against this squad, especially after his fighting words about Colorado State late last week.
Prediction: 5-7. The Buffs win three conference games this season. Last season Colorado played UCLA, USC and Utah close, despite all three of those teams being heavily favored so it'll walk into similar matchups this season understanding what it takes to play it close, and hungry enough to make it turn out a different way this time around.
—–
August 22nd
... CU in a few minutes … 
Two more senior walk-ons awarded scholarships
From the Daily Camera … Two more walk-ons were awarded scholarships on Monday — linebacker Aaron Howard and tight end Chris Hill. Running back Kyle Evans received the same honor last week.
Senior linebacker Aaron Howard … 2015 stats … He played in 12 games (no starts), two on defense and in all on special teams (he sat out the USC game).  He was in for six plays from scrimmage (three each against Massachusetts and Nicholls State, recording one solo tackle (against Nicholls).  He racked up 10 special team points on the strength of nine knockdown blocks that aided returns and a fumble recovery (against Arizona; he recovered a CU fumble to enable CU to keep possession).  He had two tackles (one solo) in the spring game.
Senior tight end /long snapper Chris Hill … 2015 stats … He saw action in 11 games (no starts), primarily on special teams but at spot times on offense.  He caught one pass for seven yards (against Nicholls State).  On special teams duty (kickoff return unit in addition to serving as the backup snapper), he had three returns of short kicks for 38 yards (12.7 per), and had two knockdown blocks aiding returns.  He officially had the distinction of becoming the 2,000th known player at Colorado to letter in football; there were 1,999 enter the 2015 season and he was the first to appear in the season opener at Hawai'i who had yet to letter—he came in for the second play of the game.  He caught nine passes for 54 yards and a touchdown in the four main spring scrimmages (including three grabs for 20 in the spring game).
—
CU and CSU team up for flag football game to benefit special Olympics
Colorado State University and University of Colorado Students Team Up With Special Olympics Colorado Athletes for a Unified Flag Football Rivalry Game on August 29!
Englewood, Colo. – Colorado State University (CSU) and University of Colorado Boulder (CU) may be rivals on the football field, but are partners in the community. On August 29, students from each university will be teamed up with Special Olympics Colorado (SOCO) athletes for a Unified Flag Football game of their own. It's all part of the Special Olympics Unified Sports Rivalry Series.
Dedicated to promoting social inclusion through shared sports training and competition experiences, Unified Sports joins people with and without intellectual disabilities on the same team. "We are honored to partner with CU and CSU to help further our mission of creating an inclusive and welcoming community for all Coloradans both with and without intellectual disabilities," said Mindy Watrous, President and CEO of Special Olympics Colorado. "Using the power of sports, our athletes have opportunities to develop as leaders, to showcase their strengths and abilities and to find success on the playing field and in life."
In addition to the game itself, both schools are holding an online pledge battle to see which school can raise the most money for Special Olympics Colorado. Proceeds from the pledge battle will help support the 20,761 athletes with intellectual disabilities in Colorado. To donate, visit SpecialOlympicsCO.org.
"This is truly a special event for everyone involved, including the members of our football program. I know I speak on behalf of our coaches, our student-athletes, and all involved with our program in congratulating everyone for the hard work and dedication to stage a great event," said Mike Bobo, Colorado State University's Head Football Coach. Mike MacIntyre, University of Colorado's Head Football Coach added, "Special Olympics Colorado is a great organization and we are excited to host the inaugural Unified Rivalry flag football game in our new indoor practice facility. This will be a great partnership with CSU and Special Olympics surrounding the Rocky Mountain Showdown."
—
Phillip Lindsay wouldn't mind the opportunity to be CU's every down running back
From CUBuffs.com …  A couple of weeks into August camp, early into his second run as the University of Colorado's running backs coach, Darian Hagan was asked about the possibility of the Buffaloes once again utilizing a tailback-by-committee ground game.
Here's how the question began: "It seems like it's been going on for . . ."
"Ever," Hagan answered before flashing that trademark high-wattage grin and cackling at his response.
Indeed, it does seem like forever since CU had a true load-bearing running back, an every-down tailback who carried 20-plus times a game and made most of them count. The last Buffs back to average 20-plus carries a game was Rodney "Speedy" Stewart in 2010, and that season marked the last time CU produced a 1,000-yard rusher.
… Phillip Lindsay, a team captain for the second consecutive year (he was on last season's 12-member leadership committee), believes he's durable enough and has a versatile enough skill set to be Hagan's every-down guy.
"Definitely," Lindsay said. "I've been working on my speed and that'll be shown this year . . . I can block, I can catch. And I'm not afraid of contact at all. My goal going in all the time is (gaining) four or five yards. So I'm definitely, definitely looking forward to trying to be an every-down back.
"But I also know that we have some great backs and we're going to need each other. It's a team game and we're all working hard. If we can all get in and do some things it makes it even sweeter."
Lindsay, said Hagan, "has gotten a whole lot better; he understands what we're trying to do, he plays fast but sometimes he gets a little lax in his focus. But he'll come back; he's always working his craft. He understands what we're doing, his eyes and his vision are amazing."
… Continue reading running backs preview here …
—–
August 20th
… CU in a few minutes …
ESPN: CU's player with the most to prove
… not a surprise …
From ESPN … Over the next couple of weeks, we'll be identifying a player (or players) from each Pac-12 team with the most to prove in 2016. In many cases, this will be someone at a position where the team has a pressing need for production — where the next man in line must step up following a departure and keep the wheels churning.
We continue this series with the Colorado Buffs.
Player with the most to prove: QB Sefo Liufau
Liufau is the most experienced quarterback in the Pac-12. He has started 29 games for the Buffs and set 75 schools records, but the one thing he hasn't done is help Colorado win many games.
"I know I've made mistakes in clutch situations — I haven't made the play, so to speak," he told ESPN.com last month. "I'm hoping to right the wrongs and prove everybody wrong."
In his final season, he's hoping to right those wrongs by making those plays in clutch situations and helping the Buffs to a multi-win season. With games against Colorado State, Idaho State and Oregon State, there are some winnable games on the Buffs' schedule if Lifuau can come through for them.
The weight on any senior's shoulders is often heavy as he realizes it's his last go around. But for Liufau, who has had a career with a lot of lows in Boulder, this is his last opportunity to prove to himself and his school what he can do. The senior believes he has it in him. Now, he just needs to prove it to everyone else.
"I'd give away all my records to go to a bowl game," Liufau said.
—–
August 19th
… CU in a few minutes … 
Bill McCartney's first recruiting Class honor coach with a legacy brick
From CUBuffs.com … The inscription is simple, but the words speak volumes:
"Coach Bill McCartney's 1st Recruiting Class — 1983 Where It All Began."
Friday morning, nine members of that class — the first group of players signed at Colorado by CU coaching legend Bill McCartney —  gathered together with McCartney to look at their Legacy Brick, placed prominently on the new Buff Walk just outside of Folsom Field.
"It's magnificent," McCartney exclaimed. "When these guys called to say they wanted me to meet them here Friday morning, they wouldn't tell me what it was for. But that (as he pointed to the brick) is outstanding. It represents a special group of young men who took it upon themselves to do something memorable, something that would withstand the test of time."
Indeed, McCartney's first class established a foundation at Colorado that helped build a program that ultimately produced eight consecutive top 20 teams, three Big Eight championships and a 1990 national title.
They did it by taking on a challenge issued by McCartney in that recruiting season.
"We brought them all together the week before signing date," McCartney remembered of a class dominated by players from Colorado. "We had them in the same room and I told them, 'We know you all have the opportunity to play somewhere else. But if you stick together, if you accept the challenge and opportunity we are presenting, you can put your this university back on the map. You can be something special.'"
They listened. Players such as Ed Reinhardt, who had an offer from Stanford, instead chose Colorado. Jon Embree, who was being courted by schools such as UCLA, decided to stay home. Lance Carl turned down overtures from Iowa to play at Colorado. Eric McCarty — who had hosted Michigan coach Bo Schembechler in his house earlier that week — still decided to cast his lot with McCartney, a former Schembechler assistant.
… Continue reading story here …
—–
August 18th
… CU in a few minutes …
Legacy Bricks tour today at Boulder Buffs Luncheon 
From CUBuffs.com … One of the most successful and popular fundraising projects in recent CU Athletic Department history is now ready for public viewing.
CU's Legacy Bricks, a major element of the public phase of the Athletic Department's Sustainable Excellence Initiative (SEI), have been installed along the new Buff Walk on the east side of Folsom Field.
The Buff Club and CU Athletics invite fans and donors to visit the new Legacy Bricks for the public debut Friday during the Football Kickoff Luncheon. The luncheon is scheduled to begin at 11:15 a.m. in Balch Fieldhouse.
Legacy Brick locator maps are available at www.cubuffs.com/legacy for a mobile or printable version of the Buff Walk map. The Legacy Brick program provided an affordable way for all fans to become a permanent part of CU history and grossed more than $660,000 for the SEI.
"We felt like this would be a great way for people to give to this project and be able to memorialize their commitment to the facilities," Athletic Director Rick George said. "It has been extremely popular and very successful. We're excited about it."
—
Season-opening Plati-tudes released
From CUBuffs.com … It's a presidential election year, which warrants telling the CU football statistic crew's connection to the season: Jack Landon will begin in 44th year on our crew, as he first was hired by then-SID Mike Moranfor the 1973 season.  Jack is the son of Alf Landon, who ran against FDR in the 1936 presidential race and as of last season, only 18 people in the nation had served longer at one school … How about those Buff alumni in "The Basketball Tournament" (or TBT); won four games to reach the championship game before losing 77-72 to a stacked team of Overseas All-Stars.  The prize of $2 million was winner-take-all, but our Buff alums, coached by Dwight Thorne and Beau Gamble (he says he was really the G.M.), and led by Marcus Hall did the school proud (Hall easily could have been the MVP but they went with a player from the title team) … How cool was it to see the first NFL game in Los Angeles in 22 years and have former Buff Nelson Spruce become the darling of 89,000-plus fans right before your eyes?  He caught six passes for 51 yards (39 after the catch) and a touchdown in the Rams' 28-24 come-from-behind win over Dallas, with the fans cheering "Spruuuuuuuce" after each reception … I, like many, am disappointed that the NFL's contributor committee didn't see fit to make Bronco owner Pat Bowlen a finalist for the 2017 Hall of Fame and selected Jerry Jones instead; I imagine the two are fairly close in what they've done for their teams and the league, but Bowlen is in failing health and Jones seems just fine.  Or in cases like this, just take in all three (the other is former commissioner Paul Tagliabue).
… Continue reading story here …
—
Kickoff luncheon this Friday 
The 27th Annual Boulder Chamber Colorado Football Kickoff Luncheon is set for this Friday, August 21, at Balch Fieldhouse.
Individual tickets for the luncheon are $35 or tables for 10 people are available for $350 and table sponsorships are available for $1,000.  Doors open at 11:15 a.m. and the program will begin at Noon.  Friday's football practice is also open to the public starting at 9:50 a.m. on the lower practice fields.
Because the luncheon is prior to the start of classes on the CU-Boulder campus, the entire football team and coaching staff will be in attendance.  Additionally, those in attendance can take a tour of the football locker room and the training room on the first floor of the new Champions Center.
Complementary Parking is available in the RG Zone, the surface lot and parking structure along Regent Drive between the Coors Events Center and Colorado Avenue on a space availability basis.  Once those lots are full, parking attendants will be on hand to direct people to open parking lots which may be at the cost of the attendee.
—
CU looking to add another dorm in Williams Village complex 
From the Colorado Daily … To support the growing number of students studying on the Boulder campus, the University of Colorado wants to build a new $60 million dorm in the Williams Village complex that could accommodate 560 to 575 freshmen.
The campus, which has not yet presented the plan to CU's Board of Regents, put out a request for bids to construct the Williams Village East Residence Hall last week. The regents must approve all capital projects with budgets greater than $2 million.
As proposed, the new dorm would be modeled after the more recent six-story Williams Village North Residence Hall — and not the original Stearns and Darley towers, which are 13 to 15 stories tall — at the housing complex at 30th Street and Baseline Road.
… Continue reading story here …
—–
August 17th
… CU in a few minutes … 
Nelson Spruce continues to impress in Los Angeles … featured on "Hard Knocks"
From TheRamsWire … It was that time again, as episode two of HBO's Hard Knocks with the Los Angeles Rams aired on Tuesday night. It was filled with plenty of great (and hilarious moments) and we're going to take a look at 12 takeaways from the episode, which featured the team's preseason opener against the Dallas Cowboys.
… Nelson Spruce looks every bit the part of an NFL receiver
Watching it back all over again, it was hard not to love Spruce's game. He was consistent and just looked like a legitimate NFL player. He took advantage of everything that came his way, and most importantly stepped up when the team needed a big play over and over again. As Jon Gruden put it 'Nelson Spruce has been the best Ram on the field.'
—
Special screening of "Born to Lead: The Sal Aunese Story" 
From the Daily Camera … There were moments of laughter. Moments that brought cheers.
There also moments that sent tears down cheeks and filled the theater with a chorus of sniffles.
On Saturday night, several Colorado football greats and supporters were on hand at the CU South Denver campus to watch a special screening of "Born to Lead: The Sal Aunese Story."
"I saw the first run of it in San Diego in December," former CU receiver Jeff Campbell said. "Seeing it again today, they really did a nice job of helping the viewer see why Sal was born to lead. It was a fantastic film."
… Producer George Antonopoulos and director Lara Slife believe the film can be an inspiration to anyone who watches it – whether they are a part of the CU community or not.
Antonopoulos and Slife are currently in the process of trying to get the film released to a wide audience. The hope, Antonopoulos said, is to go through a progression of getting it into film festivals, theaters, on television and then digital.
"It's on the verge of being released," Antonopoulos said. "By Dec. 31, you'll know how to either purchase it online or which regional theater you'll see it in, or on television."
… Continue reading story here …
—
Buffs to host "Global's Dare to Play Football Camp With the CU Buffs"
From CUBuffs.com … Saturday afternoon saw the University of Colorado Champions Center Indoor Practice Facility brightened with the smiles and laughs of young children and adults attending  "Global's Dare to Play Football Camp With the CU Buffs."
The Buffs are also hosting a "Global's Dare To Cheer With the CU Buffs " camp in conjunction with the football camp. The camps include three practices and a game, to be played Saturday, Sept. 10, at Folsom Field, the same day the Buffs play their home opener vs. Idaho State.
The camps were coordinated by Allie Winter, Health and Wellness manager for the Global Down Syndrome Foundation, and Lance Carl, CU Associate Athletic Director for Business Development
It is the first time the Buffs have hosted the event. The program had been run through the Denver Broncos and ex-Bronco Ed McCaffrey for the past eight years.
… For more information on the Dare to Play Football camp with the CU Buffs, go towww.globaldownsyndrome.org/programs/dare-to-play-football-camp-boulder/.  For more information on the Dare to Cheer camps, go to www.globaldownsyndrome.org/programs/cu-dare-to-cheer-camp-boulder/.
—–
August 16th
… CU in a few minutes … 
ESPN: CU quarterbacks the 6th-best in the Pac-12
From ESPN … We continue one of our final inventory checks before the 2016 season kicks off. We'll be ranking every team's position units against the rest of the Pac-12.
Next up: the quarterbacks.
… 1. Washington State … 2. UCLA … 3. Cal (with Davis Webb) … 4. Arizona … 5. Washington
… 6. Colorado: Not too long ago, it seemed like Sefo Liufau's season was in jeopardy. The Buffaloes secured a commitment from Davis Webb and it was just assumed Liufau would sit out the 2016 season as a result of a foot injury. Not so. After Webb backed off his pledge and decided on Cal, it became evident that Liufau, who started the past three seasons, would be able to play this year. He has had his ups and downs, but Colorado's woes shouldn't be considered a reflection of Liufau's play.
… 7. Stanford … 8. USC … 9. Oregon … 10. Oregon State … 11. Utah … 12. Arizona State
—
… But CU's Defensive backs are no better than 8th???
From ESPN … 1. UCLA … 2. Washington … 3. USC … 4. Stanford … 5. Utah … 6. Washington State … 7. Oregon
8. Colorado: Chidobe Awuzie was a second-team All-Pac-12 selection a season ago and the Buffaloes' defense, which looks to be much improved yet again, returns Ryan Moeller and Tedric Thompson.
9. Arizona … 10. Arizona State … 11. California … 12. Oregon State
—–
August 15th
... Foe Pause … 
Colorado No. 11 in ESPN Power Rankings
… Not a real surprise that CU comes in at No. 11, but, unless I am mistaken, this is the first time CU has started out somewhere other than No. 12 since joining the Pac-12 … What was a bit of surprise is that, according to ESPN, the best team in the Pac-12 South is no better than the fifth-best team in the conference …
From ESPN … Welcome to the first round of Power Rankings for the 2016 season. Expect a lot of movement in the coming weeks as quarterbacks are named, depth charts are established and … frankly … once some actual football is played. The only rankings that truly matter are the postseason rankings. But we don't want to make you wait that long …
10. Arizona State (6-7)
No clue what to make of the Sun Devils … yet. New quarterback, new offensive coordinator and a rebuilt offensive line are usually red flags. The defense — on paper — looks solid, particularly up front. But they gave up so many big plays last season (most among all Power 5 teams) that before any true assessment can be made, we have to see if the holes have been patched.
11. Colorado (4-9)
The good news is quarterback Sefo Liufau looks to be back at, or near, 100 percent. Since the Buffs missed out on the Davis Webb lottery, the pressure is on Liufau to lead a Colorado offense that was inconsistent last season. Say this for the Buffs: The defense showed tremendous improvement. They are no longer an easy out.
12. Oregon State (2-10)
New coordinators and a new quarterback means the Beavers will likely be in rebuilding mode again. Expect a lot of the same growing pains they had in Year 1 of the Gary Andersen era. There will be flashes, mind you. These are, after all, Power 5-quality football players. But with the North only getting better, gains in the win column might not come until next season.
—–
August 15th
… CU in a few minutes … 
CU Implements Clear Bag policy for Folsom Field and the Coors Events Center
From CUBuffs.com … In an effort to provide a safer environment for fans and expedite entry into Folsom Field, the University of Colorado will be implementing a clear bag policy at CU football games beginning this (2016) season.
The policy will also be in effect at the Coors Events Center for all CU volleyball matches, men's basketball and women's basketball games.
Clear bags, which are becoming the norm at athletic venues across the nation — including Sports Authority Field in Denver — aid in increasing fan safety and have been found to decrease the waiting time to enter stadiums.
"This is something we believe will help provide a better overall experience for our fans while also making it easier to enter the stadium by speeding up the security screening process," said Steve Pizzi, Assistant Athletic Director for Game Day Operations. "More and more college and professional teams are adopting this policy, including a number of our fellow Pac-12 members. A secure, safe environment for our fans is always a top priority and we think this policy will enhance that environment and provide an even better game-day experience."
Other Pac-12 schools that have instituted a clear bag policy include UCLA, Arizona State, USC, Washington and Arizona.
Beginning this season, fans may bring one clear bag no larger than 12 inches x 6 inches x 12 inches, or a one-gallon resealable clear plastic storage bag, into the stadium. Fans will also be allowed one small clutch purse, no larger than 4.5 inches by 6.5 inches.
Bags that will no longer be allowed into Folsom Field include backpacks, large purses, oversized tote bags, camera bags and binocular cases, diaper bags, fanny packs and printed plastic bags.
Seat cushions and chair backs will still be allowed, but they must be 18 inches or less in width and cannot have pockets, zippers or covers.
Other items that will not be allowed into Folsom Field are hard- and soft-sided coolers of any kind; firearms or weapons of any type; selfie/GoPro sticks, flags on poles or other types of sticks and poles; fireworks, drones and laser pointers; glass or metal bottles or cans; alcoholic beverages or illegal drugs (including marijuana); non-factory sealed beverages or filled liquid containers; full-size strollers and umbrellas.
Items fans may bring to Folsom include non-alcoholic beverages in factory-sealed plastic containers (51 ounces or 1.5 liters or smaller, one per ticket holder) and empty non-disposable water bottles (51 ounces or 1.5 liters or smaller).
Clear bags are available at the Buffs Team Store in the CU Champions Center as well as other local retailers.
—–
August 14th
… CU in a few minutes … 
Nelson Spruce has a good first game for Los Angeles Rams 
From the Los Angeles Times … What we learned from the Rams' 28-24 exhibition victory over the Dallas Cowboys at the Coliseum:
... Nelson Spruce will push for a roster spot
The Pac-12 Conference's all-time receptions leader was an undrafted free agent.
Against the Cowboys, he caught six passes for 51 yards, including a touchdown.
On another team, Spruce might be a longshot to make the 53-man roster. But the Rams last season were plagued by dropped passes. Spruce has made a career of catching nearly everything thrown his way.
—
Neill Woelk reflects on the first three years of the Rick George administration
From CUBuffs.com … Three years ago today, Rick George began his tenure as athletic director at the University of Colorado.
It's been a heck of a stretch.
The summer George was hired, I was a long way (literally and figuratively) from the daily happenings of the CU Athletic Department, but I still kept as close an eye as possible on what was occurring in Boulder. When I heard that George had been lured away from his job as COO the Texas Rangers, I was intrigued but not surprised.
George had always been a man who sought out challenges, going clear back to the time when he agreed to take on duties as recruiting coordinator for Bill McCartney and the Buffaloes. This was clearly just another test he couldn't wait to begin.
As George's first few weeks and months unfolded, there were challenges not even he could have anticipated. A thousand-year flood inundated Boulder, wreaking havoc on the community and campus. It meant canceling a football game with Fresno State and scrambling to find a substitute opponent, as well as myriad other problems.
But through it all — at least from a distance — George appeared to be unfazed, dealing with each obstacle as it arrived.
… Continue reading story here …
—–
August 12th
… CU in a few minutes … 
"The Rise – Trailer"
A lock to be the best two minutes of your day … "The Rise – Trailer" from the multi-Emmy Award winning crew at CU Video …. "Every … Thing Matters!!!"
—–
August 11th
… CU in a few minutes … 
Afodabi Laguda: "They believe in me, and I have to play not for myself, but for the Colorado across my chest"
From CUBuffs.com … here was a time when a nickel back was essentially an extra on defense, a fifth defensive back called upon occasionally to provide more coverage in obvious passing situations.
Those days are long gone — particularly in the pass-happy Pac-12. Today, while most "base" defenses still don't technically include a fifth defensive back, the reality is that teams are playing the alignment more often than not, and the Colorado Buffaloes are no exception.
Last year, CU started 10 of its 13 games with a nickel back in the lineup — most often,Chidobe Awuzie, who saw nine of his 12 starts come at the position.
Awuzie is back this season, and is expected to see time again at the nickel. But the Buffs will also employ the services of Afolabi Laguda, a hard-hitting junior who played 237 snaps on defense last year and finished with 22 tackles (17 solo). Laguda was listed as the No. 1 nickel back on the pre-camp depth chart, and has seen plenty of repetitions at the position thus far in camp, as well as free safety, where he's listed as the backup to Ryan Moeller.
… Laguda quotes … "It's my second year, it's time to step up. It's still X's and O's. It's applying that coaching from the film room to the field. That's what it is. Great players know how to take that coaching and come out here and apply it and be great every day."
… "They believe in me, and I have to play not for myself, but for the Colorado across my chest," Laguda said. "That's the role I need to play and the role I need to embrace and make people proud, make people know that Colorado is back — it's the rise, that's what our coaches believe in.
"If I do play a major role, it's not for me. I'm playing it for the team. I might be exhausted, but the team needs my extra step. We need it from everybody. When the team wins, the individuals shine more. I want the team to shine. If that happens, everything else will take care of itself."
… Continue reading story here …
—–
August 10th
... CU in a few minutes … 
CBS: CU's Mike MacIntyre is (surprise!) the worst in the Pac-12 in close games 
From CBS Sports … "Best and worst college football coaches in close games entering 2016"
Best: Kyle Whittingham, Utah — Given his larger body of work, Whittingham gets the nod over Jim Mora Jr., who has a higher winning percentage. Whittingham has a .642 mark and went 4-2 in these games in 2015. Over the past two years, Utah won tight games over traditional favorites USC, UCLA,Stanford and Michigan plus a seven-point bowl win over rival BYU after Utah nearly blew a 35-0 lead. Hey, a win is a win.
Worst: Mike MacIntyre, Colorado — Poor Colorado. Four of its last six losses in 2015 were by a score or less to superior teams (Arizona, UCLA, USC and Utah). Still, a loss is a loss. MacIntyre is 10-20 in one-score games for his career, including three years at San Jose State before three at Colorado.
| | | |
| --- | --- | --- |
| PAC-12 COACH | CAREER | CURRENT SCHOOL |
| Clay Helton, USC | 3-1 (.750) | 3-1 (.750) |
| Jim Mora, UCLA | 15-6 (.714) | 15-6 (.714) |
| Kyle Whittingham, Utah | 34-19 (.642) | 34-19 (.642) |
| David Shaw, Stanford | 17-10 (.630) | 17-10 (.630) |
| Todd Graham, Arizona State | 26-21 (.553) | 7-8 (.467) |
| Chris Petersen, Washington | 17-14 (.548) | 3-6 (.333) |
| Mike Leach, Washington State | 31-26 (.544) | 12-11 (.522) |
| Rich Rodriguez, Arizona | 44-39-2 (.529) | 13-10 (.565) |
| Sonny Dykes, Cal | 16-15 (.516) | 8-7 (.533) |
| Mark Helfrich, Oregon | 5-5 (.500) | 5-5 (.500) |
| Gary Andersen, Oregon State | 14-18 (.438) | 0-1 (.000) |
| Mike MacIntyre, Colorado | 10-20 (.333) | 3-11 (.214) |
—–
August 9th
... CU in a few minutes … 
Details released for Buffs' scrimmage Saturday
From CUBuffs.com … Want to get a good look at the 2016 Colorado Buffaloes before their Sept. 2 season opener?
You will have your chance Saturday. Mike MacIntyre's Buffs are scheduled to participate in their first full-contact scrimmage of fall camp Saturday morning in Folsom Field. The Buffs will practice a variety of situations in the scrimmage — full-length field drives, red zone, two-minute drills, etc. — and referees will be on hand to officiate the action.
Saturday's practice, which will also include the regular assortment of individual and team drills, is scheduled to begin at 9:05 a.m. The Buffs will warm up before moving into team and individuals drills, with the scrimmage to follow.  Parking will be free in the Regent Auto Park and in lot 169 north of Boulder Creek.  Fans can also pay to park in the first level of the Folsom Parking Garage.
The practice should end approximately at noon. It will be the last practice of fall camp open to the media and public. Following the game, fans are invited on to Folsom Field to play corn hole, toss the football around and take photos.  Student-athletes will not be available as they have a post-scrimmage commitment.
… Colorado opens its season Friday, Sept. 2, vs. Colorado State in a nationally televised 6 p.m. game at Denver's Sports Authority Field. MacIntyre is 2-1 against CSU, including last year's overtime win vs. the Rams in Denver.
CU opens its six-game home schedule a week later (Sept. 10) with a 3:30 p.m. game vs. Idaho State at Folsom Field.
CU will also continue its Pearl Street Stampede tradition this year before home games and the CSU game. The first Stampede is set for Thursday, Sept. 1, at 7 p.m.
—
Colorado line over Colorado State down to eight points
At both VegasInsider and 5Dimes, the Rams are getting more love from the bettors than are the Buffs for the Rocky Mountain Showdown. Colorado opened as a ten-point favorite, but is now an 8.5-point favorite at VegasInsider and an eight-point favorite at 5Dimes.
Other Pac-12 openers:
— California … a 20.5-point favorite over Hawai'i (in Sydney, Australia)
— Oregon State … an 12.0-point underdog to Minnesota
— Utah … a 25.0-point favorite over Southern Utah
— Stanford … a 15.5-point favorite over Kansas State
— Washington … a 26.5-point favorite over Rutgers
— UCLA … a two-point underdog to Texas A&M
— Oregon … a 45.5-point favorite over UC-Davis
— USC … a 10.5-point underdog to Alabama
— Washington State … a 24.5-point favorite over Eastern Washington
— Arizona … a two-point favorite over BYU
— Arizona … a 24.5-point favorite over Northern Arizona
—–
August 8th
Colorado State receives $4.3 million donation from New Belgium Brewing Company
From Colorado State … Two Fort Collins stalwarts – Colorado State University and New Belgium Brewing Company – today announced that the iconic brewery is donating $4.3 million to CSU's on-campus stadium project.
The agreement gives New Belgium – creator of Fat Tire Belgian ale and other popular craft beers – naming rights to the north end zone hospitality area at the stadium, which will be called the New Belgium Porch.
The agreement builds on an already-robust relationship between Colorado State and New Belgium. In 2015 New Belgium co-founder and former CEO Kim Jordan announced a $1 million gift to update and renovate facilities utilized by CSU's Fermentation Science and Technology program.
… Continue reading story here …
—–
August 6th
… CU in a few minutes … 
ESPN's Ted Miller – CU's entire defense may be underrated
From ESPN's Mailbag: Scott from Tacoma writes: Every year, with many teams, there seems to be questionable position groups going into the season. And every year, a great number of those position groups turn out to be stronger than other more "solid" position groups. My question is: Which position group of any team, looks questionable now but has the best chance to break out?
Ted Miller: Position groups that might be underrated.
… Colorado: entire defense
—
Football Walk-on Tryouts set for August 19th
From CUBuffs.com … The University of Colorado football program will hold walk-on tryouts in August 19, and they are open to any CU student currently enrolled full-time on the Boulder campus and in good academic standing.
The initial meeting will be held on Friday, August 19, at 9:30 a.m. in CU's Champions Center Conference Room (third floor, room 319).  Enter though the Northeast entrance of the Champions Center and proceed to level 3 on the elevator.
All candidates must be enrolled in at least 12 or more credit hours for the fall semester and are required to bring:
·         Paperwork from a physical exam by their doctor within the last 6 months;
·         Sickle Cell Blood Test result (NCAA requirement);
·         A copy of their current Fall 2016 class schedule;
·         A copy of current cumulative grade point average at CU;
·         A copy of Medical Insurance Information.
At that point, those cleared will engage in a tryout on a day and time to be determined at a later date.
Those interested need to contact Adam Toyama, Director of Recruiting, to be placed on a list to go through the procedures to try out for the team.  Please Email Adam at Adam.Toyama@colorado.eduwith the subject line: 2016 FALL WALK-ON TRYOUT.
—–
August 4th
… CU in a few minutes …
Five Pac-12 teams in preseason USA Today/Amway coaches poll 
From USA Today … The Amway Coaches Poll is conducted weekly throughout the regular season using a panel of head coaches at FBS schools. The panel is chosen by random draw, conference by conference plus independents, from a pool of coaches who have indicated to the American Football Coaches Association their willingness to participate.
Others Receiving Votes
Miami (Fla.) 120; Wisconsin 82; Utah 73; Boise State 73; Washington State 47; Texas A&M 37; Texas 34; Arkansas 34; Northwestern 31; Navy 30; Mississippi State 19; San Diego State 18; Nebraska 17; Auburn 17; Western Kentucky 11; Pittsburgh 8; Brigham Young 6; Appalachian State 4; Duke 3; Arizona 2; Marshall 2; Toledo 2; South Florida 2; Memphis 1; Indiana 1; Northern Illinois 1.
—–
August 3rd
… CU in a few minutes … 
CU Alumni have positive memories of their time in Boulder
From CU Advocates … CU President Bruce Benson wanted to give the CU Advocates a preview of the results from the university's first survey of alumni from all four CU campuses, which was conducted in May.
The results are in and they tell a great story.
President Benson will discuss the findings in his monthly electronic newsletter, which will deliver later tonight. You can view an overview of results here.
Here are some of the key takeaways:
CU alumni are extremely satisfied with the education they received, with more than 95 percent reporting they were "very satisfied" or "somewhat satisfied." More than two-thirds of those, on average, were in the "very satisfied" category.
CU alumni are employed at higher rates than the U.S. labor force (74 percent vs. 68 percent) and those with a bachelor's degree from CU earn more ($68,000 annually) than the national average ($57,252) or Colorado average ($48,818).
Just over half of CU alumni reported that their CU education strongly related to their job, most notably those in health care; art, design and entertainment; and science, technology and engineering.
About 87 percent reported that in taking into account the costs to obtain their CU degree and the benefits, that the benefits outweighed the cost. Of those 87 percent, the median income was $74,000. Of the 13 percent who said the benefit did not outweigh the cost, their median income was $39,000.
When asked to rate their feelings toward CU, nearly 70 percent were "very favorable" and another 25 percent "somewhat favorable," for a 95 percent favorability rating.
Overall, CU alumni are quite happy with the university and the education they received, and they feel the time, money and effort were worth the return. A CU degree is valuable in terms of earnings as well.
We will be able to slice the data in many ways, providing insight to our campuses, colleges and departments about how alumni are faring and how our campuses are doing in preparing students for life after college. In the meantime, the points above are good fodder for you to share through your networks.
Thank you to the CU Advocates who are alumni who took the survey. We appreciate what you do for CU and for the CU Advocates program.
Sincerely,
—
Family Season Ticket Options
From CUBuffs.com … Chip's Kids Club, the kids' affinity program for Colorado Athletics, is back for the 2016-17 season with new and improved member benefits.
Presented by Rocky Mountain Day Camp, Chip's Kids Club is open to kids 8th grade and under and now offers three membership options for Buffs fans to choose from: VIB (Very Important Buff) Membership, Free Membership and new this year a Baby Buff Membership (for newborn Buffs ages 1-24 months).
For the first time ever, the paid membership includes a ticket to every football game in Folsom Field, as well as the opportunity for parents and guardians to purchase up to two season tickets for football games in Folsom Field for $99 apiece.  Membership options for this year are:
VIB Membership is $45 and includes:
A ticket for all home football games at Folsom Field (six games total)
$99 season ticket for parents (can purchase up to two season tickets)
Admission to select Men's Basketball games
Discounted tickets for parents
A membership packet
Access to Chip's Kids Club Loyalty program
And more!
New this year is our Baby Buff Membership which is $15 and geared towards newborn Buffs ages 1-24 months.  Membership includes:
A CU Onesie and Bib
CU Birth Certificate
For more information and to sign up for Chip's Kids Club, visit CUBuffs.com/community
—–
August 1st
… CU in a few minutes … 
Bill McCartney diagnosed with late-onset Dementia/Alzheimer's
From CUBuffs.com … The family of legendary coach Bill McCartney issued the following statement Monday concerning the health of the College Football Hall of Fame and national championship coach:
"We would like to share the news that our father, Coach Bill McCartney has been diagnosed with late-onset Dementia/Alzheimer's.  We (his family) have been noticing memory issues for the past few years and he was recently diagnosed.  He is receiving treatment and we are hoping this slows the progression of the disease.  He is still the same Coach Mac – biking, golfing, supporting the Buffs and being an active member of his Church. 

 "We are making this public to ask for your understanding and patience as we know he frequently runs into fans, friends and former players.  This is a frustrating and confusing disease, and if he appears disconnected or unknowing, please don't take it personally.

"Please keep Coach Mac in your thoughts and prayers as we navigate through this difficult time."
McCartney was hired on June 9, 1982 to turn around the fortunes of the Colorado football program, and when he retired following the 1994 season, he would do so as the winningest football coach in the school's history with a 93-55-5 record.  He coached the Buffaloes to the 1990 consensus national championship as well as to three Big Eight Conference titles.
CU reappeared in the national polls in 1988 after a 10-year hiatus and was ranked in the final 101 polls of his coaching career (55 weeks in the top 10).  He was inducted into the College Football Hall of Fame in its 2013 class, the first coach associated with the University of Colorado to be enshrined and the seventh person overall associated with the school.
Following his retirement from coaching, he went to work full-time for Promise Keepers, a Christian organization he helped to create in 1990, to help better enrich men's lives.  He continues to speak into PK through regular early morning calls to its president, Dr. Raleigh Washington, and Mac's goal and legacy is challenging every Promise Keeper to commit to reading the Bible daily and to be led by the Spirit.
McCartney's eldest son, Mike, is serving as the spokesman for the family, while comments and questions can be submitted to Dr. Washington of Promise Keepers at coachmacupdates@pknet.org.  CU athletic director Rick George is the spokesman representing the University of Colorado.
---