—
Halfway There
—
Colorado went 1-0 this week.
That's it. Nothing more. Nothing less.
It's been the mantra of the Colorado football coaching staff all year. "Go 1-0 this week". "Colorado is the most important team on the schedule". "Play your own game; ignore the logos on the helmets of the opposition".
The players have been very consistent in re-stating this lesson through the first month of the season. Sure, the Colorado State game was a big win, but it was just one victory. Idaho State and Michigan? Identical opponents in the eyes of the Buffs.
The 41-38 victory over Oregon was just one victory … Colorado went 1-0 in Eugene on Saturday.
The Buffs are now 3-1. Halfway to the bowl eligibility which has eluded them since 2007.
Just another game.
Yet they … and we … know better.
This was a statement game, and even the CU coaches and players couldn't help but take note.
"We know we're good. But we needed a win like this, a good Pac 12 win to show it", said wide receiver Bryce Bobo, who had five catches for 72 yards, including a 31-yard game-winning score. "We just wanted to push things and step it up. We beat Oregon State last year, but this was beating Oregon. We wanted to make a statement."
"That's just one for us," said Mike MacIntyre, who was named the ESPN National Coach of the Week for the Buffs' effort. "Our goal is to win a Pac-12 championship. That's been our goal, and people laugh when we talk about it — but our kids believe it."
A statement game.
Perhaps a program-defining game.
"I would say this is a signature win," said MacIntyre, whose team was 0-5 against the Ducks since joining the league. "These kids believe they can beat anybody."
For Buff fans of a certain age, there was a certain deja vu to the win over Oregon.
You see, there was a comparable victory some 31 years ago, a game which Bill McCartney prophetically described by saying, "I think that could be a turning point for our program."
The parallels to that win in 1985 to the 41-38 win Saturday are so many that it's downright eerie.
A game won in the final minute … on a defensive stand … against … wait for it …
Oregon.
Let me set the stage.
September 14, 1985.
The Buffs were coming off of a 1-10 season in 1984, the sixth-straight losing campaign for the program (until recently, the longest drought without a winning season in school history).
The Buffs defeated Colorado State in the '85 season opener, but it was, after all, only Colorado State.
The next game was against a good Oregon team, a squad led by future NFL quarterback Chris Miller.
The Buffs took an early 14-0 lead over the Ducks, but were clinging to a 21-17 lead when Miller led the Oregon offense on a drive in the final minutes.
It would all come down to one play.
Fourth down. Ball at the Colorado three yard line. Nine seconds remaining.
Chris Miller went back to pass, but never got the chance, with Mickey Pruitt sacking Miller to end the contest, preserving a 21-17 victory.
Here's the final play:
As noted, Bill McCartney called the win over Oregon that day "a turning point for our program".
In retrospect, who could argue?
The Buffs went on to post a 7-5 record in 1985, the first winning season and first bowl game since 1978. The 1985 season proved to be the first of 12 consecutive seasons without a losing record.
Five ten-win seasons during that stretch. Three Big Eight titles. A national championship. A Heisman trophy winner.
No one is predicting similar future success for the Buffs just yet.
After all, this is not the top ten team in Oregon which the Buffs faced in four of the first five meetings between the two schools as members of the Pac-12. The Ducks came into the contest unranked, and have issues of their own as the 2016 moves forward.
But that was of little consequence to the Buff players, who got a gigantic monkey – er, Duck – off of their backs.
"My first time here they beat us something like 69-14 (actually 70-14)," said left tackle Jeromy Irwin. "Two years ago, the slaughtered us again (44-10). To finally come in here and not only put up a fight but to beat them … that means the world. We're a different team and I think people will realize it now."
Buff fans will remember Ahkello Witherspoon (photo of his interception posted below) as the hero of the '16 Oregon game. "It was big," Witherspoon said of his game-winning play. "I love playing for my team. Just having them coming over, hugging me and celebrating, that means everything to me. I was actually in the moment shaking my head".
Buff fans will also remember the efforts of Steven Montez, who set a school record for the most total yards by a quarterback in his starting debut, 468 (333 passing; 135 rushing). "Pretty much a legendary game for his first one," MacIntyre said. "I knew he was good, but to set the record for Colorado history, I would say he exceeded my expectations."
Before we turn the page, though, and start worrying about going 1-0 against Oregon State, I would like to give a shout out to three players who won't be remembered for their efforts – though vital – against the Ducks:
— True freshman walk-on kicker Davis Price. His first collegiate action came on the opening kickoff. Replacing injured senior Diego Gonzalez, Price was called upon to keep the lethal Oregon kick return team (13th in the nation) from making a big play. Price forced a touchback on the opening kick, and he and the kick return unit kept the Ducks from making a big play off of any of his seven kickoffs;
— Sophomore punter Alex Kinney. The Michigan game was a disaster, with two punts blocked and another returned for a touchdown. Kinney had only three punts against Oregon, but they came in the second half when a big play could have resulted in a Buff meltdown. Instead, Kinney had three punts, averaging 40.3 yards per kick, and the Oregon punt return unit (22nd in the nation) had zero return yards; and
— Senior quarterback Sefo Liufau. Relegated to the sidelines with a high ankle sprain, Liufau could have been a non-factor in the Oregon game. Indeed, he could have been a distraction had he sulked when his protege Steven Montez saw instant success. Instead, Liufau was Montez' biggest cheerleader, keeping Montez' head in the game after the freshman threw two interceptions. Just the second three-time captain in school history (and the first since the 1890's), Liufau proved himself to be a true leader of the team.
—
The Buff Nation has been through Hell the past ten years. Lopsided losses, last place finishes, national "Bottom Ten" lists. Heaven – winning seasons, bowl trips, championship bids – no longer seems like an impossible dream.
The coaching axiom about rebuilding a program goes something like this: You suffer through huge losses, turning them into small losses. The small losses, in turn, become small victories. Then, in time, the small victories become huge victories.
On the climb up to national relevance, the Buffs seem to be about halfway there. We endured the huge losses. Over the past few seasons, those huge losses turned into (excruciatingly painful) small losses. The victory over Oregon was a small, albeit significant, victory.
The 2016 Buffs have three victories, halfway to bowl eligibility.
With the win over Oregon, though, the Buffs may just be halfway to something even greater.
—–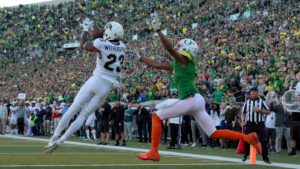 —–