—
Colorado Daily – Oregon
—
September 24th – GameDay!!
… CU in a few minutes … 
Mark Helfrich: "I've never been in a train wreck … but that's probably what it would feel like"
Related … Also from the Oregonian … "Oregon Ducks loss is a wake-up call for program, and coach Mark Helfrich", and, from Saturday morning (just for fun) … "Expect the Oregon Ducks to win and win big against Colorado"
Related … From the Eugene Register-Guard … "Colorado Buffaloes take a big step at Oregon Ducks' expense"
—
From the Oregonian … The speed and style of Oregon Ducks football used to be described as similar to that of a Ferrari.
After UO's stunning 41-38 home loss Saturday to rebuilding Colorado, coach Mark Helfrich instead likened the feeling to something far, far different.
"I've never been in a train wreck," Helfrich said, "but that's probably what it would feel like."
It wasn't long ago that Oregon used to plow through Pac-12 also-rans like Colorado, winning by an average margin of 38.5 points in the five games since the outmanned Buffaloes joined the Pac-12.
Saturday at Autzen Stadium, a third consecutive non-sellout crowd watched as Oregon lost consecutive regular-season games for the first time since 2007.
… Continue reading story here …
—
Despite recent history, Buffs prepared to play with confidence against Oregon
From CUBuffs.com … Buffs optimists will note that this isn't as powerful of a Ducks team as we've seen in recent years — at least not along the lines of the top-10 squads from a couple of years ago.
Pessimists, however, will rightfully note that they are still a dangerous, talented bunch. They still possess a potent running game, a dual-threat quarterback, a host of talented wide receivers and a defense capable of making big plays.
They are also still smarting from a 35-32 loss last week at Nebraska, a defeat that knocked them out of the nation's top 25 and no doubt left them anxious to get their conference season off on the right webbed foot.
History is not on the Buffs' side. Oregon leads the all-time series 12-8 (4-1 in Eugene), including wins in their last six meetings, a stretch that covers all five games since Colorado joined the Pac-12 in 2011. Neither have those Pac-12 games been close — Oregon has won those five by an average score of 51.4-13.2.
But this is a different Buffs team and a different Ducks squad. The Buffs got Oregon's attention a year ago when the Ducks had to rally for a 41-24 win in Boulder, and Colorado again turned heads last week by jumping out to a big lead at No. 4 Michigan before finally succumbing, 45-28.
"They're really good defensively and have been for the last several years," Oregon coach Mark Helfrich said earlier this week. "This year, I think they're significantly different and better both offensively and in special teams. Special teams bit them a little bit last week … but they're playing with a bunch of confidence."
… Continue reading story here …
—–
September 23rd
… CU in a few minutes … 
Tweet of the Day, from defensive backs coach Joe Tumpkin: "Guys are learning from their mistakes, working harder & getting better after a tough loss. No quit in this team. Ever. #beattheducks"
—
Neill Woelk's Friday's Fast Five Keys
From Neill Woelk at CUBuffs.com … Last week, the Colorado Buffaloes played well enough to win in two of three phases against fourth-ranked Michigan — and paid dearly for their mistakes in the third area.
A host of special teams miscues led to three Wolverines touchdowns, the difference in a 45-28 win.
Saturday in Oregon, the Buffs can't afford any such slipups. While the Ducks aren't technically a top 25 team, they are still a talented, dangerous bunch — and these Buffs still aren't good enough to make many mistakes and expect to win.
What they'll be aiming to do Saturday when they invade a raucous Autzen Stadium and take aim at halting a six-game Oregon win streak in the series:
… Continue reading story here …
—
The Rise – Episode 2
Made its debut Thursday on the Pac-12 Networks. From CUVideo via YouTube:
… (spoiler alert: it's great stuff, as always!) …
—–
September 22nd
… CU in a few minutes …
Hot seat rankings … CU's Mike MacIntyre seat cooling down
… Related … Coaches Hot Seat Rankings website: Mike MacIntyre at No. 20 (was No. 6 in preseason; No. 24 before Michigan game) …
From CBS Sports … Too early in the season to scrutinize job security?
Not when the vultures/boosters/administrators/media are circling coaches already on the hot seat. Not when athletic directors long ago broke the seal on firing a coach at midseason.
Clay Helton, USC (3.5): The always level-headed Trojan fans (sarcasm added) have weighed in quickly after USC's first 1-2 start since 2001. Add to that superstar receiver JuJu Smith-Schuster duking it out at practice and Helton having to deny rumors he was punched by a player.
There is little here that is good in the near term. The Trojans were humiliated in the Alabama opener. They were physically dominated last week at Stanford. The grind of the Pac-12 remains. USC wanted some consistency, tapped out on the Carroll coaching tree. It got it, but will Troy calm down long enough for Helton to get a fair chance?
… If we're going to take shots at guys not doing well, then in the interest of fairness we should credit these five coaches who have improved their long-term employment prospects.
Mike MacIntyre, Colorado (3): Definite progress for the Buffs (2-1), which led 21-7 at Michigan last week before succumbing. Previously: 4.5 (on a scale of 5)
—
Punter Alex Kinney: "I just worry about what I can control"
… Kinney quote below a little disconcerting, if you ask me …
From the Daily Camera … Alex Kinney had two punts blocked at Michigan — one of them smacking the back numbers of one of his backfield protectors, Shane Callahan — and had another returned for a touchdown by the Wolverines' Jabrill Peppers. For the Buffs and their fans, the good news is Kinney bounced back from his unfortunate debut last year to turn in a solid rookie season.
By focusing on his own portion of the punt team's execution, Kinney hopes to do the same Saturday as the Buffs open Pac-12 Conference play at Oregon (3:30 MDT, Pac-12 Networks).
"I just worry about what I can control, and that's getting the ball off," Kinney said. "I'm not the punt coach. I'm just the punter."
… Regardless of who exactly takes the point on curing the Buffs' punt-team woes, improving on the meltdown at Michigan will be essential to CU's hopes of making noise in the Pac-12.
"The philosophy (of the punt formation) is you can get your guys out front quicker and get them down there faster," MacIntyre said. "You have the shield back there to protect on it, and that's what we've done. Most of the teams we play do it too. We didn't execute it well enough a couple times for sure. We had to had to (shore) that up and I think we have."
… Continue reading story here …
—
Jon Wilner picks Colorado over Oregon (at least to beat the spread)
From the San Jose Mercury News … The relevant number for me is not Cal's national ranking in run defense (126th) or ASU's national ranking in pass defense (128th, which is dead last). Nope, it's this:
119
That's the combined point total in the highest scoring conference game in Pac-12 history:  Cal 60-59 over Washington State two years ago. It will be in jeopardy late (late) Saturday night.
Remember Oregon's crazy, 61-55 triple-overtime victory over ASU last season? This weekend's tangle in Tempe could make that seem like amateur hour.
… COLORADO (plus-7.5) at OREGON: Assuming Sefo Liufau is healthy enough to make a difference, this should be entertaining — a prime candidate for Pac-12 game of the day. The Buffs finally have the manpower to keep pace with Oregon, certainly for three quarters and maybe for four. The line has jumped to Oregon -10.5. Wrong direction. Pick: Colorado.
—
Addison Gillam to play more this weekend (after being on the field for only seven plays against Michigan)
From CUBuffs.com … Addison Gillam, who missed most of last season with a knee injury, also missed all of spring ball rehabbing his knee after surgery and was on a limited schedule throughout fall camp.
He played 23 defensive snaps in CU's season opening 44-7 win over Colorado State, then just nine plays the following week against Idaho State and only seven last week at Michigan.
But he's been active in practice this week and CU head coach Mike MacIntyre said in his Tuesday press conference that he expected Gillam to play more at Oregon.
"That will be good for us," MacIntyre said.
Indeed, a healthy Gillam couldn't come at a better time. While he doesn't play the same position as outside linebacker Derek McCartney (out for the season with a knee injury), he will nevertheless be a key component in helping contain Oregon's speedy running game.
"I like playing them," Gillam said of the Ducks. "The Pac-12 style is a lot of fun. It's stuff that I like. It's not trickery, it's straight-up football."
As for the status of his health, Gillam simply said, "I'm feeling good. Awesome, actually, I can't wait to get out there and play."
… Continue reading story here …
—–
September 21st
… CU in a few minutes … 
Quarterback update … Sefo Liufau "better today than he was yesterday"
From CUBuffs.com … MacIntyre said quarterback Sefo Liufau, who is nursing a sprained ankle, "was better (Wednesday) than he was yesterday and moving around better. I think he liked the tape job better on his ankle today."
MacIntyre said he was "encouraged" by Liufau's progress, but added, "It's still going to be a game-time (decision). … Every day he's made a little better progress."
Meanwhile, the Buffs continue to give redshirt freshman Steven Montez some reps with the first-team offense in case Liufau can't go.
—
Coach Mike MacIntyre's post-practice talk with media
Watch here on  YouTube, link courtesy of CUSportsNation
—
CU athletic department posts second consecutive balanced budget
From the Daily Camera … After posting three consecutive years of financial losses from 2012 to 2014, the Colorado athletic department balanced its budget for the second year in a row during the 2016 fiscal year, which came to a close in June.
"That was one of the missions of the strategic plan, so we were able to accomplish that," said Cory Hilliard, associate athletic director/business operations and chief financial officer. "We budgeted responsibly, which was key, and things relatively went as planned, with the exceptions being mostly positive."
Some of those exceptions included a jump of roughly $2.33 million in conference distribution — taking in nearly $26.8 million — and a $2.5 million spike in sponsorship money. Most of that came from a $2 million bonus from Nike for renewing a sponsorship agreement last spring.
The department also had an increase in football ticket sales by nearly $700,000 last year.
"We see an ebb and flow every year based on the schedule," Hilliard said. "We saw this in the Big 12 as well. There was always those years when Oklahoma or Texas came in to town, and those were the windfall years. We see that in the Pac-12. When Oregon, Stanford, USC come to town, those are big seasons for us."
All three of those schools visited Boulder last season, helping the Buffs to exceed expectations.
Overall, CU generated $69,414,528 in revenue — an increase of more than $8 million from the previous year.
… Continue reading story here …
—–
September 20th
… CU in a few minutes … 
Buffs going with all white uniforms for Oregon game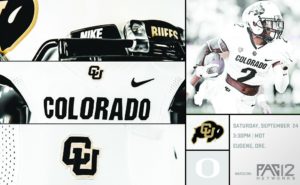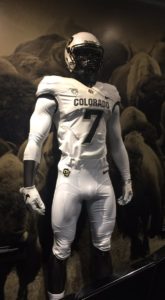 —
Mike MacIntyre Tuesday Press Conference Quotes
From CUBuffs.com …
Opening Statement
"Our guys are excited about our first Pac-12 game playing on the road at Oregon. Autzen Stadium is a great place to open up and play. They've been one of the perennial powers in our league. Mark Helfrich has done a great job and they've had a lot of great players and they still do. They've still got plenty of speed. They're a very good football team, so it's going to be an extremely tough contest for us but it's always fun to start your Pac-12 games."
On Quarterback Situation With Steven Montez And Sefo Liufau
"Sefo was at practice today in full pads moving around better than he did yesterday. We'll make a decision game-time on that. Steven is getting a few more first-team reps for sure as Sefo keeps working on getting well. We'll see how that progresses."
On Montez's Spring Reps Helping Him Now
"He had a good fall too. He had most of the reps in spring practice – did a good job there – and going into fall camp. He's played in all three games. His feet are wet; it's not like he's going to be jumping out there for the very first time. I definitely think Steven is capable of making plays and moving our offense; he has a good arm and can run. He can do well when he gets a chance to get in there."
On Talking With Montez Prior To Going In
"I talked to him a little bit about it. We had the momentum, but Sefo goes down and then our kicker blows his Achilles and it's like bang, bang, bang. Our whole team, we're just trying to get them corralled. That had a little bit to do with it emotionally for our football team. They're really good on the D-line and they kept subbing them in. They wore us down a little bit. We had a chance on that fourth down to make a play and get another score, but we didn't. At the end of the third quarter we didn't play as well as we would have liked. Michigan had a little bit to do with that with the things they were doing. It is hard to get thrown in there in that situation at that time. Steven has a lot of moxie to him and has a lot of confidence. He'll bounce back from that."
On Punting Issues
"We look at each unit as a committee. We had no problems in the first two games at all. We had a mistake on the first punt that caused it and then the next one we just messed it up a little bit. A lot of teams do the exact same scheme. Utah's punter has been the Ray Guy award winner the past two years and that's all they do is rugby punt. It's all about executing it. I wouldn't like to rugby punt as much as we did in the game. We've corrected that and worked on it. We'll be much improved on it for the rest of the way and we definitely need to be."
On Defensive Line
"Our defensive front is doing well. Our backups are doing well, I like how they're doing. Some of the runs Michigan was doing were outside, so I'm sure Oregon is going to attack us outside more. We've got to sure that up. They're going to have to play well against Oregon. They always have to play well for us to be successful; they're good enough to control a game which they've done at times. At Michigan they controlled parts of the game. That's what I expect out of them."
On Punting Formation Philosophy
"The philosophy is you can get your guys out front quicker and get them down there faster. You have the shield back there to protect. That's what we've done and most of the teams we play do it too. We didn't execute it well enough. We had to sure that up and I believe we have. I'd like to kick a little more conventional more often than rugbying it as much."
On Offensive Line Responding
"We responded well. When we got behind they knew we were going to throw a little bit so they could just lay their ears back. If we could have stayed more balanced throughout the game like we would have been more productive on the offensive line. I thought our offensive line did well for the most part against an excellent defensive line."
On Sefo's Running Ability
"Some of them our scrambles that we do. Some of the benefits of our offense is to be able to run the quarterback some when they spread out over the field with our guys, then there are big gaps. If you don't take advantage of that, then your quick game doesn't make big plays either. We definitely want to protect him more. Hopefully he can stay healthy."
On Play Of Aaron Haigler
"Aaron played well last week. Sam [Kronshage] had hurt his ankle and played some. Sam's ankle is getting well. Aaron did well, so you'll definitely see Aaron out there and see Sam out there also. It was good to see Aaron out there in his first start."
On Graduate Transfer Rule
"There's a bunch of conflicting thoughts on it. When a kid graduates, I guess he can do what he wants to do. You'd like to stay at your school unless he's not going to start and he has the opportunity to start and go somewhere else and play. Sometimes it makes sense in some situations. You both fulfilled your end of the bargain; you helped the young man graduate and he can go get his graduate degree somewhere else or he can get a graduate degree here. We have a lot of fifth-year seniors who stay here and get it. The two-year deal, I've heard that talked about. Some of the kids stay for the two years and get there masters and some of the kids are going to leave and go to the NFL. Do you have an APR (Academic Progress Rate) hit on your school then? He's already graduated, so what does APR mean to me? APR is for graduation and he's already graduated. There's a lot of different philosophies. To me it's really case to case. That's why it's a hot-button on both sides of it."
On Oregon's Up-Tempo Offense
"They practice each other the same way. They have their signals, communication down. There probably won't be as many busts as you see with teams that don't do that, especially defensively. Offensively, they're able to play at a fast pace, get the ball snapped and get lined up quick. I think both of our teams defensively won't really have a problem with the speed of the game. It's going to be who executes the best."
On Talking Football With The Family
"Mom and sis were both athletes. They've been around football for a long time. They get involved in it at times, there's no doubt. My daughter is kind of like the young girl – even though she's older now – from Remember The Titans. That's what she's like. She'll probably be embarrassed for me saying that, but she knows it's true."
On Team Being Battle-Tested After Michigan
"You always have to be mentally ready for each game; you can't overlook any one of them. You go into that type of environment – all the pomp and circumstance there doing the national anthem and Tom Brady's out there and they take forever. It was kind of like an NFL game, we ran out there and stood there. We talked beforehand that. That's a little bit of an advantage for them. It did not bother us, we started fast. They played in a lot of places, but I think they'll be ready. Most of these kids have been to Eugene, Oregon before and played at Autzen Stadium."
On Play Of Linebackers
"First of all, our edge-setter, Derek McCartney, went out so that hurt us a little bit there. They hurt us on a couple toss sweeps. They had some good blocking and running of course. Addison [Gillam] didn't play as much as we would have liked. He'll play more this week in the game. That'll be good for us. I thought Rick [Gamboa] did some good things; I thought Kenneth Olugbode did some good things. In this game when you go a fast pace, you're going to need to substitute some, so we will do that."
On Jay MacIntyre's Pass
"He made a nice throw on the reverse-pass. He's thrown a lot growing up, so we know he can make that throw. We've practiced it a lot. He threw it okay. I wish the corner wouldn't have fallen off; the corner should've stayed on the post. I think Sefo would have run for a touchdown, but it worked out."
On Oregon Attempting Two-Point Conversions
"We prepare every week for what we call muddle huddles. They have multiple muddle huddles, so we have to spend time on that. That's one of the reasons that Oregon does that is that you'll spend time working on that as a defense. You got to spend time in practice every day which takes away working on things with their offense. They're very dynamic at it. Charles Nelson, number six, is their two-point holder guy. Then, they bring in number 12, one of the backup quarterbacks, he comes in and holds. Mainly number six, he's fast, he's quick, he's made a lot of plays on that. They've got a lot of different formations. We need to line up correctly and stop it. Sometimes they're not worried about what you're going to line up in, they're going to run it anyway; sometimes they look to see what you're in, if you're lined up properly. If you're not lined up properly they run it and score easily. We've got to be prepared for that; they do a good job at it."
—
Sefo Liufau practicing in pads, a "game time" decision for Oregon
Tweets from Neill Woelk from Tuesday's press conference:
–"Coach MacIntyre: Sefo was at practice in full pads today, moving around better than he was yesterday"
— "Jay MacIntyre: We feel like we can win every game — but it's not about Oregon, it's about us"
— "Listed No. 1 for Buffs in Derek McCartney's former spot are three players: Christian Shaver OR Terran Hasselbach OR N.J. Falo"
— "Latest CU depth chart has Aaron Haigler No. 1 at RT. Haigler started ahead of Kronshage last week"
Tweets from Brian Howell at the Daily Camera:
—  "Head coach Mike MacIntyre said QB Sefo Liufau will be a game-time decision on Saturday at Oregon"
— "Steven Montez listed atop the depth chart at QB for the #cubuffs as they head into Oregon"
… Much more from the press conference later this afternoon …
—
Red-shirt freshman Steven Montez promises to be prepared if called upon to start against Oregon
From CUBuffs.com … "Things were coming real fast at Michigan," Montez admitted Monday morning. "I tried to do what I could, but they were coming really fast and I made some mistakes. We're going to clean those up and look better and hopefully go to Oregon to get a 'W'."
Montez's numbers against the Wolverines were indicative of his struggles. He threw seven passes without a completion and was sacked twice. He did rush four times for 10 yards, but thanks to the two sacks, he finished with a net rushing total of minus-four yards.
"Hopefully that game will be to my benefit and help me mature a little bit," Montez said. "I think overall it was a good experience to be in a stadium with 110,000 people. That can't be bad for you."
Two weeks ago, Montez had a much better showing, albeit against a lesser opponent. In mop-up duty against Idaho State, he completed six of 10 passes for 117 yards and two touchdowns, including a 69-yard scoring toss to Kabion Ento on his first collegiate attempt.
"It was definitely different," Montez said of comparing the two games. "I've just got to stay true to my reads and not try to do too much and not get away from what I'm usually good at doing. That's what got me in trouble."
Montez enjoyed a solid spring with the Buffs as they tweaked their offense to include more up-tempo pace. With Liufau on the sidelines rehabbing a Lisfranc injury, Montez got the majority of snaps with the No. 1 offense.
… "I had some decent throws, I had some bad throws," Montez said. "I need to be more consistent. A little nerves, a little just not knowing the situation."
Now, he said, he'll be ready if Liufau can't go against the Ducks.
"I"m definitely going to be ready to play, no matter what the situation," Montez said. "(Monday) I practiced well, threw the ball well, ran it well, controlled the offense. We're just going to get better throughout the week, go to Oregon and hopefully we're firing on all cylinders."
… Continue reading story here …
—–
September 19th
… CU in a few minutes … 
Coach MacIntyre: Sefo Liufau "day-to-day"
Coach MacIntyre post-practice comments to media, courtesy of CUSportsNation:
Sefo did not practice; confirmation on Gonzalez and MacIntyre; kicking competition will carry on until Friday …
Tweets from Brian Howell at the Daily Camera:
On Portland 620 AM radio, #cubuffs coach Mike MacIntyre said of Sefo Liufau's ankle injury: "We'll know more as the week goes along."
MacIntyre added: "(Liufau) was doing pretty well this morning. … It's going to be a day-to-day basis for sure." #cubuffs
—
From CUBuffs.com … As for Liufau, the Colorado senior did not practice Monday morning, leaving all the first-team repetitions in the hands of redshirt freshman Steven Montez, who appeared in relief of Liufau against Michigan. It was the longest amount of time this year Montez has spent with the No. 1 unit, and he appeared to grow more comfortable with each snap.
MacIntyre wouldn't rule out Liufau being ready for Saturday's game against the Ducks, but did sound as if the Buffs were at least preparing for the possibility.
"Steven had a great spring and a good fall," MacIntyre said. "He's played in all three game now, so he'lll be ready to roll. I feel good about Steven's capabilities, now he's got to go do it in a game."
… TEAM MOOD: Despite the injuries, the Buffs hit the field with a high level of enthusiasm Monday morning.
Every Monday, win or lose, we come back and prepare as hard as we can for the next game," MacIntyre said. "They'll be excited. It's our first Pac-12 game, We're going to go play at Oregon and they're a great team. We had an excellent practice today. I didn't see anybody moping around. They were practicing hard and fresh."
—
Linebacker Derek McCartney lost for the season
From BSN Denver … In the Colorado Buffaloes 45-28 loss to the Michigan Wolverines they lost much more than just the game. On Saturday, news broke that kicker Diego Gonzalez will miss the remainder of the season with a torn Achilles and today sources tell BSN Denver the Buffs have lost another.
Derek McCartney, a 6-foot-3, 240-pound redshirt junior will also miss the remainder of the season, after suffering a torn ACL in his right knee during the contest in Ann Arbor.
… Continue reading story here …
—–
September 18th 
… CU in a few minutes … 
Tweets of the Day:
From defensive coordinator Jim Leavitt: "4:00 a.m. Couldn't sleep. At office watching film. It burns inside me. We have good guys who want to win. Must work harder – smarter. Go Buffs"
From co-offensive coordinator Darrin Chiaverini: "The true test of a man's character is how you respond to adversity! Look yourself in the mirror and find a way to get better! #TheRise"
—
Jim Leavitt not willing to settle for moral victories
Quotes from the Daily Camera … "We lost and that burns my behind," Leavitt said as he stood outside of Michigan Stadium. "I didn't come here to play close. I came here to beat Michigan. That was all my mindset and we didn't get it done, so it burns my behind. That's all there is to it."
… What really burned the Buffs, however, was dismal play on special teams. Leavitt has often said that special teams is the most important phase of the game.
"Critical," he said. "It's the No. 1 thing. It really hurt us today. We weren't good enough. There's a lot of defensive guys on there. We weren't good enough there, but we weren't good enough anywhere. We have to be better on defense; special teams certainly, everybody saw that; that was glaring. But also offensively. We all have to be better. Coaches have to be better.
"We didn't deserve to win that game. We messed up way too much. We had it going for a while, but it's a 60-minute ball game. At halftime I was fine. I felt like we'd come out and beat them in the second half. We didn't get it done in the second half."
… "I didn't come to Colorado to play people close," he said. "I came to Colorado to help build a program and to win games like this, you know? I didn't come here to mess around. That's not part of my whole deal.
"I'm telling you, Colorado can win. There's no excuses. I'm just telling you. I don't want to hear excuses. We have to coach better. It's hard on us. Players don't go out and make mistakes because they just want to make mistakes. We have to do a better job of coaching."
—
Colorado outside of both polls after loss to Michigan
Not that it was a surprise, but Colorado, which had received one vote in each poll after the Colorado State win, and two votes in each poll after the Idaho State rout, did not generate any interest in the polls after Week Three.
The Pac-12 remains at three schools in the poll this week, with Stanford and Washington in the top ten. Utah joined the poll at No. 24, with Oregon dropping out. Four other Pac-12 schools received votes this week.
The Associated Press poll:
1. Alabama
2. Ohio State
3. Louisville
4. Michigan
5. Clemson
6. Houston
7. Stanford
8. Michigan State
9. Washington
10. Texas A&M
11. Wisconsin
12. Georgia
13. Florida State
14. Tennessee
15. Miami (Fla.)
16. Baylor
17. Arkansas
18. LSU
19. Florida
20. Nebraska
21. Texas
22. San Diego State
23. Ole Miss
24. Utah
25. Oklahoma
Others Receiving Votes: TCU (2-1) 132; UCLA (2-1) 74; North Dakota State (3-0) 74; Boise State (2-0) 69; Iowa (2-1) 47; California (2-1) 44; Oklahoma State (2-1) 42; Notre Dame (1-2) 32; Oregon (2-1) 23; Georgia Tech (3-0) 17; North Carolina (2-1) 17; Central Michigan (3-0) 16; South Florida (3-0) 7; Toledo (3-0) 6; Western Michigan (3-0) 6; Maryland (3-0) 3; Arizona State (3-0) 3; Virginia Tech (2-1) 1
—
USA Today coaches' poll:
1. Alabama
2. Ohio State
3. Clemson
4. Louisville
5. Michigan
6. Stanford
7. Houston
8. Michigan State
9. Washington
10. Wisconsin
11. Georgia
12. Tennessee
13. Texas A&M
14. Florida State
15. Baylor
16. Florida
17. LSU
18. Arkansas
19. Miami (Fla.)
20. Nebraska
21. Ole Miss
21. TCU
23. Utah
24. Texas
25. Iowa
Others Receiving Votes: Oklahoma (1-2) 106; North Carolina (2-1) 95; San Diego State (3-0) 87; UCLA (2-1) 81; Boise State (2-0) 62; Oregon (2-1) 50; Oklahoma State (2-1) 46; Arizona State (3-0) 34; South Florida (3-0) 32; Georgia Tech (3-0) 28; Notre Dame (1-2) 23; West Virginia (2-0) 19; Western Michigan (3-0) 16; Minnesota (2-0) 11; Navy (3-0) 10; Central Michigan (3-0) 6; Toledo (3-0) 6; California (2-1) 6; Maryland (3-0) 4; Kansas State (1-1) 4; Memphis (2-0) 4; Auburn (1-2) 2; Army West Point (3-0) 2; Western Kentucky (2-1) 2
—–
September 17th
… CU in a few minutes …
CU kicker Diego Gonzalez lost for the season with a torn Achilles
From the Denver Post … Colorado suffered a major blow following the team's 45-28 loss to Michigan on Saturday with the news that kicker Diego Gonzalez will miss the rest of the season with a torn right Achilles tendon.
"Anybody we lose is a big loss, but he was kicking it really well and was doing some great things for us," CU coach Mike MacIntyre said. "We've lost him with that Achilles for the year."
Gonzalez, who was on crutches and in a walking boot after the game, suffered the injury while chasing down Michigan returner Jabrill Peppers on the kickoff following CU's touchdown to open the third quarter.
"I just kind of rolled my ankle and felt something," said Gonzalez, who added that he was expecting to undergo further tests on the injury once the Buffs return to Boulder.
—–