—
First Annual Stoo-ie Awards
—
In honor of CU's first winning season in a decade, as well as my five year old grandson spelling my name "Stooart", below are my first-ever (and hopefully first of many) "Stoo-ies" …
—
Underrated Buff Players
… Note … These are not necessarily the best players on the team, but players who are less appreciated (IMHO) than they should be:
Offense
— Devin Ross, wide receiver … If you asked most Buff fans which player led the team in receptions this year, you would get a fair amount who would answer "Big Play" Shay Fields, or perhaps Bryce Bobo. In fact, it was Devin Ross, who had 66 catches this fall (Fields had 52; Bobo 41). What made Ross the most valuable, though, was that he was often the target for CU quarterbacks on third and fourth down. Ross led the team in third and fourth down receptions, with 16.
Defense
— Josh Tupou, nose tackle … An All-Pac-12 honorable mention honoree in 2014, Tupou was suspended for all of the 2015 season due to an off-the-field incident. Tupou's return was not a certainty until May, and, even then, there were questions as to whether Tupou would return to All-Pac-12 form … but he did. Tupou's numbers did not jump off the stats sheet – 49 tackles; 1.5 sacks; ten quarterback pressures – but Tupou plugged up the middle of the line all season, allowing players like Jimmie Gilbert freer reign to make plays.
Special Teams
— Davis Price, kicker … Did the freshman walk-on have an outstanding season? Not really. Price went 4-of-6 on his field goal attempts, making 26 of his 27 extra point attempts. Not bad … but recall that Price was not supposed to play this season. A recruited walk-on, Price was supposed to sit out the season, patrolling the sidelines as the emergency backup to senior kicker Diego Gonzalez. During the Michigan game, Gonzalez was injured and lost for the season. Price responded with solid performances, including a Pac-12 Special Teams Player-of-the-Week performance against Oregon State (5-5 on PAT's, 2-2 on field goals, including a 54-yarder, the longest ever by a CU freshman).
—
Underrated Buff coaches
Offense
— Klayton Adams, Offensive Line … Go back and take a look at the 2016 preseason magazines, and the Achilles heel for the Buff offense was seen to be the offensive line. Yes, there were questions about Sefo Liufau's health, and questions about replacing Nelson Spruce, but there were major concerns about whether the CU offensive line could improve its numbers … and they did.  The unit had senior leadership in center Alex Kelley, a future NFL star in freshman Tim Lynott, and Adams successfully juggled lineups when Sam Kronshage and Gerrad Kough went down with injuries.
Defense
— Jim Jeffcoat, Defensive Line … Two-thirds of CU's starting defensive line – Josh Tupou and Samson Kafovalu – were suspended during the off-season. Along with the dependable Jordan Carrell, the Buff defensive line was the base upon which the 17th-ranked Colorado defense was built. Jeffcoat, himself a former NFL standout pass rusher, was also instrumental in the development of outside linebacker Jimmie Gilbert, who was a first-team All-Pac-12 performer with his 10.5 sacks
Special Teams
— None … Not just because CU didn't have a designated special teams coach, but because the special teams were anything but special this season.
—
Favorites 
Best contribution by a freshman – Offense – Tim Lynott, guard … All Lynott did was start every game of the season at right guard, earning first-team All-American honors (USA Today). If Lynott can stay healthy, he will be earning significant checks on Sundays in few years, but in the meantime, CU has three seasons of quality line play to enjoy.
Best contribution by a freshman – Defense – Anthony Julmisse, defensive back … An all-around athlete, Julmisse spent time in 2016 on offense, defense, and special teams. Julmisse became the first Buff since Greg Henderson in 2013 to record a take-away in each of the first two games of the year. Julmisse recovered a fumble in the opener against CSU before recording his first career interception the following week against Idaho State.
Best contribution by a freshman – Special Teams – Davis Price, kicker … see above
Favorite new record … In 127 years of playing football, Colorado had never produced a quarterback who had over 300 yards passing and over 100 yards rushing in the same game. In 2016, however, it happened twice, with Steven Montez who pulled it off against Oregon (333 yards passing, 135 rushing) before Sefo Liufau duplicated the feat against Washington State (345 yards passing, 108 yards rushing).
Favorite obscure record … Most first down stops, season … Not sure I had ever heard of this one before, but Jordon Dizon had 19 first down stops in 2007 to set the team record. This fall, however, Jimmie Gilbert set the new standard, with 22.
Deja vu moment-of-the-year … came during the Washington State game. The Buffs had just scored on a 13-yard run to take a 38-24 lead over the Cougars. Still, there were over four minutes remaining, the Washington State offense was potent, and, well, CU hadn't beaten a ranked team in seven years. Then, with WSU at its own 37, Cougar quarterback Luke Falk was sacked by Jimmie Gilbert. Falk fumbled, with Addison Gillam falling on the ball with 2:57 remaining, sealing the game.
Flashback … to 1986 against No. 3 Nebraska. The Buffs had a built a 20-10 fourth quarter lead, but the game was not over. There were still over four minutes remaining, the Nebraska offense was potent, and, well, CU hadn't beaten Nebraska in 17 years. Then, with Nebraska driving, Barry Remington intercepted a Cornhusker pass with 3:14 remaining, sealing the game.
—
"Players make plays!" – "Players win games!"
Head coach Mike MacIntyre was often seen in pre-game and half-time speeches giving the exhortation "Players make plays!", to which the Buff players responded with "Players win games!".
Players making Plays to win games:
Win No. 1 … 44-7 over Colorado State … Alex Kelley, center …  Can there be a pivotal play in a 44-7 rout? True enough, the Buffs raced out to a 21-0 first quarter lead, and out-gained the Rams, 578 to 225, but none of that was known when the CU offense almost finished off its first drive of the season with a turnover. Sefo Liufau fumbled near the goal line, with the ball recovered in the end zone by Kelley. Had the Rams recovered, it could have been a much closer game, with CSU taking the momentum … with CU players (and fans) reminded of how the 2015 season also opened with a turnover (and a loss to Hawai'i).
Win No. 2 … 56-7 over Idaho State … Steven Montez, quarterback and Kabion Ento, wide receiver … The game over the Bengals from the Big Sky Conference was already out of hand when Steven Montez came into the game to replace Sefo Liufau late in the second quarter. Already up 42-0, the Buffs were just playing out the half when Montez hit Ento on a short pass. The first completion of Montez' career turned into a 69-yard touchdown … and a precursor of good days to come for the Buff Nation.
Win No. 3 … 41-38 over Oregon … Bryce Bobo, wide receiver … The Buffs' first win over the Ducks since joining the Pac-12 will forever be remembered as the game in which Ahkello Witherspoon preserved the win with an end zone interception in the final minute. The spotlight moment wouldn't haven't been possible, though, without Bobo's one-handed 31-yard touchdown grab with 8:43 remaining. The score ended a 21-0 run by the Ducks to take the lead, and restored the Buffs to a lead which they would not relinquish.
Win No. 4 … 47-6 over Oregon State … Shay Fields, wide receiver … The Buffs fell behind Oregon State, 3-0, after the Buffs, for the first time in the first five games of the season, failed to score on its opening drive. The Folsom Field crowd of 46,839 was ill at ease for only a few minutes, however, as Shay Fields took over. The first score, a 51-yard scoring reception from Steven Montez, gave the Buffs the lead for good. Before the first half was over, Fields had two more touchdown catches, covering 33 and 63 yards, (setting a school record for touchdown receptions in a half) as the Buffs made it a 37-6 laugher by halftime.
Win No. 5 … 40-16 over Arizona State … Phillip Lindsay, running back … Colorado exposed Arizona State (5-1, ranked No. 24 in USA Today coaches poll) as a pretender, not a contender, with a 40-16 rout. Phillip Lindsay had 29 carries for 219 yards and three touchdowns – against a rush defense ranked No. 5 in the nation coming into the game. Lindsay became the first Buff runner since Chris Brown in 2002 to go over 200 yards rushing in a game, leading the Buffs to their first win over ASU in school history.
Win No. 6 … 10-5 over Stanford … Tedric Thompson, safety; Kenneth Olugbode, linebacker … The Colorado defense held the Stanford offense to 263 yards of total offense, with only 93 yards rushing. In keeping the Cardinal out of the end zone, the Buff defense forced four turnovers. Tedric Thompson had two interceptions, including one which led to a field goal, while Olugbode contributed a fumble recovery at the CU five yard line, ending Stanford's bid to take the lead in the fourth quarter.
Win No. 7 … 20-10 over UCLA … Isaiah Oliver, punt returner … The Thursday night ESPN game was supposed to be – back in August – a potential break through game for Colorado. The Bruins opened the season nationally ranked, but limped into Boulder with a 3-5 record. Still, it was a challenge to put away UCLA. The Bruins forged a 10-7 halftime advantage, and the Buffs were nursing a 13-10 lead when Isaiah Oliver took a punt back 68 yards for a score with only 5:27 remaining. The score, the first punt return for a touchdown since 2005, was one of five punt returns for Oliver, going for a total of 124 yards (earning Pac-12 Special Teams Player-of-the-Week honors in the process).
Win No. 8 … 49-24 over Arizona … Sefo Liufau, quarterback … The Buffs were heavy favorites over 2-7 Arizona, but the game was on the road, and it was a 14-10 game midway through the second quarter … before Liufau went on a personal 28-0 run. The first touchdown drive included a 22-yard run by Liufau before the Buff quarterback hit Shay Fields for a 15-yard score. A 40-yard touchdown pass to Jay MacIntyre then made it a 28-10 game right before the half. In the third quarter, hit Fields again, this time from 27 yards out, before putting the game away with a two-yard touchdown run in the final minute of the third quarter.
Win No. 9 … 38-24 over No. 20 Washington State … Nick Fisher, safety … CU's first win over a ranked team since 2009 was a game with offensive stars, but turned on a play by a backup defensive back. Sefo Liufau joined Steven Montez (v. Oregon) as the only Buffs to throw for over 300 yards and rush for over 100 yards in the same game, while Phillip Lindsay, with 144 yards on the ground, became the first Buff to go over 1,000 yards in a season since 2010 (Rodney Stewart). But it was a play by Nick Fisher (in the game after Afolabi Laguda was ejected in the first half on a targeting penalty) which saved the day. With the Buffs nursing a 28-24 lead early in the fourth quarter, Washington State had a fourth-and-four at the CU 18-yard line. Cougar quarterback hit Kyle Sweet … for a three-yard gain, with Fisher stopping Sweet from picking up the first down. The Cougars did not threaten to score again the remainder of the game.
Win No. 10 … 27-22 over No. 21 Utah … Rick Gamboa, linebacker … Like the Stanford and Washington State games, it was a defensive player who made the play of the game. The Buffs were playing for a berth in the Pac-12 title game, but the Utes wanted to deprive the Buffs of the opportunity. A one-score game throughout, Colorado had a 20-16 advantage early in the fourth quarter. Taking over at its own 13-yard line with a chance to take the lead, Utah running back Joe Williams was stripped by Gamboa at the ten yard line, with fellow linebacker Kenneth Olugbode taking the turnover in for a touchdown and a 27-16 advantage.
Win No. 11 … TBA …
—–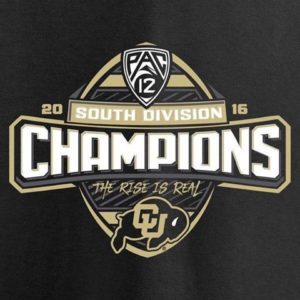 —–