—
Colorado Daily – Oklahoma State
—
December 29th – Game Day!
… CU in a few minutes … 
Buff seniors looking to go out with a victory
… Related: "CU Buffs' secondary preparing for another tall task" … from the Daily Camera
… Related: "Valero Alamo Bowl commanding premium ticket price on resale market" … from the San Antonio Business Journal
From CUBuffs.com … Colorado coach Mike MacIntyre's message to his Buffaloes was simple and to the point Wednesday afternoon.
"Finish what you started."
That's exactly what the No. 10 Buffs hope to do Thursday night. Finish a season that has brought the Buffs back to national relevancy with a win over No. 12 Oklahoma State in the nationally televised Alamo Bowl (7 p.m., ESPN).
What these 10-3 Buffs have already accomplished this year has no doubt recaptured the attention and adoration of their fan base. They are just the eighth team in CU history to win at least 10 games while producing the program's first winning record since 2005. They returned Colorado to the national rankings for the first time in more than a decade and to CU's first bowl game since 2007. They turned attendance numbers back in the right direction and completed a historic worst-to-first turnaround, going from a 1-8, last-place finish in the Pac-12 South in 2015 to an 8-1, Pac-12 South title a year later.
But there's still more at stake. A group of seniors that came in when MacIntyre took over the program in 2013 could put the 2016 Buffs in a truly elite group with an 11th win, a number only three other teams in CU history have reached. A win would also virtually guarantee the Buffs of a top 10 ranking in the final polls, making them the eighth CU team in history to hit that benchmark.
"With this group of seniors, I'd love to see them go out with a 'W' and be up there with the best four teams in the history of the school," MacIntyre said recently. "I think this team has earned the right to be in that category if they win this game, with the schedule they've played and what they've done this year."
… Continue reading story here …
—
Neill Woelk's Five Keys to the Alamo Bowl
From CUBuffs.com … By the time Colorado and Oklahoma State kick it off Thursday in the Valero Alamo Bowl (7 p.m., ESPN), it will have been nearly a month since both teams played a game.
Both would like to replace the memory of their last game with happier thoughts. The No. 10 Buffs are coming off a disappointing 41-10 loss to Washington in the Pac-12 Championship game; the No. 12 Cowboys dropped a 38-20 decision to Oklahoma in what amounted to a Big 12 title game in their last outing.
It's a contest that should no doubt provide plenty of interesting matchups, beginning with CU's standout secondary pitted against a potent OSU passing attack. But there are other key areas, including Colorado's run game against the Cowboys' defense and the always-important special teams matchups.
What the Buffs must do Thursday to collect their first bowl win since 2004:
… Continue reading story here …
—–
December 28th
 … CU in a few minutes … 
Buffs to wear a sticker honoring Rashaan Salaam
From the Daily Camera … The team announced in a Facebook post Wednesday that the players would be wearing decals that have the initials "RS" and the number 19, which is the uniform number Salaam wore in his days as a running back for CU.
CU plays Oklahoma State in the Alamo Bowl in San Antonio, Texas, in the team's first postseason appearance since 2007. It is also the first game the Buffs have played since Salaam was found dead in Eben G. Fine Park on Dec. 5 at the age of 42. Sources say the death is a suspected suicide.
Salaam rushed for more than 2,000 yards in 1994, leading the Buffs to a 11-1 record and becoming the first and only CU player ever to win the Heisman award.
… Continue reading story here …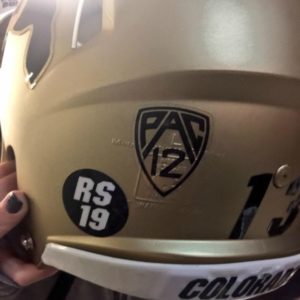 —
Buffs not lacking for motivation in Alamo Bowl
… Related … "Lofty goals helped CU Buffs excel this season" … from the Daily Camera 
From CUBuffs.com … There is no shortage of motivation at hand for the Colorado Buffaloes in Thursday night's Valero Alamo Bowl matchup with Oklahoma State (7 p.m., ESPN).
No doubt, a special place in CU history is on that list. A win by the 10-3 Buffs would make the 2016 team only the fourth squad in CU history to win 11 games and would virtually guarantee a top-10 ranking in the finals polls — something that would also put the Buffs on another very elite list.
Since 1960, only nine programs in the nation have achieved a top 10 ranking in every decade from the 1960s through the 2000s: Alabama, Auburn, Colorado, Georgia, Michigan, Ohio State, Nebraska, Penn State and Washington.
But if the Buffs can finish the year with another top 10 spot, they will be one of only five programs to achieve such status in each of the last six decades, joining Alabama, Auburn, Georgia and Ohio State.
Those are no doubt important goals. But there is another source of motivation for the Buffs in Thursday night's 2016 season finale. Along with cementing a legacy as the team that turned CU's fortunes back in the right direction and along with the piece of history they could call their own, the Buffs have a much more simple reason to want to win.
They don't want their final memory of such an outstanding season to be another loss. They have had a month to stew over their last game — a 41-10 loss to Washington in the Pac-12 Championship game — and they don't want to spend the next several months with a similar feeling about the Alamo Bowl.
"Our goal was to win a Pac-12 championship and we didn't get there," safety Tedric Thompson said earlier this week. "There's still a salty taste in our mouths. To play a great offense like Oklahoma State and have the chance to go out on a high note, that's a great opportunity. I think that's what all of us are feeling right now."
… Continue reading story here …
—–
December 27th
… CU in a few minutes … 
Tweet of the Day … From Colorado Football … "And for the last time this year. For the @valeroalamobowl our uniform combination will be … TRADITIONAL! #GoBuffs #theRISEisREAL"
—
CU co-coordinator system working for Buff offense
From CUBuffs.com … While Brian Lindgren is the seemingly unflappable half of the combo coordinators, Darrin Chiaverini fairly overflows with emotion. Lindgren studies practice almost as if managing a chessboard; Chiaverini is always on the move, coaxing, cajoling, threatening — whatever necessary to get the Buffs' attention.
To be honest, the co-coordinator system is one that raised more than a few eyebrows when first introduced. Conventional wisdom suggested there might be some problems.
But after a year's worth of results have been tallied, the scoreboard doesn't lie.
The system works. The coordinators seem to like it; as do the players.
"I didn't know what to think at first," admitted CU quarterback Sefo Liufau. "I'd never really heard of a co-offensive coordinator system. But as the year progressed, it's been wonderful. I think the cliché of saying two minds are better than one —  or however it goes — it's been great. Each one has their own strengths and weaknesses, and they've both helped me grow a lot as a quarterback. They've helped this offense grow tremendously and allowed us to do a lot of positive things this year. It's been nothing but great things."
Liufau, who was a member of Mike MacIntyre's first recruiting class, arrived in Boulder at the same time as Lindgren.
"I've been with him for four years now, and he's always on me in a quiet way, always letting me know," Liufau said. "And then Coach Chev is kind of a little more outgoing with fire. He'll let you know you messed up when it happens, and so it's been great overall just to have both of them back there helping run the offense."
… Continue reading story here …
—
CU uniforms for Alamo Bowl
Buffs going traditional (yea!)
—
Mike MacIntyre post-practice talk with media (Tues.)
From YouTube, courtesy of CUSportsNation:
—
Tuesday Alamo Bowl press conference – Offense
THE MODERATOR: It's my pleasure to introduce the co-offensive coordinators Darrin Chiaverini and Brian Lindgren.
DARRIN CHIAVERINI: It's great to be here in San Antonio. Obviously this is a big-time bowl for us and our football team. Just excited to be down here and be part of such a great tradition.
Q. Jeremy, when you look back to last season and suffering the ACL tear and getting back to where you are here, how much more satisfying is it to be in this position back home after having gone through all that?
JEROMY IRWIN: Oh, it's very satisfying even just making the postseason since we haven't done that in a while here and especially recovering from that injury. You know, being off the field isn't really fun obviously. So being able to come back on the field and being able to contribute to a very successful year at the Alamo Bowl is very gratifying for us, my teammates.
Q. Darrin, spending a couple years in the Big 12 with Texas Tech, what did you learn about this OSU team and their reputation?
DARRIN CHIAVERINI: We're going to play a very, very talented football team, well-coached, speed on offense and defense and special teams. I was always impressed with the job that Coach Gundy and their staff does in all phases. Defensively they're going to give you multiple looks. They'll play a three-down, a four-down, bring zone pressures and also play some man. We have our work cut out for us. Definitely proud of these guys, just to see their development throughout the year and what we were able to accomplish as an offense and as a football team, really, really proud of this group. Obviously Coach Lindgren and I working together for the first time was also a lot of fun working with him. We did some really good things this year and want to keep working hard to put on a great show for San Antonio and for Buff nation.
Q. Brian, can you talk about the development of Sefo Liufau, your quarterback, from when you first got him under your wing and how he's developed since then?
BRIAN LINDGREN: Yeah, you know, he was kind of thrown into the fire there his freshman year, and I think it was maybe the fifth game against Arizona State, we were going to try to redshirt him as long as we could in that year, and our starter was struggling in that game, and we said, you know what, we're going to throw him in there, and it was Todd Graham was bringing blitzes from everywhere in that game, and we were struggling up front, and he went in there and first drive led us down for a touchdown against those guys, which was pretty impressive.
Very excited about the way that he's developed. It's been an absolute pleasure to watch it and be involved with him. He's just an impressive person, and he's faced a lot of adversity in his time at, Colorado from injuries that he had to overcome this past off-season to just kind of the ups and downs and kind of going through building a program. We were very young when we started out with a lot of these seniors and guys that have been here, and they've taken a lot of lumps, and he took a lot of heat as a quarterback during those tough times, and just to see him and how he handled it and to stick with the process and keep working hard, it's been a real pleasure to see him kind of break through this year and get us to where we're at today.
Q. Phillip, from what I understand you have two cousins who actually played at Oklahoma State. What was your family's reaction when you found out that's who you guys were playing in the bowl game this year?
PHILLIP LINDSAY: I mean, both my cousins did play for Oklahoma State at quarterback. Both of them were excited to hear that I was going to be in the Alamo Bowl. Actually my cousin the quarterback actually did play his first bowl game in the Alamo Bowl versus Purdue I want to say. It was exciting to hear that and be able to joke around with them and everything else, and they will be attending the game, so it's exciting.
Q. Sefo, can you speak to Jeremy's performance kind of protecting you this year, and having kind of gone through that same off-season recovering that he did, what's just your sense of him coming back and working to protect you?
SEFO LIUFAU: Yeah, he's done a very good job of rehabbing and getting himself into the position that he needs to be so that he can play at his best this year. I was hurt around the same time he was, and just to see all the hard work that he put in and seeing him stay over breaks and not go home just so he could have the opportunity to play on the field was a great feeling for me just to know that he wanted to be back as bad as I did. He's played very well this year. I always joke with him, he's one of my good friends on the team, and so I'm just happy, and I think he deserves everything that he's gotten this year.
Q. Phillip, Tony was your head coach, correct, in high school?
PHILLIP LINDSAY: Yeah, my uncle was my head coach back in high school, and then it's his son, so that's my cousin. It's Tony Jr. that you guys are talking about. He was also a coach. He was the offensive coordinator back in high school.
Q. Tell me what kind of coach he was.
PHILLIP LINDSAY: Quiet, kind of reminds my of Coach Lindgren actually. Quiet, kind of lets everybody do their thing, and let's just play ball.
Q. I don't know if Darrin or Brian wants to address this, but Oklahoma State's defensive line is a real strength for them. What have you seen out of their fronts, and specifically Vincent Taylor is a guy that has kind of made a name for himself at a position that you don't actually have a lot of names, but the overall defensive line and specific what have you seen out of those guys?
BRIAN LINDGREN: They're very active. You're going to get a lot of twists, a lot of stunts. They're going to play some Okie, play some four-down. They do a really, really good job of getting to the quarterback, and what I've noticed, they do a really good job of creating turnovers and that's been a strength of their defense, something we've got to obviously avoid as an offense, but they're impressive what they do, not only on their defensive front but also on the back end. Their safeties are talented. We have our work cut out for us and we're excited to play. Obviously the last time we played we weren't at our best, and we want an opportunity to get back out there and show what we're about.
Q. Devin, for the receiving corps, the conference you guys play in is very pass happy, throw the ball a lot. How have you guys been able to stand out?
DEVIN ROSS: Maybe it came from the off-season. That's where it started. When Coach Chiav came in and Brian and him came together to get the game plans together and practicing every day, just getting the raw concepts and the connections with the quarterbacks and us. It's just a process, and we just represented and showed it in the season throughout, and I'm proud of our success and I feel like we can get even better for this game and for next season, also.
Q. Brian, how do you evaluate just how your offensive line and the experience that it's had this year, how that consistency has sort of helped you guys to get to where you are?
BRIAN LINDGREN: It's been huge, and I think that Klayton Adams, our offensive line coach, this is his first year working with those guys, he does a tremendous job of getting that group together. But for the most part, we've been able to stay healthy the whole year, and in the past, a year ago, that had kind of hurt us, and I think it's really important when you can stay healthy for most of the season, and those guys get used to playing with each other.
But those guys have gone up against some pretty good defensive fronts and have held their own. I've been really proud of the way they've competed week in and week out, and I felt like we got a lot better as the season went on, and like I said, Coach Adams has done a good job with that, and we've had some leadership from some of the older guys, Jeromy Irwin, Alex Kelley, that has helped, as well.
Q. Coach Chiaverini, Devin was asked about being in a pass-happy conference and how did their receiving corps stick out in a pass-happy conference. That's all you lived in. How would you compare? I know you're not going against Oklahoma State's offense, but how would you compare the offenses in the Big 12 that you worked in in that league and the Pac-12?
DARRIN CHIAVERINI: Yeah, you'll see a lot of similarities with concepts and schemes. I think the one thing that you see in both conferences is you see elite quarterback play, and that's what makes teams go. In college football you notice the teams that are throwing for a lot of yards and scoring a lot of points like Texas Tech, Oklahoma State, those schools, Oklahoma, they have very good quarterback play and they also have very talented receiving corps. So this year for us and our progression and how we progressed throughout the year, Sefo had an unbelievable year, but also what we were able to do with him is open up the run game for him, too. So you're able to get some six-man boxes, get some five-man boxes, and then when they want to play man, we've been able to hurt some people with Devin and Shay and Bryce Bobo and also getting Phillip Lindsay going has been huge for us. So to answer your question, I think you see a lot of similarities because of quarterback play and also open concepts where you are playing three, four-receiver sets, and that's a lot of similarities that I see.
Q. Sefo, your head coach has won about every Coach of the Year honors that there are this year. What do you value most about his mentorship and leadership in this program?
SEFO LIUFAU: I think the biggest thing for me and probably most of the other guys is how much he actually puts into the program. A lot of people on the outside won't really see it, but just to know that he gives everything to us to make sure that we're successful, it really means a lot for us, and we know that he'll go to bat for us, and that's something that's really appreciated by the guys and myself.
Q. Sefo, what was your initial thoughts when you knew you were going to have co-offensive coordinators this year, and how do you feel like that dynamic has worked out this year?
SEFO LIUFAU: I didn't know what to think at first. I've never really heard of a co-offensive coordinator kind of system. But throughout the year and throughout — as the year progressed, it's been wonderful. I think the cliché of saying two minds are better than one or however it goes, it's been great. Each one has their own strengths and weaknesses, and they've both helped me grow a lot as a quarterback. They've helped this offense grow tremendously and allowed us to do a lot of positive things this year. It's been nothing but great things. Coach Lindgren, I've been with him for four years now, and he's always on me in a quiet way, always letting me know. And then Coach Chiav is kind of a little more outgoing with fire. He'll let you know you messed up when it happens and so it's been great overall just to have both of them back there helping run the offense.
Q. Shay, can you talk about your development specifically, your game this year and how you think you might have gotten better and what you improved over years past?
SHAY FIELDS: I mean, I would say I've come a long road, leadership wise, skill wise, talent wise, kind of like the speed drills we kind of did over the off-season, the cone work, the hands, getting on the jugs, it all made me a better player that I am today. It just comes with the hard work that we all put in, especially since I knew I had some weaknesses so I asked some of the other players what can I do, other drills and stuff, and it all comes as a team effort.
Q. Brian, you guys played in the Pac-12 Championship, now you're in a premier bowl game. Colorado hasn't played in these level of competitions in a long time it feels like. How has that really impacted the recruiting trail for you as coaches?
BRIAN LINDGREN: It's been — he's going to speak to this year as the director of recruiting — director? Recruiting coordinator. It's all these titles now. It's been unbelievable. You know, just being able to play, I think, the last three or four games of the year we were playing nationally televised on Fox national, and that's been huge, just for people to be able to — kids to be able to see us play on that stage, and then also I think the excitement that winning created around Boulder as far as our home crowds, and I think those last two against Washington State and Utah were great crowds at Folsom. It was packed, it was loud and people were standing the entire game and it was just a really live environment, and recruits were able to see that. It's really helped a lot, and then the building of that new facility has helped a little bit for us, as well.
DARRIN CHIAVERINI: You know, obviously my background playing at Colorado and being on some bowl championship teams, this is where Colorado is supposed to be. This is where we're supposed to be. You know, winning I think it lit a fire not only from our alumni and people that follow the program, but kids that we're recruiting or the kids that are committed to our class, they didn't get a chance to see Colorado like I did growing up. So it's been great not only for recruiting, for our players, for everybody around the program, but in my mind, this is long overdue. This is where we're supposed to be. We're supposed to be in the national spotlight. We're supposed to be on national television, and it's been — I take it very personal because being a Buff and someone who wore the Black and Gold and someone that sung that fight song hundreds of times in those locker rooms, I think it's where we're supposed to be, and I can't really express it in the words that I want to, but when you talk to kids and you see them talk about CU football and you see people wearing the logo and wearing the brand, it's special, and it's just the beginning for us. We're heading the right direction.
Q. Sefo, your opposing head coach Mike Gundy at Oklahoma State is a former quarterback, and he's kind of hard when he describes quarterbacks, and one of the ingredients in a great quarterback that he especially likes to see is toughness, and he's complimented you several times before they got to San Antonio about what kind of tough player he thinks you are. Talk about that aspect of your game, and also getting a compliment from an opposing head coach on your toughness.
SEFO LIUFAU: I think I got my toughness from my dad and him being in the military, and I think starting in third grade I went and I was with the unit all the time doing PT, which is just working out in the morning. I was never allowed to complain really or say anything, so it helped me really mature very quickly, and to be able to get a compliment like that from the opposing coach is just an honor.
It's just a blessing to be able to receive that honor, and yeah, we'll just try and display that toughness again when we play Oklahoma State.
—–
December 26th 
… CU in a few minutes … 
MacIntyre likes intensity of CU's practices
From CUBuffs.com … Two days into their stay in San Antonio, the Colorado Buffaloes are starting to shake off the novelty of the "bowl experience" and get down to the business of playing a football game.
"We're just here to win a game," junior safety Afolabi Laguda said after Monday's practice, CU's second in San Antonio. "The festivities that come with the bowl game are great, but the focus is to win the game and send my seniors out on a good note. I know what my priorities are and I know the older guys on the team do as well."
Indeed, while the Buffs are no doubt enjoying their time in San Antonio before Thursday's Valero Alamo Bowl matchup with Oklahoma State (7 p.m., ESPN), it's also not hard to tell they are ready to play a game. By the time Thursday's kickoff arrives, it will have been nearly four weeks since the Buffs last played — and the memory of the Pac-12 Championship loss to Washington is one they would like to replace with something a little more enjoyable.
"It just wasn't a good way to go out on the regular season," Laguda said. "It's kind of bad because it's a long gap between being out on the field again, but it keeps the fire in our belly. I think we'll be ready to come out and play this Thursday."
The Buff have had two crisp practices at University of the Incarnate Word, their home away from home this week. Monday's practice saw both the No. 1 offense and defense get good repetitions in against the scout teams as well as some snaps against each other, and head coach Mike MacIntyre liked what he saw.
"We had good intensity," MacIntyre said. "We flew around to the ball. I was excited the way the guys came to practice."
… Continue reading story here …
—
Mike MacIntyre post-practice talk with media
Video from YouTube, courtesy the Boulder Daily Camera:
—
Three players don't make the trip to San Antonio
From the Daily Camera … CU has three players on the trip that have taken part in bowl preparation at other schools: tackle Shane Callahan (Auburn; Rose Bowl/BCS national championship game, Jan. 6, 2014); linebacker Deaysean Rippy (Pittsburgh; redshirt for 2012 BBVA Compass Bowl); and receiver Juwann Winfree (Maryland; played in 2014 Foster Farms Bowl).
Three players did not make the trip to San Antonio: receivers Jaleel Awini (suspended) and Justin Jan (ineligible) and linebacker Christian Shaver (suspension). When practicing in Boulder, the coaches would spend an extra 45 minutes each day working with the younger players who aren't likely to see the field against Oklahoma State. MacIntyre said they won't do that this week because of a tighter schedule leading up to the game.
—–
December 25th – Merry Christmas!
… CU in a few minutes … 
Buffs conduct first practice in San Antonio
From CUBuffs.com … The Colorado Buffaloes woke up Christmas morning and went to work.
None of them seemed to mind.
While it is definitely not what the No. 10 Buffs are used to doing on Christmas, they know it comes with the territory of playing in a bowl game. Given that Thursday's Valero Alamo Bowl date with No. 12 Oklahoma State (7 p.m., ESPN) will be the first for the Colorado program since 2007, the excitement and novelty of the postseason far outweigh any normal drudgery that practice might entail.
Not that it was all work and no play for Mike MacIntyre's Buffaloes. After practice, the team returned to its downtown hotel, then headed off to the AT&T Center to watch the San Antonio Spurs meet the Chicago Bulls. Also on the agenda this week is a visit to SeaWorld San Antonio, a barbecue/pep rally and other events geared specifically for players.
But, as CU senior outside linebacker Jimmie Gilbert noted after Sunday's practice, "I don't think anyone has lost sight of the fact that we're here on a business trip. We're going to enjoy our time, enjoy the activities, but we're still being as focused as possible."
Sunday was the Buffs' first practice in San Antonio. They arrived in town Saturday evening after a full-pads practice in Boulder.
CU's practice headquarters in San Antonio are at the University of the Incarnate Word.
"It's going great," MacIntyre said. "The kids had an excellent practice today and  the facilities at Incarnate Word are super. Everything we need, so it was a good day."
… Continue reading story here …
—–
December 24th
… CU in a few minutes … 
Buffs arrive in San Antonio – "It's just a great feeling to finally be able to make it"
From CUBuffs.com … If the Colorado Buffaloes had any lingering doubts about a bowl game being different from a regular season affair, those doubts were doused almost immediately upon their arrival Saturday night.
When the team buses pulled into the Hyatt Regency Hotel in downtown San Antonio, they were greeted by a throng of fans, a mariachi band, television cameras and reporters from a variety of other mediums.
"Wow!" came from the mouth of more than one Buff as they walked into the hotel. "This is great."
The No. 10 Buffs, who will meet No. 12 Oklahoma State in Thursday's Valero Alamo Bowl at the Alamodome (7 p.m., ESPN), arrived at about 6 p.m. Central time. They arrived to a party the likes of which none of them have seen in their time at Colorado.
Buffs quarterback Sefo Liufau was a popular figure at an impromptu press conference once the Buffs negotiated their way through the first-floor horde.
"A lot of hoopla, a lot of people and fans welcoming us in," Liufau said with a grin. "It's just a great feeling to finally be able to make it to something like this."
Colorado head coach Mike MacIntyre will be coaching in his first bowl game as a head coach. While he led San Jose State to a bowl appearance in 2012, he accepted the job at Colorado before the Spartans' bowl game. He then watched SJSU play in the bowl on television.
This year, he'll be on the sidelines, and he said it was no doubt a special feeling to pull into the hotel with his team.
"When we pulled up, I told my wife, 'We are at a bowl game,'" MacIntyre said "It's exciting for Colorado Buff Nation and for us, of course. Getting here is great for these young men to experience this. They worked to hard to be able to enjoy it and then have a great game."
… Continue reading story here …
—
Mike MacIntyre following in his father's footsteps
From the Daily Camera … A sinking feeling overcame Mike MacIntyre as he reached into his pocket.
It was gone.
He looked in his bag. He looked everywhere, but it was gone.
MacIntyre was in his second season as the head football coach at San Jose State. Every day, he carried a special coin in his pocket that commemorated the Dodd Trophy national coach of the year award his father, George, won in 1982.
That coin gave MacIntyre a sense of security. It helped him through tough times. It reminded him of how to handle all situations. Earlier that day, Oct. 1, 2011, the coin was in his pocket during a 38-31 victory at Colorado State, a huge win for a San Jose State team trying to get off the ground.
Luckily for MacIntyre, the policeman who escorted him at CSU discovered that the coin had been left in the Hughes Stadium coaches' locker room. A couple days later, it was returned.
That was the only time MacIntyre ever misplaced the coin and it hasn't been out of his sight since.
Now in his fourth season as the head coach at Colorado, MacIntyre had the coin in his pocket when the Buffaloes (10-3) — No. 10 in the College Football Playoff rankings and No. 11 in the Associated Press poll — flew to San Antonio on Saturday to prepare for a date with Oklahoma State (9-3) in the Valero Alamo Bowl on Thursday.
"It's not a good luck charm; it's nothing like that," MacIntyre said of the coin. "It kind of calms my soul in the heat of the moment. It kind of gives you perspective and balance."
… Continue reading story here …
—–
Buff Stampede talks with Sefo Liufau and Joe Tumpkin
From YouTube, courtesy of CUBuffs.com:
—–
December 23rd
… CU in a few minutes … 
Ralphie will run in San Antonio
From CUBuffs.com … The Colorado Buffaloes football team was allotted 15 extra-practices in preparation for the Dec. 29 Valero Alamo Bowl against Oklahoma State. They wrap up their final practices at home this week before they leave Saturday for San Antonio to finish the remaining four practices in Texas.
But the real question is: how many practices is their beloved live mascot allowed to prepare?
"We have had two extra practices to get Ralphie and the handlers ready to go to the Alamo Bowl," said John Graves, the Program Manager of the Ralphie Live Mascot Program. "We would've had three but the snow cancelled our practice but we'll have another practice the day before the game as well at the Alamodome."
That's right. Ralphie V is heading to San Antonio to lead her fellow Buffaloes out onto the field to take on former Big 12 rival Oklahoma State.
A Ralphie has run at all of Colorado's bowl games since the Ralphie tradition started in 1967, with the exception of two Aloha Bowls. That is a total of 23 bowl games, with an additional four Big 12 Conference Championship games (she did not travel to the Pac-12 Championship this season).
In her nine seasons as mascot for Colorado, Ralphie V is no stranger to running at different events and venues, having run at events such as the Fourth of July, the National Western Stock Show, pep rallies, soccer games, lacrosse games, and of course football games at both Folsom Field and Mile High.
This will be Ralphie V's first bowl game and her first time running outside of Colorado.
As Ralphie leads the football team onto the field, she will be making a left turn rather than her normal right turn seen in Folsom Field. This type of run is not new to the handlers or to Ralphie, as they practice this run during the year. When Ralphie runs at the National Western Stock Show, she also makes the left turn.
"Fans only know that Ralphie can turn right because that's all they've see at Folsom Field," said Graves. "But the handlers and Ralphie have also practice turning left – not much is different about it other than how we turn; the other guy goes one way as opposed to going the other way."
But it won't just be the left turn fans should be expecting to be different for Ralphie. The beloved mascot will be beginning and ending her run in the same corner of the dome.
"The other thing that will be different about this run is that her pin where she starts will actually be right next to the trailer that she'll finish in," Graves said. "She's basically starting and stopping from the same corner of the field."
Her journey to Texas isn't as simple as loading her into the trailer and hopping on Route 36. In fact, Graves had to get approval and request permits to make the trip happen.
"A lot of approval we have to get is through the United States Department of Agriculture and from the Department of Transportation," he said. "We've gotten all those permits and the clearance so we'll be looking forward to a nice, fun trip down to San Antonio."
Ralphie's safety and wellbeing on the trip to San Antonio remains at the upmost priority to her handlers. Because of past events related to Ralphie traveling to away football games, her travel and ranch she will be staying at in Texas will be kept secret.
And as the football team prepares for their first time playing on artificial turf this season, Ralphie will be doing the same. But don't be surprised to see her stampeding through the dome at a quicker speed says Graves.
"She's run on artificial turf before so it shouldn't be an issue for her," he said. "She'll actually have better traction on the artificial turf then she will on the real grass."
—–
December 22nd
… CU in a few minutes … 
Pookie Maka skipping Mormon mission to focus on football at CU
From the Daily Camera … Prior to arrival at CU this past summer, true freshman linebacker Pookie Maka said he planned to play one semester for the Buffs before leaving for two years on a mission for the Church of Jesus Christ of Latter-day Saints.
With his true freshman season nearly completed, Maka said he plans to stay at CU.
"I plan on just staying and focusing on the game right now," he said. "I had a long talk with my parents about it, too. I just decided it was better for me to just stay here and focus on football."
Maka, a 6-foot-3 outside linebacker, said the success he had this season while redshirting played a role in his decision to stay.
"I feel that it exceeded all my expectations," he said. "I didn't think I was going to do as well as I thought I did. I had a lot of improving to do and they helped me with that. For that I'm really grateful. I got stronger and faster and gained more weight, which I wanted."
Maka said he learned a whole new level of training and weight lifting than he ever knew before
… Continue reading story here …
—
Holiday update from CU athletic director Rick George … 
The academic and athletic year is fast-approaching the midway point, and if there is a "sports" Santa, he sure has been good to the Buffaloes.
With all fall NCAA championships now complete, we are 12th in the Learfield Cup Standings; that is tied for our second-highest fall finish in the last 10 years and our 11th best overall in the 24 years of the Cup's competition.  Stanford leads with 440 points (it claimed two national titles), with UCLA second (348) and North Carolina, BYU and Wisconsin rounding out the top five.  The Buffs are seven points back of the top 10, as we accumulated 208.5 points combined in men's and women's cross country and women's soccer.  As for the Pac-12 Conference overall?  We have six schools in the top 13 entering winter sports competition, the Atlantic Coast and Big Ten have three each with no other conference having more than one.
The rise of our football program has been the top storyline in the last half of 2016.  Picked to finish last in the Pac-12 South Division, Colorado is just the fourth team to go from last to first in successive years in the 101-year history of the conference (and the first to do so since 1959).  Mike MacIntyre has swept every national coach of the year honor to date (five total), and is a finalist for the other three.  More players were recognized on some level on the All-Pac-12 teams as the team became the eighth in school history to win 10 games; they're shooting to become the fourth to win 11 against Oklahoma State in the Valero Alamo Bowl on Dec. 29 in San Antonio.
Returning to national prominence has been a fun ride, but I truly believe our best days are ahead of us.  Recruiting is going as well as at any point in the last 20 years, and that's attributable to several reasons, from the coaches involved and our 10-win season to the completion of the Champions Center and the Indoor Practice Facility that have given us two of the most state-of-the-art facilities in the nation.
We were all saddened at the passing of Rashaan Salaam on Dec. 5; words just can't describe the sorrow many of us are feeling.  Many of his former teammates were able to rush into town to attend his funeral and show support for his family, and we will have a full-fledged memorial for him at a future date to be announced.
The cross country teams swept the Pac-12 titles and finished first (women) and second (men) in the regional championships.  At the NCAA's the women finished third in one of the most competitive championships they ever had; only 10 points separated the top three schools; the men finished sixth, but are a youthful bunch and will aim to reclaim the national crown in 2017.  Seven runners earned All-American honors and 17 garnered Pac-12 All-Academic Team accolades between the two (leading all of our fall sports combined to place 37 on their respective conference academic squads).
Our women's soccer team finished with its second-best record (15-6-1) in the 22 years of the program; Danny Sanchez' Buffs rode a 10-game winning streak in the middle of the year to a tie for second in the Pac-12, their best finish to date in the conference.  After defeating Oklahoma State in the first round of the NCAA tournament, we traveled to play top-seeded South Carolina on its home turf where we lost on a penalty kick late in the second half.  The team earned a No. 23 ranking in the final poll, with Danica Evans and Taylor Kornieck both being named first-team All-Pac 12; Kornieck also earned Pac-12 Freshman of the Year honors.
The volleyball team finished the year 14-16 in Jesse Mahoney's first year as coach, ending the season with a win at No. 21 Utah, its fifth over a top 25 program this fall.  The future does look bright for his program, which was also transitioning after losing several top players from a year ago.
Our golfers did the school proud in final round qualifiers for their respective professional tour cards earlier this month.  Jenny Coleman (Class of '14) is the first CU women's alumni golfer to earn conditional LPGA status after finishing 29th in the final stage of qualifying in Daytona Beach, Fla.   She shot an even-par 360 score over five rounds, the most grueling and competitive test a golfer ever faces, as the top 30 earn their Tour cards.
Sebastian Heisele ('12) earned his card for the PGA's European Tour, as he finished 19th in its final qualifying stage in Girona, Spain.  He was 6-under par for six rounds in the event in which the top 30 were rewarded with their cards.  And current senior on the men's team, Jeremy Paul, flirted with qualifying for the Web.com Tour, the first level that most golfers now need to attain to eventually make the PGA Tour.  The top 45 earned their conditional cards and he was in position through three rounds to do so until shooting 3-over in the final round to finish 72nd in Winter Garden, Fla.  Jeremy will now conclude his record-setting career with the Buffs this spring.
Speaking of golf, the men ended the fall ranked No. 24, its highest in eight years, and the women 41st; a reminder there are over 300 Division I teams competing in both sports and both are in good position to make the NCAA championships heading into their respective spring seasons.
It may be hard to believe, but the basketball season is already a third complete, with first-year coach JR Payne's Buffs the surprise of the nation at this point: with a 10-0 record and No. 15 national ranking, the team has already won three more games than a year ago.  The team had one more non-conference game (Wednesday night against Wyoming), and will begin Pac-12 play on the road at Southern California on Dec. 30.
Tad Boyle's men are 9-3 at this juncture, also with one more non-league test prior to league action (Thursday at home against Eastern Washington).  The Buffs open Pac-12 play with three challenging road games at Utah, Arizona and Arizona State before hosting second-ranked UCLA on Jan. 12.
Our women's lacrosse team is in the midst of a 12-day trip in Australia, where they are playing a few exhibition games and learning about the culture from "Down Under."  Senior Madison Krause is documenting the trip on CUBuffs.com.
Back for his 27th season as our dean of coaches, Richard Rokos' ski team begins its annual march toward the school's 21st national championship in the sport on Jan. 7 in Utah.  Freshman David Ketterer got the ski season off with a bang by winning the slalom at the Canada Nor-Am Cup last week.
Clare Wise, a four-year letterwinner in skiing and recent graduate, was named as one of two recipients of the Pac-12 Leadership Award.  She was selected in a vote by her peers around the conference, as the award honors student-athletes who distinguish themselves as standout leaders on their campuses, in their athletic departments, on their teams, and at the Conference level in the areas of student-athlete welfare and student-athlete voice.  She will receive $3,000 toward her postgraduate studies.
Something I am really looking forward to is set for Jan. 13-14: the first home track meet in our new indoor facility as we host the annual Potts Invitational.  The indoor teams had a few events at various competitions two weeks ago but the Potts meet will truly kick-off two months of competition leading up to the NCAA's.
The final numbers are in for the 2015-16 fiscal year, and I am proud to say that our staff in the Buff Club enjoyed another phenomenal year, raising a record $26.1 million.  But we will all tell you we are nowhere near done; two of our most important goals are to increase our membership and build the scholarship endowment, those in concert with our other projects, such as finishing the "Drive To 105M" (we are within $10 million).
On Nov. 26, the Buff Club unveiled a new statue outside the Champions Center, honoring Ralphie and her handlers; Chancellor DiStefano made remarks to the group. The statue is a part of the Sustainable Excellence Initiative, and recognizes the generous support of the University of Colorado Foundation.  The artist is Brian Hanlon, and this is the first interactive mascot statue in the nation—you can stand behind Ralphie and grab her reins, turning yourself into the fifth handler!  Thank you to Mike and Patty Imhoff, and to the Board of Trustees, for being instrumental in the completion of the statue.
We are getting a lot of questions on when the 2017 football schedule will be released.  The Pac-12 is targeting to issue it sometime right after the national championship game (mid-January).
Here's wishing everyone a terrific holiday season, and if we don't see you in San Antonio for the Alamo Bowl, we certainly hope you can make it out to the Coors Events Center in the coming months to support our two winning basketball programs or Kittredge Field to watch our women's lacrosse team make a run at their first NCAA tournament bid!
C ollaboration and U nity,
Rick George
Athletic Director
—–
December 21st 
… CU in a few minutes … 
Coach Mike MacIntyre post-practice talk with media (Wed.)
From YouTube, courtesy of CUSportsNation:
—
Anthony Julmisse to concentrate on defense in 2017
From CUBuffs.com … "I think in general I had a good year," Anthony Julmisse said. "I had a lot of ups, honestly. I've been learning a lot from Chido and those guys, NFL-bound guys, so I feel like that was an advantage most freshmen across the country don't have. I think it was a good experience overall and I'm ready to keep moving forward."
CU's coaches no doubt liked what they saw from Julmisse this season — and they'll be expecting much more next year. With Awuzie and Witherspoon, as well as safety Tedric Thompson, graduating, there will be some big shoes to fill in what was generally considered one of the top secondaries in the country.
"Anthony's a heck of a defensive back, a really gifted athlete," head coach Mike MacIntyre said. "He's physical, he has good ball skills. He can do a lot of things for us, but I think his best potential is at defensive back. He has all the tools to be an excellent defensive back. We just have to get him in the weight room, get him a little bit bigger so when he's hitting those guys all the time he'll stay healthy."
Julmisse agrees that some extended time in the weight room will help. Currently listed at 6-foot-1, 185 pounds, he believes he can get up to 200 without losing any speed.
"That's most definitely a priority," said Julmisse, who seems to wear a constant smile. "I want to get to at least 200 next season. I'm going to try not to come off the field at all defensively next year."
… Continue reading story here …
—–
December 20th
… CU in a few minutes … 
Tweet of the Day … From CU co-offensive coordinator Darrin Chiaverini … "Failures and losses do not define you. We all fail sometimes. How you respond to adversity will determine if you succeed in life! Won't stop"
—
Jim Leavitt:"When people are going to sit there and double your money, that's not a lateral move"
From the Daily Camera … Jim Leavitt never anticipated he would leave the Colorado football team for another job as a defensive coordinator.
He also never anticipated getting the type of offer he got from Oregon.
Last week, Leavitt left the Buffaloes after two seasons as defensive coordinator to take the same position at Oregon.
"(The offer) was just so out there, and I'm sitting there looking at my little girls and my wife and thinking, 'I don't know how often these opportunities come along,'" Leavitt told BuffZone.com . "You know how people always say they do it for their family? I really did. I don't know how long I'll be coaching, and it's not like I'm 22 years old."
… "When people are going to sit there and double your money, that's not a lateral move," he said.
… Continue reading story here …
—
Mike MacIntyre post-practice comments to media
From YouTube, courtesy of CUSportsNation:
—–
December 19th
… CU in a few minutes … 
CU head coach Mike MacIntyre Alamo Bowl press conference 
From YouTube, video courtesy of CUSportsNation:
—–
December 18th 
… CU in a few minutes … 
CU athletic director Rick George: "I think our best days are ahead of us"
From the Daily Camera … With one game to play, the Colorado football team is already enjoying its best season in 15 years.
Athletic director Rick George believes the Buffaloes' program is just getting started, however.
"I think this was a great year for our football program," George said. "All the kudos go to (head coach Mike MacIntyre) and his staff and the players, but I think our best days are ahead of us."
… While CU has a senior-laden team, especially on defense, George is confident that the pieces are in place to keep the momentum going after this season.
"It's taken us 11 years to get to this point, and I'm happy that we've got to that point," George said. "Moving forward it's about consistency in competing at that level every year.
"I know we can't talk about specifics in recruiting, but we're off to a pretty good start, and I see that continuing to get better and better every year. I'm excited about our future."
… Continue reading story here …
—
Defensive coordinator candidate Todd Orlando no longer an option for Colorado
… Not that he was coming to Boulder, anyway, but Orlando was talked about as a possible candidate for the open defensive coordinator position at Colorado. But Orlando, like Leavitt, came with a $1 million price tag … 
From the Houston Chronicle … With a goal of someday becoming a head coach, Houston defensive coordinator Todd Orlando took the next step by agreeing to the same position at Texas under old boss Tom Herman.
Orlando will sign a three-year deal that pays more than $1 million annually, a source with knowledge told the Houston Chronicle, making him the highest-paid assistant in UT history. Orlando made $526,000 this season.
"It's going to be very, very challenging. It's a tough league to play great defense," Orlando said Saturday after UH's 34-10 loss to San Diego State in the Las Vegas Bowl. "But if you do have success it opens up other avenues to eventually become a head coach."
UH made a "seven-figure offer" in attempt to keep Orlando, the architect of one of the nation's top defensive units the past two seasons at UH.
Named interim coach after Herman's departure in late November, Orlando was a finalist for the UH head-coaching job that eventually went to Major Applewhite.
—
Oklahoma State will have seven players – including five starters – from the San Antonio area
… CU only has one player who lists San Antonio as their hometown, freshman offensive tackle Chance Lytle. There are a total of 11 Buffs on the roster from Texas … 
From the Oklahoman … Glenn Spencer was the new guy at Oklahoma State in 2008, and when assistants received recruiting area assignments, the first-year defensive line coach figured he drew the short straw.
The Cowboys' roster had been composed of mostly Texas talent through the years with a high concentration from major hubs in and around Dallas and Houston. That wasn't Spencer's ground. His was about 300 miles south of the Metroplex in a well-populated, but little recruited, Texas high school football community: San Antonio.
OSU coach Mike Gundy's logic behind the assignment? Some eight years later as defensive coordinator, Spencer guessed, "Let's just put him down there because there are no players down there."
OSU's 2016 postseason berth is a good reminder of how much has changed.
The Cowboys will travel to San Antonio for the Alamo Bowl with seven prominent players who hail from the region, including five starters, in defensive tackle Vincent Taylor (Madison), safety Jordan Sterns (Steele), safety Tre Flowers (Judson), cornerback Ramon Richards (Brackenridge), punter Zach Sinor (Castroville), receiver Austin Hays (Reagan) and offensive lineman Deionte Noel (Steele).
"It's crazy," Richards said. "We've been talking about this since I got here to Oklahoma State. We always want to play in the championships and get the big rings, but I've always wanted to go back home and play in San Antonio."
—
Oklahoma State's Mike Gundy also in line for a contract extension
From the Oklahoman … The OSU Board of Regents approved a two-year contract extension for Mike Gundy over the summer, however, neither the 12th-year head football coach or the university has signed the document.
OSU spokesman Gary Shutt said it was expected to take place following the season.
"In order for that to happen, both parties have to come to an agreement and that hasn't taken place," Gundy told reporters on Thursday. "It's a pretty simple process."
Gundy made $3.775 million in 2016. The two-year extension, totaling about $8.3 million and keeping Gundy in Stillwater through 2021, will not go into effect until signed. When asked what is preventing him from making it happen, Gundy said, "I don't think that's something that is worth commenting on, but there's no reason to hide it … hopefully that can happen."
Despite reports he previously met with Baylor officials to discuss its head coach vacancy, Gundy reaffirmed his commitment to OSU.
—–