—
Colorado Daily – Washington … Pac-12 Championship game
—
December 2nd – GameDay!!
Can Colorado replicate USC's effort against Washington
From ESPN … No. 8 Colorado enters the Pac-12 championship game against No. 4 Washington as a 7.5-point underdog. ESPN's FPI gives the Buffs a 28.6-percent chance to win the game, so although the mathematical models say that a Colorado win is unlikely, they certainly suggest it's possible.
The Buffs can find the blueprint for victory in Washington's only loss of the season: USC beat the Huskies 26-13 last month, holding a historically efficient offense to just 276 yards and 4.3 yards per play.
Does Colorado have the defense to replicate USC's performance against Washington?
Numbers say yes: Statistically, the Buffs are even better than the Trojans on that side of the ball, allowing a league-best 18.4 points per game. Colorado's rush defense is giving up 3.9 yards per rush, comparable to USC's conference-best allowance of 3.8 yards per carry. The Buffs' pass defense, allowing only 5.4 yards per attempt, is tied with Michigan and Ohio State for the national lead.
But Washington's offensive numbers are staggering. Quarterback Jake Browning has thrown a touchdown on 12.2 percent of his pass attempts, putting him on track to break a 42 year-old FBS record. The Huskies' 7.4 yards per play ranks right near the top of the country.
… Continue reading story here …
—-
The Rise – Episode 5!
What better way to get ready for the Pac-12 title game!
From the Emmy-award winning crew at CU Video:
—
Drew Litton … from the Daily Camera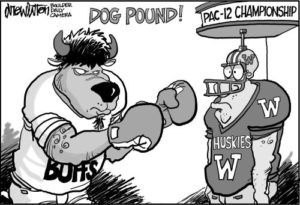 —
So many stories … a sampling:
— "Buffs Ready For Pac-12 Title Tilt With Huskies" … from CUBuffs.com 
— "Buffs Ready For Another Game Vs. Pac-12 Top Rush Defense" … from CUBuffs.com
— "CU Buffs' success doesn't surprise Mike MacIntyre" … from the Daily Camera
— "CU Buffs' 2015 run feels a lot like 2001" … from the Daily Camera
— "Colorado, Washington don't want charmed seasons to end" … from ESPN
— "MacIntyre takes Colorado from 'nation's worst' Power Five team to CFP contender" … from CBS Sports
— "Colorado's rise: Coach Mike MacIntyre, formerly of San Jose State, has Buffaloes on brink of Pac-12 title" … from the San Jose Mercury News
— "The Colorado Buffaloes are college football's 2016 dream-season team" … from SBNation
—–
December 1st
… CU in a few minutes … 
Neill Woelk's Five Keys to the Pac-12 championship game
From CUBuffs.com … For the Colorado Buffaloes, every game this season has seemingly been for bigger stakes.
This week is no different.
Friday, Mike MacIntyre's 10-2 Colorado Buffaloes (No. 8 CFP, No. 9 AP) will square off with No. 4 Washington in the 7 p.m. Pac-12 Championship game at Levi's Stadium in Santa Clara, Calif.
A win will guarantee the Buffs of at least a berth in the Rose Bowl while also keeping alive their long-shot chances of landing a spot in the College Football Playoffs semifinals. A loss would not eliminate them from Rose Bowl contention, but would enhance the likelihood of a berth in the Cotton or Alamo bowls.
But while the future after Friday is unknown, the Buffs do know this much: they will almost certainly have to play their best game of the year against the Huskies to produce a win.
Friday's game will be the Buffs' second this season against the nation's fourth-ranked team. In Week 3, the Buffs lost a 45-28 decision at Michigan, a game the Buffs led 28-24 in the third quarter when quarterback Sefo Liufau was injured.
To win Friday, they'll have to finish what they started way back in September. The keys to Friday's game for CU:
… Continue reading story here …
—
Pac-12 offering wall-to-wall coverage of the Buffs in the 24 hours leading up to Pac-12 title game
From CUBuffs.com … Leading up to and following this year's Pac-12 Football Championship Game, Pac-12 Network will televise a series of special football programming beginning Thursday, December 1 through Sunday, December 4 to highlight key moments from this year, the Pac-12 Football Championship Game Presented by 76®, and the upcoming college football bowl season.
The four days of special football programming kicks off this Thursday December 1 at 8 p.m. PT / 9 p.m. MT, with the season finale of The Drive. In the final episode of the season, Pac-12 Network goes behind the scenes with the Utah Utes, to give viewers an all-access look at the school's football program. Also on Thursday, the fifth episode of The Rise: Colorado Football, will premier on Pac-12 Network at 8:30 p.m. PT/ 9:30 p.m. MT.
On Friday morning, December 2, Pac-12 Network will relive a magical season for the Buffs with a marathon of The Rise: Colorado Football, the school-produced, all-access series that chronicles the journey of the Buffaloes 2016 campaign on the gridiron. The marathon will begin at 6:30 a.m. PT / 7:30 a.m. MT and run through 9 a.m. PT / 10 a.m. MT on Pac-12 Network.
Following The Rise: Colorado Football marathon, Pac-12 Network will televise a Pac-12 Football in 60 marathon from 10 a.m. PT / 11 a.m. MT – 5 p.m. PT / 6 p.m. MT. The marathon will highlight the most memorable and thrilling football games from the Pac-12 North and South division champions of the 2016 season, cut-down to an action-packed hour.
To kick off the 2016 Pac-12 Football Championship Game coverage on Friday, the Pac-12 Football Championship Pre-Game Show will begin at 5 p.m. PT / 6 p.m. MT on Pac-12 Network, hosted by Mike Yam, Curtis Conway, Eric Allen, and Nick Allioti. The paths taken by the North and South division champions will be documented, highlighting the challenges endured and obstacles overcome by each team as they march towards a high-stakes collision course for the Pac-12 Championship at Levi's® Stadium.
Following the conclusion of the Championship Game at approximately 10 p.m. PT / 11 p.m. MT, Mike Yam, Curtis Conway, Eric Allen, and Nick Allioti will host the Pac-12 Football Championship Post-Game Report. The show will provide an in-depth recap immediately following the final play of the game, offering instant analysis and post-game interviews from players and coaches, and access to the postgame press conferences.
—
Mike MacIntyre named Walter Camp national Coach-of-the-Year
From CUBuffs.com … University of Colorado head coach Mike MacIntyre has been named the Walter Camp 2016 Coach of the Year, the Walter Camp Foundation (WCF) announced Thursday.
MacIntyre joins Bill McCartney (1989) as the only coaches in Colorado history to be named the National Coach of the Year.
"It is an honor to receive the Walter Camp Coach of the Year award, but this all reflects on our assistant coaches and our players and how they've invested in our program for us to be able to be successful," MacIntyre said Thursday as the team prepares to head off to Santa Clara, Calif., for Friday's Pac-12 Championship game against No. 4 Washington (7 p.m. MT/FOX).
"I'm just fortunate enough to have head coach in front of my name and be along for the ride. This is special considering it is voted on by other head coaches, that truly means a lot to me coming from my peers."
This is the 50th year that the WCF has selected a coach of the year, considered to be one of the most prestigious honors as the recipient is selected by his peers (selected by the nation's 129 FBS head coaches and sports information directors). In the 50 years of the award, MacIntyre is just the sixth to be recognized from the Mountain or Pacific Time zones, as he joined Frank Kush (Arizona State, 1975), Fisher DeBerry (Air Force, 1985), CU's first coach Mac (1989), Bruce Snyder (Arizona State, 1996) and Chip Kelly (Oregon, 2010).
The honor for MacIntyre comes on the heels of being named the Pac-12 Conference Coach of the Year on Tuesday.
The Buffaloes, picked to finish dead last in the Pac-12's South Division preseason poll after going 5-40 in conference play in CU's first five seasons since joining the conference, won the South this season with a 8-1 league record to reach Friday's title game. The 8-1 mark in league play is the first eight-win season in school history (several 7-0's and 7-1's).
Overall, MacIntyre's Buffs sit at 10-2 entering the championship game. It is CU's eighth 10-win season in its storied history, and first since 2001.
… Continue reading story here …
—–
November 30th
… CU in a few minutes … 
CU could face up to $150,000 in fines for fans rushing the field 
From the Daily Camera … Spectators tuning in to the end University of Colorado's last two home games saw thousands of jubilant fans rushing the field. But school officials may have been watching tens of thousands of dollars rushing away.
CU could be fined up to $150,000 under a new Pac-12 Conference policy against rushing the field that already has cost the university $25,000 this year.
In a new policy set by the conference for this academic year, a university can be fined $25,000 for its first offense, $50,000 for its second offense and $100,000 for its third offense.
The Pac-12's fines are automatic if fans are on the football field or basketball court within 60 seconds of a game ending — a delay intended to give the visiting team's players and coaches, as well as officials, time to safely get off the field or court.
CU already was fined $25,000 this fall after fans rushed the field following a 40-16 win over Arizona State on Oct. 15.
Fans also rushed the field after CU's last two victories at Folsom Field — a win over Washington State on Nov. 19 and a win over Utah on Saturday — and conference officials this week confirmed that both of those incidents are under review and could result in additional fines.
… Continue reading story here …
—
ESPN Position-by-position breakdown of the Pac-12 title game
From ESPN … Here is a look, position by position, at how Colorado and Washington match up in the Pac-12 championship game:
QUARTERBACK
Colorado: Sefo Liufau was named the team's Co-MVP after throwing of 2,150 yards with 11 touchdowns and five interceptions, but his value shouldn't be measured through stats. CU is undefeated when Liufao starts and finishes a game. In its loss to Michigan, Colorado led 28-24 in the third quarter when he left due to injury and he played only a couple snaps in their only other loss, a 21-17 defeat at USC. — Kyle Bonagura
Washington: Jake Browning has thrown a touchdown on 12.2 percent of his passing attempts this season, a rate that's on track to break an FBS record that's more than four decades old. This efficient Washington passing attack has only been significantly slowed once this year, a 26-13 loss to USC. Browning will look to keep the Huskies' engine humming against Colorado's league-leading pass defense. — David Lombardi
Verdict: Edge to Washington
… Continue reading story here (fair warning, it's pretty weighted towards the Huskies) …
—–
November 29th
… CU in a few minutes … 
Nice stories on CU defensive coordinator Jim Leavitt and co-offensive coordinator Darrin Chiaverini
From ESPN …. "Under Jim Leavitt, Colorado's defense has come of age" …
When Jim Leavitt was hired as the defensive coordinator at Colorado prior to spring practice in 2015, he wasn't really sure what he was getting into. He had been out of college football for five seasons and spent the previous four as an assistant coach on Jim Harbaugh's staff with the San Francisco 49ers.
He definitely didn't have the time to watch bad Pac-12 football.
"I had no understanding," he said. "I didn't know anything about them."
So, he turned on the tape and started studying a team that in 2014 ranked last among Power 5 schools in yards allowed per play (6.55) and third to last in scoring defense (39 points per game). After coaching All-Pro linebackers Patrick Willis and NaVorro Bowman on one of the NFL's best defenses in his previous job, this would be a definite change of pace.
… Continue reading story here …
—
From 247 Sports … "Chiaverini leading Colorado resurgence on recruiting trail" …
It's been a long time since four-star recruits have consistently considered a potential home in Boulder.
That's happening now with a resurgent year for Colorado football, as the 12th-ranked Buffaloes (7-2) control their own destiny in the Pac 12 South, and a New Year's Six Bowl remains very much in play for Mike MacIntyre and his staff.
Win two of the next three including a home game against Utah the final weekend of the regular season and Colorado will play for the conference championship Dec. 2 in Santa Clara, Calif.
A crazy thought back in July when the conference media picked this team to finish dead last in the Pac 12 South.
The Buffaloes have proved so far this fall they can do it without four-star recruits. In their case the 247Sports Recruiting Rankings haven't mattered much, as this year's roster is full of players that made up four-straight classes that finished ranked last in their conference, none better than last year's haul that checked in at a lowly No. 67 nationally overall.
… Continue reading story here …
—
No. 1 goal for CU defense – contain quarterback Jake Browning
From CUBuffs.com … In what has been a record-setting year for Jake Browning, only one team has managed to slow down the Washington quarterback this season.
The No. 9 Colorado Buffaloes hope to become the second this week. They'll have their chance Friday when 10-2 Colorado meets Browning's fourth-ranked Huskies (11-1) in the 7 p.m. Pac-12 Championship (Fox) at Levi's Stadium in Santa Clara, Calif.
"He can make every throw out there," said Buffs safeties coach Joe Tumpkin, who has already spent plenty of time studying film of the Huskies' offense. "It's going to be a challenge for us. We're going to have to get some pressure and get him off his spot."
Easier said than done. In 12 games this year, Browning has thrown for 40 touchdowns and just seven interceptions while completing 65 percent of his throws (214-for-329) for 3,162 yards. Only once has he completed fewer than 50 percent of his passes in a game, that coming in a 26-13 loss, when he was 17-for-36 for 259 yards and a touchdown.
The USC loss — the only blemish on UW's record — is also the only time this year Browning threw more interceptions (two) than touchdowns (one). The Trojans also sacked Browning three times and generally made his life miserable in the only game this season in which he was limited to just one touchdown pass (he had eight games with at least three).
He is without question the key to a Washington offense that also boasts a 1,000-yard rusher in Myles Gaskin (1,180 yards and 10 touchdowns on 198 carries) and a bevy of fleet, sure-handed receivers.
… Continue reading story here …
—–
November 28th
… CU in a few minutes … 
Tweet of the Day … From CU running back Phillip Lindsay: "Thanks to all the fans for their support and for believing in us! CHAMPIONSHIP BOUND! # FamilyFirst #PAC12SouthChamps"
Bonus Tweet of the Day … From CU Video: "We started "The Rise" series knowing this season was going to be special. On to the Pac-12 Championship! Ep 5 airs Thursday night #TheRise"
—
Senior safety Tedric Thompson named Pac-12 Defensive Player-of-the-Week
From the Pac-12 … Colorado senior safety Tedric Thompson was named Monday as the Pac-12 Conference Defensive Player of the Week.
With Thompson's selection – the ninth such one by a Buff this season – Colorado has set a new program record for the most player of the week selections in a season with nine. In 2001 when the Buffaloes were in the Big 12, CU had eight player of the week selections.
Colorado's nine this year remain the most of any team in the conference.
This is the second time this year Thompson has been named the league's defensive player of the week, the other time being back on Oct. 24 following CU's win at Stanford.
In the 27-22 win over Utah last Saturday, Thompson intercepted two passes and had four pass breakups to go with four tackles (all solo, one for a loss), three third down stops and a fourth down stop.
His interception at the end of the first half extended CU's nation-best streak of forcing at least one turnover to 25 straight games. Then his fourth quarter interception gave him seven on the season, tying him for the single season best in CU history (matching Dick Anderson in 1967 and Cullen Bryant in 1972).
Thompson and the Buffalo defense held Utah to 339 yards in the victory that clinched the Pac-12 South Division title for Colorado – its first division title since joining the Pac-12 back in 2011.
—
Two Buffs suspended after bar altercation Saturday night
From the Daily Camera … One University of Colorado football player is facing drug charges and another is facing assault charges after the two got into a fight outside a bar in downtown Boulder just hours after the Buffs beat Utah at Folsom Field.
Abdul Jaleel Awini, 23, was arrested on suspicion of drug possession around 1:30 a.m. Sunday while Christopher Hill, 21, was cited with third-degree assault, according to court records.
According to a police report, Hill punched Awini after an argument and police who responded to the call found a substance that appeared to be cocaine in Awini's wallet.
Awini, a senior who has played multiple positions at CU, has been suspended from all team activities by Coach Mike MacIntyre. MacIntyre also said that Hill, a tight end, will not play in Friday's Pac-12 championship game.
According to a police report, Awini and Hill were both drinking early Sunday morning at the Walrus Saloon, 1911 11th St. Bouncers kicked Awini out for being drunk, according to police, and while outside, he reportedly blamed Hill for getting him ejected from the bar.
Police said the two began the argue, and Hill punched Awini in the jaw, knocking him unconscious. Hill ran from the scene but was chased down by bar staff. He later told police he punched Awini because he was afraid Awini would punch him first.
… Continue reading story here …
—
Coach MacIntyre post-practice talk with media
From YouTube, courtesy of CUSportsNation:
—
Buffs turn attention to Washington Huskies
From the Daily Camera … "Staying focused is the biggest thing," linebacker Addison Gillam said. "Coach MacIntyre says it all the time; we just have to stay laser focused throughout the week."
After all, winning the Pac-12 South was not CU's ultimate goal. Winning the title game has always been the top priority.
"Not yet; we're close," receiver Devin Ross said when asked if the Buffs have made CU great again. "We're getting real good now after that win, but we still have a lot to do the rest of the season."
Adding to the excitement of the week is that there's more than just a Pac-12 title on the line. With both teams being ranked among the top nine, this game could impact the race for the national title. The top four teams will play in the College Football Playoff.
Washington has a better chance to get there than CU, but the Buffs aren't out of the running yet.
"Now, we've got one more to do, that's what we set out to do," MacIntyre said. "If we do that, then it takes care of everything else that could happen."
… Continue reading story here …
—–
November 27th
… CU in a few minutes … 
Tweet of the Day … From CU defensive coordinator Jim Leavitt: "Great win! But understand this. We have Washington on Friday. Move forward with great focus on the championship game. Go Buffs!"
—
Sefo Liufau and Chidobe Awuzie share most valuable player award at team banquet
From CUBuffs.com … Seniors Chidobe Awuzie and Sefo Liufau were named the University of Colorado football team's 2016 Most Valuable Players, highlighting the team's annual senior banquet Sunday morning in the Touchdown Club Room inside the Dal Ward Athletic Center at Folsom Field.
It's the ninth time since the inception of the award in 1959 that it has been shared by two players, but the first time since the 2000 season.
Awuzie is one of the most versatile players in the program's recent history, having played all three secondary positions – cornerback, safety and nickel back – along with some spot play at outside linebacker in certain schemes.  One of the top players in the country at his natural position, cornerback, he is likely a first- or second-rounder in next April's National Football League Draft.  This season, he has racked up 54 tackles (44 solo), 17 third down stops, 10 passes broken up, four quarterback sacks and an interception.  Career-wise, he is CU's all-time leader by a defensive back with nine quarterback sacks and 44 third down stops, in addition to ranking 23rd all-time on the school's tackle list with 267 (eighth in solo stops with 22).
Liufau has already set 87 school records (a handful are shared), and could finish up with over 90.  He owns all the major passing and total offensive marks, and has also started more games at quarterback – 38 – than any other player in school history.  He has passed for 2,150 yards this fall, his third straight year over 2,000 yards, with a 64.6 completion percentage with 11 touchdowns to just three interceptions.  He has also rushed for 483 yards and seven scores, and against Washington State, he had the second 300-yard/100-yard passing-rushing performance in school history.  The Buffs are 8-0 this in games that he either finished or came out of the game with the score in hand.
"The thing that is most exciting about this season is that we have a few games left," head coach Mike MacIntyre said to close the banquet.  It's all 118 players, but it's this group of seniors and fourth-year juniors that have truly resurrected the Colorado football program.  What you have done against all odds, and against people that have talked all kinds of (bad) stuff.  Remember, you chase your dreams, you set your goals and you keep moving forward.  I can't express in words how proud I am of this group of young men."
The complete list of CU award winners announced Sunday; all awards were selected by the coaching staff unless otherwise noted:
Zack Jordan Award (most valuable player): CB Chidobe Awuzie and QB Sefo Liufau
John Mack Award (outstanding offensive players): TB Phillip Lindsay
Dave Jones Award (outstanding defensive players): SS Tedric Thompson
Bill McCartney Award (special teams achievement): TB Beau Bisherat and CB Isaiah Oliver
Lee Willard Award (outstanding freshmen): OG Tim Lynott, Jr., and QB Steven Montez
Dean Jacob Van Ek Award (academic excellence): OL Isaac Miller
Offensive Scout Player of the Year: QB Casey Marksberry
Defensive Scout Players of the Year: DE Sam Bennion and DB Lucas Cooper
Derek Singleton Award (spirit, dedication and enthusiasm): TB Phillip Lindsay
Tyronee "Tiger" Bussey Award (inspiration in the face of physical adversity): ILB Addison Gillam
Tom McMahon Award (great dedication and work ethic): ILB Kenneth Olugbode
Eddie Crowder Award (outstanding team leadership): TE George Frazier
Offensive Trench Award: OT Jeromy Irwin
Defensive Trench Award: OLB Jimmie Gilbert and DT Josh Tupou
Hammer Award (hardest legal hit of the year): TE Sean Irwin
Best Interview (selected by team beat media): TB Phillip Lindsay
—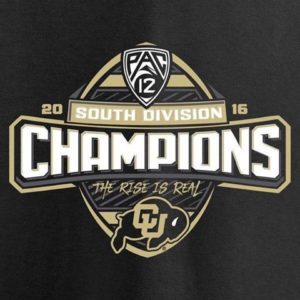 —
Colorado opens as a seven-point underdog
VegasInsider.com has posted Colorado as a seven-point underdog to Washington in the Pac-12 championship game (Friday, 7:00 p.m., MT, Fox).
Other championship game odds:
— No. 1 Alabama a 22.5-point favorite over No. 15 Florida (SEC championship game)
— No. 6 Wisconsin a 3.0-point favorite over No. 8 Penn State (Big Ten championship game)
— No. 3 Clemson a 9.0-point favorite over No. 19 Virginia Tech (ACC championship game)
— No. 7 Oklahoma a 13.0-point favorite at home over No. 11 Oklahoma State (de facto Big 12 championship game)
— San Diego State a 5.5-point favorite over Wyoming (Mountain West championship game)
—
Ticket information for Buff fans interested in attending Pac-12 title game
From CUBuffs.com … Fans planning to head to Santa Clara to watch the Buffs take on Washington in the Pac-12 Championship can buy tickets now.
Season Ticket Holders can apply for tickets from the CU allotment through midnight, Monday, Nov. 28, and the general public can visit Ticketmaster to buy tickets directly from Levi's Stadium.  If you wish to sit on the CU side of the stadium, note the side of the stadium labeled "SOUTH DIVISION CHAMPION" and purchase on that side of the stadium.
Season Ticket Holders will have their tickets allocated in priority rank order, and credit cards will be charged the week of November 28.
The University of Colorado Alumni Association will host a pregame Buffs Bash at the Red Lot at Levi's Stadium. For more info visit alumni.colorado.edu.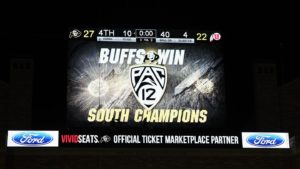 —–